Advertising Disclosure
Advertising disclosure:
Our partners compensate us. This may influence which products or services we review (also where and how those products appear on the site), this in no way affects our recommendations or the advice we offer. Our reviews are based on years of experience and countless hours of research. Our partners cannot pay us to guarantee favorable reviews of their products or services.
With great popularity comes great competition. This is the case with selling on Amazon.
You'll need to bring your A game if you want your ads campaigns on this platform to work. However, pay-per-click (PPC) ads on Amazon can be confusing. If you've used PPC marketing before on channels like Facebook and Google, you'll already be familiar with some of the common abbreviations like advertising cost of sales (ACoS), click-through rate (CTR), and cost per click (CPC).
Amazon, though, has its own terminology that you'll need to become familiar with too. It offers various ad types like Sponsored Product ads, Sponsored Brand ads, and Sponsored Display ads. Then, you'll still need to know how to optimize each and best practices.
It's a lot.
The best advice is to set aside some time to learn the ins and outs before campaign setup. After all, as you'll be paying for these ads, ineffective campaigns will be costly (quite literally).
Luckily, there are several proven online courses that you can check out. Whether you simply want to sharpen your basic knowledge or need to gain a complete understanding, there's a course for you. What's more, some of them are even available for free.
---
Best Amazon PPC Courses:
Top
amazon ppc courses
2024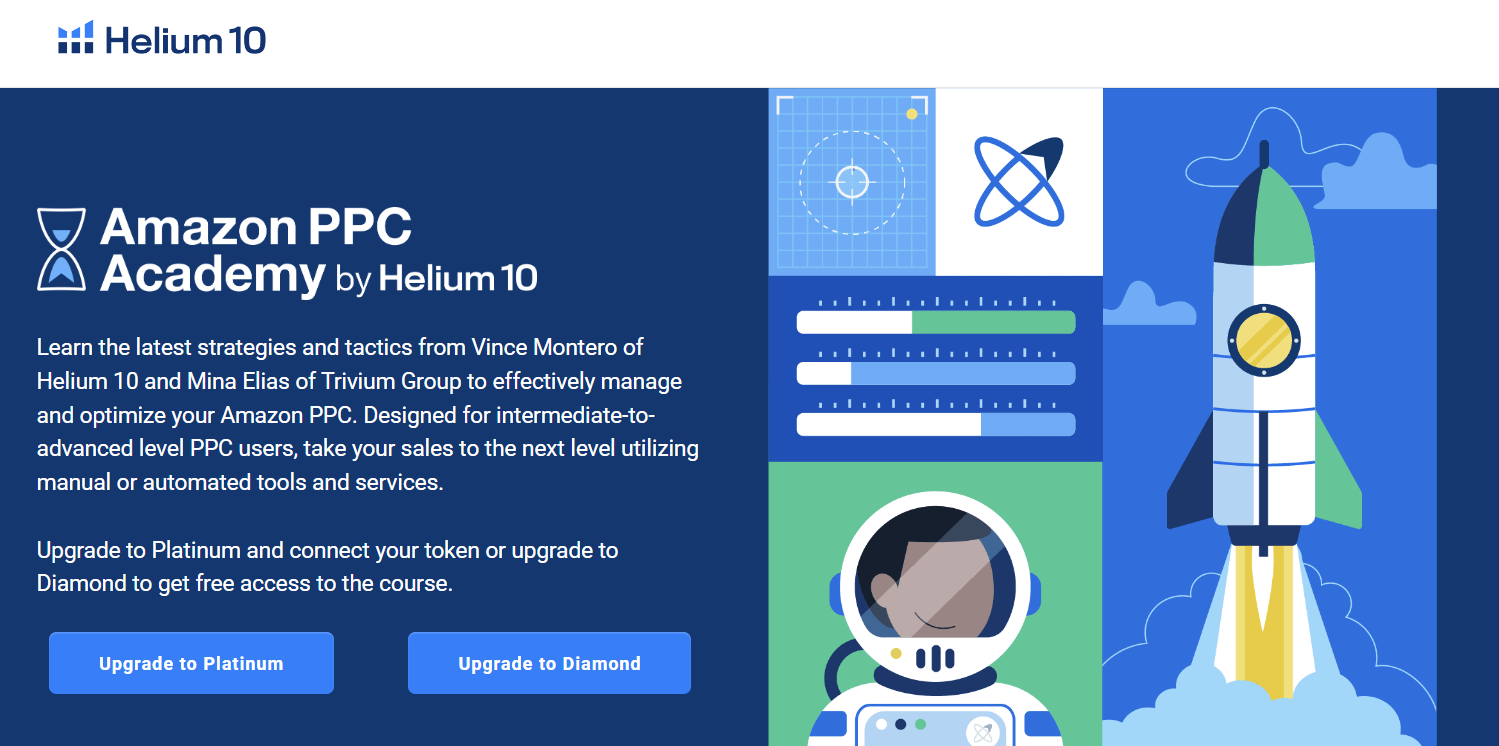 Rated as one of the best Amazon keyword tools, Helium 10 will teach you everything you need to create, implement, and optimize a PPC campaign. Vince Montero, a PPC expert and Amazon Ads strategist, joins forces with Mina Elias, founder of the Trivium Group, an in-house Amazon ad team, to share large brands' strategies. Together they boast more than a decade of experience optimizing PPC campaigns. 
While it's one of the more affordable options, it's not suitable for beginners. Aimed at intermediate and advanced PPC marketers, the course will cover topics like:
Research
Campaign structures
Keyword management
Campaign optimization
Bidding strategies
Keyword ranking
Amazon Demand Side Platform (DSP)     
Sign-ups will also receive free templates and spreadsheets for advanced analytics.
Pricing
Pricing starts at $99 per month. 
---

For a truly in-depth course, you can check out PPC University. Featured by the likes of Shopify, Helium 10, and Amazon itself, it's one of the most popular courses for all things Amazon PPC. Thousands of students have already completed it.
The online course is divided into 10 modules, with each module looking at a specific aspect. At the end of all these modules, you'll understand the basics of PPC which you can then apply to any campaign.
You'll need about 20 hours to complete it, but it's completely self-paced. You don't have to plan around deadlines or compulsory classes. Plus, you'll also have lifetime access to the material (which includes articles, videos, and exercises), giving you the freedom to use as much time as you need.
Here's a quick course overview to give you a better idea of the content that will be covered:
An intro to Amazon PPC
Understanding campaigns
Targeting and match types
Research and product ranking
Reports and optimization
Analytics and data interpretation
Amazon DSP
Pricing
The course costs $995 and includes a 30-day, money-back guarantee. 
---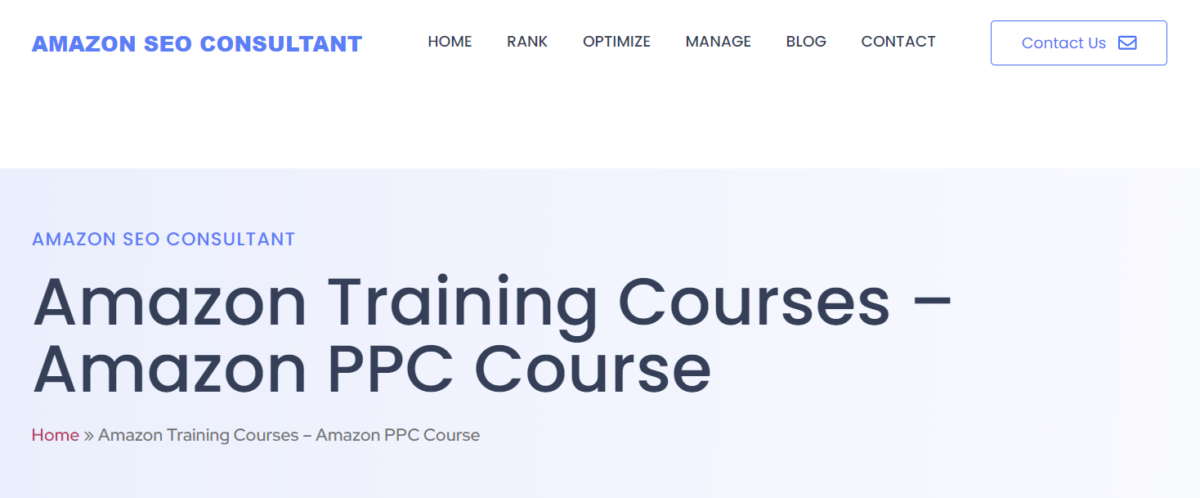 Amazon SEO Consultant is a division of HQ SEO Ltd, a UK-based agency that specializes in advanced Amazon SEO services. They've helped over hundred clients to grow their businesses with millions.
Aside from offering ranking services, they also provide training. Their unique PPC for Amazon Sellers course includes a step-by-step video guide that explains the basics of PPC in detail. You'll get access to insider knowledge on how to grow your Amazon business.
Topics that will be covered include:
Keyword research
Conversion rate optimization (CRO)
Common myths and misconceptions  
Pricing
The enrollment fee is $37.
---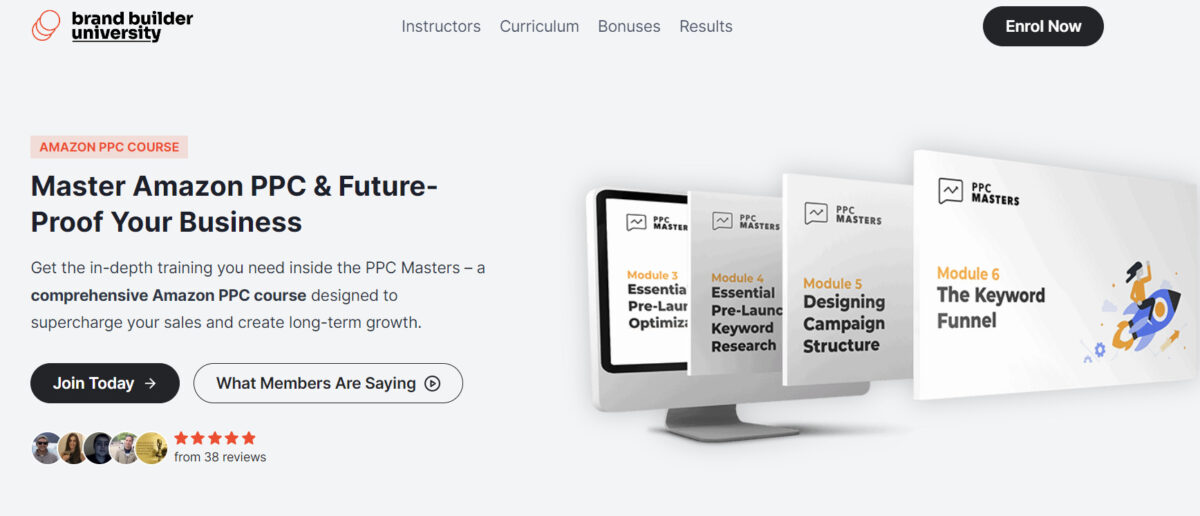 If your goal is to generate long-term growth, you can check out this comprehensive course. Your instructor – Ben Donovan – runs a number of seven-figure brands. One of the key elements behind his success stories is Amazon advertising.
It's one of the most detailed courses and offers a curriculum that consists of 11 modules. It devotes four modules just to the pre-launch phase. From listing optimization to research, it covers a few essential tasks that you'll need to complete before you can start to design your actual campaign.
Then, after a full walkthrough of how to create your sponsored product campaigns, it will also explore essential analysis and ongoing optimization actions to include into your routine. The course concludes with troubleshooting tips, advanced features, and bonus methods.
While it's a very comprehensive course, beginners will still be able to follow. You can also complete it according to your own schedule.
Here's a more detailed look at what this course's roadmap looks like:
PPC key terms
The ad display auction process
Key metrics and data
Keyword research
Product targeting
Budget considerations
Students will also get access to a library with valuable resources like:
Templates for marketing, emails, and supplier negotiations
Spreadsheets
Calculators
Checklists
A database of vetted contacts, discounted tools, and services
Messaging flows 
Pricing
There are two options. You can either sign up for the self-study option ($397) or the BBU Pro ($997). With the BBU Pro, you'll also get access to weekly live coaching and feedback and a free Helium 10 subscription. Both options include a 14-day, money-back guarantee.
---
Jungle Scout, one of the best Amazon product discovery tools, offers a five-lesson course for those that don't necessarily want to spend anything on courses at this stage. It covers key topics like the advantages of using this marketing strategy, data analysis, and budgeting.
All the lessons are available as YouTube videos. The length of the videos ranges between two minutes and nine minutes, with most lessons consisting of two to three videos.
Here are some of the finer details that you'll uncover:
The ad auction process
ACoS
Hacks for creating high-growth campaigns
Amazon's search term report
Amazon's campaign performance report
Pivot tables
Pricing
The content is available free of charge.
---

Available via Udemy, the Amazon PPC Playbook: Success Made Easy is another free course that interested marketers can check out. It's brought to you by Viral Launch and Liran Hirschkorn, the CEO and founder of Incrementum Digital – an Amazon marketing growth engine.
It consists of nearly five hours of on-demand video during which you're taken through the step-by-step process of using Amazon sponsored ads. Sections that will be explored include:
The importance of Sponsored Ads
Advertising jargon
Ad creation
Keyword research best practices
Campaign optimization
PPC automation
Pricing
It's available for free.
---

Rated as one of the bestsellers on Udemy, this course offers two hours of on-demand video to help you master Amazon ads. It's created by Coursenvy, an online marketing agency behind dozens of other online courses about topics like Amazon FBA, SEO, and eCommerce.
Aside from learning more about Amazon paid advertising, you'll also find out more about Amazon Seller Central. It also has a chapter dedicated to Kindle Books, making it a great choice for those looking to explore direct publishing as a way to make money on the marketplace.
That said, paid advertising remains the focus with 10 lectures exploring topics like:
Video ads
Improving your ACoS
Keyword research
Reports
Third-party Amazon software solutions
To date, over 8,000 students have completed this course. It's aimed at Amazon FBA businesses and sellers that want to grow using Amazon marketing.
Pricing
The course costs about $15 and includes a 30-day, money-back guarantee.
---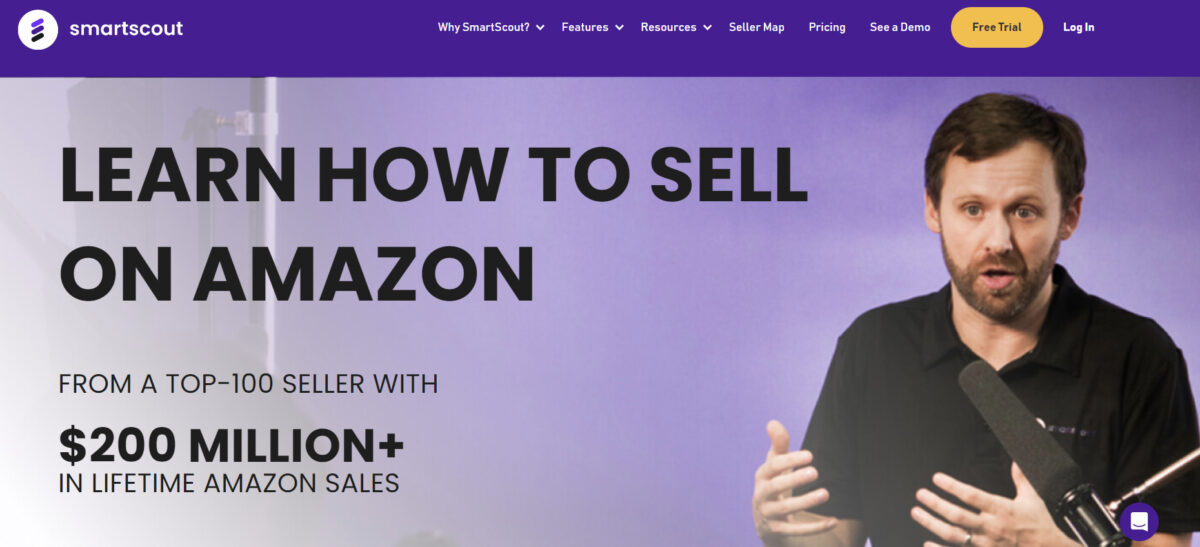 Presented by the SmartScout team, The Smartest Seller Course will teach you a tried-and-tested system for using the marketplace successfully. It's been featured in the likes of Business Insider and used by Amazon sellers and eCommerce marketing agencies like Perch, BuyBoxer, and Kaspien.
It takes a broader focus than simply paid advertising. It covers all the models that you can use to sell on the marketplace including wholesale and private label products. As for marketing tips specifically, students will be taught the three keys of Scott Needham, the CEO and founder of SmartScout, and how to use them effectively.
Other interesting topics that will be covered include:
Ads strategy for private label products
Photography secrets
Data points that you should track
The power of video
Using variation pages
Common mistakes 
Pricing
There are two options. Aimed at beginners, there's the Ignition package that costs about $800. Serious entrepreneurs can check out the Expedition package that costs about $1,200.
---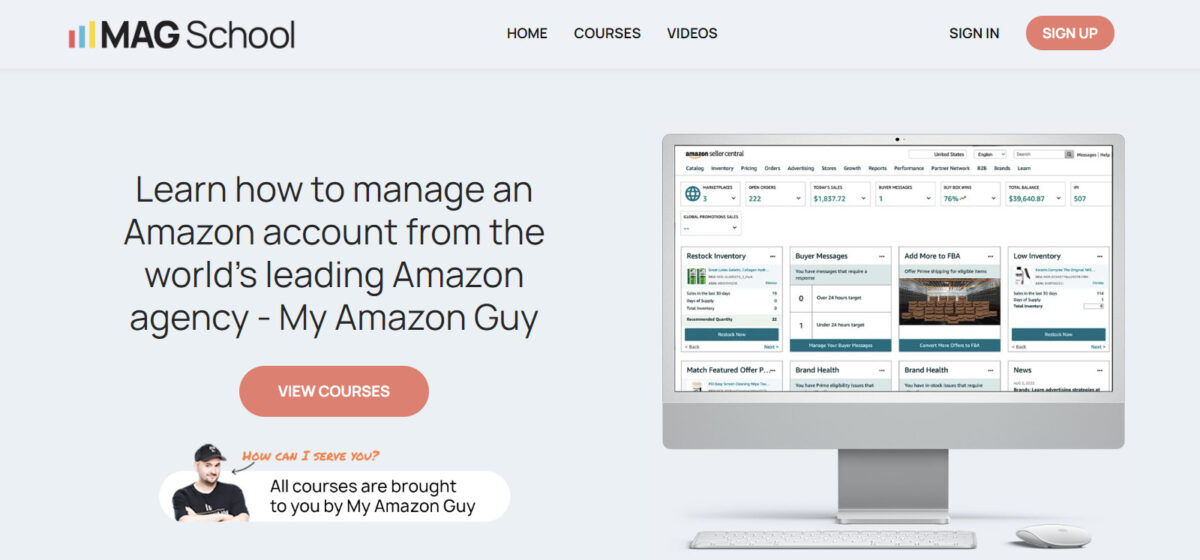 MAG School offers a selection of courses that are all presented by My Amazon Guy, one of the leading Amazon marketing agencies. If you specifically want to concentrate on PPC, you can check out its PPC course.
This course covers:
Basic terminology
Key metrics
Ad campaign types
Bid strategy management
Keyword research and segmentation
Amazon DSP
Pricing
It costs $100 to enroll and includes MAG School certification.
---
Instead of turning to a third-party instructor, you can also check out Amazon's own resources. It offers an Amazon Ads certification assessment that you'll need to complete in two hours.
One of the benefits of going this route is that you'll be awarded a digital badge that you can display in your email signature or on social networks to show that Amazon has certified you. Though, these badges are only valid for one year and you'll need to complete the exam again after a year if you wish to renew it.
Those interested will first need to register for an Amazon Ads account via the learning console. You'll also need to get a score of at least 80%.
If you fail on the first attempt, you'll have to wait 24 hours before you can retake the exam. While anyone can complete this certification assessment, it's aimed at marketing and ad professionals.
The certifications that are currently available include:
Amazon Ads Retail*
Amazon Ad Server*
Amazon DSP*
Amazon Marketing Cloud (AMC)
Campaign Optimization 
Sponsored Ads
Twitch Gameplan 
Video Ads
*These courses also have an advanced course.
Before taking the assessment, you can sign up for the free e-learning course. This, however, isn't compulsory and you're free to take the assessment immediately.
As you probably landed on this page because you want to learn (and walking away with a certification is a bonus), here are some of the topics that the different certifications will explore:
The fundamentals of Sponsored Ads
Bids and budgets
Product page, keyword, and bid optimization
Amazon's custom ad solutions 
Audience and analytics tools
Key metrics
Pricing
It's free to get certified.
---
Wrapping Things Up
Most Amazon sellers experience significant competition and will want to leverage PPC ads at some point. Investing in paid advertising becomes even more important if your product isn't that unique and you'll find yourself turning to this strategy sooner than later.
Amazon offers a number of different ads that you can include in your advertising campaigns. To run a profitable campaign, though, requires some skill. If you're not going to outsource this to a marketing agency familiar with the strategies, it's strongly recommended that you first enroll for any one of these "learning bootcamps". You'll only need some time to spare and maybe a few hundred bucks (but that's not even a requirement).
Frequently Asked Questions
Which tools can help you with Amazon PPC management?
There are a number of Amazon PPC management software solutions and tools that can help you to bid smarter. Examples of the best ones that you can check out include:
Helium 10

Pacvue Commerce

Trellis

SellerApp

Ad Badger

Sellozo
Which agencies offer Amazon PPC management?
If you don't want to invest in Amazon PPC management software, you can also entrust it to a marketing agency. There are several reputable agencies that include Amazon PPC management in their list of services. You can, for example, reach out to:
Nuanced Media

SmartSites

NinjaPromo

Disruptive Advertising

Thrive Internet Marketing Agency

Moburst

Ignite Visibility

Voy Media

PBJ Marketing
What are some tips for using Amazon PPC ads?
Before you set up your ad, you'll first want to ensure that your product detail pages are optimized. Your product listings should offer shoppers value. It should have strong, relevant titles and follow good SEO practices. You'll also want to bullet points listing the key features of the product. Then, to complement your product description, ensure that you add multiple, high-quality product images. Try to add photos that show your product from all angles.
What's the difference between automatic and manual targeting?
With automatic targeting, Amazon will use artificial intelligence to automatically select keywords that it believes will be more relevant to your products. As you won't have to think about keyword strategies, this strategy is best for beginners. If you use manual targeting, you'll have the flexibility to select your keywords and bid rates. This way, you can create more specific target audiences. You'll need to know what you do, making it better suited for more experienced advertisers.
How can you target your Amazon PPC ads?
Depending on the type of ad that you'll be using, there are four ways that you can target them. These include:
Keyword targeting

ASIN targeting

Category targeting

Views remarketing
Only category targeting and ASIN targeting can be used for Sponsored Product ads, Sponsored Brand ads as well as Sponsored Display ads.