While there can be huge benefits from selling to a global market on Amazon, one problem you face is that it can be incredibly competitive. As we saw in Amazing Amazon Statistics You Need to Know, there are more than 1.7 million small and medium-sized businesses from over 130 countries selling in Amazon stores. Unless your products are inherently unique and you have a monopoly supply, you will face stiff competition on Amazon from other sellers, including possibly Amazon itself. This means you must find a way to stand out from everybody else and make your listings visible. Amazon PPC ads can assist with this, boosting your products or brand up the Amazon search rankings.
This post provides a guide to Amazon PPC, the types of ads you can buy, and how to create ads that stand out from your competitors. In addition, we highlight successful Amazon PPC strategies and best practices you can follow to become a successful Amazon third-party seller.
Download Amazon Advertising Guide
---
The Ultimate Amazon PPC Strategies and Best Practices:
---
What is Amazon PPC?
You may already be using Pay-Per-Click (PPC) advertising elsewhere on the internet. It is now commonplace on many online marketplaces where brands compete to gain visibility, including social media channels like Facebook, retargeting platforms like AdRoll, and perhaps most visibly, search engines like Google.
Anywhere online where people search for something or view a content stream provides the potential for PPC ads. PPC advertisers effectively bid a price to position their ads in front of a captive audience. The online search engine or marketplace then gives the advertiser with the highest bid the right to place an ad in front of a consumer. If the ad catches the eye of the viewer, they might click on a link to learn more about the promoted product, brand, or page. Amazon PPC works the same way as Google Ads or Facebook Ads, just adapted to meet the needs of Amazon and the sellers in its marketplace.
When consumers come to Amazon, they usually do it for one of two purposes, depending on where they are in the purchasing funnel – researching products or buying them. They could be near the top of the funnel, looking for ideas or information about a possible purchase. Sometimes, they come to Amazon due to an offline ad or news report that has sparked an interest in a product. Perhaps they have some problem and are looking for a solution on Amazon. On the other hand, they may already know the type of product they want, perhaps even a specific brand and model, and turn to Amazon to learn more about it.
Alternatively, consumers may already be at the bottom of the purchasing funnel and know precisely what they want. In this case, they come to Amazon to make a purchase but still don't necessarily know who they will buy it from. They just want the best deal to meet their needs.
In all these cases, they are likely to search for their item (or at least product type if they are still researching) before making a final purchase decision. As a result, Amazon will present them with a list of search results showing what it believes to be suitable products to meet their needs. Depending on the product category, this list can be many pages long. Realistically, however, nobody is likely to go through multiple results pages. Most won't even go further than the first page. As a result, competing sellers of a product type on Amazon bid to have their PPC ads appear on the front page of relevant searches to give a better chance of their product or brand being the one that the searcher selects.
---
Benefits of Amazon PPC Ads
In the calendar year 2021, Amazon had consolidated net sales of $470 billion. Within this, they generated approximately $103.4 billion from third-party seller services, an increase of about $23 billion from the previous year. This includes commissions and related fulfillment and shipping fees, alongside other third-party seller services. While this doesn't show the total money third-party sellers make from their Amazon sales, it indicates that it is a considerable sum. And you have to compete with all the other Amazon sellers to gain a slice of the action.
You can level the playing field against Amazon and your other competitors on the platform by paying for Amazon PPC ads. As a result, you can ensure that your products gain the visibility of shoppers.
---
Types of Amazon Ads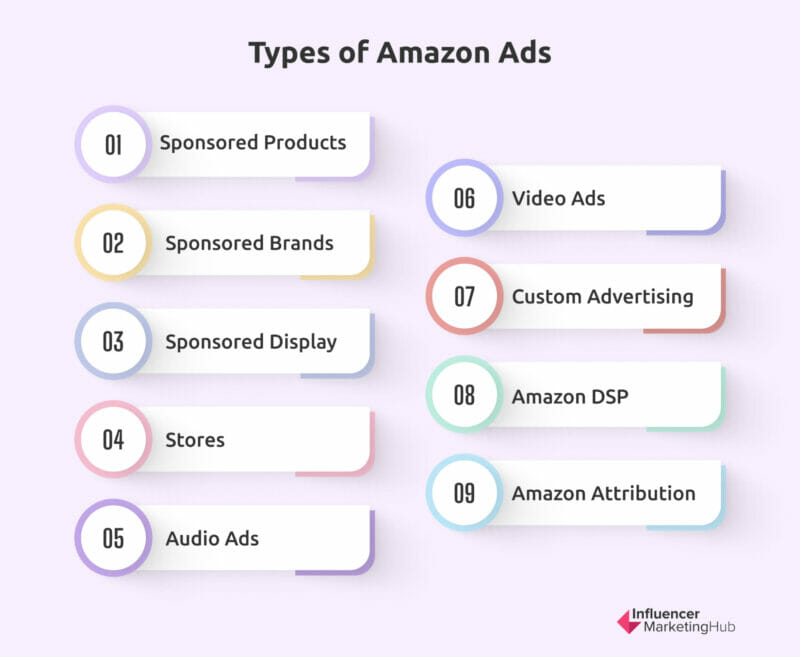 Amazon Ads offers the following products:
Sponsored Products – self-service, PPC ads for individual product listings that appear in shopping results and on product detail pages

Sponsored Brands – self-service, PPC ads for brands that appear in shopping results and feature a custom headline, brand logo, and multiple products

Sponsored Display – self-service display ads that use automatically generated ad creative targeted to audiences based on relevant Amazon shopping interests.

Stores – free, multi-page brand destinations on Amazon that feature your product portfolio and help tell your brand story

Audio ads – these play on the free tier of Amazon Music across Alexa-enabled devices, including Echo and Fire TV, as well as on mobile and desktop

Video ads – a mix of streaming TV ads that appear on connected TVs, publisher channels and networks, IMDb, and IMDb TV, and out-stream video ads that occur outside of video content, both on and off Amazon

Custom advertising – tailor-made advertising experiences which are created together with Amazon Ads account executives

Amazon DSP – Amazon's demand-side platform. It enables advertisers to programmatically buy display, video, and audio ads

Amazon Attribution – measures how non-Amazon ads media drive results on Amazon
When talking about Amazon PPC ads, we refer to Sponsored Product ads, Sponsored Brand ads (including Sponsored Brand Video ads), and Sponsored Display ads. However, this post mainly focuses on Sponsored Product ads.
---
Important Amazon PPC Terminology
You must first understand some jargon to form a successful PPC strategy on Amazon. Some essential terms Amazon uses include:
Ad Daily Budget

– the maximum amount you allocate as daily spend for an advertisement.

Ad Impressions

– the number of times an ad is displayed.

Advertising Cost of Sales (ACoS)

– Ad Spend / Sales Revenue, i.e., the percentage of your Amazon sales you spent on advertising.

Amazon Standard Identification Number (ASIN)

– a 10-character identifier Amazon assigns to all products.

Attributed Sales

–sales that Amazon considers to be due to your ad campaigns. Technically, these are the total product sales that occur within one week of people clicking on your ads.

Bid

– the amount of money you are prepared to pay for your ad to appear when somebody makes an Amazon search for a particular keyword or product

Clicks

– the number of times people click on your ads.

Click-Through-Rate (CTR)

– Clicks / Number of impressions.

Conversion Rate –

the percentage of site visitors who complete a desired action, e.g., purchasing a selected product. You determine the desired action when you set a goal for your ad campaign

Cost-per-Click (CPC) –

Ad Spend / Number of Clicks

Cost-per-Mille [Thousand Impressions] (CPM) –

the cost an advertiser pays for 1,000 views.

Impressions

– the number of times your ads are displayed.

Keywords

– search terms related to a given product or category that help boost discoverability. You tend to target short-tail keywords (general search terms that typically contain 1-3 words) on Amazon. This differs from Google, where you generally target long-tail keywords (longer terms, typically three words or longer, that are more specific and less general).

Match Type

– these apply to keywords and limit or widen the searches for which your ads will appear. Types are Broad, Phrase, Exact, and Negative.

Return on Ad Spend (RoAS)

– Revenue generated / advertising cost.
Every time you want to create a set of bids for PPC ads on Amazon, you create an ad campaign. You need to have an objective for each ad campaign. You will need to set up another ad campaign if you later have a different marketing purpose (perhaps to highlight other products in your range).
---
Sponsored Product Ads
Although you can purchase Amazon PPC ads for most products, there are exceptions for adult products, used products, refurbished products, and products in closed categories. If you sell these, you will have to find other ways to market your products.
Sponsored Product ads appear when people search for a specific product type on Amazon (in much the same way Sponsored Ads show in your regular Google search results). They can appear in four places, however:
Top of search results

Alongside search results

Within search results

Product pages
For example, look at the following pictures from a search for "drones." The three images below come from the same search. The first two show the top section of the first page of search results, and the third image shows the bottom of the first page. The search generated seven pages of results overall.
There are additional search results between Pictures 2 and 3 that feature a mix of organic and sponsored products.
As you can see from the above search results, Sponsored Products look very much like organic results (apart from a small Sponsored label) and, in most cases, are probably just as relevant to a searcher's intent. Also, you might notice that for popular products, like drones, there are far more Sponsored product results than the equivalent number of paid PPC ads on a Google results page. In the example shown, there were 1,000 organic results over seven pages of results. However, 14 advertisers bid a sufficiently high enough sum for their products to appear on the front page, boosting their products' visibility.
---
Sponsored Brand Ads
Sponsored Brand ads also appear in search listings for products and product categories. However, they highlight a seller who sells a relevant product rather than a product itself. If somebody clicks on the ad, Amazon takes them to the seller's Amazon store.
How Amazon displays Sponsored Brand ads appears to vary depending on your location. For example, in some countries, they highlight up to three relevant products. In others, they highlight just one, or sometimes Amazon groups Sponsored Brand ads under "Brands Related to Your Search," with little if any emphasis on a specific product.
If you were to click on any of the above ads, Amazon would take you to the relevant Amazon Store, e.g., clicking on the first Sponsored Brands ad above takes you to:
---
Sponsored Brand Video Ads
A variation of Amazon's Sponsored Brand ads that have become more popular lately is their Sponsored Brands Video Ads. To be eligible to use these, you must first register in Amazon's Brand Registry program. These ads usually appear halfway down the first page of Amazon search results and take up much more space than organic or Sponsored Product listings (although standard Sponsored Display ads can sometimes take up a similar area).
These ads typically have two parts: a brand's video appears on the left, and a product image and details appear on the right.
As with the other ad types in this post, brands bid for the right to position their Sponsored Brand Video ad in users' product search listings.
---
Sponsored Display Ads
Sponsored Display ads are the third type of Amazon PPC advertising. These ads don't target keywords. Instead, they target customers based on audience interests and shopping behaviors, as well as those who have already viewed your product detail pages. Amazon often uses these ads for retargeting customers within 30 days of viewing listings.
These work in a similar way to Amazon's other PPC offerings. Amazon sellers bid to have their ads visible to a potential customer, the highest bidder wins the advertising slot, and the seller pays if the viewer clicks on the ad. There are three types of targeting options for these ads: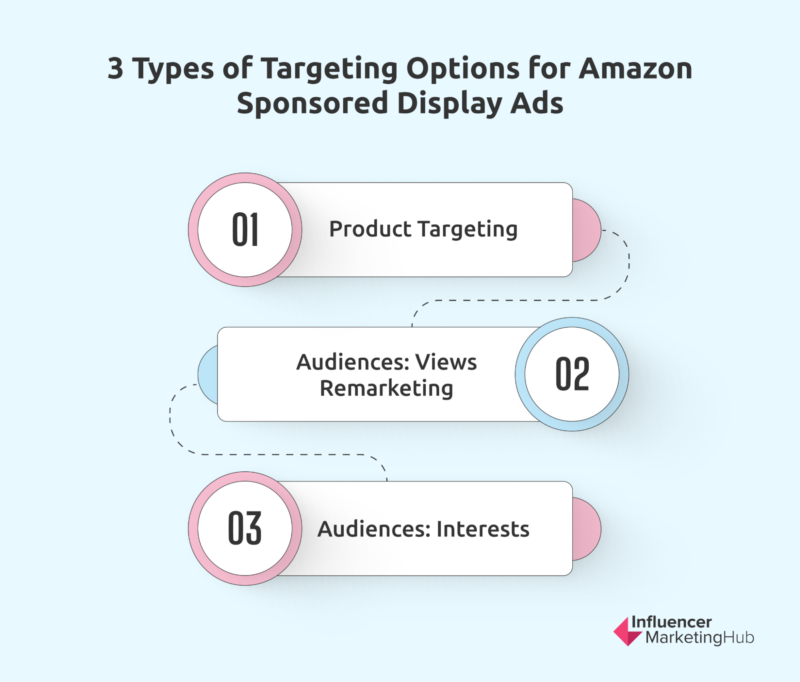 Product targeting – you target similar or complementary products and categories to your product

Audiences: Views remarketing – you target audiences who have viewed the details of your product (or similar products) within the past 30 days

Audiences: Interests – you target audiences who have browsed or visited the details pages of products in a specific interest segment within the last 90 days. Only vendors who sell their products directly to Amazon can use this targeting, not independent businesses selling through an Amazon store).
---
How to Create Amazon PPC Ads
This section will focus primarily on Sponsored Product ads, the most common type. The process for creating Sponsored Brand and Sponsored Display ad is similar, but with less emphasis on individual products and generally less competition for brand keywords, particularly if you are selling your own branded products.
As with all PPC ads, Amazon PPC ads involve brands bidding for the right to have their ad appear when Amazon visitors search for particular keywords. Sponsored Product ads, in particular, don't look like ads. What you are actually bidding for is the right to have your product listed near the top of Amazon search results, ahead of other sellers and even Amazon itself if you're lucky.
The basic steps of having your Amazon PPC Sponsored Product ad appear are:
A shopper searches Amazon for a particular product type relevant to a product you sell on the platform.

Amazon compares the bids for all relevant ads targeting that keyword.

The ad with the highest bid wins the auction

Amazon then displays the winning ad near the top of the product search results.

The shopper clicks on the winning ad to learn more (and hopefully follow through with a purchase)

The winning advertiser pays an amount equivalent to the second-highest bid (not their own highest bid figure) plus one cent.
We will walk you through creating an Amazon Sponsored Product ad here. We assume you have already created an Amazon account and set up initial product listings. However, if you are still new to Amazon, you might wish to go through the steps in our In-Depth Guide to Selling on Amazon.
Steps Before Setting up an Amazon PPC Campaign
Before setting up your PPC ads, you will want to revisit and optimize the product detail pages for those products you intend to promote.
Select the Products to Display Your Featured Offer
If you're using PPC ads to direct people to your product pages, you will want to create a Featured Offer. The Featured Offer appears near the top of a product detail page, which customers can buy now or add to their shopping carts.
Note that if other sellers also select the same product as a Featured Offer, Amazon combines everyone's offers into one product detail page to give the best customer experience.
You can't use Sponsored Product ads if your product isn't eligible to show up as a Featured Offer.
---
Ensure Your Promoted Products Have Strong Titles
You then need to go through your product listings to ensure they give value to viewers. You will want them to follow good SEO practices so that your products stand out from your competing Amazon sellers (as well as Amazon itself if they sell similar products). A starting point for this is to ensure your product listings have relevant, informative product titles – but don't stuff with irrelevant keywords. Remember that you want to appeal to real people viewing your listings, not just Amazon's search AI.
Things to include in your title could include your brand name, product type, product line, size, material, any unique features, packaging, color, and quantity.
---
Include Multiple Bullet Points on Your Product Detail Pages
If somebody clicks on your Sponsored Product ad, Amazon will redirect them to your Product Detail page to learn more about the item. Include at least three bullet points giving a clear overview of your product's key features. You will want these bullet points to detail factors like contents, uses, dimensions, operational considerations, age rating, skill level, and country of origin. Of course, the exact details will vary depending on your product category.
Remember that visitors are trying to learn about your product in this section, so avoid any promotional or pricing information in these bullet points.
---
Craft Useful, Detailed Product Descriptions
Having emphasized the highlights of your products in your bullet points, use the product description section to go into more detail. It is crucial your product descriptions read well, so use complete sentences and check your spelling and grammar. You want to capture your products' benefits and uses and suggest how they can be of value to potential purchasers.
---
Include Multiple High-Quality, Zoomable Product Images
Shopping online has one significant disadvantage to shopping at brick-and-mortar stores. People can't pick up, hold, and examine your products. Therefore, you must make up for this with high-quality photographs and short videos. Ideally, you should include pictures of your product from various angles so a visitor can simulate turning your product around.
---
Planning Steps to Make Your Campaign Profitable
Before you go into Seller Central to create your campaign, you should first plan your campaign and possible strategies.
Determine a Goal for Your PPC Ad Campaign and a Way to Measure Your Success
Before you touch your computer, you must decide your purpose for creating an Amazon ad campaign. Specifically, what are you trying to achieve? How do you think you can measure success? If you have more than one goal, you would typically create separate campaigns for each one.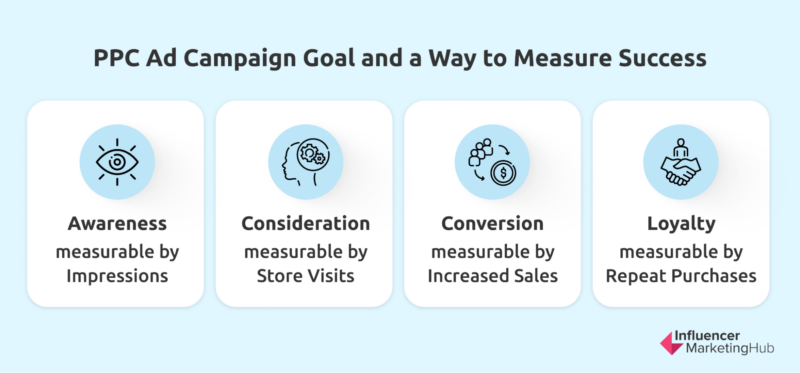 Goals tend to slot into the following areas:
Awareness, e.g., "I want more people to be aware of my business," measurable by impressions

Consideration, e.g., "I want more shoppers to consider purchasing my product/brand as they browse similar brands or their products," measurable by store visits

Conversion, e.g., "I want to drive sales for my products or services," measurable by increased sales

Loyalty, e.g., "I want my existing customers to remain loyal to my product or brand," measurable by repeat purchases
---
Decide on the Budget for Your Campaign
You're not going to get very far with a campaign if you cannot make viable bids and compete with others targeting those top spots in Amazon search results. While you may know the total budgeted amount you are willing to spend, it can be hard to set viable Amazon PPC strategies when you first start selling on Amazon.
Your early campaigns may be partial guesswork, but you should gain better results as you build up data from trading on the platform. However, you will need to keep a close eye on your ad performance to avoid unexpected bills much higher than you are prepared for.
You will need to set a daily ad budget, i.e., the maximum amount you're prepared to spend each day on the ads for your campaign. Remember that the longer you run your campaign, the more your total budget needs to be.
It will be easier to set bids if you know the following:
Your ACoS (Advertising Cost of Sale), i.e., Ad Spend / Sales Revenue.

The price of your product

The conversion rate of your product
You will already know your product price. If you have previously advertised and made sales, you can find data about ACoS and your conversion rate in Seller Central Campaign Manager.
For advertising to be viable, you need to ensure that your ACoS is less than your profit margin; otherwise, you will lose money each time someone purchases your advertised product. Therefore, you should set a target ACoS for each campaign that ensures your targeted ad spend isn't too high compared to your expected sales revenue.
If you set a goal to improve your profit margin, you will want to set a lower target ACoS. However, if your goal is for something else, you could probably consider a higher target ACoS. For example, you will generally set a higher target ACoS when you have product inventory that you need to move, are promoting a new product launch, or have some special event to exploit.
---
Calculate Your Default Advertising Bid
You need to decide on a realistic advertising bid rate for your ads to appear in a high position when somebody searches for your desired keyword term or product name. However, you should remember your target ACoS – you don't want to bid an amount that makes your campaign unprofitable.
It can be challenging to set bids high enough to win valuable ad spots yet low enough that you remain profitable.
---
Creating Your Campaign
Now that you are prepared and understand general bidding strategies, you can create your campaign.
Log in to Amazon Seller Central
Within Seller Central, go to your Advertising tab and select Campaign Manager. Then click on the yellow Create Campaign button beneath any graphs that appear.
---
Choose Your Campaign Type
Amazon will present you with boxes for Sponsored Products, Sponsored Brands, and Sponsored Display. For a Sponsored Products campaign, click the Continue button in that section. However, you would click that button in one of the other categories if that is the type of campaign you want to create. The options for doing so are similar (but not the same) as for Sponsored Product campaigns.
---
Fill in Your Basic Campaign Settings
Now you start to fill in the relevant details for your campaign. These include:
Campaign Name – give your campaign a descriptive name. Anyone should be able to understand the purpose of a campaign by a glance at its name. However, a campaign can include multiple ad groups, in which case your campaign name may be relatively general (like "Black Friday 2023"). You would, in turn, use more detailed names for your Ad Groups (the specific products you want to appear as results, in particular, searches your target audience makes over a set time)
Dates for your campaign – the period you want your campaign to run. If you want a campaign to run indefinitely, you can leave the end date blank. For instance, you might have ongoing campaigns for specific product categories that you adapt and alter according to results and promotions
Daily budget – this is where you can ensure your campaign doesn't get unexpectedly out-of-hand, even if you make an error in your targeting and show your ads to too many people. If your actual daily spending comes in at less than this amount, Amazon can increase spending on later days by up to 10% to use up the unspent money. Be realistic, however, and budget for at least $50. If you set a daily budget at something like $10 or $20, you could chew through that cap very quickly, meaning many valuable people may never see your ads. However, remember that a $ 50-a-day budget turns into $350 spent after a week and $1,500 after a month
---
Choose Between Automatic and Manual Targeting
If you are a beginner at using Amazon PPC ads, you should go for Automatic Targeting. Here, Amazon will automatically place your ads on the keywords its AI believes are most relevant to your products. You won't have to worry about any keyword strategies and tactics we refer to here, as Amazon will make a reasonable choice for you.
In addition, it may be valuable to use automatic targeting for your first sets of ads in a product category. Amazon's keyword targeting can give you ideas for future manual targeting. Once you've run a few automatic campaigns, you can determine which keywords and ASINs you should target for improved optimization, sales, and profit.
With Manual Targeting, you have the flexibility to determine your keywords and bid rates. You can create a more specific target audience. Of course, you can get this very wrong if you don't know what you're doing, so manual targeting is best suited for experienced advertisers and PPC experts.
Well-selected keywords will generally have a better ACoS than those selected by Amazon with automatic targeting. In addition, manual targeting will be beneficial to people who know their target audience well and know who they want to view their ads. However, it can involve micromanaging your campaigns, which can be challenging if you sell multiple products and have limited time. You need to balance any increased profit generated by automated targets against the cost of your time or that of an Amazon PPC expert within your business.
From this point forward, things vary slightly, depending on whether you've gone for automatic or manual targeting.
---
If You Selected Manual Targeting Only: Choose Your Targeting Strategy and Type
Amazon allows you to target potential customers in various ways, depending on the type of sponsored ad. These affect the types of searches for which your ads appear.
Sponsored Products – select from Keyword Targeting, ASIN Targeting, or Category Targeting

Sponsored Brands – select from Keyword Targeting, ASIN Targeting, or Category Targeting

Sponsored Display – select from ASIN Targeting, Category Targeting, or Views Remarketing
With Keyword Targeting, you bid on relevant keywords that searchers are likely to use, so your product or brand receives a boost in relevant search results.
With ASIN Targeting, you bid on individual products (each has its own ASIN), so your product appears in a high position on the preferred Product Details pages. You can even bid on your competitors' products, so your ad appears in searches for them.
With Category Targeting, you bid on product categories, so your preferred product or brand appears in a high position on your selected Product Category page.
Views Remarketing is specific to Sponsored Display ads and allows you to reengage with people who have previously viewed one of your product details pages within the last 30 days. In addition, unlike all other PPC ads, you can place these ads both on and off Amazon.
---
Create One or More Ad Groups
In the next stage of creating your campaign Amazon asks you to form an ad group. Amazon considers an ad group to be a group of ads sharing the same keywords or products. They suggest you group products falling within the same category and price point range. For example, if you sell a series of reasonably similar products that appeal to the same target audience when searching, you can include them in one ad group.
For example, if Backyard Discovery (who make children's outdoor playsets) were creating sponsored PPC ads for their swing sets, they could make two ad groups, one containing their cheaper swing sets and the other their more expensive sets. With the products shown, if they aimed to promote their more inexpensive sets, they would probably include all their sub-$1,000 products in the first ad group. If, however, they wanted to target their promotion on more expensive products, they would target the second ad group with the sets priced at more than $1,500.
Often you will only want to focus your campaign on one product. In that case, your ad group will only contain that item.
You will need to give your ad group a logical name, so you can understand the types of products it contains. You then add your selected products to the group. You do this by searching for the products by name, ASIN, or SKU, entering a list of products, or uploading the relevant details.
Remember, you can have multiple ad groups for a campaign. Think of each ad group as the combination of your products you would like to appear in a single search. You may choose to differentiate your ad groups by time, e.g., "Christmas specials," rather than products or some combination of the two.
---
If You Selected Manual Targeting Only: Select the Keywords You Want to Target
With automatic targeting, you don't have to worry too much about finding suitable keywords to target. With manual targeting, however, you will need to discover relevant terms yourself. Third-party tools, like Helium 10, Pacvue Commerce, Jungle Scout, or SellerApp, can help you find the best keywords to target for your products.
You can select from a list of suggested keywords, add your preferred ones, or even upload a file in .CSV format. If you have used a third-party tool, you would generally add any terms you have chosen as a list in Amazon Seller Central, although the app may create a .CSV file you can upload.
In addition, you will find various options (and suggested bid levels) relating to filtering and match types. If you use Amazon's suggestions, remove any terms you don't want to target.
---
If you Selected Automatic Targeting Only: Select Your Campaign Bidding Strategy
Amazon asks you to select one of three bidding strategies:
Dynamic bids – down only

Dynamic bids – up and down

Fixed bids
If you select one of the Dynamic bidding strategies, Amazon changes your bids in real-time, depending on what it believes is the likelihood of you making a sale. For example, in the first bidding strategy, Amazon lowers your bid when it appears you are less likely to make a sale. It does this to lessen the chances of your ads appearing on irrelevant searches. This also applies if you use the second strategy, but in this case, if Amazon's AI believes your product is more likely to make sales, Amazon increases the price of your bid by 10%.
With Fixed bids, however, your bids remain unaltered, regardless of what's happening in real time.
---
If you've opted for automatic targeting, you can use the default bid for the ads you previously calculated (Amazon suggests $0.75, but that may not be suitable for you) or set up bids by targeting group. If you've opted for the default bid, that will be your beginning bid for all types of products. However, these may never be enough for some product categories, so you might want to be more aggressive with your first bid.
Alternatively, you can set different bid prices for various targeting groups. These bid strategies are:
Close match

– Amazon shows your ads to people who search with terms closely related to your product. For instance, most of the swing sets from Backyard Discovery would come up in a search for "wood swing sets." However, Amazon would recognize "wood

en

swing set" as a close match.

Loose match

–Amazon displays your ads for searches that aren't quite as close, for example, just "swing set" without any other descriptor.

Substitutes

– Amazon will show your ads in searches for similar products to yours. For example, Amazon might include some Backyard Discovery ads in searches for "Jungle Gym swing sets" if they selected "Substitutes."

Complements

– if your good goes well with another type of product, it may be worth letting your ads appear in searches for that product. For instance, Backyard Discovery might target some bids at searches for "outdoor furniture."
Although Amazon provides recommended bid prices for each targeting group, you can set them however you like, particularly if you consider some groups more critical to your campaign than others. If you calculated a default bid previously, you should still use that as a starting point when determining bids for your targeting groups. For example, you might set a higher rate than your default for Close Match, your default rate for Substitutes, and a lower rate for Complements. It all depends on the nature of your products and your target campaign goal. For example, if you target awareness, you will probably want more people to view your ads than for other goals, even those not immediately anticipating making a purchase. However, if your goal is increased sales, you will only want realistic potential purchasers to view your ads.
With manual targeting, your bids can differ by keyword and match type.
---
Set Negative Keywords (Optional)
When relying on automatic targeting, you may find some keywords that, although they may appear logical to Amazon's AI, are pointless to your ad campaign. They will cost you money and may even hinder your chances of meeting your goals. For example, if your goal is increased sales, a term that may result in a high click-through rate (CTR) but no sales is useless. You want to ensure that your ad only appears before the right audience to meet your goal.
You can get around this problem by setting some negative keywords. By doing so, you are telling Amazon to take these terms out of consideration.
Negative keywords can also be helpful for manual targeting if you have keywords useful in some circumstances but irrelevant in others. With negative keywords, you can exclude specific searches.
---
Once you've reached this point, you can push the Launch Campaign button. Amazon will check things first and start your campaign in about 30 minutes, depending on what you have set as a start date in your campaign settings.
---
Checking Your Amazon PPC Strategies are Working
Unless you notice going dreadfully wrong immediately (for instance, reaching your daily budget limit too quickly), you should let your campaign run for about a week before making changes. During that time, you need to build up data before you adapt your campaign strategies or make any changes.
When you are ready to analyze your campaign's performance, you will again go to your Seller Central page. Begin by looking at related graphs and campaign stats. The longer you run a campaign, the better your data will be (although, of course, you are paying money every day it runs).
To find data relating to a particular campaign, go to All Campaigns > [Your Ad Campaign name] > [Your relevant Ad Group].
Here you will find data relating to
Spend – how much you've spent on this campaign so far

Sales – the value of the sales you've made of the products in the selected ad group during this period (as a result of people clicking on your ads – it doesn't include organic sales or sales made due to other ads in a different ad group). Note this is not overly relevant if your goal isn't to increase sales. For example, if you are using ads for awareness, you may not have increased sales much.

Your ACoS – the actual ACoS on this campaign to date

Impressions – the number of people who have seen your ads so far

"Add Metric" – here, you can select additional metrics related to your campaign analysis. For instance, you might want to add your Cost-per-click (CPC) or Click-through rate (CTR).
By clicking each of the above buttons, Amazon will show you a graph showing daily progress on the relevant metric.
Beneath this section, you will see a list of all the products in the ad group. Note that you can add additional goods if you want to modify your campaign. In addition, you will find more detailed information about the performance of each product in your campaign if you have more than one product in your ad group.
You will also find tabs at the top relating to targeting, negative targeting, search terms, and your ad group settings. The last section is for Advertising reports, where you can create various reports showing your current performance.
If you decide to modify your campaign due to your analytics, you can make any changes in the relevant section.
For example, if you discover some keywords are performing poorly, you might want to add them as negative keywords, so you don't continue to have your ads appear in searches for them.
If you see keywords that have performed exceptionally well under Automatic Targeting, you may want to set up a Manual Targeting campaign where you focus on these keywords. If you do this, you should add them to your Negative Targeting list in your original campaign, as you don't want both campaigns to place ads in the same search.
---
How the PPC Auction Works
Of course, just because you have set up an advertising campaign doesn't mean that your ads will necessarily appear in Amazon search results. Sometimes, they may show so far down the lists that they become irrelevant to most searchers.
As with most PPC auctions, comparative bidding occurs in real time.
You will probably be just one of many advertisers bidding for your ads to appear in a search result listing or a product page, particularly for a popular product category where you have many competitors, possibly including Amazon itself. Amazon's system collates all the bids for a term. When somebody meeting your target group does a search, Amazon, in real-time, compares all the relevant bids (showing the maximum amount every potential advertiser is willing to pay). Then, it fills up Sponsored Product positions on the search results page by order of bid, from highest to lowest. The highest bidder wins the best place and pays $0.01 more than the bidder given the second-best spot. Then, Amazon fills up the rest of the allocated Sponsored Product positions in the same way, using ads from the remaining bidders, each paying $0.01 more than the next-lowest bid.
Auctions for Sponsored Brands and Sponsored Display ads work similarly, although focusing on different types of searches.
---
Strategies and Tactics to Move Your Actual ACoS Nearer to Your Target ACoS
You could consider some of the following tactics if you want to move your ACoS nearer your target level: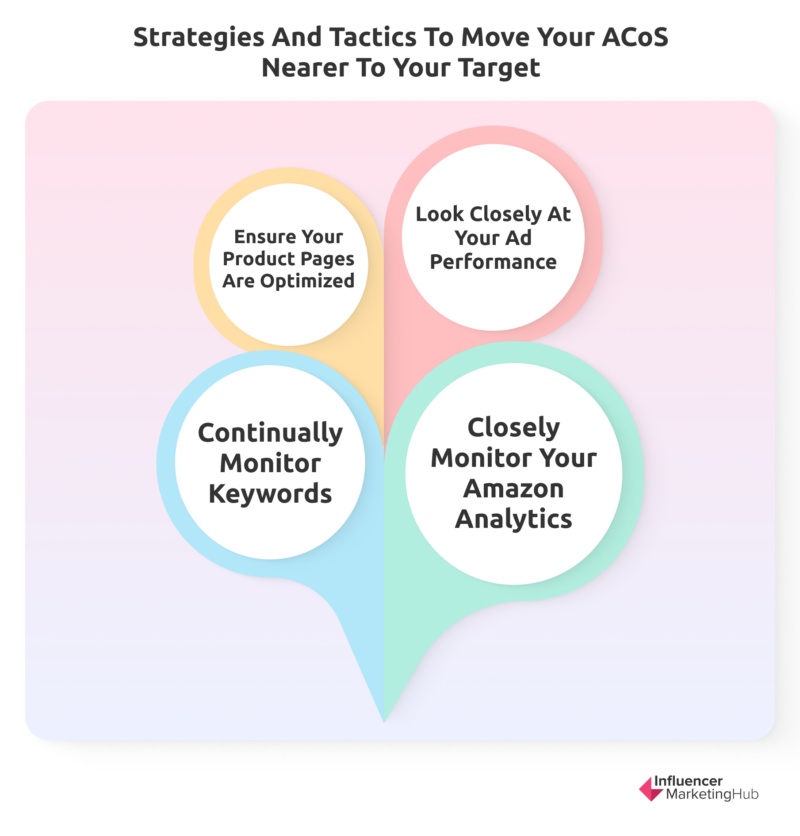 Ensure your product pages are optimized using the tips listed above. This should increase your Conversion Rate (CVR) and Click-Through Rate (CTR) and give all the benefits that result from that. A second benefit of doing this is that the more optimized your product pages are, the better they appear in organic searches and the less you have to rely on PPC advertising.

Once you've been advertising for a while, look closely at your ad performance. In particular, observe the times and days of your most successful ads. Also, note any other seasonal trends. Then, adjust your ad campaign settings to focus your ads on these most profitable times.

Continually monitor keywords to ensure you're bidding for the most profitable terms. It may be worth increasing your budget for more successful terms and reducing what you're willing to spend on phrases that have shown little success. You could use an

Amazon keyword tool

to assist you in mastering this.

Continue to closely monitor your Amazon analytics to determine how things are going. Then, be prepared to experiment and make gradual changes to optimize all parts of your campaigns.
---
Strategies for Targeting by ASIN
We have predominantly focused on product campaigns where you target by keyword here. However, another popular approach is to target by ASIN. Remember, Amazon gives each product a unique ASIN (consisting of ten letters and/or numbers) as an identifying number. Although you will probably already know the ASINs for your products, you can find them for any product by looking at their product information page.
Sellers tend to create campaigns based on ASINs using one of four strategies:
Target the ASINs of

your

products if you want to compete against your competitors' ads on your product pages, particularly if their ads show higher than your organic results. You could also do this if you want to upsell products. For instance, you could promote your 4K TVs on the product pages of your lower-definition televisions to encourage searchers to spend more on a better product.

Target the ASINS of

your

products if you want to cross-promote complementary products, e.g., if you want ads for your streaming devices to appear on the pages of TVs you are selling

Target the ASINS of

your competitors'

similar products if you want to piggyback on their traffic, e.g., position ads for your streaming devices on the product pages for their streaming devices

Target the ASINS of

your competitors'

complementary products if you want to take some of their traffic, e.g., position ads for your streaming devices on the product pages for their TVs. You will often see these ads in the "Customers who viewed this item also viewed" section of searches.
---
Wrapping Things Up
Creating Amazon PPC ads may seem daunting for a beginning advertiser. However, as you have seen, there are many strategies you can use to improve the performance of your ads and ensure you aren't wasting money marketing to the wrong people. Perhaps the most vital strategy is to review your decision-making constantly. Amazon ads change in real time, so you can't expect to set and forget your Amazon PPC campaigns.