Advertising Disclosure
Advertising disclosure:
Our partners compensate us. This may influence which products or services we review (also where and how those products appear on the site), this in no way affects our recommendations or the advice we offer. Our reviews are based on years of experience and countless hours of research. Our partners cannot pay us to guarantee favorable reviews of their products or services.
Amazon Marketing Services (AMS) is the collective term for several Amazon services for sellers like Sponsored Products, Headline Search Ads (now called Amazon Sponsored Brands), and Amazon Display Ads. As of September 2018, Amazon has rebranded several of its features (AMG, AMS, and AAP) as Amazon Advertising. AMS is now called Advertising Console. We'll be referring to Amazon Marketing Services, AMS, and Advertising Console throughout this article.
According to Amazon statistics, Amazon still leads the pack by far and boasts 37.8% of the market share among retail eCommerce companies. In terms of customers it works out to more than 300 million. Nearly 40% of these customers find sponsored ads helpful, just one more reason why you should take note of Amazon Marketing Services.
---
Services to Help You Leverage Amazon Marketing
---
---
---
---
---
Amazon Marketing Services: How to Use It to Boost Your Income:
Amazon Advertising Products
Amazon has more than 300 million active customer accounts worldwide (Q1 2020 Amazon earnings release). With so many data points, it's no wonder that Amazon understands what motivates shoppers, how they engage with brands, and how they browse and buy online. Advertising on Amazon helps Amazon sellers reach their target audience at every stage of the buyer journey and offers several different products to help you achieve your advertising goals.
Sponsored Products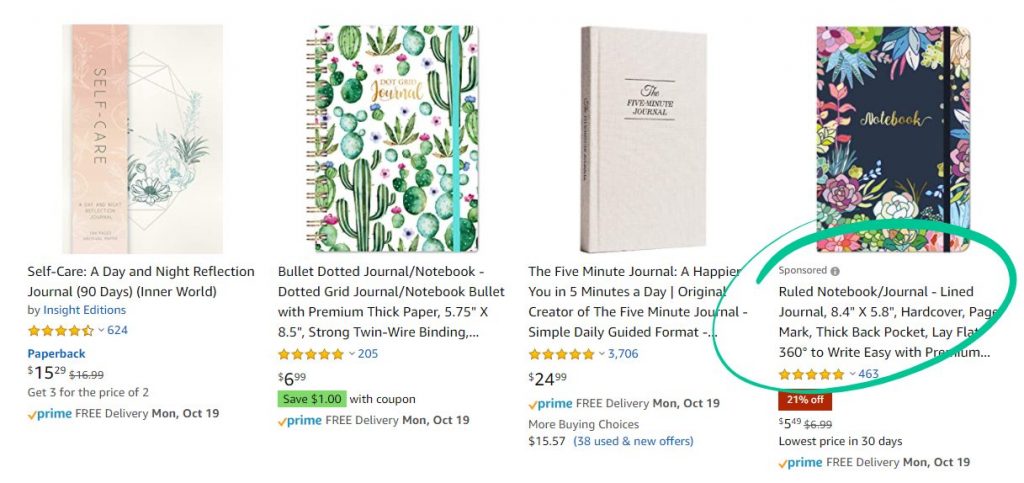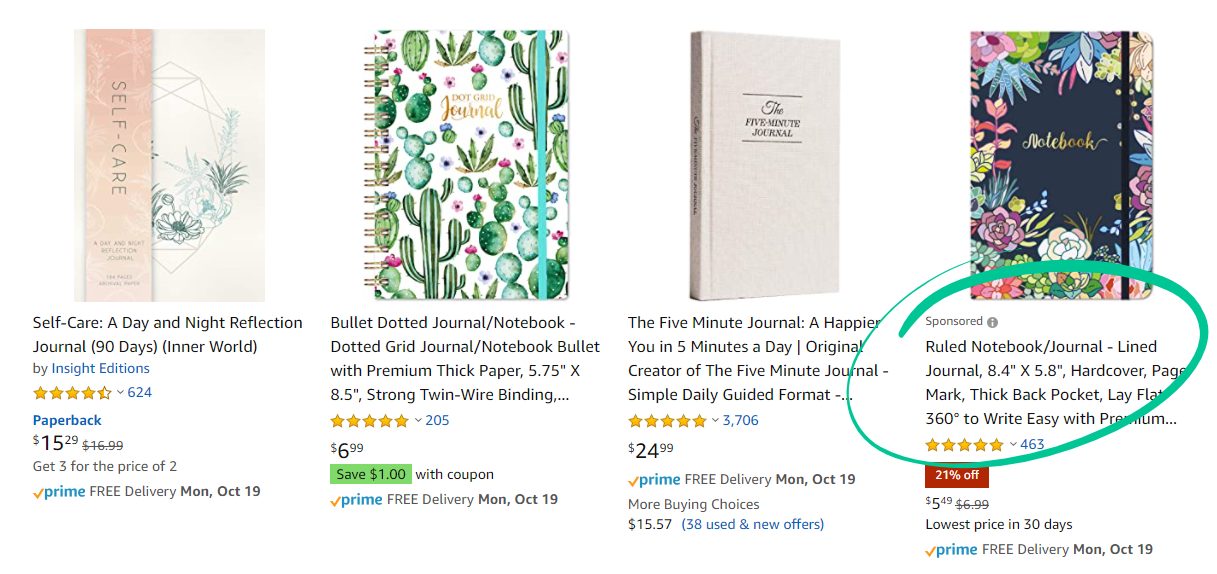 Sponsored Products help customers find and purchase the products you sell on Amazon with ads that show up in shopping results and on product pages.
Sponsored Products Ads show up in highly-noticeable locations like the first page of shopping results and product pages. They help you reach customers who are more likely to purchase your product since they're browsing for products just like yours. Since these ads are pay-per-click, you only pay when customers click on your ads and you can set a budget to limit how much you want to bid per click.
Sponsored Products Ads are available for professional sellers, vendors, book vendors, Kindle Direct Publishing (KDP) authors, and agencies. There are certain categories eligible for this ad type and your product must be eligible for the Featured Offer to use this Amazon Marketing Services product.
Minimum Daily Budget: $1 (Amazon recommends a minimum daily budget of $10)
---
Sponsored Brands
Sponsored Brand Ads are cost-per-click (CPC) ads that let you add your logo, a custom headline, and multiple products.


You can use Sponsored Brand Ads to increase your brand's visibility and share your message using custom headlines. These ads help you reach your target audience when they're looking for what to buy, which help you increase product awareness. Amazon shoppers can click on your logo to go to your Amazon store or a custom landing page. If they click a product in the ad, they'll be taken directly to the product page. Sponsored Brand Ads are available for professional sellers enrolled in Amazon Brand Registry, vendors, book vendors, and agencies.
Minimum Daily Budget: $1
---
Sponsored Display
Sponsored Display Ads are a self-service advertising option from Amazon Marketing Services. With these ads, you can quickly launch display campaigns and reach your target audience anywhere along the buyer journey, both on and off Amazon.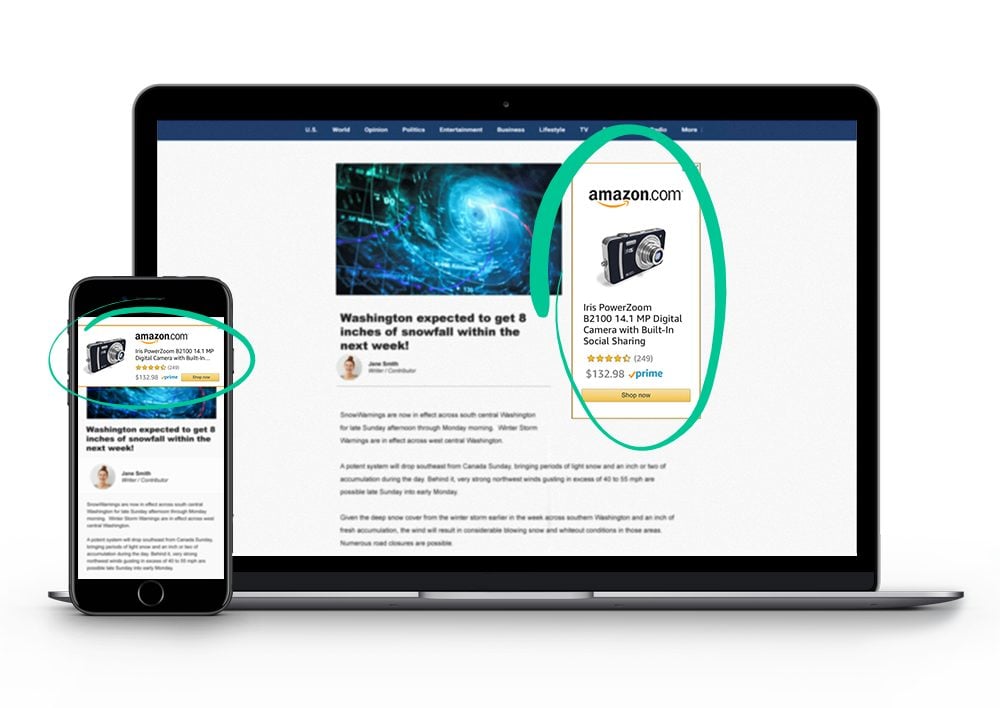 Sponsored Display Ads can reach audiences on or off the Amazon platform. It offers simple campaign creation and automatically generates ad creative for display ads that get results. Sponsored Display ads are available to professional sellers enrolled in Amazon Brand Registry, vendors, and agencies with clients who sell products on Amazon.
Minimum Daily Budget: $1 with a minimum cost per click of $0.02.
---
Amazon Stores
Amazon Stores let you show off your brand and products in an immersive, multi-page shopping experience right on Amazon at no additional cost.
This Amazon Marketing Services product helps you share your brand story and product portfolio with Amazon shoppers using a simple drag-and-drop page builder or predesigned templates. You even get an Amazon URL like amazon.com/BRAND. Stores are available for sellers enrolled in Amazon Brand Registry, vendors, and agencies. You don't need to advertise on Amazon to create a Store.
---
Audio Ads
Amazon's Audio Ads help you reach your target audience through Amazon Music's free ad-supported tier across Alexa-enabled devices.
Audio ads can be between 10 and 30 seconds in length and will be played periodically during breaks on Amazon Music. Since Music is one of the top customer interactions on Alexa, audio ads can help you boost brand awareness. Businesses can buy audio ads whether or not they sell products on Amazon.
Cost: Audio ads have a typical minimum budget of $25,000 and require working with an Amazon ad consultant.
---
Video Ads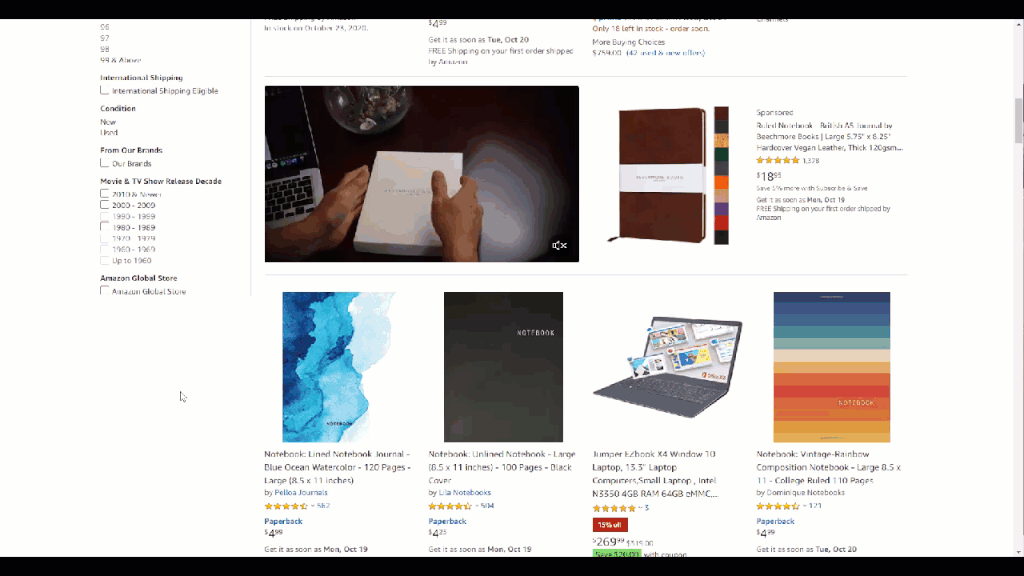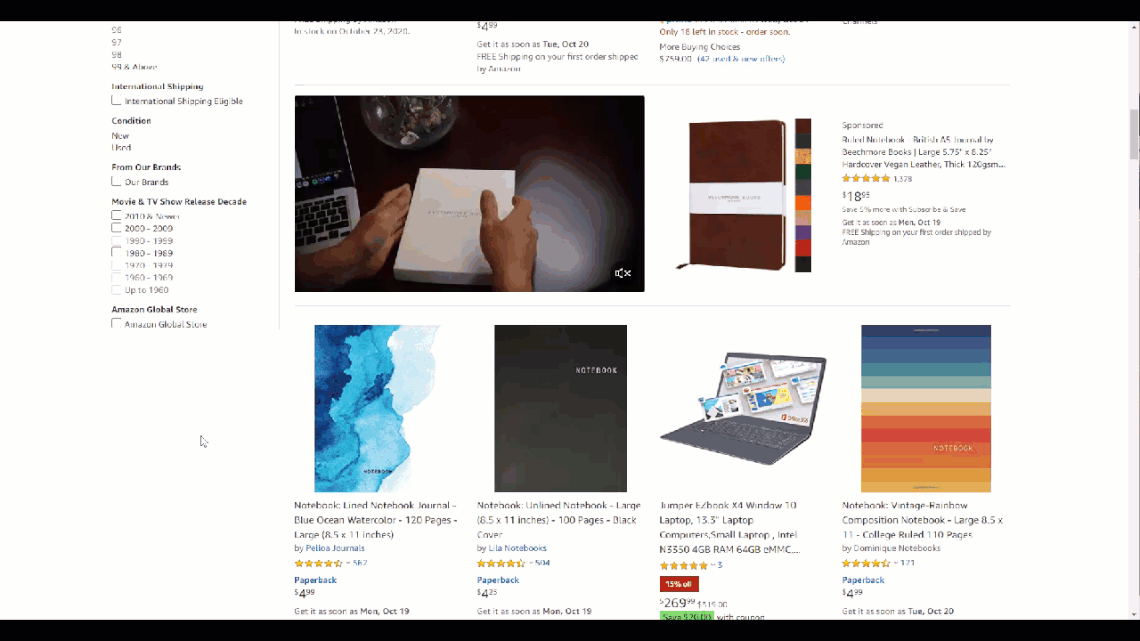 Amazon OTT (over-the-top) video ads appear on connective TVs, publisher channels and networks, IMDb, IMDb TV. Out-stream ads show up outside of video content, on and off Amazon.
Amazon Advertising offers billions of shopping and viewing signals, making video ads a great option to scale your reach. These ads give you a chance to showcase your brand alongside high-quality content like the latest movies and TV, curated news, and live sports. Businesses can buy video ads whether or not they sell products on Amazon and there is a self-service option.
If you'd like to start creating video ads for Amazon and other platforms but don't have much in the way of video editing skills, here are the top video ad makers we've found that can help you create high-quality video ads to increase sales.
Cost: Amazon video ads typically have a minimum budget of $35,000 per campaign for managed options.
---
Custom Advertising
Amazon's custom advertising services are tailor-made advertising experiences. Amazon's Custom Advertising Team works with brands to develop campaigns that reach shoppers at each stage of the marketing funnel. Amazon develops end-to-end campaigns using Amazon's own shopping analytics to ensure that your message is delivered in a way that's sure to have the most impact. Custom advertising brings together Amazon's online, offline, and subsidiary brands for cross-channel advertising campaigns. Businesses with a product or brand to promote can buy custom solutions, whether or not they sell products on Amazon.
---
Amazon DSP
Amazon DSP is a demand-side platform from Amazon Marketing Services that lets advertisers programmatically buy display, video, and audio ads both on and off Amazon. Both self-service and managed-service options are available.
Cost: $35,000 minimum spend for the managed-service option that is designed for companies wanting access to Amazon DSP inventory and consultative service, or for companies with limited programmatic advertising experience.
---
Amazon Attribution
Amazon Attribution is an analytics tool that will help you track your advertising performance across multiple channels. It's easy to use and helps you better understand the return on investment (ROI) of all aspects of your digital advertising like search, social, and email, giving you insight into how shoppers research, find, and purchase your products on Amazon. This feature is currently in beta.
Amazon Attribution is currently available for professional sellers enrolled in Amazon Brand Registry (US only), vendors, and agencies with clients who sell products on Amazon.
Cost: There's currently no cost for Amazon Attribution.
There are a couple of other advertising solutions offered by Amazon (like Headline Search Ads and Product Display Ads), but those we've outlined above are exclusive to Amazon Marketing Services.
---
How to Qualify for Amazon Marketing Services
Not everyone has access to the powerful features offered by Amazon Marketing Services. If you want to use these features you'll need to have one of these accounts:
Seller Central

Vendor Central

Advantage Central

Kindle Direct Publishing (KDP)
You can also get access to Amazon Marketing Services as an agency representing an Amazon merchant.
---
Amazon Marketing Services Best Practices
After choosing the ad type you want, there are some Amazon Marketing Services best practices you can use to make sure that you're creating the best campaigns for your business.
Do Your Research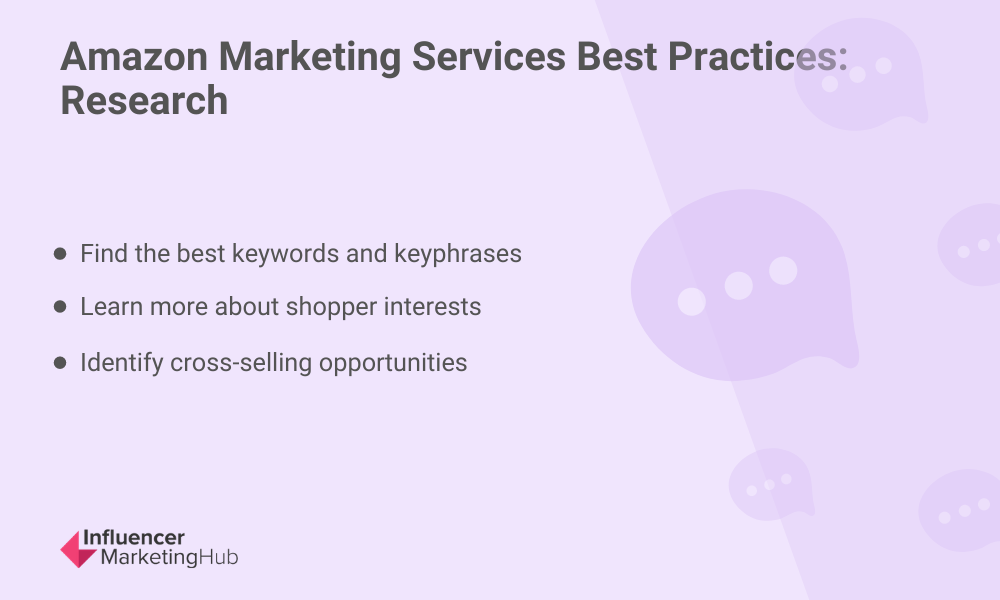 Before you launch a campaign you need to need to do some research. Here are some things to focus on:
Find the best

keywords

and keyphrases

Learn more about shopper interests

Identify cross-selling opportunities
Highlight the Right Products
When you're creating an ad campaign you want to highlight the products that are going to resonate most with your target audience. Generally, it's best to create ads around products that are seasonal, in demand, or that you already know are great sellers.
Establish a Budget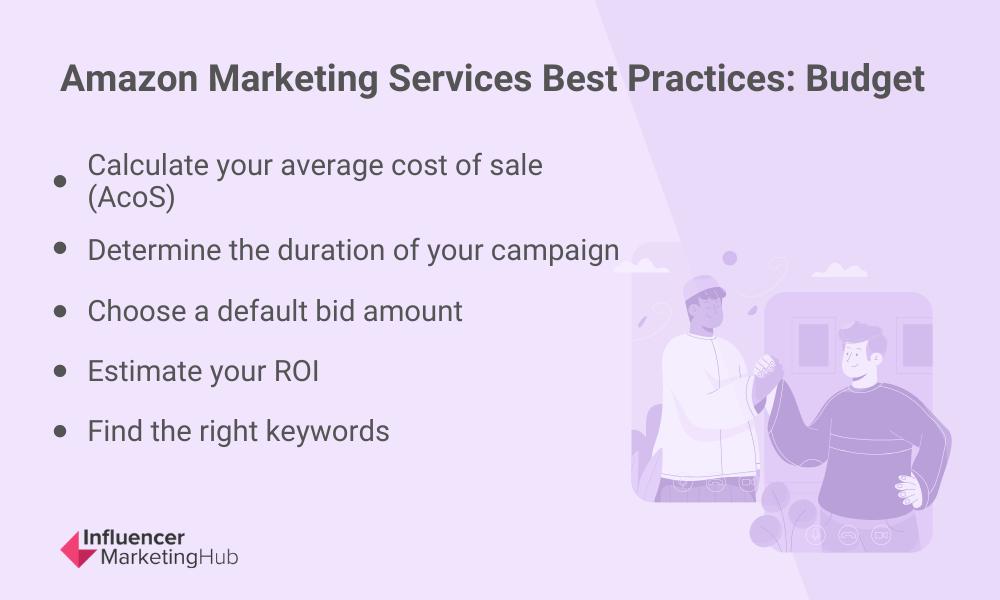 When determining how much to set aside for your Amazon advertising budget, start by calculating your average cost of sale (ACoS). This means tallying up overhead, materials, production costs, taxes, and account fees. So, let's imagine that you're selling an item for $100 with costs to you of $70, or 70% of your product margin. This leaves $30 (30%) that goes toward your profit which means that your ACoS must be less than 30% if you want to make a profit.
Another thing to consider when building your budget is the duration of your campaign. If you're considering establishing a budget of $1,000, for example, will you spend that money in a single day or spread across 20 days, spending a maximum of $50 each day?
Next, think about your default bid amount. This is essential your cost-per-click (CPC), or how much you'll pay each time someone clicks on your ad. A high CPC means you won't get as many clicks for your budget. A low CPC gives you more breathing room to attract customers, increase profitability, and lower your ACoS.
After you've established your default bid amount, you'll want to estimate the return on your investment (ROI). If you determine how much you want to earn from your efforts, you can then reverse engineer how much you have to put towards advertising.
Last, you'll want to think about the keywords that you're going to target with your advertising as that will have a direct impact on your advertising budget. You'll want a mix of shorter keywords that might include one or two words and longtail keywords that are longer, containing three to four words. Shorter keywords are broader and will attract a wider audience. Longtail keywords are typically much more specific and will bring in a smaller number of people. However, the people who find your products using longtail keywords generally have higher purchase intent (they're more likely to make a purchase).
Hire an Influencer
Amazon itself offers an influencer program as part of its affiliate program, allowing influencers with a certain follower count to create their own Amazon Store, share products using custom URLs, and earn money for their efforts. It also launched a celebrity store that shows curated lists from top celebrities. Amazon sellers should consider directing a portion of their marketing budget toward influencers to drive traffic. Find out more about how to use influencers in your Amazon marketing strategy.
Looking for a list of Amazon influencers? Here are 23 of our favorite Amazon influencers to help you sell more online.
Optimize
Amazon Marketing Services gives sellers access to ad data you can use to analyze your campaign performance and then use that information to optimize your campaigns. You'll be able to learn:
What products are converting best

Your most popular colors or product models

Which ads are performing best for specific products

The keywords that are working best

What copy gets the best click-through rates
This information is invaluable and will help you optimize your campaigns by redirecting your budget from lower-performing campaigns to the campaigns that are actually working. Of course, there's a lot more you can do to optimize your advertising campaigns to get the best return.
---
How to Optimize Your Amazon Ad Campaigns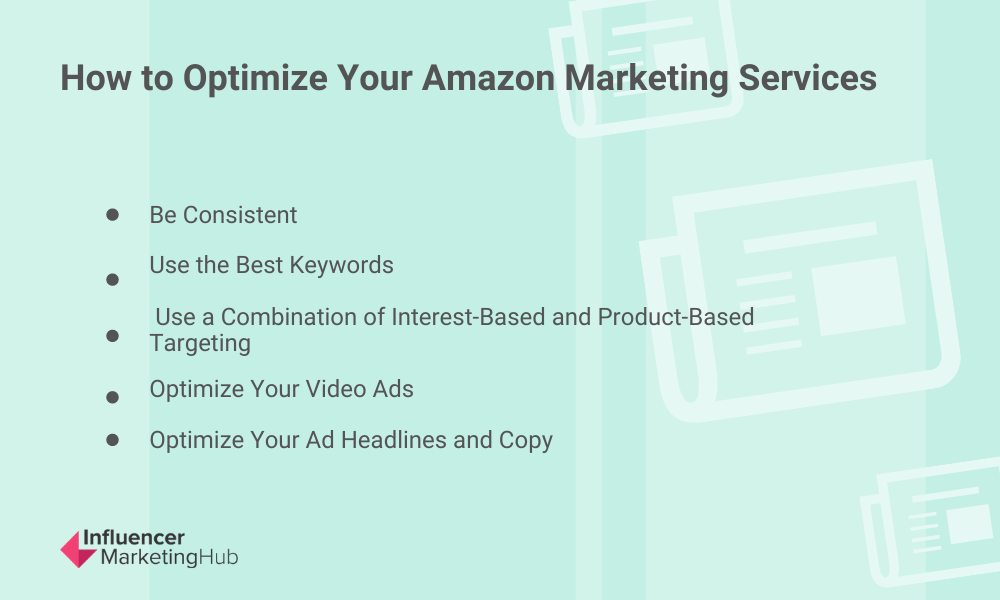 Here we're going to dive a little deeper into how to optimize your Amazon ad campaigns.
1. Be Consistent
Establish an advertising strategy that you're going to use across your advertising campaigns. This will keep your ad strategy organized so you're less likely to end up wasting money on repeated ads.
2. Use the Best Keywords
Amazon already has a great algorithm that will help you choose keywords to use for your advertising campaigns. You can start with these recommendations and then optimize your target keywords as you get more data from your campaigns. There are also keyword research tools that will help you find the keywords that are being used by your target audience.
3. Use a Combination of Interest-Based and Product-Based Targeting
Amazon Marketing Services offers two main targeting methods: interest-based and product-based. We recommend using both methods to reach a broader audience.
4. Optimize Your Video Ads
Video ads are great for grabbing attention but take care to create your ads based on Amazon's advertising specifications. Amazon has target ad sizes, frame rates, and more. Plus, you'll want to stay away from clickable content in your video ads since those elements don't always work properly.
By default, the audio is muted on Amazon Video Ads and it will only be played if the viewer clicks on the video portion of the ad. That makes it exceedingly important to create video ads that can operate both with and without sound.
5. Optimize Your Ad Headlines and Copy
Your ad's copy is another place to pay close attention. Your ad headline is like the subject line of an email. They need to grab viewers' attention and get them excited to click. You can use these tips to write catchy email subject lines to improve your ad headlines.
Your ad copy should support your headline, giving viewers who didn't click based on the headline alone a bit more information that motivates them to click. Use simple language that's engaging and conveys the benefits of your brand and products.
If all this sounds like a bit much to deal with, don't worry about it! There are several Amazon marketing agencies that are eager to help you out.
Frequently Asked Questions
What does Amazon marketing do?
Amazon marketing helps build awareness and services to promote repeat purchases, develop product awareness, and service revenue opportunities.
How much does Amazon marketing cost?
In fiscal year 2020, Amazon's marketing spending amounted to around 22 billion U.S. dollars worldwide. That's up nearly 19 billion from the previous year.
What is Amazon marketing called?
Amazon marketing services, or AMS, is the phrase used to describe several Amazon services for sellers like Sponsored Products, Headline Search Ads (now called Amazon Sponsored Brands), and Amazon Display Ads. Amazon has rebranded several of their features as Amazon advertising.
How do I advertise services on Amazon?
To use Amazon advertising services, you will need to log into Seller Central. If you're new to Amazon, make an account. Then, create your campaign. By using sponsored ads, you can reach more shoppers. In addition, you can control your costs and measure the success of your campaigns.
How can I make money on Amazon without selling?
Here's how you can make money on Amazon without selling:
Register for Amazon FBA
Leverage retail arbitrage
Publish books for Kindle
Use online arbitrage