Amazon is the world's biggest online marketplace. The eCommerce giant has over 300 million active customer accounts, and more than 200 million unique monthly customers prefer shopping on Amazon over any other platform. With these numbers, it's no surprise that both big and small retailers list their products on Amazon.
However, while running an Amazon store may be a lucrative business venture, the results vary for every retailer. Some Amazon sellers achieve success much faster than others, and it's largely due to one thing: marketing. Just like any other online selling platform or brick-and-mortar establishment, your Amazon store needs to have a solid marketing strategy in place.
Here, you'll learn about what Amazon marketing strategies are and why some Amazon stores succeed while others fail. This article will also list the most effective Amazon marketing strategies to help you make the most out of this multi-billion dollar behemoth.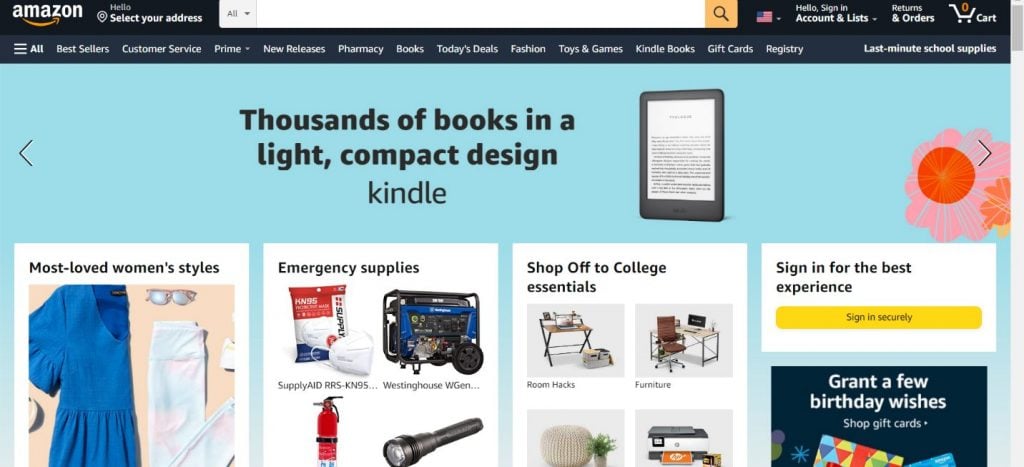 ---
Top 5 Amazon Marketing Strategies You Can Use to Grow Your Amazon Business:
---
What is an Amazon marketing strategy?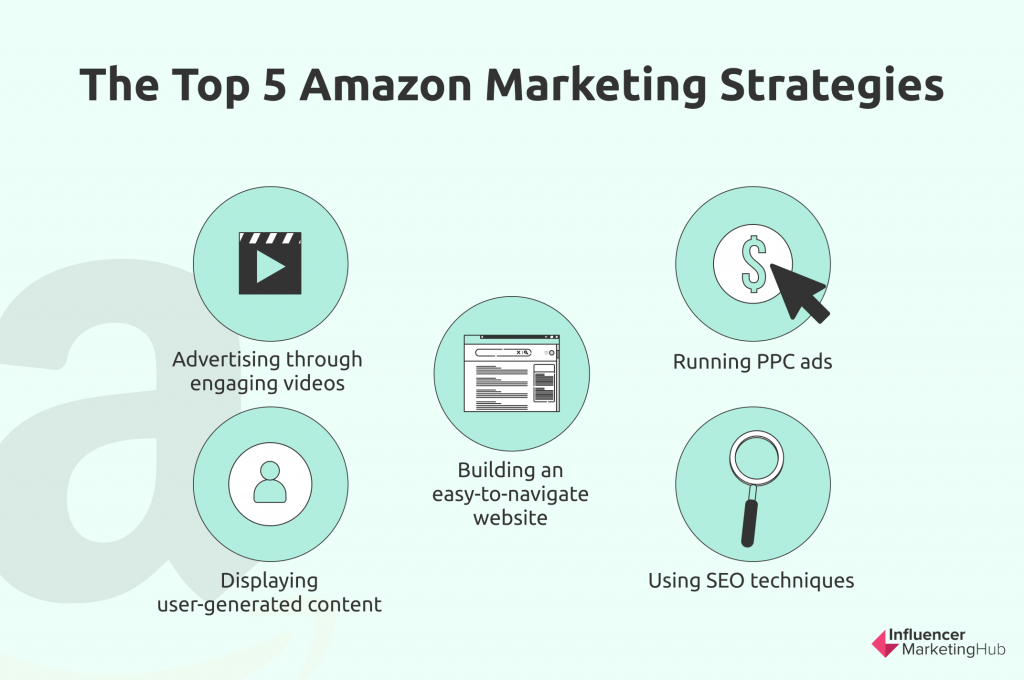 An Amazon marketing strategy refers to a set of tactics you employ to ensure that your store and products stand out on the Amazon platform. Amazon itself is one of the best marketers in the eCommerce industry, as it has a solid marketing strategy that reaches and resonates with its target audiences. Here are some of the tactics that Amazon practices:
Advertising through engaging videos

Running PPC ads

Using SEO techniques

Displaying user-generated content
Each of these tactics plays a crucial role in Amazon's overall marketing strategy. They help the eCommerce giant bring in new clients and foster existing customer relationships, which have certainly contributed to the platform's immense growth over the years.
As an Amazon seller, you need to employ marketing tactics that cater to your target audience. To do so, you must develop both positive and negative buyer personas, study your target market, and understand how to position your brand on the platform.
---
Why do Amazon stores fail?
While owning and operating an Amazon store could be lucrative, many sellers miss the mark and end up shutting down their store. Here are some of the main reasons why it could be difficult for a seller to make it on Amazon.
Sellers earn whenever they make a sale on Amazon. When it comes to average sales per month, Amazon sellers make anywhere from $1,000 to $25,000.
However, it's important to remember that there are nearly 2 million active sellers on the platform, and many of them sell the same or similar products. In a 2021 report by Jungle Scout, nearly 70% of sellers had concerns about the increasing competition in the platform. This makes it difficult for any one seller to stand out, and there are some Amazon stores that are already more established than others.
Competing Amazon stores may offer promos or bundle deals, which may make their product offerings more attractive. They may also have more and better ratings from customers, which boosts the trust of potential customers. Some Amazon sellers may find it difficult to keep up, especially if they don't know how to boost their own visibility on the platform.
As an Amazon seller, you must offer products that consumers are likely to be genuinely interested in. To find out what products you should sell, you must be meticulous in your product research.
Product research entails analyzing the market's trends to find the right product to sell. There are many free online tools to help you do this. As a general rule, the best products to offer are those that you can purchase at low prices and sell at a competitive price.
Unfortunately, some sellers fall into the trap of selling their products on Amazon without conducting a thorough product research beforehand. With little to no research, sellers can end up offering products that don't perform well.
A poor business plan is likely to sink your Amazon store. Planning is crucial to any business, no matter the platform, and running an Amazon store is no exception.
There are different Amazon business models, with retail arbitrage, online arbitrage, artisan or handcrafted, and private labeling as the most common. Any of these can work well when executed properly. However, some sellers fail to factor in all of their costs and their profit margins.
Even worse, some Amazon sellers fail to include marketing in their business plan. Even if a seller can offer the best products to consumers, a store won't succeed without a solid marketing plan.
---
Key Factors to Amazon Marketing Success
Amazon marketing can seem complicated at first, especially for new sellers on the platform. However, there are certain strategies and tips you can follow to make the process go more smoothly for your business.
As you grow your store, your marketing strategy will need constant and consistent monitoring to work. You may even need to fine-tune it several times to find the best strategy for your store. Remember that when it comes to marketing strategies, there is no one-size-fits-all approach. Here are some of the essential factors that you need to consider in developing a strategy for your marketing success.
A buyer persona serves as a template for the type of consumer that is likely to lead to conversions for your store. It's important to establish a buyer persona to help you identify the exact type of customer you're going to craft content for and target when you run ads. Creating a specific buyer persona enables you to figure out which SEO tactics and keywords to use, so you can better resonate with your audiences.
A buyer persona is also known as your ideal customer. As an Amazon seller, the ideal customer would be someone who searches for the products that you offer.
Customer ratings and reviews
After a customer purchases from a particular seller on Amazon, they can leave a review and rate their shopping experience. To know how your store is performing, sift through the reviews and look for things you can improve on. If you have a steady stream of customers but very few reviews and ratings, encourage your customers to share their sentiments. This can be done by adding a call to action to your product descriptions.
As a seller, your customers must be your number one priority. To provide them with excellent customer service, respond promptly to queries and concerns, and make sure that each transaction goes as smoothly as possible. Getting recommendations from satisfied customers is one of the best marketing tactics, so it's important to ensure that you're providing them with the best shopping experience.
---
5 Effective Amazon Marketing Strategies
Here are five of the top marketing strategies you can use to help you grow your Amazon business.
1. Optimize your Amazon product listings
Craft engaging and straightforward product listings. You can use 150 to 250 characters in the product listing's title. Make sure to incorporate keywords that buyers typically key in when searching for your product. Here are the things you should include in the product title:
Name of brand

Name of product

Any of the product's distinguishing features
The product title must clearly communicate what a potential customer should expect from the product without them having to click on the product link. When searching for effective keywords, you can use keyword research tools like Ubersuggest. However, note that while keywords are an effective way to get more consumers to see your product, you shouldn't overstuff your title with keywords to the point that it's no longer readable.
When writing the product description, make sure your copy is concise and straightforward. Highlight the key features of your product, and include relevant keywords. Like the title, make sure that the product description is readable.
---
2. Leverage video marketing
The most popular form of online content today is video content. Most consumers prefer watching a short video to learn about a product rather than reading about it. As an Amazon seller, you can use video marketing to better engage with your customers. By including video in your marketing strategy, you can:
Show the different ways your product can be used

Provide how-to's and walkthroughs on how to set up your product

Talk about your product in-depth
You can even make simple unboxing videos to show customers what they can expect when they purchase your product. By providing customers with video content, you can boost your conversion rate. Here are a few tips for creating videos for your store:
Keep your videos 30 to 90 seconds in length

Reduce background noise

Use neutral backgrounds to showcase your products
---
3. Utilize PPC advertising
To grow your Amazon store, you can also run PPC ads. This boosts the amount of traffic your product listings get. You can select between three types of ads: product display ads, sponsored product ads, and headline search ads.
Additionally, Amazon gives you the option to adjust your ads according to your target audience. The standard cost for each ad click is $0.97. However, this still depends on various factors, such as the number of competitors that are bidding on the same keyword. Of course, this strategy works hand in hand with knowing your target audience. Knowing what resonates with your target audience is crucial to get them to convert.
---
4. Monitor your competition
As mentioned, competition on Amazon is stiff. To make sure you're keeping up, keep tabs on your main competitors' product offerings, and take note of their high-performing ad campaigns. Find out how your competitors are performing by using tools like Profit Bandit and Amazon ASIN. Some tools send automatic alerts and updates, so you can see any changes that your competitors are making to their product offerings. You may even be able to learn a thing or two and apply what you've learned to your own Amazon store.
Additionally, you should be monitoring your own performance. There are plenty of Amazon analytics tools that allow you to see which of your product offerings are performing the best. Choose software tools that can provide you with valuable insights for your business and let you track customer reviews with ease.
---
5. Combine off-site and on-site SEO strategies
This particular marketing strategy involves combining social media, SEO, and backlinks to lead consumers to your Amazon store. As mentioned, establishing your visibility on Amazon is crucial to your success as a seller. Using social media, SEO tactics, and backlinking to your advantage leads to a solid brand identity that can help you sell more of your products.
For your product listings, use high-quality, engaging images. Customers on Amazon want to see what they're buying, so providing enough images of the product is more likely to get them to purchase. If possible, provide shots of the product from all angles.
Remember to utilize keyword research tools to find appropriate keywords that resonate well with your target audience. Keywords contribute to your SEO efforts and help your page rank higher.
Meanwhile, you can leverage social media to lead more customers to your store. As an example, you can post about giveaways on your Facebook and Instagram pages, which can help redirect customers back to your Amazon store. Of course, social media is also heavily saturated with many other sellers, so it's important to produce engaging and entertaining content on a regular basis to connect with your target audience. Also, your social media pages represent who you are as a brand, so the tone you use for your content should be consistent.
---
Boosting Your Amazon Marketing Efforts
Amazon is here to stay, and it's even projected to grow exponentially in the years to come. Building your Amazon store's marketing strategy may take time and effort, but it can help you improve your visibility and reach more customers. It's important to continually stay on top of your marketing strategy and fine-tune the aspects that can be improved, so you can grow your business further.
Frequently Asked Questions
What is an Amazon marketing strategy?
An Amazon marketing strategy is a set of tactics that sellers implement to reach more potential customers and sell more of their products. For a strategy to work, a seller must know their target audience from the inside out. Additionally, a seller must make use of all the marketing tools available to them and leverage these tools to their advantage.
What are the benefits of an Amazon marketing strategy?
An Amazon marketing strategy can help boost a brand's reach, strengthen brand recall, and foster relationships with potential and recurring customers. These can help lead to conversions, which may mean more sales and revenue for the Amazon seller.
Do all Amazon stores succeed?
Not all Amazon stores succeed. While there are stores that make thousands of dollars on the platform, there are those that struggle to make a sale. Here are the three main reasons why:
1. There is stiff competition in that industry or for the particular product being sold
2. The seller did not properly conduct research on which products to sell or how to sell their inventory
3. There is no solid business plan in place
These three reasons greatly contribute to why Amazon stores fail. A solid marketing strategy can help sellers perform better on the platform, but it needs to work hand in hand with well-informed product research, a concrete business plan, and a strategy for overcoming competition.
What is the first step in creating an Amazon marketing strategy?
While there isn't a one-size-fits-all marketing strategy for all businesses, all sellers must begin planning out their marketing strategy with research. They must research the industry they're interested in, the best products to sell, and the type of customer they want to attract to their business.
Is social media effective for Amazon marketing?
Social media is an effective way to boost the reach of your Amazon store because it provides you with a way to connect and communicate with your audience. Additionally, a solid social media presence helps boost your SEO efforts, and you can use its built-in tools to run ad campaigns for your brand.