Selling and marketing your products on Amazon can do wonders for your sales revenue. You are pitching your brand to the world's largest marketplace. However, it can involve a great deal of work. Amazon wants you to succeed, and you will find considerable help there. However, there are many eCommerce marketing software and tools that help your success on Amazon.
You will find tools to assist your eCommerce endeavors on Amazon in multiple ways. Some of the main tools for Amazon merchants cover:
Reimbursements

Keywords and ranking

Brand policing and MAP enforcement

Inventory management and multi-channel selling

Product content

Pricing solutions

Product launch/feedback services

FBA fees

Tax compliance

Returns and refurbishments

PPC management

Product photos
We have examined a selection of eCommerce Marketing Software and Tools, both Amazon-owned and third party, in this post.
---
Top Amazon eCommerce Marketing Software and Tools:
---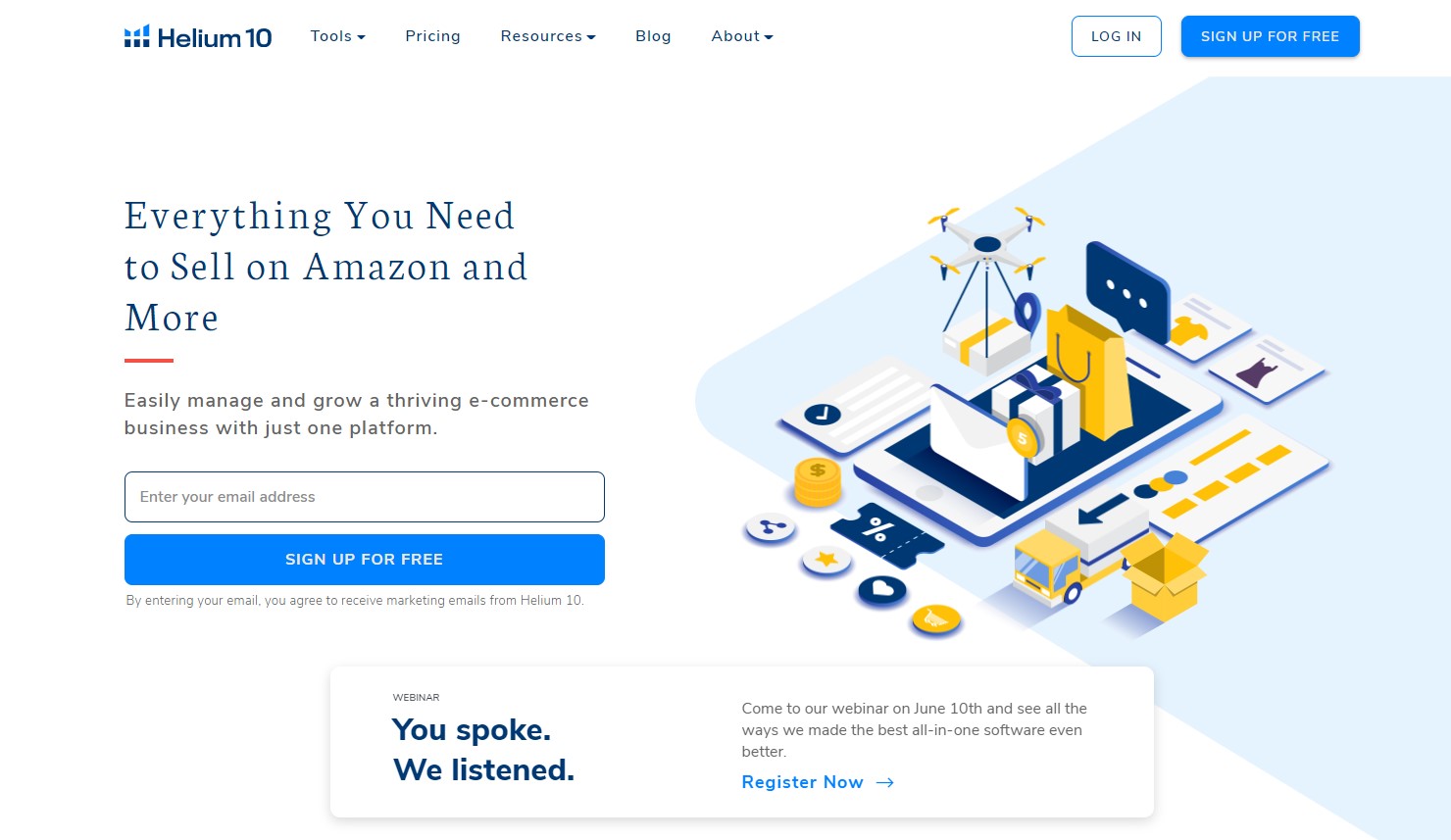 Helium 10 offers you everything you need to sell on Amazon, helping you easily manage and grow a thriving eCommerce business. They consider themselves the industry's first all-in-one Amazon software.
Helium 10 includes an extensive range of tools to assist with product research, keyword research, listing optimization, operations, analytics, and marketing.
You can choose from five monthly plans, ranging from the $37/mo Starter plan, that gives you full access to their Xray tool (a product validator), along with limited access to the rest of the Helium 10 tool suite. The $97/mo Platinum plan, $197 Diamond plan, and the $397/mo Elite plan add additional functionality. Helium 10 also has a free plan where you can try the tools before upgrading and a customized Enterprise plan for agencies and large businesses.
Try out the Free Keyword Research Tool from Helium 10
Amazon Keyword Research
Input a seed keyword or ASIN to uncover thousands of competitive and relevant search terms
---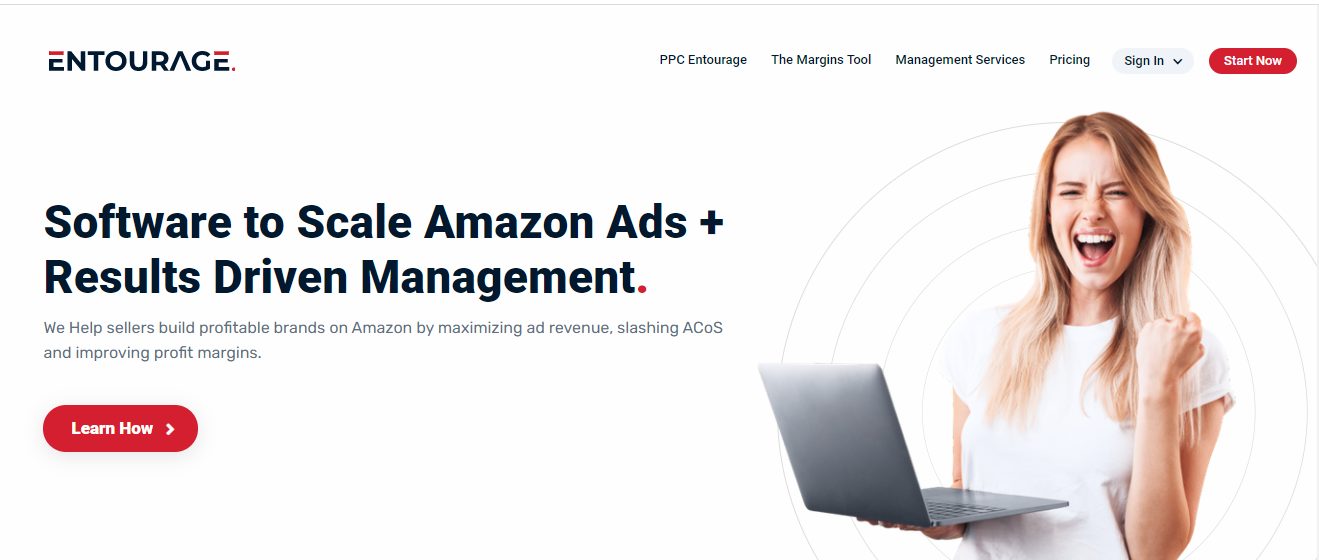 With PPC Entourage, you can easily optimize and expand your Amazon ads without the need for complex spreadsheets. You can use as much, or as little, automation as you'd like to control bid price, remove search terms that waste your ad spend, and much more.
Each campaign dashboard allows you to easily see the products, targets, search terms, and ASINs that are underperforming based on your ACoS targets. Keyword cleaner enables you to find the underperforming search terms for each keyword. The negative word and ASIN finder helps to dramatically eliminate wasted ad spend. And the Bulk Optimizer allows you to do this across multiple campaigns at once.
PPC Entourage incorporates an advanced, easy-to-use bulk editor that helps you make changes to hundreds of campaigns at once. Find unprofitable SKUs across any campaign and ad group with ease and take action. Optimize your bids across multiple campaigns and ad groups at once using PPC Entourage's max bid formula. Advanced filters and savable templates help you comb through data in seconds.
---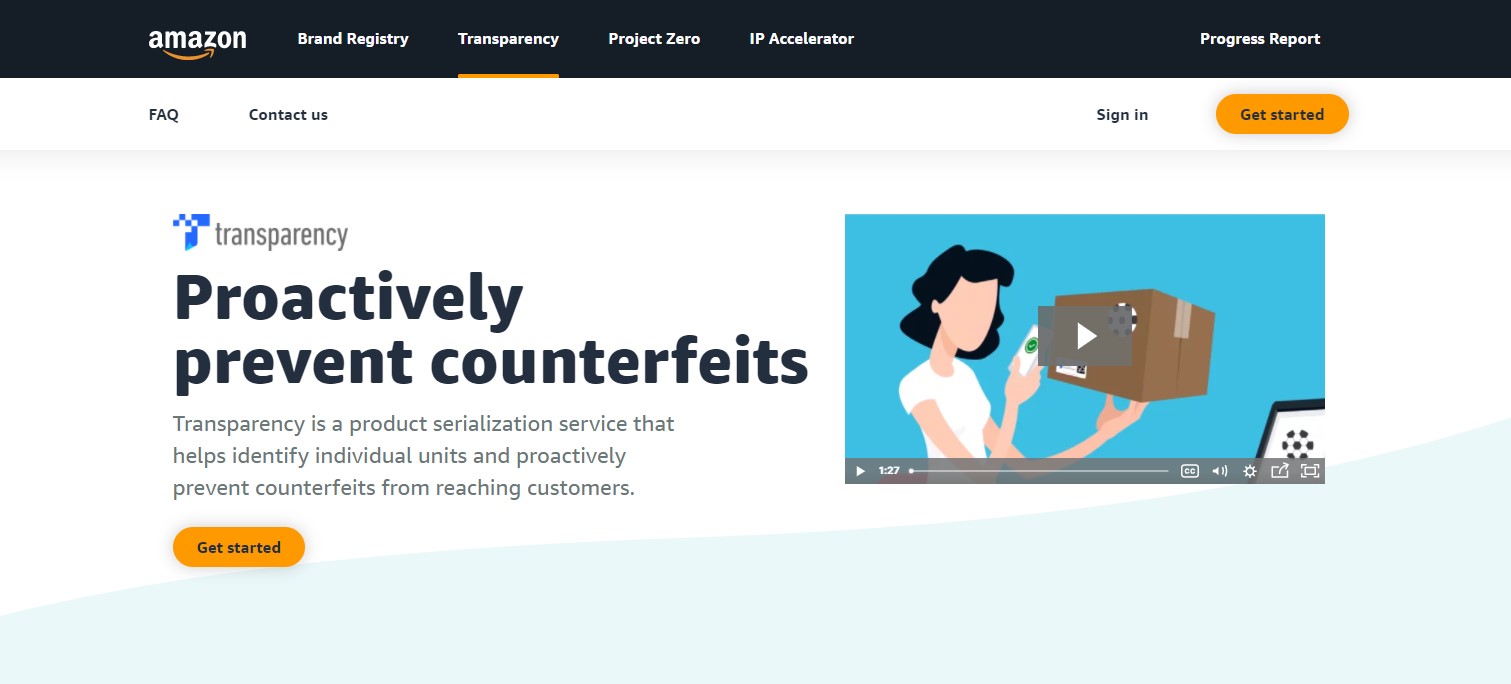 Transparency is Amazon's product serialization service that helps identify individual units and proactively prevent counterfeits from reaching customers. When you enroll in Transparency, Amazon scans each Transparency-enabled code to ensure that you are only shipping authentic products.
You can use this to build trust with your customers. Indeed, customers can authenticate any Transparency-enabled product, regardless of where they purchase it. The Transparency app lets customers scan Transparency codes on products. Upon scanning, the app will show a green checkmark if the code is valid and a red X if it is not.
You can also provide customers with unit-level product details, including manufacturing date, manufacturing place, and enhanced product information.
---
With Fulfillment by Amazon (FBA), you store your products in Amazon's fulfillment centers, and they pick, pack, ship, and provide customer service for these products.
Using Fulfillment by Amazon involves four steps:
Set up FBA

Create your product listings

Prepare your products

Ship your products to Amazon
Your products become eligible for Amazon Prime Free Two-Day Shipping, Free Shipping, and more. Qualified FBA listings display with the Prime logo, so customers know that Amazon handles packing, delivery, customer service, and returns.
---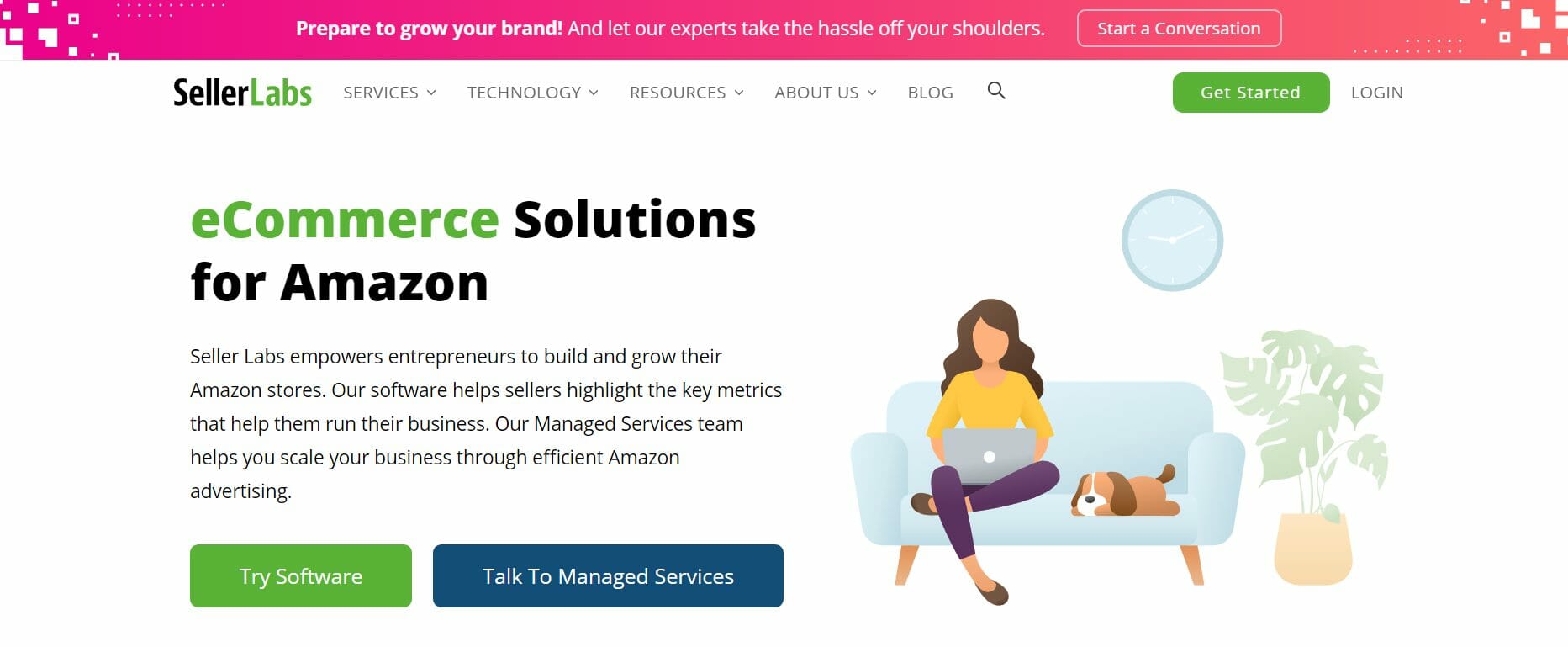 Seller Labs Product Revenue Optimization (PRO) is a platform that allows you to manage your business with comprehensive Amazon seller software designed to maximize profits and drive growth. You have all you need in one tool.
The Seller Labs PRO Strategic Summary Dashboard provides a comprehensive snapshot of your most important metrics, notifications, and product data. The dashboard is customizable, allowing you to pick and choose what parts of your business need to be top-of-mind.
You can automate reports and get instant insight into your financials —revenue, returns, fees, profits, and more. With Seller Labs PRO, you can drill down to product level to view individual SKU metrics and growth opportunities.
---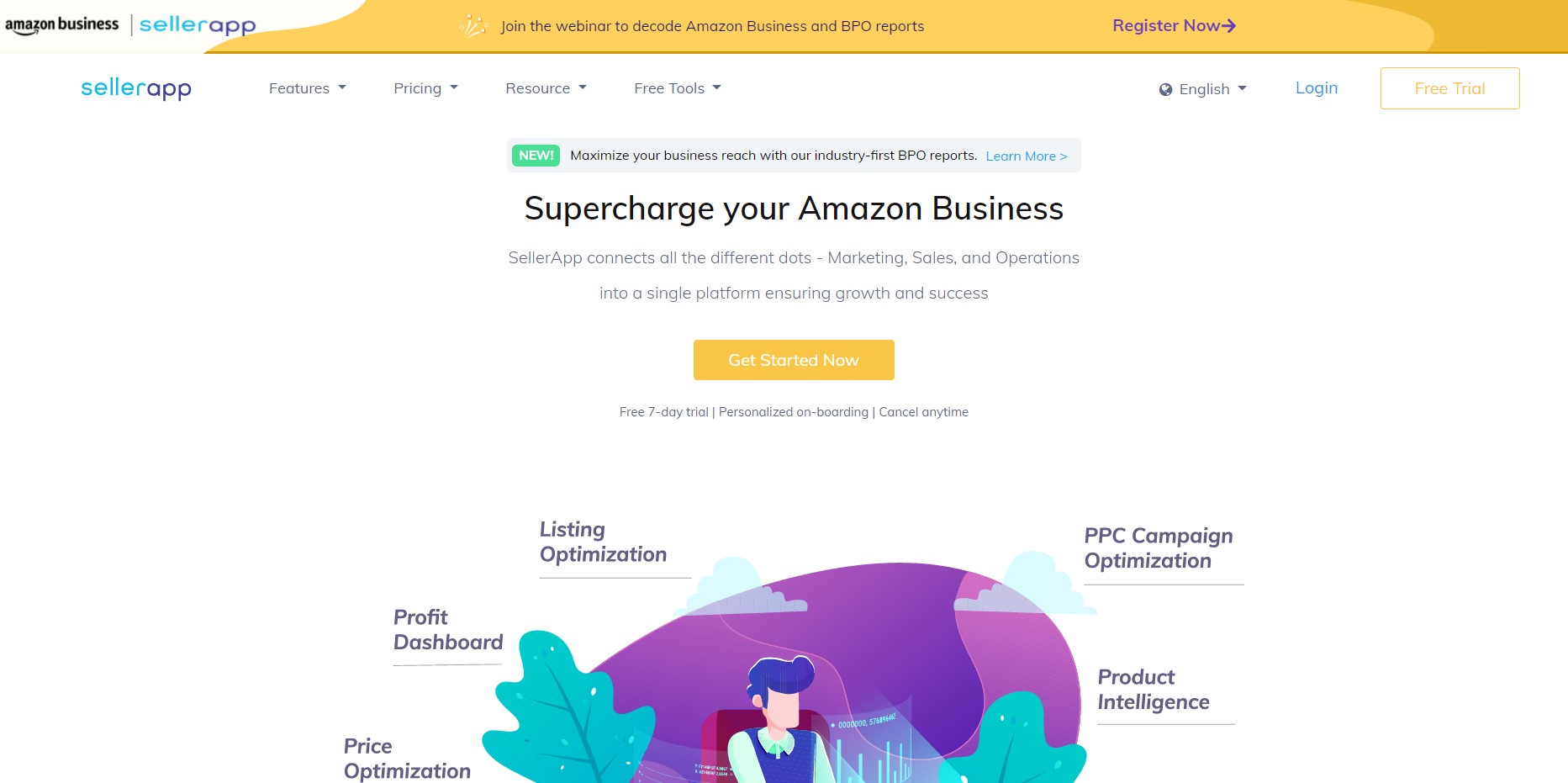 SellerApp connects marketing, sales, and operations into a single platform, ensuring growth and success. Its features include listing optimization, PPC campaign optimization, profit dashboard, product intelligence, price optimization, and keyword analytics.
Its PPC Analyzer automates your ad optimization process for the best profits. You can flag negative search terms and automatically mine for converting keywords to optimize targeting.
Each customer is guided on a personalized 1:1 tour to show how SellerApp can help you optimize your Amazon pages, grow your revenue, and in turn, increase profits.
SellerApp offers a 7-day free trial period where you can explore and test Amazon SellerApp to your satisfaction. Once the free trial period is over, SellerApp has paid plans starting at $99/mo.
Their free SellerApp Chrome Extension is your pair of intelligent eyes gathering every bit of sales information for every product as you browse through Amazon pages.
---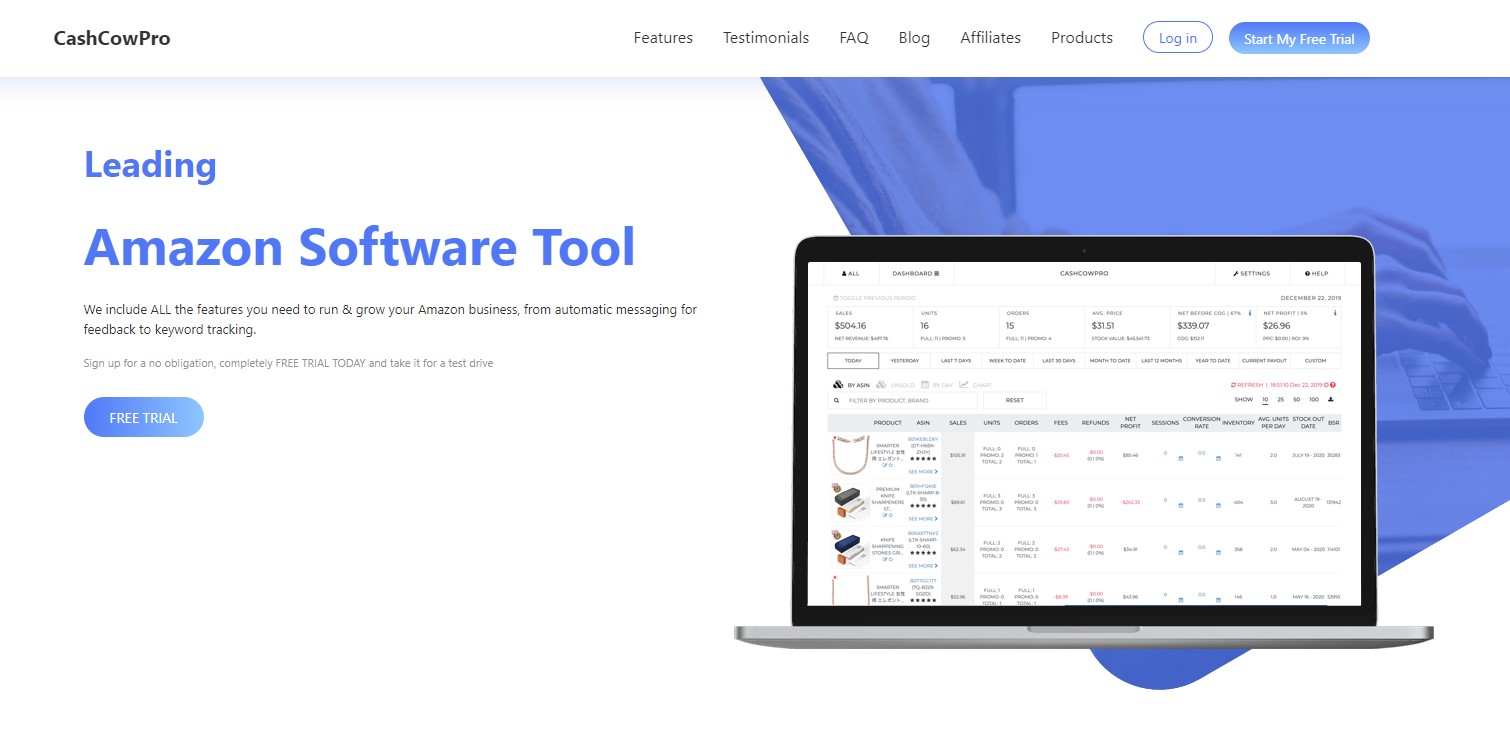 CashCowPro includes all the features you need to run and grow your Amazon business, from automatic messaging for feedback to keyword tracking. It has all your essential data. You can check each SKU in seconds. Data includes real-time sales, profits, promotions and refunds, BSR and ranking, you vs. your competition, and stock level and sales velocity.
You can monitor your inventory, easily tracking your sales performance, so you don't run out of stock again. It includes a sales velocity calculator.
Another feature of CashCowPro is keyword tracking. You can track up to 100 keywords per product. Track your ranking across all your main keywords. It includes a listing analyzer and optimizer.
CashCowPro also features automated feedback collection. You can use it to zap negative reviews and automatically email customers to get more positive reviews.
---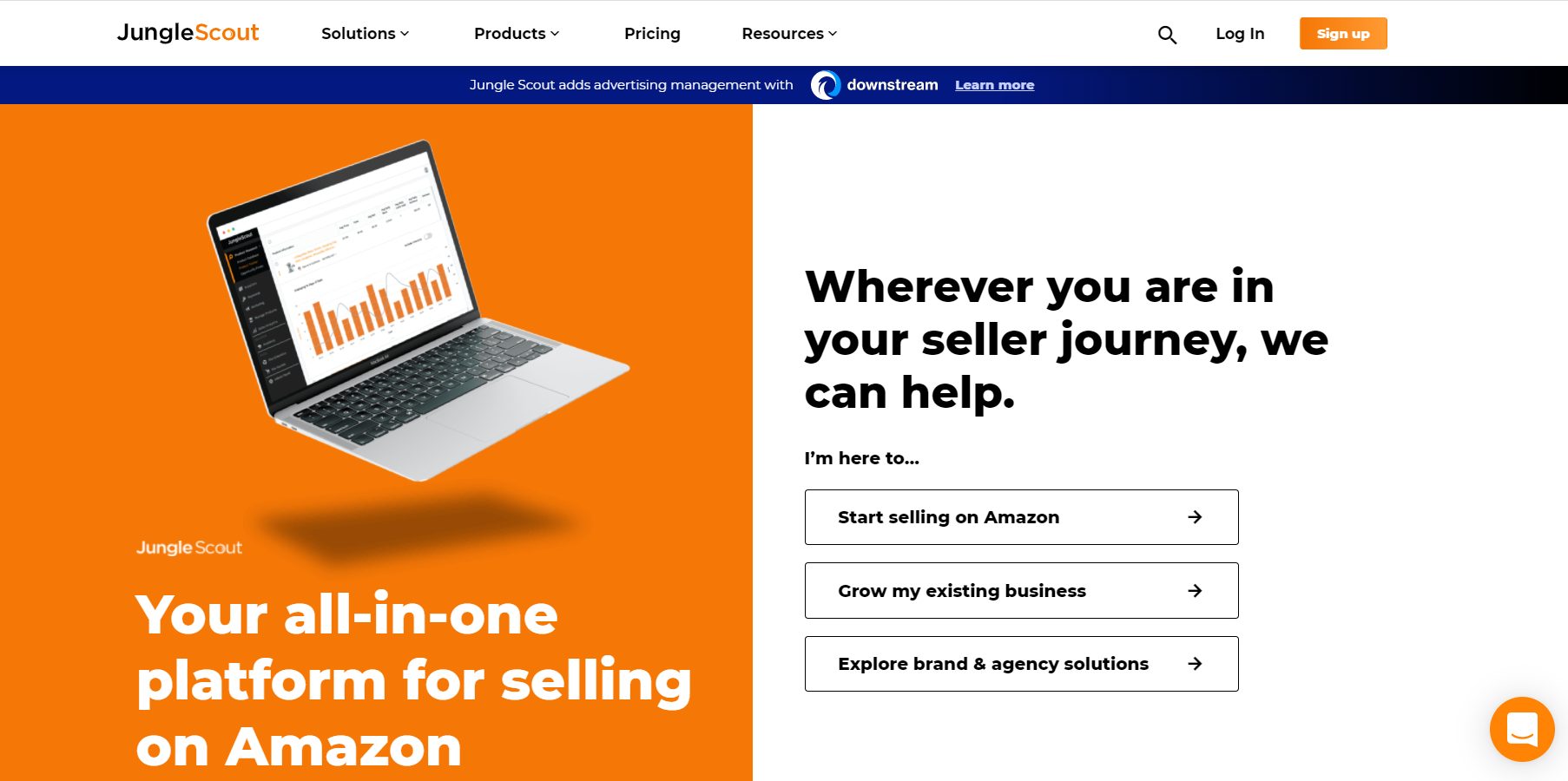 Jungle Scout describes itself as an all-in-one platform for selling on Amazon. This includes acting as a product database, a product tracker, a supplier database, a keyword scout, sales analytics, and an inventory manager.
Jungle Scout offers three main pricing plans, and you can try it risk-free for 14 days with a money-back guarantee. You can save up to 55% by paying annually. For example, although their Basic plan costs $49/mo when you pay monthly, it averages out at $29/mo if you pay annually. They also have various packages that include exclusive educational features and historical data, combined with three or six months of the middle-level Suite Plan or 12 months of the high-end Professional Plan.
---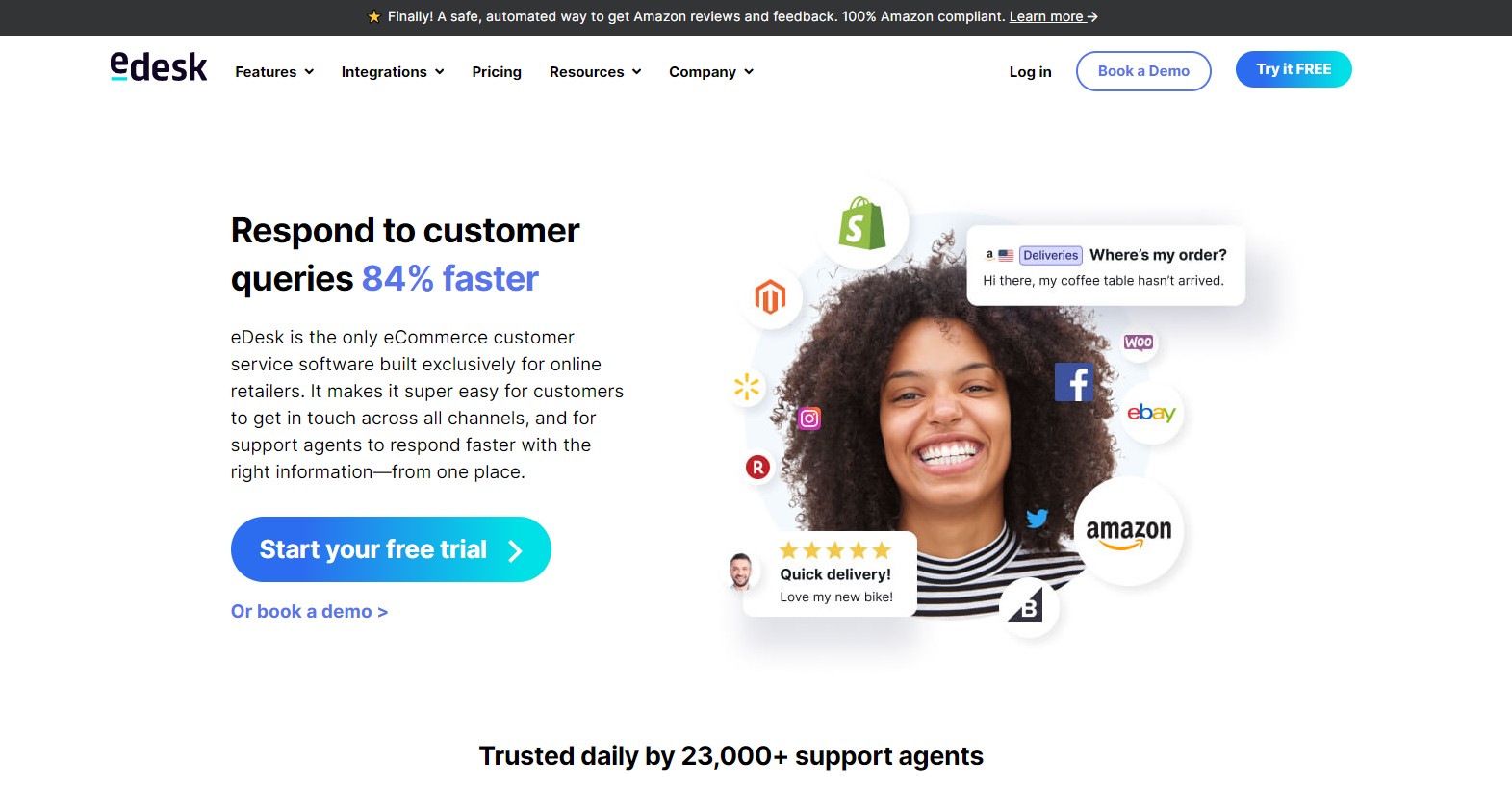 eDesk claims to be the only eCommerce customer service software built exclusively for online retailers. It makes it easy for customers to get in touch across all channels and for support agents to respond faster with the correct information from one place. Amazon is one of more than 70 integrations eDesk supports.
You can eDesk it as a help desk to respond faster to your customers' queries than your competitors. It displays all of your Amazon messages in one place, helping your support team stay on top of tickets. It connects all your Amazon marketplaces and other channels so you can prioritize tickets and respond faster from one shared mailbox. Its AI and one-click responses help Amazon merchants deal with busy sales periods and stay on top of their Amazon performance metrics.
---
Linnworks connects, manages, and automates commerce operations, powering businesses to sell wherever their customers are and capture every revenue opportunity. It includes many world-class partner integrations, including Amazon. These integrations allow you to connect marketplaces, eCommerce platforms, major carriers, 3PL fulfillment centers, and FBA, or use their open API to integrate your unique eCommerce ecosystem.
You can manage high volumes of orders from Amazon alongside your key selling channels in Linnworks so you can grow your business, never missing out on valuable sales. You can automate and route priority orders in Linnworks.
Linnworks includes many features covering listing management, inventory management, price sync, order management, refunds and cancellations, payment mapping, location mapping, shipping mapping, tax, and insights.
---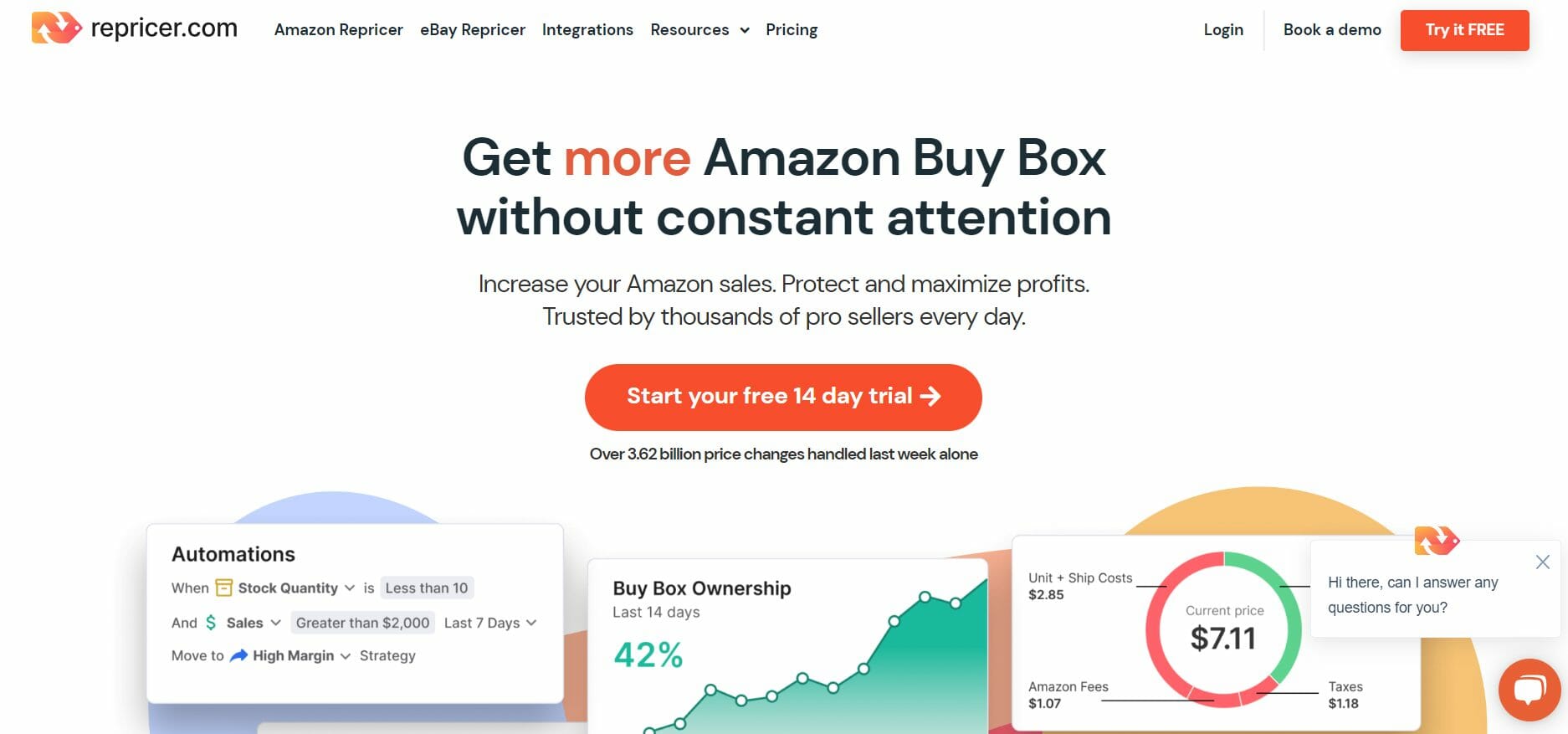 You can use Repricer to optimize your prices and increase sales on Amazon, eBay, Walmart, and more. Build or customize winning repricing strategies that suit your business. You can find out why and how your competitors are winning against you, then target them with specific rules that make sure you win back the sale. On Amazon, compete differently with FBA, MFN, SFP, Buy Box winners, and Amazon itself. Repricer reacts to changes your competitors make in 90 seconds.
---
AMZAlert provides intelligent Amazon product alerts – instant notifications of Buybox hijackers, product suppressions, bad reviews, price changes, scammers, and much more. It offers monitoring software for Amazon sellers.
You can use AMZAlert to track any changes to your alerts or your competitors. The software gives you the ability to respond instantly to scammers, hijackers, bad reviews, and more. It will send you instant email and text notifications so you can take immediate action to remedy common Amazon selling problems.
---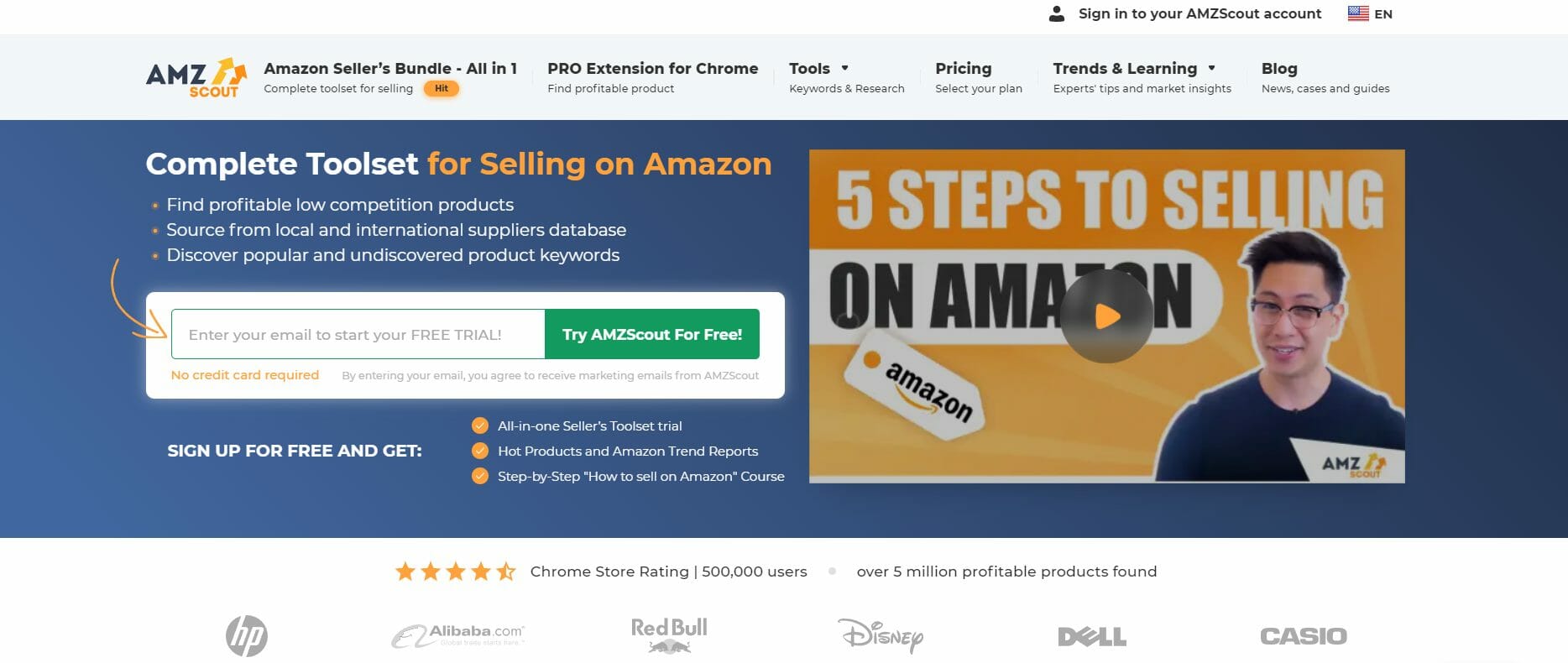 AMZScout offers a complete toolset for selling on Amazon. Plans begin with the Free plan, where you can try all the tools Pro Sellers use to skyrocket sales on Amazon Plus. You can also learn to sell with their in-depth video course. The $45.99/mo Light plan includes their product-research tool and in-depth Amazon education. The $49.99/mo Full plan provides everything you need to find and launch products, create listings, track performance, and much more. There are considerable discounts for paying annually (including a more significant pricing difference between the Light and Full plans.) Alternatively, you might opt for the $1499.99 Lifetime Plan, with all of their tools for finding and selling profitable products on Amazon forever, with permanent access to AMZScout's Step-By-Step Course and masterclasses.
---
Frequently Asked Questions
What marketing tools does Amazon use?
Amazon's marketing strategy includes a variety of different targeted online marketing channels, like the Amazon associates program, sponsored search, social advertising, online advertising, television advertising, and more.
What software is best for Amazon?
These are the top Amazon marketing and software tools:
1. Helium 10
2. PPC Entourage
3. Transparency by Amazon
4. Fulfillment by Amazon
5. Seller Labs
6. SellerApp
7. CashCowPro
8. Jungle Scout
9. eDesk
10. Linnworks
Which tool can we use to automate Amazon media campaigns?
You can use Seller Labs to manage your all-in-one Amazon management platform. Seller Labs has a smart PPC algorithm that helps automate ad campaigns. Seller Labs' Ignite Tools helps users grow and optimize their PPC campaigns on autopilot.
What is the best software for Amazon FBA?
Top essential tools and software for Amazon FBA:
Amazon Seller Central App
Keepa Chrome Add-On
RepricerExpress
eDesk Feedback
My Sourcing Sheets
What are Amazon marketing tools?
These are the most powerful Amazon marketing and software tools:
1. Helium 10
2. PPC Entourage
3. Transparency by Amazon
4. Fulfillment by Amazon
5. Seller Labs
6. SellerApp
7. CashCowPro
8. Jungle Scout
9. eDesk
10. Linnworks