Video marketing and video advertising are powerful strategies that are popular and getting more popular year after year. But creating high-quality video ads takes a lot of work. That's why we've put together this list of the top video ad makers you can use to create engaging and impactful video ads that will resonate with your target audience and get you the conversions you need.
You may be wondering if you should put your faith in a video ad maker instead of outsourcing your video advertising to a high-powered video advertising agency. The unsatisfying answer is that it depends. Video advertising agencies are great for creating high-production video ads that you'd want for television spots or ads on popular streaming services like Hulu or Amazon. Fortunately, though, many viewers care less about production value or celebrities than they do about the message of your ad.
With the top video ad makers on our list, you'll be able to create video ads that set your brand apart and lead your target audience through your sales funnel without spending tons of money on video production or celebrity sponsors. We recommend finding an influencer to represent your brand, grabbing one of these video ad makers, and putting it to work.
Video marketing and video advertising have an excellent ROI and can be used to explain just about anything. A staggering 98% of consumers say that they've watched an explainer video to learn more about a product or service.
---
17 Top Video Ad Makers
Video ads can help your brand increase traffic and sales, reduce questions, and help your target audience understand your products and services and how they will solve their pain points. With the video ad makers we share here, you'll be able to quickly and easily produce your own video ads for multiple advertising platforms.
---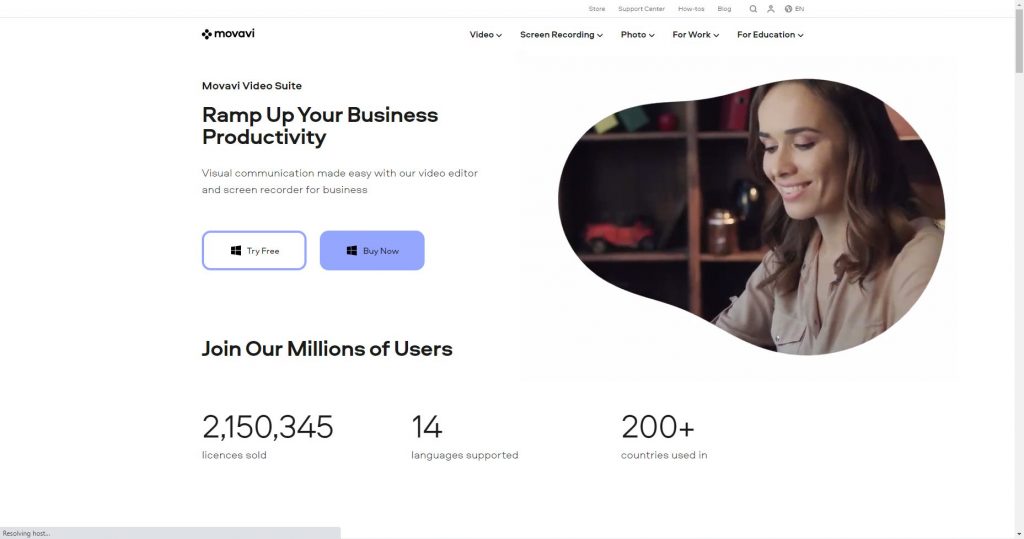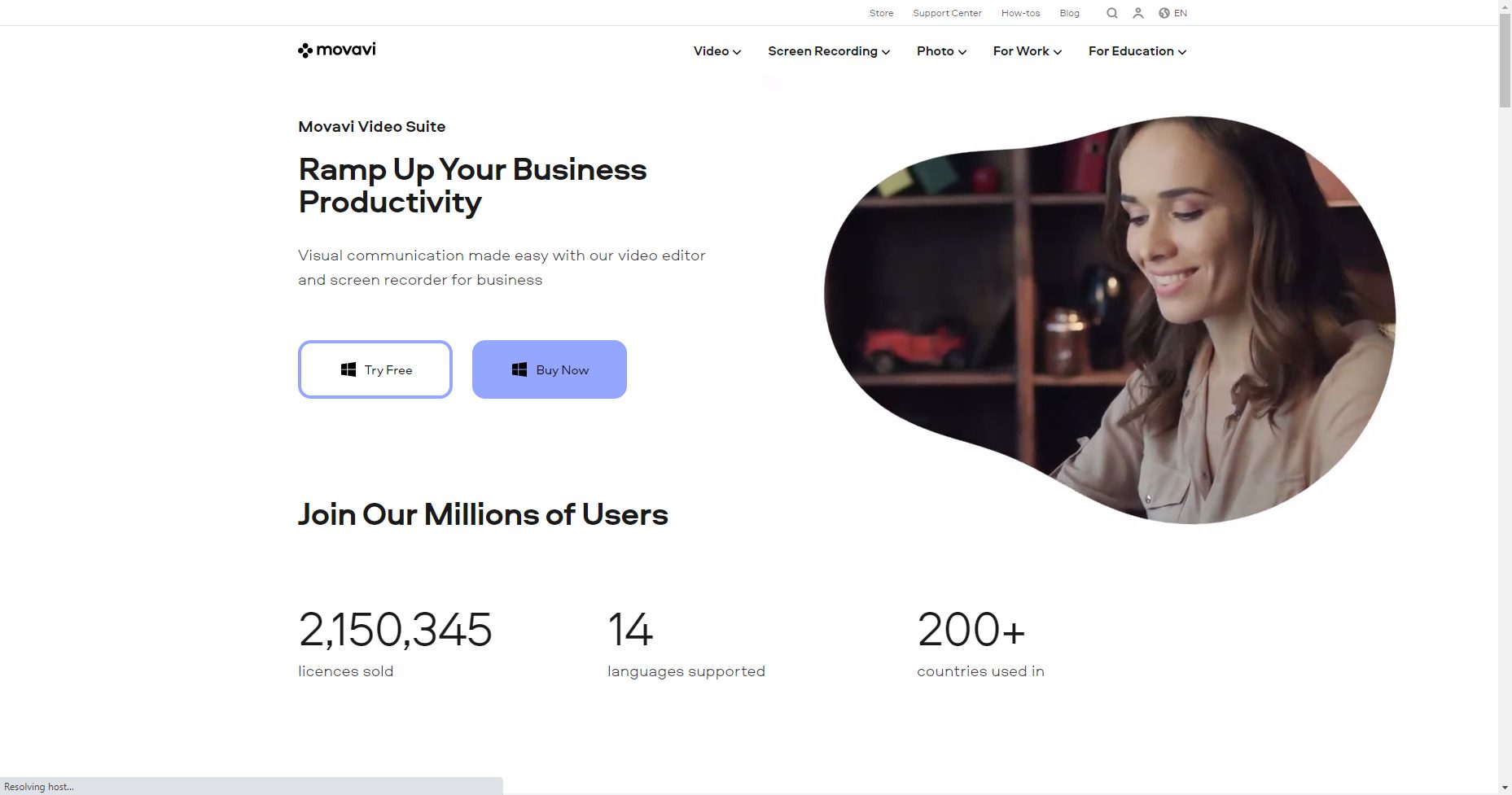 Movavi Business Suite is a great video editing software for beginners and professionals. It takes just a few minutes to record and edit with this video ad maker. Movavi Business Suite lets you add audio and commentary, include screen recordings, and choose from more than 200 effects and editing tools. It's a comprehensive media editing platform that lets you create and convert videos, record your screen, and a whole lot more.
Key Features:
Built-in image, video, and music libraries

Free and paid courses to learn the software

No subscription fees; just pay for the lifetime license
---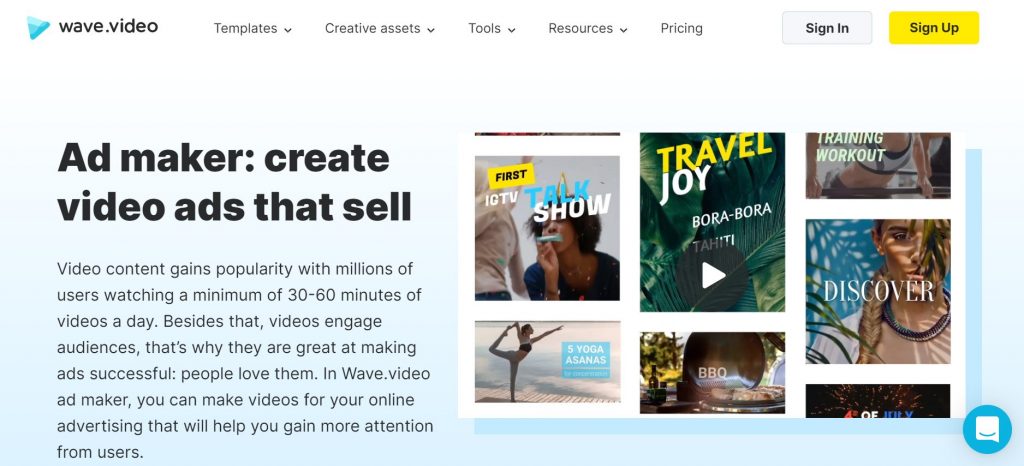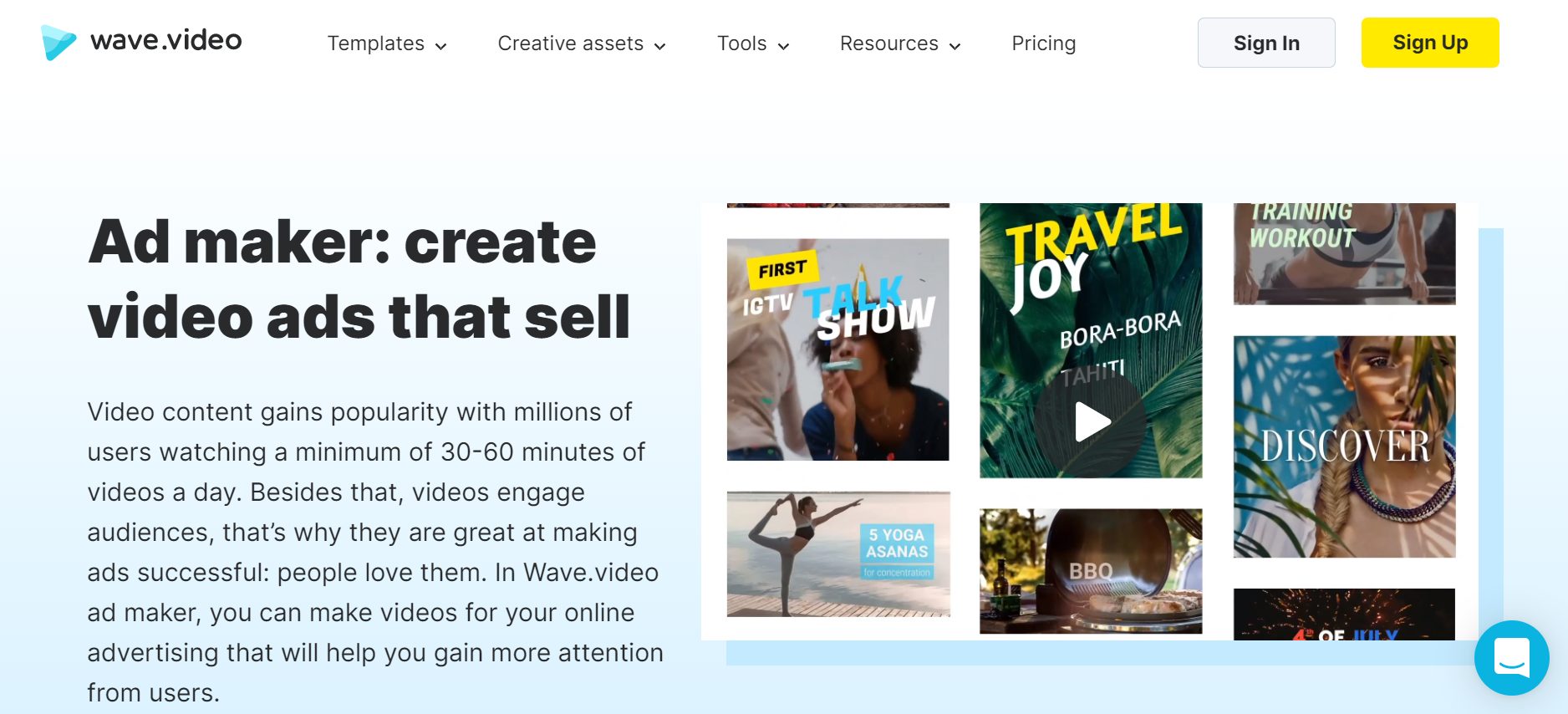 Wave.video is one of the top video ad makers with a drag-and-drop interface that's easy to use and it comes with tons of features that make creating a great video ad a breeze. With Wave.video's free plan, you'll get access to an extensive, royalty-free library of video clips and images, as well as five free videos with a 15-second time limit.
Key Features:
Resize videos, add videos and images, and change layouts

Add graphics, stickers, watermarks, music, and captions

Unlimited

social media

native shares
---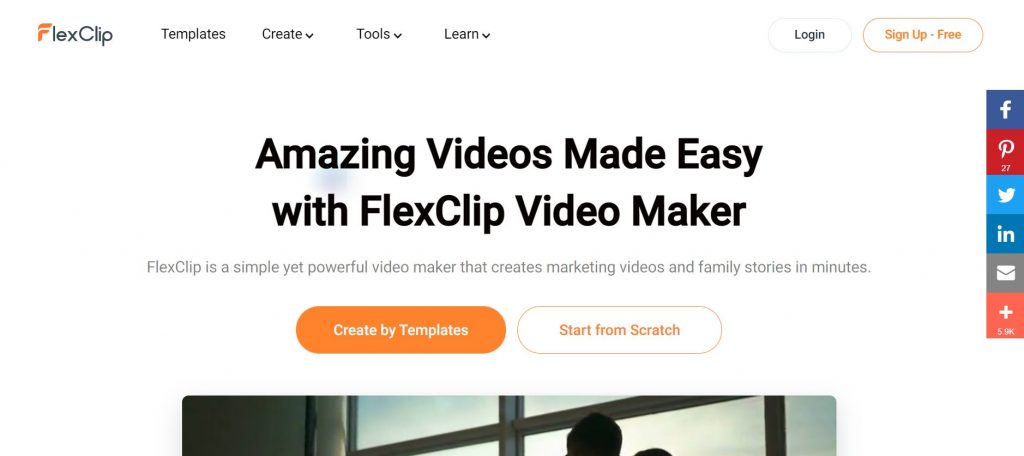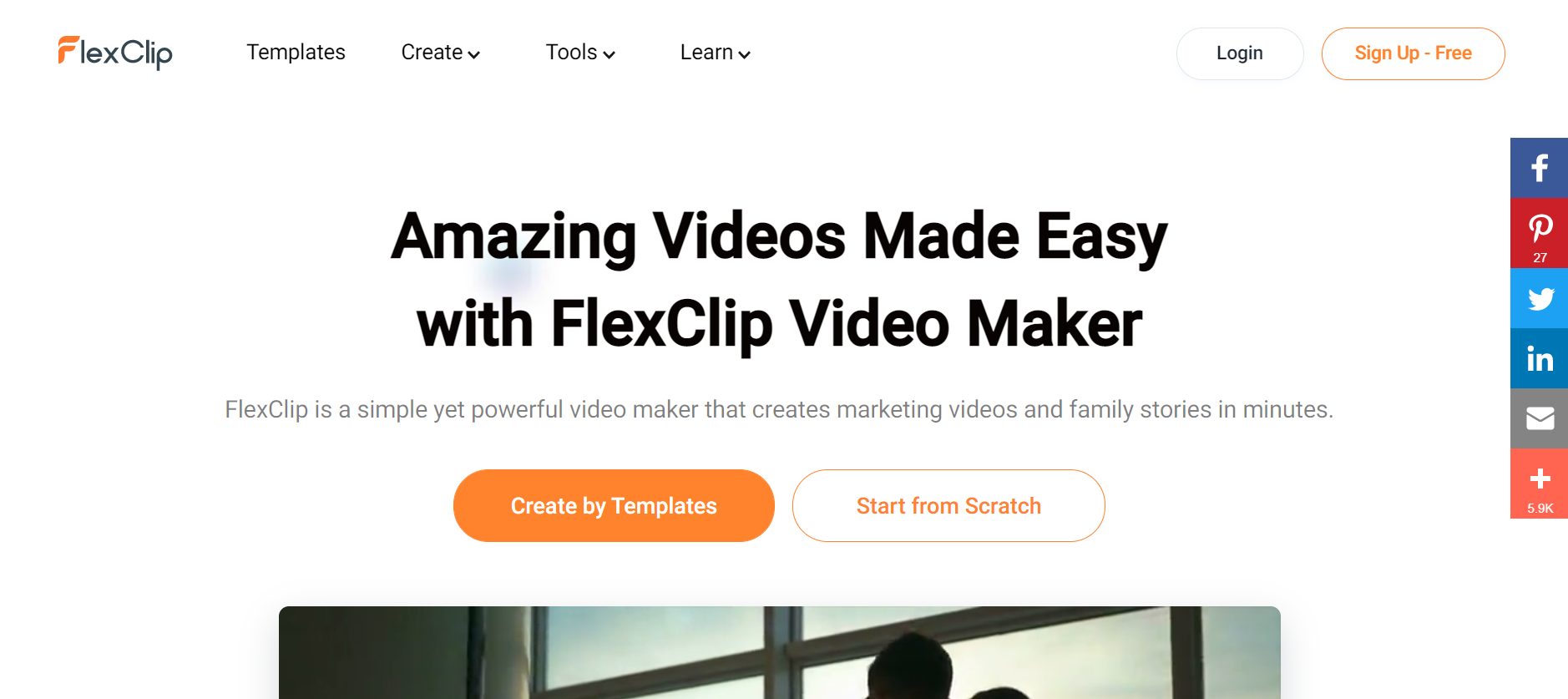 FlexClip is one of the best video ad makers because it offers editing tools and resources that are both powerful and easy to use. It offers ad creators the ability to add transitions and filters, as well as changing up video speeds. FlexClip also provides a large media library with photos, videos, and music that you can easily add to your video advertising. FlexClip offers video ad templates you can use if you don't already have a creative direction in mind.
Key Features:
Rich media resources

Video ad templates

Easy editing and exporting

No watermarks for videos under 1 minute that don't use resources from the stock library
---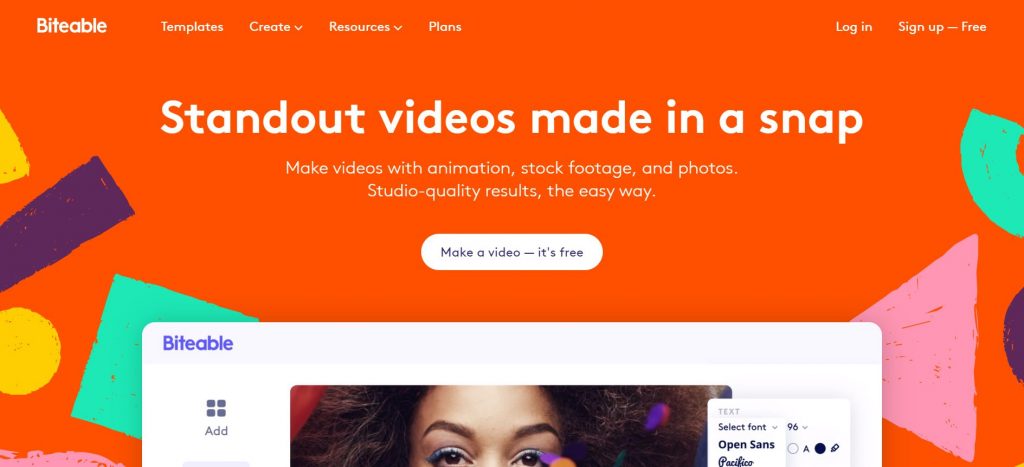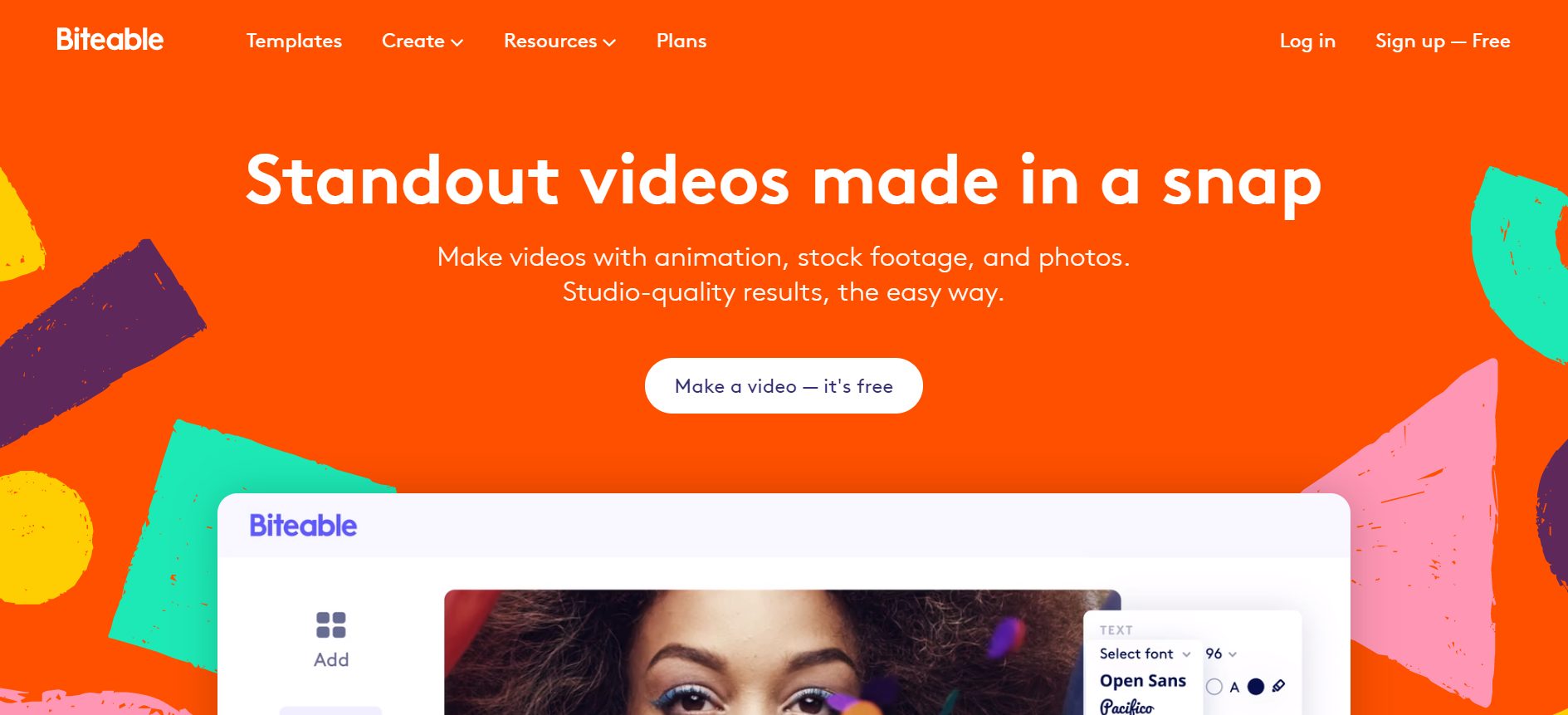 Biteable includes stock video footage and templates you can use to create video ads quickly and easily. It's an online video ad maker that includes all the tools you need to create videos, ads, and presentations for social media. Biteable's free plan includes access to nearly 2 million images and clips and offers unlimited watermarked exports. Upgrading to a premium plan gives you custom branding, HD video, commercial usage rights, and more.
Key Features:
Hundreds of live-action and animated footage

Pre-made video templates

Drag-and-drop timeline

Royalty-free music

Easily share on YouTube, Twitter, and Facebook
---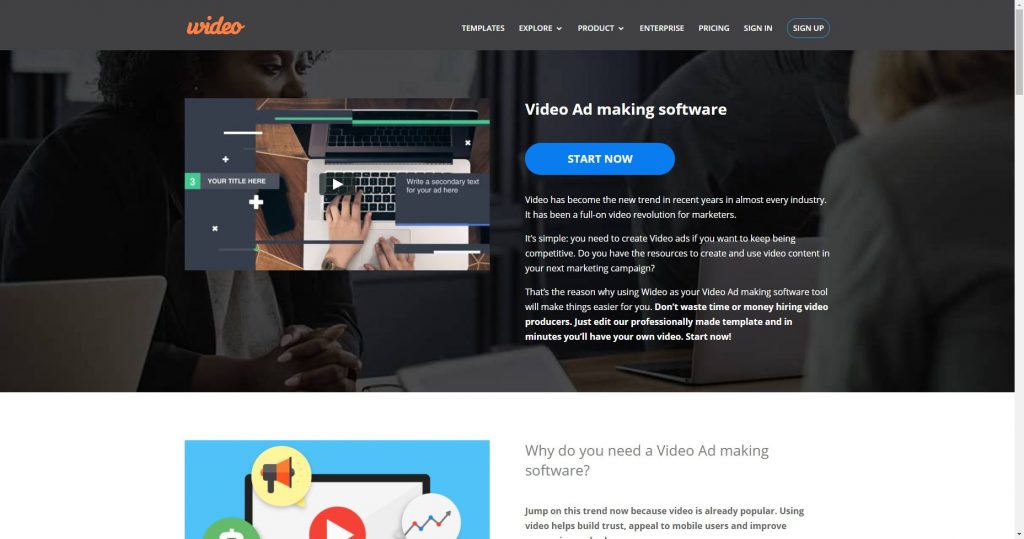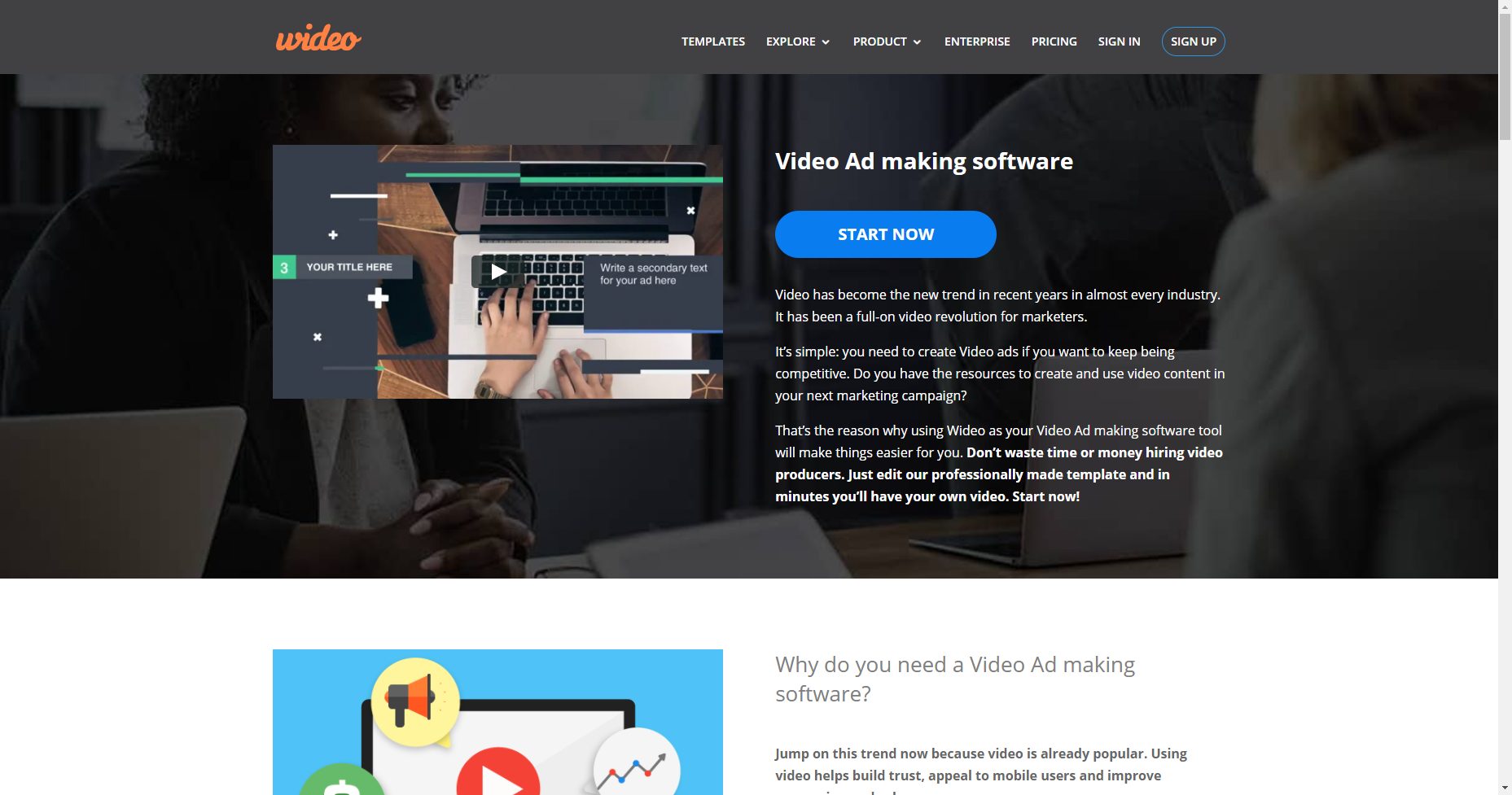 Wideo is a video ad-making software that gives users access to 80+ video ad templates through its easy-to-use online editor. With Wideo, you can add logos and text to your videos and create engaging video ads that represent your brand well. You can even search for images for your video from Google. The subscription plans on the site don't include commercial licensing, so to make a video ad you'll need to contact the sales team.
Key Features:
Tons of free pictures and audio

Share and download videos quickly

Includes images,

animated effects

, backgrounds, and music tracks for your video ads
---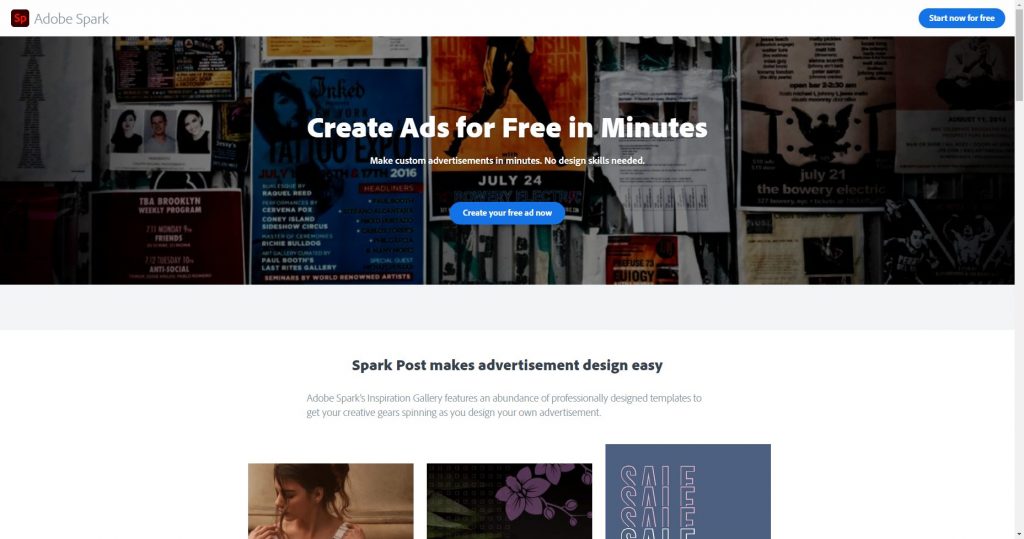 Adobe Spark is one of the best video ad makers we've seen. Not surprising from a huge name like Adobe. It's one of the easiest video ad makers around and comes with multiple layouts, storyboards, and themes so you can create a stunning video ad in minutes. It also includes a gallery that has excellent templates you can put to use. Adobe Spark includes a range of professionally-designed fonts that are available for free.
Key Features:
Choose from a range of free, professionally-designed fonts

Select from thousands of photos on the web or from your personal collections on Adobe Creative Cloud, Adobe Lightroom, Dropbox, or Google Photos

Explore a wide variety of best-in-class layouts, colors, and fonts
---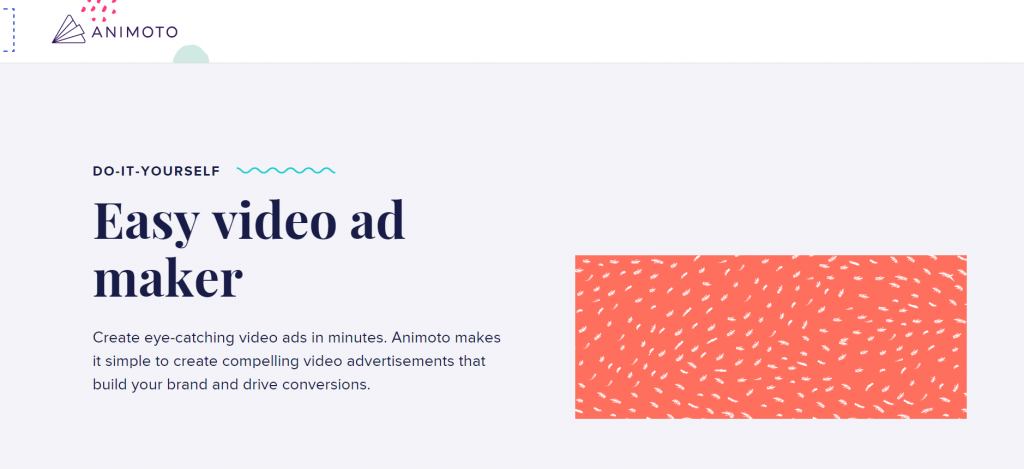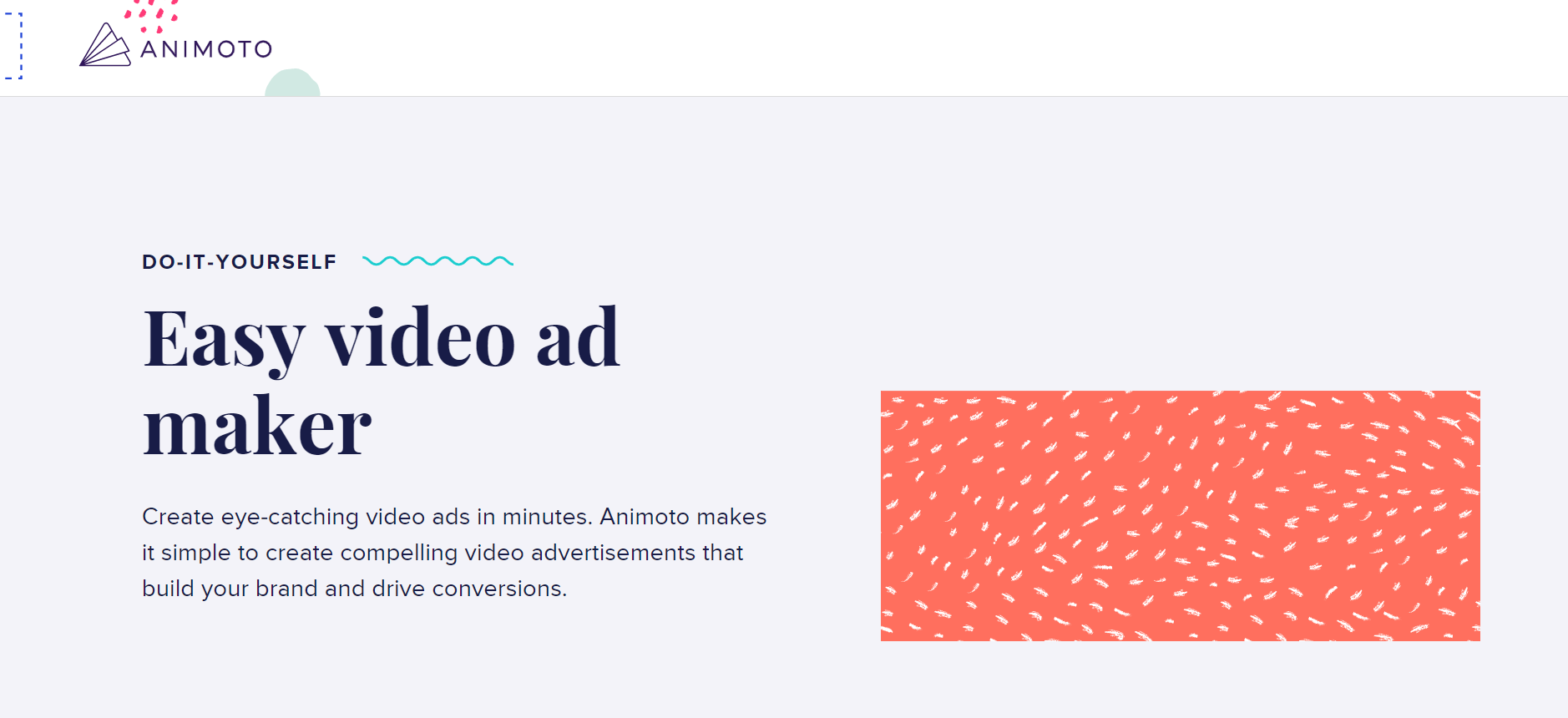 Animoto is another one of the top video ad makers we've found. You just upload your photos or video clips, trim your video, add filters, voice-overs, and more. It's easy to use and includes a stock library to choose from that includes some storyboards (but no templates). You can easily create video ads customized for the platform you want to publish on.
Key Features:
Easy to use editing tool

Stock library of over 1 million photos and video clips

Drag and drop images and video clips right into your project

Cloud-based

Thousands of licensed audio tracks
---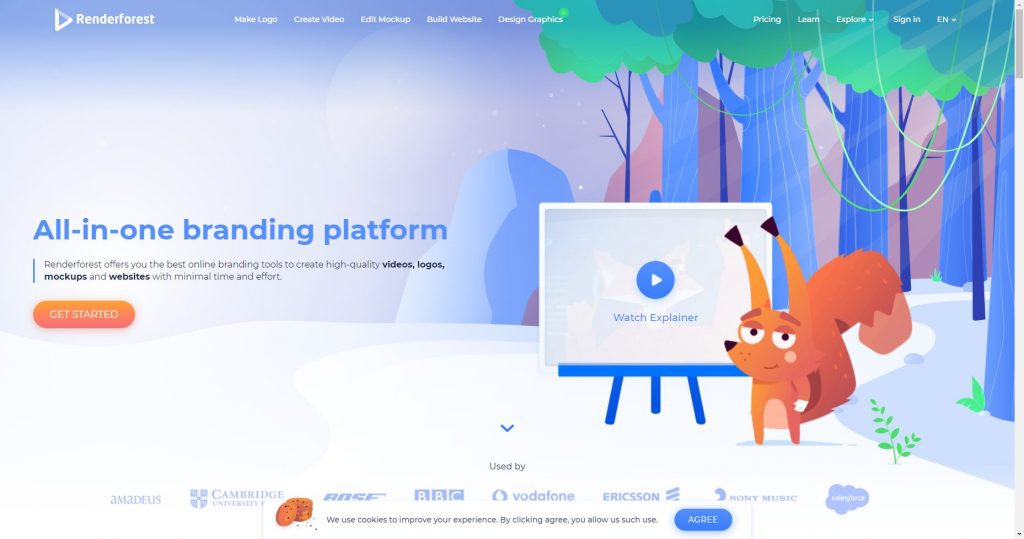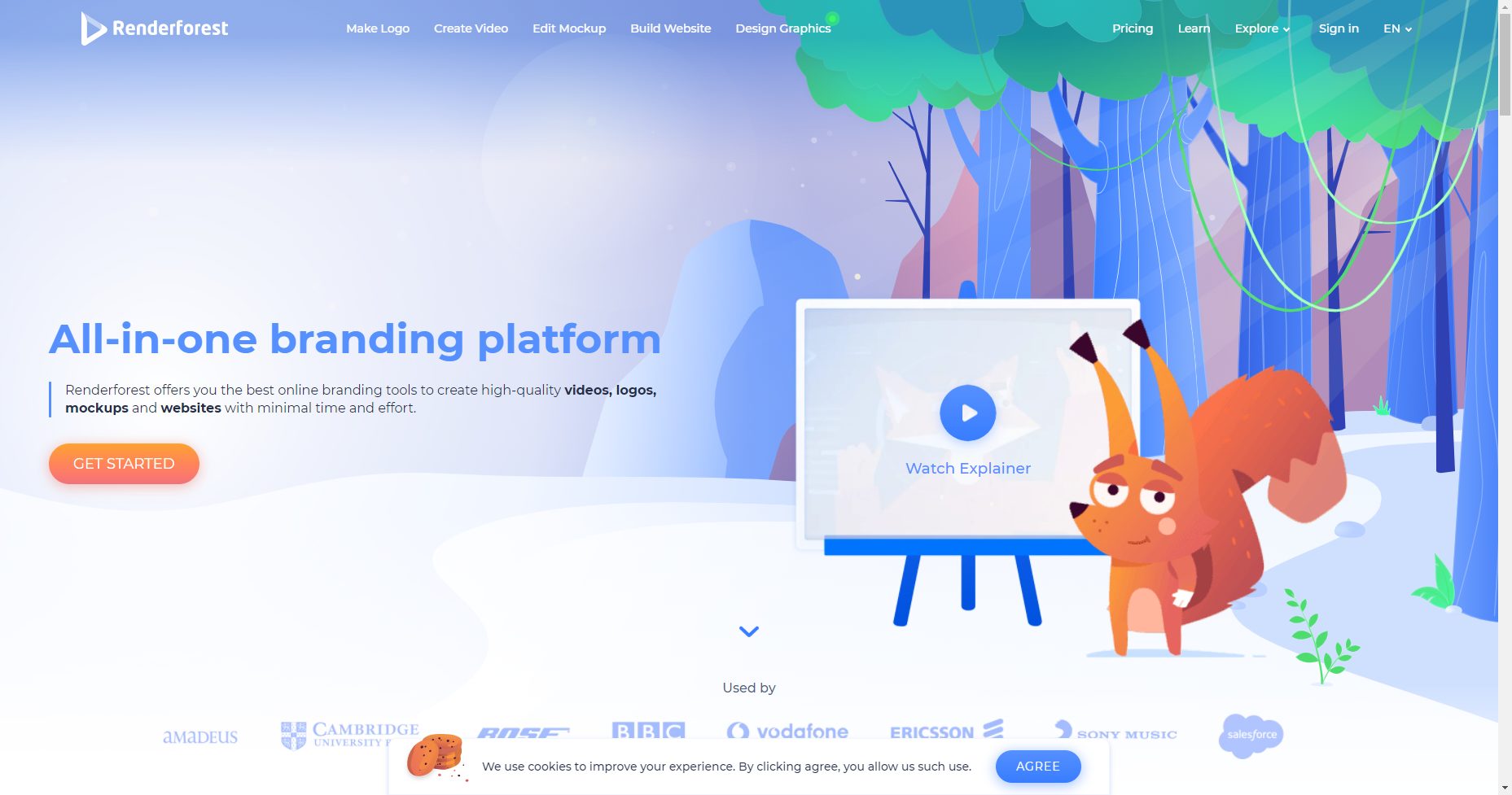 Renderforst is a cloud-based video ad maker that lets users create everything from infographics to commercials in just a few minutes. It includes several whiteboard animation, 2D and 3D animation, and explainer video templates. There are several subscription plans to choose from and if you want to use a specific product, you can easily pay per product instead of subscribing.
Key Features:
Several templates to choose from

Easy to use

Voice-over options

Adjust colors, fonts, duration, and more

Zoom and pan
---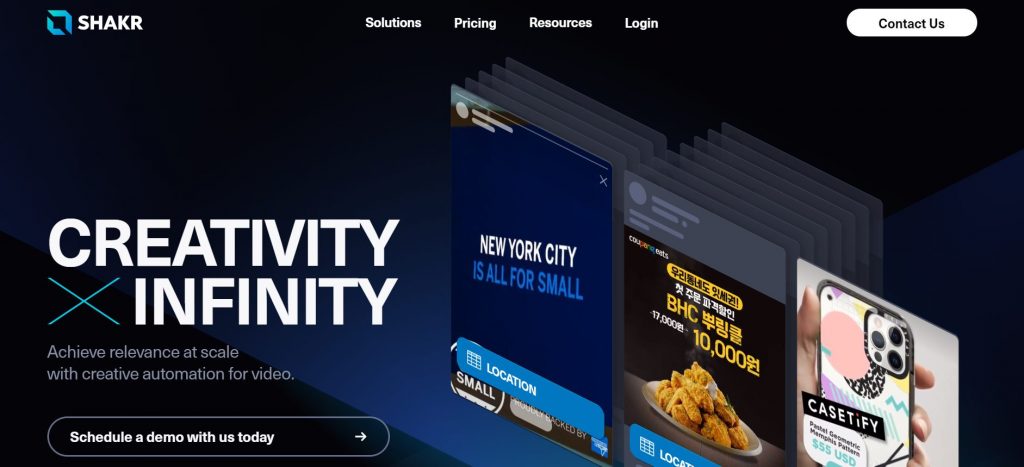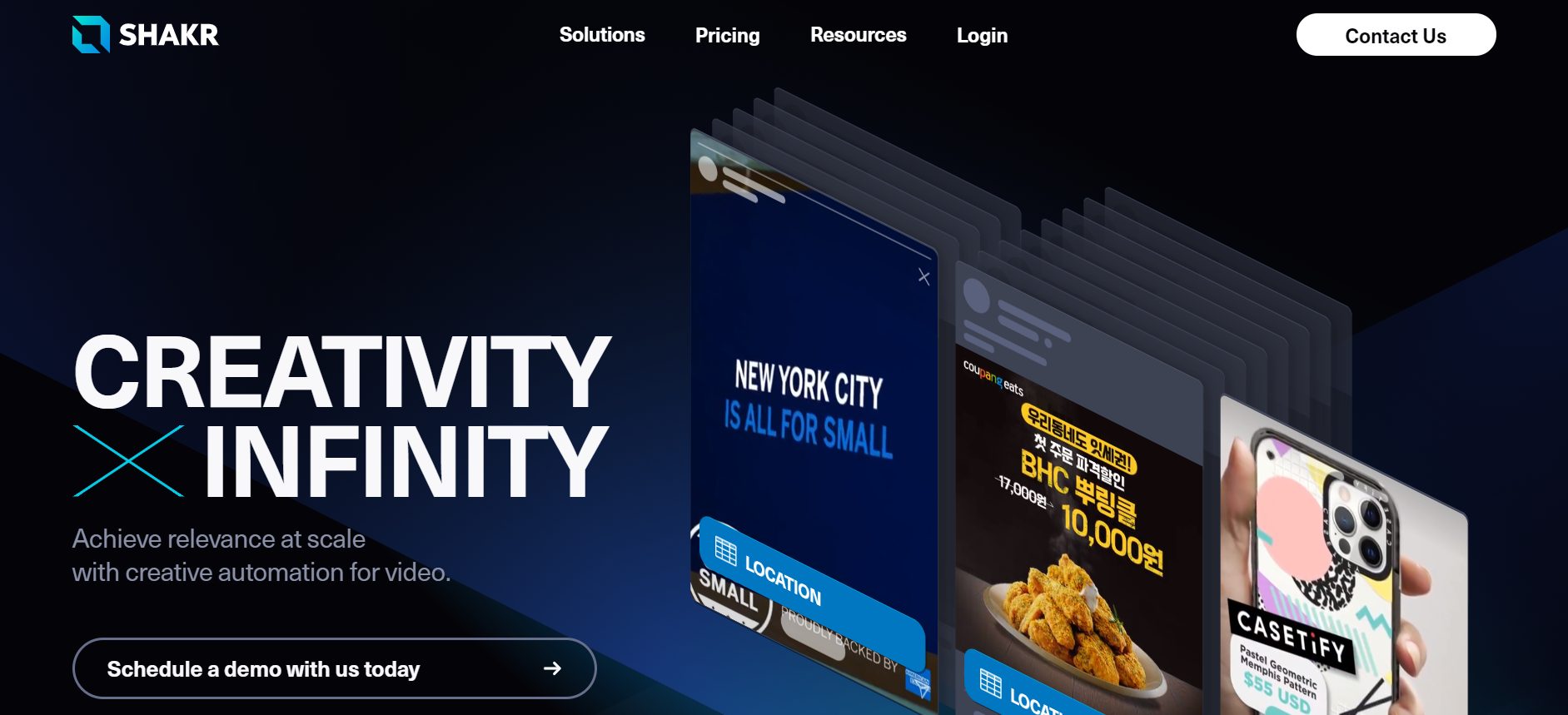 Shakr is one of the top video ad makers for larger teams. It's fast and easy to use, offering advertisers the ability to produce engaging video ads for social media in minimal time through its automated capabilities. If you already have a video creation team, Shakr is a great addition to your toolkit.
Key Features:
Thousands of video templates

Direct video export to social media platforms

Creates perfectly optimized videos for social media
---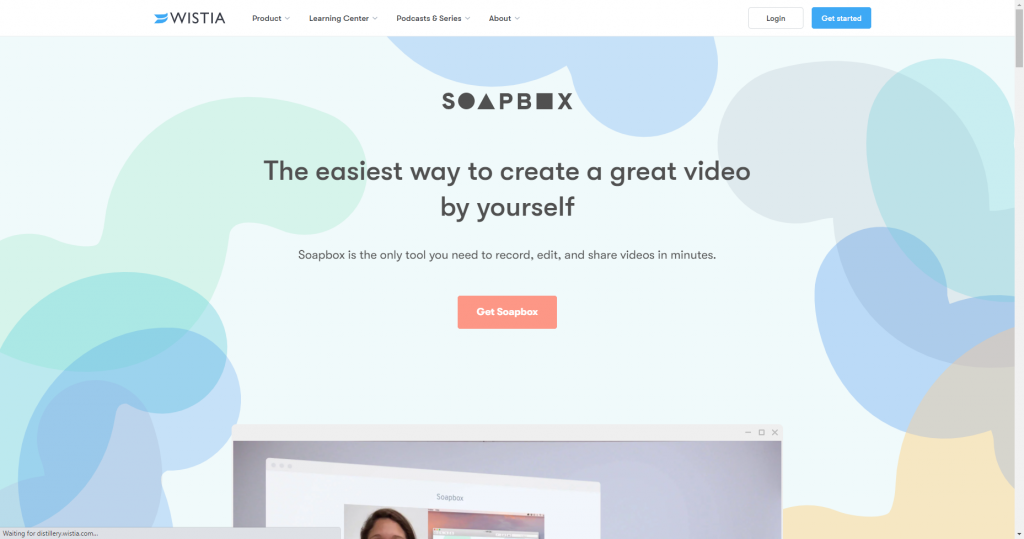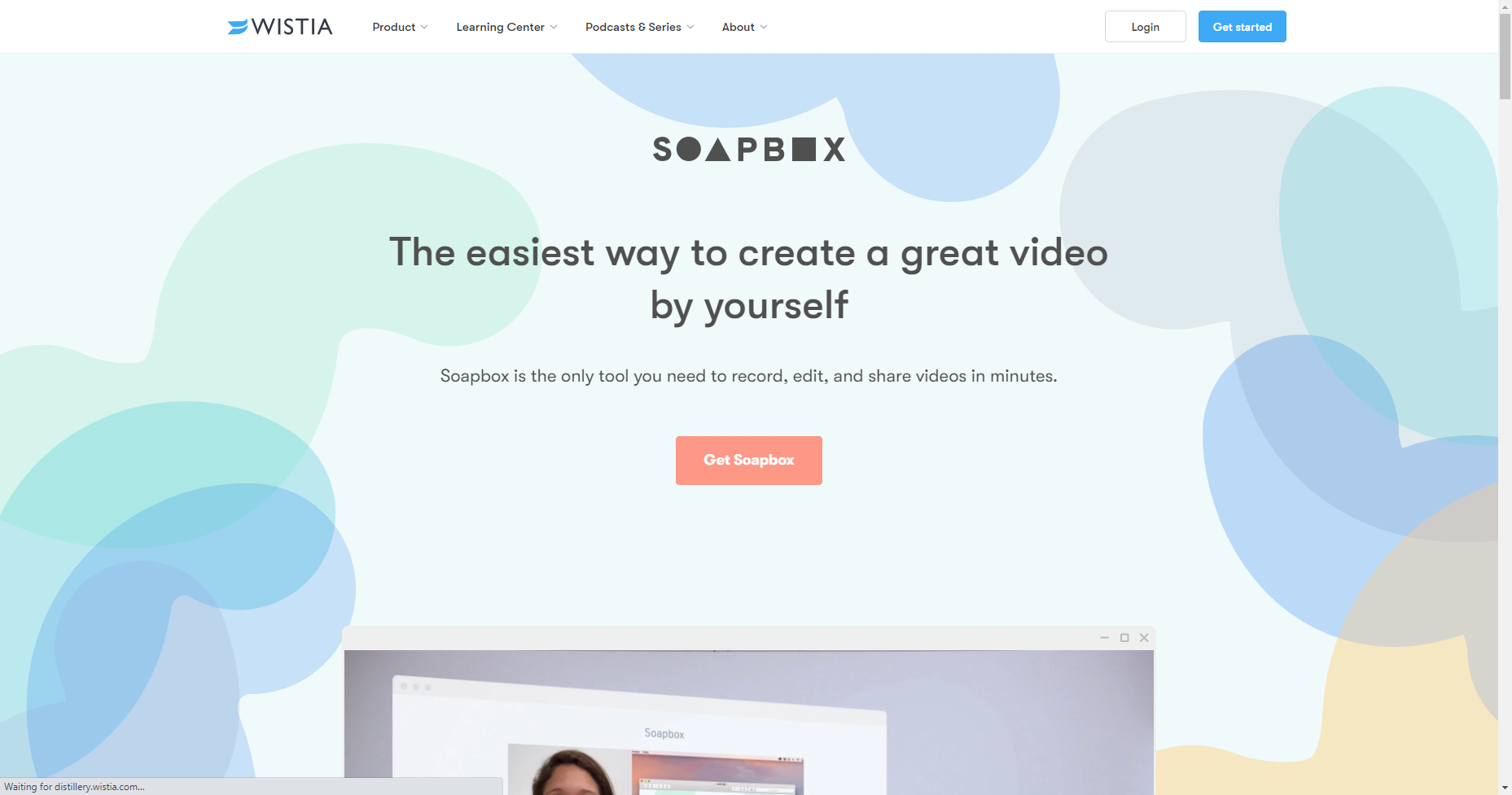 Soapbox is a Chrome extension that lets you record, edit, and share video ads by recording your screen and webcam to create videos on the fly. When you're done, you can share your video ads right away—no need to download, upload, or export. The free version of Soapbox lets you create and share unlimited videos, generate custom thumbnails, edit your videos even after they've been shared, and a whole lot more. If you want to download your videos or add custom branding, you'll need to upgrade to a premium plan.
Key Features:
Everything happens online

Work with your entire team

Build a library of content fast

Create relevant and timely content, fast

Create

custom video thumbnails
---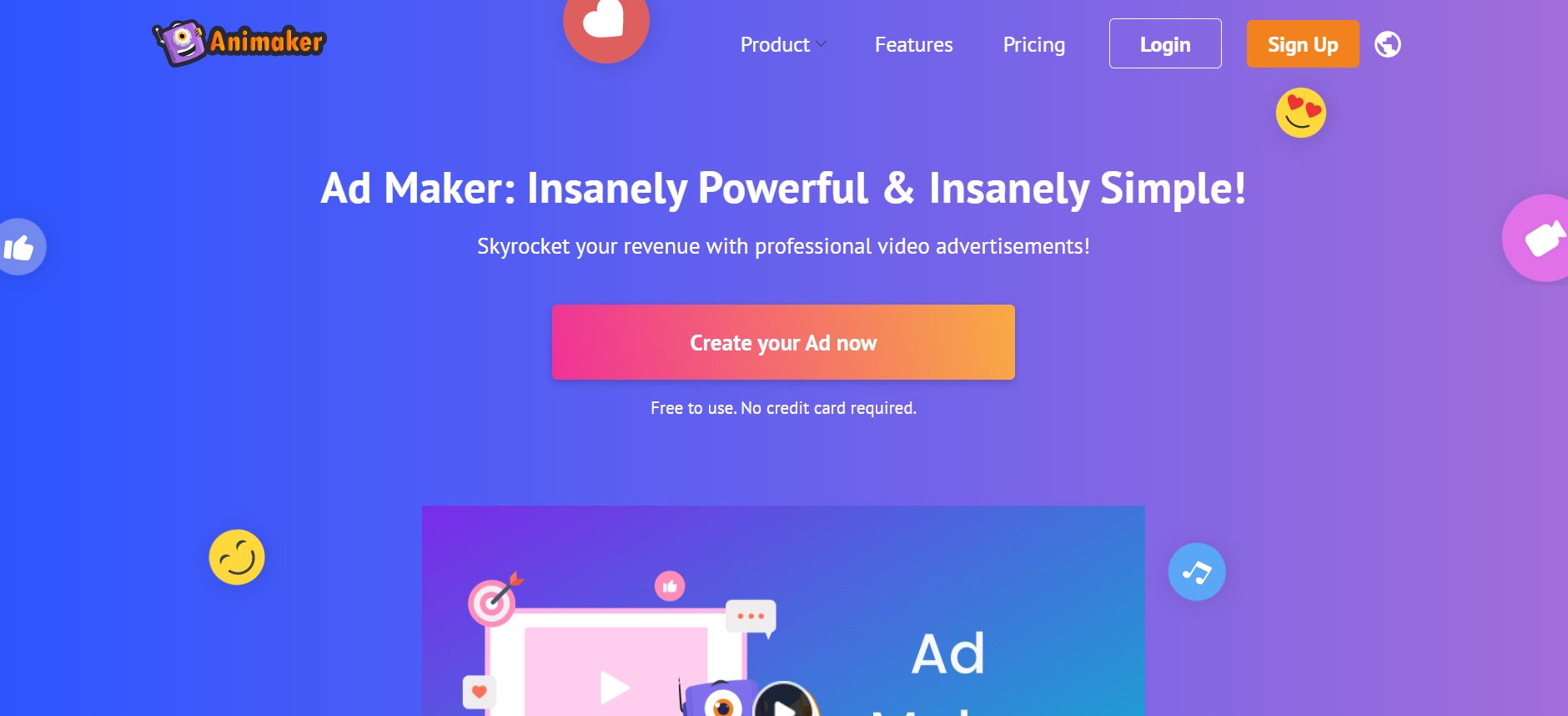 Animaker offers simple editing tools and video ad templates you can use to create animation advertisements. Just add voice-over narration and make your animated ad come to life. Animaker has a streamlined user interface that makes it easy to create great videos fast. With Animaker's free plan, your videos will include a watermark and you're limited to 5 downloads. Upgrade to a premium plan for access to custom fonts, commercial rights, and more.
Key Features:
Runs on an HTML5 engine for seamless performance on optimized browsers

Tons of professionally made templates

The largest collection of animated characters, properties, BGs, icons, images, videos, and more

Live video editing and 4K quality

Subtitles, overlays, and watermarks
---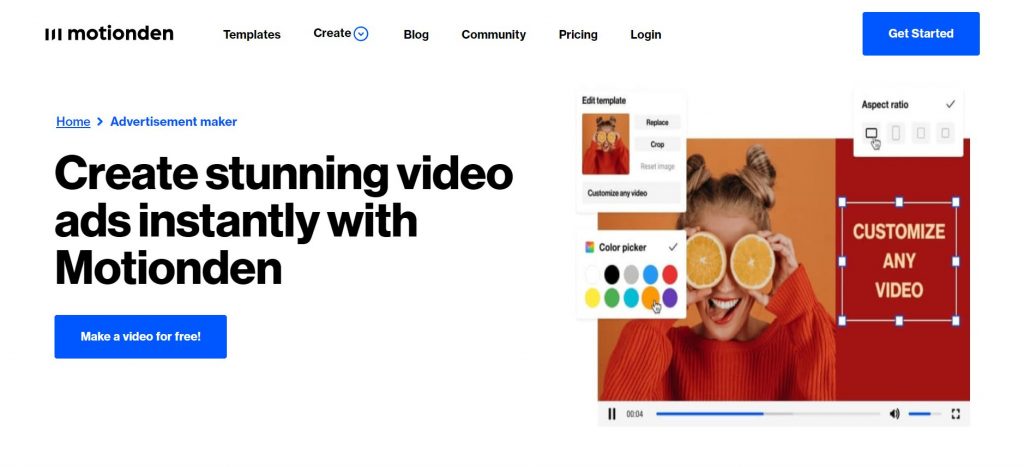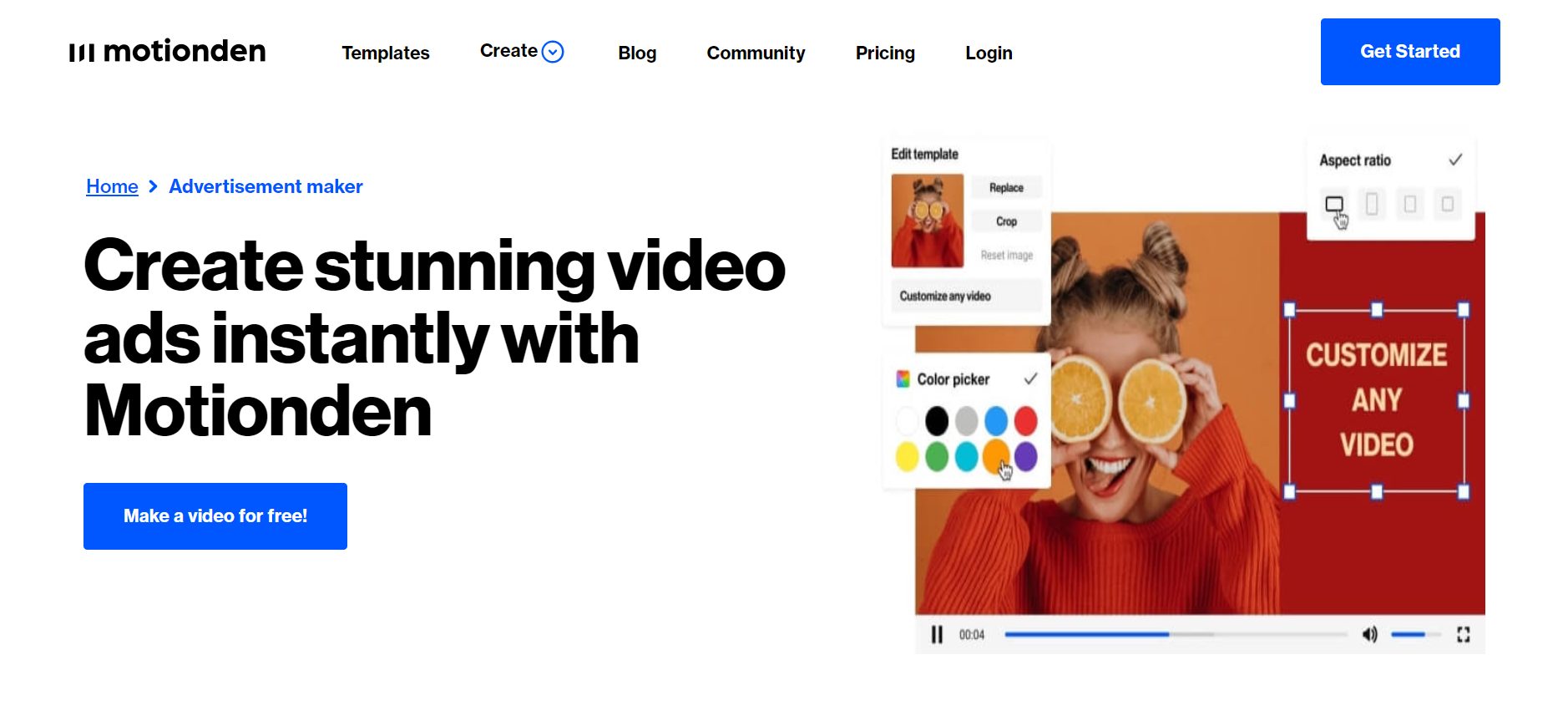 MotionDen is a free video ad maker that lets you create video ads with minimal effort. Choose the video design you want and customize it to your liking with the video editing tool. MotionDen allows you to create up to 5 videos with full design control without entering credit card information. With the free plan, though, you'll have a MotionDen watermark on your videos.
Key Features:
No software to download

Professionally-designed ad templates library

Easy to use

Easy to download and share
---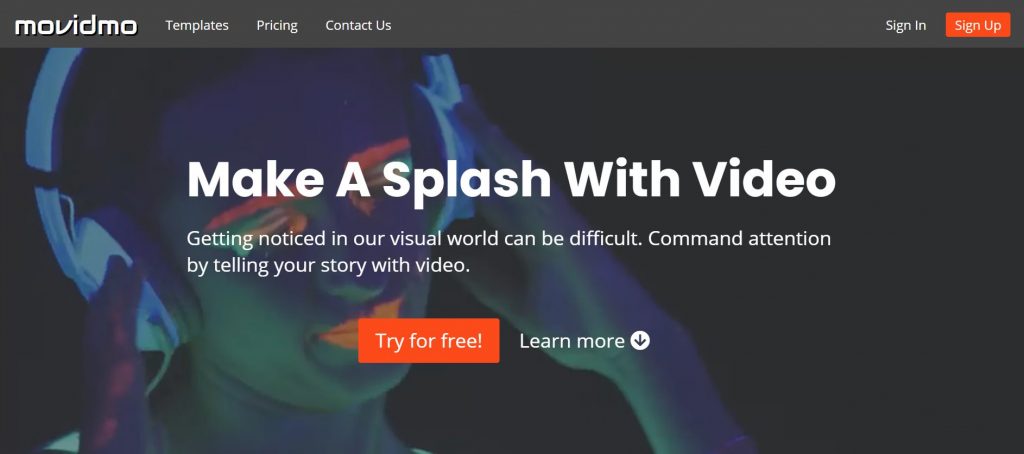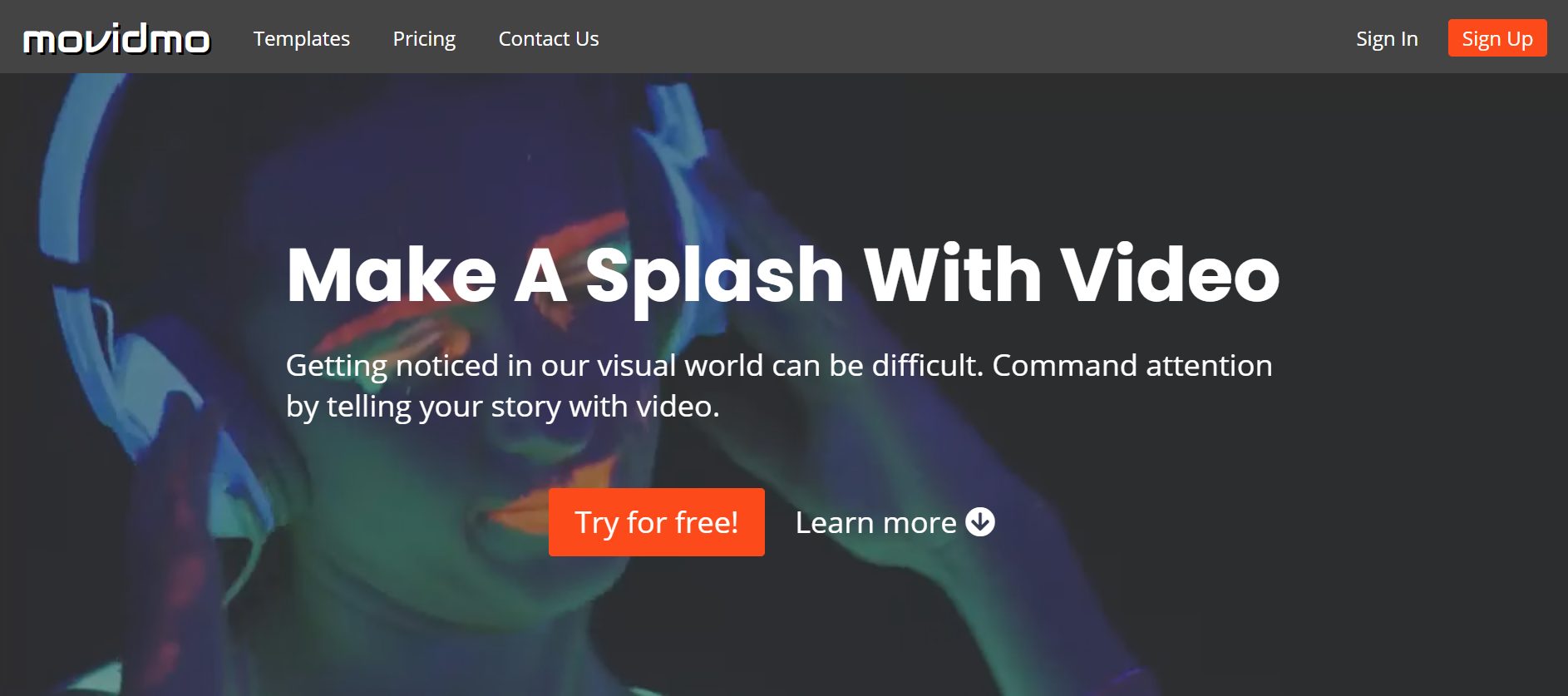 Movidmo is an excellent video ad maker you can use to create high-quality videos to showcase your brand. It's an online platform that's easy to use and offers the freedom to pay per video without a subscription. Movidmo includes a ton of stock footage and plug-and-play templates that make video ad creation fast and easy.
Key Features:
Create rectangular or square videos

Add custom branding, styling, and messaging

Built-in music library

Integration with the Getty Image stock image library
---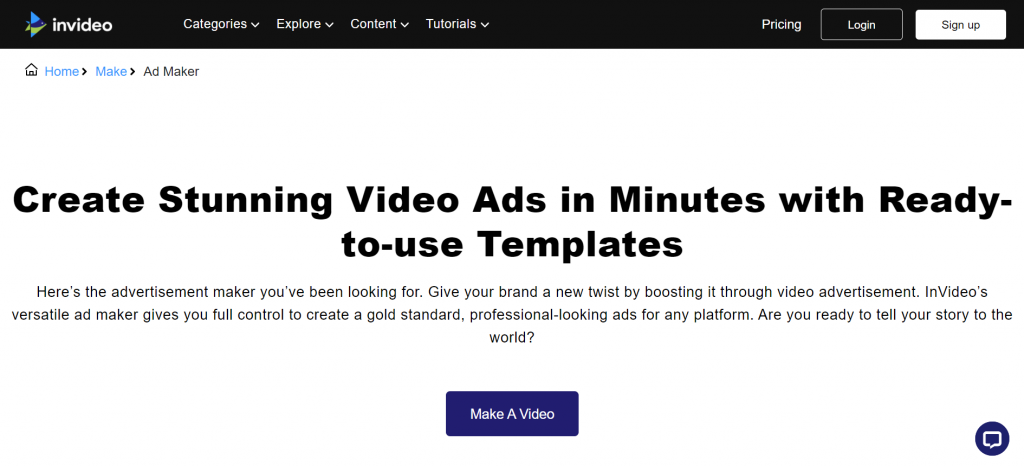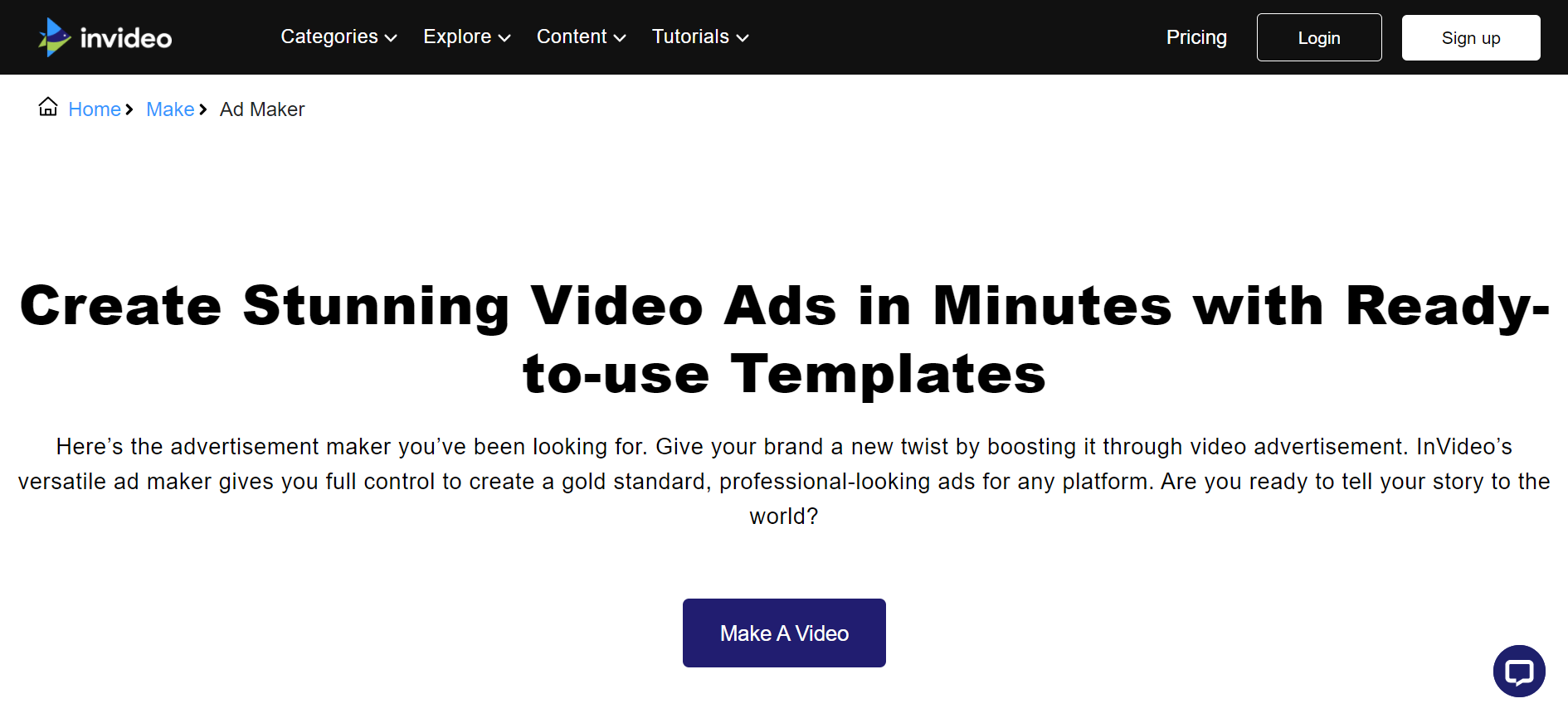 InVideo is one of our picks for top video ad makers thanks in large part to its AI-powered interface. It includes a library full of easy-to-edit templates as well as animations, images, and music you can add to your video ads easily. With the free version, you can create and export up to 60 watermarked videos per month. Upgrade to a premium plan for additional features like a 15-minute video length, reseller rights, text-to-speech, and more.
Key Features:
Thousands of images, stickers, and text boxes

Intro maker, intelligent frames, power transitions, and more

Add CTAs to the end of your videos
---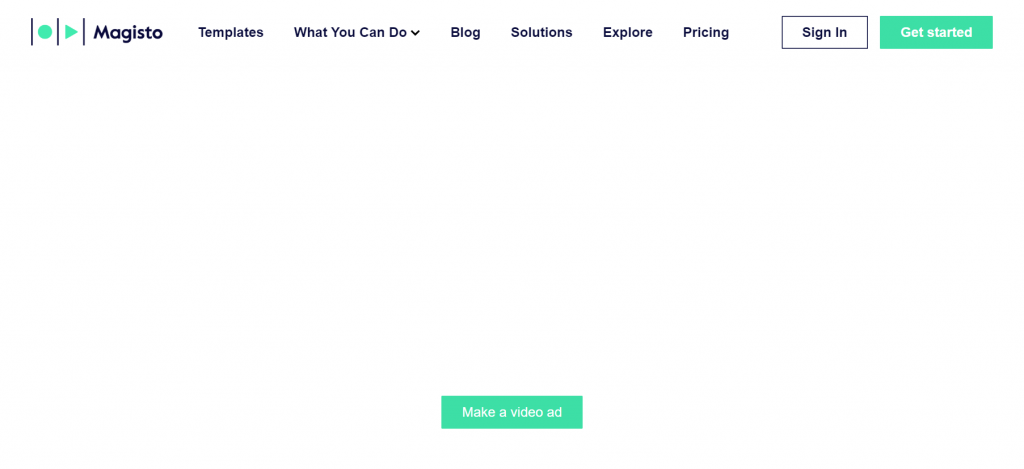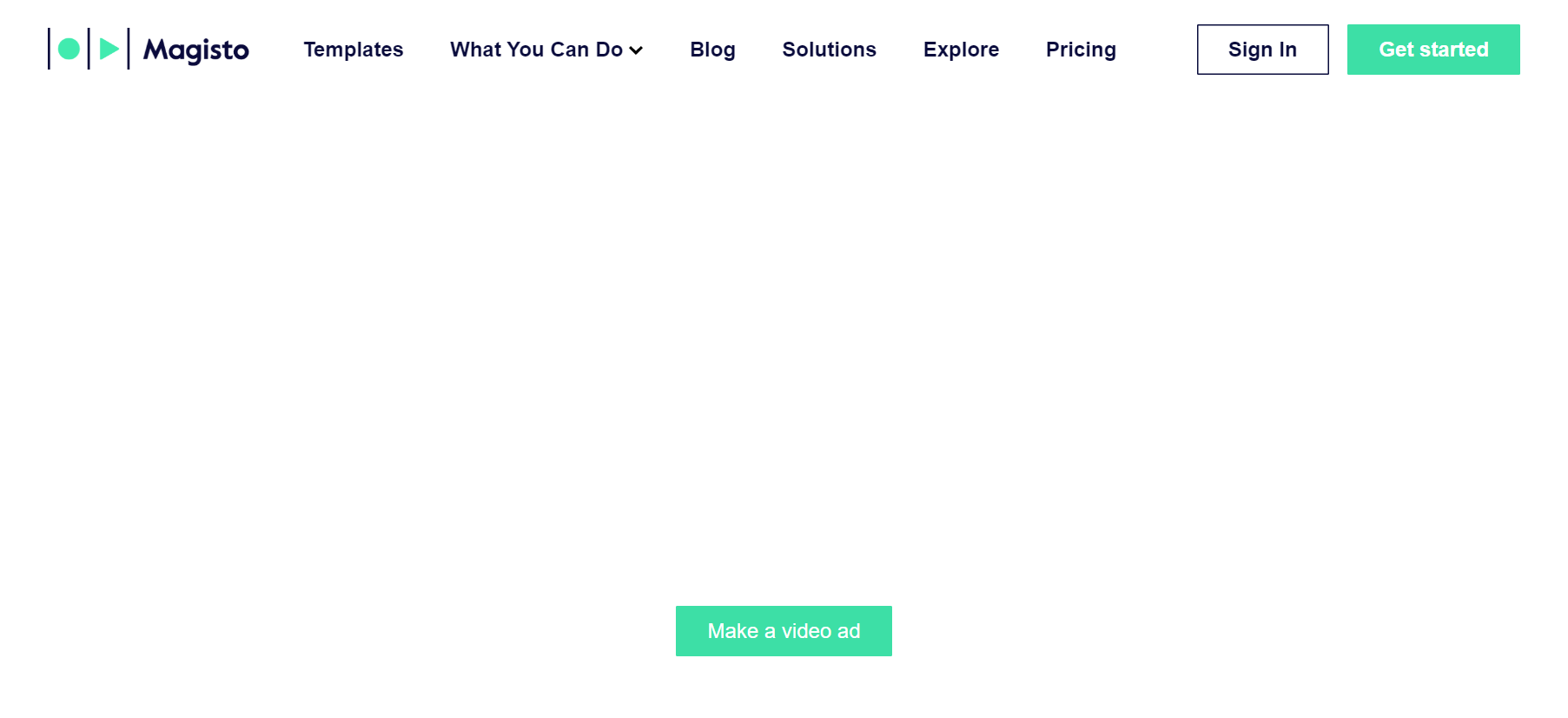 Magisto is an online video ad maker that offers ready-to-use video templates to help you turn your photos and video clips into a gorgeous video ad in just a few clicks. Magisto doesn't offer a free plan and charges for many of its functions like adding elements from the media library to choosing a video style.
Key Features:
Easy to use smart video editor

Tons of video ad templates

Share to YouTube or Instagram with a single click

Custom branding, graphics, effects, and captions
---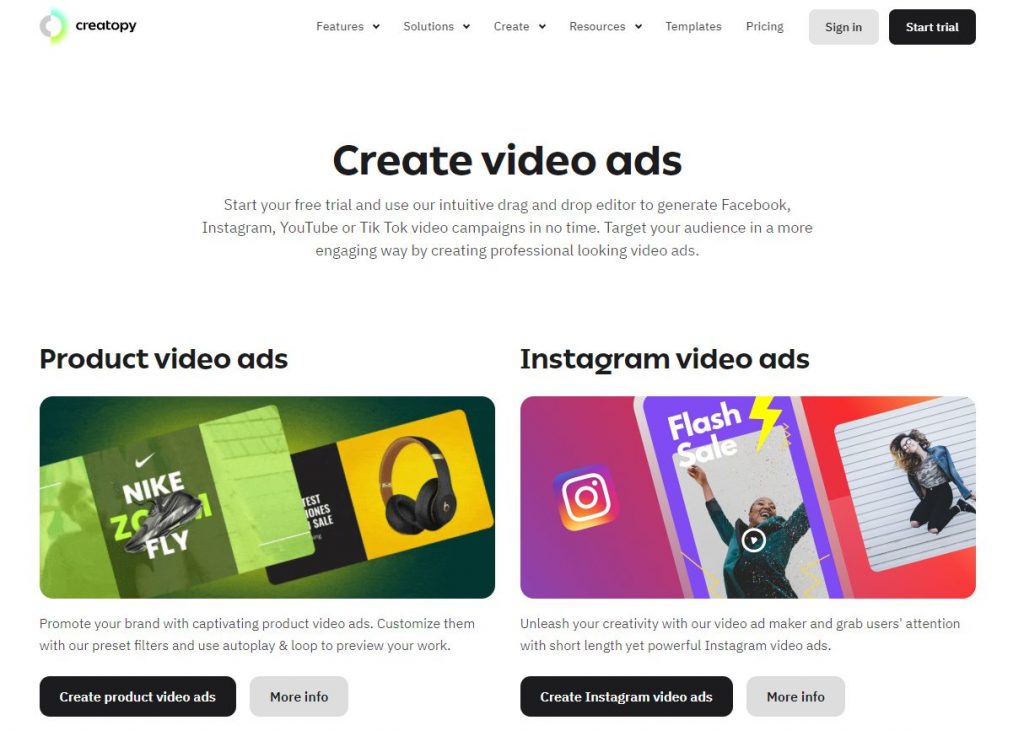 Creatopy offers an easy to use drag-and-drop video editor that lets you design high-quality banner ads fast. You can create video ads from images, use your own footage or stock videos, and use them as Facebook, Instagram, or YouTube ads. Creatopy also makes it easy to create promo videos for your campaigns and offers a variety of templates.
Key Features:
High-quality templates

Custom branding

Image library with

20+

million high-quality stock images

Banner generator feature for easy banner ad creation
---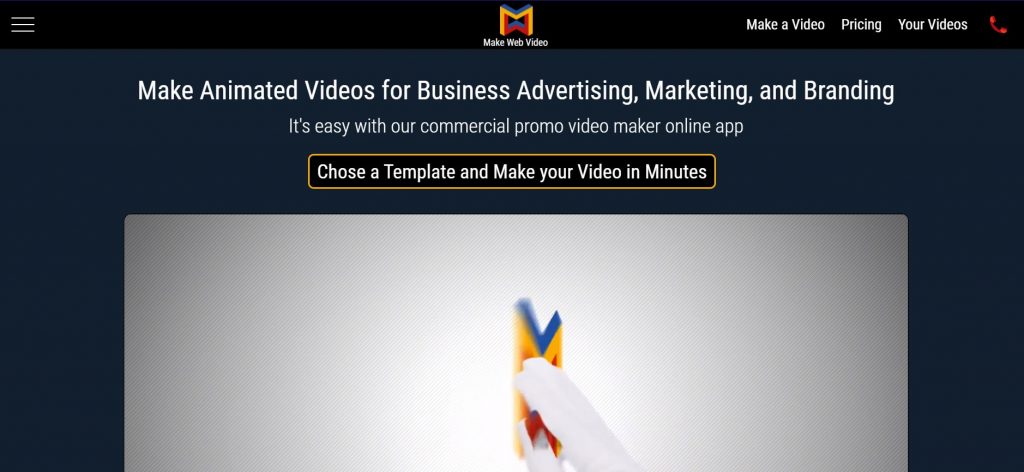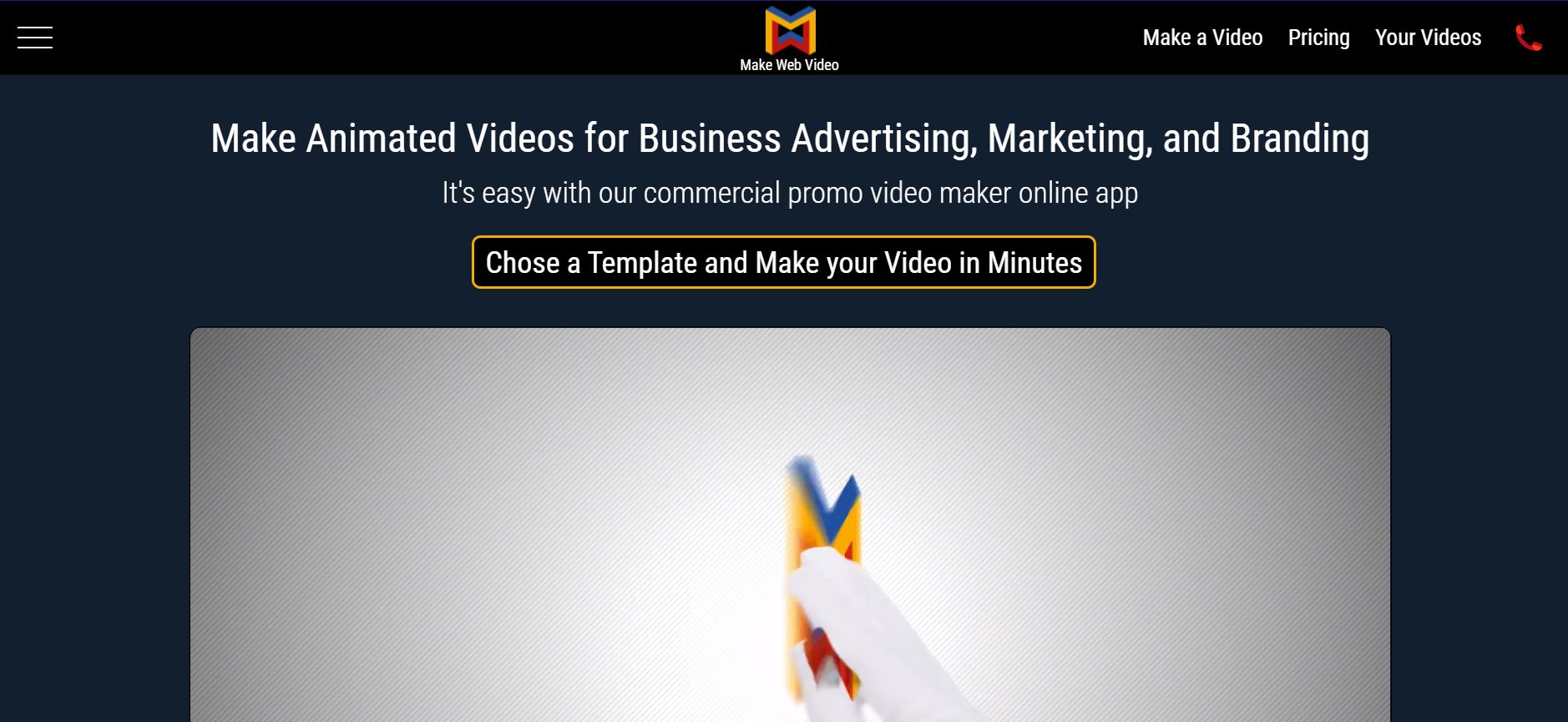 Don't let the website fool you; Make Web Video is on our list of the top video ad makers for a reason. For starters, creating video ads on the platform is easy. Make Web Video includes Adobe After Effects templates so you don't need any video production knowledge to create a great video ad. It also offers promo video templates!
Key Features:
User-friendly video editor

Choose from several video templates

Workflow is completely cloud-based
---
Wrapping Up
Both paid and free video ad makers offer the features and tools you need to create brilliant video ads that will motivate your target audience to convert. No matter the type of video you want to create, it's important to put your brand, products, and services in the best light. Any of our picks for the top video ad makers can help you do that. Get started with one of these video ad makers today to increase the time your audience spends on your page, build trust, increase conversions and sales, and more.