Video has become a favorite type of social media activity of late. Even inherently text-based social platforms like Twitter have adapted to feature video tweets and posts. YouTube is used extensively by people of all ages each day. And TikTok has risen rapidly to become the seventh most followed social platform and the sixth ranking app globally by monthly active users.
If you are a brand that targets virtually any demographic, your audience will be using, or at least consuming, video on at least one social network. Therefore, it is vital that you put together a social media video strategy customized to suit the potential customers for your goods or services. You will find that even if you sell a product targeting the elderly, like motorized stairlifts, a reasonable number of your potential customers look at videos on YouTube or Facebook. And if you target Generation Z or Millennials, much of your audience will be sharing videos on TikTok, Instagram, and YouTube.
The thought of making videos may scare you. You might even have nightmares, imagining you will have to produce slick television-style ads to share via your social channels. But that isn't how videos are shared socially nowadays. Nearly everybody has a video camera on their phones, and many amateurs upload videos every day. Sure, for marketing, you want your videos to come across as high quality, but that doesn't necessarily mean expensive. Here are some social media video tips, along with some of our ideas for a social media video strategy.
---
Our Tips for a Great Social Media Video Strategy:
---
General Social Media Video Tips
1. Plan Your Videos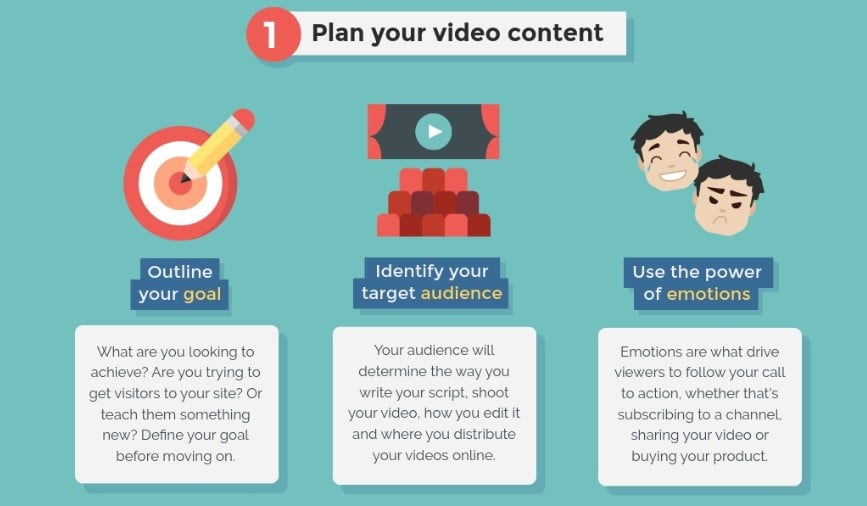 While some people have experienced YouTube success with unplanned and unscripted vlogs, it doesn't make for good video marketing. Depending on the types of videos you make, you might not script them, but you certainly need to have a plan of what you want your message to be. Even your 15-second TikTok video bytes need to be organized. You need to know what your message is going to be long before you pick up your camera.
The best social video demonstrates emotive storytelling. And this is just as important for short videos where you have to tell your story in a minimal timeframe.
A clear narrative is particularly important where you can share videos long enough to tell a story. In that case, your videos should have a clear beginning, middle, and end. Your shorter videos may merge all three into one by focusing on a single point.
In some cases, consider writing a script. You might even use some form of a teleprompter to help you deliver your words more clearly and less broken up by "ums" and "ahs."
---
2. Ensure Your Videos Match Your Social Media Marketing Objectives
A critical social media video strategy is to ensure that you align your video content with your overarching social media marketing objectives. Don't look at social video sharing as being separate for the rest of your social media marketing campaigns.
If the objective for your social campaigns is to increase brand awareness, then your videos should predominantly also focus on awareness. If you usually make social posts to increase conversions, then the videos you share should also aim to increase your conversions. However, don't make your videos (or indeed other posts) too salesy. You have to mix conversion videos with others more interesting to your audience.
---
3. Use a Steady Camera
Although you will not typically pay professional filmmakers to make your social media videos, it is essential that you still produce high-quality videos. One simple tip is to ensure that you keep the camera steady (unless you are deliberately trying to create an old handheld camera effect, and you can add that as an effect in most video editing programs).
A shaky handheld camera phone can look tacky. It is far better to invest in a tripod to keep your camera steady. And these don't need to be the giant tripods of old. You will find many tripods designed to keep everyday mobile phones steady.
---
4. Consider Using an External Microphone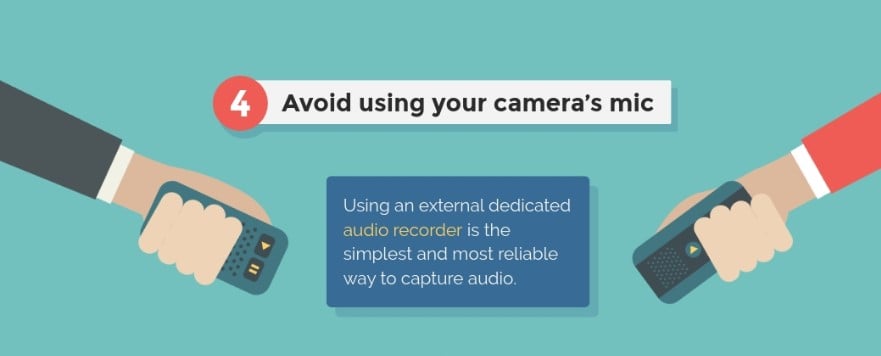 While you can use the microphone in your phone to record the audio for your videos, it will usually not be the highest quality. This may not matter for some videos, particularly if you intend to overlay them with music or dub a separate soundtrack. However, if you want to use the sound you've captured, you should consider purchasing an external microphone.
The problem with built-in microphones is that they often capture extraneous sounds you don't want. It is far better to use an external mic so you can focus on the sounds you want your audience to hear.
---
5. Avoid Digital Zoom
One of the limitations of using a phone camera is that you are less likely to have an analog zoom lens (although a few high-end models do). Instead, you simply have digital zoom. Unfortunately, digital zoom is nowhere near as good. Its use leads to blurry videos that are distracting for the viewers.
---
6. Edit Your Videos to Avoid Fluff
You will probably shoot more video than you need for your finished product. Don't be tempted to leave your raw footage unedited. You want your videos to entice your audience, and for that to happen, you need first to edit your footage. This also gives you a chance to overlay audio, add subtitles, and other graphics. With apps like TikTok, you can also add effects and music at this point.
Viewers often look at the first few seconds of a video to decide whether it is worth watching. If you don't start your video with an impact, you risk people swiping on to the next video in their feed.
---
7. Include a Call to Action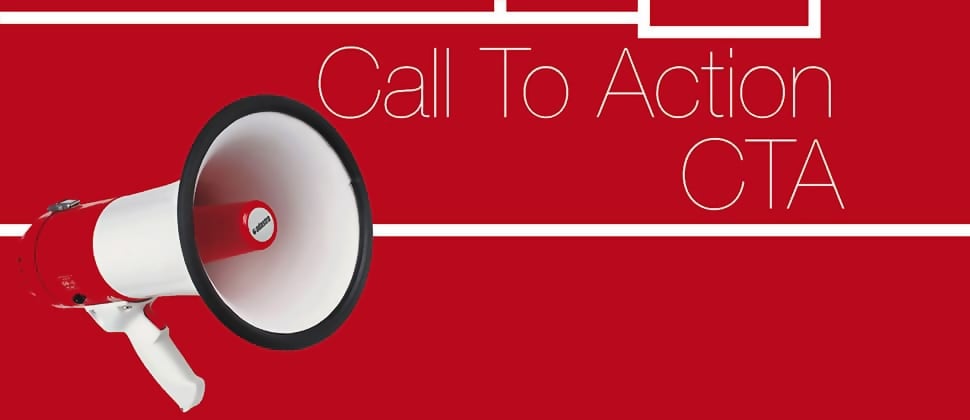 Like most forms of online marketing, you need to ensure that your videos include a Call to Action. What do you want your viewers to do after they have finished watching your video? In most cases, though, you need to keep this relatively light. Many viewers are wary of CTAs that are clearly sales-focused, particularly on channels targeting Generation Z, like TikTok or Snapchat. If your video goals are conversion-oriented, you still need to do this in a low-key way – don't come across as the proverbial used car salesman.
---
8. Customize Your Video for Your Video Platform of Choice
Not all social video platforms are the same. You can't expect to shoot one video and use it identically on all your social platforms. For a start, some platforms have video length limitations, while others allow you to upload videos of virtually unlimited length. Some expect you to share traditional landscape videos, while others understand that many people record videos on their phones held in an upright position.
We will look at the differences in the next section. But you need to adapt your video marketing strategy for each platform. You probably won't upload videos to every social network. So, it is essential to know how your target audience behaves online. Do they all rush to YouTube to get their video fix? Do they like to share videos on their Facebook or Instagram apps? Or are they ardent TikTok followers, who open that app multiple times daily for 15-second bursts of entertainment?
---
Platform-Specific Video Marketing Strategies
YouTube
We have previously written about The Complete List Of YouTube Ad Sizes And Specifications. Video is clearly at the heart of YouTube, rather than being an add-on as it is for many of the other social platforms. YouTube videos tend to be landscape.
If you intend to operate a channel on YouTube, you need to ensure that you regularly upload new content. YouTubers expect regular new videos. You will also need to market your channel and steadily build awareness of it.
You need to pay particular attention to the titles you give your YouTube videos. Many YouTubers skim through playlists and suggested content, and pick videos based on how attractive they find video titles. In saying that, don't use clickbait titles. Your videos have to meet the promise of their titles, or people won't return to your channel.
YouTube's search engine is second only to Google, not surprising considering the tech behemoth owns the video platform. Therefore, you need to ramp up your video SEO to ensure that your videos don't get lost in the crowd. Videos are now becoming more prominent in standard Google searches, too.
Although YouTube comment threads can appear like the Wild West at times, active participation is essential for your brand. Always check the comments on your videos and be part of the conversation.
Longer videos work better on YouTube than many of the other platforms. You could consider making in-depth videos on aspects of using your products. Just remember to keep them entertaining—even YouTubers tire of long boring videos.
---
Instagram
We have looked at video specs for Instagram and IGTV in our Ultimate Guide to Instagram Video: Stories, IGTV, Live, Posts & More! We also have written on Instagram Ad Sizes for All Post Formats. Instagram videos can be either horizontal or vertical. IGTV originally made vertical videos a requirement, but have since dropped that rule.
25% of all Instagram ads are videos, and 250 million people watch videos on the platform. The platform allows you to share videos in several formats, including posts, Live, Stories, and IGTV.
Instagram Stories allow businesses to tell brand stories. You can mix videos and still pictures in an Instagram Story. Use relevant hashtags and add suitable stickers. It's a good idea to brand your Story with your theme colors, logo, and typography. You can even save Instagram Live replays as Stories. Instagram Live is great for Q&A sessions with your followers or behind-the-scenes footage from brand events and promotions.


IGTV is Instagram's stand-alone video platform. IGTV videos can be rawer and more unpolished than on many platforms. They can last from 10 seconds to 15 minutes or as long as 60 seconds for verified accounts. The format is best suited for interviews with experts, webinars, or panel discussions.
---
Facebook
We have covered Facebook Ad Sizes and Specifications.
Facebook has increased its emphasis on video in recent years. Indeed, video content now dominates the platform. It has actively discouraged people linking to YouTube clips, preferring them to upload their videos to Facebook directly.
Elaine Bennett of Hot in Social Media writes that "Facebook Live has 10 times greater reach than all other forms of Facebook content". It earns six times more interactions than pre-recorded video.
Shorter videos perform best on Facebook. Limit them to between 15 and 90 seconds. Video ads should be at the shorter end of that range. Your video ad needs to grab the viewer's attention in the first five seconds.
Perhaps surprisingly, for one of the older social networks, vertical video works well on Facebook, reflecting its high mobile usage nowadays.
You should consider using a cover video on your business page. We have written a post giving all the Facebook Cover Videos – Setup, Sizes and Specifications.
---
TikTok
We have previously written about TikTok's ad video specs and best practices. TikTok is now one of the world's most downloaded social media apps for short-form videos. It attracts a vast audience, predominantly of Generation Z and Millennials.
TikTok's videos are either 15 or 60 seconds, with the majority being the shorter variety. Music is an integral part of TikTok, and you can add a soundtrack from within the app. TikTok has arrangements with most music companies to allow this.


TikTok strongly recommends that you should share vertical videos. This matches the way their users hold their phones to view content.
You can quickly swipe between videos on TikTok. Therefore, for your videos to work, you need to gain attention right from the first minute.