There are tons of social media video marketing tools available for use these days. But this embarrassment of riches is just one of the reasons it can be so confusing when you're trying to find the best tools to use that will really make your social media video marketing pop. If you're not already using video marketing, the confusion might even be a big part of the reason why you're leaving money on the table by not leveraging this powerful marketing tactic.
And if you're not using video, or are using it ineffectively, you are leaving money on the table.
According to research from Marketing Land, as much as 62% of people said they're more interested in a product after seeing a video of it in a Facebook Story. The G2 Crowd shares that social media video generates as much as 1200% more shares than text and image content combined. What could those numbers mean for your business?
To make sure that you're getting the most from your video marketing campaigns, you need the best tools. That's why we've put together this list of the 16 best social media video marketing tools we're digging right now. No matter which of the tools you choose, your social media video marketing will be stronger, reach more people, and net you more sales.
---
16 Social Media Video Marketing Tools (Most Are Free!):
---
16 Best Social Media Video Marketing Tools
Let's take a closer look at 16 social media video marketing tools that will improve your SEO and help you create shareable and high-quality content.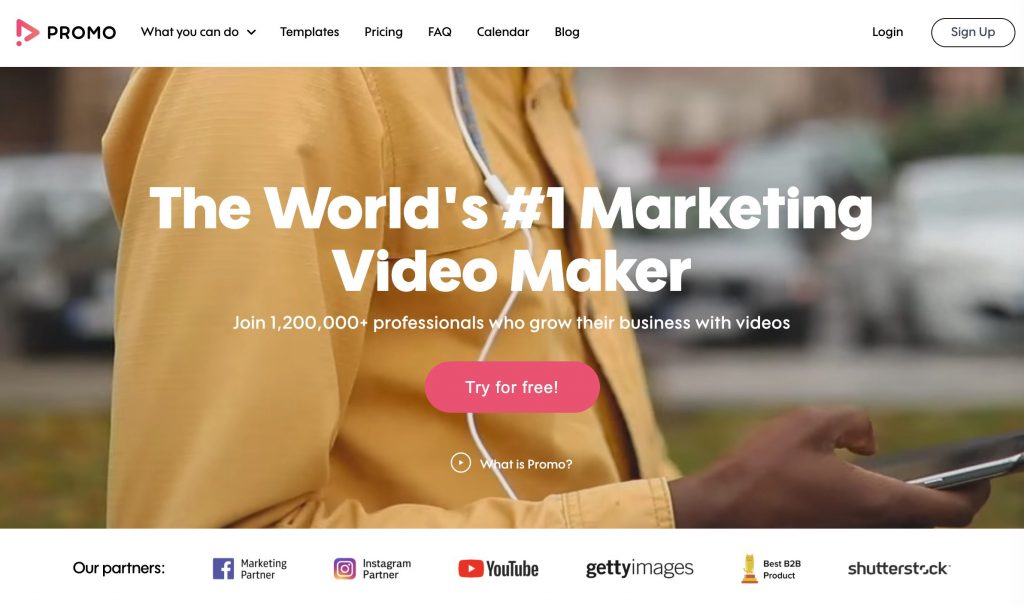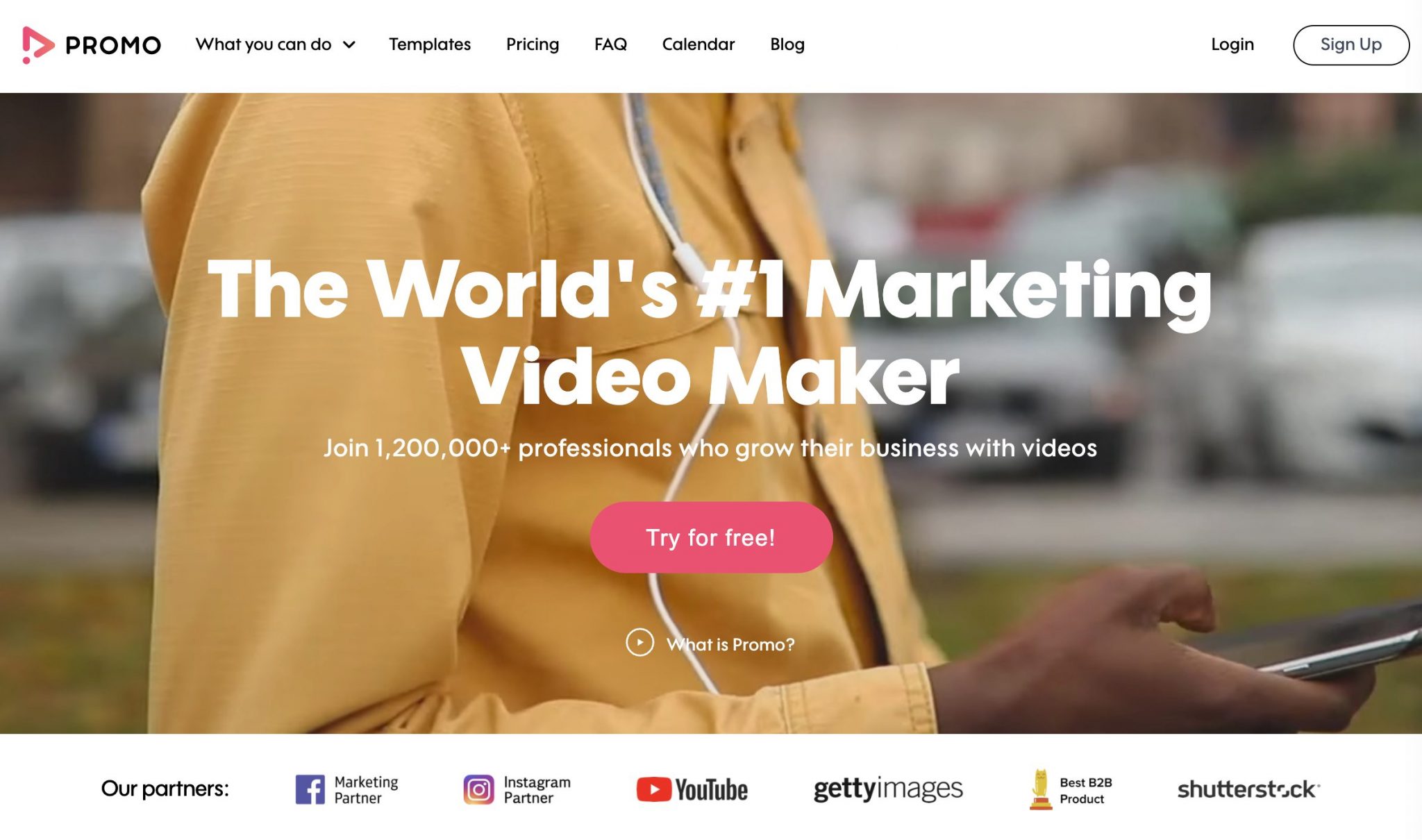 Promo.com is one of our very favorite social media video marketing tools. The company offers an online social media video maker complete with editing effects, a licensed clip art, stock image, and music library, and is a marketing partner for Instagram, YouTube, and Facebook. Thanks to those close relationships, Promo.com gets access to cutting-edge features as they become available—which means you get that access, too. A couple of standout features we love: you can add embedded links or "swipe up to shop" in a couple of clicks.
Pricing: Promo.com offers a free plan that includes up to five projects and allows you to share links on social media. Paid plans start at $39/month.
---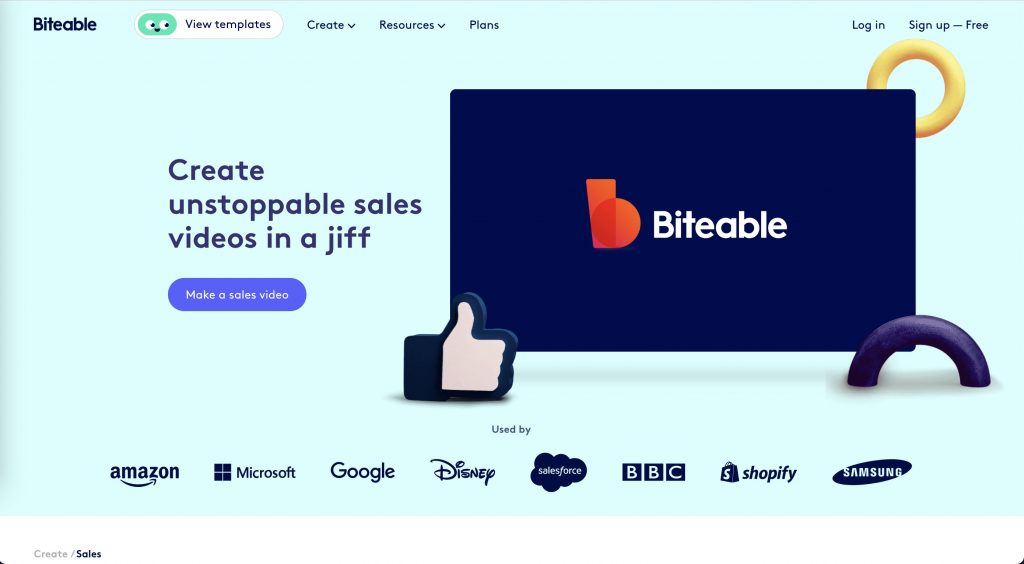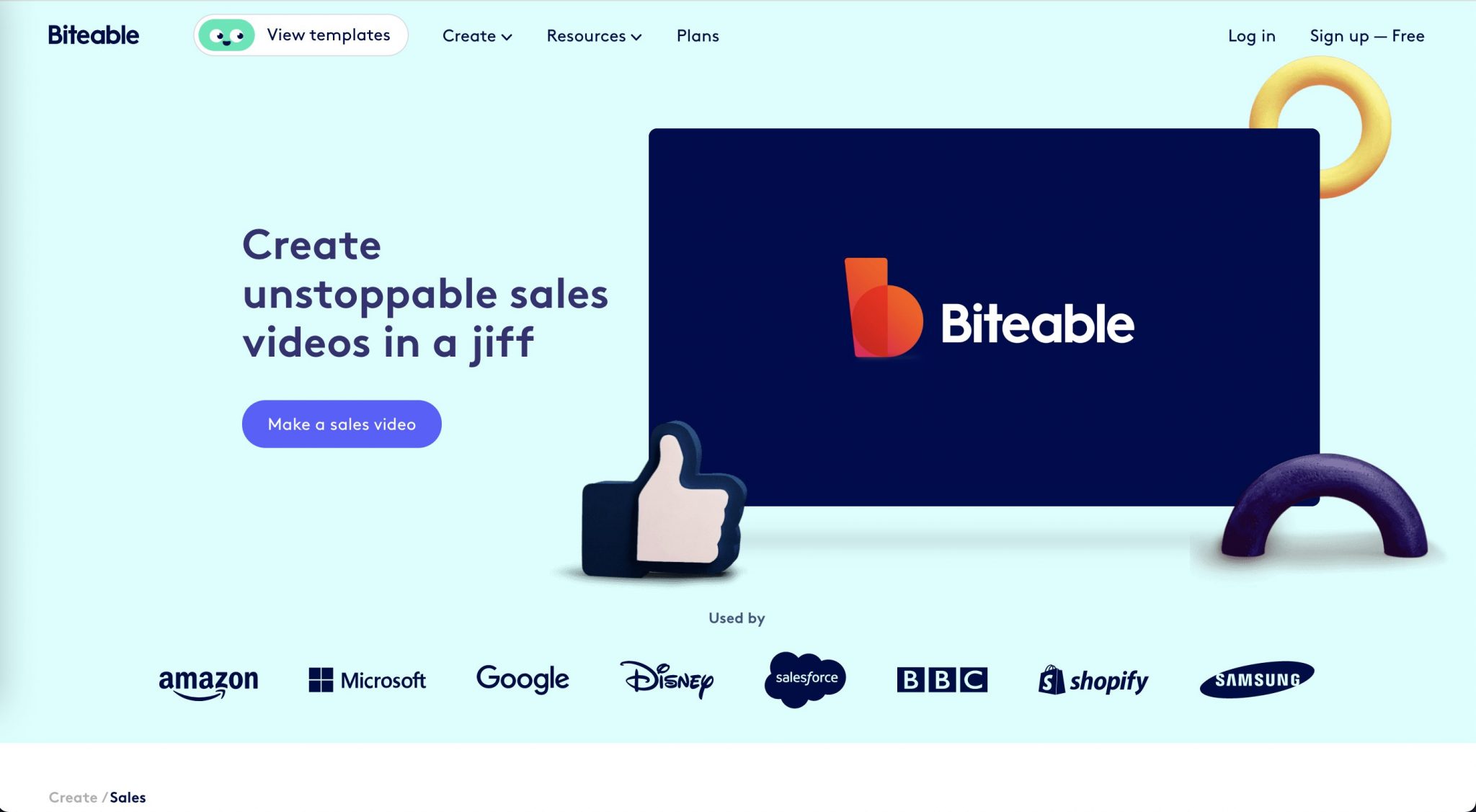 Biteable is a social media video marketing tool that is built to let users create videos quickly and easily. It's a click-and-drag program and tells users they can create an amazing video on their lunch hour. It also claims to be the world's simplest video maker (and we agree)! But don't confuse simplicity with a lack of features. The tool lets you make videos with animation, stock footage and images, and customize your video to match your brand—with studio-quality results!
Pricing: Biteable offers a free plan with unlimited exports (videos include the Biteable watermark) and access to Biteable's library of 1.8+ million images, video clips, and animations. Paid plans start at $19/month.
---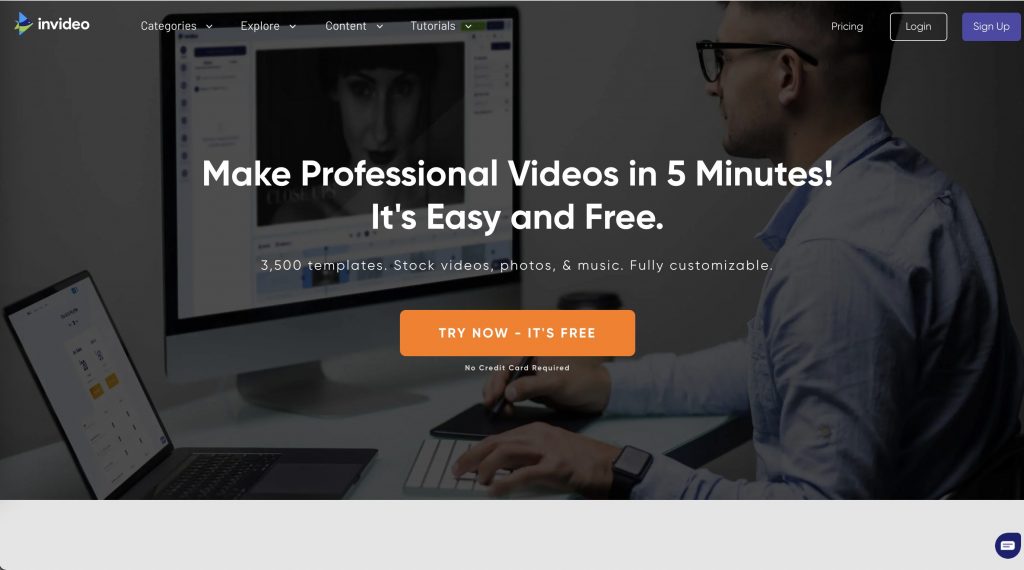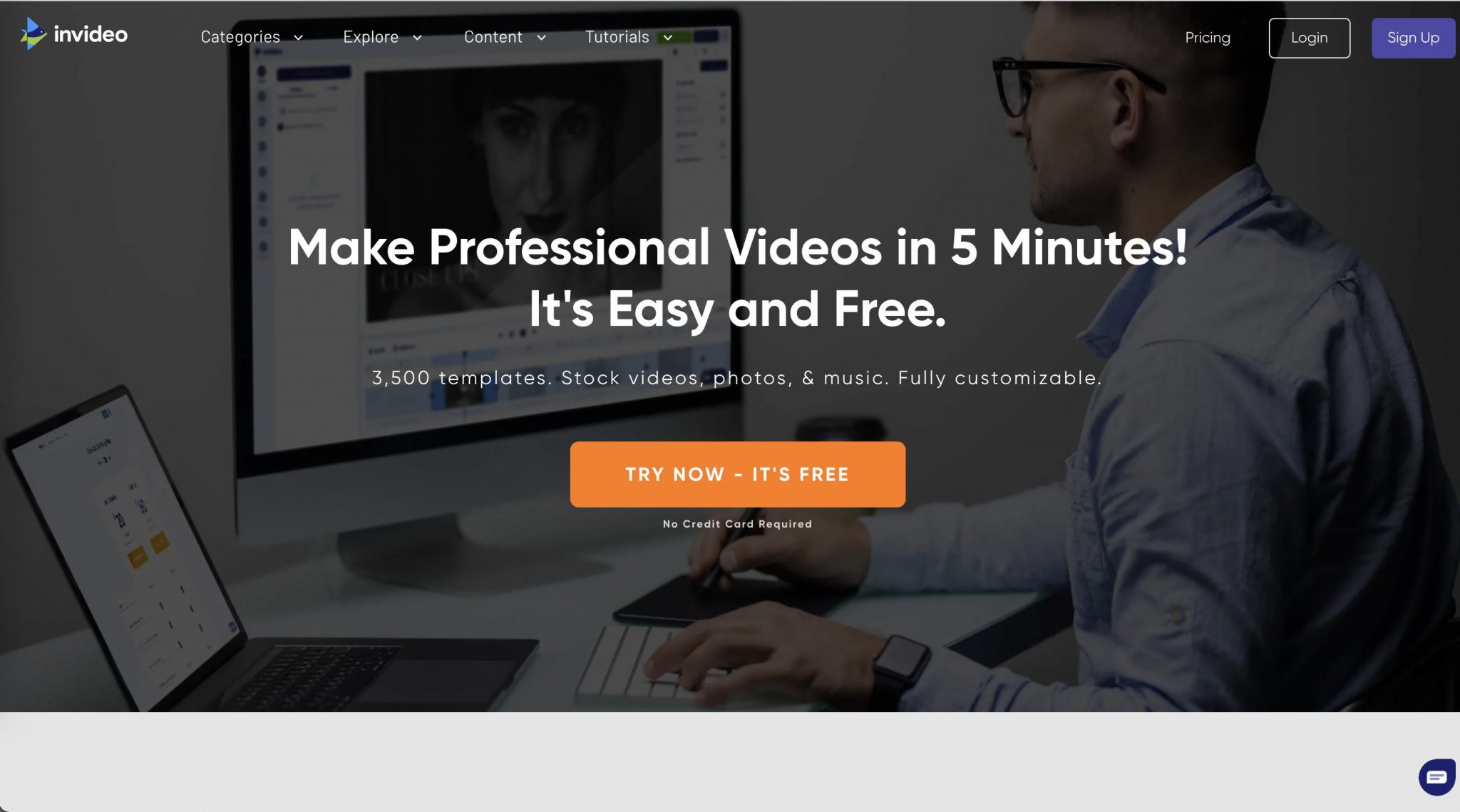 InVideo is an online video editor that's perfect for beginners or marketers who want to create video content fast, but don't have the knowledge or budget for highly-edited, professionally-produced videos. It's packed with features like more than 1500 professionally-designed templates, HD video exports, and a text-to-speech (as well as URL-to-video) feature that makes it easy to convert blog posts and other text into engaging videos. Users get access to Pexels, Pixabay, and Unsplash for royalty-free content.
Pricing: InVideo offers a free plan without watermarks. Paid plans start at $10/month.
---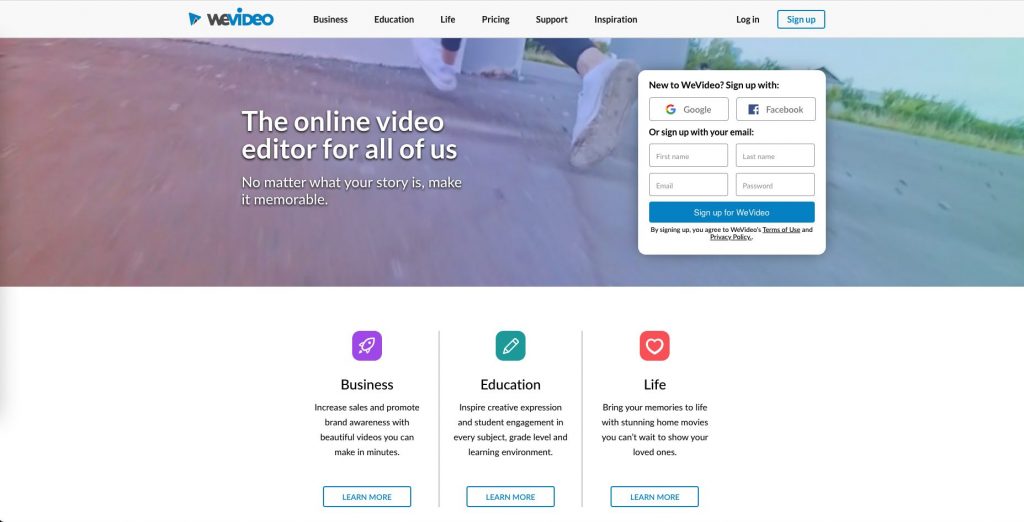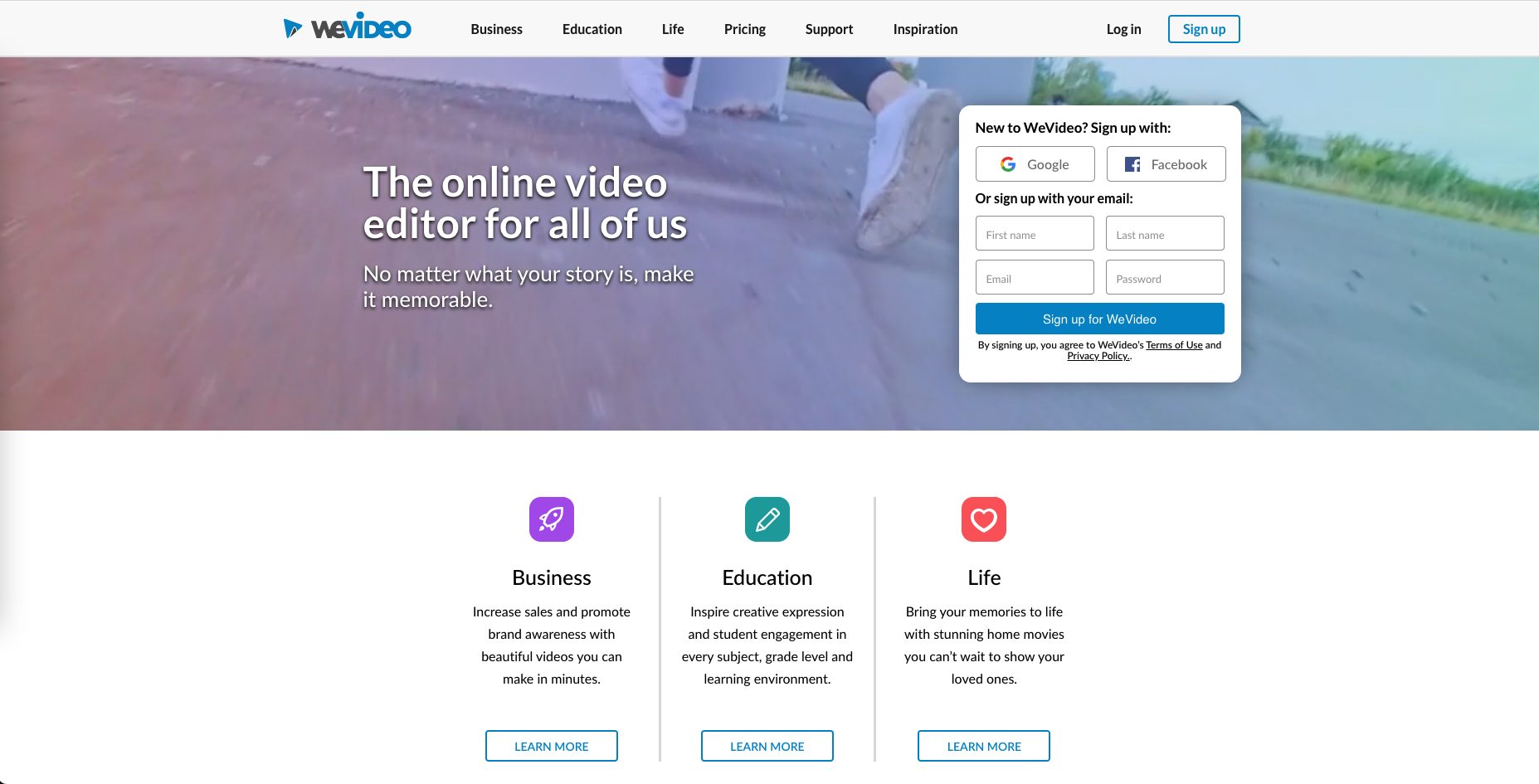 WeVideo is a great option for business, education, and individual customers. This social media video marketing tool offers a YouTube video editor, screen recording, HD video options, green screen, and a lot more. You can choose from multiple video formats to help you stand out on social media, web, and mobile displays. WeVideo also includes a library of more than 1 million stock videos, images, and music tracks. The library is commercially-licensed and royalty-free.
Pricing: WeVideo offers a free plan. Paid plans start at $4.99/month.
---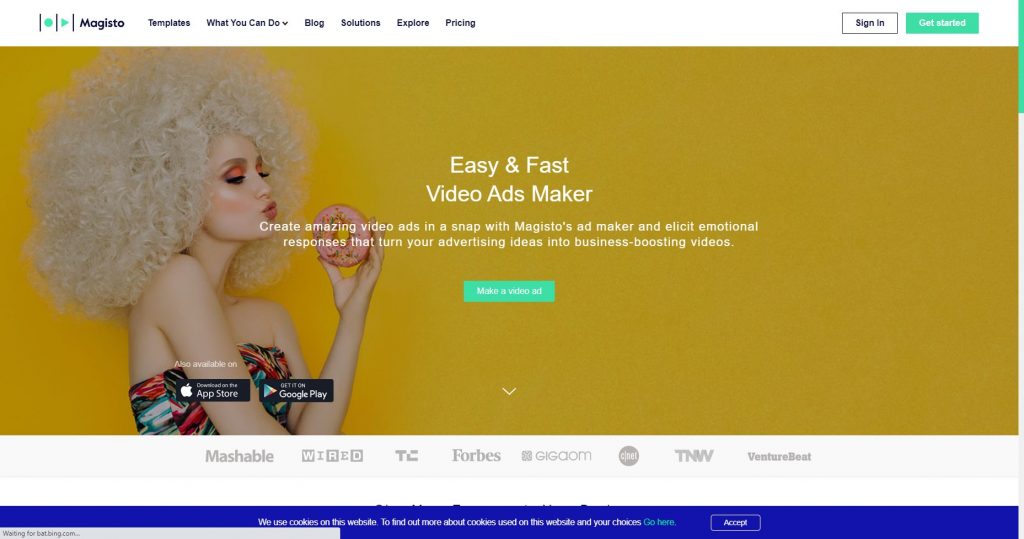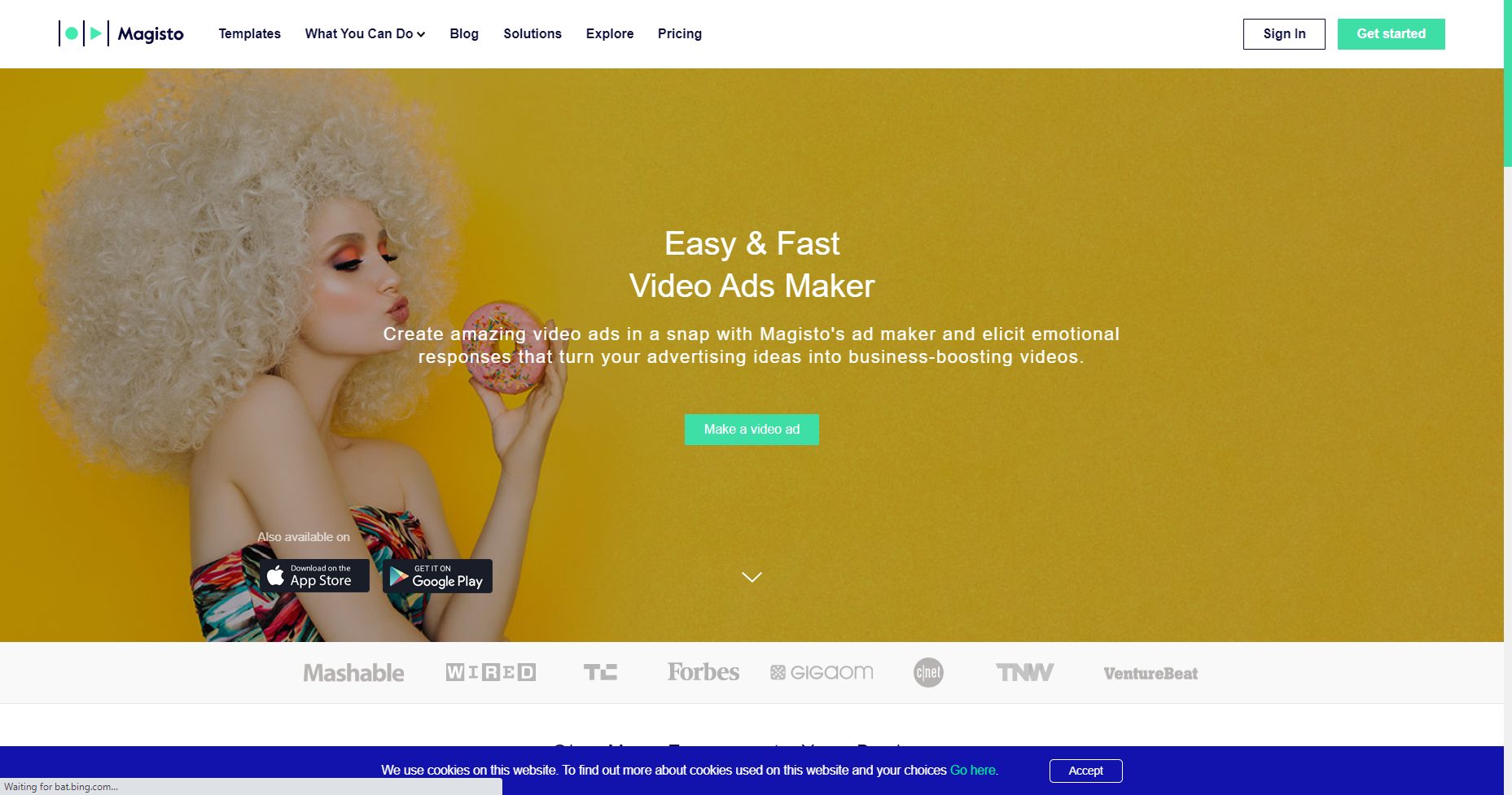 Magisto is easily one of the best social media video marketing tools on the market, largely in part to its AI-based editing assistant that helps you with everything—uploading your footage, editing, and distribution. It asks you what mood you're looking for in your video and will put together the perfect video for you. The tool also offers access to Getty stock images and licensed music. Plus, you can check out your video analytics using the built-in analytics tools.
Pricing: Magisto offers a free trial. Paid plans start at $4.99/month.
---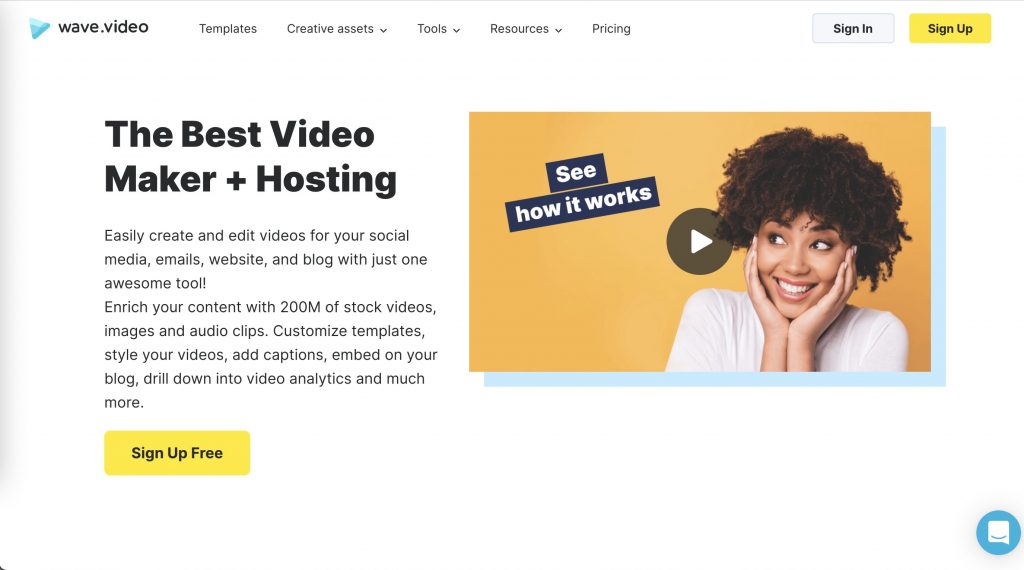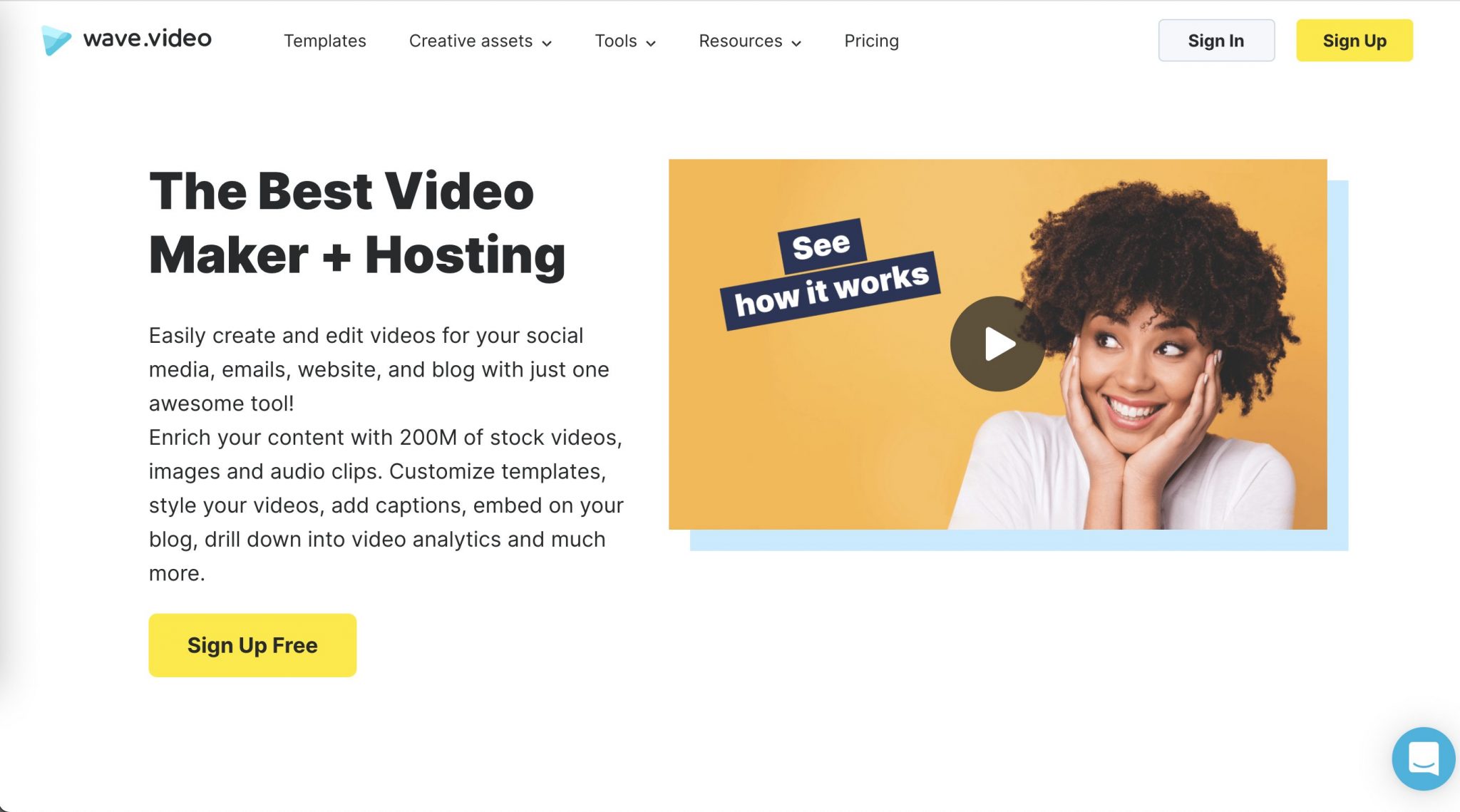 Wave Video makes it easy to create and edit videos for social media, email marketing, your website, and more using a single tool. The platform includes access to 300+ million stock images, video, and audio clips. You can use one of the many customizable templates to create a video in minutes, stylize your videos, add captions, and even check out analytics. Wave Video also includes a free social media calendar so you're always sure to have fresh, new content to share.
Pricing: Wave Video offers a free plan that includes five free video embeds and unlimited social media native shares. Paid plans start at $20/month.
---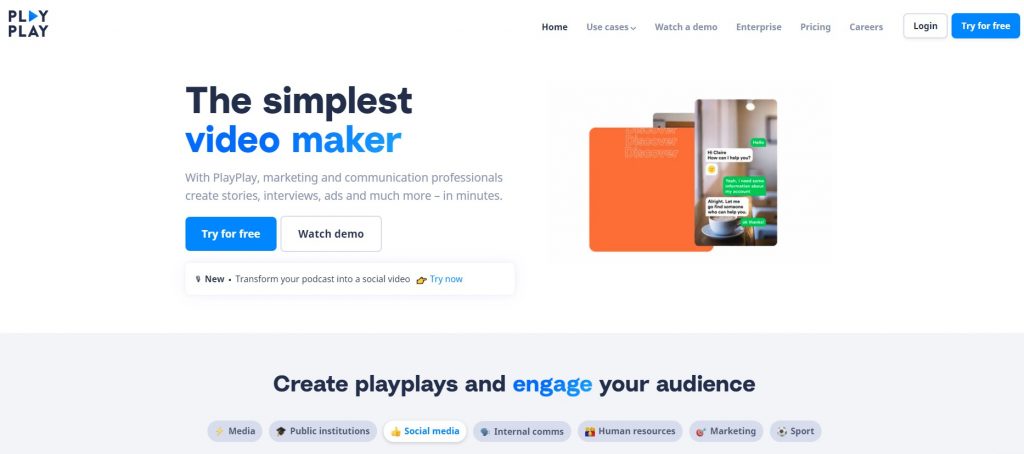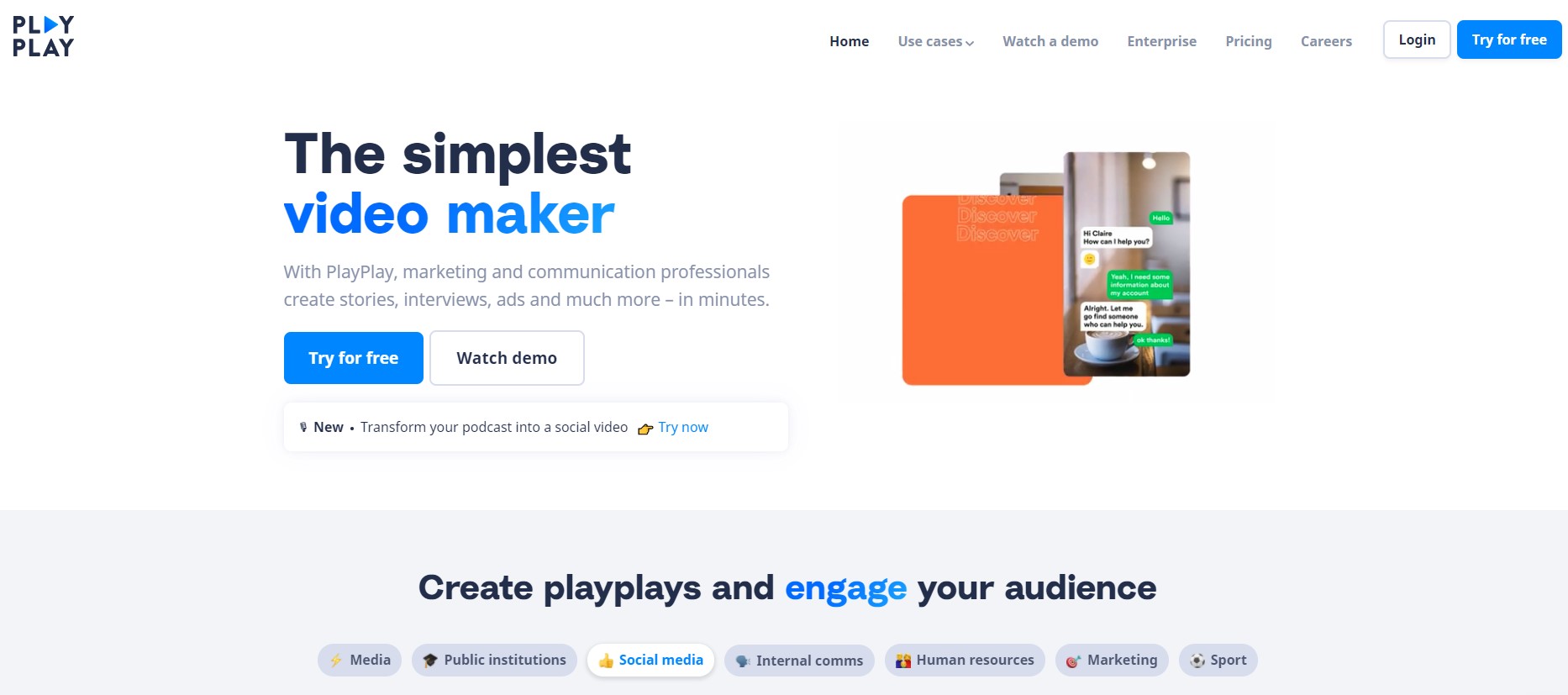 PlayPlay is another one of the more simple, easy-to-use social media video marketing tools on our list. It has templates created by content experts in marketing, communications, and HR that you can then customize using your own media, colors, fonts, and animated outros. PlayPlay has a library with millions of stock images, videos, and GIFs that you can use to build the perfect video for social media. Plus, it offers different image formats (landscape, square, and vertical) so you can use the best video format no matter the platform.
Pricing: PlayPlay offers a 7-day free trial. Paid plans start at $160/month.
---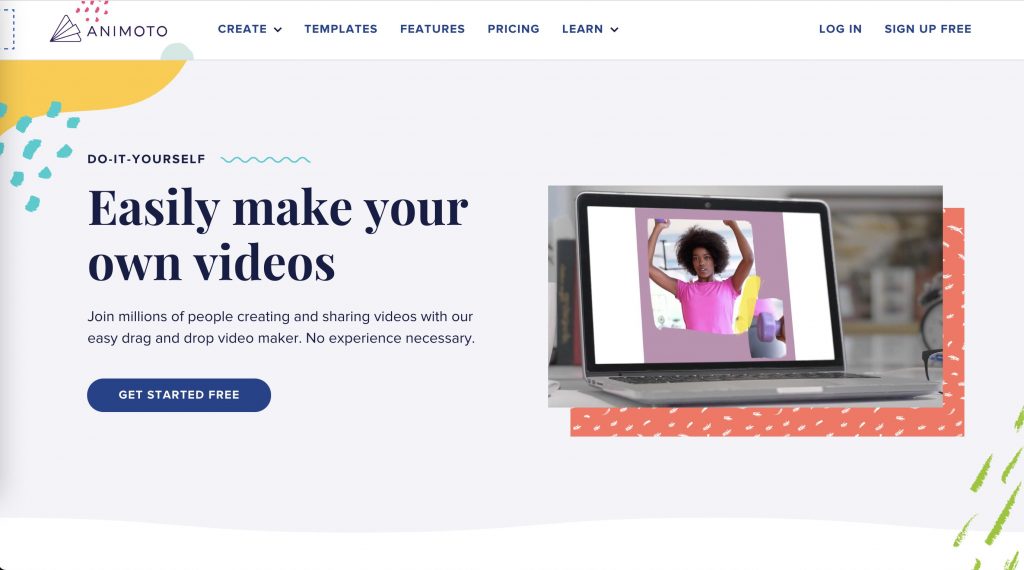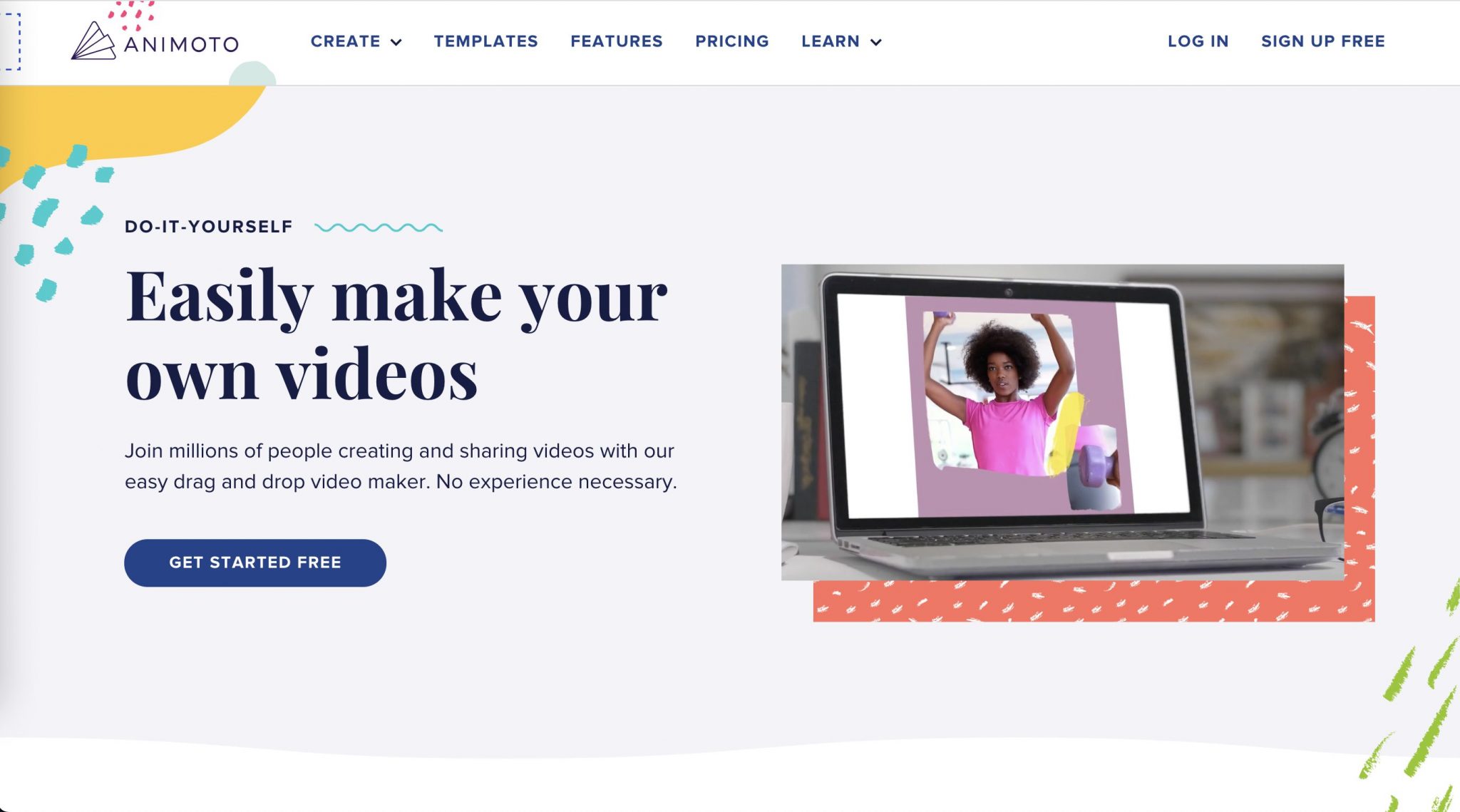 Animoto doesn't require any video editing experience to create stunning videos for your social media platforms. It has an easy-to-use drag-and-drop interface so you can add your own video clips and images to one of the existing templates. There's also a library of more than 1 million stock video clips and images as well as a library of licensed songs if you don't have your own assets or need some filler.
Pricing: Animoto offers a free plan that includes an Animoto watermark on your videos. Paid plans start at $15/month.
---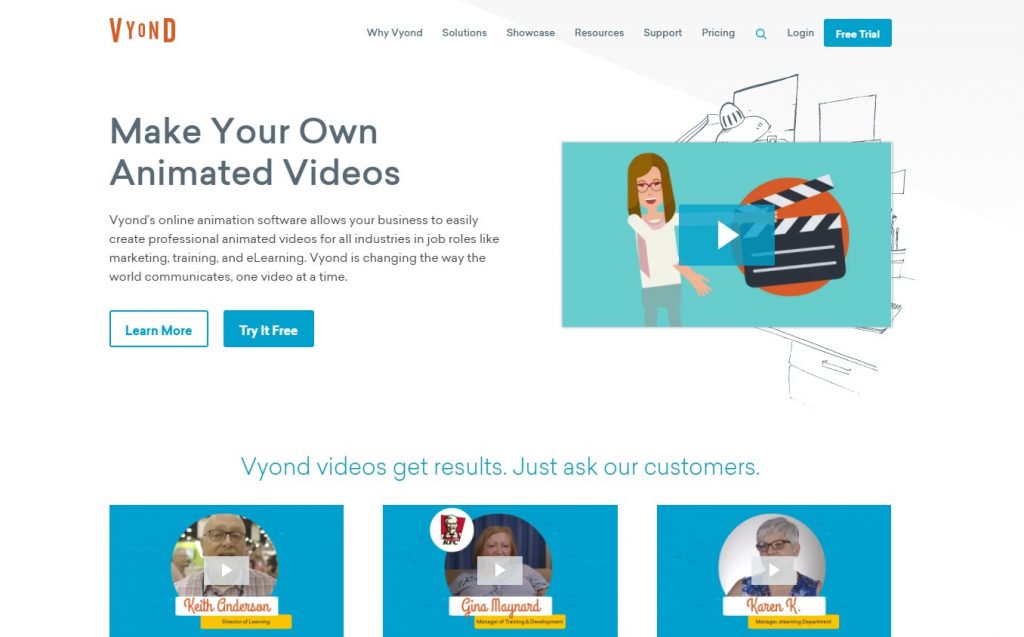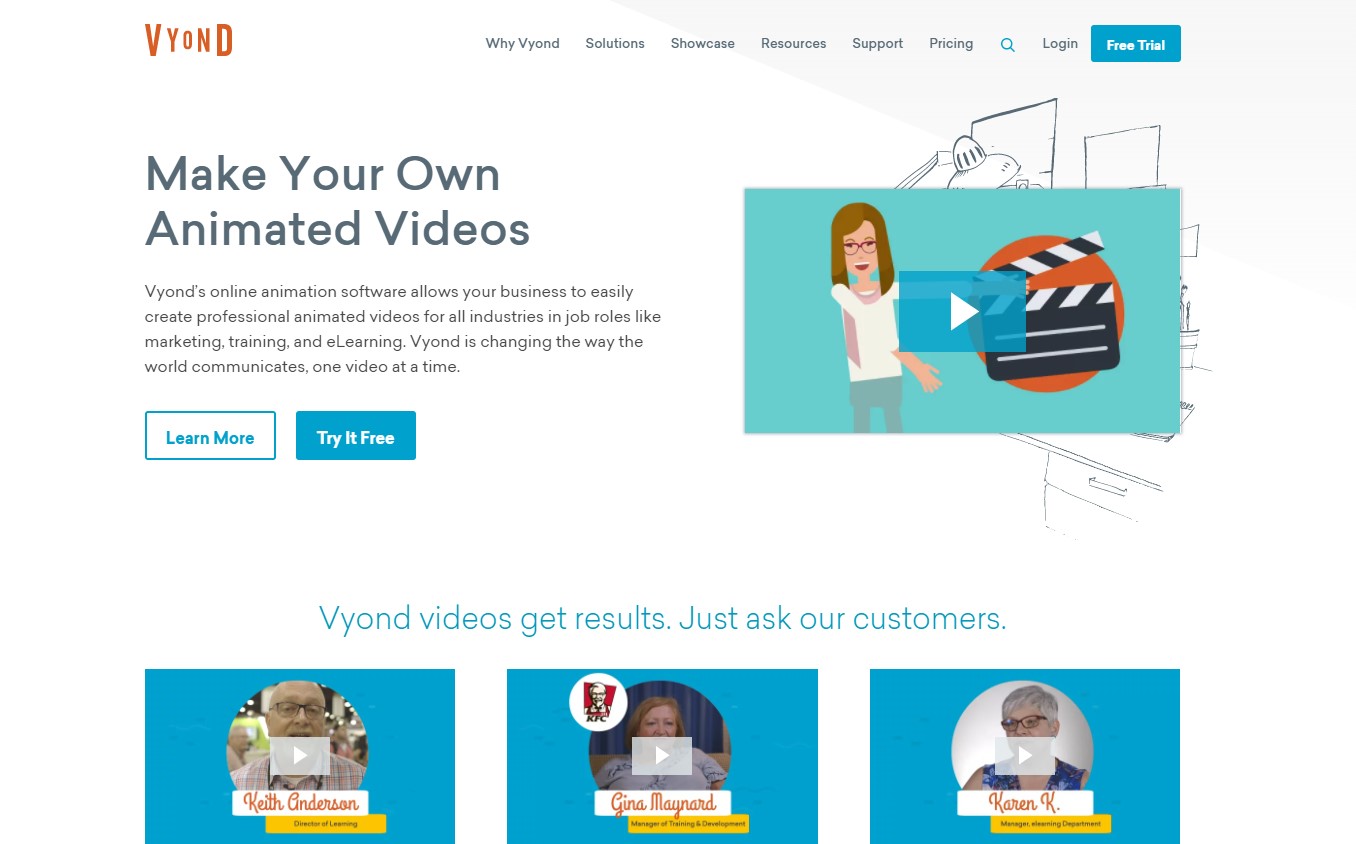 Vyond makes it easy to create animated videos you can share on social media and anywhere else you choose. Customers of any size will love the prebuilt templates, resource library, and collaboration tools. With Vyond, you can create dynamic video content by mixing multiple styles and creating custom characters, bringing them to life with realistic movements, actions, and even automated lip-syncing. You can export your videos as MP4 files so you can use them on video hosting platforms, social media platforms, and your LMS platform. You can even export videos as GIFs that you can embed on your website or in your email marketing.
Pricing: Plans start at $299/year.
---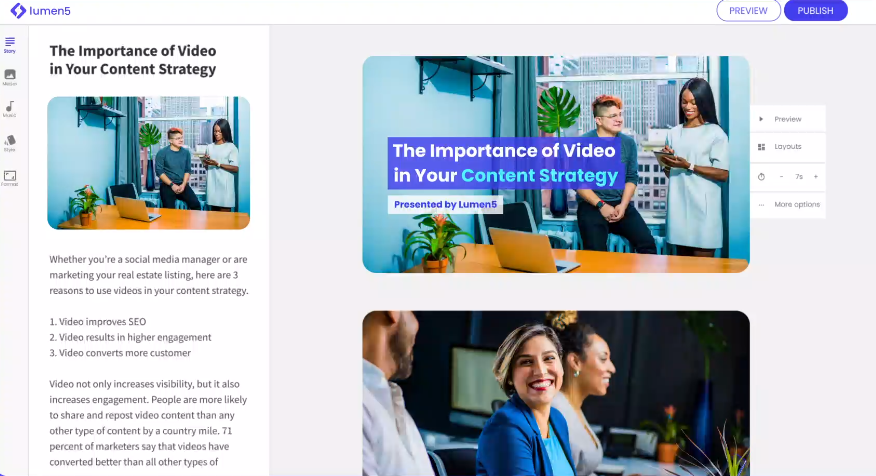 Lumen5 helps you create engaging videos from your existing content, making it easy to repurpose the content you've already spent time on. This is another AI-powered platform that helps you storyboard your ideas, add your content to a layout, and find the music and visuals that will enhance your message. The media library gives you access to millions of video clips, audio files, and images so you always have the assets you need to create high-quality videos for social media.
Pricing: Lumen5 offers a free plan that includes three videos per month with the Lumen5 watermark. Paid plans start at $11/month.
---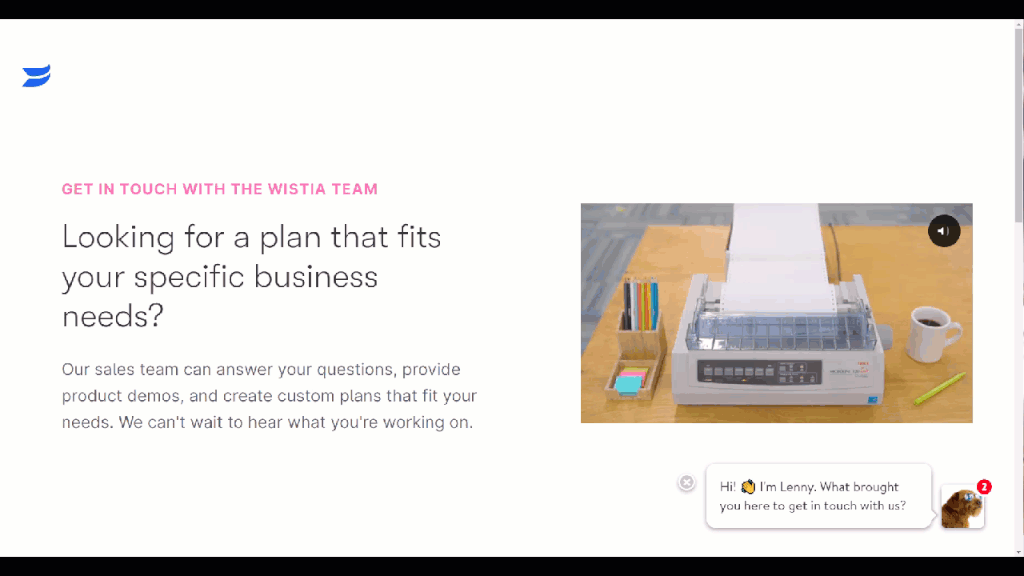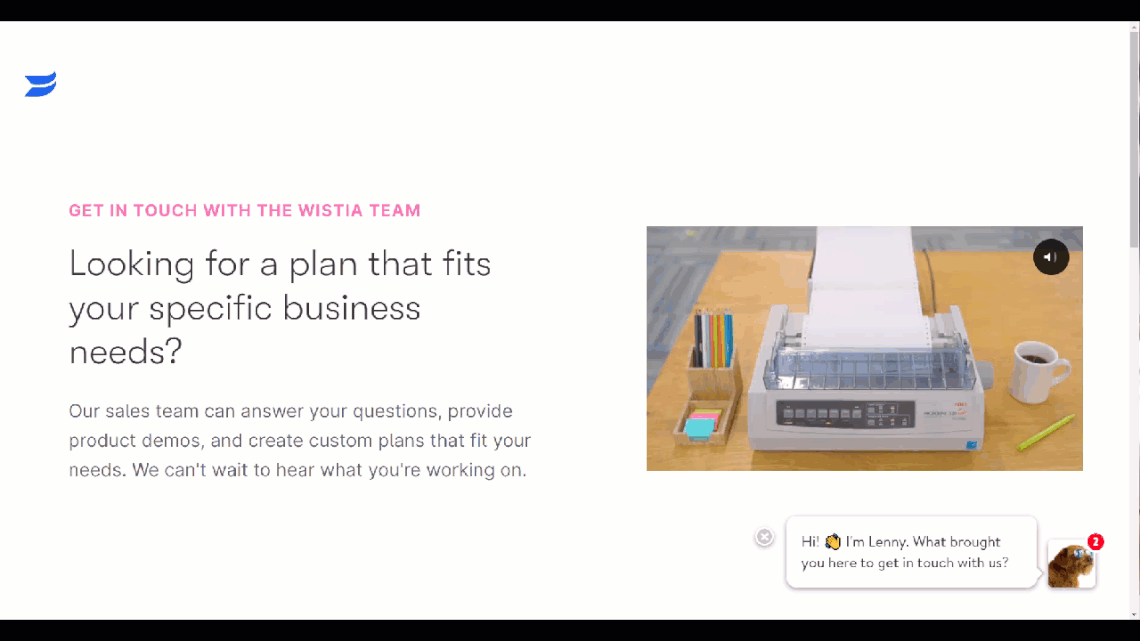 Wistia offers one of the best viewing experiences anywhere, from single videos to a series. It also includes powerful video SEO tools so you can create better video ads for search and social media. With the platform's marketing automation integrations, you can even turn your videos into lead capture tools. Wistia gives you control over your video content, letting you deliver your videos to anyone, anywhere. And, you can customize the video player to match your brand. Wistia includes video analytics and heatmaps so you can see where your viewers are spending their time.
Pricing: Wistia offers a free plan that includes three free videos with Wistia branding on your video player. Paid plans start at $99/month.
---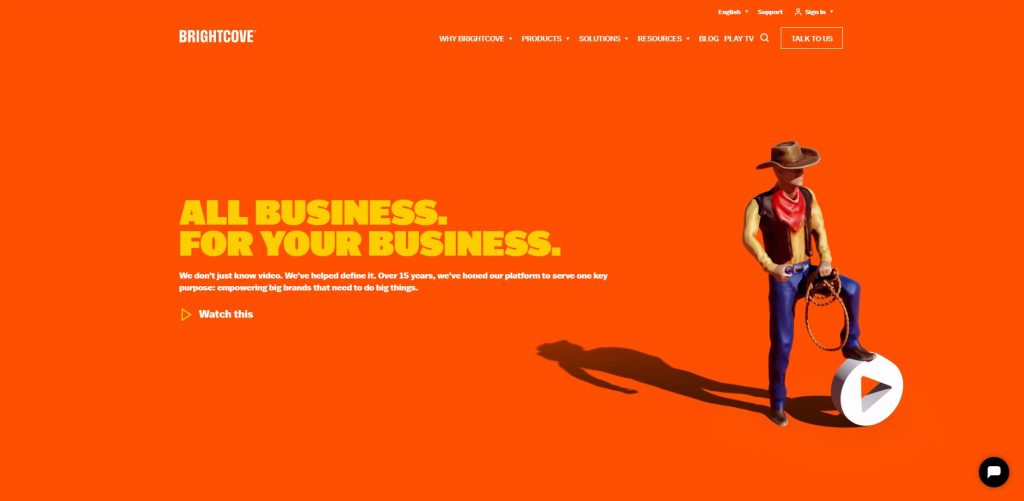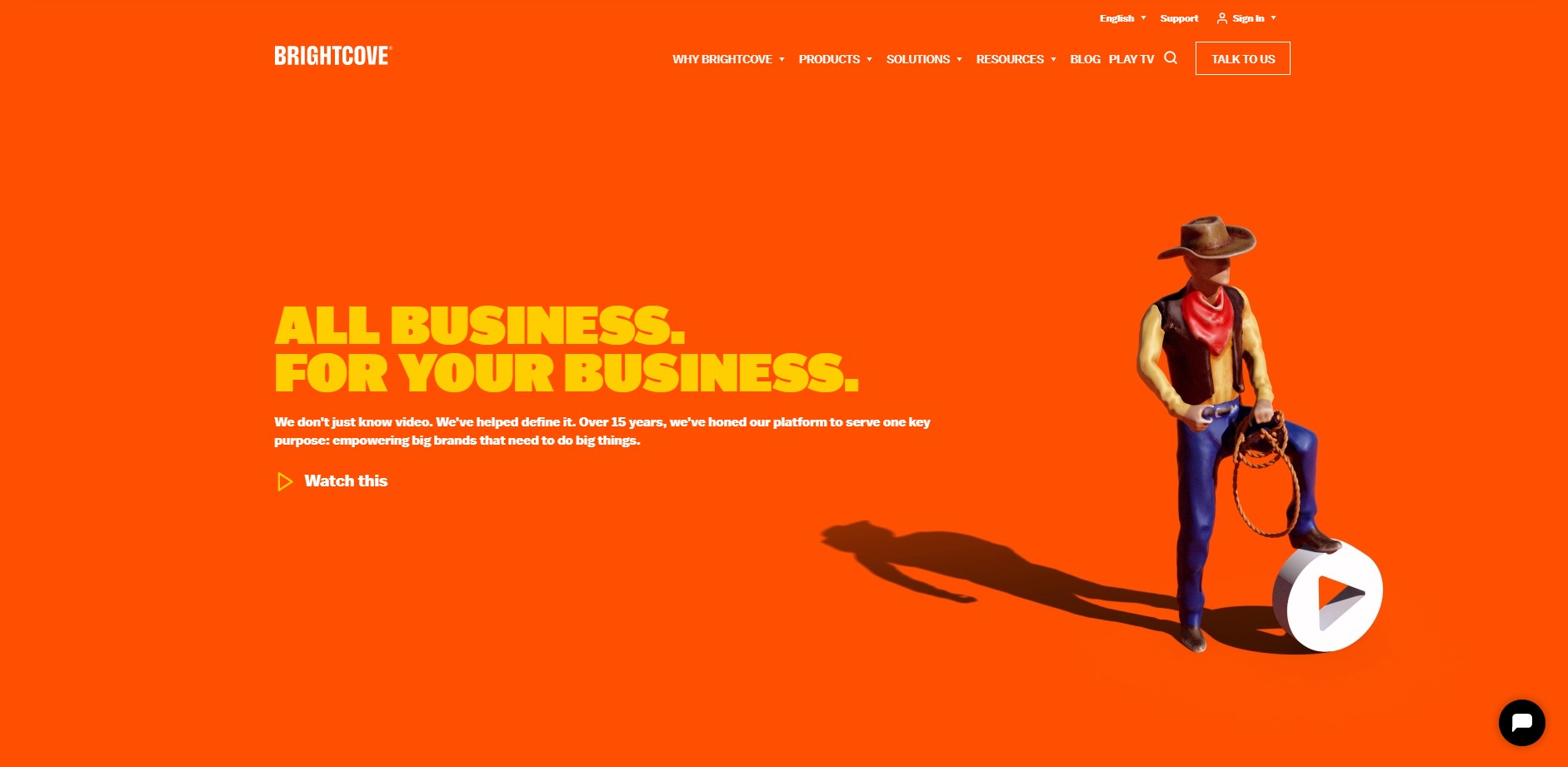 Brightcove is a complete video marketing suite that includes video editing, content management, live streaming, video publishing, and analytics. You'll be able to publish live and on-demand video content to multiple platforms at once, without the need to log in to each platform manually. Plus, create customized video experiences for viewers using interactive, embedded, and portals experiences.
Pricing: Brightcove offers a free trial. Contact Brightcove for pricing on paid plans.
---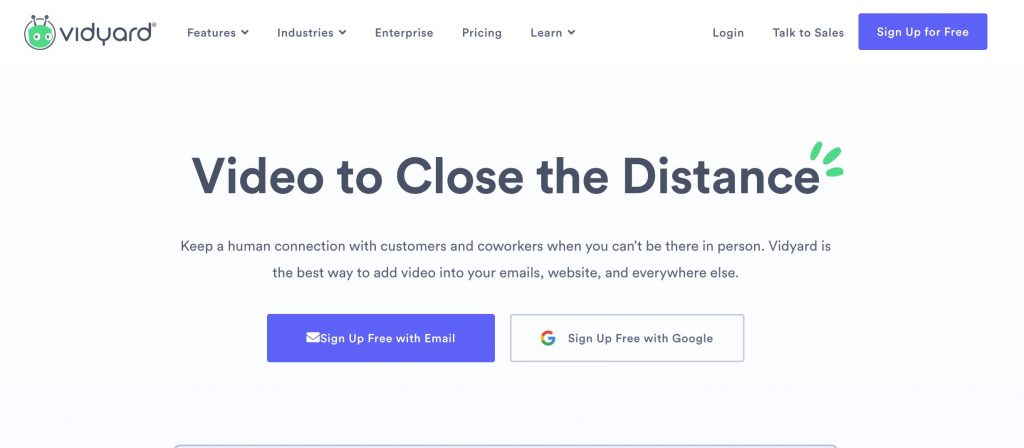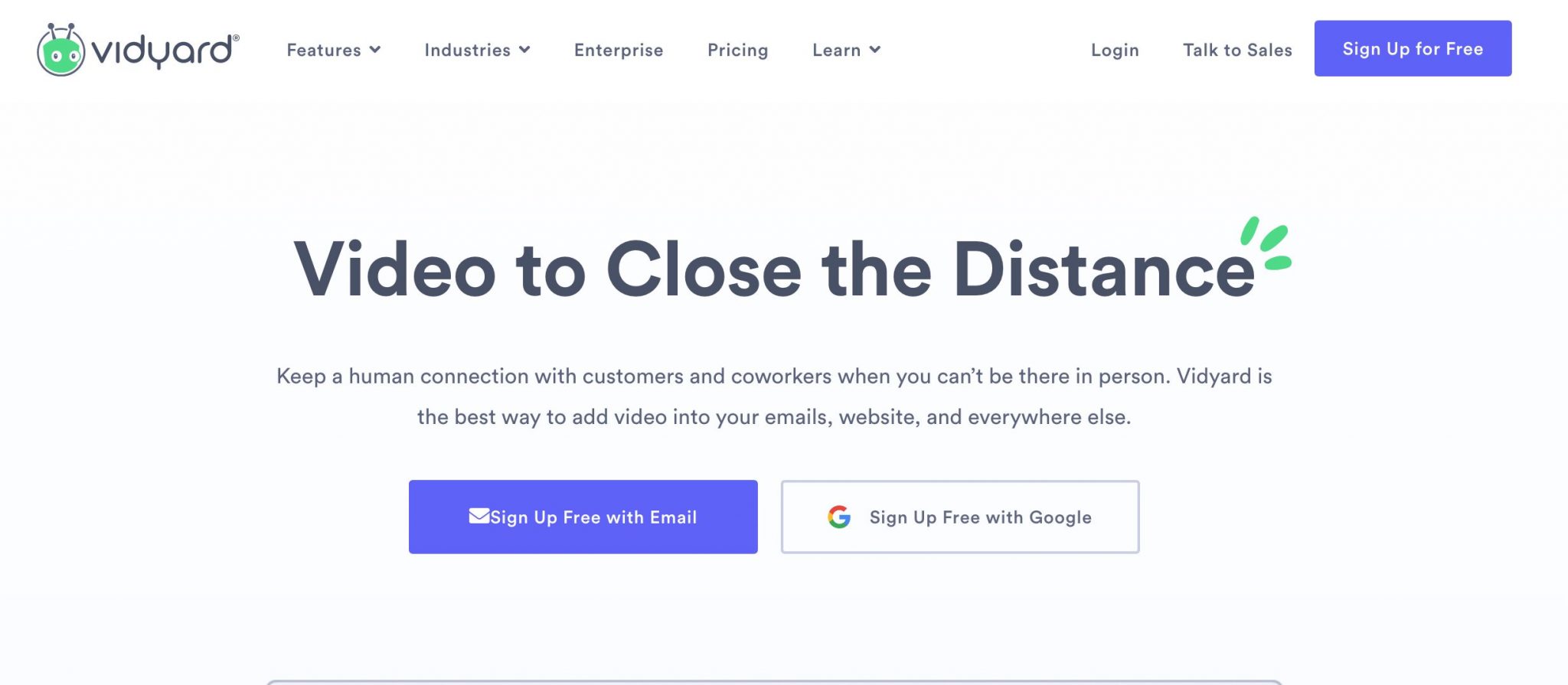 Vidyard is another of the all-in-one video marketing solutions on our list of social media video marketing tools. The tool gives you everything you need to host videos, integrate video into content and emails, add CTAs, end cards, and forms, optimize for SEO, customize your video player, and analyze your video performance no matter where you publish them. With Vidyard, you can easily record as many videos as you want, record your screen, webcam, or both, send video emails, share to social, or post to a chat platform, and a whole lot more. Vidyard uses a drag-and-drop interface that makes uploading videos delightfully easy.
Pricing: Vidyard offers a free plan that includes unlimited recording, unlimited uploads, and lets users share videos via social media, email, and more. Paid plans start at $15/month.
---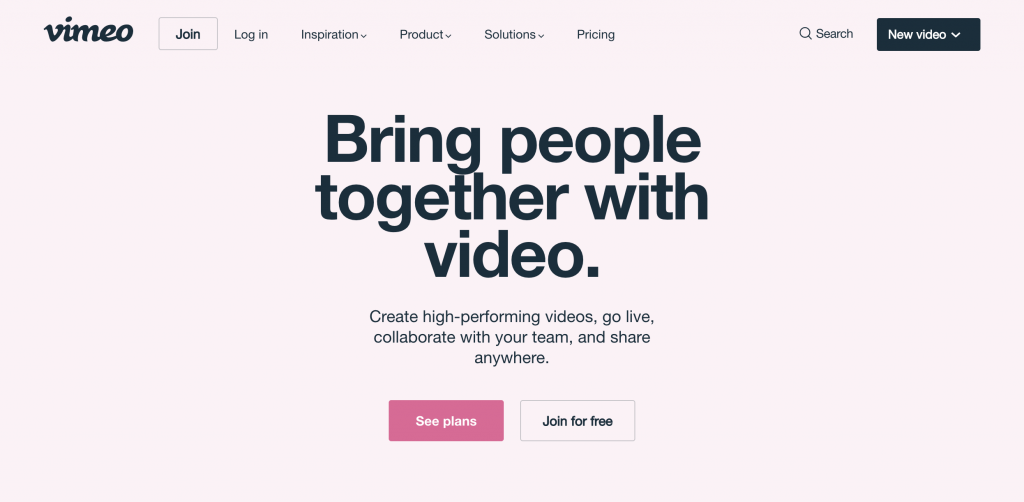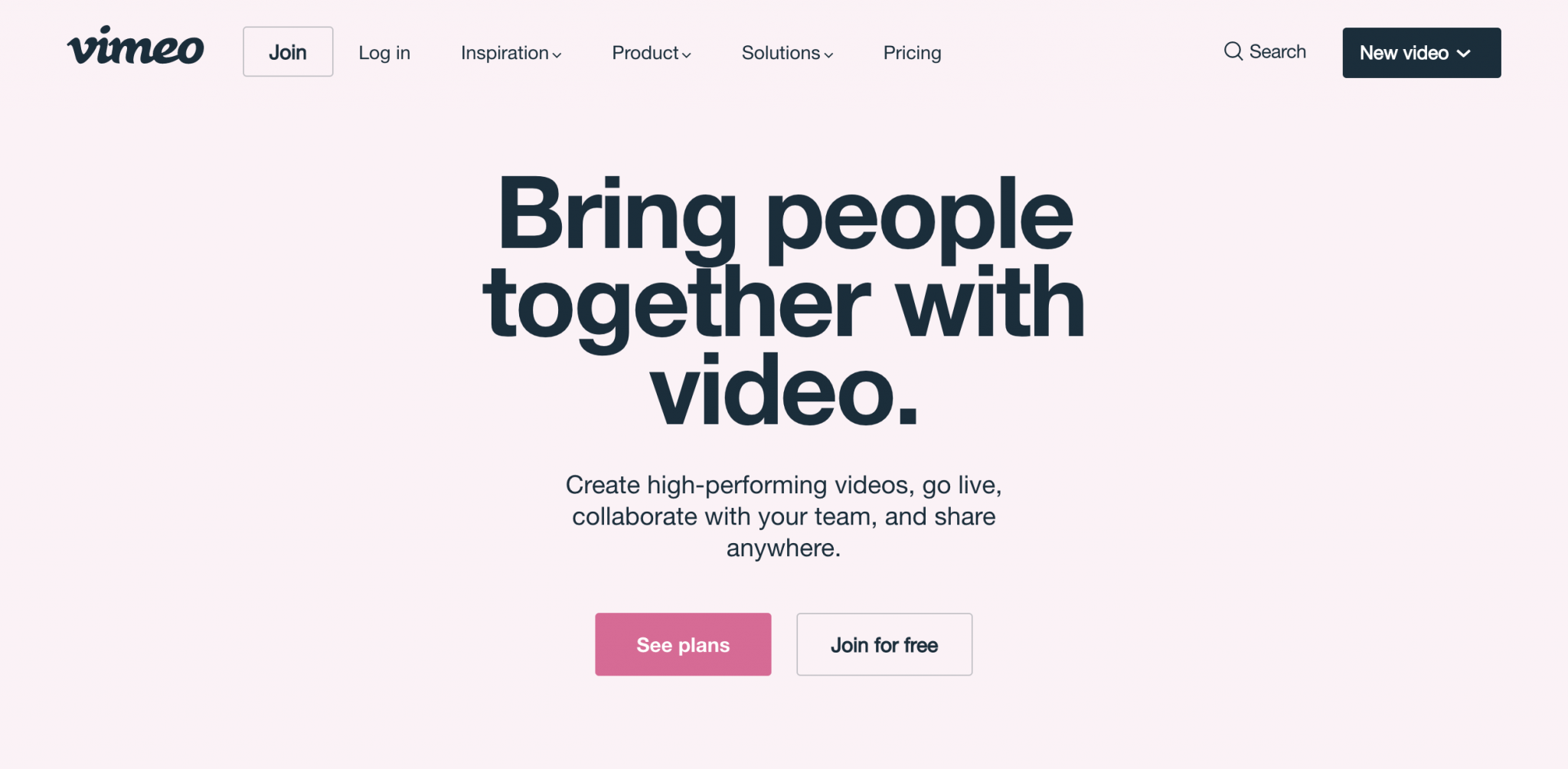 Vimeo is a fully-loaded, high-performance video marketing tool that helps you review, distribute, and measure your impact. You can publish videos to any marketing channel and track your video performance with built-in advanced analytics. Just choose a template and add in your clips. Or, you can choose just the right footage from the unlimited stock library. Vimeo lets you customize colors, fonts, layouts, and more so you can create just the right look for your brand. Then, the platform's smart editing tools will edit your video. Vimeo also makes it easy to go live, letting you customize your visuals, audio, and graphics ahead of time. You can test your setup in the preview screen before you go live and when you're ready just press Go live to broadcast.
Pricing: Vimeo offers a 30-day free trial. Plans start at $7/month.
---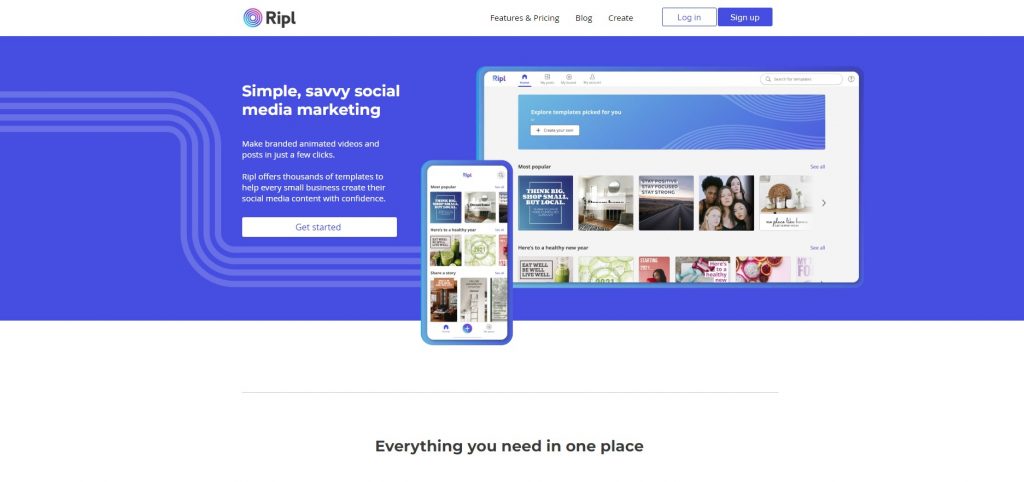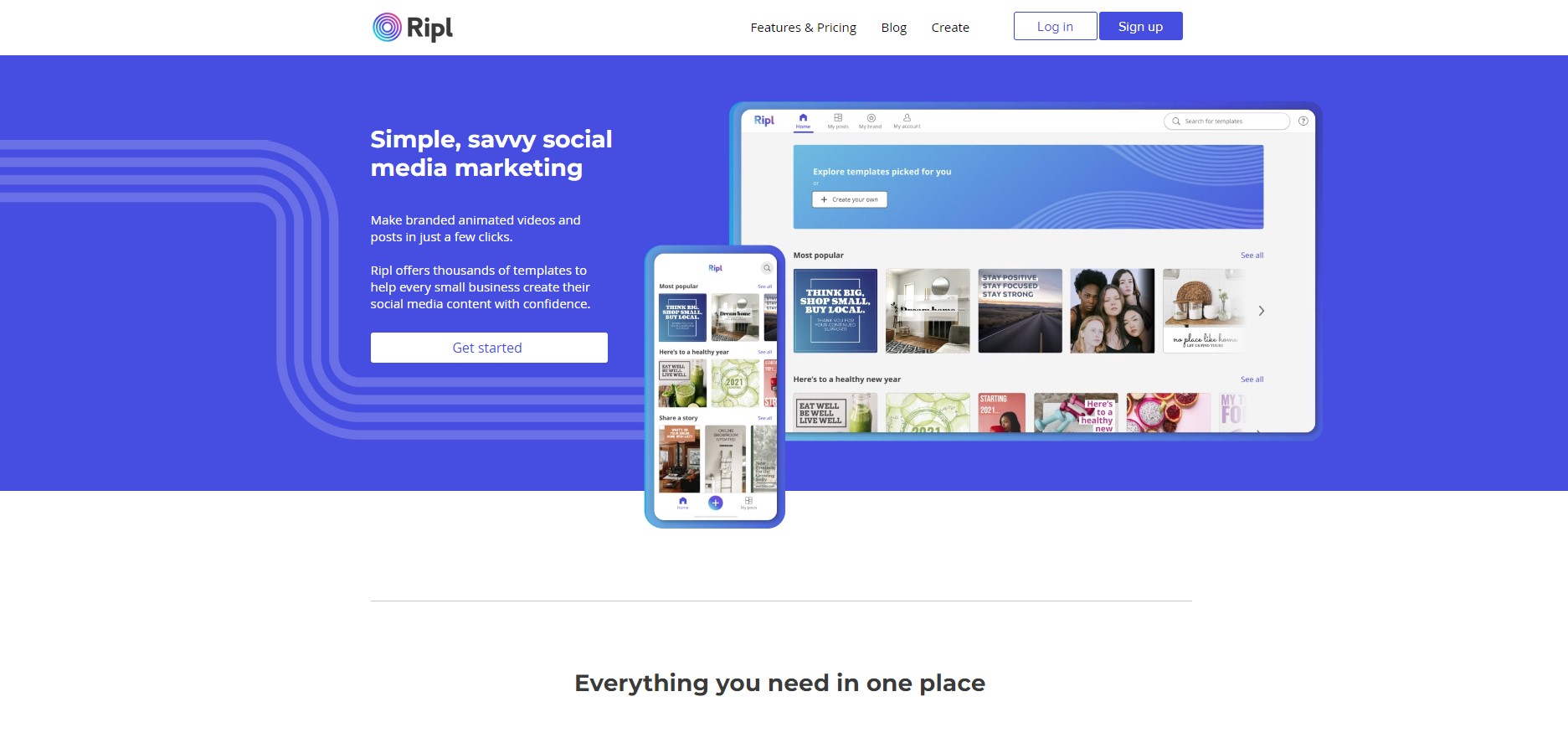 With Ripl, you can make branded animated videos and posts in a few clicks. The platform includes thousands of templates for your social media content. You can add your logo, choose the best colors, and use your favorite font to match your brand's style. Ripl also includes a library of more than 500K images and videos, or you can use your own. Ripl has both mobile and desktop browser apps so you can create, edit, and share your video content no matter where you are.
Pricing: Ripl offers a 7-day free trial. Ripl offers two payment options: $14.99/monthly or $119.88/year.
---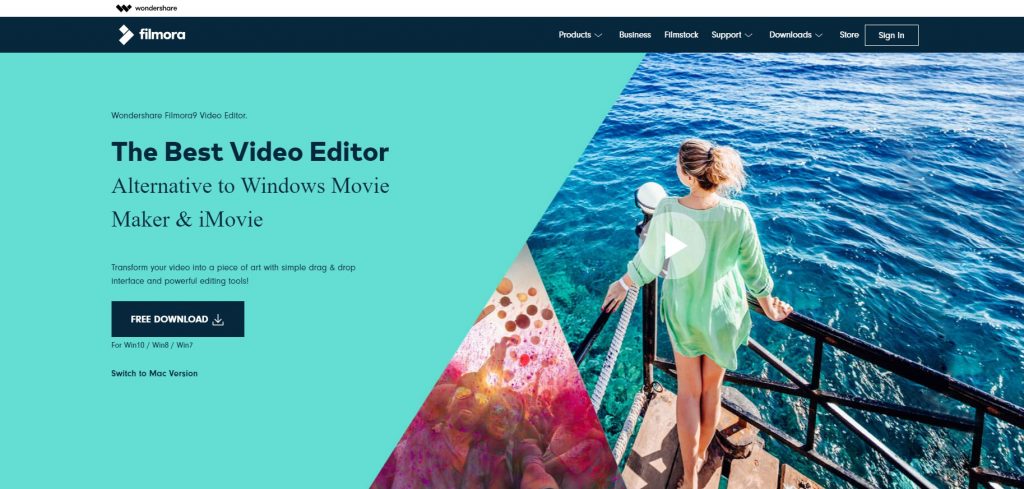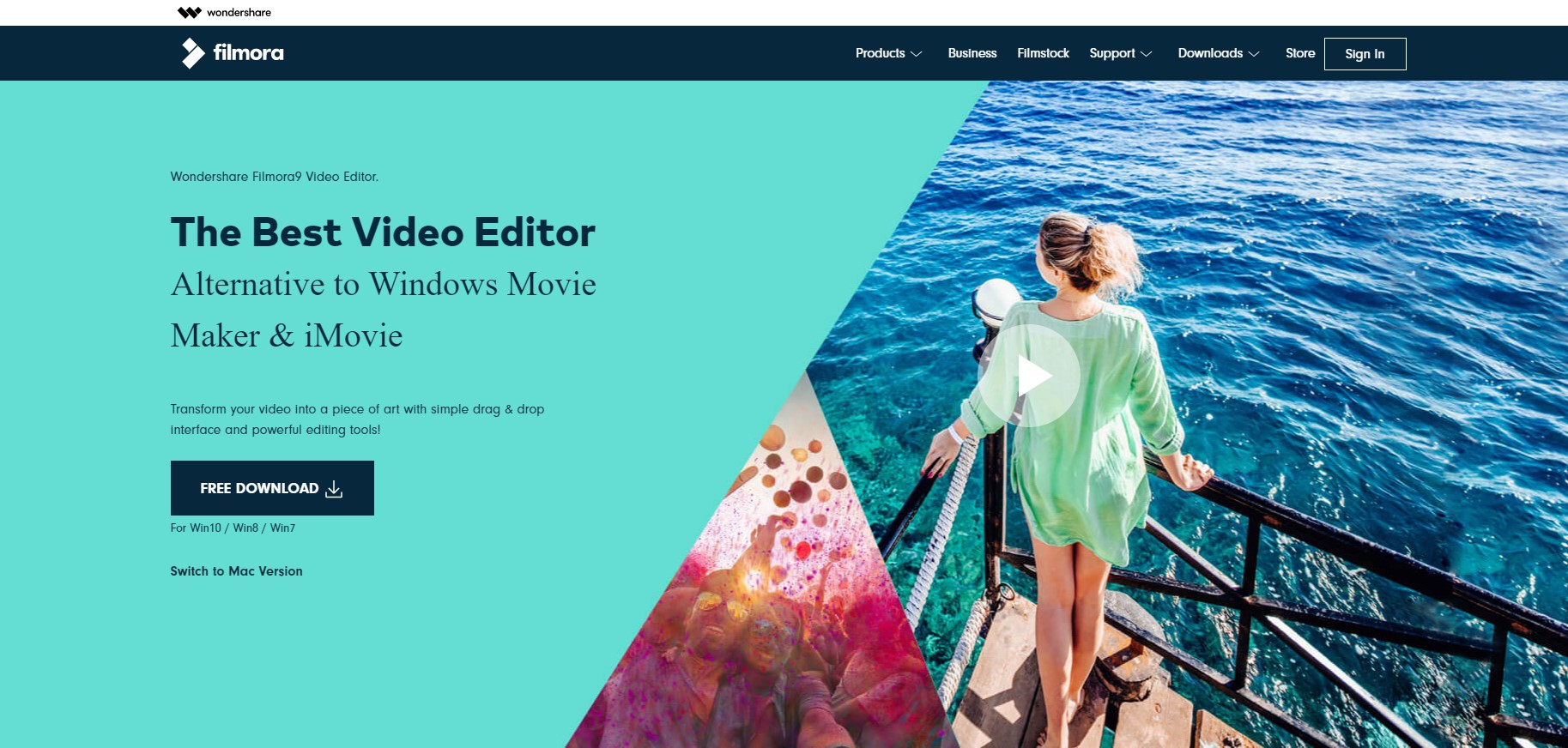 Filmora is an offline desktop tool and one of the best video editing tools available. It offers a ton of freedom for users to create interactive videos to boost engagement. Filmora includes drag-and-drop creative transitions, filters, titles, green screen, and motion elements. Plus, you can layer media for special effects or create unique looks. Once you've created the perfect video, you can share your story online via direct YouTube upload. Filmora has an intuitive, modern, interface that makes rotating, merging, trimming, splitting, cropping, and flipping videos simple. The keyframing feature lets you create simple animations with one-click preset options or custom animations easily.
Pricing: Filmora offers a free trial. Pricing starts at $44.99/year.
---
Wrapping Up
Social media video marketing is more important than ever these days. But to get the most return from your investment, you need the best social media video marketing tools to make it happen. Any of the tools on this list will help you create high-quality videos that you can share on social media to engage followers, increase reach, and increase sales and conversions. And, since many of the tools on this list are free or offer free trials, you can try them out to find the best tool for your brand.