High-quality videos do a great job of building trust and increasing engagement. But if you're new to video marketing, you probably don't know what types of videos you should be creating if you want to inspire more shoppers to buy. And you probably don't know where to begin when it comes to actually creating those videos. That's why we've put together this little guide. Here, you'll find a list of the best eCommerce video ad makers, learn about the types of video ads you should be focusing on, and even get a list of tips to help you succeed in building excellent eCommerce video ads that draw shoppers in and get them to "yes."
---
5 Best eCommerce Video Ad Makers + How to Create Ads That Work!:
---
5 Best eCommerce Video Ad Makers
While marketing and sales copy are very powerful tools for selling your eCommerce products, there are many people who simply don't want to read them. No matter how good the words on the page are, some folks are just going to pass it by. But that doesn't mean you have to miss out on the sale.
One of the best ways to promote and market your products is through video. According to Social Media Week, consumers claim they retain 95% of a message when that message is conveyed via video. Not only that, but Animoto reports that 93% of brands got a new customer because of a video published on social media. And, according to reporting by Wyzowl, 84% of people say that they've been convinced to buy a product or service by watching a brand's video.
Promoting and selling products through eCommerce video ads is a great way to grab the attention of consumers no matter whether they see the ad while scrolling through social media or watch the ad on a product page on your website.
But isn't creating video hard? What if you don't have an in-house team or can't afford a video marketing agency? Are you just out of luck?
Fortunately, the answer to that question is "no." There are tons of eCommerce video ad makers that you can use to create stunning, scroll-stopping ads for your eCommerce products to get more clicks, shares, and sales. Here are five of our favorites right now.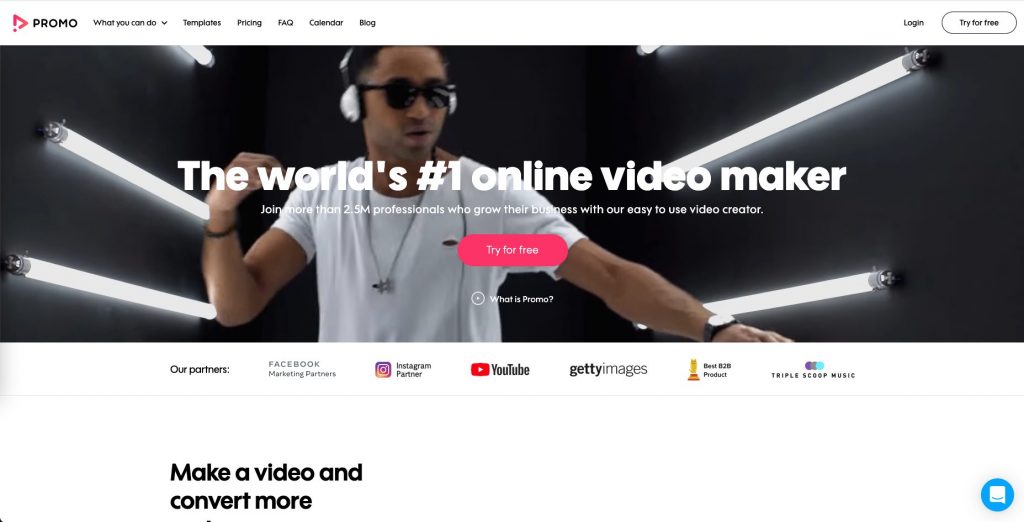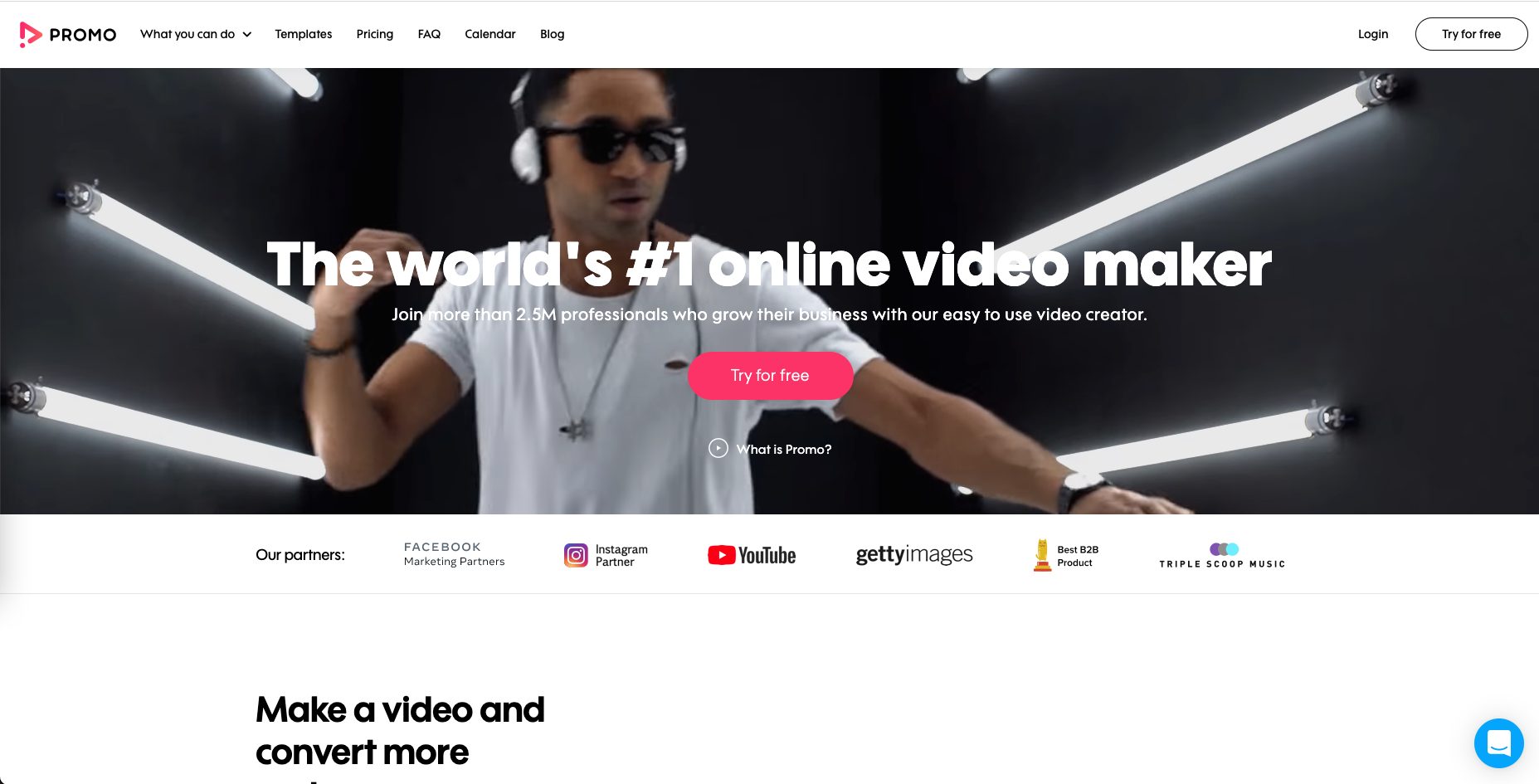 Promo.com is an amazing eCommerce video ad maker that makes it staggeringly easy for anyone to create a professional-level eCommerce video ad. The platform has professionally designed video templates, intuitive and easy-to-use video editing tools, and a library of video clips, images, and music just waiting to make your video ad shine. You just pick the template you want to start with, customize with captions and your logo, and publish it.
Key Features:
Customizable, ready-to-use video ad templates

Ability to upload your own videos, images, and music

Post directly to all

social media platforms

Create unique sharing links you can use to get feedback

A social media calendar

Unlimited content and new downloads every week
Pricing:
Try Promo.com for free or choose from one of their three paid plans:
Basic:

$25/month when billed annually; $49/month when billed monthly

Standard:

$43/month when billed annually; $99/month when billed monthly

Pro:

$155/month when billed annually; $359/month when billed monthly
---
2. Animoto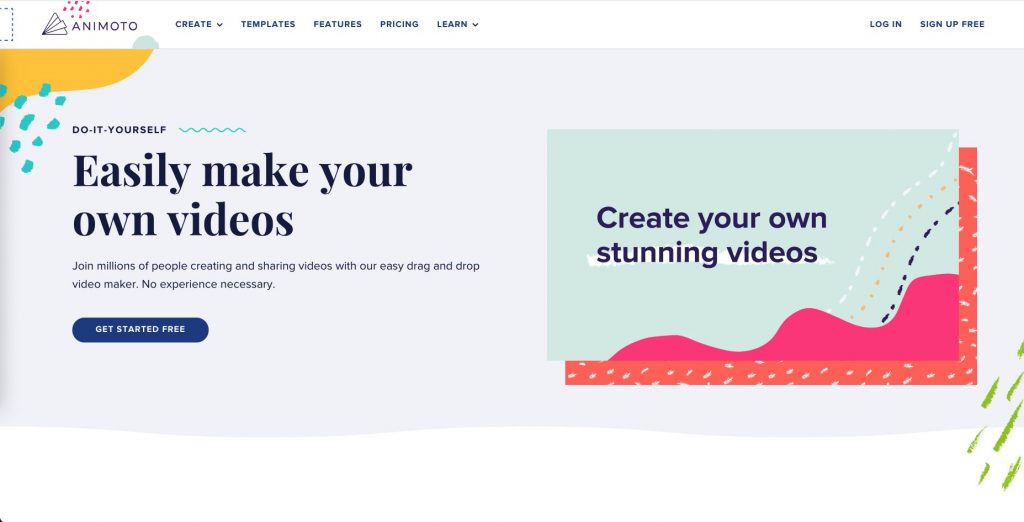 Animoto is another of our favorite eCommerce video ad makers right now. It doesn't include any templates but does come with a library that includes storyboards in its offering of more than one million video clips and images. You just upload your images or video clips, edit the video using basic video editing tools, and you're ready to publish your ads on whichever platform you choose. You can even add filters, voiceovers, and more to your video ads.
Key Features:
Easy-to-use editing tools

Drag-and-drop video clips and images to your project

Stock library with 1+ million video clips and images

Thousands of licensed audio tracks
Pricing:
Animoto has a "forever free" account. For more features, choose from one of their paid plans:
Professional:

$15/month when billed annually; $29/month when billed monthly

Team:

$39/month when billed annually; $79/month when billed monthly
---
3. InVideo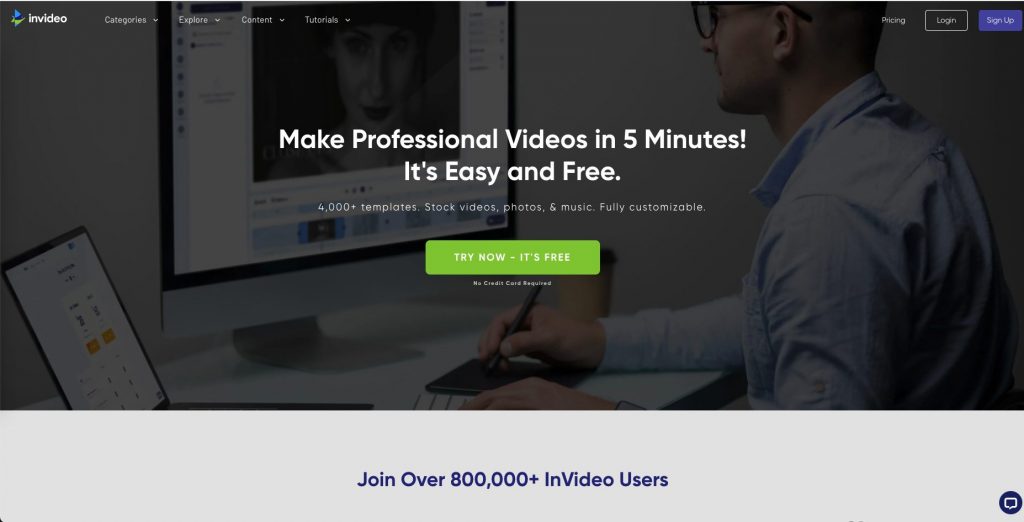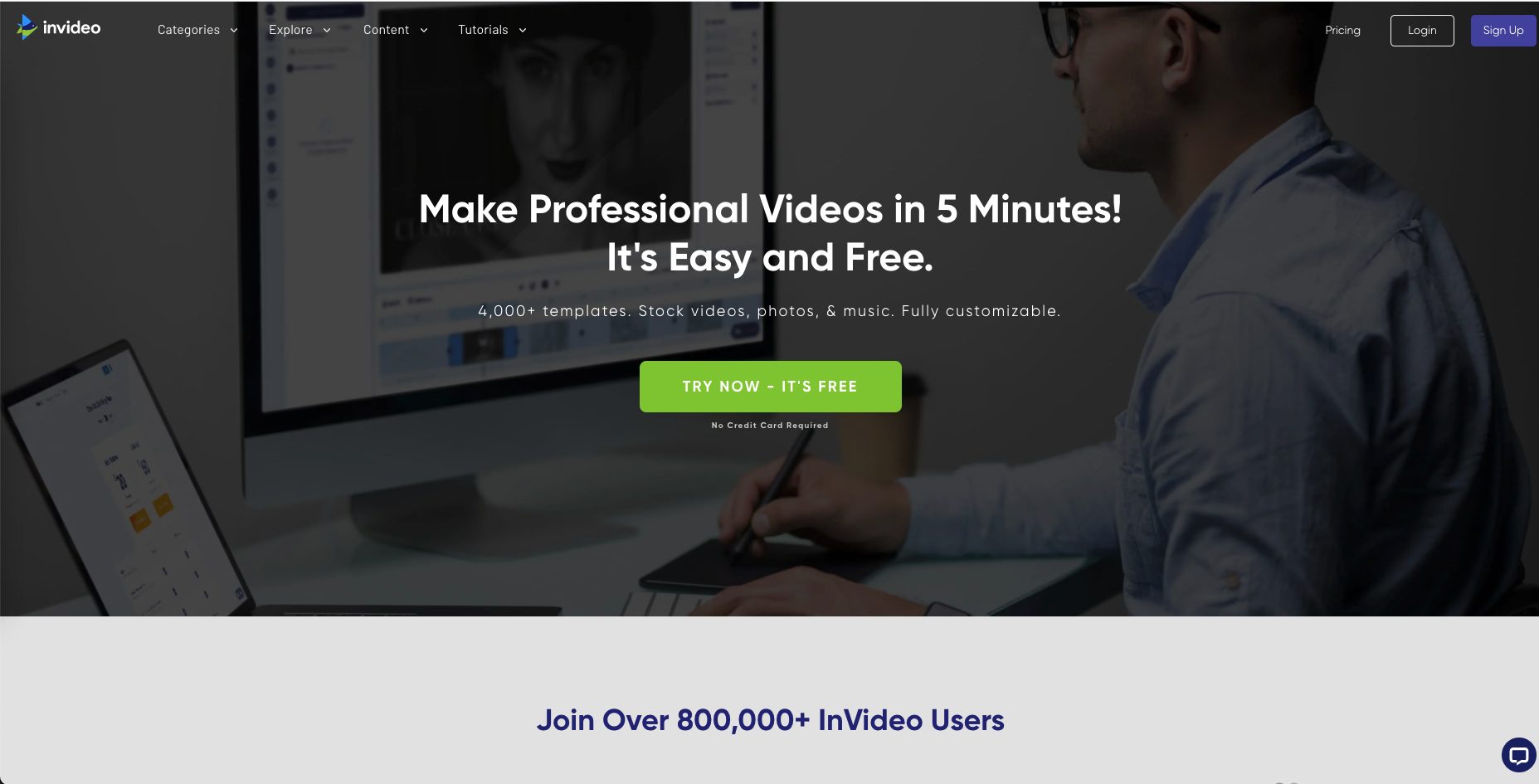 InVideo is one of the best eCommerce video ad makers around thanks in part to the AI-powered interface. The platform also includes a library of templates, animations, images, and music that you can easily add to your video ads. The free version allows users to create and export up to 60 watermarked videos each month.
Key Features:
Thousands of stickers, text boxes, and images

Intelligent frames, power transitions, an intro maker, and more

Add CTAs to your videos
Pricing:
InVideo has a "forever free" plan or you can choose from one of their paid plans:
Business:

$15/month when billed annually; $30/month when billed monthly

Unlimited:

$30/month when billed annually; $60/month when billed monthly
---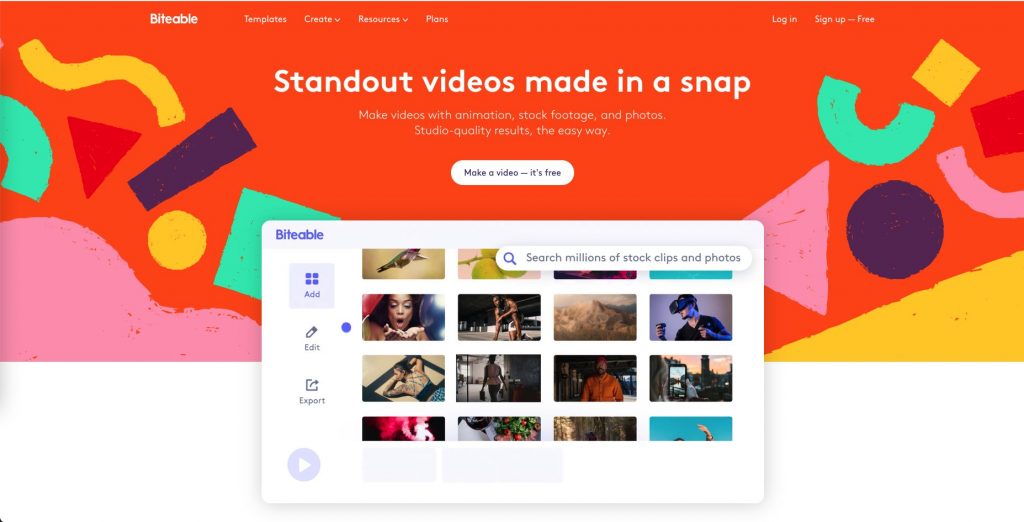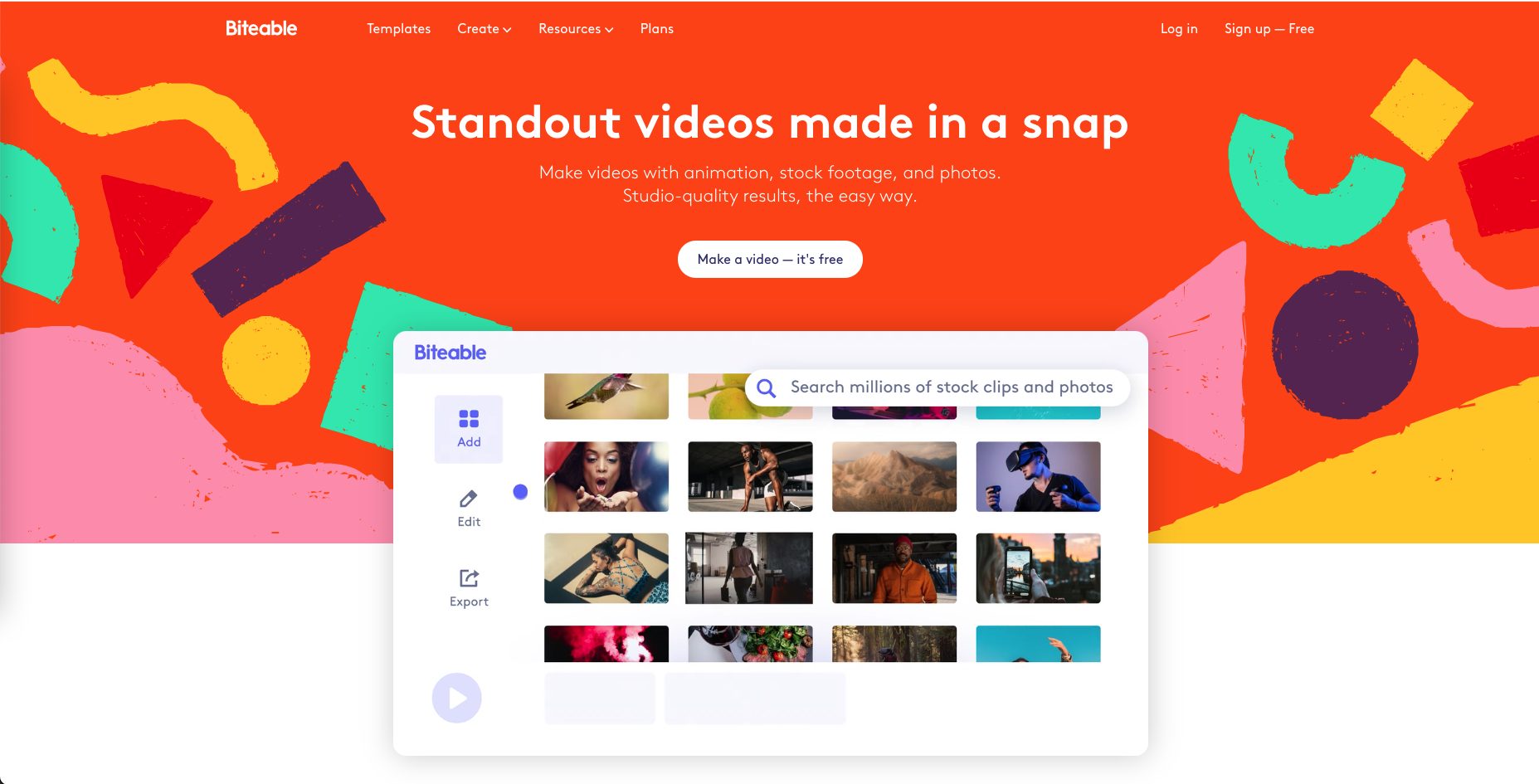 Biteable offers up stock video clips and templates you can use to create stellar eCommerce video ads quickly and easily. The platform is cloud-based, like others on our list, and includes the tools needed to create presentations, videos, and ads for social media. The free plan is good, but upgrading to a premium plan gets rid of watermarks, gives you custom branding, commercial usage rights, HD video, and more.
Key Features:
Pre-built video templates

A drag-and-drop timeline

Hundreds of live-action and animated video clips

Royalty-free music

Easy sharing on Facebook, YouTube, and Twitter
Pricing:
Biteable has a "forever free plan." You can also choose from one of their paid plans:
Plus:

$19/month when billed annually; $29/month when billed monthly

Ultimate:

$49/month when billed annually; $99/month when billed monthly
---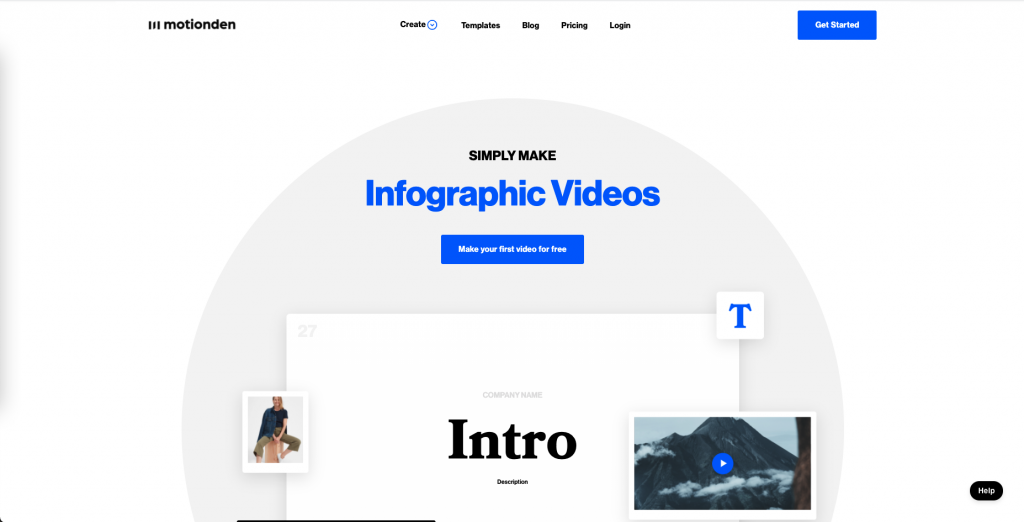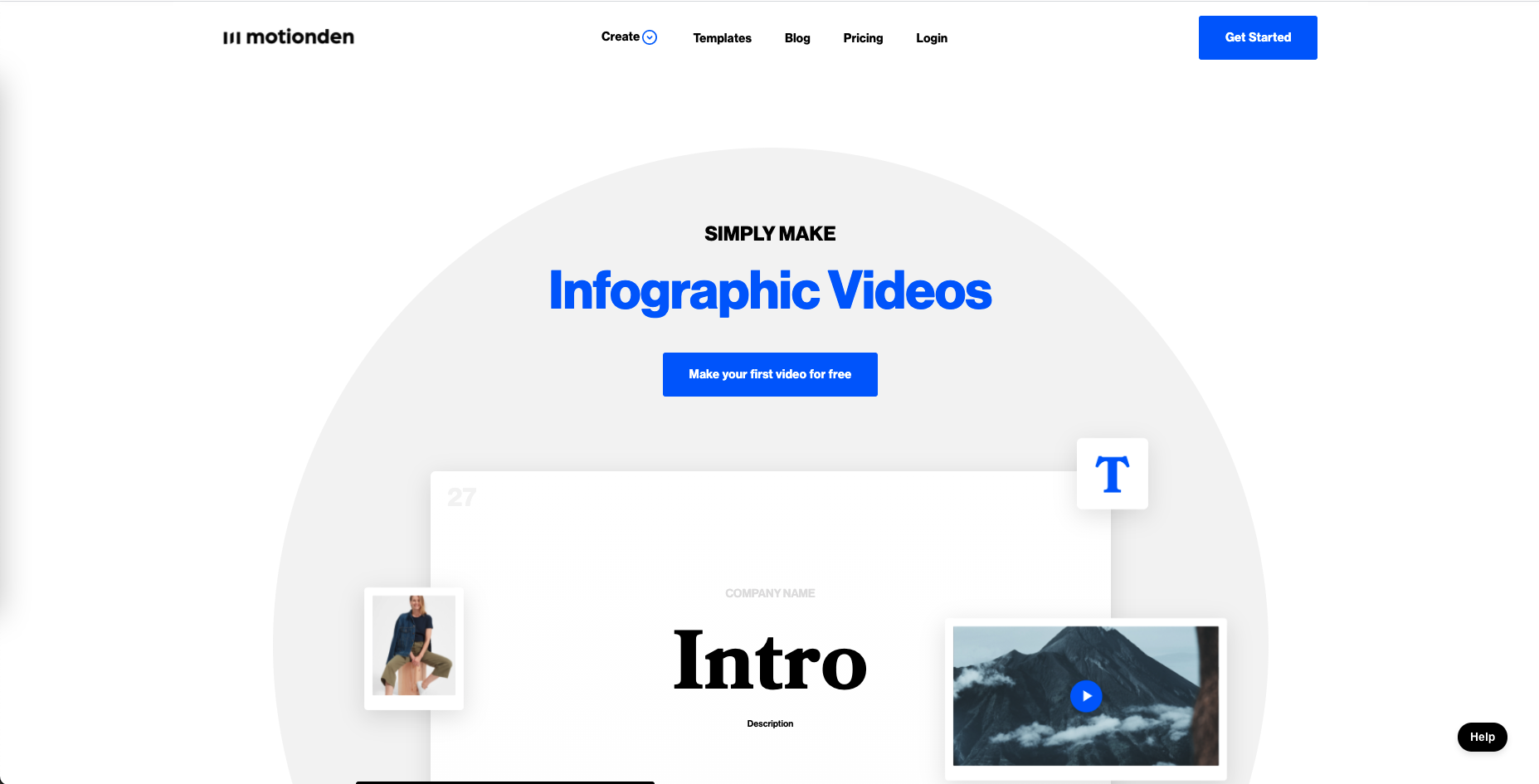 MotionDen is another great eCommerce video ad maker that lets you create and customize video ads without a ton of effort. Just choose the video design you want and customize it with the platform's video editing tools.
Key Features:
Professionally-designed ad templates

Easy to use

Easy to download and share videos
Pricing:
MotionDen has a "forever free" plan. For more features, choose from one of their paid plans:
Pay Per Video:

$14/video

Fixed Price Video:

$29.25/month when billed annually; $39/month when billed monthly
---
6 Types of eCommerce Video Ads to Try
Now that you have an idea of the eCommerce video ad makers that are available to you, you're probably wondering what types of video ads you can and should create. Here are six types of eCommerce video ads that most brands use to show off their products and their brand.
1. Product Overview
Product overview video ads give consumers an in-depth look into your product's benefits and features. These ads generally include a speaker who demonstrates the product to show consumers how it works and let them know why they need it. Product overviews, also called product demos, can build excitement and buzz for your product when used as part of a pre-launch marketing campaign.
These eCommerce video ads are also great ads to put on your home page or product pages since they can help consumers get a better understanding of your product without having to read product descriptions and specs. Using a product demo or product overview on your site is one of the best ways to show consumers the range of benefits and features and get them prepped to make a purchase.
---
2. Product Close-Up
Product close-ups are a type of eCommerce video ad that helps consumers get a better feel for your product and its quality. In these videos, you'll zoom into your product to show off features that might not be readily apparent in images. Since eCommerce products can't be touched and held by shoppers, product close-up ads are a great way to get your product as close to "in the hand" as you can.
---
3. Explainer Video
Explainer videos are probably one of the more popular types of eCommerce video ads. These videos help brands explain what their products do in a limited amount of time and typically show the customer's journey, starting from the pain points of the way they currently do things to finding the product as a solution to getting the results they need.
Explainer videos can be live-action or animated and vary in length from a quick 30 seconds to a minute or more. This type of video doesn't necessarily show off your product but instead focuses on the emotional benefits of using your product as well as outcomes.
---
4. Product Tutorial/How-to
Product tutorial or how-to video ads are a great and subtle way to promote your product without getting into the nitty-gritty of why your product is great. In these videos, you'll be walking viewers through step-by-step instructions on how to do something cool with your product. They're great eCommerce video ads to reach skeptical buyers as well as show your customers how to use your product successfully.
You can also create more in-depth product videos that go into each and every feature, explaining to consumers how to use it. These videos will go over like gangbusters for your more detail-loving shoppers. Plus, they're usually so in-depth that they can be used on their own video sales pages or landing pages to get those high-intent, detail-desiring consumers.
---
5. Video Testimonial
Social proof is powerful. When you can get people to use your product and then rave about it in a video testimonial, it's basically the best marketing you could want. In a video testimonial, users and customers will go into detail about what they love about your product and your brand, how the product helped them, and how it made life better. They're like explainer videos but with real, everyday customers singing your praises.
---
6. Message From the Founder/CEO
Okay, not all founders or CEOs need to worry about being on camera. However, these videos are a wonderful way to highlight the fact that there are real people behind your brand. This can help develop a personal connection with shoppers and endear them to your brand (if your CEO is charismatic and good on camera, of course). This also gives you a really nice, personal way to show off your brand's personality (as you can see from the Dollar Shave Club video we've shared here).
---
7 Tips to Create the Best eCommerce Video Ads
So, now you've got the eCommerce video ad makers to choose from as well as a list of the types of video ads you can create. But where to begin? Here are seven tips that will help you create eCommerce video ads that engage and delight your shoppers.
---
Start With Product Videos
Product videos are by far the easiest eCommerce video ads to create. You can even take still shots and just set them in motion to music. Or, you can get really fancy and create live-action video ads starring your products.
---
Hook 'em With the First Five Seconds
No matter what you're selling, your video ads need to hook viewers right away, within the first few seconds. That means your video content needs to be eye-catching right off the bat. You should also highlight your brand's unique selling proposition right away to answer the questions "what is it" and "why this product from this brand."
---
Keep It Short
There are two seemingly competing ideas when it comes to creating eCommerce video ads. First, you need to give shoppers a complete understanding of what your product is, how it's used, and why they need it. Second, you need to keep it short. Product videos should be no longer than a few minutes, so it's important to script your video and make sure you're focusing on the most vital talking points about your product—the points with the greatest impact on whether or not they'll buy.
---
Tell Your Brand Story
While product videos tend to be the norm, don't shy away from creating videos that tell your brand story. People tend to like to buy from businesses they trust. And they can't trust you without knowing you. So, take some time to talk about why it is you do what you do or sell the products you sell. What makes your brand and your products special? What about your target audience motivates you? This can help you build a stronger relationship with your customers and potential customers.
---
Demonstrate the Product's Benefits
You're creating an eCommerce video ad, right? That means it's okay to actually sell your product. When you're showing off your product, don't just talk about what it's made of or the neat things it does. Really get into the benefits that come from the features. Tie every single feature to a benefit that your customer will get when they use the product. Now's not the time to hint—you need to show shoppers that this is the product for them.
---
Share to Social
Sometimes we think that because we created a piece of content for a specific place (like an eCommerce video ad for a product page) we can't then repurpose that content. You've put a lot of time and energy into creating your video ads, so why not share them? Social media is particularly great for sharing video content. All you need is to do a little editing to match the video specs for each platform and suddenly you have engaging social content that also sells your products.
---
Optimize Your Video
No matter where you're posting or sharing your eCommerce video ads, you need to optimize. You'll want to optimize for whatever platform you're sharing your content on, so if that's YouTube, check out YouTube SEO best practices, for instance.

This goes beyond SEO optimization, though. You'll want to make sure that your videos are high-quality, all of your captions are readable, and that it sounds good. From there, if you're running ads on a paid platform, you'll also want to consider optimization needs for those platforms—everything from video specs to optimizing your bids!
---
eCommerce Video Ads: Boost Sales Now
By now, you have a broad range of tools at your disposal to create eCommerce video ads that will sell. We started off with a list of some of the best eCommerce video ad makers, shared different types of video ads you can create, and closed out with tips that will make your video ads really stand out. Now it's up to you! What story will you tell?
Frequently Asked Questions
What are video ads?
Video ads are a great way to gain brand exposure, build engagement, and attract new customers.
What are the benefits of video marketing?
Video marketing helps you boost your eCommerce store's sales with short, effective promo videos.
How much does it cost to create a video?
Some of the eCommerce video ad makers we've shared here let you create videos for free or inexpensively.
What can you do to increase eCommerce sales?
Increase engagement and sales by sharing your product videos on Facebook, Instagram, Twitter, and other social media platforms your target audience uses.
Why should I use eCommerce video marketing?
Many of today's consumers would rather watch a product video for eCommerce than read a lengthy product description or even a list of product features.
What are the benefits of eCommerce videos?
eCommerce product videos keep visitors on-site for longer, increase total page visits, and improve the likelihood of purchase.
What length should I use for a product video?
Expert opinions on the ideal length of product videos for eCommerce vary, ranging from 30 seconds to a few minutes and beyond.