Move over chunky content to promote your products to your prospects. Visual elements are the next big thing in content marketing. In fact, 88% of marketers said that they used visuals in more than half of the articles that they published. Out of this, 37% of the visual content used is infographics.
Infographics provide complex information in an easy-to-understand manner. They take data and represent it in a graphic shorthand. What's more, infographics have the potential to go viral.
The best part is you can embed your infographics into a blog post or even share them on social media. For content marketing, infographics offer a goldmine of opportunities.
---
12 of the Best Infographic Tools to Create Stunning Visuals:
---
Best Tools to Make Engaging Infographics
If you aren't using infographics already, it's time to jump in on the trend. Take a look at the best infographic tools that you can use to make slick, professional looking pie-charts and graphs easily. Use these tools to transform your data into a visual format and give it an interesting spin.
1. Canva
Canva is a comprehensive infographic tool that is suitable for beginners as well as professional graphic designers. The biggest USP of this tool is that it's easy-to-use, and their interface is intuitive.
It features a wide collection of different fonts, icons, and images which are available for free. From designing infographics to business cards and invitations, this tool can be used for multiple things. The free version of the tool also features templates that can help you design your creatives within a matter of minutes.
If you want access to their premium images and other elements, you can buy them individually for $1. Alternatively, you can also opt for the Canva Pro plan that comes with their brand kit, animation creator, GIF maker, priority support, and other features. It is priced at $9.95 per month.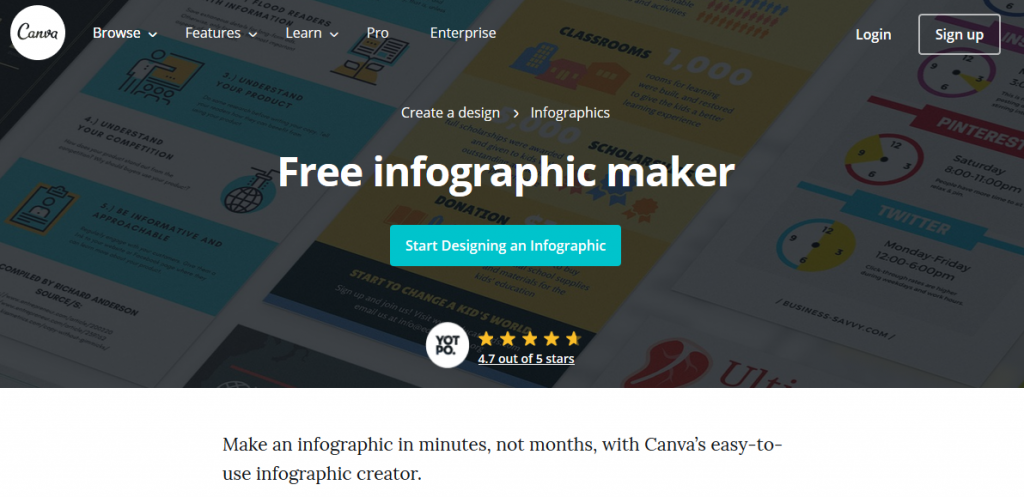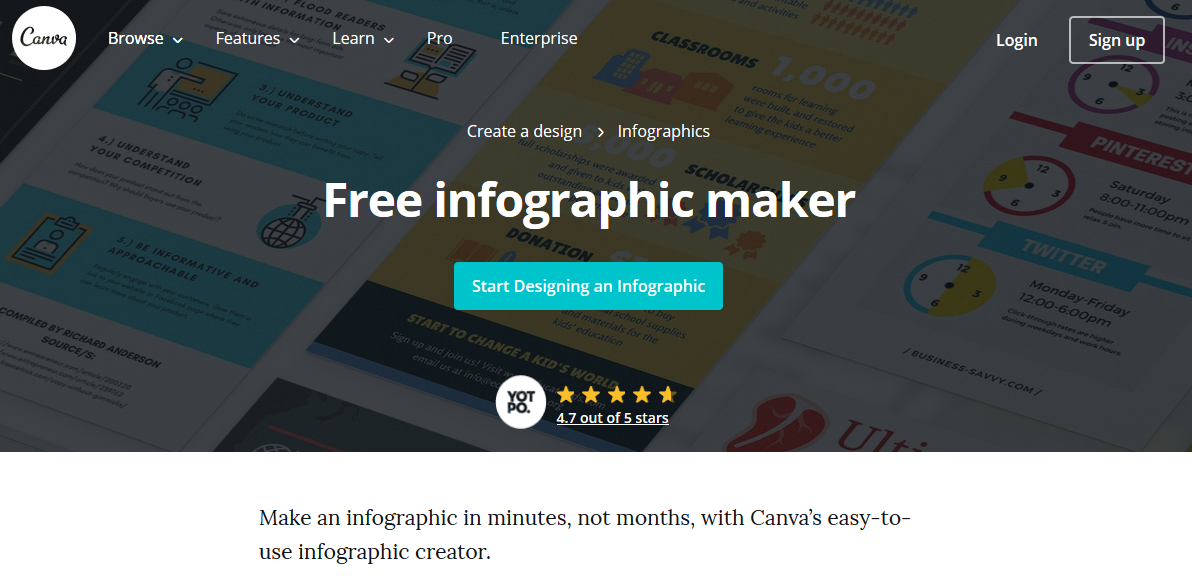 ---
2. Piktochart
Piktochart comes with a clean interface and simple tools that make designing an infographic a breeze. If you are a graphic designer who values freedom in your designing process, this tool is for you. It provides ample options for editing and customising your infographic to fit your needs.
Notable features of this infographic tool include a resizable canvas, interactive maps, design-driven elements, and more. What's more, this tool gives you access to a vast library of images and icons.
Their Pro package, which is priced at $24.17 per month, comes with features like custom font upload, watermark removal, custom colour schemes, and more. For teams, they have a special package priced at $82.50 per month.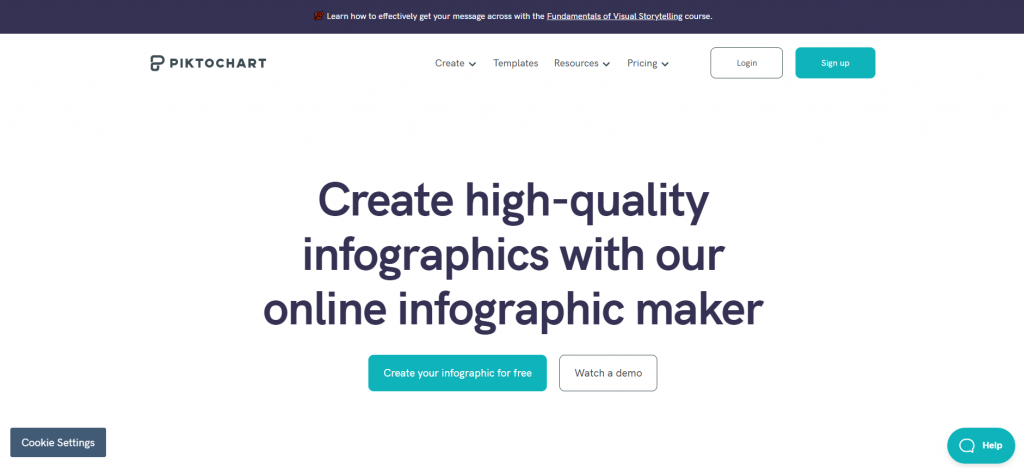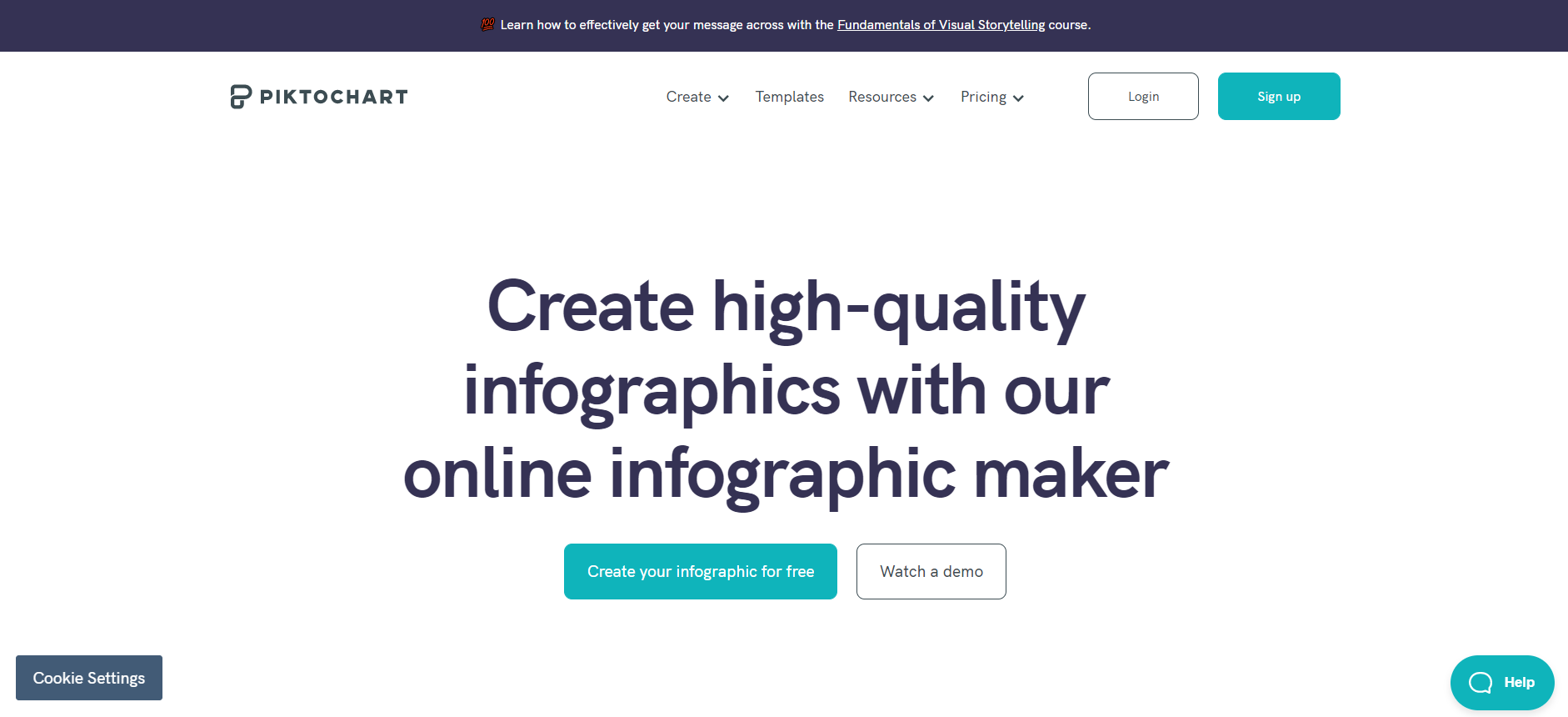 ---
3. Visme
Visme comes loaded with dozens of free shapes, icons, and templates. With its premade assets and drag-and-drop feature, you can make infographics and presentations with ease. What sets Visme apart from the other infographic tools on this list is its ability to create interactive infographics.
So, you can create dynamic charts. If you change the input value, the chart automatically adjusts to reflect the results for the newly entered information.
Their basic plan is free while the Standard and Complete Plan are priced at $14 and $25 per month, respectively. For educators and students, they have special discounted packages. They can avail access to this platform for $60 and $30 per semester, respectively.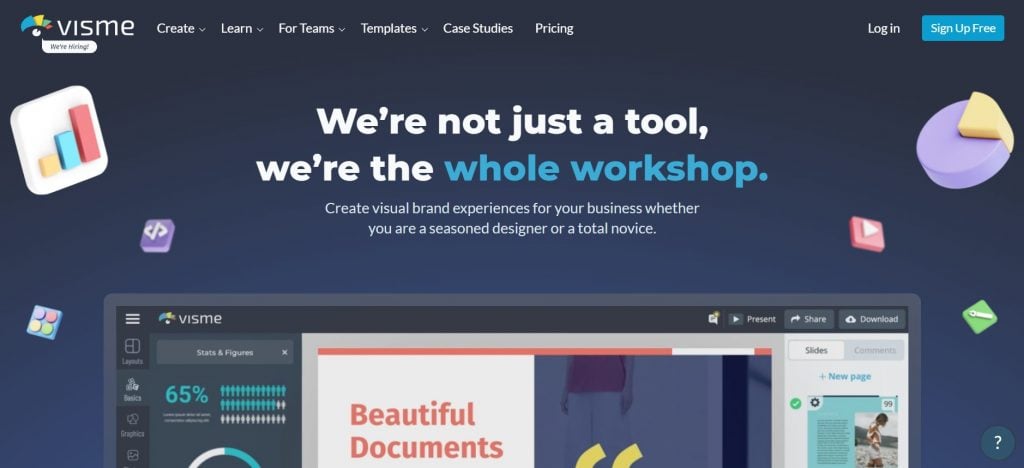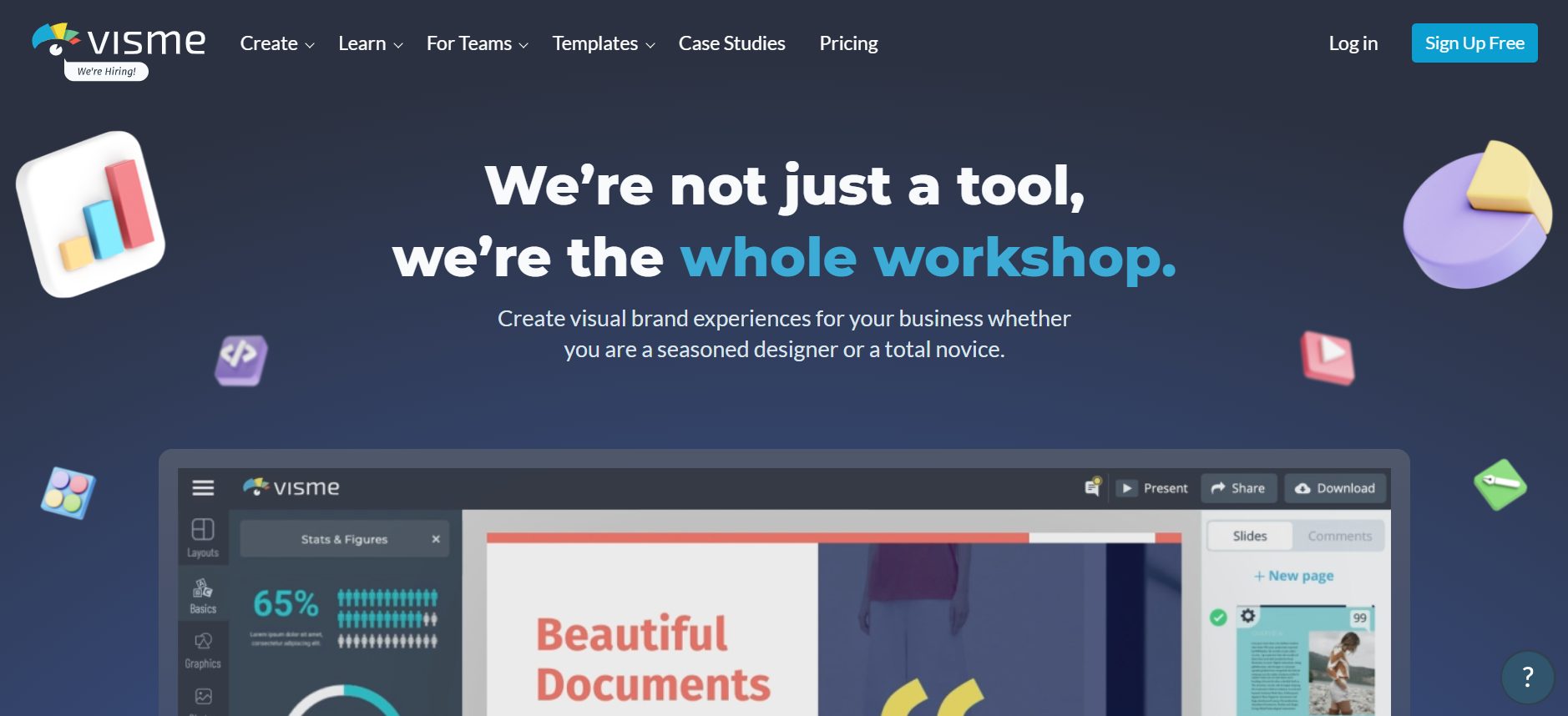 ---
4. Venngage
Venngage offers you more than 100 infographic templates to choose from. A noteworthy feature of this tool is that it has additional options within the infographics section for particular categories like charts, comparison, geographic, statistical, and others.
Once you have found the template of your choice, you can visualise your data using text, icons, images, and charts. To enhance your infographic, you can even customise your fonts and colours.
Using Venngage, students can create up to five infographics for free. For individuals and businesses, their plans range from $19-$49 per month. For the non-profit and education sector, they have special discounted prices.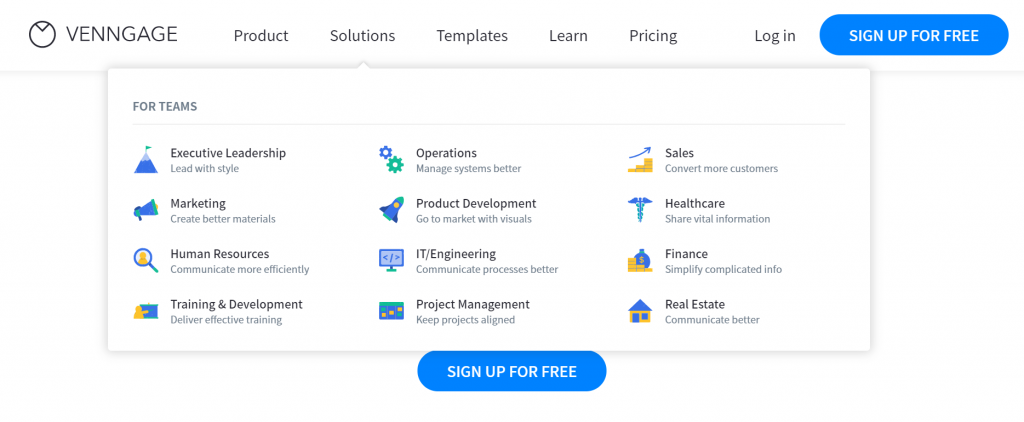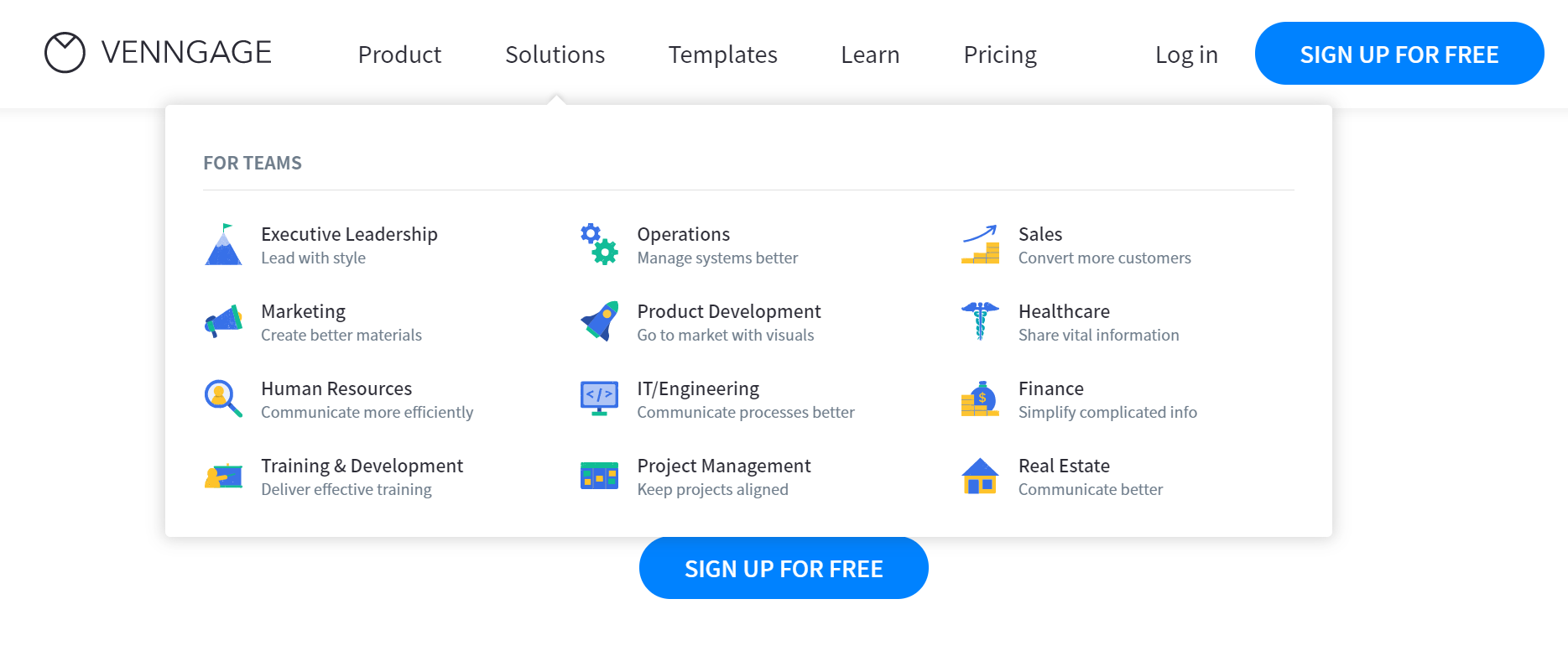 ---
5. Infogram
Infogram lets you turn complex data sets into engaging infographics without any hassle. This tool is particularly useful when you are dealing with statistics.
It is easy to assign numbers to your maps and graphs and design your infographic with their templates. Using this tool, you can work on group projects as it allows you to collaborate with your colleagues or friends in real-time.
Their basic plan is free while the other plans that are targeted towards individuals, businesses, and teams range from $19-$149 per month.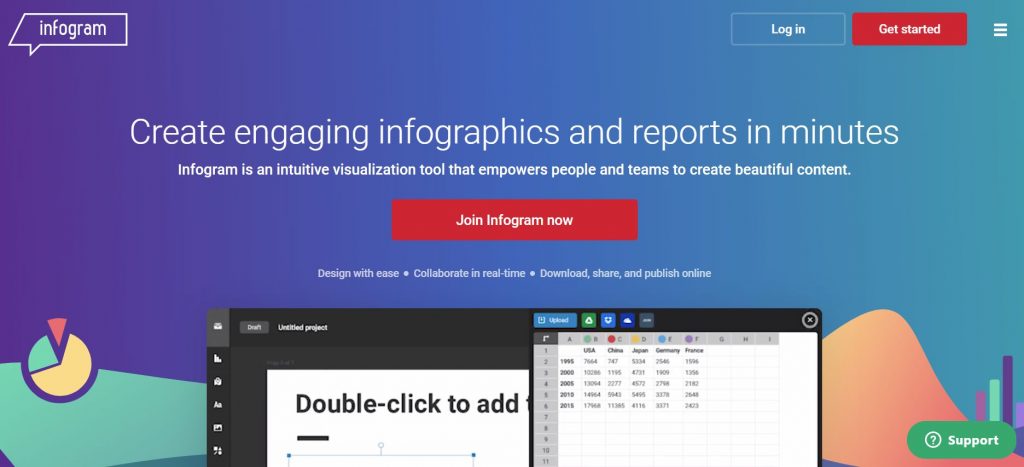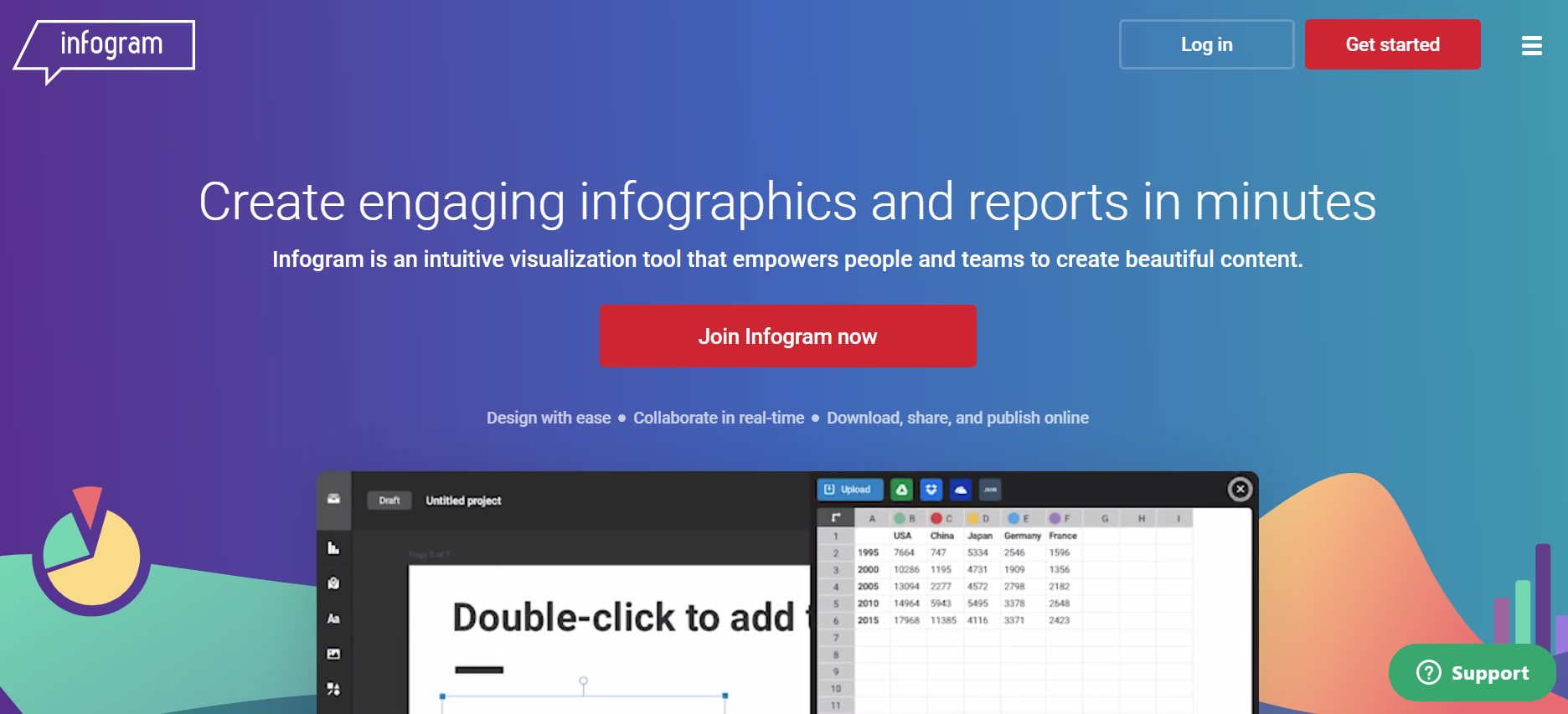 ---
6. Biteable
Biteable lets you create HD-quality video infographics to give you an edge over your competitors. Using this tool, you can create engaging videos to promote your business and build brand awareness.
It comes with numerous video templates that are great to design video infographics quickly. You can edit these templates to add a personal touch and design it to your liking. You can also pick creative live action scenes and animations from their library.
They have three different pricing plans: Starter, Pro, and Unlimited Plan. They are priced at $15, $29, and $49, respectively.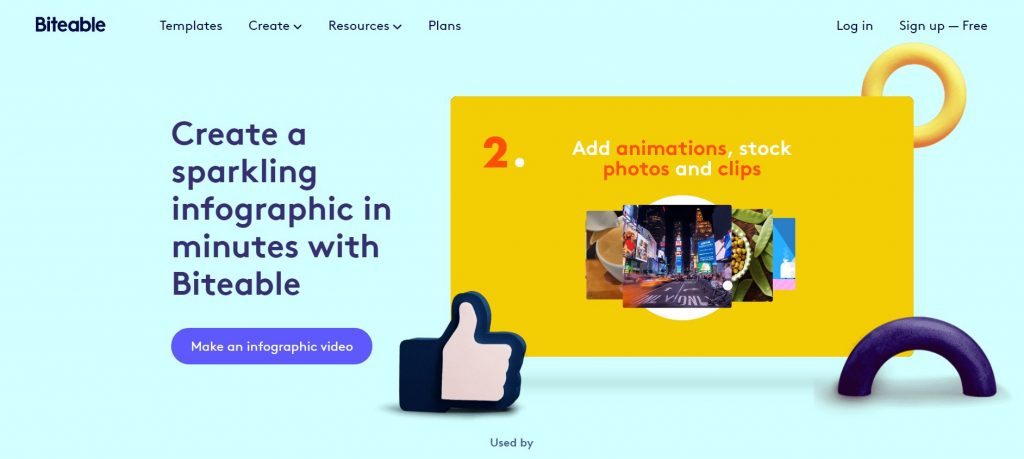 ---
7. Easel.ly
For first-time users who are looking to create a basic infographic for free, Easel.ly is a great pick. It has attractive templates to create infographics for comparisons, reports, timelines, resumes, and processes. The best part is that Easel.ly allows you to download the final draft for free without any branding or watermark on it.
However, if you want advanced customisation options for backgrounds, shapes, and text, you should go for their paid version. It's a cost-effective solution; all of their paid packages are within $5 per month.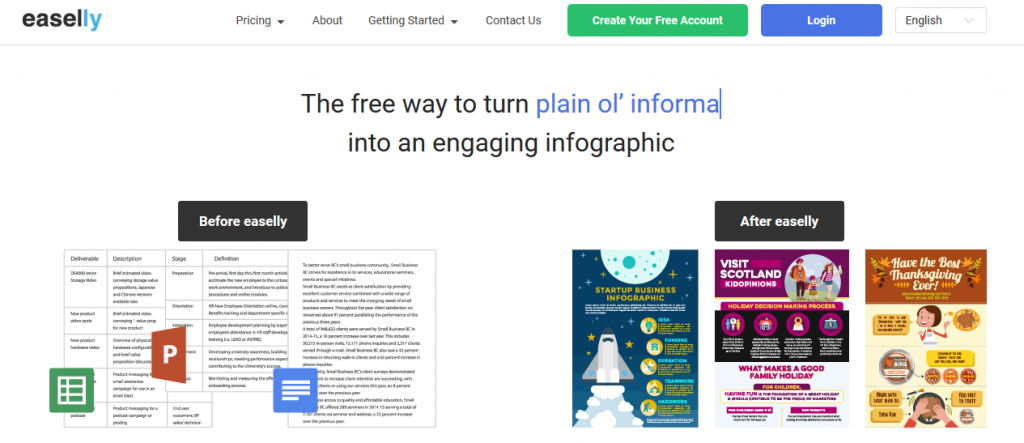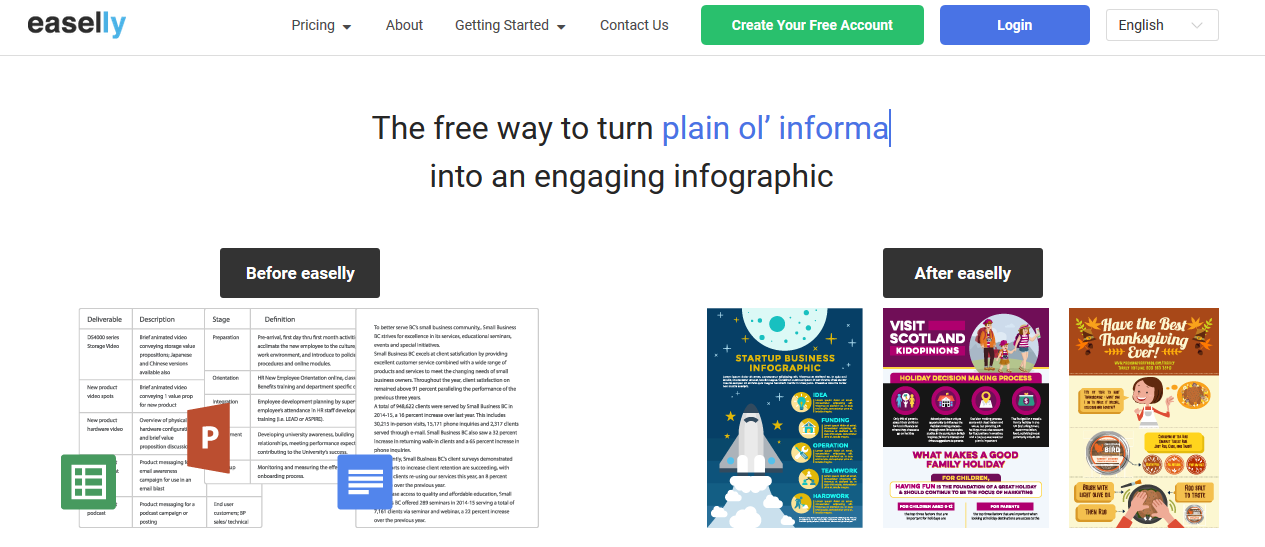 ---
8. Vizualize.me
Vizualize.me is a specialised tool for those who want to give their resumes a modern makeover. Using this tool, users can compellingly showcase their professional accomplishments with attractive visuals.
It's also super easy to use. All you need to do is log in on the platform and create your resume just like you would do in a Word document.
Alternatively, you can also sign up using LinkedIn. With this option, some of your profile's information is automatically filled. Once you input your information, you only need to pick the theme of your resume. That's all!
The best part is you don't need to spend a penny to create your visual resume with Vizualize.me. It's completely free!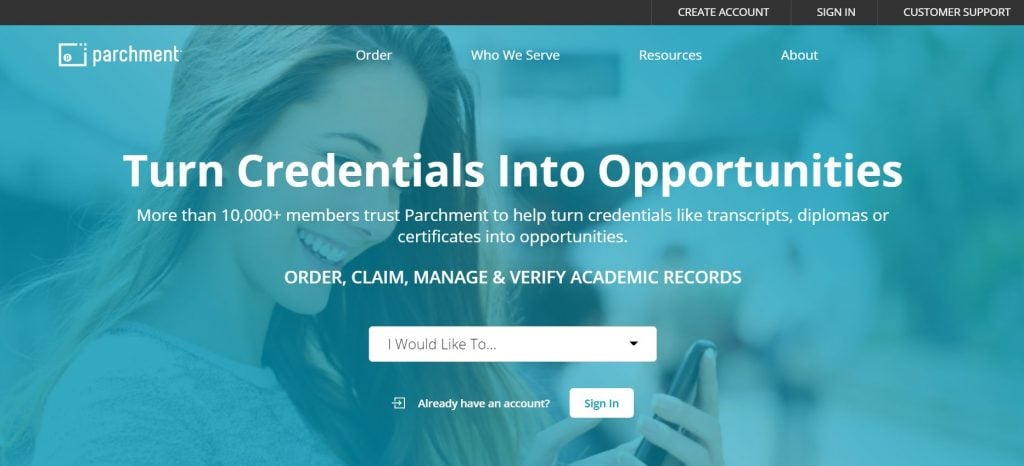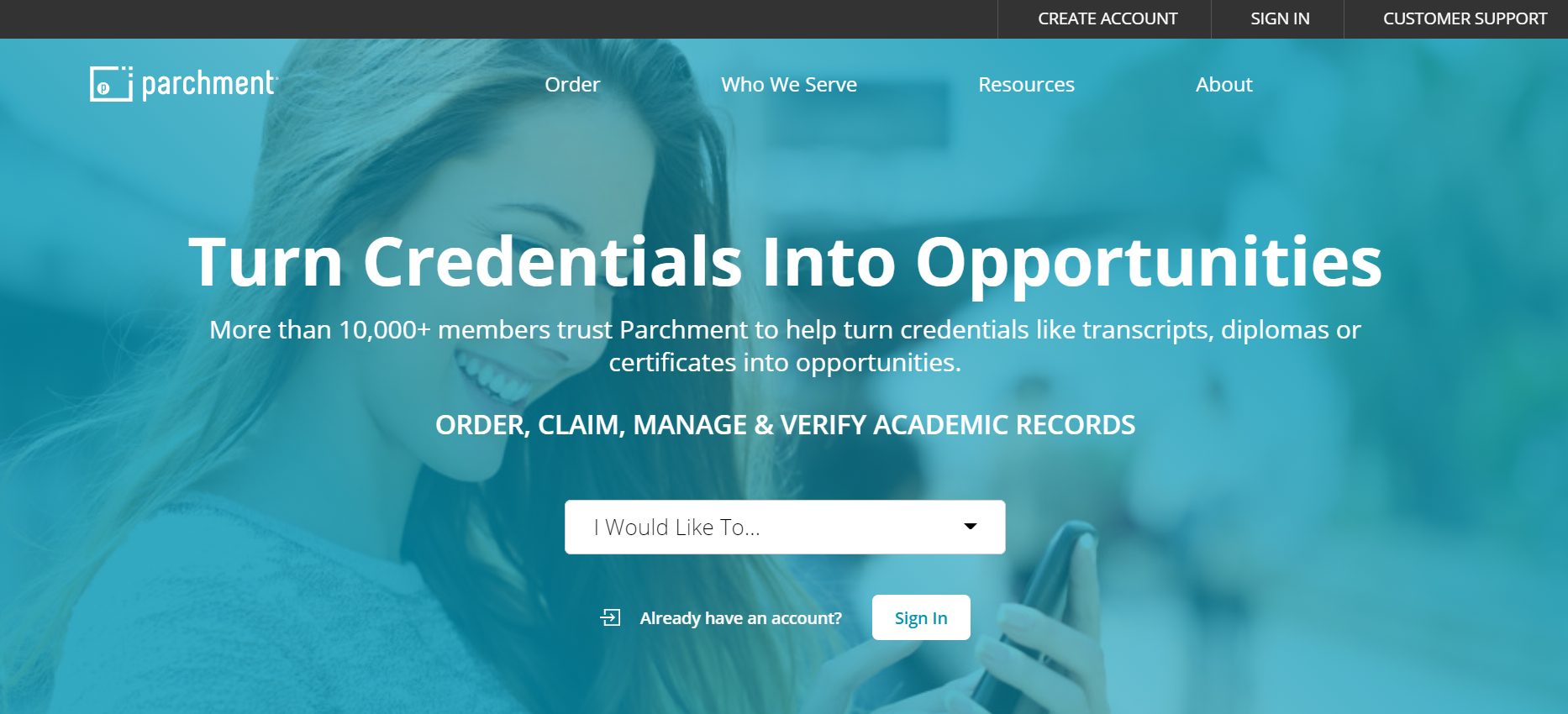 ---
9. BeFunky
BeFunky's Infographic Maker comes with easy-to-design templates, more than a million free stock images, and more than a hundred design elements. It has a drag-and drop interface that makes the design process simple.
The tool also allows you to personalise your text and change colours and fonts as required. It's a great tool to create stunning infographics when you are short of time. You can use their infographic maker for a monthly fees of $4.99 or $6.99.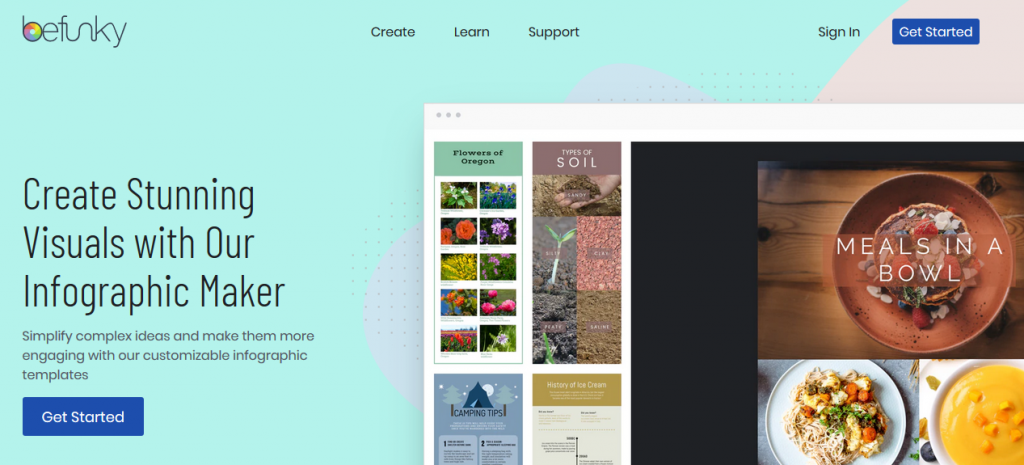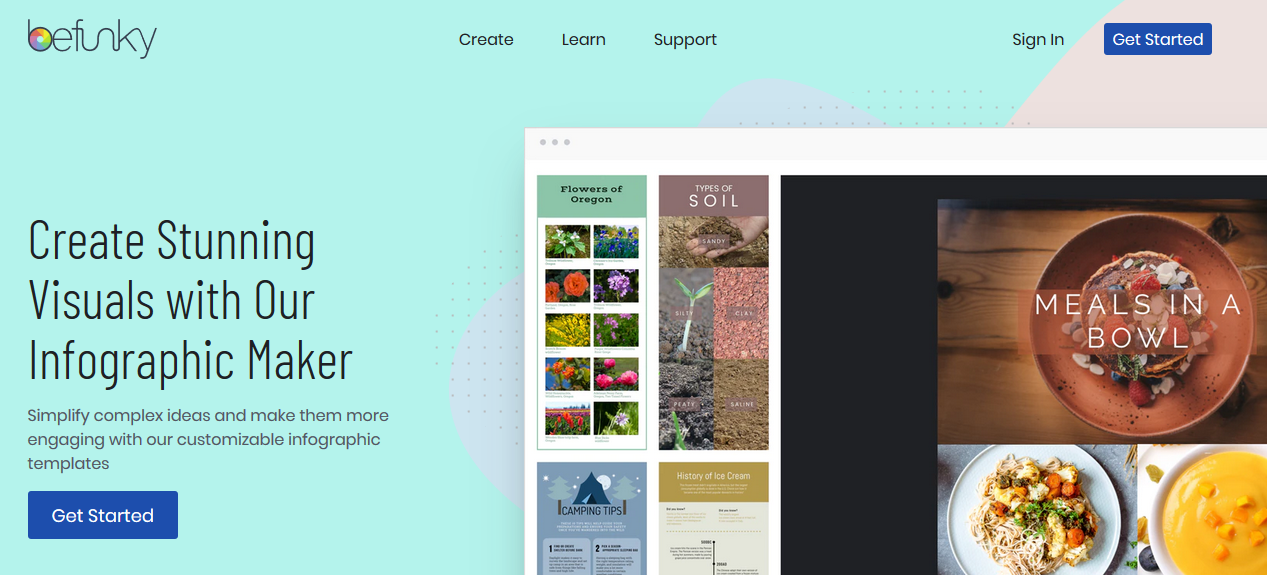 ---
10. Mind the Graph
This infographic tool is designed to aid doctors and scientists spice up their scientific papers, and presentations. It comes loaded with exclusive content curated keeping in mind scientific writers and researchers.This tool offers over 6,000 scientific illustrations and ready-to-work infographic layouts.
Using this tool, you can create infographics online and even edit them to suit your taste. If you need to update your infographic with new information, you can do it easily with their updating feature.
Apart from their free version, they have Student, Researcher, and PRO Terms packages. They are priced from $5-$59 per month.


---
11. Snappa
Snappa is a design tool that offers advanced design features in its free plan. This tool gives you access to their photo library which contains thousands of royalty-free stock images. Snappa allows you to drag-and drop your way to designing your own infographics with ease.
Their free plan is great for beginners. But if you want access to advanced features and graphics, you should opt for their Pro or Team plan. They are priced at $10 and $20, respectively.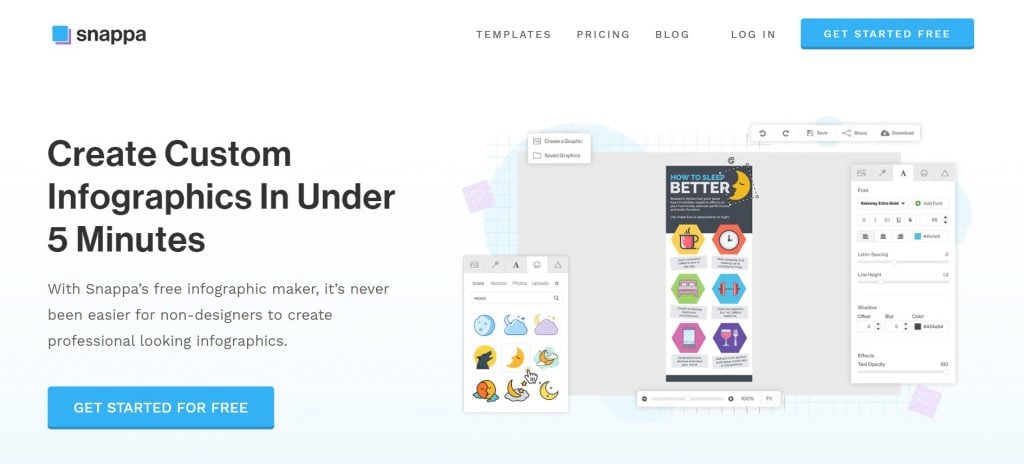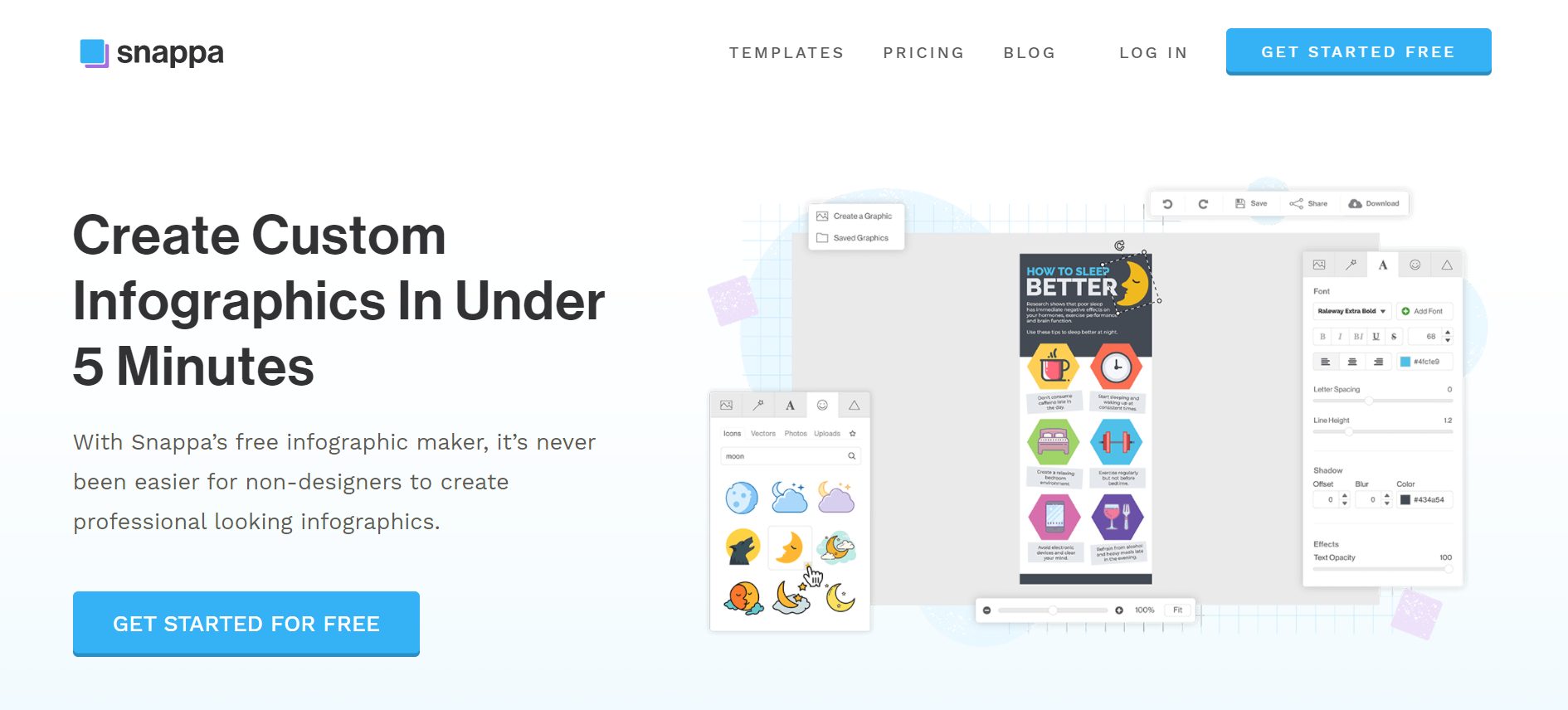 ---
12. PicMonkey
This online image editor also comes with a tool to create infographics that are stunning and informative. You can add your information to any of their templates to design a quick infographic that is professional-looking. You can also add your brand's logo, change font styles, adjust spacing in letters, and more.
PicMonkey's design plans range from $7.99 to $33.99. To decide if this is the right tool for your business, you can also avail a free trial.


---
Final Words
If you want to get the attention of your audience, words may not always be enough. You may need to spice up your blog posts and social media content with engaging visuals. They are easy-to-consume and can help you improve your brand awareness.
Even if you don't have any design experience, you can create your own infographics. With the help of the tools mentioned above, you can design professional-looking infographics without any hassle.