Amazon has over 300 million users, bagging the title as the world's largest online selling platform. It has significantly propelled the e-commerce landscape and impacted consumer purchasing behaviors.
But, with over 600 million product listings on the Amazon US website alone, 9.7 million sellers worldwide, and a million more merchants expected to enter the marketplace each year, it can be challenging to achieve brand awareness, augment brand visibility, and stay competitive on the site.
However, Amazon Advertising makes it possible for sellers to reach their target market via organic and paid ads. Just like Google and Facebook, this solution allows businesses to create cost-efficient, hyper-targeted ad campaigns.
Download Amazon Advertising Guide
---
Amazon Advertising: Digital Ad Services on Amazon, Explained:
---
What is Amazon Advertising?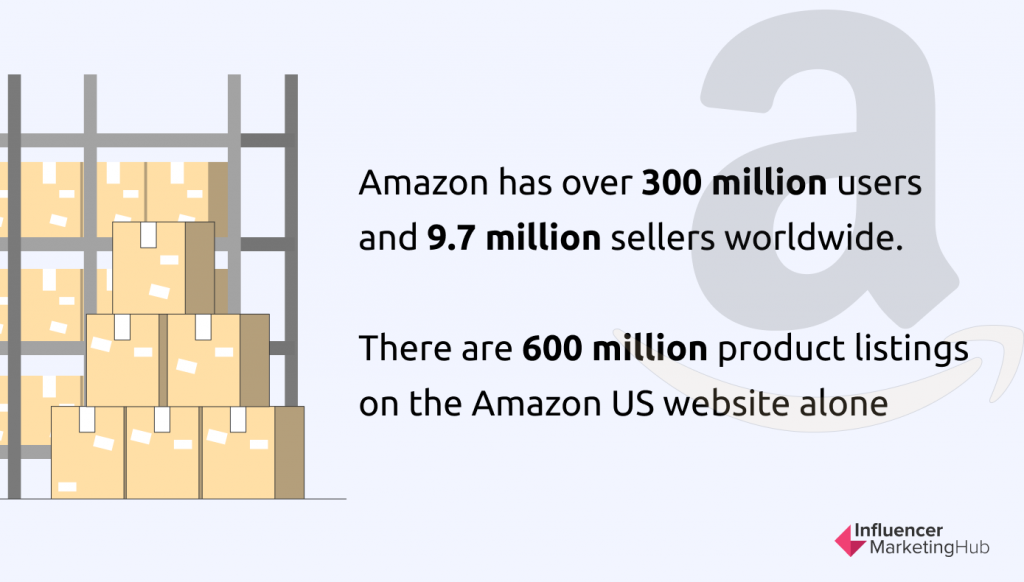 Formerly known as Amazon Marketing Services (AMS), Amazon Advertising is a tool that works similarly to Google and Facebook Ads.
It enables sellers and businesses to promote their products to a specific audience segment. Amazon's large user base provides valuable insights on users' purchasing activities. Sellers can use user data to optimize their digital strategy.
Amazon Advertising adopts a pay-per-click ad model, wherein sellers and/or advertisers pay Amazon every time a user clicks on an ad.
You can use the platform to run different types of digital advertisements, such as sponsored ads, sponsored product ads, and product display ads. Amazon Advertising also isn't just for implementing ads on the Amazon website. Sellers can also publish video ads and share them across third-party apps and platforms via Demand Side Platform (DSP).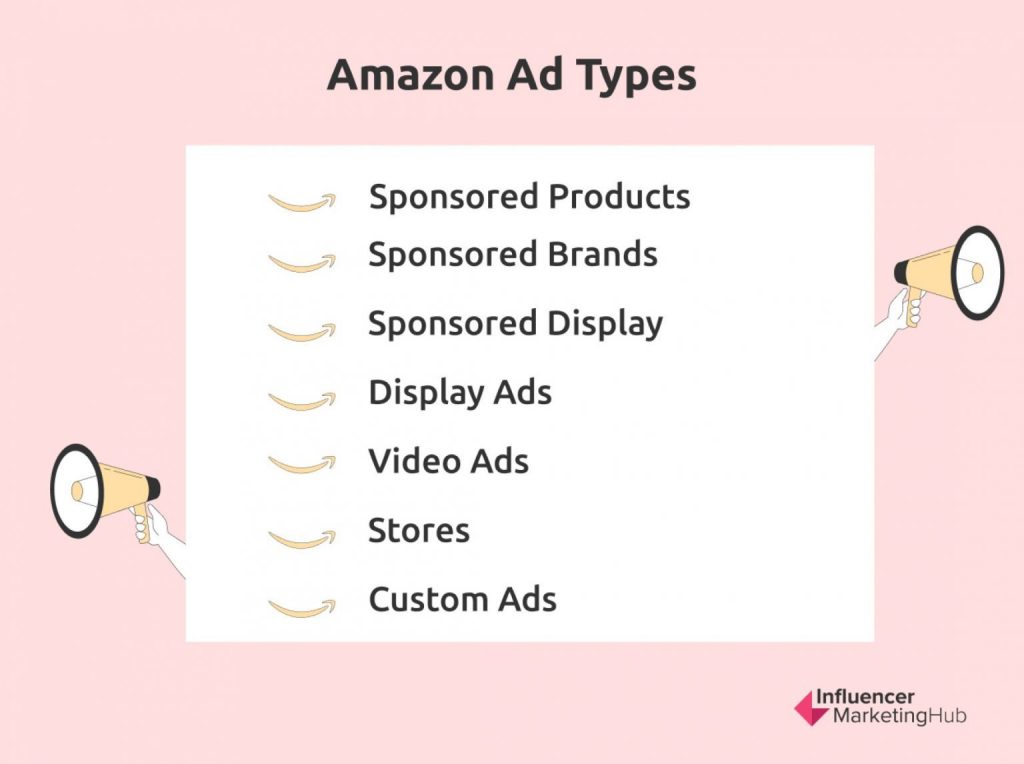 ---
Amazon CPC and DSP Advertising
Cost-Per-Click (CPC) Advertising
Following the Cost-Per-Click (CPC) model, Amazon advertisers will only have to pay every time their ad gets clicked. You can allocate as much or as little to your ad budget, depending on how much you can spend or on the metrics you'd want to achieve.
Amazon integrates organic search in ad campaign placements: the more profitable the advertisement is, the higher the ad's prioritization will be on a search page. Because CPC provides a good way to measure ad success or profitability, sellers would be able to influence the display frequency of their ads by targeting the right audience. When an Amazon ad is seen by the right audience, it has higher chances of getting more clicks. Amazon will then deem the ad as profitable and rank it higher, which would consequently increase ad display frequency. It is therefore ideal to target the right audience.
Sponsored ads, sponsored brands, and sponsored product ads all follow the CPC advertising model.
Demand-Side Platform (DSP)
Meanwhile, Amazon Demand-Side Platform or Amazon DPS features advertising strategies designed for audiences on and off campaigns. DPS features automated buying and selling of ad spaces on various websites.
With DSP, you can reach audiences outside the Amazon platform. DSP utilizes programmatic advertising, which lets you buy and sell digital ads across websites and platforms. You can connect to a bigger audience by using DSP and publishing ads on Amazon subsidiaries such as Audible, IMDb, and Fire TV. With that said, DSP is free to use by both sellers and non-sellers on the Amazon online selling platform.
---
Why Use Amazon Advertising?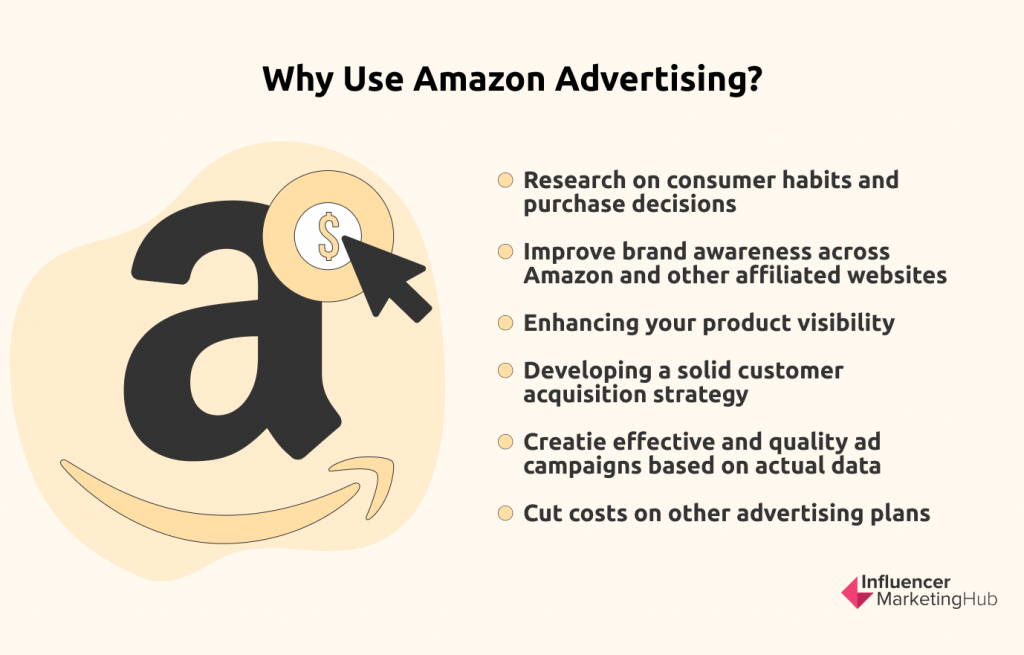 Amazon is more than just an online selling platform for brands and businesses. It is a diversified enterprise that caters to other services such as artificial intelligence and cloud computing. With over 300 million customers and clients, Amazon invests in providing a smooth and hassle-free customer experience.
Amazon conducts website maintenance, customer surveys, and thorough research on consumer habits and purchase decisions. With Amazon Advertising, you are just a few clicks away from optimizing your marketing plan according to the data and insights on customer activities.
There are more benefits to Amazon Advertising than just research data. These include:
Improving your brand awareness across Amazon and other affiliated websites

Enhancing your product visibility on search pages

Developing a solid customer acquisition strategy

Creating effective and quality ad campaigns based on actual data

Cutting costs on other advertising plans
---
Amazon Vendor vs Seller Centrals
Vendor Central
Selling on Amazon requires you to determine whether you want to be a first-party or third-party seller. If you sell bulk items or are a supplier or distributor of certain items, then you would be more likely to be invited as an Amazon Vendor and asked to join the Vendor Central.
Amazon Vendor Central is a premium program with features and packages exclusively for Amazon Vendors only.
Features:
Invite-only

Sell to Amazon as a distributor

Limitless advertising options

Amazon Advertising
Pros:
Shipping process fulfilled by Amazon

Reliable customer service

Improved options in Amazon Advertising

Trusted by Customers
Cons:
Loss of branding

Slow, traditional terms of payment

Poor inventory management

Inconsistent control over market prices
---
Seller Central
Third-party sellers, on the other hand, have access to Seller Central. Third-party sellers can choose to have the shipping process fulfilled by Amazon (Fulfillment by Amazon or FBA) or handle the entire shipping process on their own.
Amazon Seller Central gives more freedom for the sellers to decide how their business on Amazon will run. Almost anyone can join Seller Central and choose to set up either individual or professional accounts. An individual account is much more basic. Meanwhile, a business account comes with a monthly subscription but is highly preferred because it offers a plethora of analytics and marketing tools that are useful for online businesses.
Features:
Open to all aspiring sellers

Direct selling to customers on Amazon

Brand and content awareness
Pros:
Flexible control over account

Fast and easy payment terms

Good inventory management

Free access to consumer data reports
Cons:
Costly fulfillment costs

No automated sales and marketing strategies and campaigns

High referral fees to Amazon
---
The Different Types of Amazon Ads
Amazon Advertising makes use of various mediums and formats of advertisements. Amazon ads also vary in purpose and payment terms.
Sponsored Products are the most common types of ads on Amazon. A quick search on the platform will pull up results with product listings on top of the page tagged with "Sponsored". When a customer clicks on a sponsored product listing, they are redirected to the product details page immediately.
Sponsored product ads work according to how relevant Amazon perceives a listing to be to a particular keyword. In setting up sponsored product ads, it is important to use highly related keywords to reach the right audience.
---
Sponsored Brand Ads let brands promote up to three products altogether. Upon clicking on a Sponsored Brand Ad, you can be redirected to either:
The brand's Amazon store

A brand page featuring different product lines

A landing page about the brand's best-selling product
Sponsored Brand Ads are powerful tools in building your brand and bringing it to the customers' awareness. With a click on a Sponsored Brand Ad, shoppers are immediately introduced to your store, the products you sell, and your brand's image and vision.
As with other hyper-targeted ads, Sponsored Brand Ads will only appear to shoppers who search for a keyword that's the same as or related to the keywords used in your ad campaign. Because interest or need is already there, there's a high chance for the shopper who clicks on your brand ad to buy from your store.
---
Sponsored Product Display Ads are used to promote a similar item on a product listing detail page from the same brand. This cross-promotion of products intends to upsell to shoppers. You can also place Sponsored Product Display Ads right beside a competitor's product listing. Such placement can entice shoppers to click on your product first before proceeding to check out the competitor's product.
Sponsored Product Display Ads are fairly flexible in terms of placement. They can appear at the bottom right side of a product listing, at the bottom of a search page, etc. Sponsored Product Display Ads are available for use on and off Amazon.
---
Video ads enable you to stream your ads on video-on-demand TV and streaming services. With this type of ad campaign, you can reach audiences beyond the Amazon buying and selling platform. Video streaming ads are currently only available in the United States and the United Kingdom.
---
Amazon Stores give sellers the creative freedom to showcase their brand and products through uniquely-owned, multipage storefronts on Amazon. Amazon Store has predesigned templates free for you to use and feature your top products in the spotlight.
Amazon Stores are guaranteed to bring back more customers to you and your brand. However, the availability of this ad campaign is limited to sellers enrolled as vendors, agencies, and in the Amazon Brand Registry. Creating an Amazon Store does not require you to advertise on Amazon at all.
---
Which Amazon Ad Type To Use
The types of ads you can run through Amazon Advertising varies in purpose . Before selecting an Amazon Ad type, you have to plan out your ad campaign.
The duration of the campaign, the target demographic, and the budget you will allocate should all be carefully considered before proceeding to design your ads. Make the most out of an ad type by appropriately pairing it to a comprehensive ad campaign strategy.
Sponsored Product ads are best used to ensure your relevance among the ranking system for a particular set of keyword searches. These ads are the easiest to work with and are ideally placed first among the search results.

Sponsored Brands ads are great to establish brand awareness. For new sellers, these ads introduce shoppers to your line of products immediately. Use Sponsored Brands ads if you want to advertise two or more products.

Sponsored Product Display ads are powerful campaign tools for cross-promotion, upselling, and diverting shoppers to your products and away from the competitors'. Use this ad type in product listings, customer reviews, and before shoppers proceed to check out a competitor's product.
Advertising requires constant review of your metrics and bids. Amazon especially favors ad campaigns that bring in profit, so use a wise combination of various Ad types to make the most out of your budget and bids.
Keeping track of your ad campaigns in Amazon is easy: the platform provides insightful data and reports on the progress of your campaigns. Ads are also analyzed by their visibility and the number of clicks they earned.
Above all, choose wisely when selecting products to advertise. Ideally, you have crafted the perfect product or line of products for your brand before proceeding to promote your brand or store. Advertising attractive and well-meaning products is more likely to lead to actual sales.
---
Final Thoughts
As the digital world proceeds to evolve, marketing and advertising strategies also develop and grow to become more targeted and purpose-specific. Amazon Advertising enables you to navigate the complexities of online businesses and digital advertising. In a highly saturated marketplace, adopting a strategic advertising plan will help brands stay relevant amid the rise and fall of online trends and changing consumer habits.