With the increasing trend towards online shopping for almost any product, Amazon.com is constantly growing in size and popularity. Today, consumers often rely on Amazon as their primary source for product information, with 63% of online shoppers starting their purchase search on the platform. So it shouldn't be a surprise that a lot of Amazon sellers make between $1,000 and $2,500 a month, and some even make as much as $45,000 a year.
However, with a vast array of products available on Amazon, it's easy for potential shoppers to miss your brand. Additionally, the fierce competition among sellers contributes to Amazon's dominance in eCommerce. That's why having an effective Amazon marketing strategy is essential for businesses of all sizes.
Generating great results with Amazon requires more than simply following what other sellers are doing. You need to create and implement a marketing strategy that is based on several factors, like your industry, niche, product, target audience, and even advertising budget. To achieve the highest possible ROI, it's crucial to adopt a flexible and comprehensive Amazon Advertising strategy.
Download Amazon Advertising Guide
---
Maximizing Your Amazon Advertising Potential: Key Strategies and Best Practices for 2023:
---
Amazon Advertising: An Overview
Amazon Advertising, previously Amazon Marketing Services, works like pay-per-click (PPC) ads on Google. This means businesses only pay when potential buyers click on their targeted ads, regardless of whether they complete a purchase. As part of this service, sellers pay Amazon to show their ads to visitors who use specific search terms.
Amazon Advertising works like an auction. Sellers list the most they are willing to pay per click, and the ads of those who win the auction are shown. To ensure your business is visible and generates a steady income, creating optimal advertisements is essential. Amazon Advertising offers three types of ads:
By leveraging Amazon Advertising, you can efficiently drive traffic to your marketplace products and gain visibility in key areas, which is crucial for success.
---
8 Top Strategies to Maximize Amazon Advertising
Amazon is an incredibly competitive marketplace which makes it hard to appear on the first page of search results. Relying solely on organic search may not be enough. But by implementing the right strategies, you can gain a competitive advantage. Leveraging Amazon Advertising to its full potential is a unique and valuable opportunity to turn your brand into a success story. To help you succeed, here are some strategies for Amazon marketing tactics.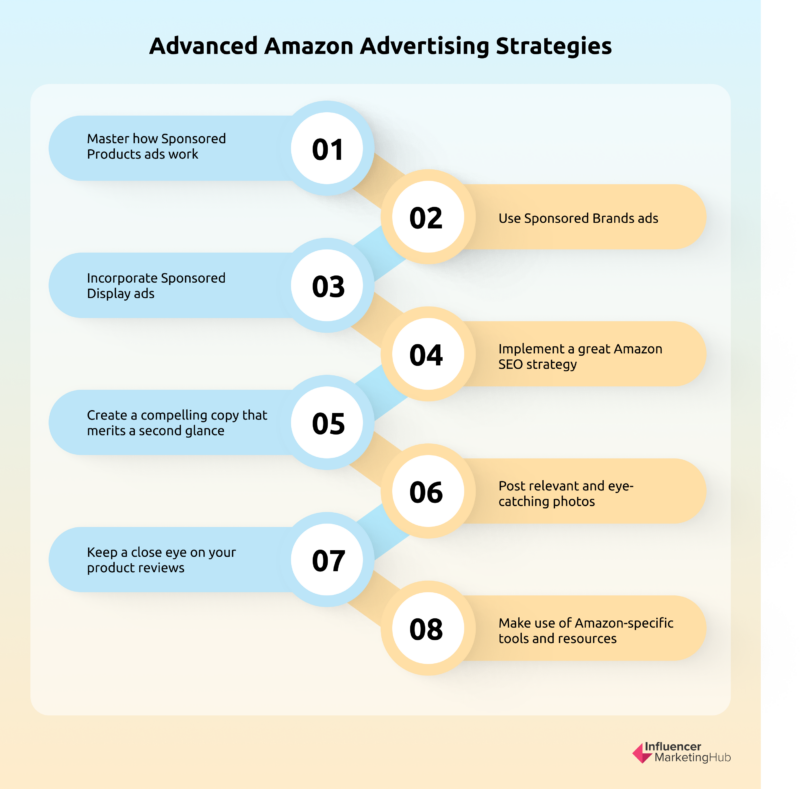 1. Master how Sponsored Products ads work.
As mentioned above, there are three main types of Amazon Advertising, and Sponsored Products are the most common. Sponsored Products ads show up in search results and on product detail pages alongside organic results, and they're prompted by keywords that you can select or allow Amazon to suggest. Sellers can target specific customers using search terms, category, brand, or ASIN. Amazon charges based on cost-per-click, with two campaign management options: automatic and manual.
Clicking on Sponsored Products ads will take customers to the product page. These ads are popular among Amazon sellers because they offer the most flexibility in targeting customer behavior and are accessible to all sellers on the marketplace. They're a great place to start for beginners because they're simple to understand and set up, and they can yield significant returns if done correctly.
When you select Sponsored Products, you will be charged a set fee each time a shopper clicks on one of your ads. For instance, if you bid $1.25 for the keyword "slim bookcase" and create an ad campaign targeting this term, you'll be charged $1.25 for every click on your product, whether or not the shopper makes a purchase.
Sponsored Products ads are more noticeable and complements an ad feature called Product Attribute Targeting (PAT). This ad feature can help you target specific product categories to pair your product with, ultimately boosting sales. PAT allows sellers to make the most of ad space next to a specific category of products and brands, promoting their product alongside similarly priced and complementary ones.
For example, if you sell bookcases, running an Amazon Sponsored Products ad will display your product alongside related products such as modular bookshelves, partitions, and book accessories in search results.
To run a PAT ad, you need to enable manual targeting in your Sponsored Products campaign, select the items and bids you want to use, and choose the product categories to target. It's a good idea to target well-known brands with comparable prices or ratings, as this allows you to benefit from their popularity and display your product alongside theirs in similar search results.
---
2. Use Sponsored Brands ads.
Sponsored Brands, previously Headline Search Ads, are ads that feature a brand's logo, a custom headline, and up to three product listings. When a customer clicks on a Sponsored Brands ad, they will be directed to a custom landing page or store, which can improve revenue and brand visibility.
These ads are keyword-targeted and appear among search results and at the top of the page. Sponsored Brands ads operate on a CPC model and aim to increase brand awareness rather than promote a specific product. They are shown to shoppers searching for products similar to those offered by the brand, rather than when a specific keyword is entered.
Only brand registered sellers can access sponsored ads. Although less widespread than Sponsored Products, they are gaining popularity because they allow sellers to create custom product detail pages that attract customers and stand out from other search results pages.
When a shopper looks for a product on Amazon, Sponsored Brands ads appear in the header's first column on the search results page, giving them significant impact and boosting sales conversion rate.
---
3. Incorporate Sponsored Display ads.
Sponsored Display is a self-service display advertising service that reaches a different audience than Sponsored Products and Sponsored Brands. Unlike the others, Sponsored Display ads do not use keywords. Instead, they focus on targeting visitors based on their purchasing habits and patterns. This ad service offers easy retail context tailored to your brand's and product's specific needs.
With Sponsored Display ads, sellers in the Amazon Brand Registry can target and retarget shoppers on and off Amazon with ads that are focused on their products and are made automatically. This type of advertising allows you to broaden your marketing strategy and reach new clients on different marketplaces and platforms.
Sponsored Display ads can help attract more customers when they are browsing individual detail pages, Amazon's home page, and third-party apps and websites. Amazon reports that sellers who used Sponsored Display ads generated twice as many impressions and half as many clicks on their listings.
---
4. Implement a great Amazon SEO strategy.
To keep up with changing consumer trends, it's important to keep abreast with SEO metrics and trends, do keyword research and update your product detail page often. This means that you should use relevant phrases in your product listing's title, description, and bullet points.
Amazon's dominance is due in part to its powerful search engine optimization service, A9, which helps products rank at the top of search results. Unlike traditional search engines like Google, Amazon's SEO focuses specifically on product listings. As a seller, you can improve your chances of ranking highly by creating content that is discoverable, valuable, and ultimately leads to sales.
Simply stuffing your listing with keywords won't do the trick. You need to create compelling content that convinces potential customers to buy your product. To create a strong listing, use commonly used keywords for your product category, and make sure your product page contains up-to-date, relevant information. When writing your product title and bullet points, use keyword-rich language that accurately conveys the usability of your product.
For instance, instead of branding a product a "slim bookshelf," try something like "Modern, 5-Tier, Geometric Bookcase, Industrial Slim Bookshelf Display, Decorative Storage for Living Room."
It's also important that you don't make sudden changes to your keyword strategy based on the latest statistics alone. Over time, keywords and phrases change, so it's important to look at their value and effectiveness every so often. You can use automatic targeting to find the most recently used phrases by your visitors and test new keywords. If a new phrase performs well, you can adapt your content and ads accordingly and cut out underperforming keywords.
---
5. Create a compelling copy that merits a second glance.
Having correct grammar and sentence construction is crucial for your product copy, especially for Amazon Advertising. Amazon shoppers are wary of scams, and mistakes in grammar, product descriptions, and spelling could make them think the product isn't real or that the seller isn't reliable.
It's important to use phrases and words that are relevant, informative, and focused on the benefits of the product in the titles and descriptions. Highlight what makes your product different from others, make sure the descriptions are correct and easy to read, and put the focus on your product.
To create an outstanding copy, you can review your top-ranking competitors' product pages to get ideas on how to structure your product descriptions for Amazon A9 and other search engines. Also, make sure your descriptions are easy to read and professional by using basic HTML elements like bold, italics, and page breaks. If you want to keep your brand's identity consistent, you might want to use Amazon's A+ Content feature.
When shoppers reach your product description, they're usually interested in finding out more about your product, so use the opportunity to expand on your product bullet points, cover any lesser-known features and advantages, and include more images of your product.
---
6. Post relevant and eye-catching photos.
Having high-quality product images is crucial in online sales, as shoppers are wary of returning defective items through the mail. Therefore, sellers must focus on the visual aspect of Amazon Advertising. Ensure that all product images meet Amazon's guidelines, which require a minimum size of 1,000 pixels. It's also important to keep the images in focus and give an accurate representation of the product.
Most shoppers use images to decide whether or not to look at your product page. And when a visitor looks at your product page to decide whether or not to buy, product pictures become even more important.
Amazon lets sellers add up to nine pictures of their products, but it's important to only add high-quality, relevant pictures. While the primary product image must have a plain white background, you can experiment with the other eight images. You can take photos from different angles, show the product in use, or include customer-submitted photos (just make sure to make a note about this).
You can also run an A/B test on your product images to find out which one generates the most conversions. Decide on a time frame and keep track of your activities, sales, conversion rate, and income while noting which image was set as the primary image. Then, replace the image and record the same information.
---
7. Keep a close eye on your product reviews.
In eCommerce where customers can't look at a product in person before buying it, customer reviews and ratings are critical. Amazon places great importance on user reviews and prominently displays them on product pages. Customers can browse images and details within reviews, sort reviews by rating, and read customer questions and answers.
It's important to keep an eye on your company's organic search results, even if you have invested heavily in Amazon Advertising. Positive reviews on Amazon can help you rank higher in search engine results. However, some customers may be skeptical of overly positive reviews, suspecting them to be fraudulent.
So that fake reviews don't get posted, Amazon has strict rules about how sellers can ask customers for feedback. But there are ethical ways to encourage good reviews. You can include a thank-you message and a polite request for a review with your product shipment or send follow-up emails requesting feedback. You must never demand reviews or offer bribes.
Amazon also lets sellers respond to customer reviews, which is a great way to connect with customers, thank them for their purchases, and take care of any problems or concerns right away. This also enables disgruntled customers to contact your company rather than leave a poor review. Responding quickly and resolving issues demonstrate to other buyers that your business cares about keeping customers happy.
---
8. Make use of Amazon-specific tools and resources.
Amazon is protective of its data, which can make it challenging for sellers to make informed decisions on how to advertise their products through PPC ads. But there are many Amazon analytics tools and PPC management agencies that can help sellers make creative bids and get an edge over their competitors.
For instance, Pacvue Commerce provides an effective solution for scaling Amazon businesses and improving campaign performance. The enterprise software helps Amazon sellers increase sales and reduce costs by optimizing their campaigns.
Additionally, Amazon PPC management firms such as Thrive Online Marketing Agency and SmartSites can provide unique techniques, technology, and data to boost sales while reducing expenses.
By utilizing the appropriate tools and resources, you can approach Amazon PPC advertising in a smarter, more productive, and more profitable way.
---
5 Amazon Advertising Best Practices Every Seller Needs to Implement
Here are some best practices for Amazon Advertising that can help you evaluate the value and scalability of your ad campaigns. By using this checklist, you can assess the effectiveness of your marketing budget and identify areas where you can enhance your marketing strategies.
1. Use all ad types.
To establish a robust brand presence and outperform competitors, it's best to use all types of Amazon ads. By using Amazon Sponsored Products ads, Sponsored Brands ads, Sponsored Display ads, and adding video ads to your promotional images, you can increase brand awareness and maximize your ROI.
2. Leverage brand, product, and category keywords.
To effectively allocate your advertising budget, it's crucial to incorporate various targeting methods into your advertising strategy. This should involve a balance of both branded and growth-oriented keywords. Targeting preferences such as keywords, specific products, applicable product categories, and remarketing strategies can help you effectively reach your target audience. They can also re-engage visitors who have previously viewed your listings or made a purchase.
3. Check and evaluate keywords regularly.
Regularly reviewing the performance of your keywords is critical to ensure that your advertising budget is being used effectively. Amazon's automated campaigns provide valuable insights into which keywords are driving sales conversions and which are not. By analyzing this data regularly, you can identify opportunities to adjust your advertising strategy and improve your campaign's performance.
4. Implement a regular audit.
To optimize the performance of your Amazon Advertising campaigns, it's essential to distribute your marketing budget strategically based on your goals and sales funnel target. Do a regular audit of your campaign's sales performance to ensure that you're maintaining the right balance and achieving your high-level goals.
5. Optimize your campaign daily.
In the highly competitive Amazon marketplace, it's critical to be proactive and attentive to your campaign's performance. This may involve making changes frequently, such as every few days, to stay current with market conditions and emerging trends. If your niche falls under a highly competitive category with numerous sellers, check your campaign daily and make necessary micro-adjustments, as these variables can significantly impact your business. It's essential to achieve optimal results.
---
Final Thoughts
Improving your Amazon marketing plan on your own can be difficult, take up a lot of time, and be costly. But the advantages of Amazon Advertising are too good to ignore. As the seller, you're not competing with Amazon—you're up against other sellers in your niche who are vying for the same buyers. Using the top strategies and best practices recommended above, you can gain an advantage over your competitors. It's important to keep up with the changing trends and metrics to help you successfully have an Amazon international business.