Your digital marketing strategy is only as good as the tools that you use to execute it. The right digital marketing software tools can help you execute your plans more seamlessly and generate a bigger impact from your marketing efforts. In the process, these tools will also help you save time and resources while boosting productivity.
So to be exceptional at digital marketing, you also need to be equipped with the right tools. We've shortlisted some of the top digital marketing software tools that you should consider adding to your toolkit. Plus, we've divided them based on different strategies to make your search even easier. Let's take a look.
---
Top 14 Digital Marketing Software Tools:
---
Price: Starts at $119.95/month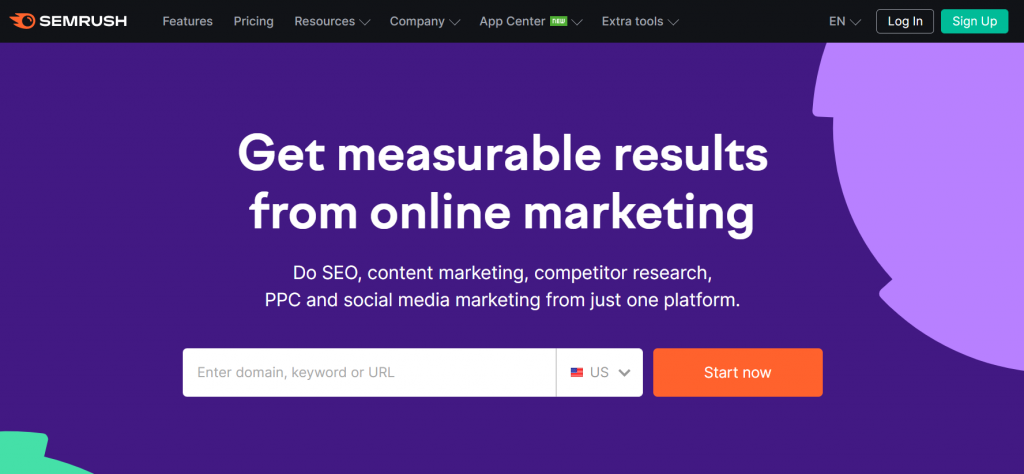 SEMrush is an all-in-one marketing platform that's particularly known for its SEO capabilities. The platform offers comprehensive tools for various aspects of SEO including keyword research, on-page SEO, link building, rank tracking, local SEO, and competitor SEO analysis. Using the keyword research tools, you can get an overview of any keyword, find the best keywords to use, and discover untapped opportunities.
Meanwhile, the on-page SEO tools conduct a site audit and provide you with ideas on how to make improvements. You can use the link building tools to analyze your current backlink profile, track competing backlink profiles, and acquire links from reputable sites. The other tools will let you keep track of your ranking, benchmark it against the competition, and improve your ranking in local searches.
---
Price: Paid plans start at $29/month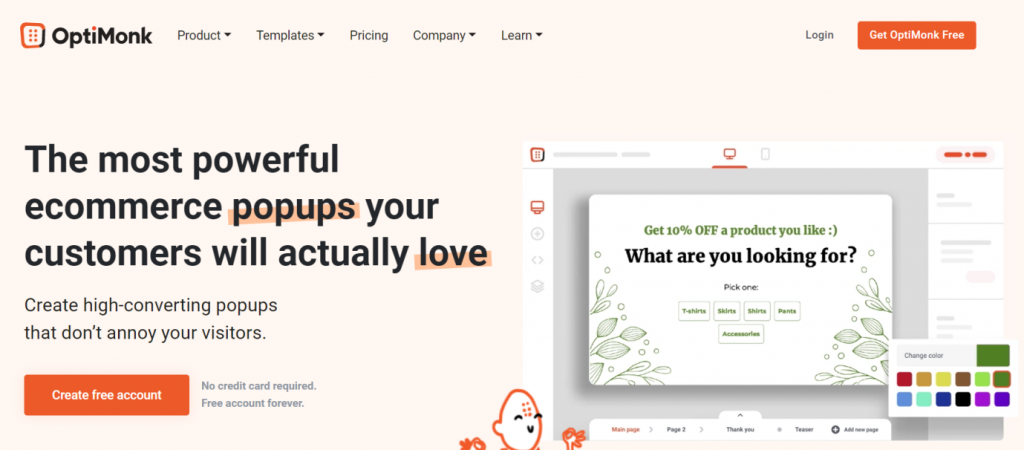 OptiMonk is a powerful popup builder that lets you deliver customized offers based on different stages of the customer journey. You can build your list by greeting first-time visitors with smart welcome popups, lucky wheel popups, and conversational popups. It also allows you to enhance visitor experience using smart product recommendations and shopping quiz popups.
This tool is perfect for driving conversions on your site as it lets you design popups to promote your best deals. You can deliver timely popups to offer free shipping, promote seasonal offers, or catch customers before they abandon their carts. OptiMonk also allows you to improve the customer journey using survey popups to collect feedback so you know exactly what needs to be optimized.
---
Price: Starts at $89/month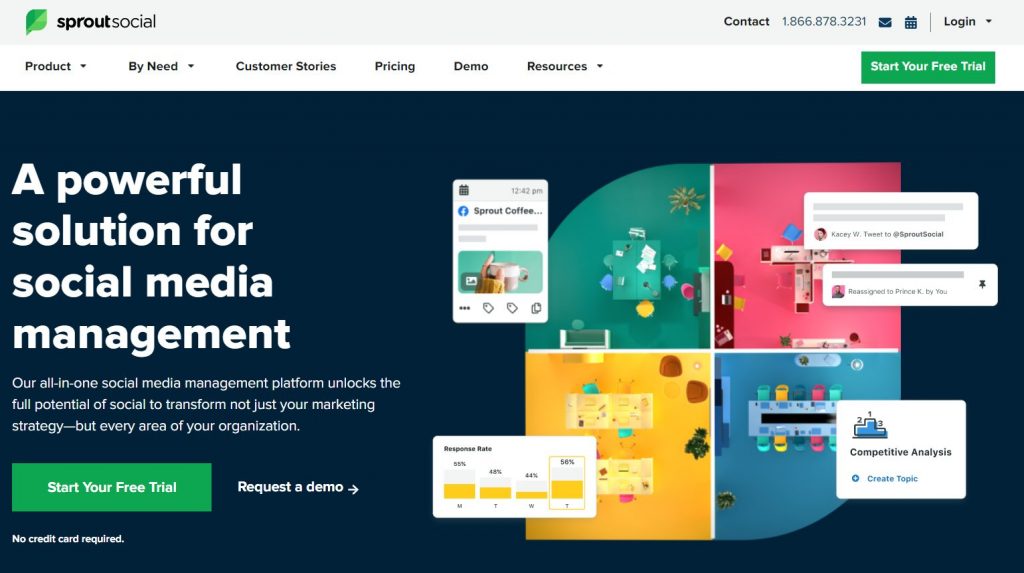 Sprout Social is one of the most powerful social media marketing and management platforms in the market. It offers comprehensive features to manage every aspect of your social media marketing efforts–from listening to publishing to engagement to analytics. The listening tool lets you listen in on conversations about specific topics and brands so you can uncover trends and get a better understanding of your audience.
The publishing tool comes with a visual calendar that you can easily manage and edit by dragging and dropping cards between different dates and time slots. You can even schedule your posts to go out at specific times, especially by utilizing the optimal post timing suggestion. Sprout also comes with a universal inbox where you can monitor and respond to messages and comments across all your social media accounts.
---
Price: Paid plans start at $45/month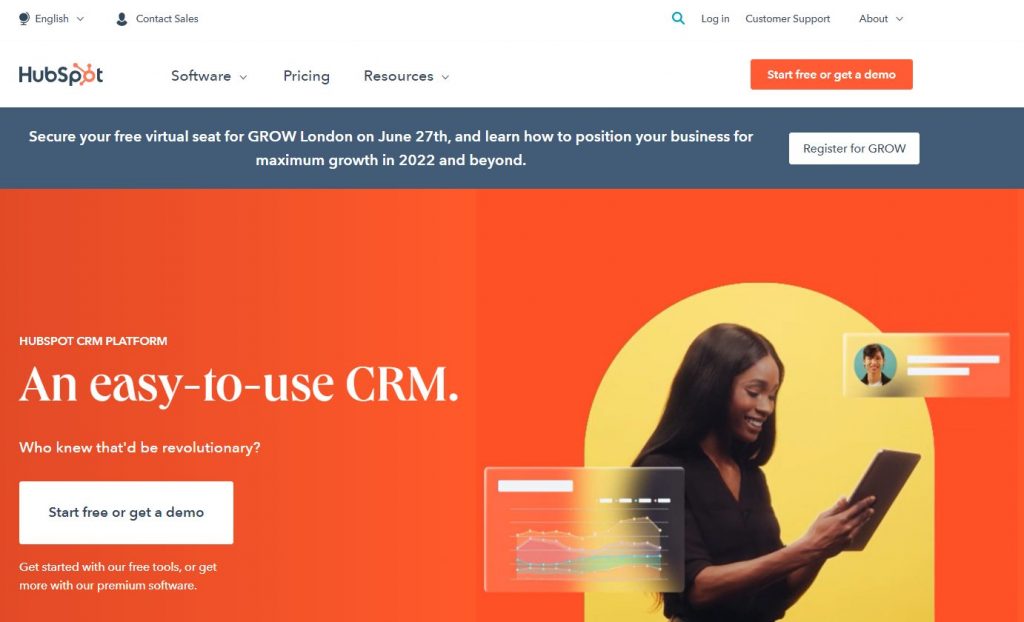 HubSpot is a powerful social CRM platform that comes with robust features for a number of marketing and sales functions. This includes email marketing, forms, contact management, ad management, and landing page reporting features. While you can get many of these features under the free plan, the marketing automation features are only accessible through the paid plans, which start at $45 per month.
It also lets you set up workflows to automate repetitive tasks and save time for more complex operations. This allows you to automate your email marketing campaigns so you can reach out to prospects at the right time based on dozens of triggers. You can also use automation workflows for scoring leads, tailoring content and offers, and scaling your outreach efforts.
---
Price: Based on database size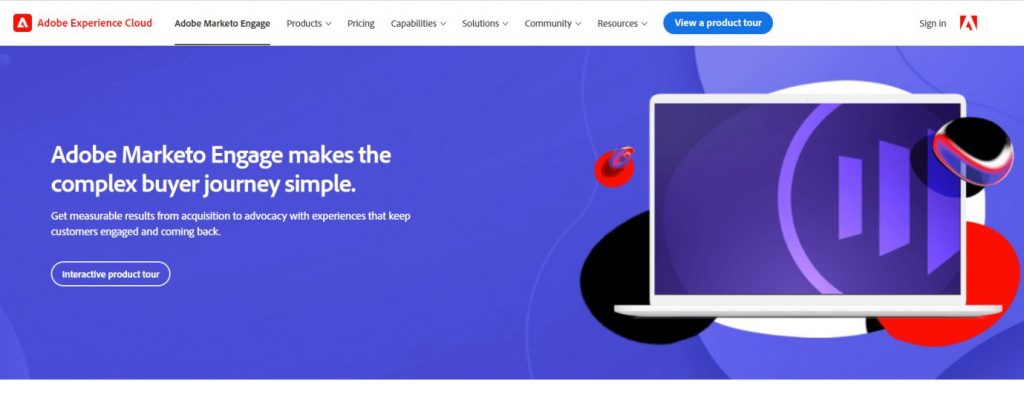 Marketo is a best-in-class automation software tool that helps you with attracting and converting prospects as well as growing your customer relationships. It comes with intelligent segmentation and allows you to prioritize the right audience. The platform lets you build automated workflows based on a number of triggers and filters. It also scores leads and accounts for you so you can quickly identify whom to prioritize.
Marketo offers AI-powered content suggestions to deliver the right content to the right people through the right channels. This automated personalization allows you to enhance the individual experience for each prospect and customer by providing them with offers that are most relevant to their needs.
---
Price: Starts at $99/month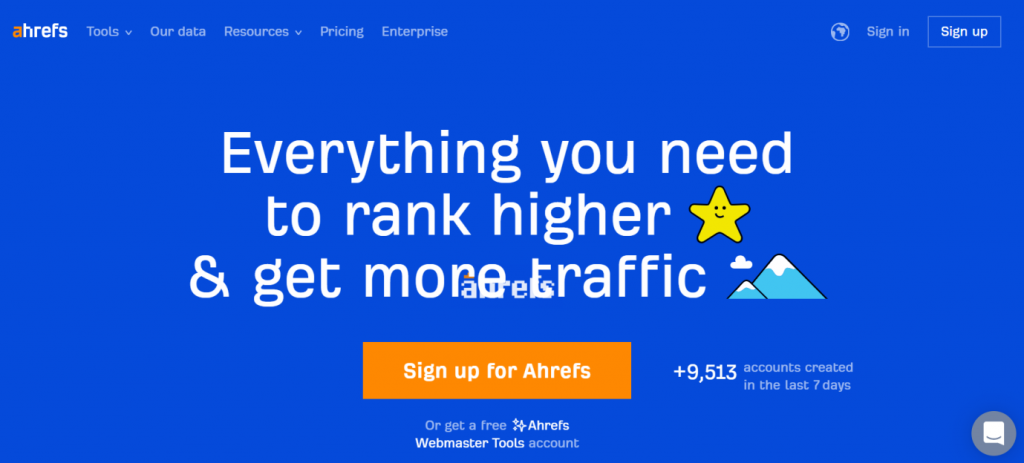 Ahrefs is a powerful SEO tool that comes with all the features you need to improve your ranking and drive relevant organic traffic to your site. The dashboard gives you a high-level view of your performance and progress, helping you keep track of all your projects in one place. You can use the site audit tool to automatically scan your site for issues and identify opportunities for improvement.
Meanwhile, the site explorer tool looks at how the competition is faring in terms of keywords and backlinks. Next, the keyword explorer tool helps you discover some of the most relevant and profitable keywords to use on your site. The content explorer tool provides you with creative content ideas and opportunities for linking so you can boost your ranking. By combining all these capabilities, you can build a powerful SEO strategy to get on the first page of relevant search results pages.
---
Price: Starts at $14/month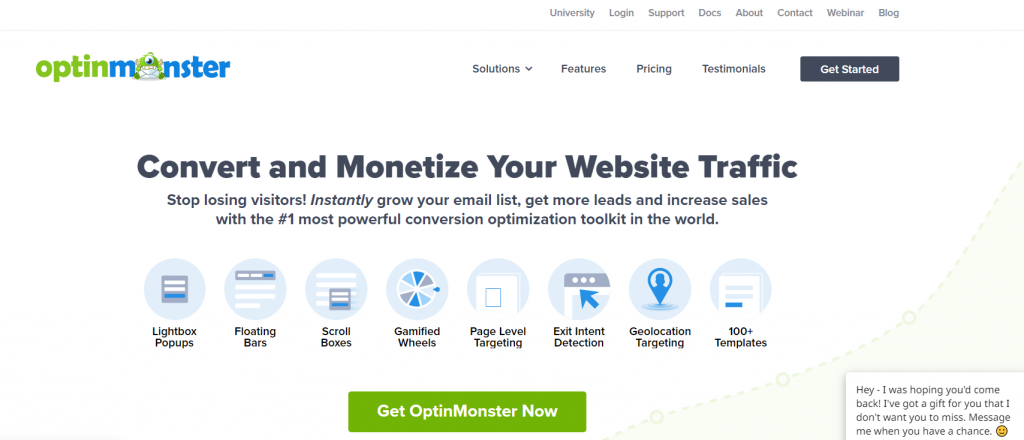 OptinMonster is a leading lead generation software tool that comes with a host of features to turn website visitors into leads. This includes features like floating bars, scroll boxes, lightbox popups, geolocation targeting, exit intent detection, gamified wheels, and page-level targeting. All of these features enable you to engage your visitors with attractive offers so you can grow your mailing list or drive conversions.
With OptinMonster, you can create a visually stunning offer using pre-built templates and instantly engage your prospects. The tool comes with a powerful targeting and segmentation engine that allows you to personalize your offers and deliver them to the right people at the right time. You can even test different offers and designs to see which ones had the most impact on your audience, enabling you to get remarkable results.
---
Price: Starts at $9.99/month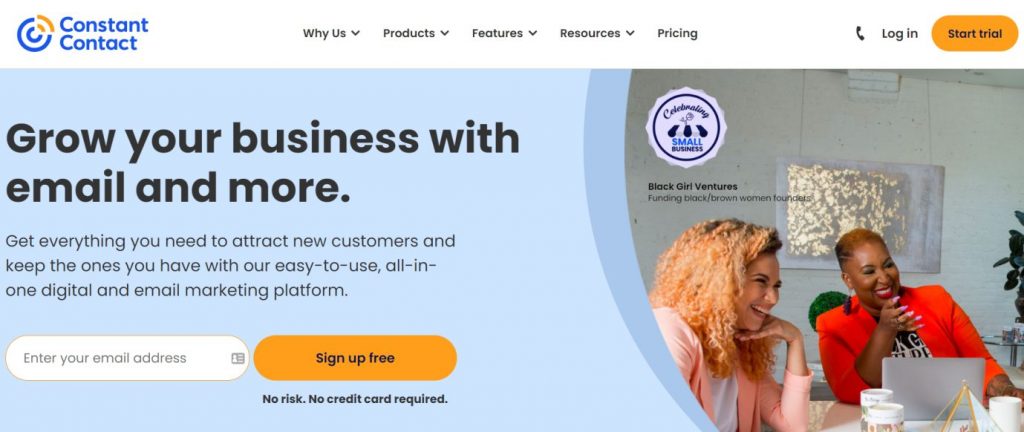 Constant Contact is a digital marketing platform that comes with CRM and social media marketing capabilities. It's mostly known for its powerful email marketing solution as it offers comprehensive and easy-to-use features. You can choose from any of the pre-designed templates and customize them using the drag-and-drop email editor.
The platform lets you segment your list and automate your emails based on different behavioral triggers. This means you can automatically greet new subscribers with a welcome email or send a follow-up email if it's been X amount of days since they opened the email. Constant Contact also lets you track your email marketing results in real-time so you can constantly make improvements and enhance your performance.
---
Price: Starts at $9/month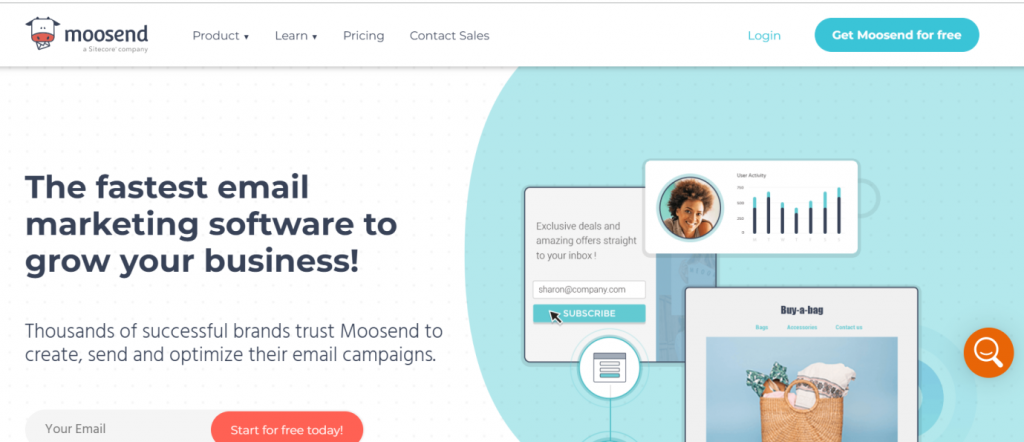 Moosend is one of the most powerful email marketing software tools in the market with robust features and an easy-to-use interface. It boasts a drag-and-drop email editor that allows users to easily customize pre-built templates and create stunning emails. It also allows you to A/B test your emails to see what works best. You can even segment your lists to deliver the most relevant offers to the right recipients.
The software also offers email automation templates and drag-and-drop automation editors to simplify your marketing automation. This allows you to send timely and relevant emails to drive conversions and engage your prospects. Moreover, you can even use Moosend to create eye-catching landing pages that align with each email to further improve the chances of conversions.
---
Price: On request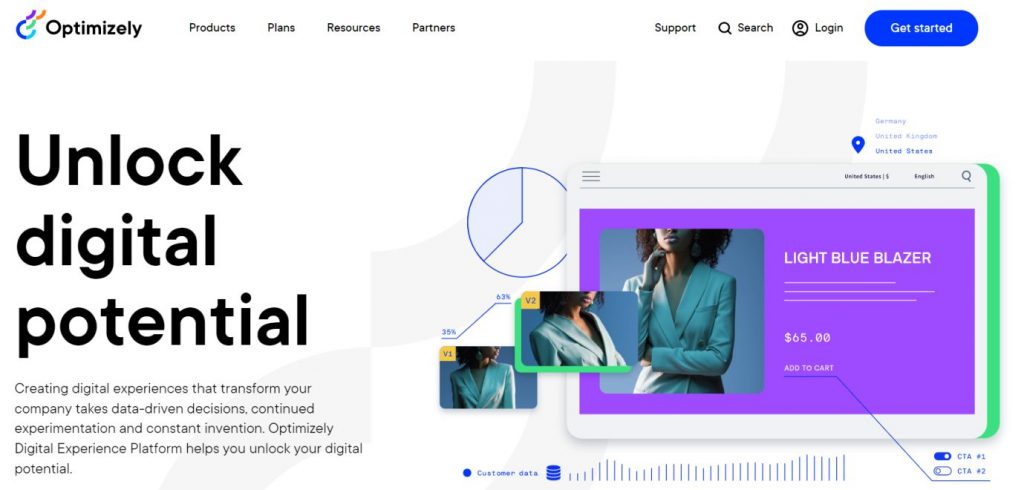 Optimizely is a digital marketing software tool for optimizing digital experiences to drive improved conversions. Its powerful A/B testing tool allows you to experiment with every aspect of your website to see what delivers the best results. Plus, the visual editor is easy to use, empowering your team to get started even without the need for a developer.
The platform lets you leverage experimentation and personalization so you can create experiences that are personalized to the preferences of each customer. You can deliver personalized offers, relevant content recommendations, and targeted messaging to drive conversions.
---
Price: Starts at $90/month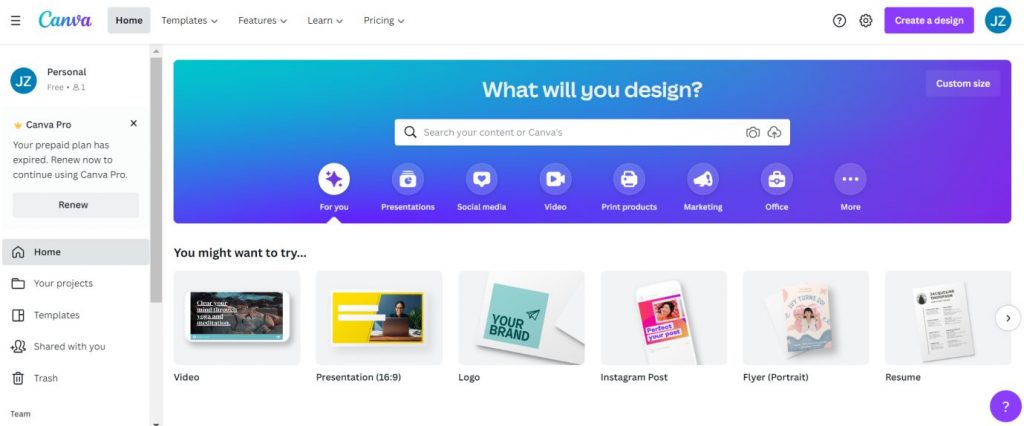 Unbounce is a landing page builder platform that allows you to create high-converting pages. It features an easy drag-and-drop editor that allows you to quickly put together attractive landing pages in minutes. One of the most impressive features is the dynamic text replacement feature, which automatically matches the landing page text based on each visitor's search terms to improve the likelihood of converting.
Unbounce lets you run A/B tests to see how well each variation of your landing page resonates with your visitors. You can then make adjustments based on the results so you can increase conversions. The platform also provides you with different targeting tools so you can customize the offer based on location, referral source, and browsing history.
---
Price: Paid plans start at $13.99/month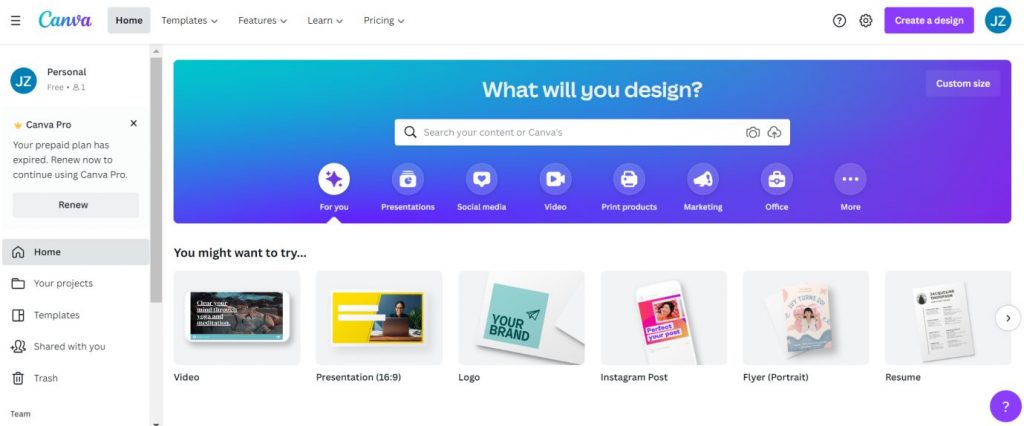 Whether it's for an Instagram post or a newsletter, visuals are an important part of digital marketing. This is why it helps to use a graphic creation tool like Canva to create stunning visuals for your digital marketing efforts. The platform is free to use, although you may want to upgrade to a Pro plan to access tools like brand kits and content planners.
Canva offers tons of pre-designed templates sorted by the purpose of your design. This includes platform-specific social media posts, YouTube thumbnails, logos, and even videos. For brands, the brand kit is a great way to maintain consistency with your visuals. You can create a kit by adding logos, brand fonts, brand colors, and color palettes.
---
Price: Paid plans start at $16/month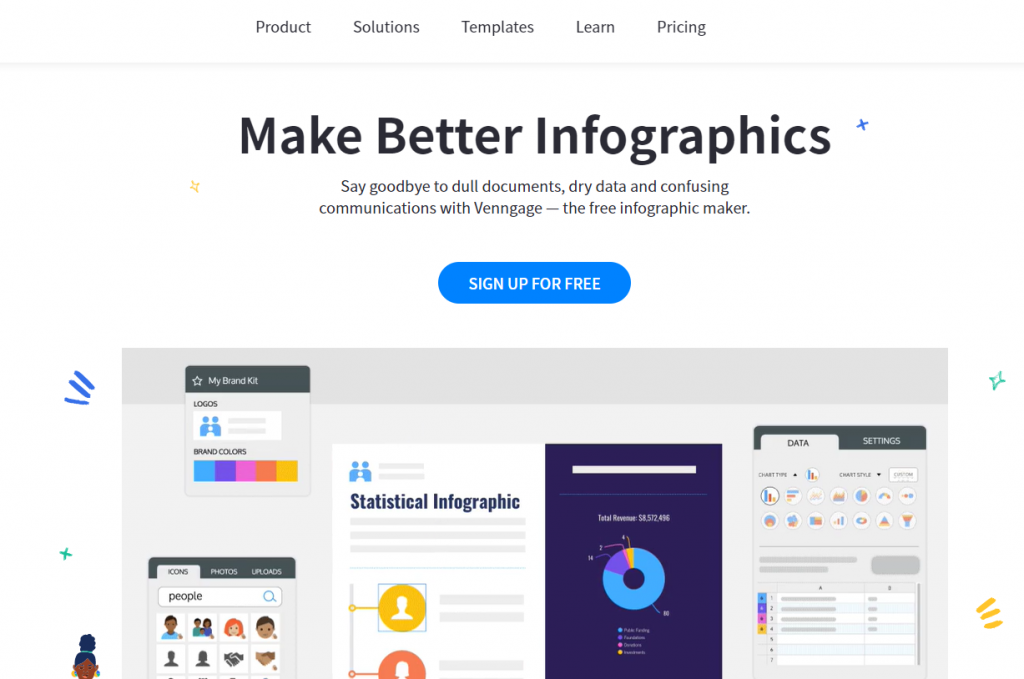 Venngage is another powerful graphic design tool, mostly known for its infographic design features. The tool lets you design stunning infographics using pre-built templates that can be customized with your choice of backgrounds, illustrations, colors, fonts, and icons. Moreover, you can collaborate with your team using the real-time editing and collaboration tools.
Like Canva, this tool is free to use, but you can access more premium features by upgrading to a paid plan starting at $16 per month. Venngage also offers tons of templates and editing tools for different design projects such as ebooks, presentations, white papers, diagrams, roadmaps, coupons, and social media posts.
---
Price: Starts at $49/month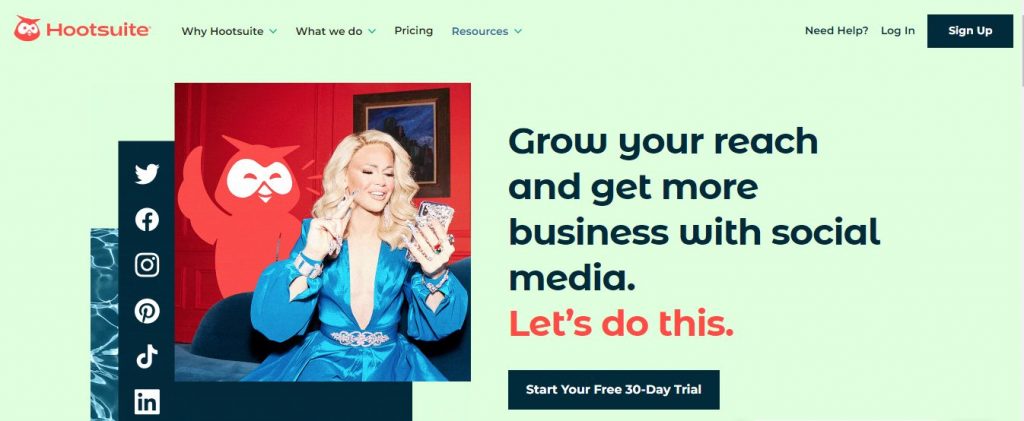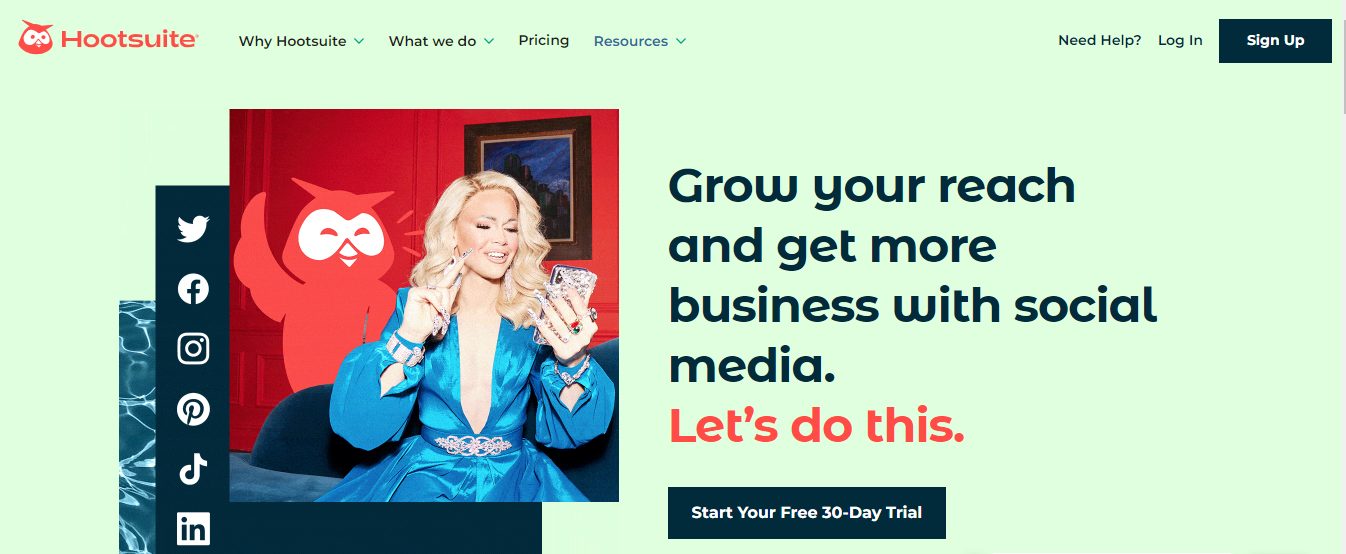 Hootsuite is another comprehensive social media marketing and management tool. It allows you to manage all your customer care channels in one place including SMS, WhatsApp, and live chat in addition to social media and apps. Hootsuite also offers integrations for all major social media channels such as TikTok, Facebook, Instagram, YouTube, LinkedIn, Twitter, and Pinterest.
The platform comes with a visual calendar to easily plan your publishing schedule. It also lets you schedule your posts to automatically go out at specific times. Hootsuite's monitoring features lets you stay on top of upcoming trends whereas the engagement tool allows you to address all your incoming messages instantly. The platform even allows you to manage your paid ads easily from one place.
---
Create Your Digital Marketing Toolkit
From tools that let you automate different marketing activities to tools that let you design stunning landing pages that convert–there are a number of tools with different capabilities that you need in your digital marketing toolkit. Make the most of our list to get a better sense of what you might need. Then look at your existing toolkit to assess what you need and find the best digital marketing software tools that fit within your budget.