Best for:
Flexible referral software for any business of any size.
Overview
Referral marketing. You've just realized that it's the missing piece of your business's growth strategy. You see it attracting more customers, and those customers bring more customers. It's a beautiful thing. And it works. People want incentives for their referrals, as many as 88% of Americans to be exact, and referrals are also more likely to be more loyal, too. 
That's where Referral Factory comes in. It's referral marketing software designed to make managing referral programs simple. Sure, you could boot your computer and log into Google Sheets or open Excel. You could also try and figure out how to track who's joined your referral program, how much business they've sent your way, how much to pay your referrers, and hope that you don't miss a vital detail like a zero that leads to an incorrect payment. 
But that's just painful. And when you think about the margin for error, it's not worth the effort. Your program would be doomed before it has the chance to add to your bottom line. What does Referral Factory have to offer? More than you'd imagine. 
You might wonder how a referral marketing platform can help you with your social media marketing, like the rest of the platforms we've reviewed here. And sure, you can't use it to mass schedule your Instagram or TikTok posts or review your Facebook inbox. But as we will see below, you can use Referral Factory to generate a ton load of social media posts related to and positive about your brand. Your referrers have to make contact with people somehow to make their referrals – and nowadays social media will probably be the most common way.
---
Pricing
Referral Factory offers three plans. All their plans offer the full suite of Referral Factory tools including CRM integrations, templates, 200+ rewards, and more. Even the lowest Starter plan gives you access to their full suite of tools with no limitations on features. The main differentiator between the plans is the maximum number of users (any people who become part of your campaign), number of campaigns, and ability to customize your campaigns. There are also a series of add-ons you can opt for with any plan.
Here's a look at each plan:
Starter:

 $95/mo - up to 500 users, and one campaign

Basic:

 $200/mo - includes everything in the Starter plan, up to 10 000 users, and unlimited campaigns.

Pro:

 $300/mo - includes everything in the Basic plan, up to 20 000 users, and unlimited campaigns. It also offers user verification (secure login for users), the ability to remove Referral Factory branding, and adding your own fonts.
You aren't limited to these numbers, however, as you can add additional users for an additional cost. The following add-ons are available for all plans:
Add your own domain: $100/mo
Add 100 000 users: $100/mo
Dedicated campaign manager: $500/mo
Reviews (coming soon): $100/mo
Referral Factory offers a 15-day free trial, no credit card required, of whichever plan best suits your needs. You can also book a demo with a Customer Success Agent, to see how the platform works, help you build a campaign, and learn valuable insight and tips along the way.
---
The Details
Ease of Use
Referral Factory is now a very powerful piece of referral software. Its ease of use depends on how well you understand the purpose of referral software. If you approach Referral Factory in the same way as you do most of the other platforms we have reviewed in this section, you might find yourself scratching your head. This is because it has a very different purpose from the rest. As it says on its home screen, "Want to grow your business? Referral Factory can help you do that. Sign up, build a referral program, and ask your customers to spread the word. No coding required."
If you approach Referral Factory with a preconceived view of what you are looking for, and that involves rewarding your stakeholders for promoting your business on their social media and other channels, then you will find that it very much simplifies the process. Referral Factory is plug-and-play software to build and track your referral program, containing numerous referral program templates, designed by experts. Importantly, it will most probably integrate seamlessly with your CRM and internal workflows. You can easily use it to automate asking your customers to refer friends.
---
Your Dashboard
Once you've signed up for one of the Referral Factory plans, you will be taken to your dashboard. In the beginning, it has something of a depressing look:

However, it shouldn't be too long until you manage to turn these 0s into positive numbers. 
Until you can find your dashboard populated with campaign data, it mainly features sections to help you begin your campaigns. These include sections on creating a campaign, booking a call with a support agent, a referral section encouraging you to set up referrals to your friends for Referral Factory, and a selection of Referral Program templates.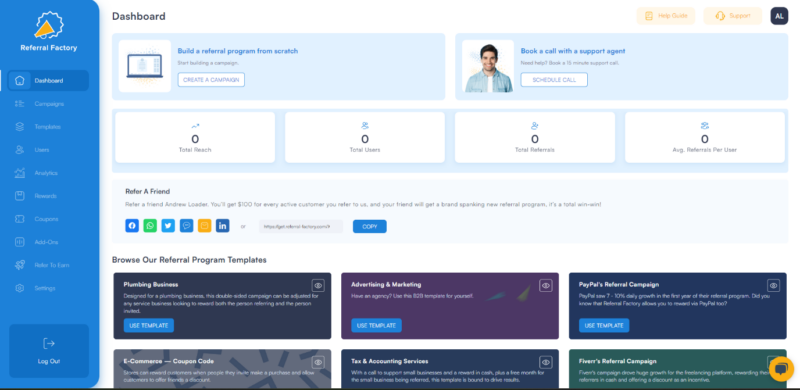 ---
Creating Your First Campaign
The first action you're likely to take with a new Referral Factory plan is to create a campaign. To get started, you can click on the Campaigns button in the left-hand menu or click on CREATE A CAMPAIGN in your dashboard view.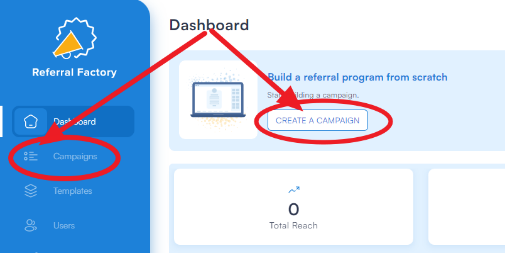 Another option you might consider is to use one of Referral Factory's templates (either by clicking on an appropriate template on the dashboard or by going to the Templates menu.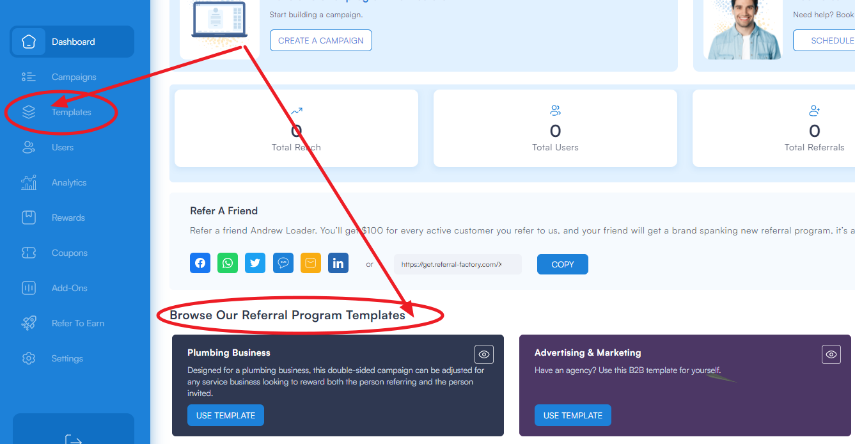 You can create a campaign from scratch or use a template. Templates are easiest and it's just a matter of finding one that meets your needs.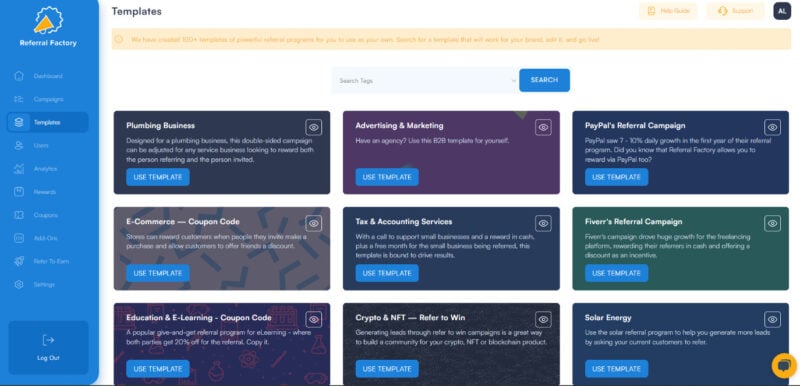 No matter which method you select to create your campaign, Referral Factory will ask you for a campaign name and language. It then asks you how you want to ask people to refer.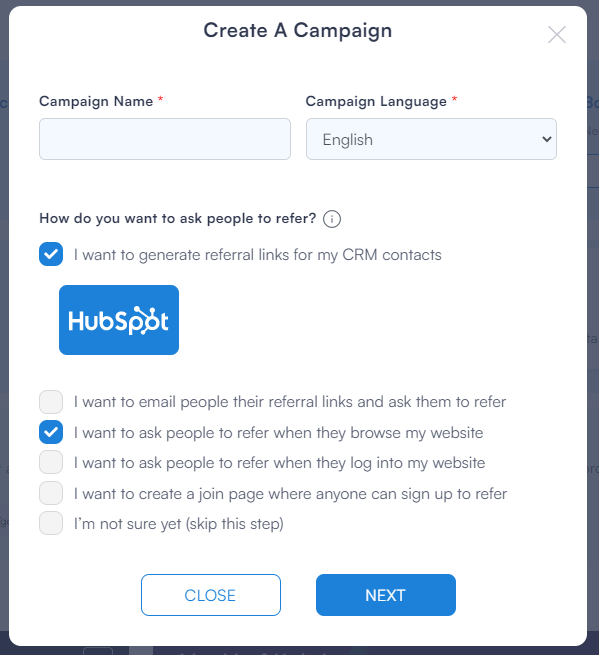 As you can see, Referral Factory now allows you to set up referrals by a variety of methods:
generating referral links to your CRM contacts (you will have to first link your CRM to Referral Factory before you start creating your campaign – integrations include ZOHO, HubSpot, Pipedrive, Salesforce, Intercom, Redtail, their API, or any other using Zapier),

emailing people referral links and asking them to refer,

asking people to refer when browsing or logging into your website,

creating a join page where people can sign up to refer.
Referral Factory then asks you to design your campaign. If you have chosen to use one of the pre-existing templates, much of the design work will already have been done for you, although you can tinker with it to better customize it to your brand. I have used the Marketing & Advertising template in this review.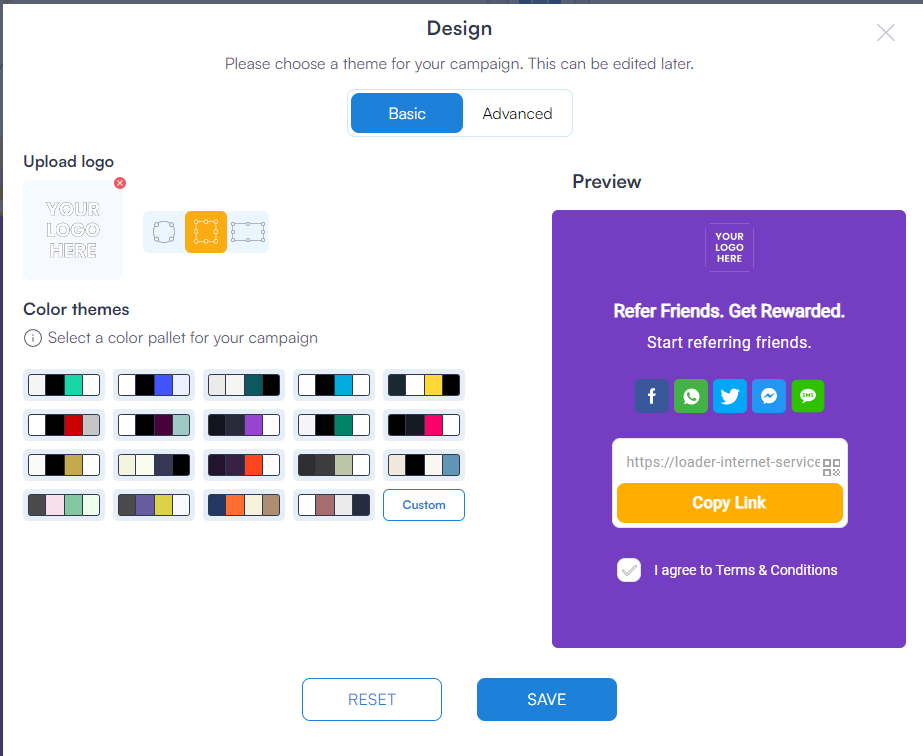 Once you are happy with your design (you can change things further than shown above by clicking on the Advanced tab), you can save your message.
The remaining steps will vary depending on what referral methods you selected when setting up your campaign. For example, if you already have people in your database, perhaps in your CRM, email contacts list, or logged into your website, you won't have to worry about setting up a page for people registering for your referral program. However, if you hope to gain referrals from people browsing your website, or simply want people to sign up for your program, you will need to make it easy for them to do so.
If you want to create a full campaign, covering every situation, you will need to go through the following campaign set-up stages:

As you edit each screen, you can change the text, images, videos, fields, ways to share to referrer, buttons, and designs. At the time of writing, Referral Factory indicated that gamification options were coming soon.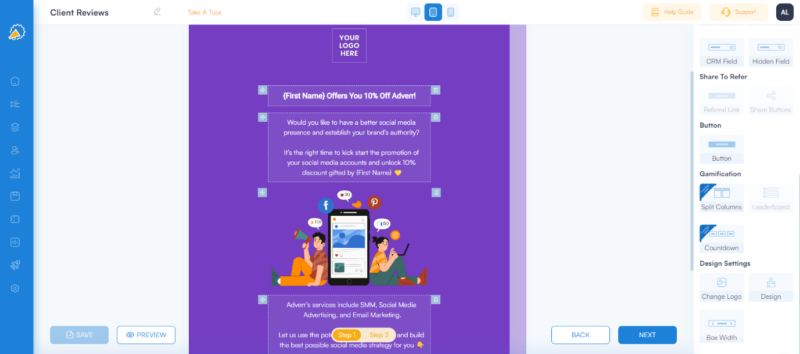 By default, your campaign lives on a subdomain of Referral Factory, however, for an additional $100/mo you can instead activate your own domain. In that case, users' referral links will be generated on your domain.
Referral Factory also lets you select settings like user verification alerts, add pixels for Google and Facebook, add a meta title and description, and more. You also get to customize notification emails to referrers.
In the next screen, you set up your campaign to send newly referred users out of Referral Factory (into your CRM, for instance), and also configure your integration to qualify those referred users when they convert.
In the penultimate setting-up screen, you create (or modify if using a template) the email design for the people referring when they join your campaign.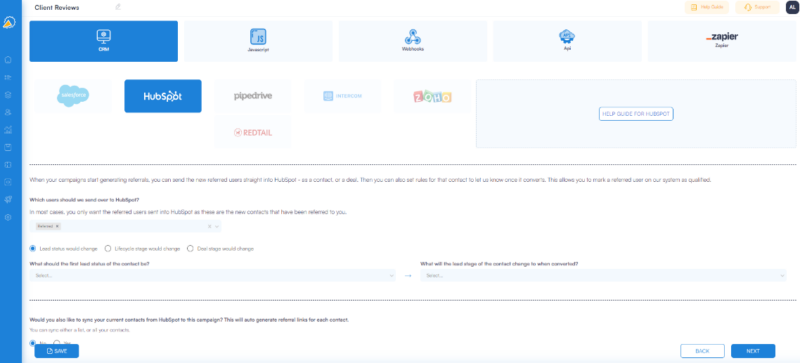 Finally, you go through the necessary steps to promote your referral campaign. Referral Factory offers a variety of options here:
Getting your join link, and letting people register to refer

Generating referral links for your CRM contacts

Installing a widget on your website or in your platform

Installing a pop-up on your website or your platform

Embedding your join link on your website

Uploading and emailing your contacts their referral links
In all cases, Referral Factory walks you through the required steps.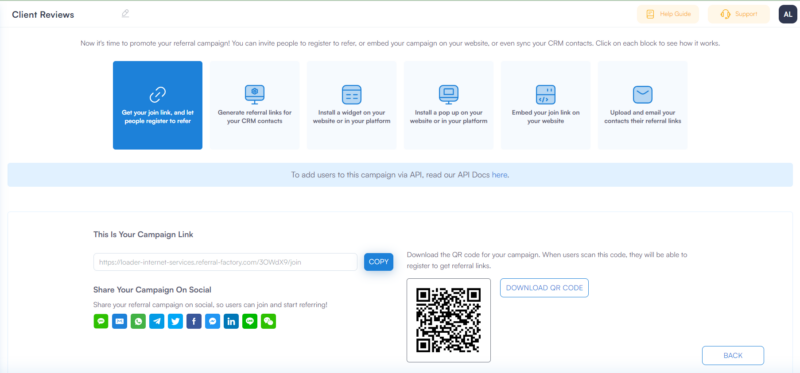 ---
Viewing Your Campaigns
At any time, you can view any campaign you've created on your Campaign page. This shows the details for each campaign, as well as relevant statistics and links to all relevant components. You can use it to monitor, modify, and experiment with each of your referral campaigns.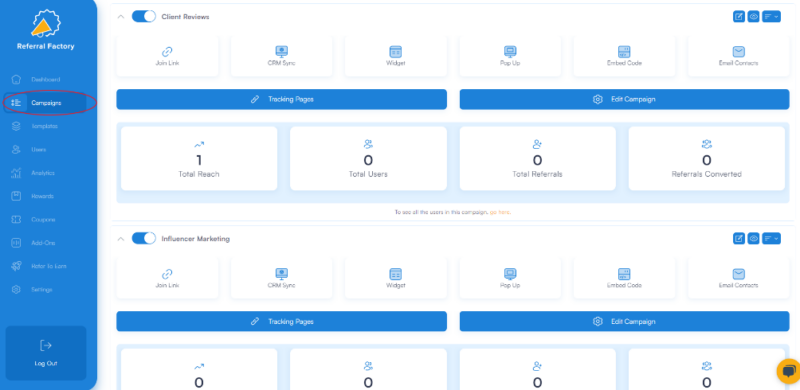 ---
Viewing Your Users
To see who's joined your program, click on the Users button in the left-hand menu. 
You'll find:
A list of all users

Email addresses used at sign up

Each user's reach

The number of referrals they've sent your way (and those qualified)

Referral codes used

The source - where the person came from to your campaign e.g., social or a website

Whether referrals have been verified, 

The option to take actions like deleting a referrer or qualifying them
You're also able to import and export referrer data. This is helpful for merging data in your CRM or when you have a list of people that you feel would benefit from your program.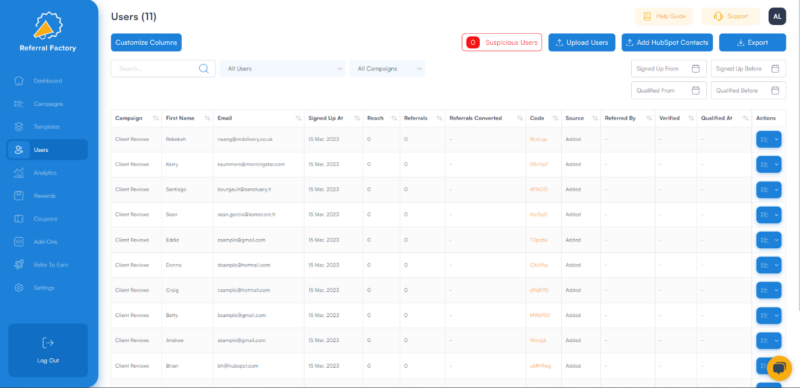 ---
Analytics
Of course, there is little point in setting up a referral campaign, if you don't know how it's doing. Referral Factory has an Analytics section where you can find much data relating to your campaigns, including your power users and how your users are sharing their referral links.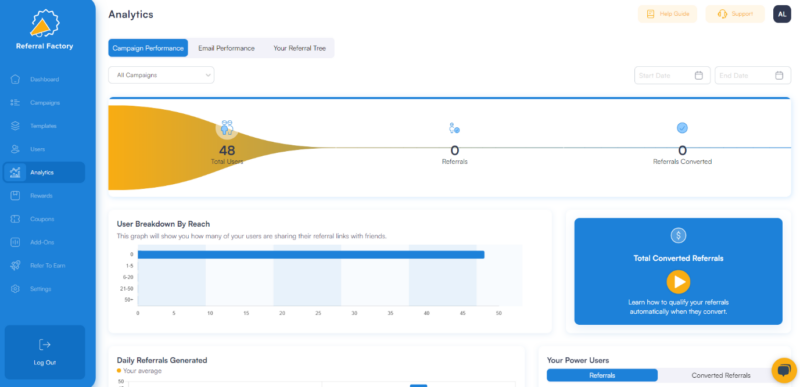 ---
Rewards
Referral Factory offers rewards through Tremendous out of the box. These include Amazon Vouchers, Cash Through a Digital Visa card, Cash through PayPal, charity donations, as well as the ability to load your own gift card reward or coupons to the platform.  They are also promoting that you will soon be able to offer rewards with Webhooks and Zapier. The rewards feature is designed to be flexible, and simple, all in one. Allowing you to decide what actions qualify for a reward (like referring a friend that converts), and how many actions should be taken before a reward is issued (like referring one, two, or five friends). You can also have multiple rewards per campaign.
You can easily set the rewards for your campaigns using the Rewards section of the left-hand menu.
---
Coupons
Referral Factory enables you to issue unique coupons to users who join your referral program - coupons can be used both as incentives for the people invited and as rewards for the people referring. 
Although these may appear very similar to Rewards (and are managed from the menu link beneath it), Referral Factory sees an important distinction. With the coupons feature, you upload your own list of coupons into your referral campaign having the value already on them. These coupons are created by you. With the rewards feature, however, you can reward users by purchasing rewards from Referral Factory (although you can also upload your own rewards program too).
---
Settings
Settings is where you'll find integration options and be able to update details on your account. These include the email address notifications are sent from, adding a Google Analytics account code, including a Facebook Pixel ID, creating webhooks, or obtaining your API access token. You can also connect with Referral Factory's reward partners, currently only Tremendous.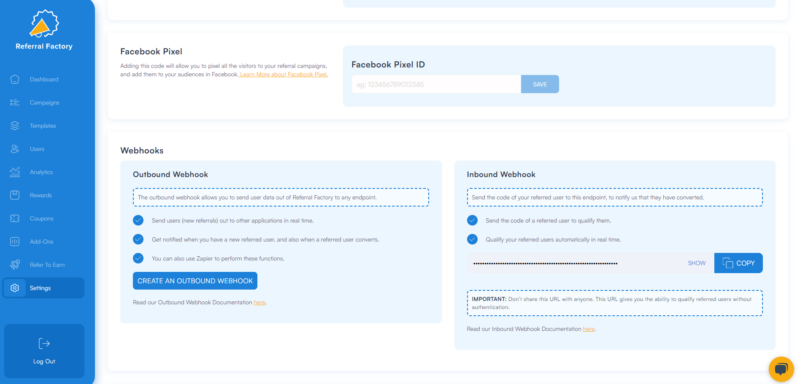 ---
Conclusion
Referral Factory is a referral marketing software platform. It includes all you need to create and manage successful referral programs. With it, you can invite referrers, offer single-sided and double-sided rewards, run competitions, and use other referral program models to incentivize your audience. You can also track the success of your program through your dashboard and prevent it from being abused with the help of verification and fraud alerts. For people who want integrations, it's also able to sync up with some CRMs, letting you import all sign-ups and assign lead status to them. Referral Factory is now placing more emphasis on its CRM integration, as it allows businesses can automate most of their referral programs using the CRM workflows they already use.
The company has recently upgraded its product and now offers over 200 referral rewards and incentives, a new page builder, new widgets, and pop-ups, a dedicated onboarding team, and many more tools to help businesses get more referrals and grow.
Referral Factory is easily the perfect fit for brands of all sizes. Its feature set, easy-to-use interface, and integrations make it a tool anyone can turn to and quickly churn out a professional referral program. It's also affordable and offers three plans that appeal to any brand's budget.
Frequently Asked Questions
What is Referral Factory Pricing?
Starter: $95/mo
Basic: $200/mo
Pro: $300/mo
Does Referral Factory offer integrations?
Yes. Integrations include Zoho, HubSpot, Pipedrive, Salesforce, Intercom, and Redtail. You can also use Zapier, a flexible API, or create webhooks.
Does it come with referral tracking?
Yes. Referral Factory tracks the success of every referrer in your program. It also sends user notifications to referrers when someone uses their referral code.
Is this referral software free?
Referral Factory offers a 15-day no-credit card trial.
Is this easy to use and simple referral software?
It is. Referral Factory's interface is as intuitive as it can be for a referral software platform. You don't need to be a developer or coder to create campaigns or track the success of your programs.
Referral Factory
Features

Ease of Use

Support
Best for:
Flexible referral software for any business of any size.