If you're reading this, it's a good bet that you're interested in creating—or improving—your social media marketing strategy. That's great! Social media marketing is a must these days, and a detailed social media marketing strategy can make or break your marketing efforts. With an effective strategy in place, you'll be able to use social media to drive leads and sales, connect with the right influencers, grow your website traffic, and increase brand awareness.
Creating a social media marketing strategy that gets results can take a lot of time and effort. However, in this article, we're going to make it easy, breaking down the process, step by step. We've got a lot to cover, so let's dive right in!
---
How to Create a Powerful Social Media Marketing Strategy Step-by-Step:
---
Creating a Social Media Marketing Strategy Step-by-Step
As you've probably guessed, it takes more than just signing up for different social media platforms and sharing a bunch of content to achieve social media marketing success. Despite all of the moving pieces, we've put together this guide to help you develop a social media marketing strategy with as little pain and frustration as possible.
---
Conduct a Social Media Audit
Before you start making changes to your social media marketing campaigns, take the time to assess where you are with a social media audit. What are you currently posting on social media? What platforms are you using? What do your social media metrics look like? If you're not meeting your goals, dig a little deeper to find out why.
Don't forget to also look at your profiles. How are you representing your brand on each platform? Are you being consistent? Make notes of what you're sharing in your bio on each platform and make sure that it shows off the brand personality you want to convey.
---
Research Your Competition
Now that you know what's going on with your online presence, take a look at your competitors, too. Start with a list of your top competitors and which social media platforms they use. What kind of engagement are they getting on their content? Consider using social listening tools to find key information about your competitors that will help you in creating your own social media marketing strategy. Here's an example from Brand24 of the reporting you'll find in many social listening tools:
---
Set Goals and Objectives
Now it's time to set goals and objectives that make sense for your business. What do you hope to achieve with your social media marketing? You may have multiple goals and objectives, and that's okay. It's important to get them down so you can build your strategy around those goals. If your goal is community building, for example, that's going to involve different tactics than if your goal is to increase sales. Later, as you build out your social media marketing plan, you'll want to consider all of your goals to ensure that you're creating content around each of them.
While it's important to keep your goals reasonable and attainable, don't be afraid to set goals that make you a little uncomfortable, scared, and excited. Here are a few example goals you might want to consider for your social media marketing strategy:
Increase brand awareness

Generate more leads and sales

Increase community engagement

Grow your audience
Remember, this is just a small list of examples. There are tons of other goals you can set related to social media. Plus, you can (and probably will) set more than one goal.
---
Establish Important Metrics and KPIs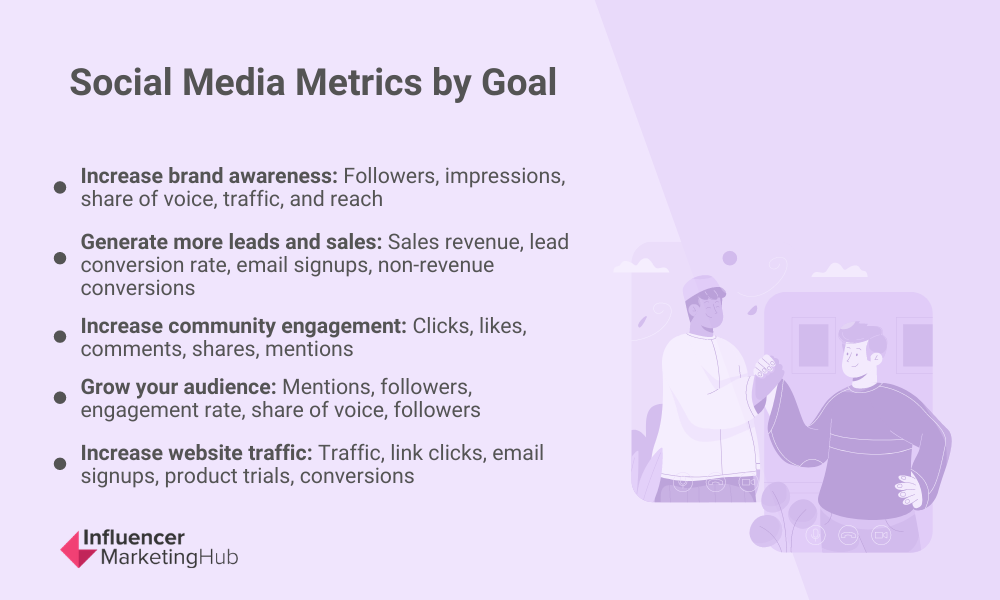 With your goals in hand, you're now ready to figure out the social media metrics and KPIs you need to track to ensure that you're on track to meet those goals. KPIs are important because knowing where you stand will help you make data-driven marketing decisions. Here are some of the more common metrics social media marketers track:
Reach.

The number of unique users who saw your post.

Engagement.

The number of interactions on your posts divided by the number of impressions.

Clicks.

The number of clicks on your posts or profile.

Likes.

Interactions involving both paid and organic content.

Hashtag performance.

The hashtags most associated with and used by your brand.

Sentiment.

How users react to your brand on social media.
So, how do you attach KPIs to goals? Let's take a look at the KPIs associated with the goals we discussed in the previous section:
Increase brand awareness:

Followers, impressions, share of voice, traffic, and reach

Generate more leads and sales:

Sales revenue, lead conversion rate, email signups, non-revenue conversions

Increase community engagement:

Clicks, likes, comments, shares, mentions

Grow your audience:

Mentions, followers, engagement rate, share of voice, followers

Increase website traffic:

Traffic, link clicks, email signups, product trials, conversions
Ultimately, the KPIs you decide to track are going to be the ones that are most important to your business and that give you the insights into your social media marketing that you want.
---
Identify Your Target Audience
The next step in creating your social media marketing strategy is to identify your target audience. While it may be a nice ego boost to see your social media profiles rack up a high follower count, having engaged followers is much more beneficial to your brand. The audience you should be targeting is the people who interact with you, the ones who are interested in what you have to say and who might actually convert into high-quality leads or sales.
We recommend creating buyer personas for each unique audience you hope to reach. To create these personas, you'll need to learn more about them like where they are, what they like, how old they are, where they work, how much they earn, and more. Your audience will probably vary depending on which social media platform you're looking at, so research each network to get all the pertinent data on your target audience segments.
---
Choose the Right Social Media Platforms
You may find, in the research of your target audience, that your target audience is either not well-represented on a platform you're investing time and money in, or your target audience is on social media platforms that you're not using. You don't have to have an account everywhere, but you do need to have an active presence wherever your target audience is.
Facebook, Instagram, and YouTube tend to be pretty safe bets for marketing because those platforms have such enormous reach. However, different platforms draw different audiences. TikTok, for example, is popular with Gen Z and Millennial users but not as popular with Gen X and Boomers (though those audiences are growing on the platform). On Pinterest, the vast majority of users identify as women. LinkedIn's population tends to be well-educated professionals. When you're thinking about which social media platforms to include in your social media marketing platform, go with the platforms where your audience hangs out.
---
Develop a Strong Social Media Marketing Plan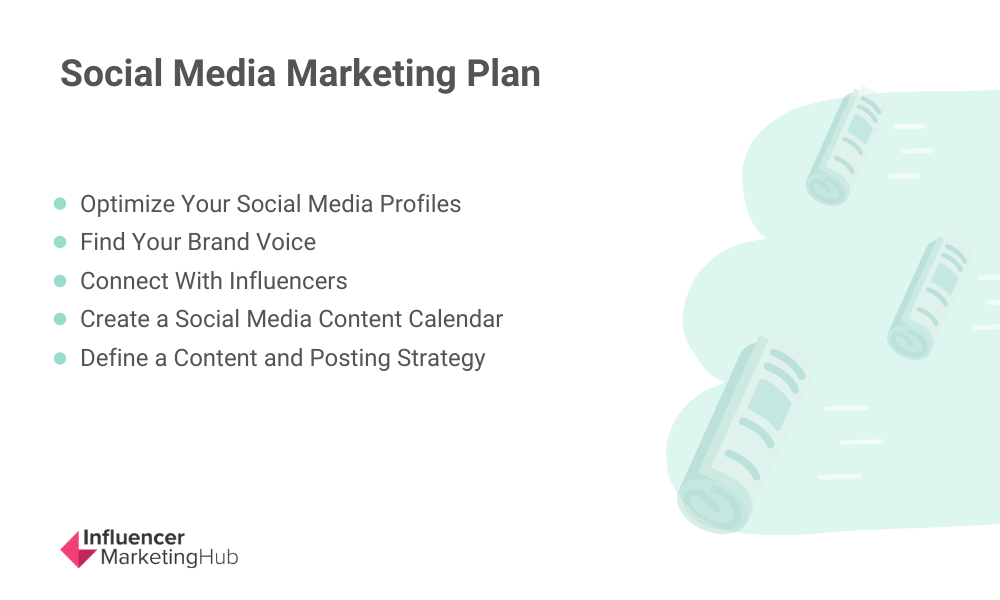 At this point in creating your strategy, you'll start putting together a social media marketing plan. This plan is your outline for how you'll put your strategy into action—the actions you'll take and when. Here is where your social media marketing strategy will really come together and lay the groundwork for implementation.
Optimize Your Social Media Profiles
Your social media marketing plan starts with optimizing your social media profiles. Your profiles should be completely filled out and should include photos and cover photos to make your brand appear professional. It's important to use consistent visuals across platforms but the information you include in the written part of your profile should be optimized for each specific platform. You'll still include roughly the same information, but you might present it in a different way depending on the platform. When planning out what you'll say in your profiles, keep it simple and straightforward. Use keywords but avoid jargon and buzzwords that can confuse and intimidate people not "in the know" about your industry.
Find Your Brand Voice
One of the most fun aspects of developing your social media marketing plan is defining your brand voice and tone. This is an extension of your brand personality and will impact how you communicate with your audience, as well as the type of relationship you have with them. Do you want to be seen as corporate and stable? Quirky and fun? A healthy mix of the two? Think about 3–5 adjectives you want your audience to use to describe your brand and build your voice around those.
Connect With Influencers
There's a reason that influencer marketing is so popular. Influencers can help your brand increase engagement, boost brand awareness, build trust, and a host of other things that will translate to a stronger bottom line. Look for influencers that specialize in the platforms you're going to be using and whose audience overlaps with yours. If you can find an influencer who is already passionate about your products, even better.
Create a Social Media Content Calendar
If you want to maintain a consistent social media presence and get the best return on your content, you have to have a social media content calendar. Not only will it help you keep to a posting schedule but you'll be able to quickly and easily see if there are any gaps in the types of social media content you're creating and publishing or if you're skimping on posts to a particular platform. You'll also be able to see if you're posting a good mix of promotional and valuable content for your followers.
Define a Content and Posting Strategy
If you've created a content calendar, this one should be easy. In addition to your own content (that mix of promotional and valuable content we just mentioned), your content and posting strategy should also include curated content from influencers and thought leaders in your industry that will benefit your followers.
When it comes to posting, you'll want to think about what to post and when, as well as how often you're going to post on each platform. While there's no hard rule about how often to post, there has been research on the subject. Here's what the research suggests are optimal times to post on social media by platform:
Facebook:

Post a minimum of 1–3 times per week, ideally once per day.

Twitter:

Post a minimum of 1–6 times per day, ideally 15–23 times per day.

Pinterest:

Post a minimum of 1–5 times per day, ideally 10–25 times per day.

Instagram:

Post a minimum of 1–3 times per week, ideally 1–2 times per day.

LinkedIn:

Post at least twice per week, no more than once per day.

YouTube:

Stick to an established schedule, ideally upload at least one video per week.

Your Blog:

Publish something at least once a month, ideally 1–3 times per week.
To find the sweet spot for your specific audience, start testing different posting frequencies and check your analytics to see what impact the changes have on your engagement. You'll also want to be sure to schedule your social media posts on each platform when your audience is active and most likely to see your content.
---
Implement Your Social Media Marketing Strategy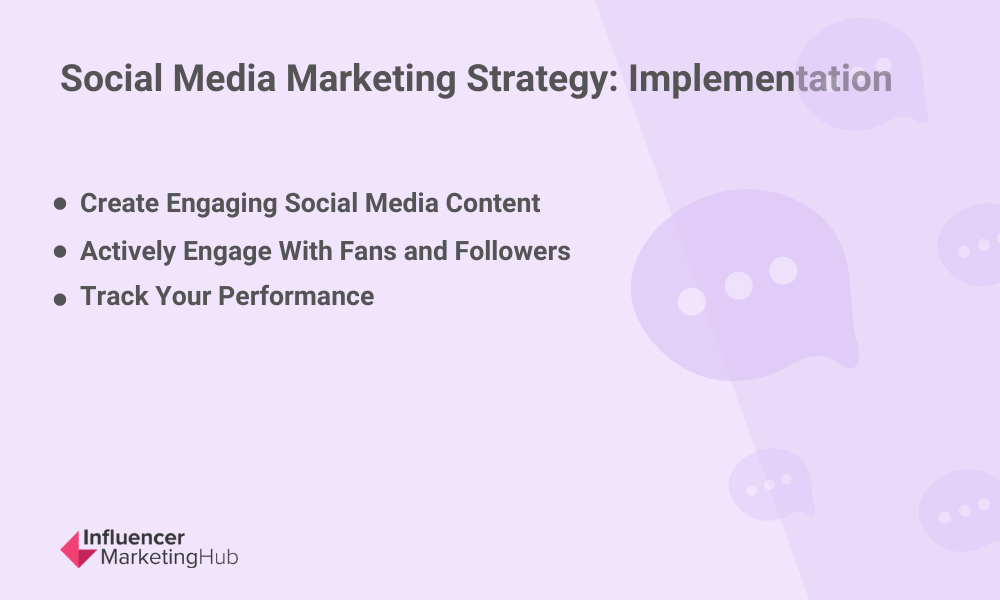 It's finally time to implement your social media marketing strategy. Exciting, isn't it? Here's where all of the work you've put into creating your strategy and plan comes together. Don't worry about getting it "right." There's no such thing. A huge part of the fun of implementing your strategy is that you'll be able to see how it works and make adjustments to improve it.
Implementing your social media marketing strategy involves four key tasks:
Creating engaging content

Posting your content at the best time for your followers

Engaging with your followers

Tracking the performance of your social media marketing
Let's take a closer look at each task.
---
Create Engaging Social Media Content
You have tons of options when it comes to creating social media content that your followers are going to love. To make sure you don't get stuck on one type of content, here are a few content ideas that we recommend:
Instagram Stories.

Stories

are exciting to Instagram users because, unless you add them to your highlights, they aren't available after 24 hours. This inspires a sense of FOMO (fear of missing out) that will make your audience turn to your Stories as soon as they open Instagram.

Candid and personable content.

Social media is social. As such, your followers are looking to make a human connection with the people behind the brand. While every post doesn't have to be personal or candid, it's important to add in some relatable content so your followers keep in mind that there are real people in your company who care about them as people, not as dollars.

Short-form video.

TikTok

is popular for a reason. People love those short, easy to consume videos. If your target audience isn't on TikTok, give

Instagram Reels

a try to meet your short-form video content needs.
---
Actively Engage With Fans and Followers
In addition to posting meaningful content for your followers, you'll need to be ready to engage with them in the comments. You can automate this process to a certain extent on many social media platforms, but there's really no substitute for authentic engagement. Take the time to see what your followers are saying to and about your brand and reply to their comments as often as possible.
Some of your followers might also be customers who reach out to you on social media to get customer support. If you wait days and days before replying, or don't reply at all, there's a good chance that your customer won't be a return customer (and might also have turned off a few potential customers in the process). A safer bet is to just reply.
---
Track Your Performance
One of the most important things you can do to ensure that your efforts pay off is to track the performance of your social media marketing campaigns. While most social media platforms have their own analytics, it can save you tons of time to use a social media analytics tool that can show you your performance across social media platforms from a single place. Here's a look at analytics tool Agorapulse showing the best times to post:
Don't just look at your analytics, say "oh, okay," and forget about them, either.
Dig deep to find out where your content is bringing you closer to your goals and where it isn't. Stop doing what's working and trade that for more of the content that's working. Test something else entirely. And don't get stuck just looking at vanity metrics. Really examine your analytics to make sure you're meeting important social media benchmarks.
---
Conclusion
There you have it! Eight steps to creating a social media marketing strategy that will help you meet your goals. We highly recommend working through each step in order to get the best results from your efforts since each step is designed to build on the next. Once you've reached Step 8, it's all about creating, publishing, engaging, and tracking your performance so you can change up your tactics to get even better results.
Treat your social media marketing strategy as a living document to get the most out of it. Social media changes fast, and it's important to be able to adapt your strategy as needed. You may want to check out our guide to agile marketing to find some tactics that will help keep your marketing nimble. Other than that, enjoy reaping the benefits of your smart social media marketing strategy!