Advertising Disclosure
Advertising disclosure:
Our partners compensate us. This may influence which products or services we review (also where and how those products appear on the site), this in no way affects our recommendations or the advice we offer. Our reviews are based on years of experience and countless hours of research. Our partners cannot pay us to guarantee favorable reviews of their products or services.
With consumers expecting a unified brand experience across different touchpoints, businesses are compelled to turn to social CRM (customer relationship management). This gives them better visibility into customer information, allowing them to deliver a consistent experience across multiple channels. However, a social CRM strategy is only as good as the tools you're using.
In this post, we provide you with some tips on how to find the perfect social CRM tool for your business. To make your search easier, we also narrow down the best social CRM software tools you should consider using. Let's take a look.
---
Top 9 best Social CRM Software Tools:
---
What to Look for in Social CRM Software
What makes a good social CRM software solution? This is the first thing you need to ask before you compare your options. Ideally, the tool should be able to address your specific business requirements. That means it should be able to track the metrics that are important to you and it should have the features you need for performing your desired actions.
Moreover, you should also ensure that the software plan fits your budget. Beyond these basics, it's useful to have the following features in your social CRM software platform.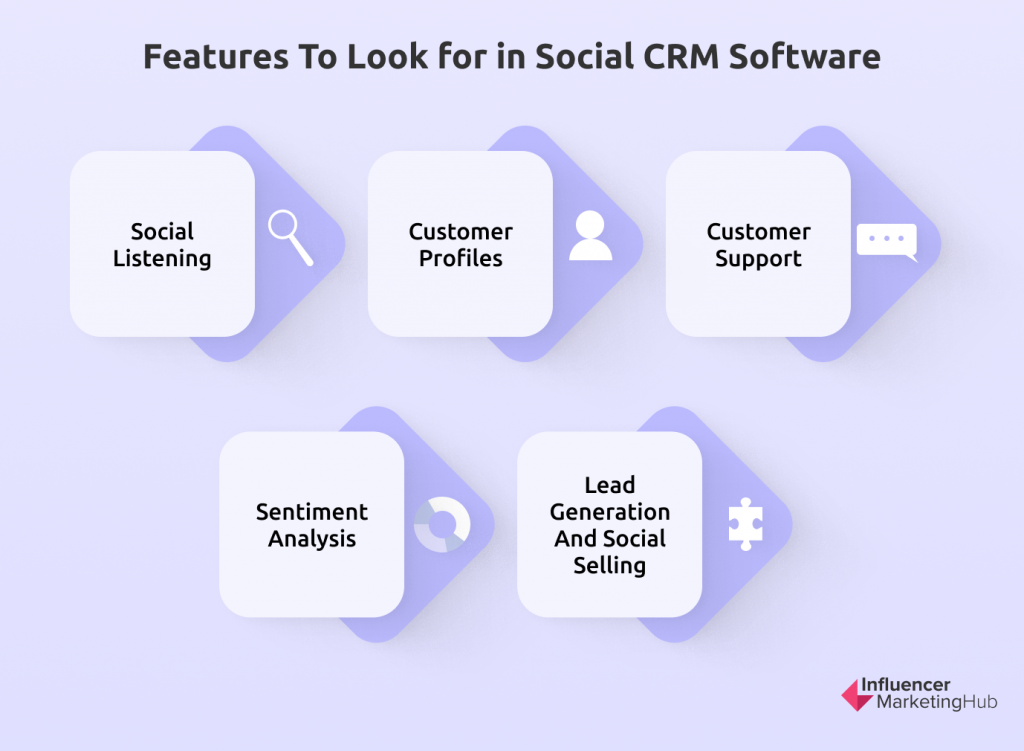 Social Listening
The ability to listen in on social media conversations is crucial to get a more complete picture of your audience. Monitoring certain keywords could help reveal potential leads so you can quickly follow up with an appropriate offer. Alternatively, social listening could also help you identify customer support opportunities and provide fast resolutions to customer complaints.
Customer Profiles
Your social CRM software should be able to pull data from social profiles to enrich your existing customer database. This would involve automatically updating your database with the latest information available on your audience's social media profiles. By getting the most updated details about your audience, you can reach out to them with the most relevant offers and improve your targeting.
Customer Support
Look for a social CRM solution that enables you to deliver a seamless customer support experience across different channels. It should be able to consolidate conversations from multiple channels and provide context for each customer interaction. Moreover, you should be able to easily respond through a unified inbox.
Sentiment Analysis
Some social CRM platforms also come with sentiment analysis to better understand your audience. This helps you understand the underlying sentiment behind a social media post or comment so you can come up with an appropriate response. It's also essential for gauging how people feel about your brand in general.
Lead Generation and Social Selling
You can also find social CRM software platforms that come with built-in tools for generating leads and selling on social media. These tools monitor the social activity of your audience and automatically add them as leads. They can also pull social data and use it to enrich your contacts, which will enable your sales teams to follow up at the right time.
---
Best Social CRM Software Tools
Now that you have some idea of what you need in a social CRM solution, it's time to find out which tools offer these features. Let's take a look at some of the best social CRM software tools in the market.
Top
social crm software
2024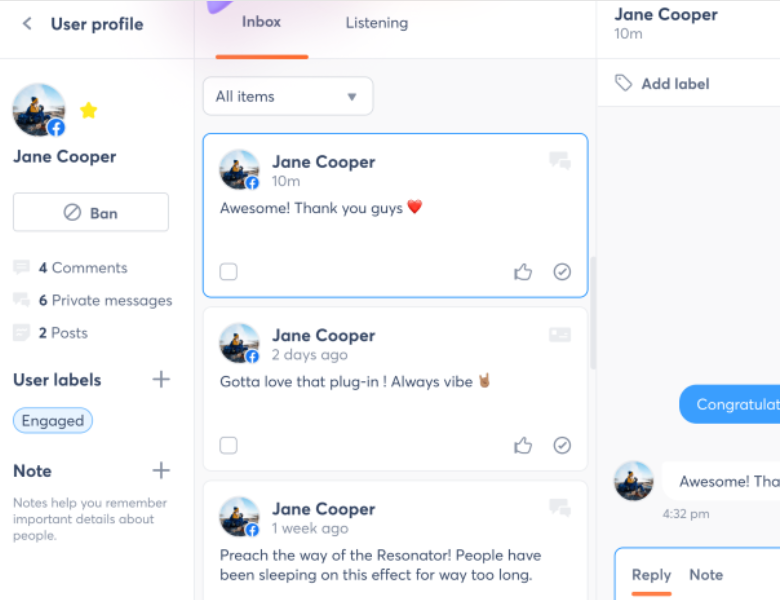 Essentially a social media management platform, Agorapulse comes with a unified inbox to monitor, manage, and respond to conversations across major social networks. This inbox shows you the sender's name and profile associated with each mention and comment. You can then use labels to neatly categorize users or even add internal notes that will provide your team with context before they respond to the conversation.
Agorapulse can complement your social media advertising efforts by synchronizing all the comments from your Facebook and Instagram ads. This makes it easy to spot prospects and quickly follow up with the answers and offers they're looking for.
The platform also comes with social listening features so you can keep track of what people are saying about your brand, competitors, or industry. This allows you to quickly respond to urgent conversations that mention your brand so you can manage a crisis before it escalates or follow up with a lead.
---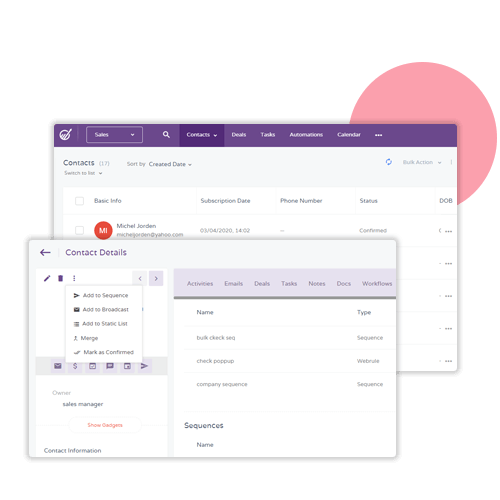 This all-in-one CRM software allows you to manage your marketing, sales, and support in one place. You can use it to build comprehensive profiles for your contacts using data from multiple touchpoints including social media profiles, points of engagement, communication history, lead scores, and more. This gives you a 360-degree view of each of your customers on a single dashboard, enabling you to reach out to them with the most relevant offers and personalize their experience.
EngageBay ensures visibility of important contact details across all teams. So for example, sales reps can instantly view the lead score and historical data for each prospect, allowing them to take appropriate follow-up actions.
---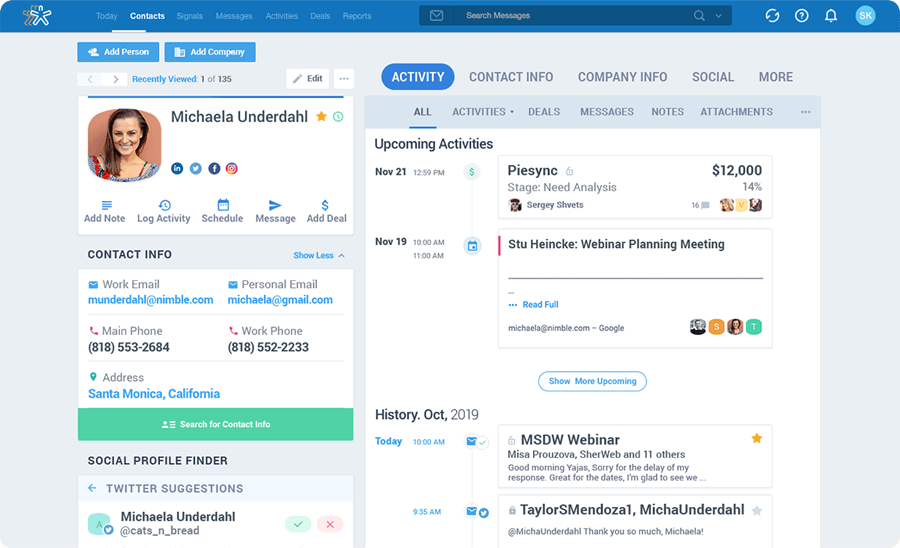 Nimble is a relationship-focused CRM platform that organizes your contacts and unifies your interaction history. It serves as a unified relationship manager to combine all your contacts, communications, social media connections, and inboxes from over 160 apps. This gives you a comprehensive look at your relationships with customers and provides context to the conversation.
The platform helps you with your social prospecting efforts by delivering essential details about your contacts. So you can gain insights into who people are, where they're from, which company they're working for, and how many employees are there. All of these details enable you to narrow down your hottest prospects so you can prioritize them in your outreach.
Nimble organizes your outreach efforts by letting you segment your contacts so you can send personalized emails relevant to each contact. You can even segment leads based on their likelihood to close, which makes it easier to follow up accordingly. These emails are then trackable so you can easily measure their performance in terms of opens and clicks.
---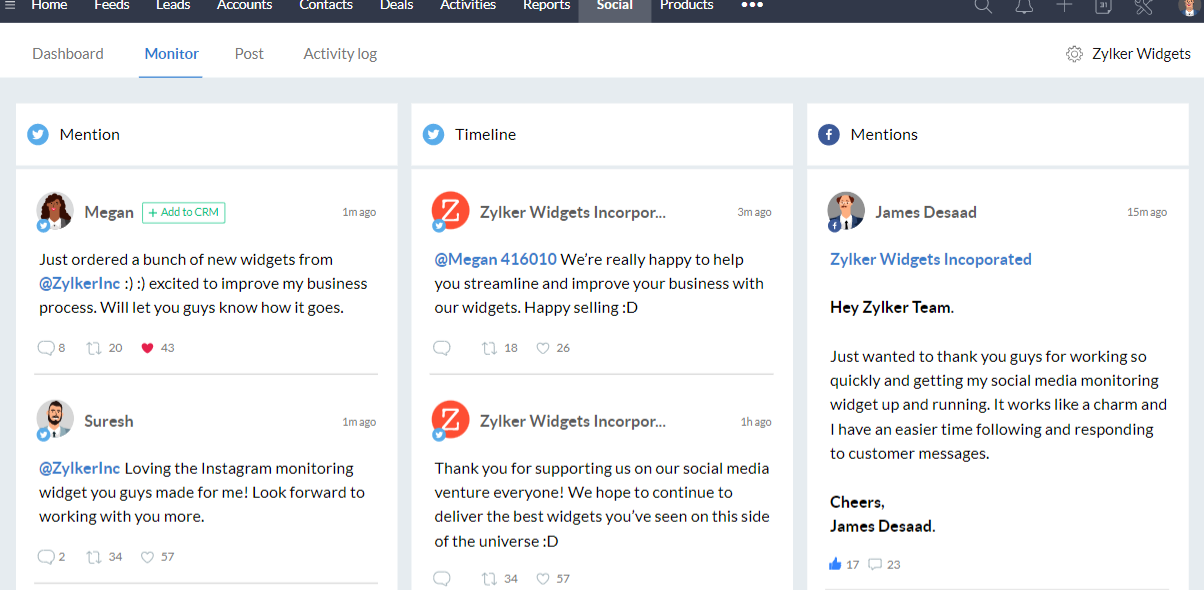 Zoho CRM is a robust CRM platform that comes with built-in functionalities to manage your social media. It allows you to keep track of activities across multiple social networks and analyze posts, comments, shares, mentions, and messages. Based on these interactions, the platform lets you create automated lead generation workflows triggered by specific consumer actions such as sharing a post or messaging you on social media.
The platform integrates with leading social media platforms such as Facebook and Twitter, allowing you to monitor and manage consumer interactions in one place. Moreover, this unified experience isn't just limited to social media but also other communication channels such as email, live chats, and even phone calls.
To provide a more comprehensive understanding of your audience, Zoho CRM comes with social listening capabilities so you can monitor social conversations around your brand and industry. This helps you to understand what your customers want so you can fine-tune your strategies and deliver even better service.
---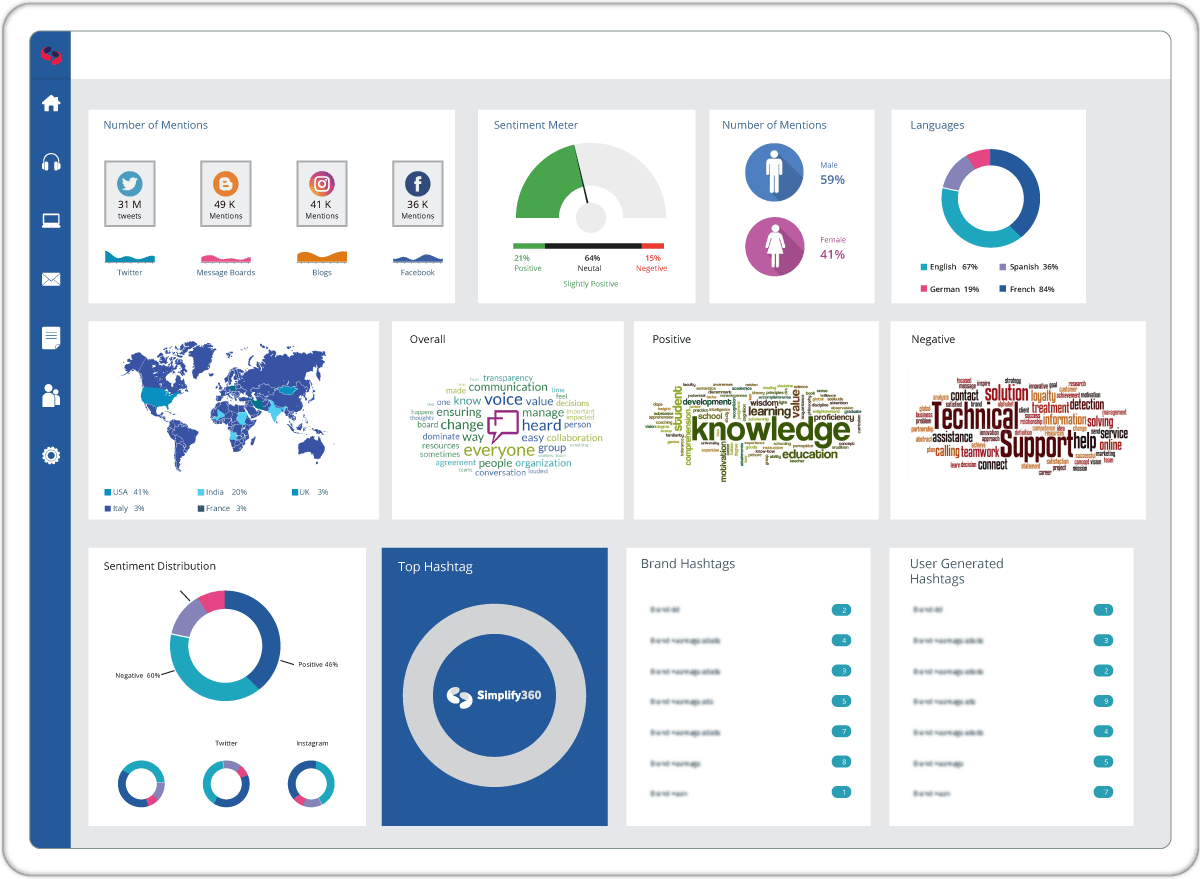 Simplify360 is an omnichannel customer experience platform that allows you to manage all your customer interactions from a single dashboard. You can use it to monitor conversations in real-time across all touchpoints including major social networks, email, and instant messengers. So you can provide timely responses and enhance the customer experience.
The platform offers robust features to manage your digital customer service in one place. You can easily open tickets, assign them to team members, and respond to customer support requests. Simplify360 even allows you to focus on high-priority cases in the queue to prevent issues from escalating.
The platform comes with social listening capabilities so you can keep track of brand mentions and branded hashtags on social media. This provides you with valuable social insights to better understand your audience and develop more impactful strategies. You can also use key metrics like number of mentions, mention distribution, sentiment distribution, and number of messages to measure your performance.
---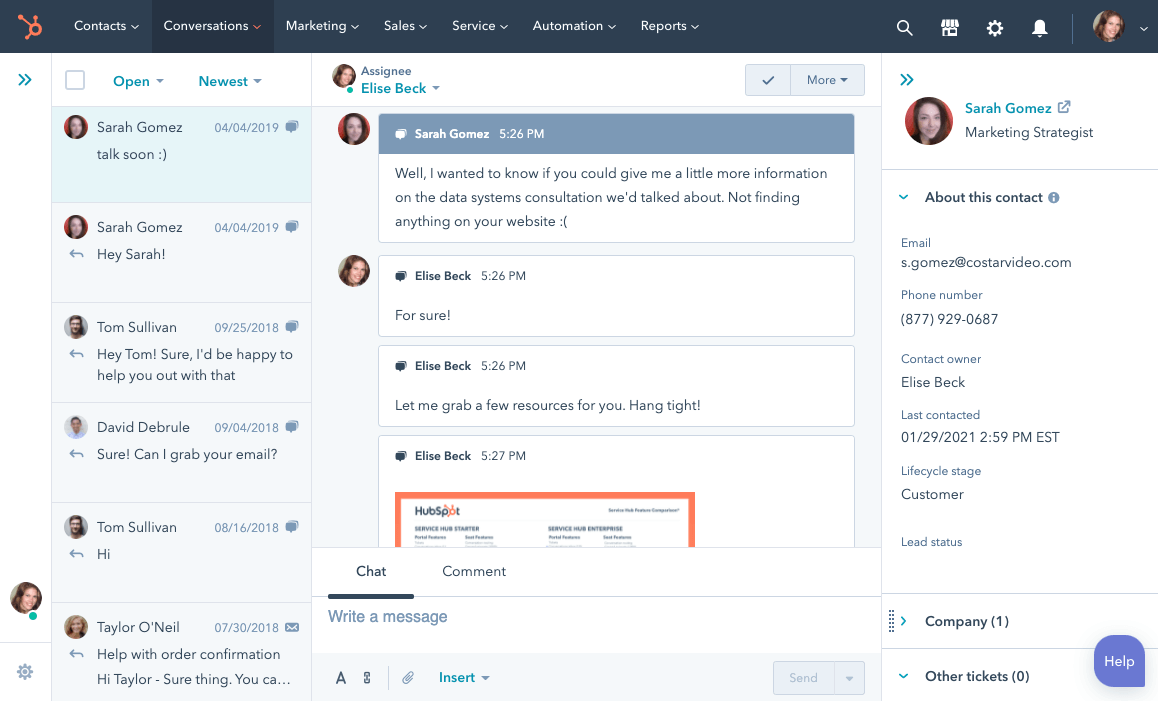 HubSpot CRM is one of the best free CRM solutions out there, providing valuable features that can be utilized across teams including sales, marketing, customer service, and operations. The platform automatically enriches your contact database with data from millions of businesses so you can get comprehensive information about prospects and existing customers.
It comes with a universal inbox where you can get a centralized view of your customer interactions and offer better visibility across all teams. From this inbox, your team can view conversations from any channel, assign them to relevant team members, and respond to your customers seamlessly.
In addition, it integrates with your CRM to provide each team with the context they need to deliver seamless customer experiences. This allows them to personalize their conversations based on open tickets, past conversations, and contact details. So customers don't have to repeat the same information over and over again and instead, get the help they need effortlessly.
---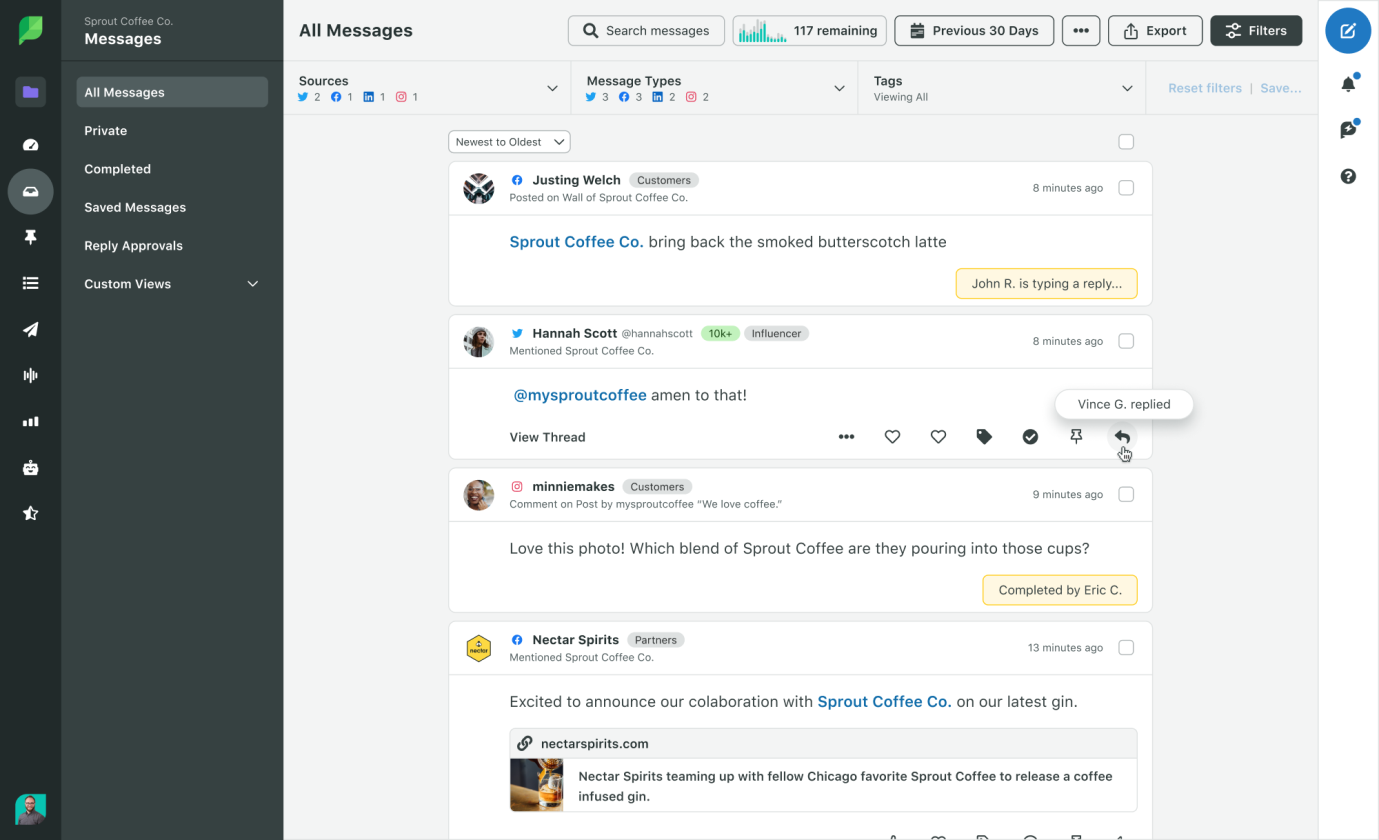 SproutSocial offers a powerful suite of social media management tools that focus on listening, publishing, engagement, analytics, and advocacy. The Smart Inbox unifies all your customer interactions into a single stream, where you can monitor incoming messages from connected networks and provide quick responses. It provides you with access to conversation histories and contact information so you can gain context to your customer interactions and personalize your responses.
The platform alerts you when there's a sudden spike in messages so you can spot crises before they escalate and respond to time-sensitive events or urgent situations. It seamlessly integrates with your CRM and helpdesk, enabling you to streamline your customer interactions across multiple touchpoints.
SproutSocial also comes with a social listening tool that monitors conversations across major social networks such as Twitter, Facebook, Instagram, Reddit, YouTube, and other websites. This helps you keep track of relevant conversations to understand brand health and consumer sentiment. It also enables you to keep up with industry trends and use the insights to generate content ideas, make product improvements, and identify key influencers.
---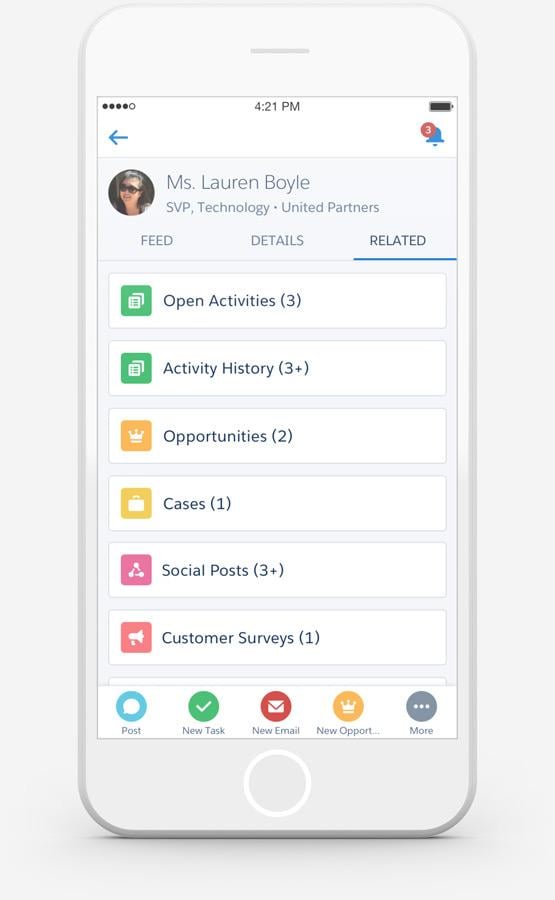 The Salesforce Sales Cloud provides you with a holistic view of every customer and enables you to strengthen your relationship with them. The CRM software gives you access to contact information, activity history, and customer communications so you can gain insights on how to effectively engage them.
For enhanced collaboration, the software allows different teams to share relevant insights and documents on each contact so you can enrich your database even further. It even pulls data from your customers' social content so you can see what they're saying about your brand and its products or services. This is crucial for understanding what your customers want from you and whether they have unmet needs you need to address.
---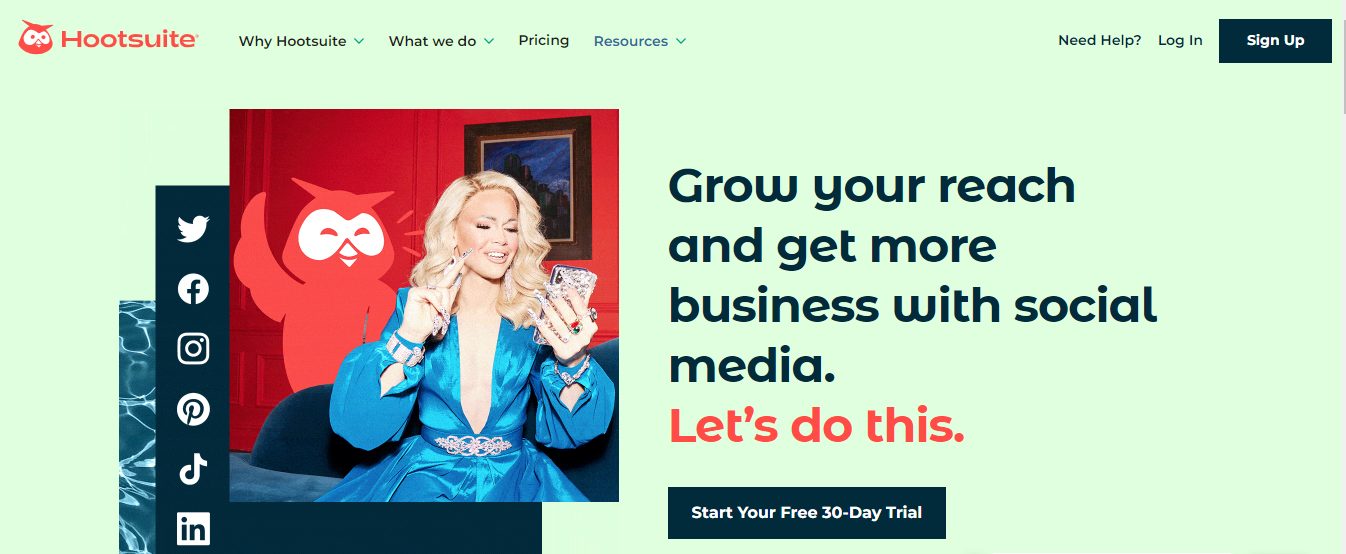 The social media marketing and management dashboard from Hootsuite allows you to manage all your customer care channels in one place. This includes social media, SMS, apps, WhatsApp, and live chat. It integrates with your existing CRM to provide you with a unified dashboard for managing all your customer interactions and gaining a full view of your customers.
This provides every team with the context they need to deliver seamless and personalized customer service. Customers no longer have to constantly reiterate their problems or go back and forth between different teams. As such, support teams can handle support requests more effectively while sales can follow up with highly relevant offers.
The monitoring feature allows you to set up custom streams so you can stay on top of the latest conversations around important topics. Hootsuite monitors millions of conversations online, which enables you to identify industry thought leaders and understand brand perception. Moreover, you get instant alerts in case of sudden spikes in brand mentions so you can respond immediately–whether it requires crisis management or leveraging a marketing opportunity.
---
Finding the Best Social CRM Software Tool
These top nine best social CRM software tools all come with powerful features that will help you build a streamlined customer experience. While they all offer a unified inbox to manage all your customer interactions, others even come with social listening capabilities to enhance your understanding of your target audience. Check out the unique features they offer and compare prices to narrow down the best option for your business.