With consumers expecting a unified brand experience across different touchpoints, businesses are compelled to turn to social CRM (customer relationship management). This gives them better visibility into customer information, allowing them to deliver a consistent experience across multiple channels. However, a social CRM strategy is only as good as the tools you're using.
In this post, we provide you with some tips on how to find the perfect social CRM tool for your business. To make your search easier, we also narrow down the best social CRM software tools you should consider using. Let's take a look.
---
Top 9 best Social CRM Software Tools:
---
What to Look for in Social CRM Software
What makes a good social CRM software solution? This is the first thing you need to ask before you compare your options. Ideally, the tool should be able to address your specific business requirements. That means it should be able to track the metrics that are important to you and it should have the features you need for performing your desired actions.
Moreover, you should also ensure that the software plan fits your budget. Beyond these basics, it's useful to have the following features in your social CRM software platform.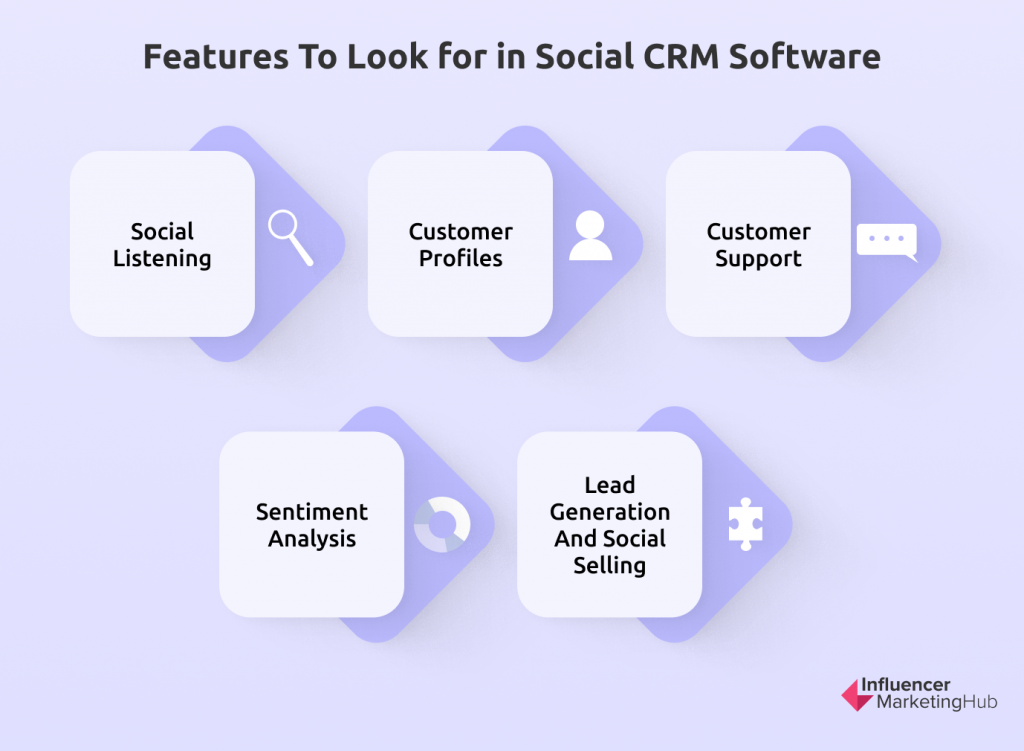 Social Listening
The ability to listen in on social media conversations is crucial to get a more complete picture of your audience. Monitoring certain keywords could help reveal potential leads so you can quickly follow up with an appropriate offer. Alternatively, social listening could also help you identify customer support opportunities and provide fast resolutions to customer complaints.
Customer Profiles
Your social CRM software should be able to pull data from social profiles to enrich your existing customer database. This would involve automatically updating your database with the latest information available on your audience's social media profiles. By getting the most updated details about your audience, you can reach out to them with the most relevant offers and improve your targeting.
Customer Support
Look for a social CRM solution that enables you to deliver a seamless customer support experience across different channels. It should be able to consolidate conversations from multiple channels and provide context for each customer interaction. Moreover, you should be able to easily respond through a unified inbox.
Sentiment Analysis
Some social CRM platforms also come with sentiment analysis to better understand your audience. This helps you understand the underlying sentiment behind a social media post or comment so you can come up with an appropriate response. It's also essential for gauging how people feel about your brand in general.
Lead Generation and Social Selling
You can also find social CRM software platforms that come with built-in tools for generating leads and selling on social media. These tools monitor the social activity of your audience and automatically add them as leads. They can also pull social data and use it to enrich your contacts, which will enable your sales teams to follow up at the right time.
---
Best Social CRM Software Tools
Now that you have some idea of what you need in a social CRM solution, it's time to find out which tools offer these features. Let's take a look at some of the best social CRM software tools in the market.
---
---
---
---
---
---
---
---
---
Finding the Best Social CRM Software Tool
These top nine best social CRM software tools all come with powerful features that will help you build a streamlined customer experience. While they all offer a unified inbox to manage all your customer interactions, others even come with social listening capabilities to enhance your understanding of your target audience. Check out the unique features they offer and compare prices to narrow down the best option for your business.