Over the last few years many brands have discovered the benefits of using social media to help sell their products. Some simply utilize their social media channels to build brand awareness, often directing traffic to their main online shop. Many set up specialist landing pages or sites for specific campaigns, and use their social account to direct traffic to these sites. And then there is a third group of companies who go in "boots and all". They engage in social commerce. Not only do they build awareness using their social accounts, they sell directly from their social pages.
In this post, we look at some of the companies who have recognized social media's popularity and have featured their social channels as a centerpiece to their marketing activities.
---
11 Social Selling Examples to Help You Increase Your Reach:
---
1. Nordstrom
Nordstrom was one of the earliest advocates of social commerce. They were showcasing many of their products on Pinterest as far back as 2013. They now have over 5 million followers to their official Pinterest account and can claim to receive more than 10 million monthly viewers.
Nordstrom is a fashion specialty retailer pinning women's fashion and men's style. Their Pinterest account highlights their favorite dresses, handbags, shoes, cosmetics, jewelry, home decor, and more. They use Buyable Pins where appropriate, allowing their customers to buy directly from within Pinterest.
They even emphasize those products popular on Pinterest in their physical stores by attaching a large tag with the Pinterest logo to their more popular products. This means that they can offer the social experience to those shopping in-store.
Nordstrom even created an in-store app for salespeople matching up popular Pinterest items with current inventory for a department on a store-by-store basis.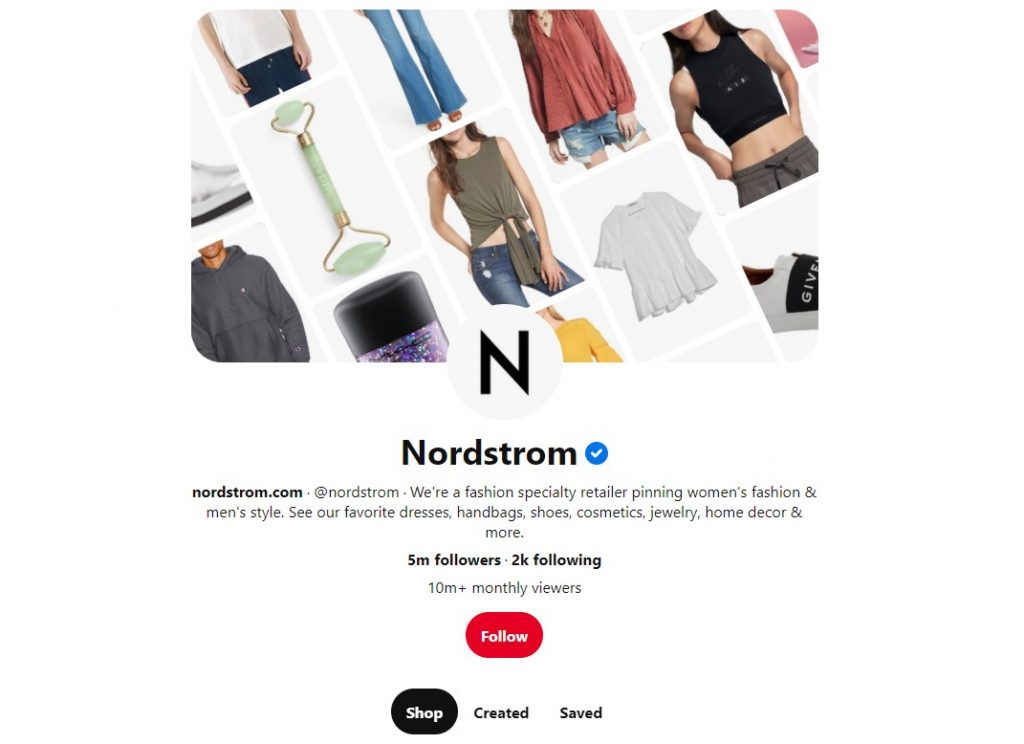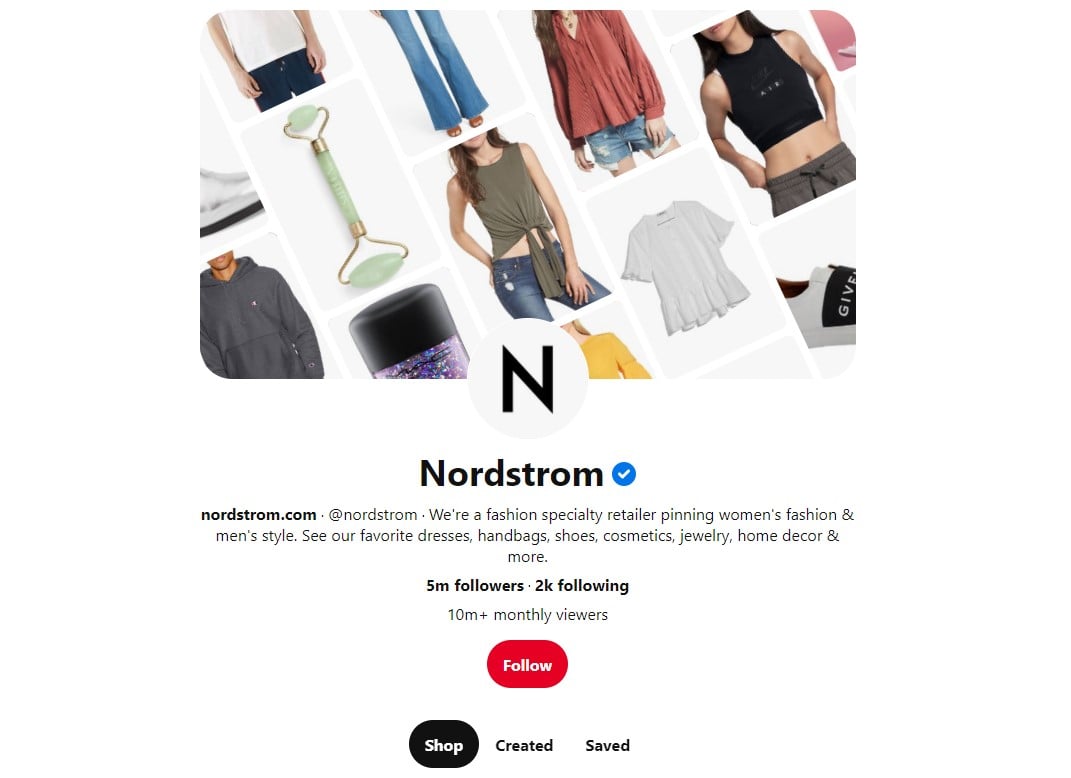 ---
2. Coca-Cola
For the past few years, Coca-Cola has taken advantage of social media's popularity with its personalized label campaign. Coca-Cola has replaced its generic brand labeling with a series of names replacing the word Coca-Cola (but in the same font). More recently, it has widened these to include groups of people.
Although not solely social media-based, one of the campaign's aims is for people to find bottles with names with personal meaning to them and then tweet about their experience.
Indeed, Coca-Cola has largely designed these bottles so that people will generate user-generated content (UGC) that they share over their social accounts.
Coca-Cola even opened an eCommerce store so people can order specific bottles and a microsite where people could create virtual Coke bottles with their names that they could share on their social accounts.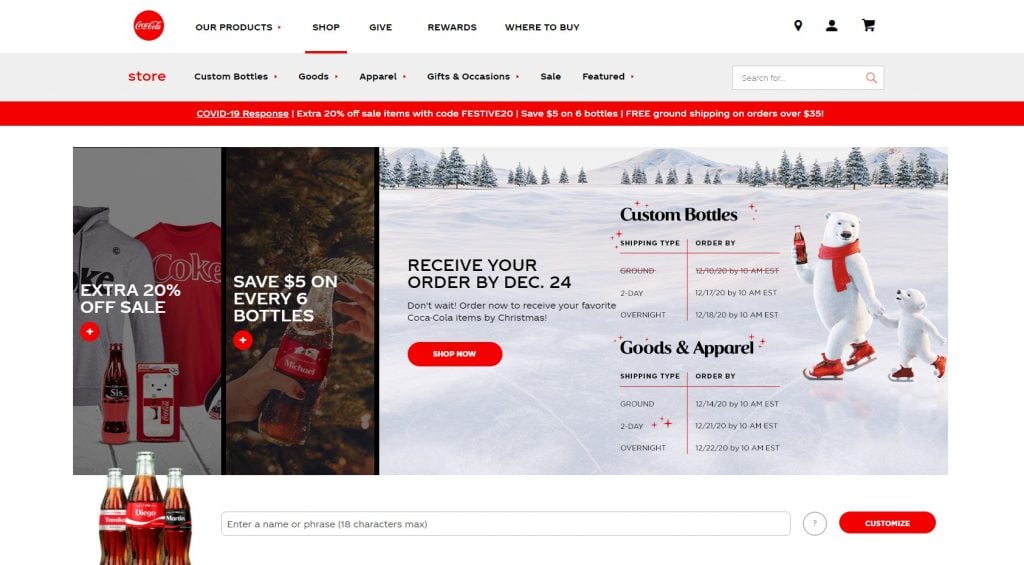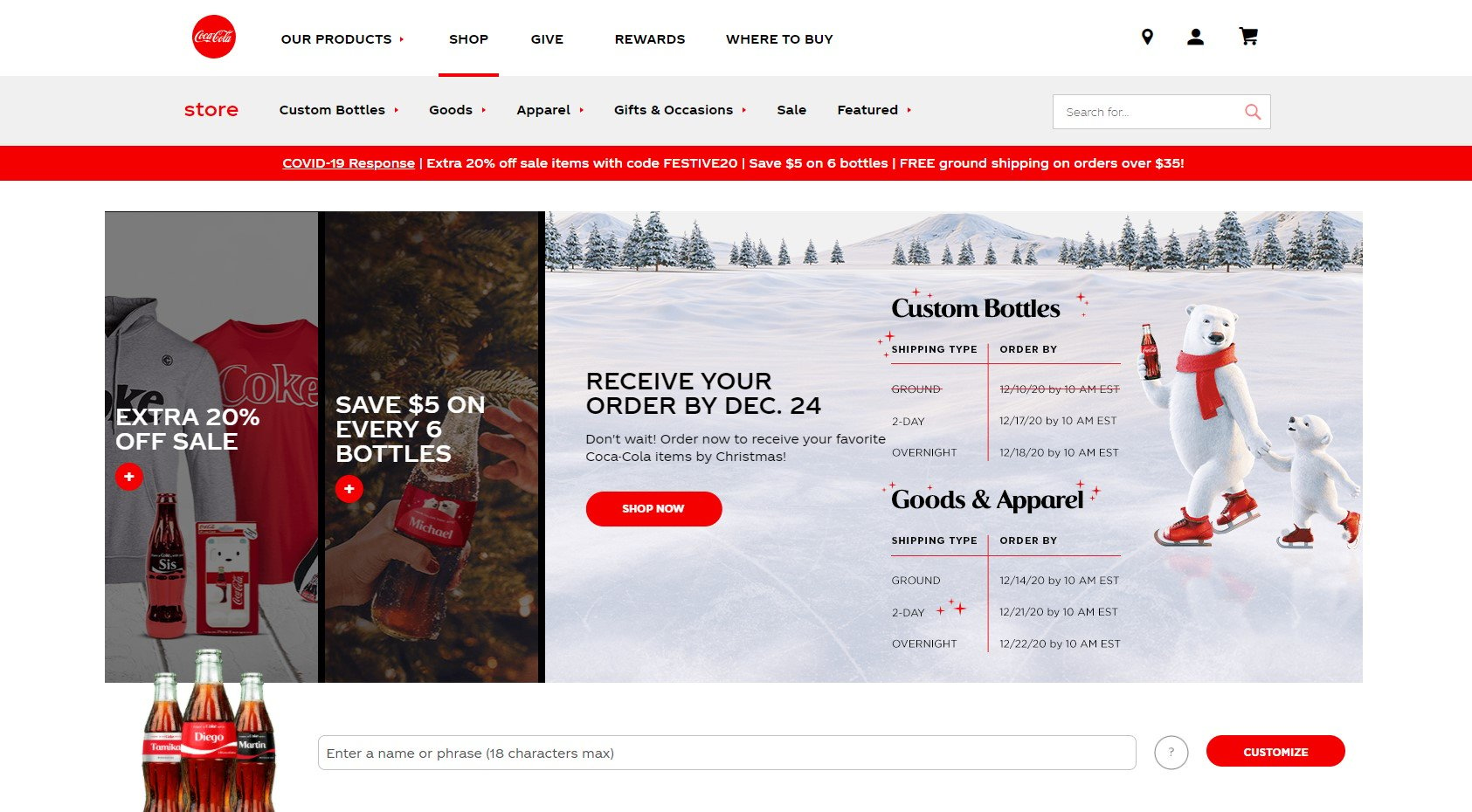 ---
3. Starbucks
Starbucks has run an f-commerce (Facebook eCommerce) store for a decade now. Users can reload their (virtual) Starbucks mobile card with a payment card to pay for drinks using their phone or even load cash onto the Starbucks plastic payment card.
The company has also run numerous successful social campaigns in that period. Indeed, in 2018, it won a silver IPA Effectiveness award for its social strategy.
They have even created a special Facebook Group, the Leaf Rakers Society, for fans of their famous pumpkin spice latte. The private group helps Starbucks to generate 'meaningful interactions' on Facebook.
Their 'Say it with Starbucks' campaign on WeChat encouraged users to send their fellow WeChat friends a voucher for a coffee redeemable at any Starbucks location.
---
4. CLUSE
CLUSE is a watch and jewelry brand based in Amsterdam. Their central concept is to provide minimalistic watches for women with interchangeable straps. They have chosen to market their products primarily by using influencers on Instagram and advertising on Facebook, although they have now built their own sizable following on Instagram.
They recognized that their core customers were metropolitan millennial women interested in fashion and have made a conscious effort to appeal to them on their social accounts. They now have more than 925,000 Instagram followers and 1.75 Facebook fans.
They crafted their social messages around the different marketing funnel stages – which they view as Touch, Tell, and Sell (and then a larger section at the bottom: Care).
They noticed that Instagram Stories, in particular, resounded with their target market.
At the Sell stage of the cycle, they placed a real emphasis on using Instagram Shopping, both in-feed and stories. They also created a TrueView for action campaign on YouTube.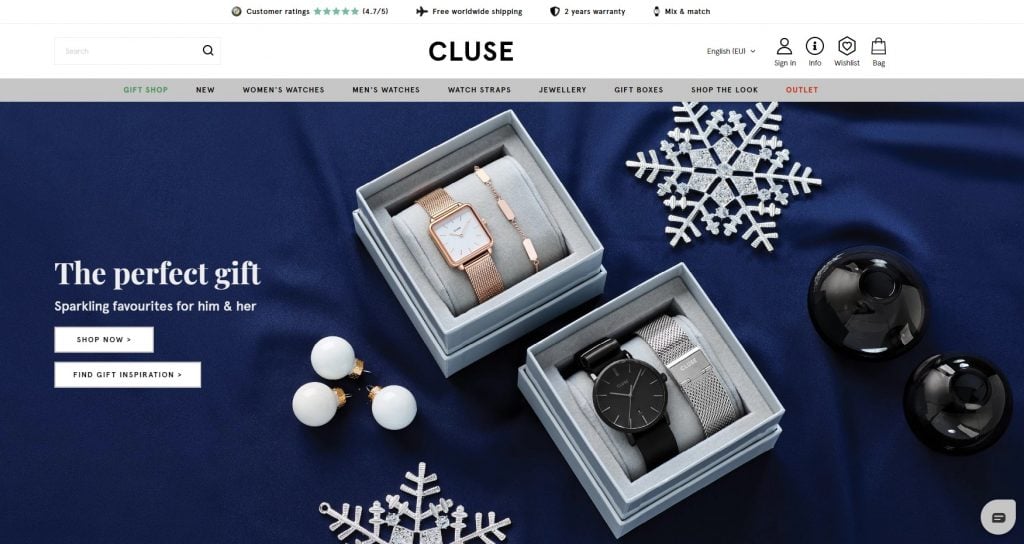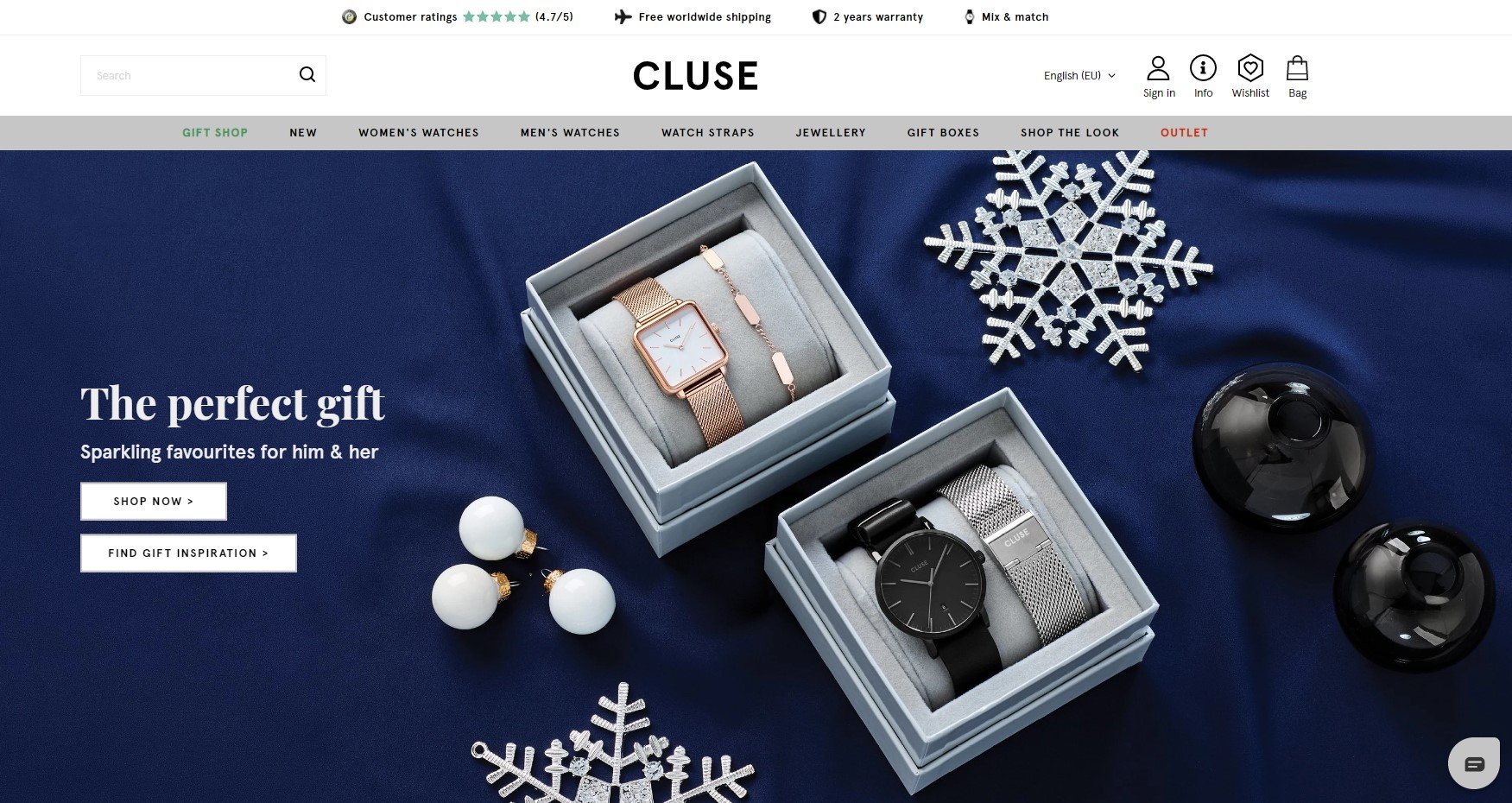 ---
5. Funko
Funko creates and sells licensed pop culture products. Its products include vinyl figures, action toys, plush, apparel, housewares, and accessories. The company offers consumers tangible ways to take their fandom offline.
Most of Funko's products target Generation Z and Millennials, so they understand social commerce's importance. They offer frequent giveaways, meaning their followers happily tag, share, and retweet posts in return.
In the heart of COVID, they held a virtual convention - Funko Virtual Con 3.0, using the hashtag #FunkoVirtualCon.
The Funko Facebook page looks fun and has a huge Shop Now button, inviting people to make a purchase there and then.
---
6. Kate Spade
Designer Kate Spade has discovered the benefits of shoppable videos. In her #missadventures series, she worked with actress Anna Kendrick. Each episode highlighted a "misadventure" by Kendrick. The common feature of all Anna Kendrick's "misadventures" is that she is always wearing a Kate Spade product.
Of course, each video finishes with an invitation to "shop for the items featured" and uses a simple buying process.
---
7. L'Oreal
L'Oreal understands social selling so well that they recently invested in a social commerce platform, Replika Software Inc. They also acquired augmented reality company Modiface. They have used AR to help their customers' beauty experience and better understand how they would look if they used certain products.
L'Oreal allows its followers to make purchases directly via Facebook and Facebook Messenger. They can order through discreet chat windows, as opposed to a phone call or their website.
---
8. Burberry
Burberry has recently begun testing social selling in China. They describe their new store in Shenzhen as being their first "social retail" store. The company opened the store in partnership with Tencent (owner of WeChat). The store integrates social media and gaming with the shopping experience.
With Burberry's new WeChat mini platform, customers can book appointments, reserve fitting rooms, and even make a reservation at the store's café. They can also use the Mini Program to accrue "social currency," similar to a rewards program but on social media. The more you use the mini-program and share content, the more rewards you unlock.
Every product in the store has a QR code, and scanning it unlocks additional content. You can even unlock extra menu items in the café by scanning QR codes.
---
9. Nike
Nike has participated in social selling for some time. They were already utilizing custom hashtags on their Facebook page by 2012. You could bid for new Nike sneakers with kilometers you'd run and recorded to your Nike+ app.
They have continued to utilize their social channels well, realizing that they made essential communication channels during the problems of COVID in 2020. Nike closed more than half of its stores in China in February to protect its employees, and it closed all its US stores as the virus started to spread in that country.
They have responded with many digital and social initiatives to keep their products at the forefront of their customers' minds. These include streaming live workouts every Saturday by Nike Master Trainers for free on the Nike YouTube channel.
Their Digital Fitness Challenges offered the Living Room Cup - a digital workout series where athletes set challengers for users to take part in at home. Global Athletes like Lebron James and Cristiano Ronaldo streamed themselves doing a workout. They then challenged users to compete against them and share their results on their Instagram profiles using the hashtags #playinside and #thelivingroomcup.
Nike's numerous mobile apps integrate the social component with shopping and convert customer's engagement into sales.
---
10. Samsung
Samsung has its own Shop Samsung app. It offers curated content and personalized product suggestions with new products and promotions tailored to you. You can view the latest TVs in your room using Augmented Reality.
However, Samsung doesn't just rely on its app. It also has a strong social presence with many social accounts around the world.
You can now shop directly from Samsung's Facebook page, which features a big blue Shop Now button near the top of the page. They also run competitions and giveaways from the page.
Samsung recently trialed live video shopping to tell people about its latest foldable smartphone, the Galaxy Z Fold2 5G. Samsung Live featured product experts virtually interacting with viewers, guiding at-home audiences interested in buying the foldable phone in real-time through the live shopping event.
---
11. J. Crew
J Crew encourages its social users. For example, it gave its Instagram followers the chance to be the first to buy a new range of glasses by clicking on the link in its bio (this promotion pre-dated Instagram Shopping Posts).
It shared the promotion using Instagram Stories, offering its followers the first opportunity to buy a pair of its pink Jane sunglasses. J. Crew has realized how it can interact with its most loyal customers in a more informal setting.
Crew has also used Instagram Stories to gain feedback on the preferred colors of a product. For 24 hours, J. Crew used Instagram Stories to garner customer feedback on the best color for its upcoming $365 Chateau Parka. Customers could vote for the colors Heather Grass, Light Mustard, or Heather Cosmos by sending a direct message to the brand's account.