Are you getting enough customers from social media? If not, what's the point in your social media efforts? While social media may help to create awareness and engage your audience, you ultimately want people to buy your stuff as well. That's why it's important to use the channel as a way to drive conversions.
So how exactly do you do that? And why do you need to use social media for this anyway? You're probably already getting plenty of customers through other ways, so why should you stress about using social media as well? Let's find the answers to your questions.
---
How to Boost Your Social Media Conversion Rate:
---
The Importance of Social Media for Your Marketing Strategy
Now you may be ramping up your SEO efforts and running display ads that get you the clicks and conversions you're looking for. So it may be easy to put social media on the back burner because you're not sure of its direct benefits. Here are a few reasons why social media should be an important element in your marketing strategy (and why you should focus on the channel to drive conversions).
Important Source of Referral Traffic
Many websites get most of their traffic from search, while others also see plenty of direct traffic. At the same time, social media can further add to that by driving even more traffic to your website. According to a study by Growth Badger, social is the third biggest source of website traffic across various niches.
---
Helps to Drive Brand Awareness
By 2021, there were at least 4.26 billion social media users worldwide. The number's expected to hit 4.89 billion by 2023. This speaks volumes about how popular social media is with the global population. As such, it can offer an excellent channel to grow your reach and increase your brand awareness.
Having a social media presence gives you the opportunity to get your brand in front of billions of people. This includes people who have never heard of your brand before but might be very interested in what you're selling.
---
Gives You Valuable Customer Insights
What people are saying on social media and how they're behaving can tell you a lot about the needs and interests of your target audience. Right from the topics they're discussing to the influencers they're following; you can get a better sense of how to connect with them. That way, you get valuable customer insights that can inform your marketing decisions.
---
Helps to Sell Your Products
Social media offers plenty of creative ways to promote your products. Your social media content can help highlight the value of your product and create interest in your target audience. With the right tactics, you can eventually turn that audience into paying customers. That's how we get into the next part of this guide, where we discuss how you can convert your social media audience into customers.
---
Practical Steps to Improve Your Social Media Conversion Rate
Now that you understand the value of social media for your marketing, it's time to optimize your efforts so you can enjoy the true value of social. Here are a few practical steps you can take to improve your social media conversion rate.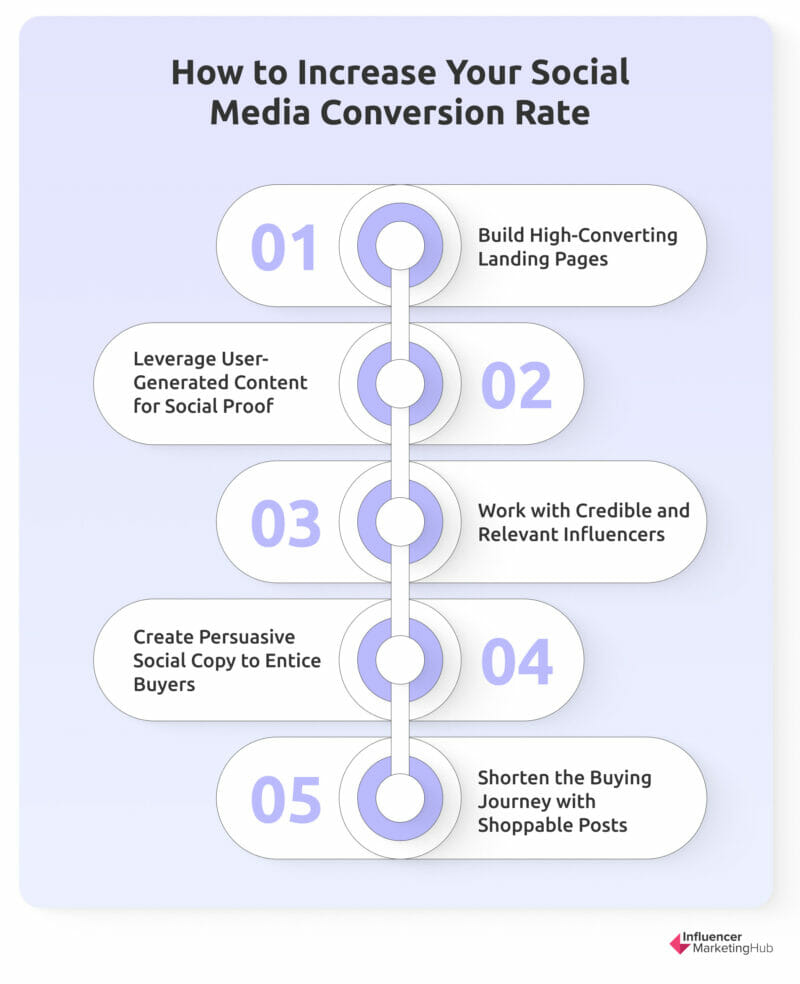 1. Build High-Converting Landing Pages
Imagine clicking on an Instagram ad that's promoting an enticing discount only to find yourself on a landing page that's completely unrelated to that discount. You're probably going to end up frustrated and leave the website entirely. That's how much of an impact landing pages can have on your social media marketing efforts.
This makes it crucial to ensure that your landing pages are optimized for conversions. For starters, the landing page should match the traffic source. So if you're promoting one specific product, the link should take the user to the dedicated landing page for said product. It shouldn't take them to a category page or a home page where they have to struggle to find the product they wanted to check out in the first place.
Additionally, your landing pages should be optimized for mobile viewing. With increasing social media use, don't be surprised if most of your social media traffic comes from mobile. In fact, 91% of social media users access social networks from mobile devices. That's why you should ensure to design landing pages that can be seamlessly accessed and viewed from a mobile screen.
For example, Statista displays an Instagram Stories ad and directs you to a mobile-optimized landing page. The information on the landing page is easy to navigate and see for someone viewing on a mobile screen.
Beyond these two essentials, there are a few elements of your landing page content that you should optimize for increased conversions. Take a look at them below.
---
Headlines
This is the part of your landing page that'll stand out the most. It's what will capture the attention of the visitor once they land on your page. So if you want to drive more conversions, your landing page headline has to be compelling. Here are a few best practices to help you write high-converting headlines for your landing page:
Keep it clear and simple

Get straight to the point

Focus on the benefits right away

Consider asking a question that addresses a pain point

Make sure the headline aligns with the content of your social media ad
In the following landing page for Shopify, the landing page is written in a simple and clear language. It directly focuses on the benefit i.e., the ability to earn revenue.
If you look at the original Facebook ad that took us to the above landing page, you can see that both the ad and the landing page are focusing on the same benefit. This lets the visitor know that they've come to the right place and they're going to get what they're looking for.
---
Graphics and imagery
This part of your landing page is optional and entirely depends on your goal. Some businesses choose not to include any graphics or imagery and focus mainly on the headline to convert visitors. This makes sense because you don't want to distract people from the main point that you want to get across.
So while you use enticing imagery in your social media ad, the landing page itself can be a bit more minimal. For instance, Primer chose to use a screenshot of the platform to give visitors a preview of what it would look like. Since the product hadn't been launched yet at the time of displaying their ad, it makes sense to include this preview so as to convince more people to join the waitlist.
---
Lead capture forms
Let's face it–no one wants to go through the trouble of entering tons of information to sign up for something or get the information they need. So if you're going to drive more social media conversions, your lead capture forms should be optimized to capture only the most essential details. Some choose to collect only the first and last name along with the visitor's email. Others, like Wix, keep it even simpler by only asking for your email address.
---
CTA buttons
This is the part of your landing page that ultimately drives the purchase or conversion action. So you can't afford to ignore it or make it too generic. Your CTA button should stand out from the rest of the page while still staying close to the main color scheme. It should also be positioned in such a way that people know exactly where they need to click. Ideally, make sure it's right below or next to your lead capture form.
Additionally, keep your CTA copy creative and relevant to the landing page headline. Think of it like a conversation. Consider what you've said in your headline and then think of a way to take the conversation to the next step. For instance, Recruiter.com invites people to "contract OnDemand recruiters today" and encourages them to take the next step with a CTA that says "Let's Talk."
---
2. Leverage User-Generated Content for Social Proof
User-generated content is highly effective to win the trust of your audience, which is particularly important when people have never heard of your brand before. It serves as social proof and helps to establish the authenticity of your brand. Seeing how much people love your product or how great it looks in real life can help convince many social media users to go through with a purchase.
So find a way to leverage user-generated content in your social media marketing. This may involve reposting customer photos to your Stories and adding those photos to a dedicated Instagram Story Highlights, for example. Or if you can get high-quality images that fit with the rest of your feed, you can also consider featuring UGC as regular feed posts.
For instance, Cath Kidston often features photos of real customers wearing the brand's products. These images add authenticity to the rest of the brand's feed, which is more curated and professionally edited.
---
3. Work with Credible and Relevant Influencers
With the kind of reach and influence they can offer, influencers can give your social media conversions a much-needed boost. Since these influencers typically have a loyal following of people who enjoy their content and trust their opinions, they can give credibility to your brand and products. However, make sure your partnerships are authentic and relevant so you can reach the right audience and gain their trust.
For example, Cult Beauty regularly shares Instagram Reels from influential makeup and beauty personalities. These influencers provide tips and how-to instructions to inspire purchase decisions. They also share authentic results and reviews to make a compelling case for certain products. These are effective ways to increase trust in your products and convince more people to convert.
---
4. Create Persuasive Social Copy to Entice Buyers
Copy matters–whether it's for your organic social posts or your social media ads. A picture may paint a thousand words, but it can be a little bit too vague to drive actual conversions. Meanwhile, text content is more explicit and direct, allowing you to get your point across more effectively. So your visual content must be accompanied by persuasive copy that will entice people to make a purchase.
For example, you may share a video that effectively showcases what your product does and what it's capable of. This may be enough to entice many of your followers to buy the product. However, a short caption could provide further context and make an even more compelling case for the product. As such, you could end up with even more conversions than originally expected.
Similarly, sharing photos of clothes from your latest collection may be visually enticing. But without an accompanying copy, people won't really know why you're posting those photos or where they can get the products. Plus, visuals alone may not be enough to highlight how those clothes are organically made and hypoallergenic, for example.
See how Pact adds a caption explaining some of the key reasons people should buy their bedding. These reasons include the bedding being made with 100% organic cotton and fair trade certified. To top it off, there's a 25% discount right now, making it the perfect time to buy.
---
5. Shorten the Buying Journey with Shoppable Posts
When people have to go through multiple steps to buy something, there's a higher risk that they'll drop off without completing the purchase. This is particularly true for social media buyers because you're disrupting them in the middle of their browsing. So to drive more conversions, you need to keep the buying journey as short as possible.
Fortunately, this has become a lot easier with the introduction of shoppable posts on platforms like Facebook and Instagram. These posts include product tags that users can click on to view and learn more about the product without having to leave the platform, thus enabling social commerce. Some sellers will even have the option to provide a checkout experience within the social media app so customers don't have to go to their website to complete their purchase.
---
Watch Your Conversions Soar
The above tips are highly effective to drive more social media conversions. In addition to this, make sure to keep testing and analyzing to see what works and what doesn't work. This will provide you with the insights needed to optimize for even more conversions.
Frequently Asked Questions
What are social media conversions?
Social media conversions refer to the conversions that can be attributed to social media traffic i.e., the people who ended up converting after coming from social media.
What is a good conversion rate for social media?
A conversion rate of 2-5% is considered good for social media.
How do I increase my conversion rate on Instagram?
You can increase your Instagram conversion rate by posting more social proof and sharing shoppable posts.
Which social media has the highest conversion rate?
Facebook has some of the highest conversion rates among social media platforms, with Facebook ads averaging a conversion rate of 9.21%.
How do you drive conversions on social media?
You can drive conversions on social media by using social proof, creating compelling copy, building effective landing pages, and improving the buying journey.