Instagram is constantly innovating and bringing advertisers new ways to connect and engage with their target audience. With the platform being largely focused on building better business experiences, you can hardly remember the days when ads weren't present on the platform at all. Now Instagram allows multiple ad placements and formats for advertisers to play with.
In October 2022, Instagram further introduced additional features and tools to help advertisers grow their reach on the platform. From placing ads in the Explore page to providing high-quality music to include in Reels ads, the platform's updates can help advertisers deliver a greater impact through their Instagram ad campaigns. In this post, we explore the newest Instagram ad features and how you can leverage them to increase your reach. Let's get right into it.
---
Increase Your Reach with New Instagram Ad Features:
---
Optimize Your Reels Ads with High-Quality Music
Music sets the mood for any occasion. Even in the advertising world, the right music can make all the difference whether you want people to relax while watching your ad or get excited about your new product. It works alongside your ad copy and visual creative to ensure that your message gets across clearly and your ad delivers the kind of impact that you desire. That's exactly why brands spend a fortune to create their own ad jingles and leave a lasting impression on their audience.
Fortunately for advertisers on Instagram, the new update makes it easy for them to find and add music to their Reels ads. Brands can now access high-quality, royalty-free audio from the Meta Sound Collection and include it in their carousel ads on Reels. Keep in mind that this tool is currently only available for carousel ads on Instagram Reels.
With this update, you can choose from thousands of options and add music that perfectly sets the desired mood for your ad. You can search through the collection using keywords, genres, moods, tempos, and even duration to narrow down the perfect audio for the ad. Instagram will let you choose up to five songs and then use one of those songs when delivering ads to users.
Alternatively, you can also let Instagram automatically choose the best music for your ad depending on the content. When you go for this option, you'll be able to preview five example songs while creating the ad. However, Instagram can't predict which of those songs will be applied when the ad is finally delivered to the audience.
What This Means for Advertisers
This latest update makes it easy and cost-effective for businesses to deliver ads on Instagram. Instead of spending thousands of dollars to create new music or buy a license, they can simply choose from the expansive collection of royalty-free sounds from the Meta Sound Collection. That way, they can save some money on their ad creative and instead focus on delivering a better impact with their Instagram ads.
---
How to Add Music to Your Reels Ads
You can make use of this new tool when creating ads using the Creative Editor. Follow the usual process of creating Instagram ads using the Meta Ads Manager. Then continue with the steps below:
Step One: When you get to the ad creative section, select the "Add music" checkbox.
Step Two: Click on the option to "Select music." This will open the Creative Editor.
Step Three: If you want to choose a song, select the option to "Manually apply music". You'll then need to select up to five songs that fit the ad. Alternatively, click on "Automatically apply music" to give Instagram permission to choose a song for your ad based on its content.
Step Four: Click on "Save" and that's it. You can finish up with your ad creation by adding other details. After that, you'll be able to preview it and, if you chose the "Automatically apply music" option, see which example songs Instagram has picked for your ad.
---
Reach More People with Ads on the Explore Home Page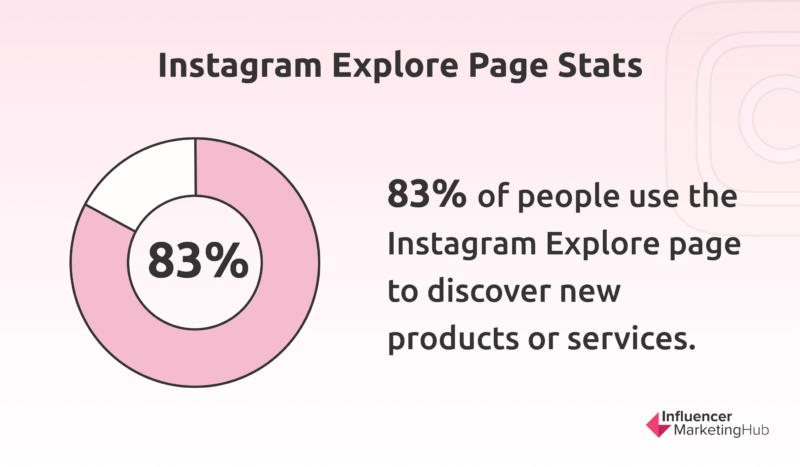 On average, about 200 million accounts view the Instagram Explore page daily and 50% of accounts use it every month. Since this page is personalized according to the preferences and behaviors of each user, it's also a great place to discover new content and accounts that appeal to them. In fact, 83% of people Instagram surveyed said that they used the Explore page to discover new products or services.
This is exactly why many brands strive to get onto the Explore page so they can grow their reach and attract new audiences. However, this can prove to be challenging and time-consuming as it requires driving tons of engagement consistently. Now Instagram is making it easier for brands to get their content in front of the right audience by enabling them to place ads on the Explore home page.
Previously, brands could only place ads in the Explore feed. This meant that the ads won't show up in the Explore grid itself but will be displayed to users when they tap on one of the posts from the grid and scroll through the feed from there. In other words, users could discover the ad only if they expand one of the posts from their Explore home.
Now with this latest update, brands will now be able to display ads directly within the Explore grid, making it easier for users to discover new brands and products. Ads on the Explore page will look like any other piece of media (be it videos or photos). However, the main difference is that they'll have a "Sponsored" tag at the top along with a clickable call-to-action button. In other words, these ads won't be disruptive for the user, and they won't interfere with their browsing experience.
What This Means for Advertisers
Ads on the Explore home page will make it easier for brands to get discovered by people who are in a discovery mindset. This means that they're also more likely to be interested in what you have to say.
Moreover, the placement of these ads is much more prominent than ads in the Explore feed. Instead of waiting for users to first expand a post from their Explore grid and then scroll through the expanded media posts, you can get your message in front of them directly on the Explore grid.
These ads blend in well with other posts on the grid, which means they won't disrupt the user's browsing experience. This minimizes the risk of people finding your ad annoying or intrusive. At the same time, the presence of tags and CTA buttons still make them stand out and could entice users to tap on the ad.
---
Improve Your Chances of Discovery with Ads on the Profile Feed
Instagram is further testing a new ad placement, so brands have more ways to get their message in front of the right audience. With the latest update, Instagram will start to display ads in the profile feed for accounts that are public and non-teen. This means that the ads will be displayed when users check out the profile of another user, tap on one of their posts, and scroll through their feed.
The good news for creators is that Instagram will also start experimenting with a monetization opportunity. That way, eligible creators will be able to earn extra income from the ads that are displayed in their profile feeds. However, this opportunity is currently only available for select U.S. creators.
What This Means for Advertisers
Displaying ads in the profile feed offers a new way for brands to get their message in front of the right audience. It allows them to boost their visibility and reach users as they scroll through the feeds of their favorite Instagram creators.
---
Tap into Commercial Intent with Multi-Advertiser Ads
Just because an ad is relevant to a user's interests and preferences, it doesn't necessarily mean they'll be interested in it. Most times, the most interested and most relevant users are those who are already in a shopping mindset. These users are ripe for conversion and may be more inclined to click on and interact with the ad.
Instagram is offering a new way for brands to tap into this type of shopping mindset with multi-advertiser ads. These ads will specifically target users who have expressed commercial intent by interacting with relevant business content in their feeds, thus making them more likely to convert. By "commercial intent," Instagram refers to actions that involve engaging with an ad.
After a user interacts with an ad, Instagram will display more ads from other businesses that they might be interested in. Instagram leverages machine learning to decide which ads may be of interest to each user and then makes it easier for them to discover new products, consider them, and finally buy them.
This essentially involves displaying ads from multiple advertisers that offer complementary products. For instance, if a user has interacted with an ad for home furnishings, they may see an ad for dining ware next. However, Instagram cannot guarantee a multi-advertiser delivery since Meta's machine learning decides which ads to display.
What This Means for Advertisers
By tapping into consumers' commercial intent with multi-advertiser ads, brands can target audiences that are ripe for purchase. They'll be able to get their ads in front of people who have shown an interest in buying by engaging with other brand content. So there's a good chance that those users will also interact with their ad because they've already displayed a shopping mindset by interacting with other ads.
As a result, these ads can offer impressive results for brands that want to drive conversions. In fact, multi-advertiser ads proved to be much more impactful according to a large-scale study conducted by Instagram on nearly 400k global advertisers.
---
How to Turn on Multi-Advertiser Ads
Want to make sure your ads show up in multi-advertiser ads? While Instagram cannot guarantee that your ads will be delivered this way, you can opt in so that your ads do show up when Meta's machine learning deems them relevant. Here are the steps to ensure that the machine learning considers your ads for multi-advertiser delivery when there's a relevant opportunity.
Step One: Go to the Ads Manager and create a new Instagram ad.
Step Two: When you get to the placements section, select Advantage+ placements or select "Instagram" in Manual placements. This will ensure that the Instagram feed is included among your placements.
Step Three: For ad-level formats, make sure the checkbox for multi-advertiser ads is checked. In some cases, the checkbox may also be checked by default.
Step Four: Once you're all set, hit "Publish."
---
Create Immersive Experiences with Artificial Intelligence
While the ultimate goal for your advertising campaign may be to drive conversions, there are other steps that users have to go through before actually converting. First, they have to notice your ad and then interact with it before they finally make a purchase or take a conversion action. In most cases, the middle part of the journey is what helps to determine how effectively they convert.
This is why the new Instagram AR Ads feature is such good news for advertisers. In the latest update, Instagram introduced an open beta of this feature, which would allow brands to create AR ads that their audience can interact with. These ads can be displayed in both feed and Stories.
What This Means for Advertisers
AR ads allow brands to create an immersive ad experience through augmented reality. Users can interact with these ads through their surroundings, which means they're likely to spend some time interacting with the effect and subsequently engaging with your ad. The more people engage with your ad, the higher the possibility of either converting them or staying on top of mind for your audience.
---
Experimenting with New Ad Features on Instagram
Instagram is constantly innovating and introducing new and better ways for brands to grow their reach. By being an early adopter of these latest ad features and tools, brands can get ahead of the competition and effectively grow their business with the help of Instagram ads.
Frequently Asked Questions
What's new in Instagram ads?
The latest Instagram ad updates include the ability to add free music to Reels ads, create AR ads, display ads in Explore home, display ads in profile feed, and multi-advertiser ads.
What is the new update in Instagram?
Instagram has made several updates that include AR advertising, multi-advertiser ads, and ads in Explore home and profile feed.
Where can you display ads on Instagram?
Instagram allows brands to display ads in feed, Stories, Reels feed, Explore home, Explore feed, and profile feed.
What are the different Instagram ads?
The different types of Instagram ads include image ads, video ads, carousel ads, Stories ads, Reels ads, Explore ads, Collection ads, and Shopping ads.
What type of Instagram ad is most effective?
The most effective type of Instagram ad varies depending on the business. Consider testing different ad formats and placements to see which one works best for your brand.