Every business uses social media with one ultimate goal in mind–driving conversions. Although they may initially aim to grow their account or temporarily promote a specific product, the final goal is still to drive purchases through those efforts. This is why shoppable content makes such a huge difference in a brand's social media strategy.
In this post, we take a closer look at what shoppable content is and why it's beneficial for direct-to-consumer businesses. More importantly, we give you some practical tips on creating shoppable content that performs well. Let's get started.
---
What Is Shoppable Content? – Simplifying Online Buying for Consumers:
---
What Is Shoppable Content?
Shoppable content refers to any online content that provides an opportunity for customers to directly make a purchase by either taking them to the product page or giving them the option to add it to their cart. This content can be anything from images and videos to social media posts and ads, typically containing product tags that will allow customers to learn more about the product right there on the platform.
Keep in mind that shoppable content isn't just specific to social media, but it can also be found on article publication websites and video platforms. Some shoppable content requires customers to complete their purchase on the brand's website although they may be able to view all the important product details on the original platform.
Most of the recent ones even allow customers to complete the checkout process without ever leaving the platform. This applies to shoppable posts created on platforms like Facebook, Instagram, Pinterest, and TikTok. In both cases, users can complete their purchase in just a few clicks, shortening the customer buying journey. And this is the essence of shoppable content.
---
Types of Shoppable Content
To make the most of shoppable content for your business, you'll need to know the different types of content you can make "shoppable." This will allow you to see which types of shoppable content would be best suited for your brand and its target audience. Shoppable content can be categorized into four main types:
Shoppable Social Media Posts
Perhaps one of the most popular types of shoppable content, these are social media posts consisting of product tags. This feature is available on social media platforms like Instagram, Facebook, Pinterest, and TikTok.
When users click on the product tags, they're taken to a relevant product page within the platform, where they can view details such as product name, pricing, product description, and additional images. Additionally, they'll get the option to either add it to their cart directly on the platform or visit the brand website to view more details.
Users can also click on the back arrow at the top to exit the page and pick up where they left off. This is a highly effective way of driving conversions for your brand without disrupting the user browsing experience. Keep in mind, however, that shoppable posts on Instagram only show up within the mobile app so you can't view them on desktop.
Shoppable Ads
These are advertisements that make it easy for prospects to instantly make a purchase should they be interested in the product being advertised. Mostly found on social media, these shoppable ads can incorporate either videos or images and will have a "Shop Now" or "Buy Now" button that takes customers to the relevant page where they can complete their purchase.
Due to the shortened customer journey, these shoppable ads have a high chance of driving conversions. Some shoppable ads even allow users to scroll through different products in the ad to find something they like.
Shoppable Videos
These are typically videos with links embedded that will allow viewers to click to learn more about the product and eventually buy it. On platforms like YouTube, the link is embedded as a card in the description. With videos being a powerful tool to influence purchase decisions, making them shoppable is a great way to drive direct action.
Shoppable Articles
Shoppable articles are content that provides written information about the product and features clickable buttons to allow readers to directly buy the item or learn more about it. You can typically find these types of articles on review websites and affiliate marketing sites.
---
Benefits of Shoppable Content
Now the important question is–why create shoppable content in the first place? Is shoppable content so beneficial that you should invest time and resources into it? Here are some of the biggest benefits of shoppable content for your business: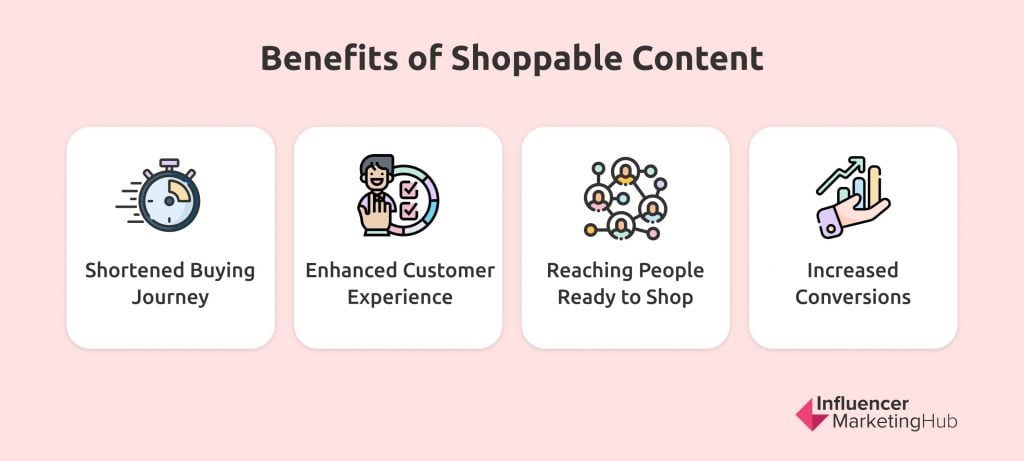 Shortened Buying Journey
With the ease of completing purchases in just a few clicks, shoppable content enables you to create a seamless customer journey. Since there are fewer steps involved in the buying journey, there are fewer risks of hiccups and frustration that could prevent customers from completing their purchases.
Enhanced Customer Experience
A shortened buying journey subsequently translates to a better shopping experience for customers. Customers don't have to go through a lengthy process of researching products, switching platforms, visiting your website, and manually finding the product they want before they can finally complete their purchase. Instead, they can seamlessly finish buying within minutes of discovering the product on social media, which can enhance their experience.
Reaching People Ready to Shop
Many people are looking for purchase inspiration as they scroll through social media, which makes them ready to shop and ripe for conversion. Shoppable content allows you to tap into this purchase readiness with the ability to conveniently buy something soon after discovering them through an ad or a social media post.
Increased Conversions
As a result of the above, shoppable content allows you to grow your conversions. Since customers can finish buying in just a few clicks, you'll have fewer instances of people abandoning their carts due to complicated buying processes. In other words, you increase their likelihood of finishing a purchase. This eventually contributes to better conversions for your business.
---
Best Practices for Creating Shoppable Content
It's clear that there are a ton of reasons why you should start creating shoppable content. But to make the most of this content type and extract the real value out of them, you need to be strategic with your approach. Here are some best practices you should follow when creating shoppable content: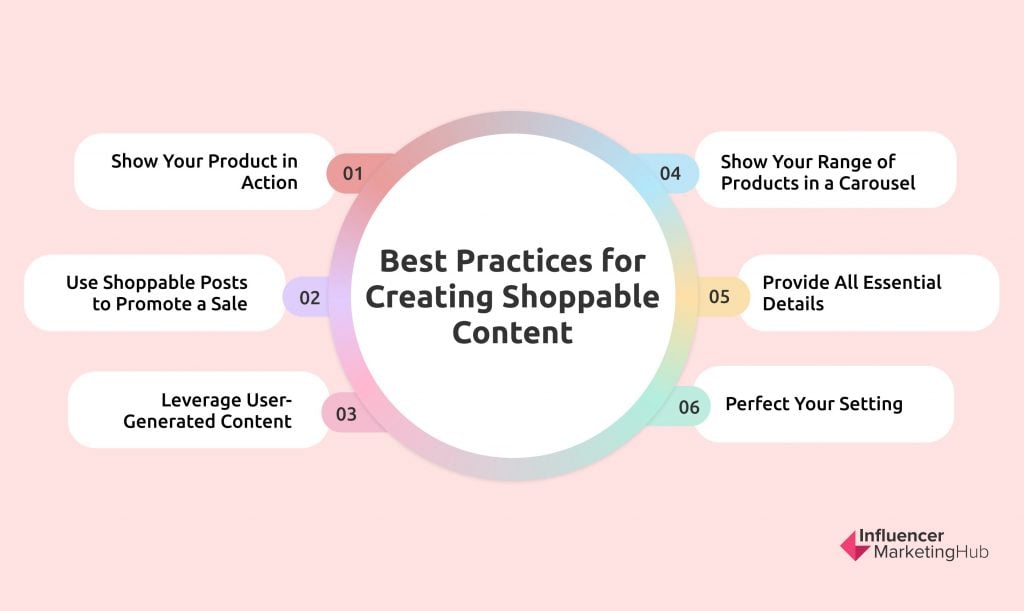 Show Your Product in Action
The goal of creating shoppable content is to drive purchases directly from the content. This is why it's so important to showcase your product in a way that would entice people to instantly make a purchase after seeing the content. That means showing your product in action–whether it's through pictures of people using it or videos that teach people how to use it.
For example, you could share a shoppable image where your home décor items are beautifully displayed in a room. Or you could share a shoppable image displaying someone who's used your makeup products to create a unique look.
You can see an excellent example below in the shoppable post from Emerica. As a skateboarding brand that sells footwear and apparel for skateboarders, the image of a skater wearing their shoes in a real skateboarding setting is an excellent way to drive conversions. It shows the product being used by someone who fits the brand's target audience, making a compelling case for the brand.
Use Shoppable Posts to Promote a Sale
With the ease of completing purchases, shoppable posts are a great way to promote a sale through social media. If your goal is to drive as many sales as possible during your sale, make sure you share shoppable images along with a message about your sale. So customers who don't want to miss out on the sale can quickly click through and buy on-sale items before they go out of stock.
You don't necessarily have to create shoppable posts for all the items you have on sale. Use the opportunity to highlight some of your best-selling products or items that are low in stock so as to drive more purchase actions.
See for example how Bird Brooklyn highlights a few products in a shoppable post and writes a caption about their ongoing sale. Customers can expand the images to shop the items in each photo and take advantage of the sale.
Leverage User-Generated Content
User-generated content is another effective way to drive purchases through your shoppable posts. When people shop for something online, they usually seek social proof such as consumer reviews and photos from real customers. This allows them to see whether other consumers are vouching for the products and/or how the product looks on real people.
This is why content from your customers could serve as an effective tool for your shoppable posts. After seeking permission from the user, turn the content into a post that allows others to click through and buy the product directly or learn more about it.
Glossier does an excellent job of curating user-generated content, which has helped the brand to establish an authentic image that's approachable and human. They've even turned some of this UGC into shoppable Instagram posts through which people can learn more about the products and eventually make a purchase. This is particularly useful for their makeup products so people can see how a certain lip gloss looks on someone with a skin tone similar to theirs, for example.
Show Your Range of Products in a Carousel
Some of the users you reach through your shoppable content may be just browsing. They may not instantly fall in love with the one product that you decide to showcase through a shoppable post. Or they may want a lower-end option or something that's more suitable for their personal style. Either way, they'll want to do a bit of shopping around like they do when they visit your store.
This is why it helps to show the range of products you have available through a single carousel post. Allow shoppers the freedom to swipe or click through the multiple product options in your store. Chances are, they'll find something that they like out of these different options. Or even if they don't, they might be interested to check out the other products you have on your website.
Tunnel Vision uses Facebook to regularly share carousel posts displaying the various clothing items in their store. Their goal is to show how they have something for everyone or the different must-haves that customers should consider buying.
Provide All Essential Details
Since you want people to make a purchase directly after seeing your content, you should give them the information they need to finalize their decision. This involves providing all essential details that they may need such as the material used, the heel height, the color options, and the price. For example, the shoppable Instagram posts from Jeffrey Campbell contain some of the most crucial details that a customer might need before deciding to purchase a pair of shoes.
Perfect Your Setting
If you're going to entice people to buy your products instantly, you need to make sure that the product is displayed as attractively as possible. Make sure to perfect your setting so that the product looks enticing enough to invite an impulse purchase.
This would involve displaying your product against backgrounds or with other items of complementary colors. In the case of clothing, for example, this might involve wearing or display the product next to other clothing items to create a cohesive outfit.
Take a look at the following shoppable Facebook post from Lindsey Thornburg, for example. You can see how the robe, which is the main focus of the post, is styled with other items that complement the product. And the color of the background allows the product to shine through so that the main focus is on the robe.
---
Turning Content into Conversions
With the convenience it offers, shoppable content could be the ideal tool to drive conversions for your store and grow your revenue. However, make sure you're strategically developing shoppable content so that you can entice people to make impulse purchases or guide their buying decisions.
Frequently Asked Questions
What are shoppable posts?
Shoppable posts are regular social media posts with added product tags that people can click to either learn more or make a direct purchase.
Can you sell things on Instagram?
With people going to Instagram for purchase inspiration, it's the perfect platform to sell things. You can create Instagram Shopping posts to add product tags and sell your items directly on the platform.
What is a shoppable article?
A shoppable article is an article that provides written information about a product and features clickable buttons to allow readers to directly buy the item or learn more about it.
How do I list things for sale on Instagram?
You can list things for sale on Instagram by adding product tags to your regular image posts during upload.
Can I sell directly from Instagram?
You can sell directly from Instagram by leveraging the Instagram Shopping feature that allows you to tag your products.