Instagram's growth shows no sign of subsiding. Out of one billion daily active users, 200 million check at least one business account daily. It's evident that Instagram is a great platform for marketers and entrepreneurs.
But there are 25 million business accounts on Instagram. This means it is a tough battleground for brands who don't have a well-planned growth strategy.
If you're wondering how you can shine in this overcrowded space, you're not alone. The competition on Instagram is palpable. And some brands are resorting to dubious practices like using bots to generate likes, buying followers, and using third-party apps to automate engagement.
To uphold the channels' integrity, Instagram imposed a "shadowban." The ban restricts the guilty brands' posts from showing up in search results or followers' feeds, leading to a dip in engagement.
But don't worry. There is no need to resort to shady techniques and risk getting shadowbanned. You can grow your follower count and engagement on Instagram organically. Without spending a cent, you can maximise your content's visibility and penetration. This post will tell you how.
---
5 of the Best Ways to Grow Your Instagram Account Organically:
---
How to Grow Your Instagram Account Organically
All smart marketers follow one rule: never start a campaign without identifying your goals. So, which metrics matter on Instagram? How do you know that your brand is growing?
Some of the most common KPIs include engagement per follower, website traffic, link clicks, comments per post, Instagram Stories engagement, and hashtag usage. Before you begin, you need to figure out which goals you want to focus on.
Once you have your goals laid out, you can try some or all of the strategies below.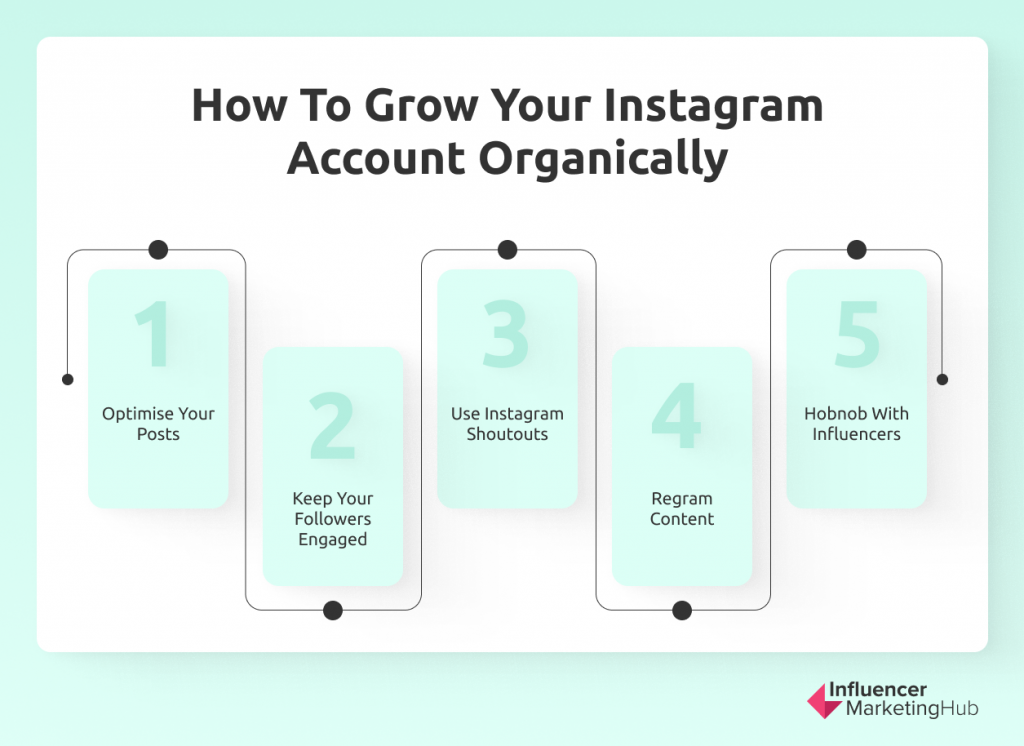 ---
1. Optimise Your Posts
Content is still king. More so on social networks that are brimming with sub-standard content. By following a few time-tested posting habits, you can optimise your posts so that they grab eyeballs and make an impact.
Crack the Instagram algorithm

: Instagram ranks posts using AI to decide which posts will appear first in users' feeds. Posts from people who appear to be "friends or family" are ranked higher than random posts. So you need to DM, like, or comment on the posts of your intended audience.
Instagram also ranks those posts that are relevant or interesting to a user higher than others. And newer posts get priority in Instagram's algorithm.
So, what does that mean for you? You should post consistently. To come up with fresh content ideas, study the user behaviour of your target audience and then create content which is relatable.
Optimise visual content

: Your Instagram content needs to be high-quality and optimised for size and duration (for videos). To create attractive visual content for free, you can use professional-grade editing tools. You can use filters and overlays to up the glam quotient of your images.
Keep in mind that images need to conform to Instagram's recommended sizes: 1080px X 1080 px (for square images), 1080px X 608 px (for landscape images), and 1080px X 1350 px (for square images).
If you're uploading IGTV videos, limit their duration to 15 minutes. Their file format should be MP4 and cover photos should be in .jpg or png formats. It's best to maintain their aspect ratio at 9:16 and resolution at 720 pixels or above.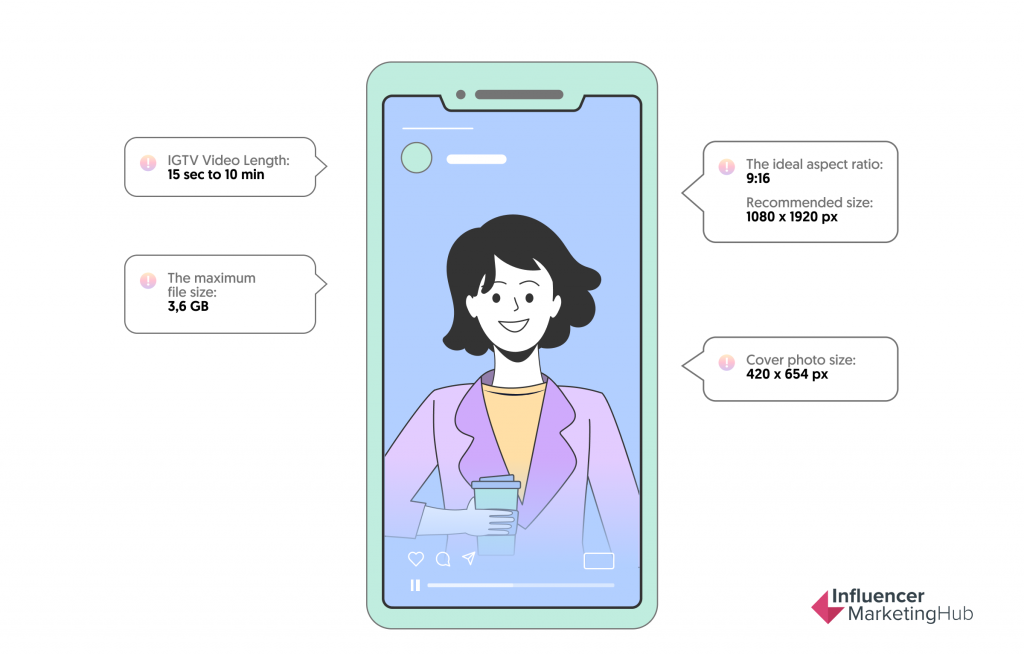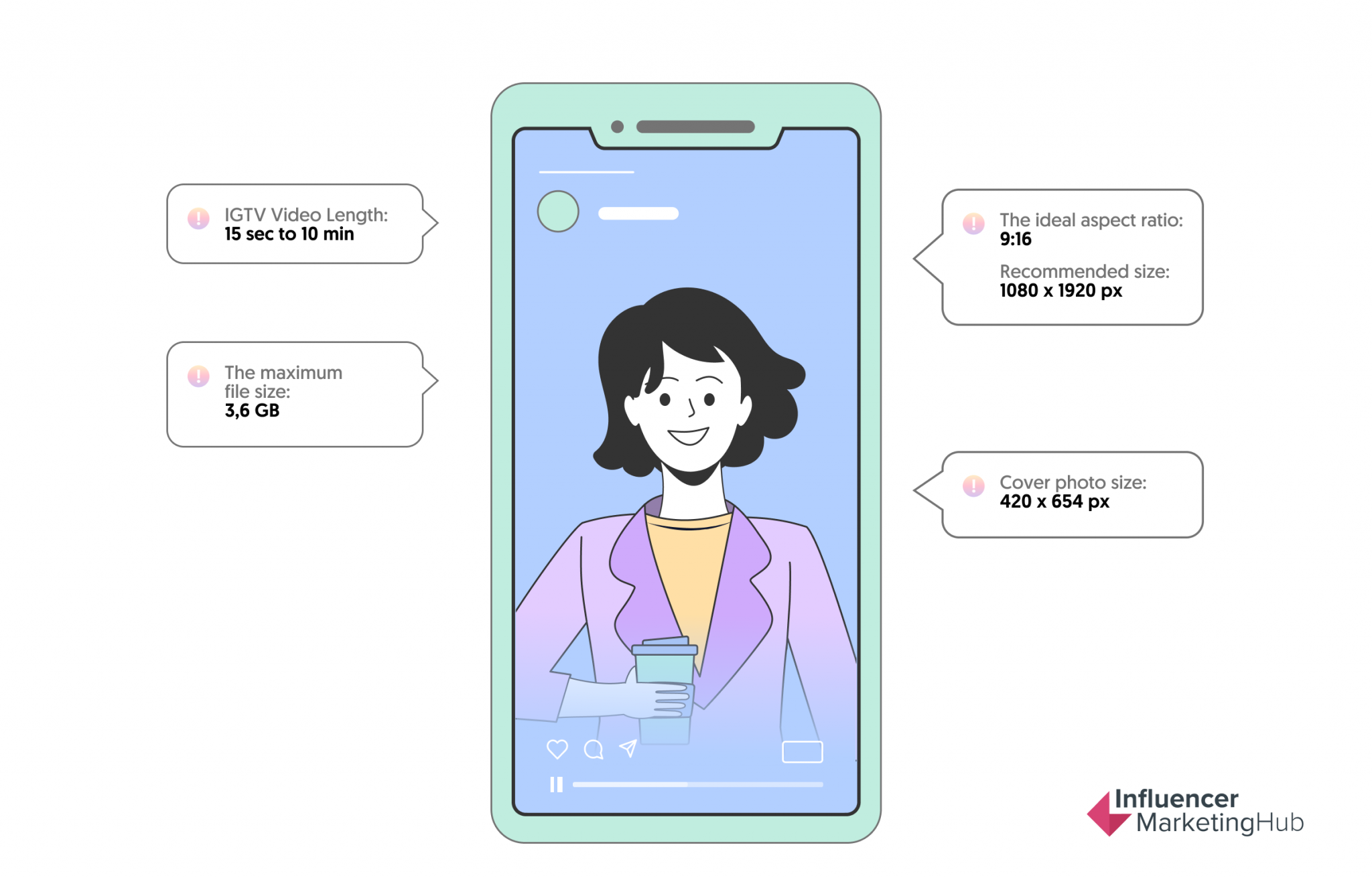 Post during optimal times

: Instagram Insights can help you build a comprehensive buyer persona for your Instagram followers. Using it, you can discover the most active times of your followers. You might have to switch to a Business account to access Instagram Insights.
Influencers and content creators have it easier owing to Instagram Creator accounts. They can discover the best posting times by studying the graph for "When Your Followers are on Instagram."
---
2. Keep Your Followers Engaged
So, you've figured out Instagram's algorithm, created eye-catching visuals, and posted at the correct times. Are your engagement numbers still not as strong as you'd like?
That could mean that your content lacks flavour. Your followers are either ignoring or dismissing your content. You need to step on the accelerator. You need great ideas that'll make your followers sit up and notice your content. If you're having a creative block, you can get inspiration from these ideas:
Instagram Stories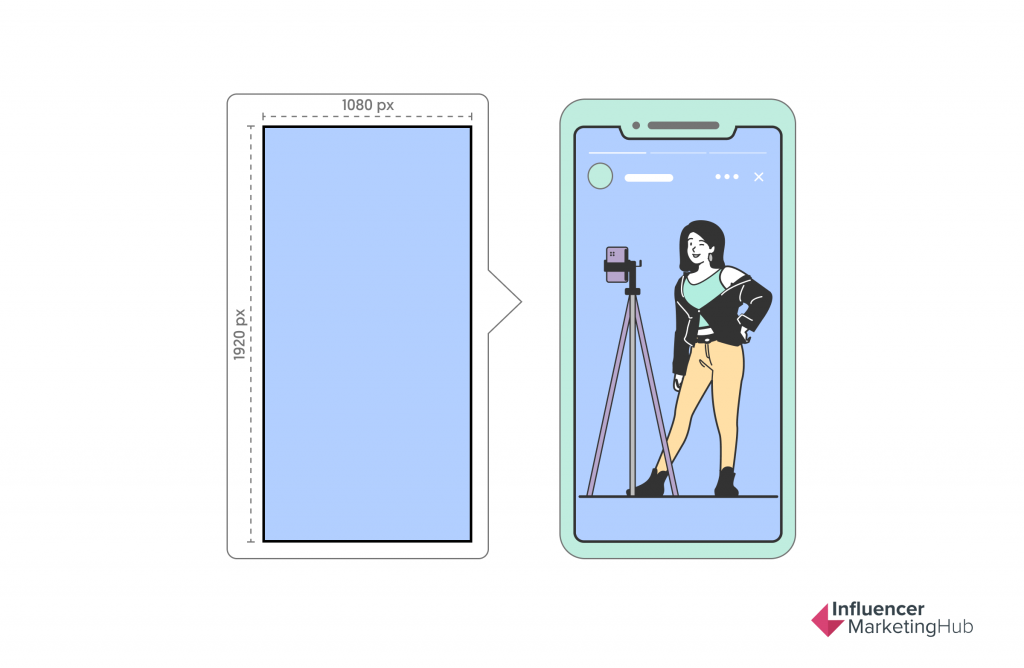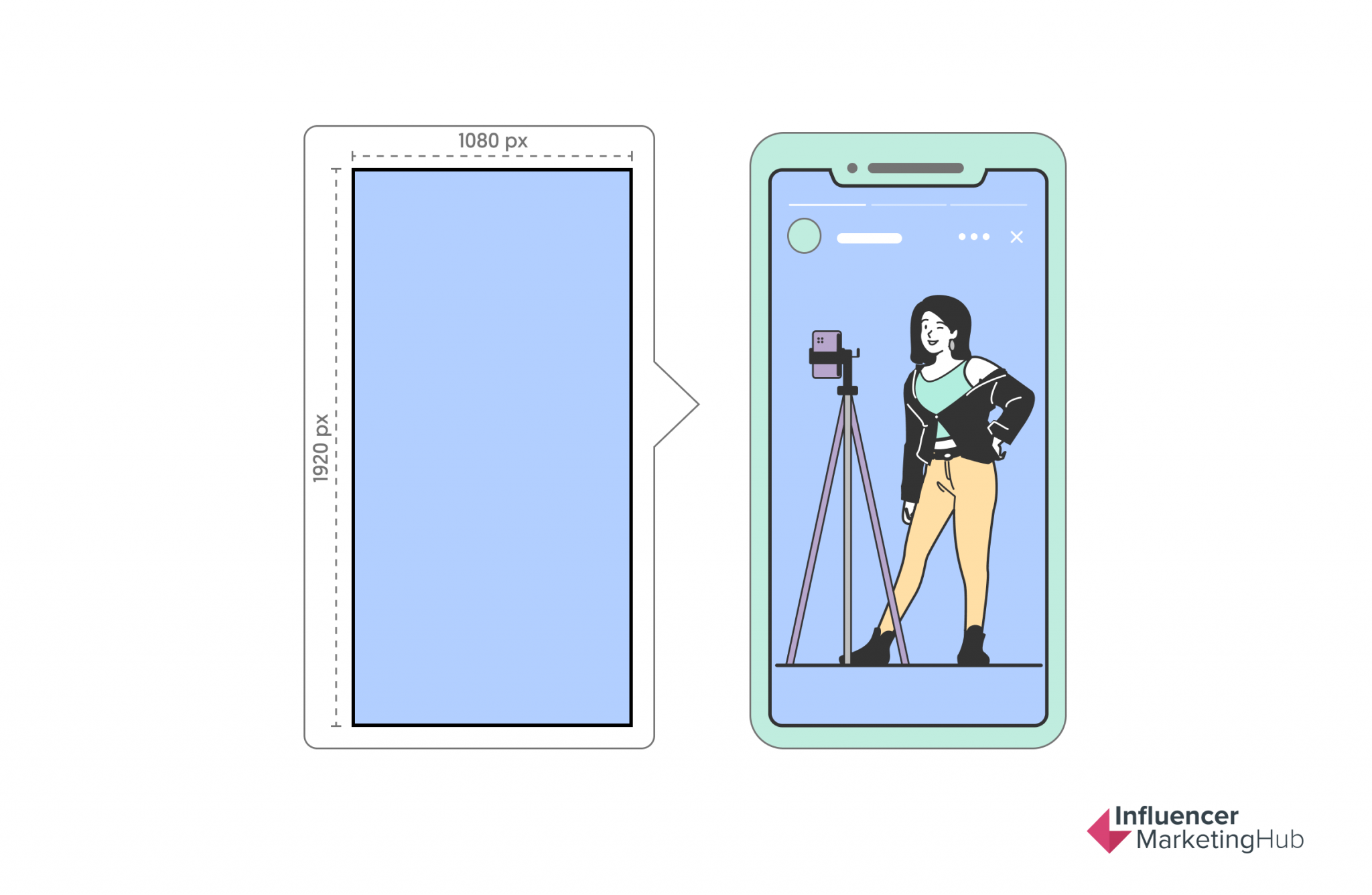 You can tell your brand's personal story through Instagram Stories. Stories are more impactful than still images and they don't crowd your followers' feeds. If you own a Business account and have 10K+ followers, you can add a "swipe up" to your Stories and redirect traffic to your website. Stickers in Stories can further improve engagement.
Instagram Live
As the name implies, Instagram Live is for live videos. They are a great way to land at the first position in your followers' Story section. Live videos look candid and engage viewers for longer. For live videos, you can include interviews, product demos, and Q&A with your viewers. Just remember to have a basic script and format in hand to avoid goof ups.
Instagram TV (IGTV)
Similar to Stories, IGTV is for longer videos with cover photos. You can use them to do promotions and influencer takeovers. There are many free sophisticated movie-making apps like iMovie and FilmoraGo that you can use to shoot delightful videos.
Hashtags
If you want to expand your follower count, you need to explore new pastures. Hashtags can make your posts pop up in trending circles. Ensure that the hashtags you use are relevant to your brand and audience. HashtagsForLikes is a great hashtag tracking tool that searches trending tags for your brand.
Contests and Giveaways
Contests and giveaways are clever strategies to get new followers. You can instruct contest entrants to tag their friends and/or to follow your page. Your brand can get more visibility and your followers can win cool goodies in return.
Sneak Peeks
You can involve your audience in your journey by posting behind-the-scenes videos and bloopers. You can even create buzz about upcoming events and products by posting teasers about them.
User-Generated Content
User-generated content is a great way to improve your brand awareness. It costs nothing and has huge engagement potential. You can craft a branded hashtag and encourage your followers to follow it and add it to their posts. This way, you can gather a lot of valuable content that can be reposted in your Stories.
---
3. Use Instagram Shoutouts
Co-promotion is the name of the game on Instagram. You can swap shoutouts with relevant influencers so that the strategy is mutually beneficial. A shoutout is a brand mention, typically done with a profile link in the caption. Often, a picture of the publicised brand accompanies the brand mention.
You can use hashtag searches or influencer marketing tools to look for people who are in your industry. Then, scan their feeds to identify people who regularly give shoutouts that get a lot of engagement. Like and comment on their posts, and then ask them if they're interested in a shoutout exchange with you.
---
4. Regram Content
Regramming or reposting others' Instagram content is a great way to increase your followers and build co-marketing relationships.
But unlike Twitter and Facebook, Instagram does not have a "Share" or "Repost" button. Plus, you run the risk of a copyright violation if you share someone's work on your account.
On Instagram, you need to follow regramming etiquette. While reposting someone's content, you can attribute the original creator. Never share work of a professional designer, creator, photographer. Build a relationship with brands whose content you want to regram. Then ask beforehand if you can repost their content.
To workaround the lack of one-click button to enable reposting, you can use free apps like Repost for Instagram. It lets you repost instantly or save posts for later.
Even if you repost user-generated content on your feed and Story, you'll need to ask for permission from the concerned user.
---
5. Hobnob with Influencers
Influencers are people or brands that hold sway over their followers. The trust that influencers have built among their followers can influence their followers' buying decisions. By partnering with influencers, you can earn a lot of mileage in terms of engagement, follower count, and even sales.
If an influencer recommends your brand, their' followers may become interested in it. They may feel inspired to try your products or follow your social accounts.
But why would an influencer promote your brand? What can motivate them to be your mouthpiece? The answer is relevance plus compensation.
You can sweeten the deal by offering influencers free products/services or a commission for their efforts. Some micro and nano-influencers also accept goodies, exclusive offers, or shout outs as compensation.
---
Final Thoughts
Survival of the fittest is more apt today than ever. The intense competition on Instagram has forced brands to look for unconventional methods of marketing. The organic growth strategies discussed in this post will help you stay ahead of the pack. The bonus is that these strategies won't eat into your profit margins since they are free or very low cost. You'll be smiling all the way to the bank!