In 2016, Instagram launched a brilliant feature called Instagram Live that lets users broadcast live videos to their feeds. It was very well-received by the millions of Instagram users who started using it in a myriad of ways.
While it is a fun and engaging way to share travel videos, live experiences, and vlogs, people still have doubts about the business potential of this feature. There are businesses and marketers who have learnt how to leverage it to their advantage, but its adoption for business use is still limited.
This is why we have created this guide to help you understand how you can use Instagram Live for your business. You will find out more about Instagram Live, why you should use it, and the best ways to utilise it for your business.
---
The Ultimate Guide for Using Instagram Live for Business:
---
Instagram Live: The Basics
Before we get into the details of how you can use Instagram Live for business purposes, let's first understand how it works.
Key Features
Here are some of the features that make Instagram Live really useful for your business.
It lets you stream videos in real-time.

Your users can interact with you by commenting on your video.

It also allows you to add others to your live video as guests.

You can save a replay of your Live video to your Stories.

Another useful feature is the ability to pin some comments to the top.
How to Use
Going Live on Instagram is easy and follows basically the same steps as creating a Story. Just go to the interface from where you create Stories and swipe to find the "Live" option. As soon as you click on the round play button, you will go Live on Instagram.
Sounds simple, right? Well, not quite.
If you want to use this feature for your business, you need to do a bit more than that. It's not as simple as going Live and just winging it.
You need to prepare first. For one, you should have a clear idea about what you want to show and say. It is better to have the content ready and do a practice run before you go Live.
---
Why Use Instagram Live for Business?
If the list of features has not convinced you of the business potential of Instagram Live, we have a few more reasons for you. Here are some of the key benefits of Instagram Live and reasons why you should include it in your social media marketing strategy.
It Gets Great Visibility
Instagram Live videos appear at the top of the screen among the Stories on a user's feed. Moreover, they get priority over Stories and are shown first in the sequence. And, they appear with a thick pink ring around them, to distinguish them from regular Stories.
Your Followers Get Immediate Notification of a Live Stream
Another advantage that Live videos have over any other type of Instagram content is that they get immediate audience attention. As soon as you go Live, Instagram will send a notification to all your followers to watch the Live stream. This also creates a sense of urgency encouraging your followers to watch it immediately.
Lets You Interact With Your Followers in Real-Time
One of the biggest benefits of using Live videos over other types of videos is that they allow you to interact with your followers in real-time. This makes the whole experience more engaging for your audience and gives you a chance to understand their queries and concerns better.
---
Ways to Leverage Instagram Live for Business
Here are six ways in which you can use Instagram Live for your business. Try these out and experiment on your own to find new and innovative ways to use this feature.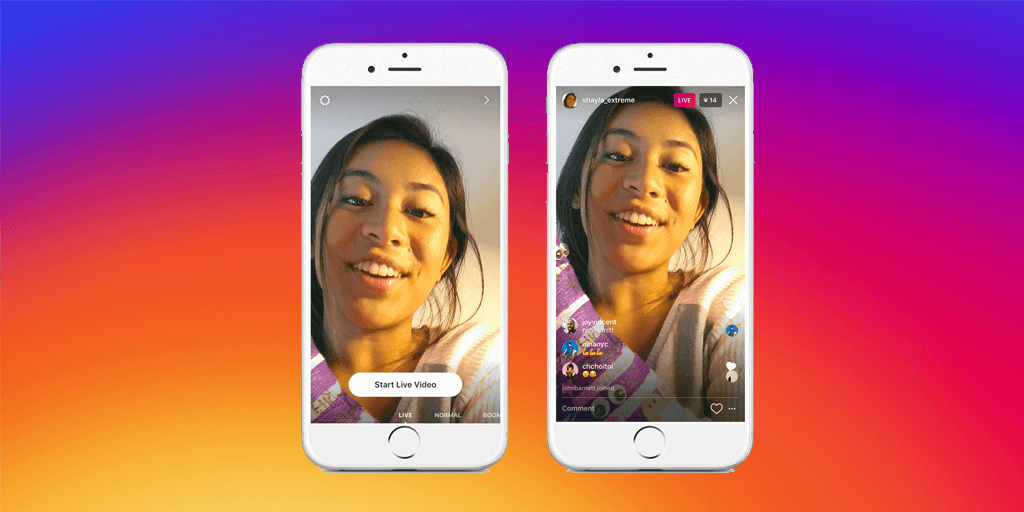 Use it for a Product Launch
One brilliant way to leverage Instagram Live is by using it to launch a new product. Talking about a product launch in real-time generates interest in the product.
It works best if you go Live a little before the actual product launch to create buzz around it. Give people a little sneak-peek before your actual launch, so that they are already interested and ready to find out more.
Use this chance to detail the key features and use cases of the product and what makes it stand out. You can reveal the price, but it's better to direct people to your website to wait for the product to go live to find the price. This will generate enough curiosity to drive people to your website and check out the product.
Host a Live Q&A Session
One of the most common uses of Instagram Live is to have a live Q&A session with your followers. This gives you a chance to interact with your followers directly and do a pulse check.
Use this to listen to customer concerns or challenges and provide solutions. You can also encourage them to ask any questions they might have about your brand or products.
The main benefit of using Instagram Live for this is that you can have a conversation in real-time. This means that people don't have to wait to get their problems resolved or get answers to questions.
Do not forget to turn on the option that allows the viewers to comment, otherwise, this whole exercise will be futile.
Post Live Videos From a Brand Event
If you are hosting a brand event and want to generate online buzz around it, you can go Live from the event and share some details. This will let your online followers get a sneak-peek into the happenings at the event and will generate online engagement for your brand.
You might post pictures from the event later on your feed, but it won't have the same effect as a Live video. Using Instagram Live you can make your followers feel like they are actually part of the experience. That can help you build an engaged and loyal audience for your social media profiles.
This is not just limited to brand events and can be leveraged for any other event that you might be attending or that your brand is a part of. The important thing is to share the experience with your followers and engage them with interesting Live video content.
Conduct an Interview
As a brand, you may come across or work with influential people in your industry. You can use Instagram Live to interview such people and get more people to follow you and watch your Live feed.
Influencers have large and loyal followings of their own. And, if they promote the upcoming interview in advance, their followers will want to see the interview. This will lead to an increase in your number of followers and will help you reach a much broader audience.
Another way to do this is to use the "Live Guest" feature, which will stream the Live video on both yours and the guest's Instagram feeds. And, for this, you don't need to be in physical proximity with your guest. You can interview people remotely. And, the best part is that both your audience and your guest's followers can see the video.
Essentially, this is another way for you to work with influencers, but with the added advantage of letting your followers talk to them directly via comments.
Use this to ask useful industry-specific questions that will provide valuable insights to your audience. And, allow your audience to ask questions of your guest by posting them in the comments.
Post Product Tutorials
Just like with any other type of video content, Live videos also can be used for tutorials. The best way to show a product in use is by making a video. It is much easier to grasp than still pictures or a lengthy "how-to" text guide.
Using a Live video lends an air of authenticity to the whole thing and makes it more real for people. It's not just an edited video where, if things go wrong, you can reshoot certain parts. It's real, it's happening right in front of the audience, and it can be trusted.
Live videos also allow people to ask any questions that they might have and get answers right then and there.
Overall, it is a good platform to showcase your product in use and educate your customers on the best ways to use it.
---
Conclusion
Instagram Live can be very useful for your business and should be a part of your marketing strategy. You can use it to market your products, engage your followers, or simply improve your brand's social media presence.
This post includes everything you need to know to get started with using Instagram Live for your business.
Leverage these tips and start using Instagram Live now!