While video marketing is an old concept, new tools and platforms that help to shape the online marketing trends and drive video consumption get created continuously. According to Insivia, mobile video consumption increases by 100% every year. In fact, data gathered on video marketing by Cisco predicts that video is expected to make up more than 80% of all internet traffic in 2021.
So, if you have not explored the potential that shoppable video platforms have to offer, we're here to help. In this article, we take a quick look at 14 of the most popular platforms to try.
---
14 Shoppable Video Platforms to Add to Your Shopping List in 2021:
---
What Exactly Is Shoppable Video?
During a shoppable video, consumers can watch various products. If there is a product that catches their attention, all they have to do is click directly in the video (there are many clickable links embedded) and they will be directed to another page where they can find more information about that specific product or buy it online. In short, it is a great way that brands can generate direct sales instantly.
---
What Are the Benefits?
Increase in sales
By using a shoppable video, your customers do not first have to search thousands of products on your website just to find that one item that they need. Instead, they can simply click on the product as it pops up in the video to get extra information. So, as customers can make a purchase much faster, brands can take advantage of the moment before it is gone.
Better engagement
With the help of video, brands can create a more engaging experience. By, for instance, including some element of storytelling, your target audience will start to feel more emotionally connected to your brand. This, in turn, encourages interaction and a better user experience.
Boost in conversions
Brands that incorporate shoppable videos have experienced a boost in conversions. As videos are more engaging, your customers will have a good reason to stay on your website. It also makes the whole buying process more user-friendly, which also helps to drive conversions.
---
14 Top Shoppable Video Platforms (In Alphabetical Order)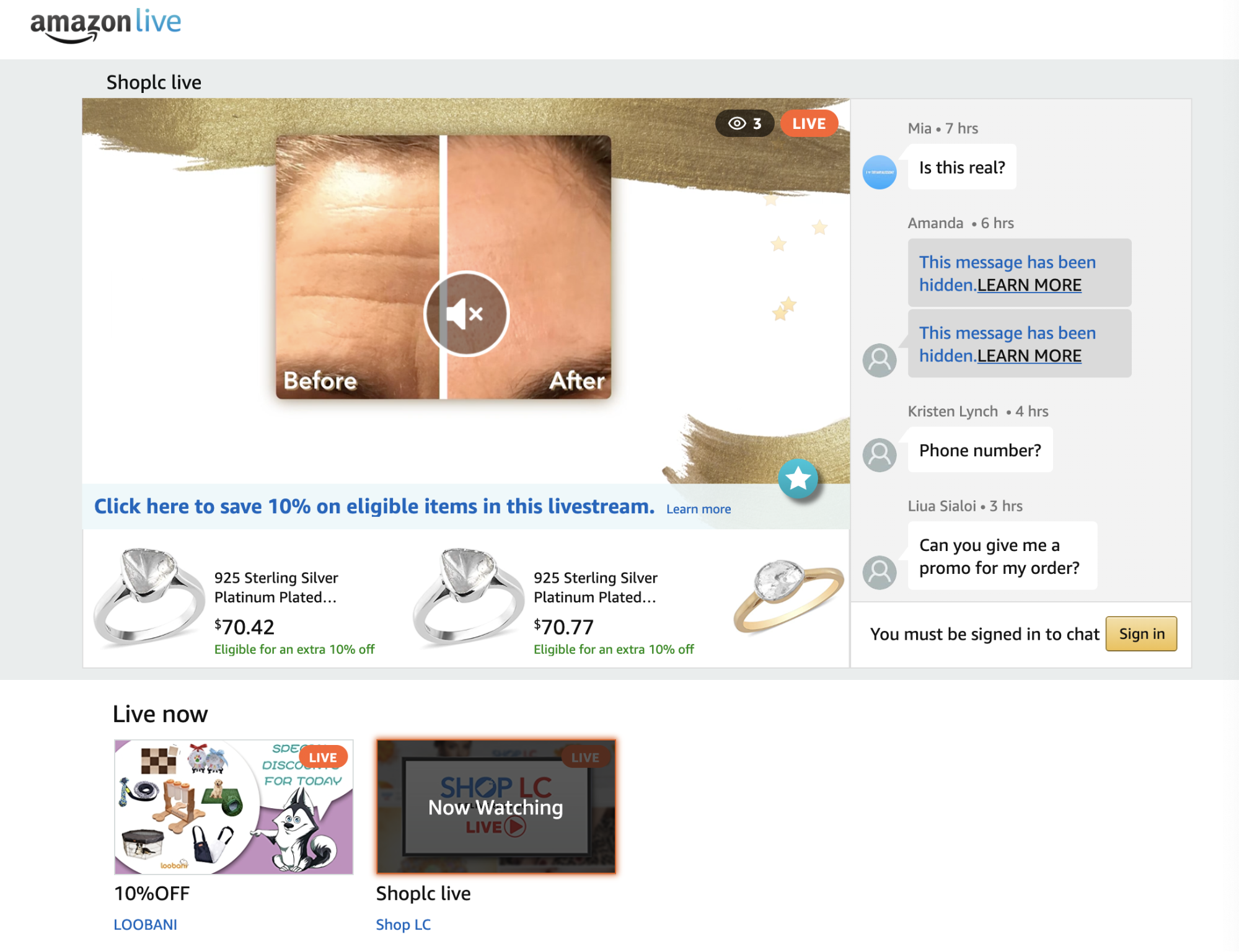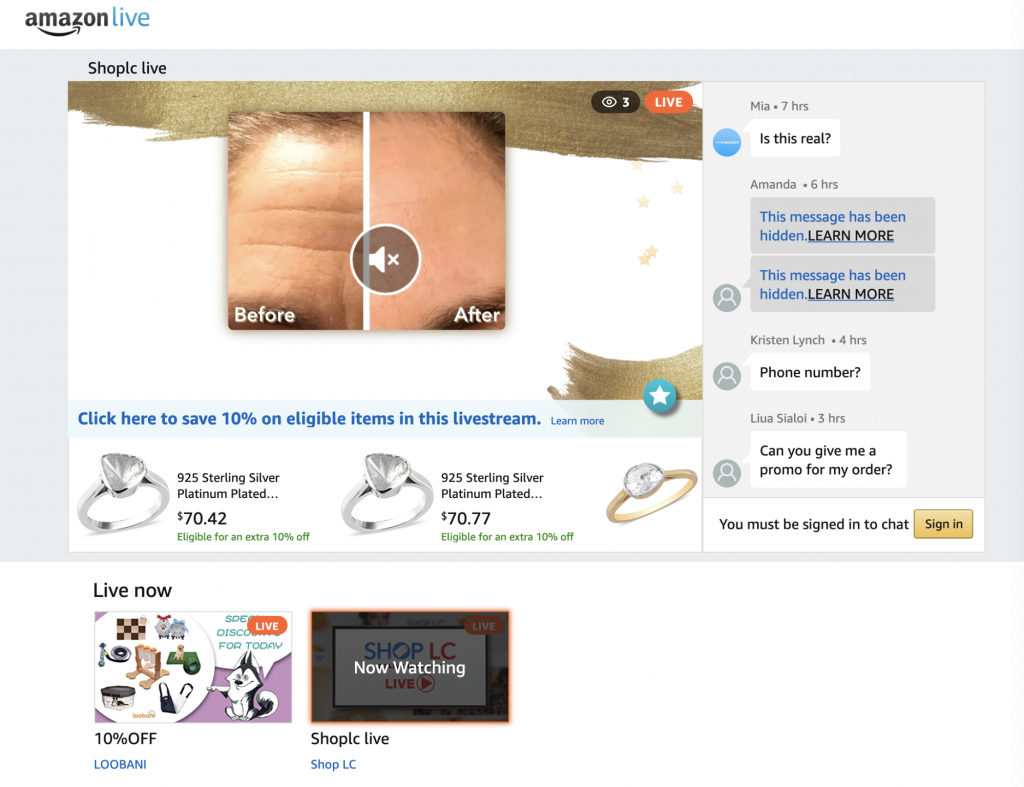 If you are a US Professional Seller that is registered in the Amazon Brand Registry, an approved US Amazon vendor or an Amazon Influencer with an active influencer storefront, you can use the Amazon Live Creator app for free. With the help of this app, you can create and manage live streams and grow your number of followers on Amazon.
Brands can use the app to boost product sales and reach higher Amazon Live levels. The advantage of reaching a higher Amazon Live level is that you can unlock extra placements for your live streams on the home page of Amazon.
Influencers can join the Amazon Influencer Program to earn commissions from qualifying product purchases that they feature in their live stream on top of the existing earnings generated via traffic that they refer to their Influencer storefront. With Amazon Live, influencers can get more followers on Amazon and expand their viewership as their followers will also be notified via the Amazon mobile shopping app whenever they go live.
Sadly, it is currently only available for iPhones. While you can use it on your iPad, the experience will not be optimized.
---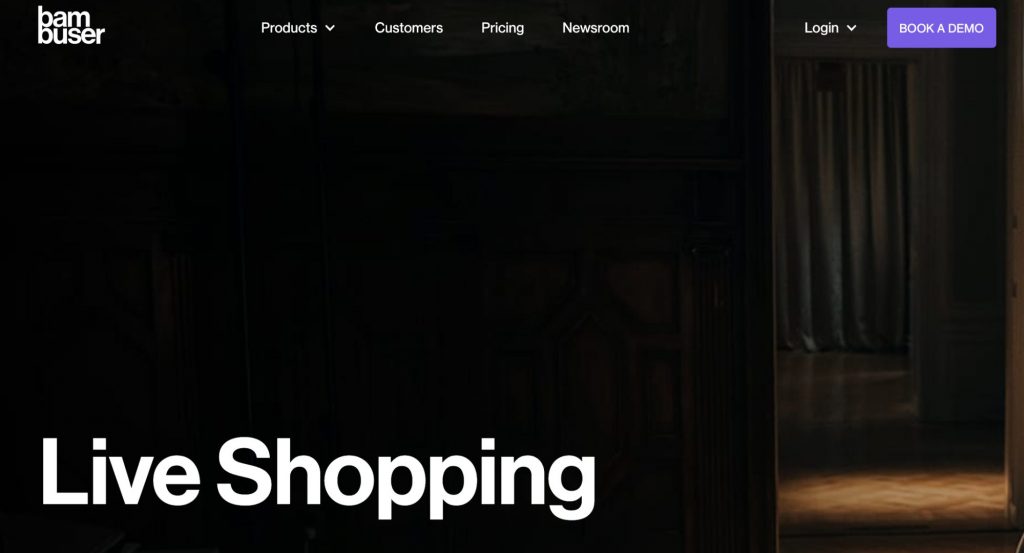 Headquartered in Sweden, Bambuser is an international SaaS company that focuses on interactive live video streaming. While their main product, Live Video Shopping, was launched merely two years ago in 2019, it has already been used by big brands like Samsung to boost customer engagement and sales. Some of its features include a customizable player, in-player cart, live chat, live show scheduling and analytics. As they customize each package and services based on the individual requirements of a company, pricing is available only upon request.
---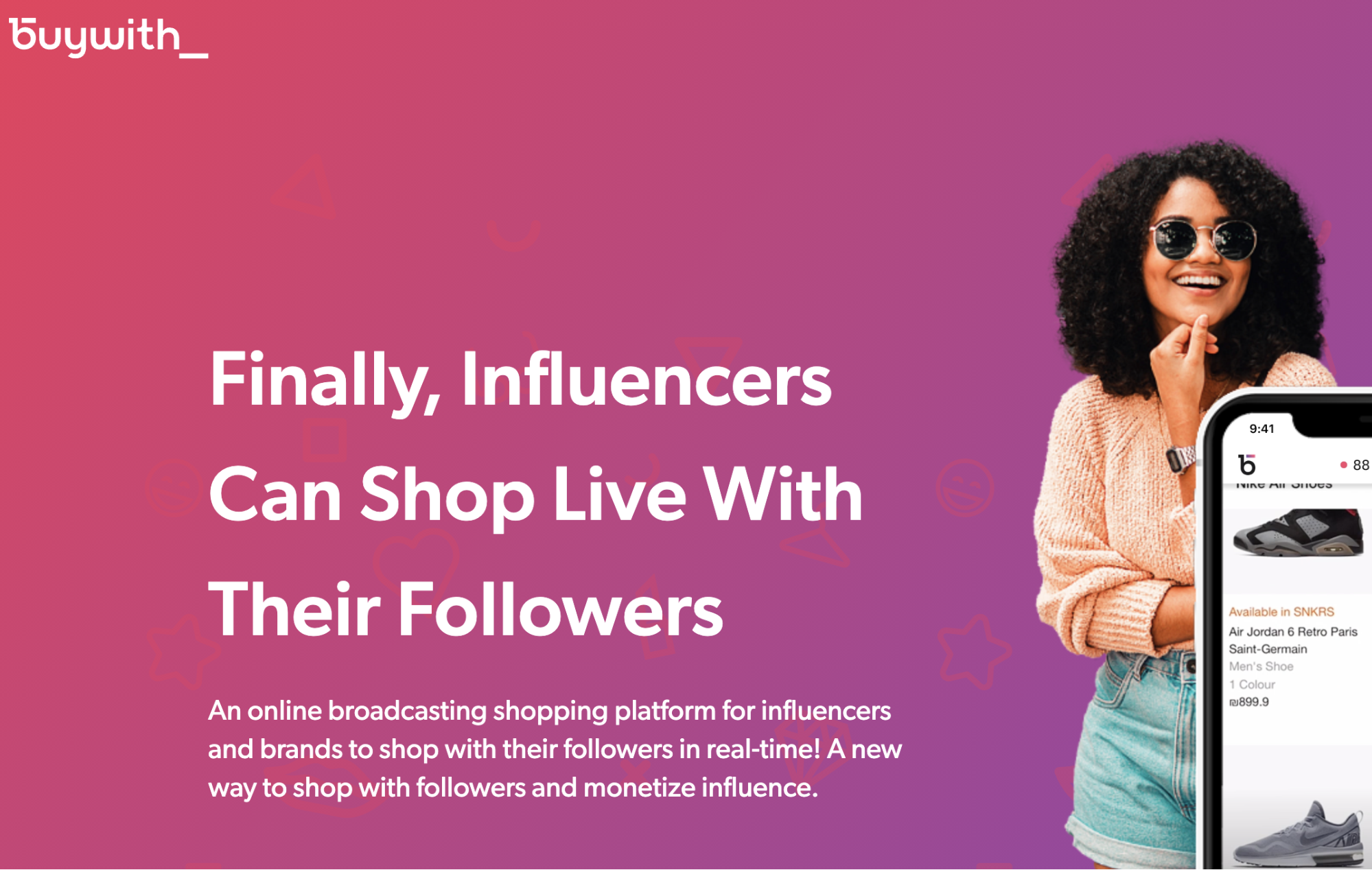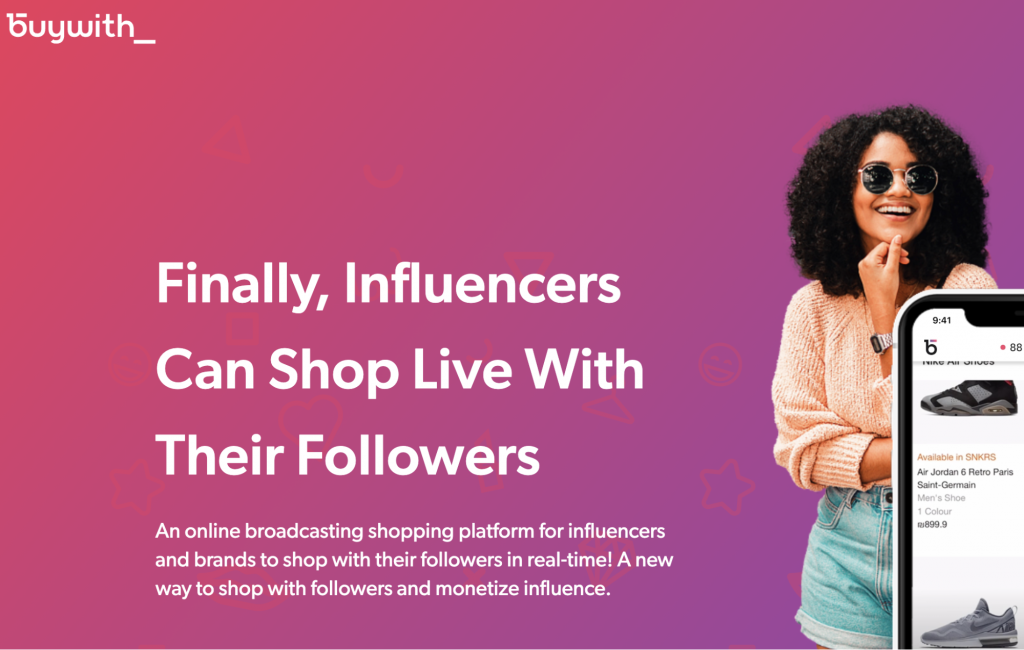 Buywith's focus is on helping brands to use video to engage with influencers and influencers to engage with their followers. In short, it lets influencers shop with their followers on the site of the brand.
With the help of a screen-sharing feature, influencers can engage directly with their followers while live-streaming. It also has video and text chat to boost engagement further. Brands will benefit from the metrics to assess the influencer campaign's success rate. Sadly, their website does not offer a lot of information. So, if you would like more details, it is best to schedule a demo session.
---


Clicktivated connects products to users via video allowing viewers to buy products within a click while watching a video. As viewers can click on the products that they like, they ultimately have complete control of which products they explore further. By creating an immersive, interactive experience, brands boost user engagement and can also concentrate on specific products. All in all, it offers a seamless way for your customers to shop and buy directly via your videos.
---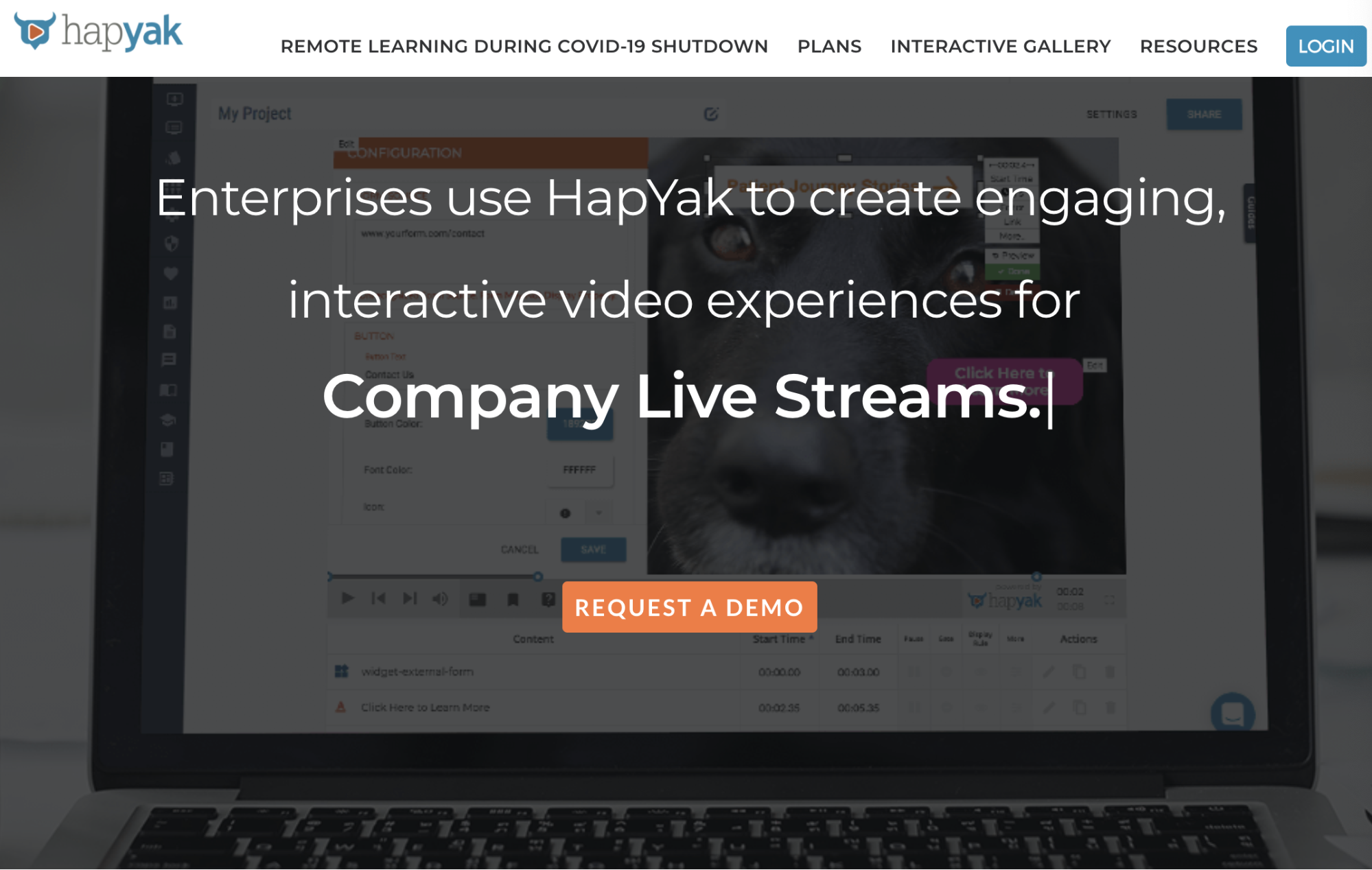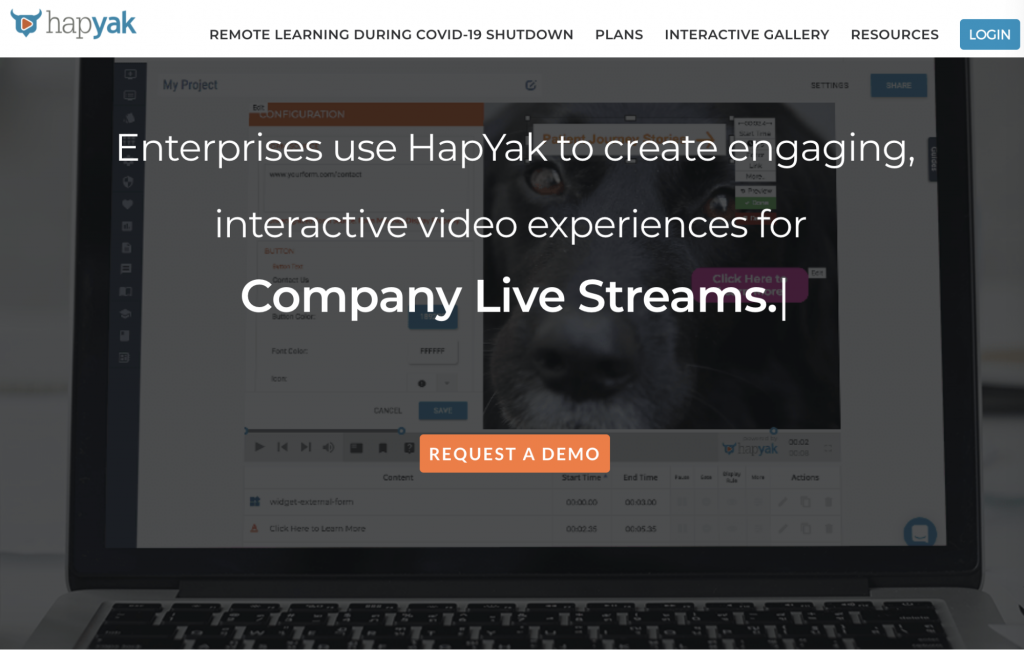 HapYak offers interactive video software that is used by brands like Best Buy and Avon to create shoppable eCommerce stories. Brands can use it to create interactive product pages that they can then embed in their online videos to lead customers down the sales funnel. To boost engagement further, brands can also use it to embed other interactive elements like quizzes.
---
In 2018, Instagram introduced its shoppable posts and videos enabling users to shop products directly via Instagram videos and posts that appeared in their feeds. Though, currently it is only available to businesses that have been approved for this feature. Also, even if you have been approved, you will only be able to tag a maximum of five products in a video.
On the upside, as Instagram is currently one of the biggest social platforms, you will be able to reach a huge audience of men and women. That being said, as you will be competing for your target audience's attention, you need to keep your videos creative, yet short and to the point. Unique and original content works best on Instagram. So, be sure to take the time to create a brand story that your target audience will find relatable instead of coming across as too promotional.
---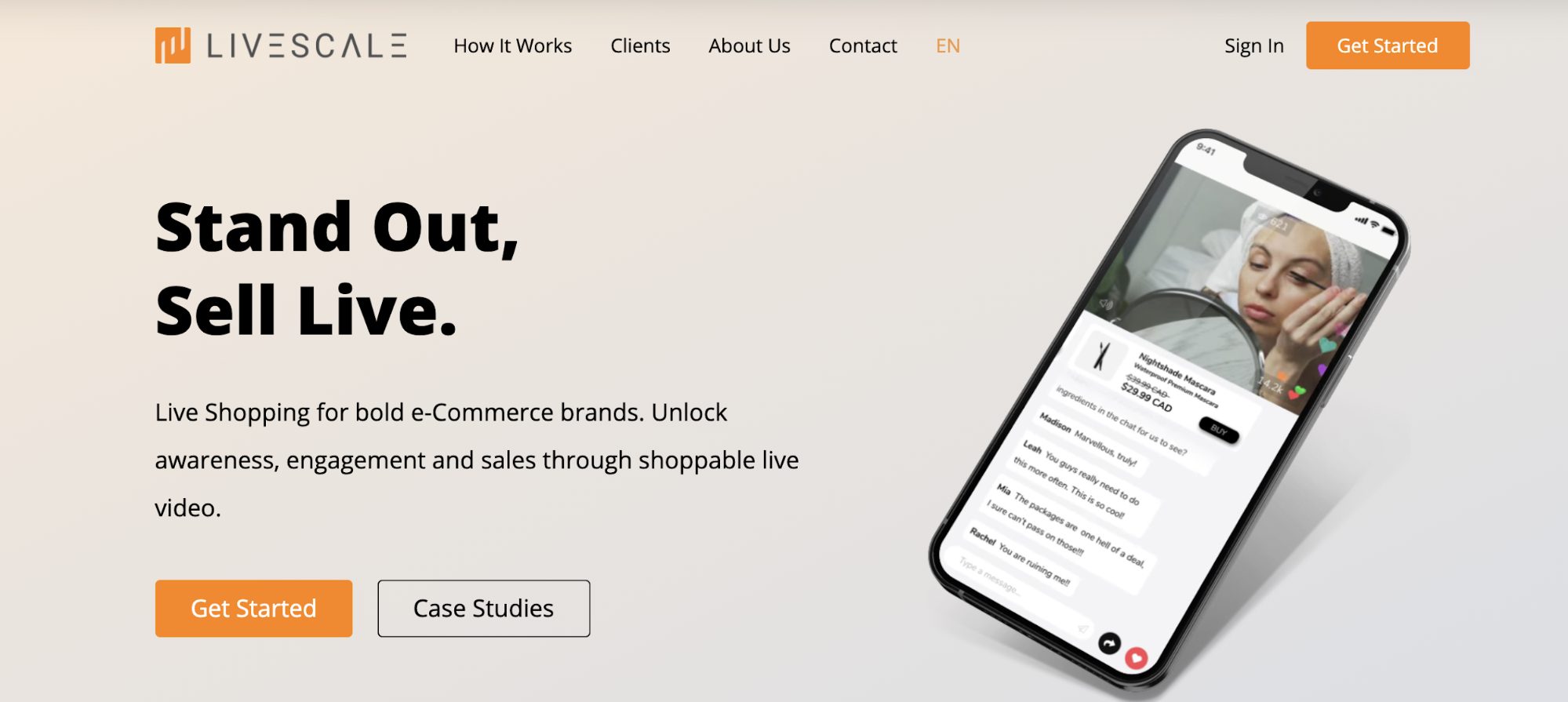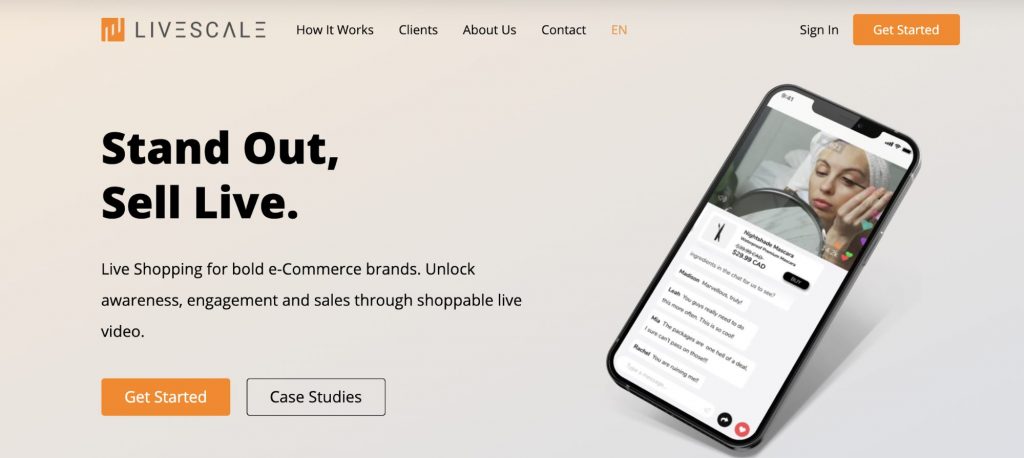 Livescale is a live shopping solution that was founded in 2016. It uses the power of live-streaming to help creators connect in real time via media platforms. This way brands can attract, interact with, and, ultimately, convert customers by means of a customizable live shopping experience instead of meeting them in person.
Some of its features include an easy eCommerce setup, synced product feed, seamless checkout integration, real-time transactions and inventory updates. It is especially popular among fashion brands and boasts big brands like Vans and Roberto Cavalli as past clients.
---


With MikMak, you can create a seamless shopping experience for your customers by giving them the opportunity to buy products without having to leave the social platform. In addition to helping brands to make their media shoppable, they also offer powerful analytics and consumer insights. It helps you to gather first-party consumer and behavior data so that you can get more insight into the journey of your customers via all channels. In fact, with the help of MikMak, brands like Tesco, Walgreens and Macy's have improved their media efficiency by as much as 70%.
---


Similarly to Buywith, NTWRK does not offer a lot of information about their features on their website. That being said, it has been featured in Forbes, TechCrunch, New York Times, and Wall Street Journal among others, with Forbes describing it as the "much-hyped platform that's putting a rocket under retailtainment". In short, it is a video shopping platform that offers shoppable shows that feature some of the biggest brand and pop culture icons such as Billie Eilish, Jonah Hill and Blake Griffin.
---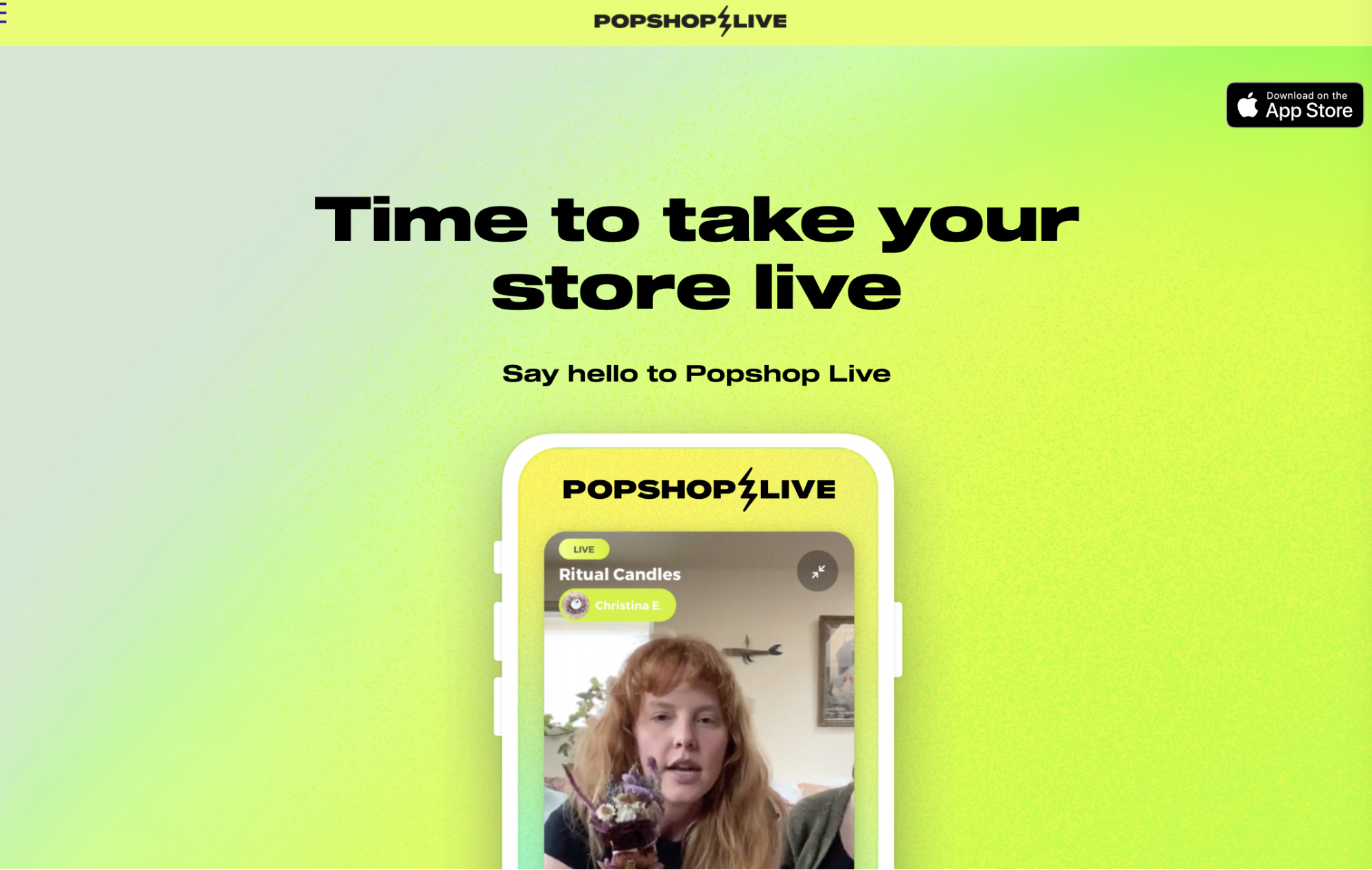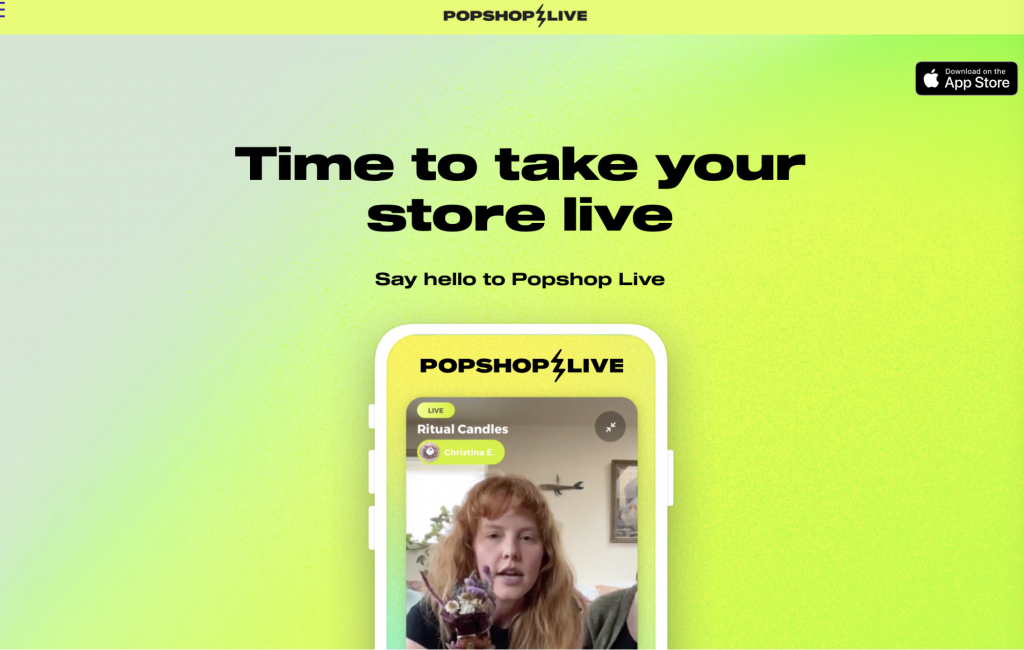 If you solely work on iOS devices, you can check out the Popshop Live app. With it, you can create a pop-up live-streaming show for selling directly to your customers and schedule it in advance. You can use it to upload your merchandise and product details to create your own online store. To help sellers get started, they offer onboarding content and audience engagement metrics after each show. Popshop Live will also manage the payment and shipping details so that you can focus on growing your brand.
---


Shoploop is Google's answer to shoppable video. In short, it is a video shopping platform for finding, evaluating and purchasing products in one place. It helps users to get product reviews from actual people (content creators, owners of online stores and publishers) who are knowledgeable about products in the beauty, fashion and home and garden categories. Videos on Shoploop are no longer than 90 seconds and let you either save the product so that you can purchase it later or let you go directly to the website of the merchant so that you can buy it right there and then.
Though, this interesting feature of Google Shopping is currently not available to everyone. Interested creators should apply via Area 120, the in-house incubator of Google.
---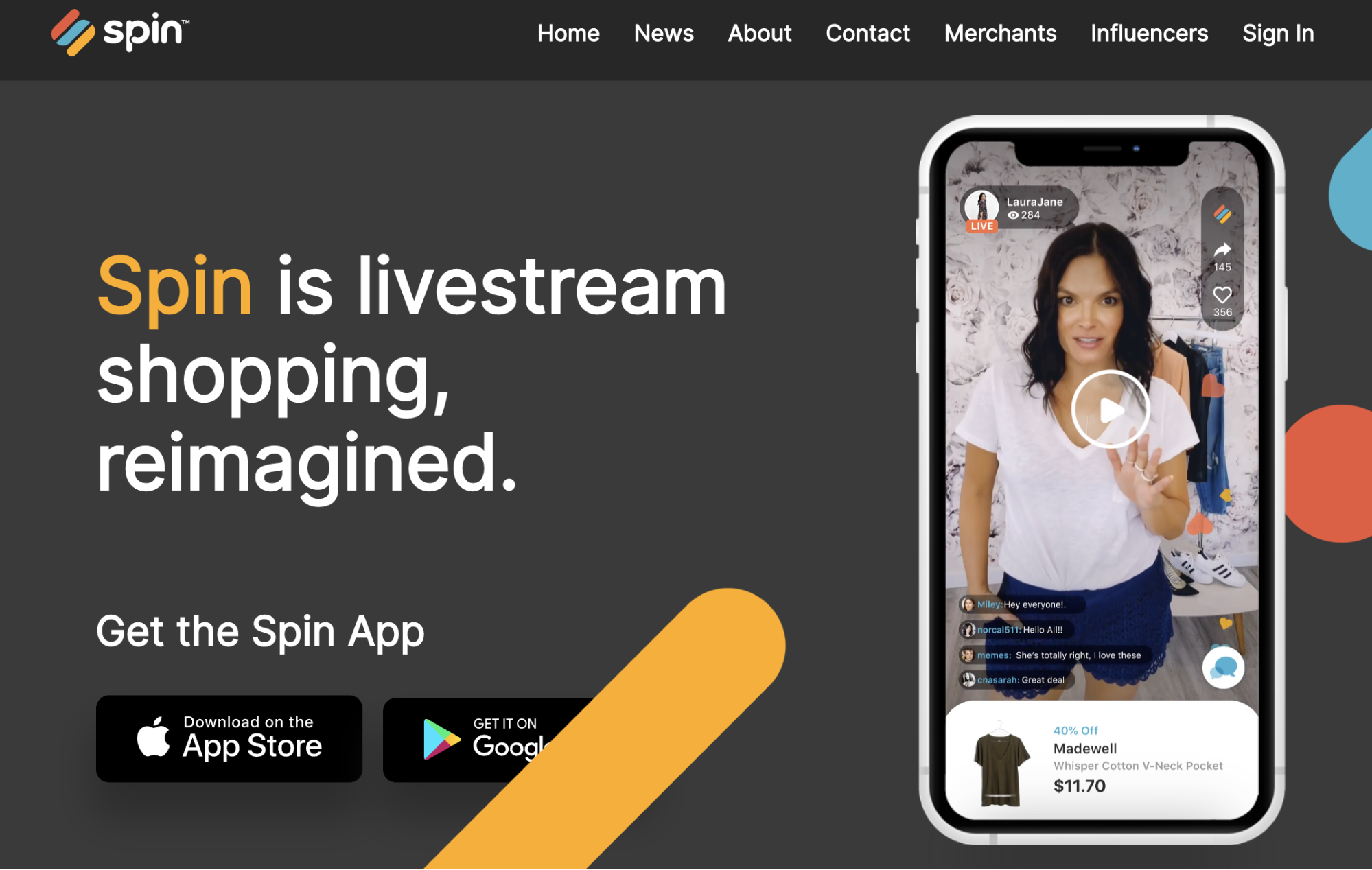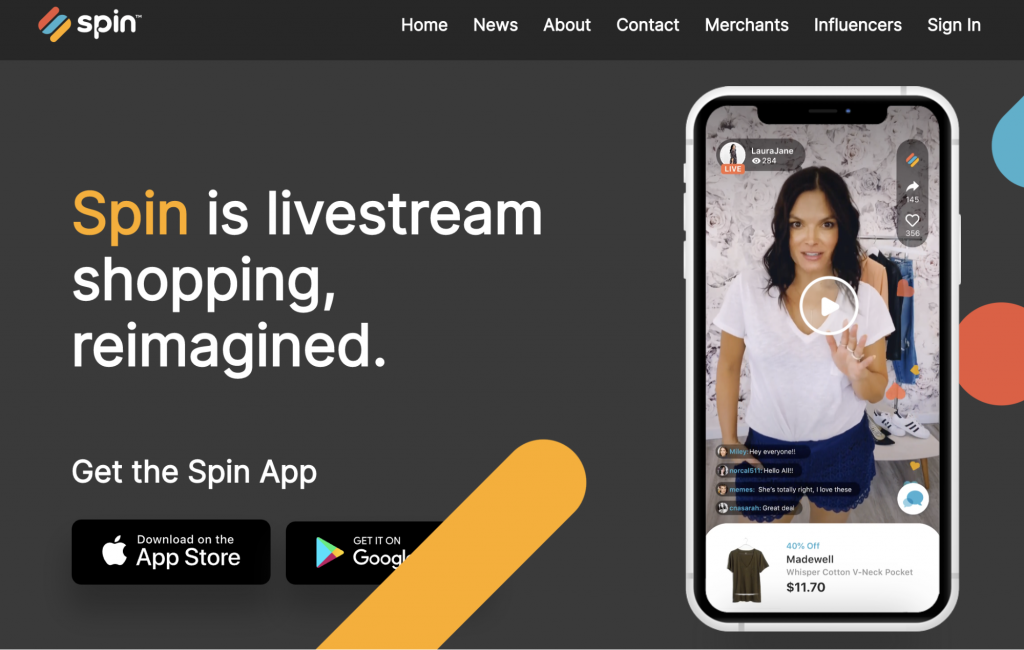 Spin is a shopping-only network that concentrates on impulse buying and product discovery by means of very interactive, lively live streams. It integrates with Shopify to sync product details as well as order management and fulfillment. In 2020, Retail Technology Innovation Hub voted it as the number 1 retail tech startup to watch.
Brands can either host the live streams on their own or work with an influencer who can live-stream their top picks to their followers. If you choose to work with influencers, Spin also offers their own Shopper Influencer Network that can create content for you. This can save you a lot of time as Spin will automatically pay out influencer commissions.
---
Yeay is mostly aimed at Generation Z. With the help of their platform, you can share authentic product recommendations regarding the latest fashion, tech and experiences via video (with the emphasis on authentic). Yeay really values honesty! Users can recommend any product or brand, giving them total creative freedom regarding the content they share. Though, before you will be able to start using their platform, you first need to complete an application form and wait for their approval.
---
Thanks to various new features introduced in 2020, YouTube has now also made videos shoppable. It has included browsable product images below the advertisement to drive the traffic to the product pages of the brand. If you want to use this feature, you will need to sync your Google Merchant Center feed with your advertisements. This way you can then expand the advertisement's CTA to product pages and featured products and send viewers directly to those products on your site.
---
Wrapping Things Up
Thanks to the advancements in technology, brands can now use video to create an authentic experience to help their customers with the buying process. Shoppable videos can take personalization to a new level to ensure improved user experience. The real value of using shoppable video is that you can demonstrate more clearly to your target audience why your brand, products and offers matter.