After a tumultuous year during the pandemic, 2022 saw global economies slowly bouncing back but with a markedly different business landscape in virtually all industries. There was a massive surge in eCommerce and social commerce between 2020 and 2021, resulting in a paradigm shift. People felt safer shopping from the confines of their homes and soon many realized that this saves them considerable time, effort, and even money.
As in-store shopping gradually bounced back in 2022, retailers faced the challenge of bridging the gap between online and in-store experiences. At the same time, shopping via social media continued to thrive as these platforms offered direct links to buying products.
In 2023, we expect the world of online shopping to continue changing. Social commerce in particular will play a vital role in reshaping the world of commerce. It has helped that the social networks have recognized its arrival and make it easier to enable shopping activities on their platforms.
---
Social Commerce Trends to Watch Out For in 2023:
---
What Does Social Commerce Mean?
The idea behind social commerce is straightforward. It usually involves brands using social media to sell their goods or services instead of relying on a stand-alone eCommerce site. Things are not quite so clear-cut in practice, however, as social commerce often includes sales of products promoted on social media that link to a stand-alone eCommerce store.
---
Why is Social Commerce Important?
"Location" is an essential ingredient of social commerce. It takes advantage of social proof. In many ways, social commerce has most of the benefits of influencer marketing—without any need for working with influencers.
---
What is the Difference Between Social Commerce and eCommerce?
The two forms of online commerce are very similar. You can easily think of social commerce as a specialist form of eCommerce. Technically, eCommerce happens on a website where you built an online store. Social commerce sales, however, occur on social media.
However, definitions are quite fluid, and you might widen the meaning of social commerce to include all sales facilitated by social media. With this broader definition, you would include sales made due to social media advertising, even if people follow a link in the ad through to your main online store.
---
Social Commerce Trends for 2023
Social commerce saw a sizable increase in previous years due to the convenience of buying something within the social platform where one first discovered a product. The arrival of Facebook Shops helped spur this new sales channel. Twitter also launched commerce features with Twitter card shop buttons in tweets. TikTok also followed suit with its TikTok Shopping suite. Social commerce is also present in Instagram, Etsy, Pinterest, WeChat and many others, with dozens of other social commerce platforms popping up. Their number is bound to increase even more in 2023 after social sellers posted global revenues worth $724 billion in 2022.
Here are the top social commerce trends for 2023 to watch out for. These trends can help businesses plan their strategies for growth in the next couple of years.
5G connectivity will enable XR experiences across connected devices
Aside from edge cloud processing and advanced AI, the continuous global deployment of 5G wireless connectivity will enhance social commerce. It will enable seamless mixed reality experiences across a wide variety of connected devices.
eMarketer estimates that the number of AR users in America will rise to 97.1 million in 2023, up from 89.4 million in 2022 and 80.4 million in 2021. The market trends firm said that access to better data made them revise the projections released in their previous forecast, in which it predicted that AR users will reach 110.1 million in 2023.
If brands are able to leverage new technologies and the power of 5G to deliver more immersive shopping experiences to the consumers, this growth forecast will likely be surpassed.
---
Digital avatars will sashay through the fashion industry
While influencers will still play a key role in promoting clothing, digital avatars are poised to walk along digital fashion runways. They will give brands more flexibility in layering digital clothing, promoting new collections, and enabling digital sampling. Consumers will also have more realistic views of how clothes and accessories look when worn even when shopping online. Meanwhile, 67% of Gen Z Instagram users said they want to use digital avatars to reflect their unique clothing preferences, body type, and skin tone, according to Instagram's 2023 Trend Report.
The rise of the Metaverse will further spur the use of digital avatars. Fashion retailers can take advantage of this trend by offering digital accessories and digital clothing that these avatars can use.
---
Mainstream use of NFTs still in contention
In 2022, the demand for non-fungible tokens (NFTs) went mainstream with the increased popularity of the Metaverse. This was further boosted by Facebook's rebranding as Meta. Many independent artists and digital creators welcomed this revolutionary form of compensation for their work. Also, in 2022, Meta began NFT sharing and selling trials on Facebook and Instagram among a small group of US-based users.
However, much debate remains on the use and nature of NFTs. Among the criticisms for its use are its significant environmental impact, unreliability, lack of regulations, and volatile nature. Still, brands engaged in social commerce and eCommerce should look deeper into how NFTs can potentially benefit them in the emerging creative economy and digital ecosystem.
As a new form of social commerce, NFTs can empower creators, collectors, and small businesses alike. Before you dive into it though, make sure to exercise due diligence. Identify your potential use cases, assess risks, and determine if NFTs can add true, long-term value to your business.
---
Micro-influencers to continue helping brands increase reach
Collaborating with micro-influencers isn't exactly a new trend but it is still relevant today and will remain so in 2023. Small businesses in particular will find that micro-influencers can enable them to balance ad budgets better while achieving wider audience reach.
Unlike some big name influencers that have hundreds of thousands to millions of followers, micro-influencers collaborate with brands at budgets that even small enterprises can afford. They often have very specific audience types that simplify segmentation and ad targeting. Moreover, they are usually perceived to be more authentic and transparent about paid collaborations than major influencers. Considering all these factors, micro-influencers definitely have an impact on helping brands drive conversions.
When working with micro-influencers, choose those in a niche within your industry and whose followers are similar to your target persona. Look for people who engage with their audience on a personal level and who have established relationships with their loyal followers.
Marketing experts say that more brands will choose micro-influencers who can tell a brand story quickly and visually so that they can repurpose their content across their platforms, including email.
---
Some brands may raise paid ad budgets to stay ahead
Brands will not do away with paid social ads even if they work with influencers. Some say that budgets for social ads by US-based brands may rise to $71.05 billion next year from $65.31 billion in 2022. The forecast follows the decision of Google and other browsers to block third-party cookies, which allow websites to remember a visitor's details and track the sites they visit, including social media.
However, others predict otherwise, saying small to medium businesses will reduce investments amid financial challenges. The World Advertising Research Center forecasts that social media ad spending will rise by only 5.2% in 2023, down from an 11.5% growth in 2022.
---
Social polls and quizzes will help collect zero-party data
Amid the blocking of third-party cookies, brands will depend on zero-party data to gather customer data that they can use in personalizing product and service offerings. 90% of businesses said in a survey conducted by SheerID for Forrester Consulting that they will collect such data in 12 months.
Brands can use quizzes, surveys, questionnaires, contests, or messages to consumers with or without a promised reward to encourage subscribers or followers to provide their personal information.
---
Frictionless experiences will win hearts and loyalty
Consumers today have very little tolerance for digital inconvenience. A 2022 PYMNTS survey showed that it was in social media where most consumers experienced at least one pain point during checkout (59.8%), followed by merchant's website/mobile app (29.9%), online marketplace website/app (27.4%), and brand's website/app (25.6%).
Brands still using outdated business models with complicated and a long buyers' journey will inevitably frustrate them. In contrast, brands that offer frictionless and seamless experiences across all platforms are bound to see increased acquisition and retention rates.
Go through your customer experience map and spot bottlenecks in the buyers' journey. Remove any unnecessary steps and aim to streamline the entire process. Make it easy for your customers to complete purchases on your social platforms. By continuously improving your customer experience, you can provide the digital convenience that consumers today are looking for. In the same PYMNTS poll, 91% of respondents said they were likely to buy from the same merchant if their social channel provided a positive checkout experience.
Moreover, marketers can take steps to bridge the "trust gap" between their brands and their target shoppers, 37% of whom expressed concern about entering payment information on social platforms. Brands should offer easy refunds and returns, keep customers notified about the status of their purchases, and display reviews from other buyers.
---
User-Generated Content Still an Essential Marketing Strategy
The essence of social media involves people communicating and sharing information. While this may in some ways seem at odds with social commerce, it wouldn't be a problem as long as brands avoid hard-sell or blatant advertising.
Of course, brands have advertised on social media for years. People accept Facebook Ads as a legitimate part of the platform now. However, it should be noted that the most successful brands don't create ads that look like traditional ads. They're more subtle and less "in-your-face." Brands tend to offer useful and relevant information about a product to provide value to those fed these ads. Anything that resembles a traditional ad tends to be simply ignored and scrolled past by social media users.
User-Generated Content (UGC) has proved highly beneficial to brands in recent years, and this will become even more so in the years to come. It helps social media users feel that they are working with a brand with an identity instead of just being fed a message. People are far more likely to share messages containing UGC, which increases the potential reach of a social marketing campaign.
The other advantage of UGC is that it can more effectively alter people's perceptions. It is not just a brand plugging itself—this content is created by somebody perceived to be neutral and is therefore more trustworthy. It implies a high level of trust. More than 88% of consumers find UGC even more credible than influencers.
---
Conversational Commerce Now an Essential Element in Social Commerce
In recent years, chatbots via messaging apps became commonplace. Social media platforms enabled more responsive chat functions and real-time conversations. While consumers prefer to get support from a live agent, chatbots are still a welcome help if they help get issues addressed quickly.
As consumers have increased demand for quick answers and resolutions to their questions and problems, conversational commerce through messaging apps is now a necessity and not just something nice to have.
Of course, having somebody sitting on a messaging app all day may be beyond the resources of many businesses. This is where chatbots that can take full advantage of AI capabilities come to the fore. Modern chatbots can do much more than just provide answers to common questions. They can "speak" to people and carry on more natural conversations. Over 46% of consumers are open to buying items with chatbot assistance.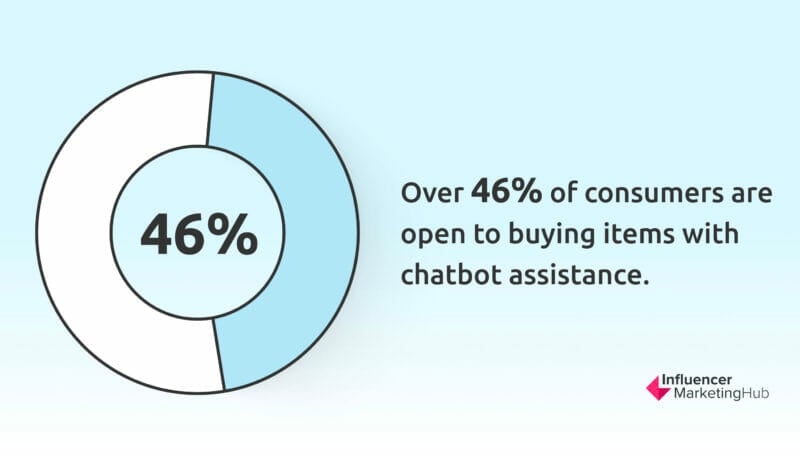 ---
More Use-cases of AI, ML and AR in Social Commerce
Artificial intelligence (AI), machine learning (ML), and augmented reality (AR) are all emerging technologies that see accelerated improvement over time. Brands are finding that all of them can help improve their ability to engage in social commerce when used efficiently. We have seen above how AI can make chatbots usable and how they can undertake a sensible conversation with potential buyers.
Perhaps the best example of AR on social media at the moment is on Instagram, where you can modify on-screen the look of your surroundings. TikTok has similar capabilities to help with the videos you create.
Brands have used AR to let you virtually decorate your house by "adding" new products to your rooms just by using the camera in your phone.
Another way firms use AI is to create an automated checkout. For example, if a firm uses a Facebook Shop, they can employ Jumper.ai. This helps you create a conversation with potential customers and talk them through the purchasing process.
---
Voice technology and conversational shopping continue to increase in popularity
Many Millennials and those in Generation Z prefer to search by voice as it can be much more convenient than typing. Many people who prefer to search using voice technology are also more likely to buy items using the same technology.
Both Android and Apple also integrate voice technology in their devices, and both of their respective voice assistants are becoming more sophisticated with each iteration. With stand-alone devices such as Amazon Alexa and Google Home becoming more commonplace, brands will need to leverage the power of voice technology to increase customer engagement and remain competitive.
According to Statista, eCommerce purchases made using voice technology are forecast to increase from USD4.6 billion this year to USD19.4 billion in 2023. That's more than a quadruple increase in just two years. That's also a huge market share you wouldn't want to miss out on. This makes it the best time to optimize your brand for voice technology—from voice search to conversational shopping.
---
Live Streaming Poised to Grow Further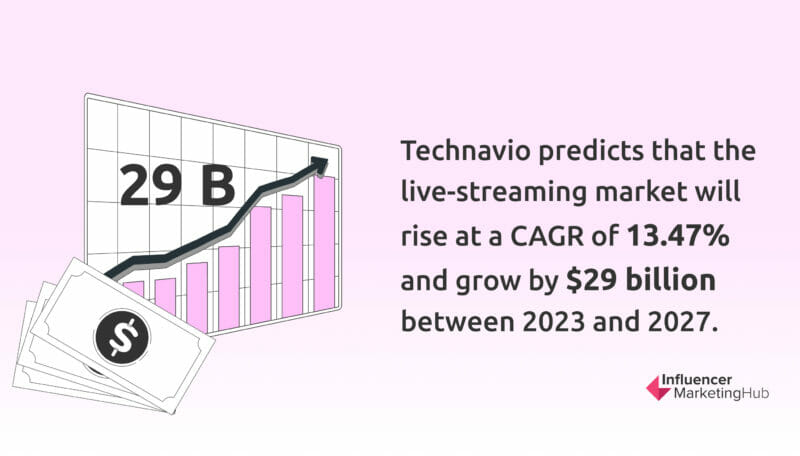 One way businesses adapted to lockdowns and restrictions during the pandemic was the use of live streaming. Brands promoted products to a select group over Zoom and Microsoft Teams or to a broader audience via Facebook Live, Twitch, and many other streaming apps.
Brands and influencers working on their behalf have discovered how easily you can use live streaming to promote new products and services. You can target potential customers at every stage of the sales cycle, from generic streams highlighting the importance of an industry to streams focusing on specific product benefits and even streams offering customer service to existing clients.
And of course, you can combine live streaming with a social promotion where people can buy the products being featured in-app. For example, you could hold a Facebook Live stream promoting your product's benefits and have a Facebook Marketplace Ad in the feeds of the same people watching your live stream.
In the next couple of years, consumer demand and faster connectivity will boost the growth of live streaming platforms. Technavio predicts that the live-streaming market will rise at a CAGR of 13.47% and grow by $29 billion between 2023 and 2027.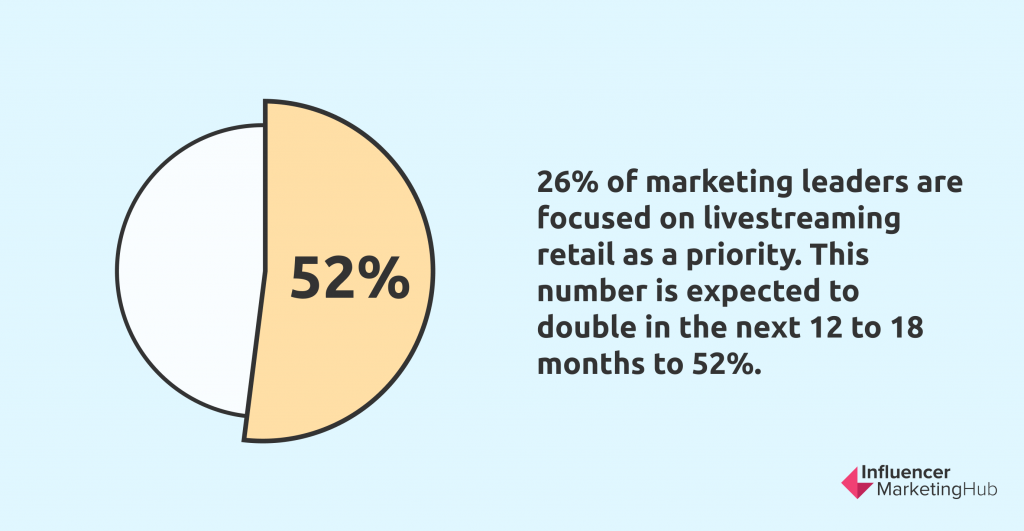 ---
Specialist Social Network Marketplaces Will Continue to Help the Expansion of Social Commerce
In the past years,, most of the major social networks improved the ability to engage in social commerce on their platforms. We saw Buyable Pins on Pinterest, Facebook Shops, and Instagram Shopping gaining popularity, as well as a handful of specialist social network marketplaces especially in China.
For instance, Pinduoduo—the largest interactive eCommerce platform in China—propelled the use of social commerce in the country. Its user experience is anchored around browsing and interactions rather than the more traditional and deliberate search-based discovery model. It encourages consumers to form "teams" of at least two to get a lower price.
One of the reasons for Pinduoduo's success is that it uses a WeChat mini platform, and this is just one store to do so. The WeChat mini platforms have greatly facilitated the growth of social commerce in China, which is likely to expand over 2023 and beyond.
---
Low-Priced Products will Continue to Sell Well on the Social Platforms in 2023
Just like in previous years, people will be more inclined to purchase low-priced items than big-ticket ones on their social accounts. This trend is expected to continue in the foreseeable future.
Consumers are not likely to buy costly items on impulse while browsing through social media feeds. For big ticket items, they will most likely prefer to research first and possibly try to see the actual product in-store rather than risk buying something that doesn't meet their needs. Also, because social commerce is fairly new, it will still appear risky to some people who haven't adapted to online shopping. While they may be prepared to buy a $20 item of costume jewelry, they are far less likely to buy a genuine diamond ring on a social media page.
For your social commerce initiatives, put your low-priced yet popular products at the forefront to address this trend.
---
Better and More Integrations among Social Commerce and eCommerce Platforms
Many eCommerce platforms have begun recognizing the popularity of social commerce and taking steps to start integrating between the two. For example, Shopify launched Buyable Pins to enable creatives and small brands to sell directly on Pinterest. Shopify also enabled them to link to both Instagram and Facebook and make sales from those channels. The integration helped bring the look and feel of a Shopify store to a Facebook Shop.
In 2023, we can expect more integrations among different platforms that will enhance omnichannel and multidevice experiences for both consumers and brands.
Frequently Asked Questions
What is social commerce?
Social commerce refers to when brands use social media to sell their products or services instead of simply depending on a stand-alone eCommerce website. Though, in practice, things are not as sharply defined as social commerce in many instances also includes the sales of products promoted on social media that link to a stand-alone eCommerce store.
Is UGC good to use in your marketing campaign?
User-generated content (UGC) will become even more essential for social commerce marketing campaigns. The benefit of using UGC is that it helps social media users feel that they are working with a brand, instead of merely being fed a message. Consumers are also far more likely to share messages that contain UGC, which helps to increase the reach of your marketing campaign. Lastly, it can change people's perceptions as the content is created by somebody perceived to be neutral, and, therefore, more trustworthy.
Will voice search still be popular in 2023?
Almost all social commerce trend reports for 2023 indicate that voice search is continuously growing in popularity. With millennials and GenZers preferring to use voice search, it is forecasted to be the prevalent mode used for online searches. As stand-alone devices like Google Home and Amazon Alexa become commonplace and have increased functionalities, the use of voice technology for social commerce and eCommerce is bound to see a significant increase.
Should you use live streaming to promote products?
It is anticipated that live streaming will only grow in popularity. Both influencers and businesses have realized how easy it is to use live streaming to promote the benefits of products. What makes it great is that you can target potential customers at each stage of the sales cycle. You can also combine live streaming with a social promotion so that your target audience can buy in-app. All in all, it can be a very effective tool to use when marketing your products.
What is Pinduoduo?
Pinduoduo is the biggest interactive eCommerce platform in China and strongly encourages the use of social commerce. Its user experience is anchored around browsing and interactions, instead of the more conventional deliberate, search-based discovery model. It encourages consumers to form "teams" of at least two to get a lower price. One of the reasons why it is so popular is because it uses the WeChat mini platform.
How fast is social commerce growing?
Social commerce has been growing steadily in the past couple of years. Different studies have varying estimates on its growth but the average estimate ranges from 30 to 35% compound annual growth rate between 2020 and 2027. As more cross-platform integrations roll out, we can expect this growth estimate to reach higher values.
Is social commerce just a trend?
When it was first coined under the eCommerce umbrella, social commerce was perceived to be just a passing trend in eCommerce. However, it has since become a whole new market in itself. With increased consumer engagement in social media platforms, we see social commerce creating a new economy that brands should proactively strive to reach.