There are several social media management tools that can help you manage your social accounts in one location, and they generally don't cost a fortune. If you have relatively small needs, many of these have free plans and even those that don't offer free trials that allow you to evaluate their worth.
---
Why Use a Social Media Management Tool?
Social media is a powerful tool and it can play a major role in helping your brand flourish. Social media isn't just used to connect with your contacts anymore—it's become a way for many creators and businesses to put their work or brand out there, in front of billions of people. 
This makes it an essential marketing tool. Social media marketing effectively lets you connect with your target market and gain insights on consumer behavior and trends. With social media marketing, you can tell your story, conduct market research, boost brand awareness, nurture customer relationships, and have opportunities to attract new customers. 
Additionally, you don't need to shell out a lot of capital to leverage social media. In fact, there are many available tools that can be used for free. 
With the sheer amount of social media platforms available, how do you keep track of all your accounts? If you're running a business, how do you monitor your brand's performance on different social media platforms?
Being able to effectively manage all of your social media channels can be quite a feat. However, if done well, it can pave the way for growth and success not only for large enterprises but also for individual creators and small- and medium-sized businesses. 
Having a social media management tool can help you save time, effort, and money. It can also strengthen or improve your current social media strategy. 
Aside from letting you manage all your accounts across different platforms in one location, a social media management tool lets you monitor your conversations with your audience, schedule your posts, monitor your performance with analytics and custom reports, get insights into your current social media marketing strategy, and easily collaborate with other team members. 
Moreover, it can help you stay organized, enhance your customer service, and better manage your brand's reputation.
Here's a guide to some of the leading social media management tools that you can use to scale your business.
---
Leading Free Social Media Management Tools: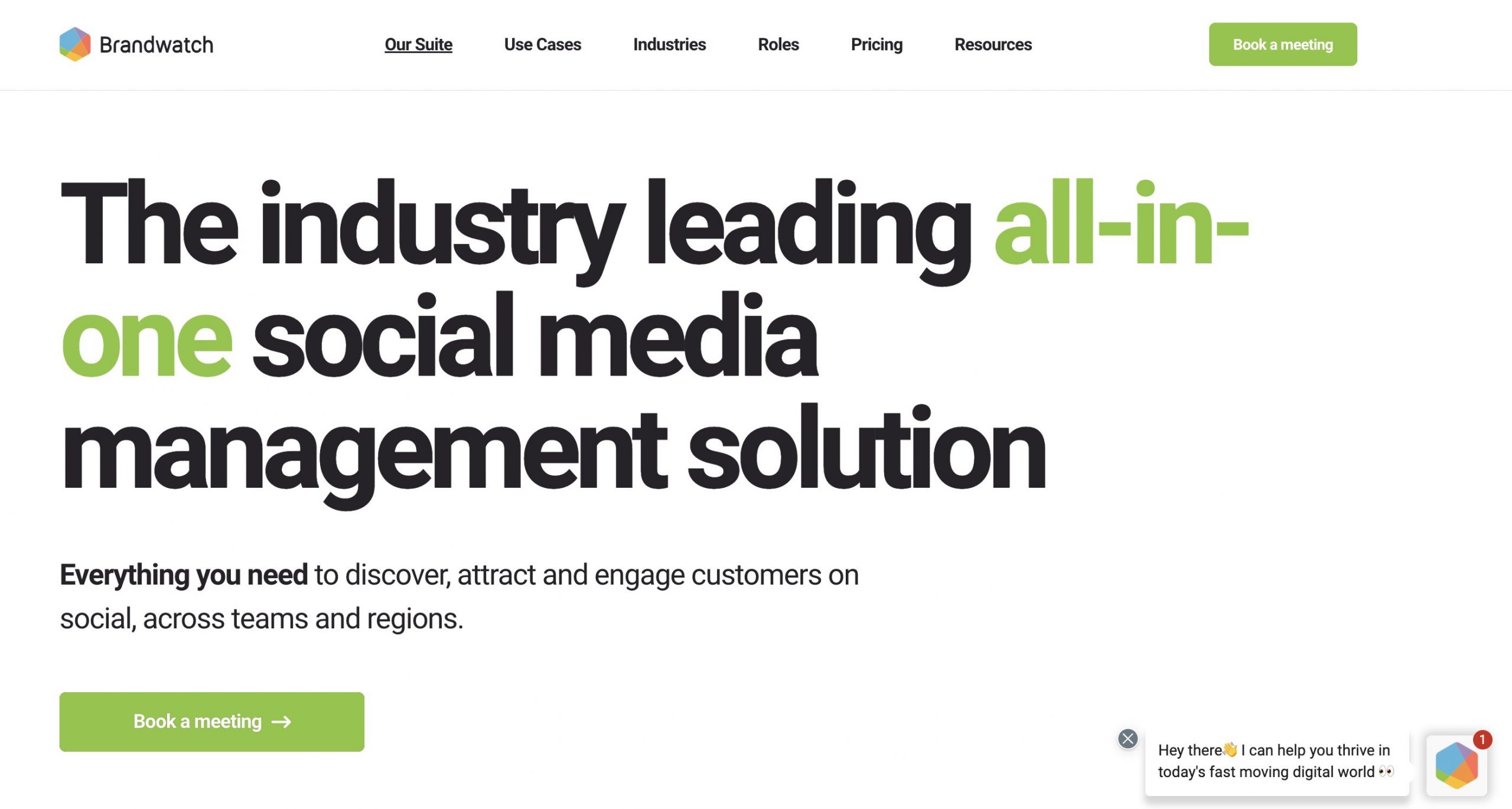 Although Brandwatch is not a free social media management tool, with the cheapest plan (Essentials) costing $129 per month for single users and small teams, it does offer a 14-day free trial. It doesn't give a price for its more advanced Full Suite plan, targeting larger companies with multiple teams and markets, although it enables you to request a demo.
Brandwatch emphasizes that it offers 7-days a week support, with a real-time in-app chat, email, and telephone service. It also provides weekly training sessions, and you can find answers in its help center.
The Essentials plan focuses on publishing & scheduling and social media engagement. You can use an editorial calendar to plan, schedule, and edit across multiple social networks. It offers a content pool, meaning you can store assets for repurposing, plug into your DAM, and use Brandwatch's cloud storage. It provides a customizable inbox, where you can arrange multiple feeds to build the inbox that suits you best. If you have a team, you can share notes and add messages to your team members. Existing contacts' profile cards appear beside their messages. Brandwatch offers advanced metrics for Facebook, Instagram, and Twitter. 
The Suite package offers everything available in the Essentials plan (allowing for larger teams and more significant usage) and adds a number of additional features. These include social listening, where you can monitor social media and the internet to discover much information about your business. You can track brands, topics, keywords, and phrases and even refine them with advanced parameters.
With Brandwatch's Full Suite, you can benchmark your strategy across all major social networks. Brandwatch has a database of over 100,000 brands, letting you benchmark your performance on multiple levels. You can also schedule and post ads on Facebook and Instagram without having to leave Brandwatch.
Brandwatch identifies the visual elements of images from the most engaging branded content. You can even invite your team to collect and comment on highly engaging branded content from other brands.
---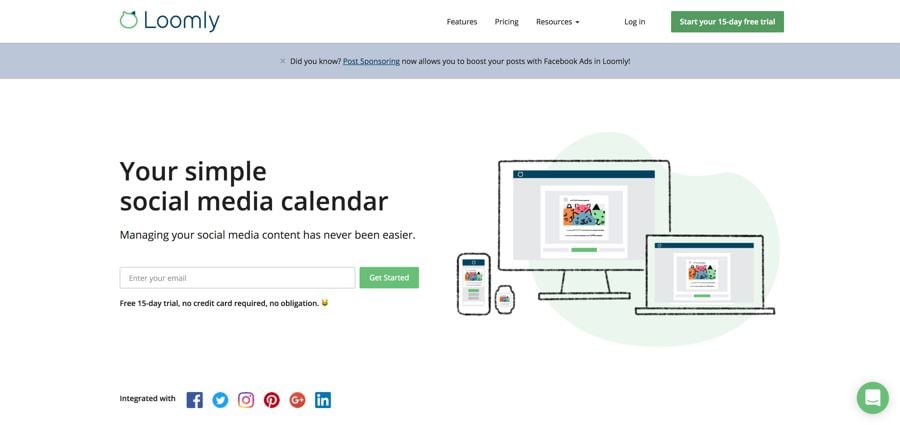 While Loomly doesn't provide a free plan, it does offer a free 15-day trial, and its cheapest plan is $48 per month (or $36 per month if you pay for a year up-front). That Base plan permits two users and a maximum of ten social accounts.
You can connect all your Facebook, Instagram, LinkedIn, Twitter, and Pinterest accounts to Loomly. It is a simple process, although, like all social media management software, you have to live within limitations set by the social media networks, e.g., you can post to Facebook business accounts, but not personal profiles.
Loomly asks you to set a workflow that matches the way you run your accounts, whether you are part of a team, or operate your accounts solo. 
You can select from three views in Loomly:
Calendar view – shows all posts spread over a calendar month.

List view – displays all posts as a list and includes essential information for each

Post view – allows you to examine individual posts
You can do more than just schedule posts in Loomly, however. It offers an interactions feature where you can manage comments, messages, and track social handle @-mentions.
Analytics are available for each of your social accounts, as well as Loomly's main dashboard containing an overview.
---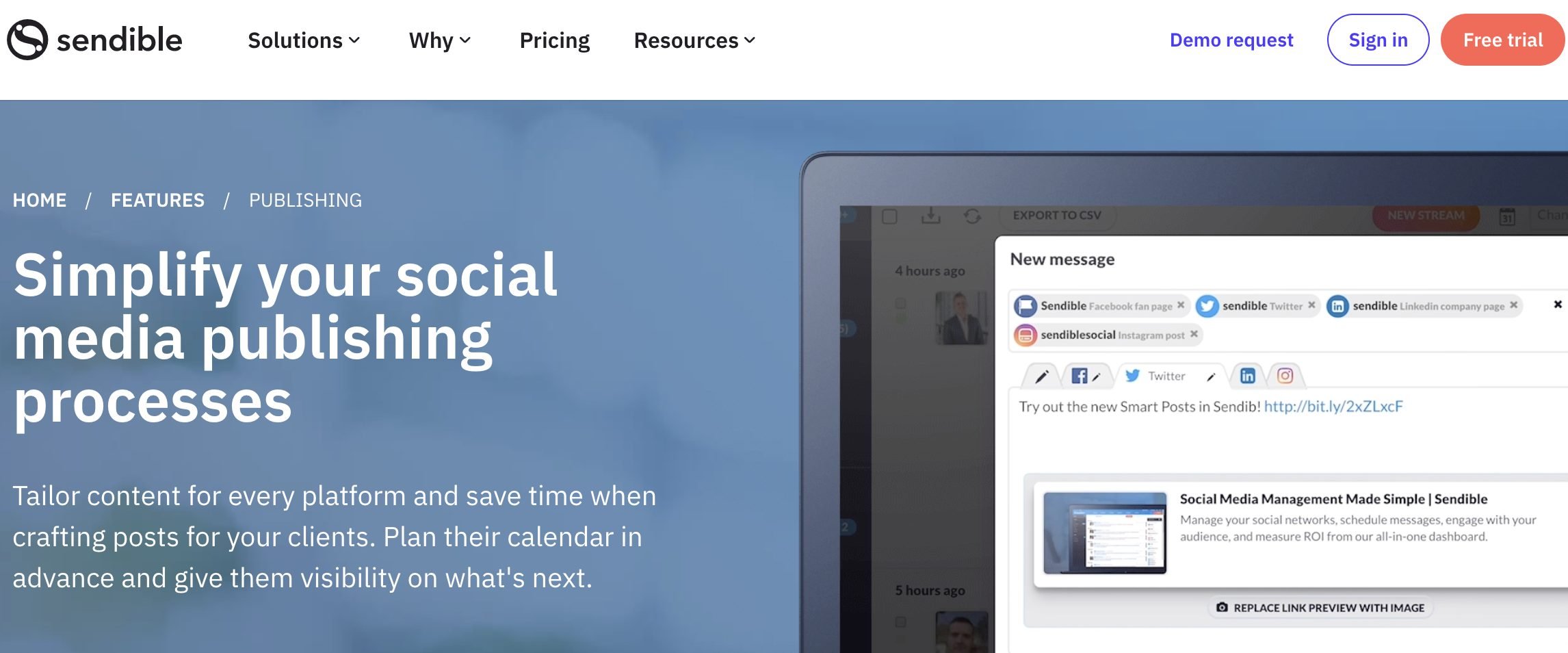 Sendible offers a free 30-day no-credit card trial on all plans. Its cheapest plan is the $24 per month Micro plan, which accommodates 12 services for one user, with unlimited pst scheduling and up to 10 queues. Other plans add additional features, along with more services and permitted users.
Indeed "Services" are Sendible's principal point of difference. They are like channels or profiles that you create within your Sendible account and allow you to select which features you need.
Sendible has operated since 2008, evolving with time. You can use it both for scheduling content to your social platforms and drafting and publishing posts on all the leading blogging platforms. You can create your own content, or use Sendible's  Google Chrome Extension to publish or schedule content you come across while browsing the web. You can also find high-quality content to share with your followers through Sendible's content tool, RSS feeds, and Google Alerts.
You can also use Sendible to help you centralize your social media management, including such things as Facebook moderation (automatically removing comments and posts from your Facebook Pages that contain words or phrases you specify) and uploading and scheduling Facebook Page cover photos to match your marketing campaigns.
Although Sendible doesn't have an in-built graphics editor, like PromoRepublic, it does include Canva integration, allowing you to create social media graphics with Canva and schedule them to your profiles and pages.
---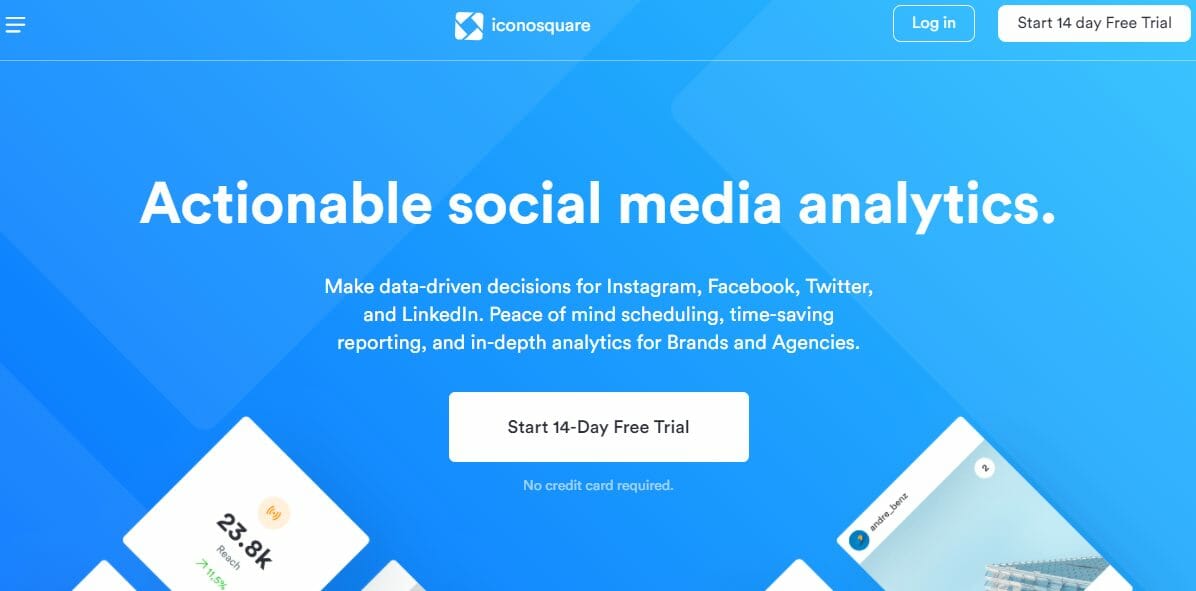 Social media is a data-driven game and Iconosquare makes it easier to win. You can test the waters with a 14-day trial to see if it's right for you, and it's worth the effort. While Iconosquare only caters to Facebook, Instagram, LinkedIn, and Twitter, it has all you need to peel back the layers of your content and audience engagement to generate results. Reporting gives a look at content impressions, and average and individual post reach (including average reach rate by post). 
You also get Instagram Stories analytics. These show impressions, story completion rates by story type, and the best time to post Stories. Reporting is easy. In a few clicks, you can automate reports and include hashtag tracking, and keep tabs on competitors. 
A feature that many will love is Iconosquare's profile activity tracking. It tells you which links in your profile drive traffic to your site — a great way to tie social to ROI. Analytics aside, you get a social media scheduling tool that helps plan your post rollout effectively. Engagement on social is the goal, and to help drive as much for your content, Iconosquare also offers a "first comment" feature. First comments are posted along with your post, making your social activity look and feel organic and personalized.
---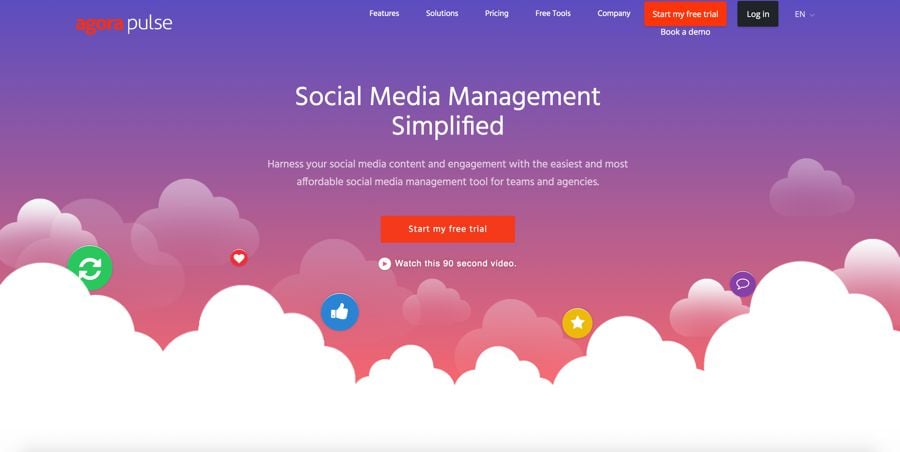 Although AgoraPulse offers a generous 28-day free trial, it is one of the more professional, and therefore expensive, social media management platforms, once you've concluded your trial. The cheapest plan is the $99 per month Medium plan.
It features an extremely user-friendly interface. 
The heart of AgoraPulse is its unified Inbox. It shows your comments, mentions, conversations, and reviews relating to each of your social accounts. The Inbox Assistant allows you to set rules that automatically clean up and organize each account's Inbox.
It includes a Social Listening module that allows firms to keep an ear open for mention of their brand name (or any other term).
AgoraPulse provides a variety of ways to publish content. The default Publishing tab takes you to a calendar, showing the social messages you have scheduled, queued, published, sent to approval, had assigned to you, or failed. AgoraPulse is at its most potent when you use its bulk publish feature. This lets you import a series of posts from a CSV file, a website using RSS feeds, or as a group of pictures to transform into posts.
It provides an extensive array of reports, both globally about your social account usage, and also about specific items of content.
---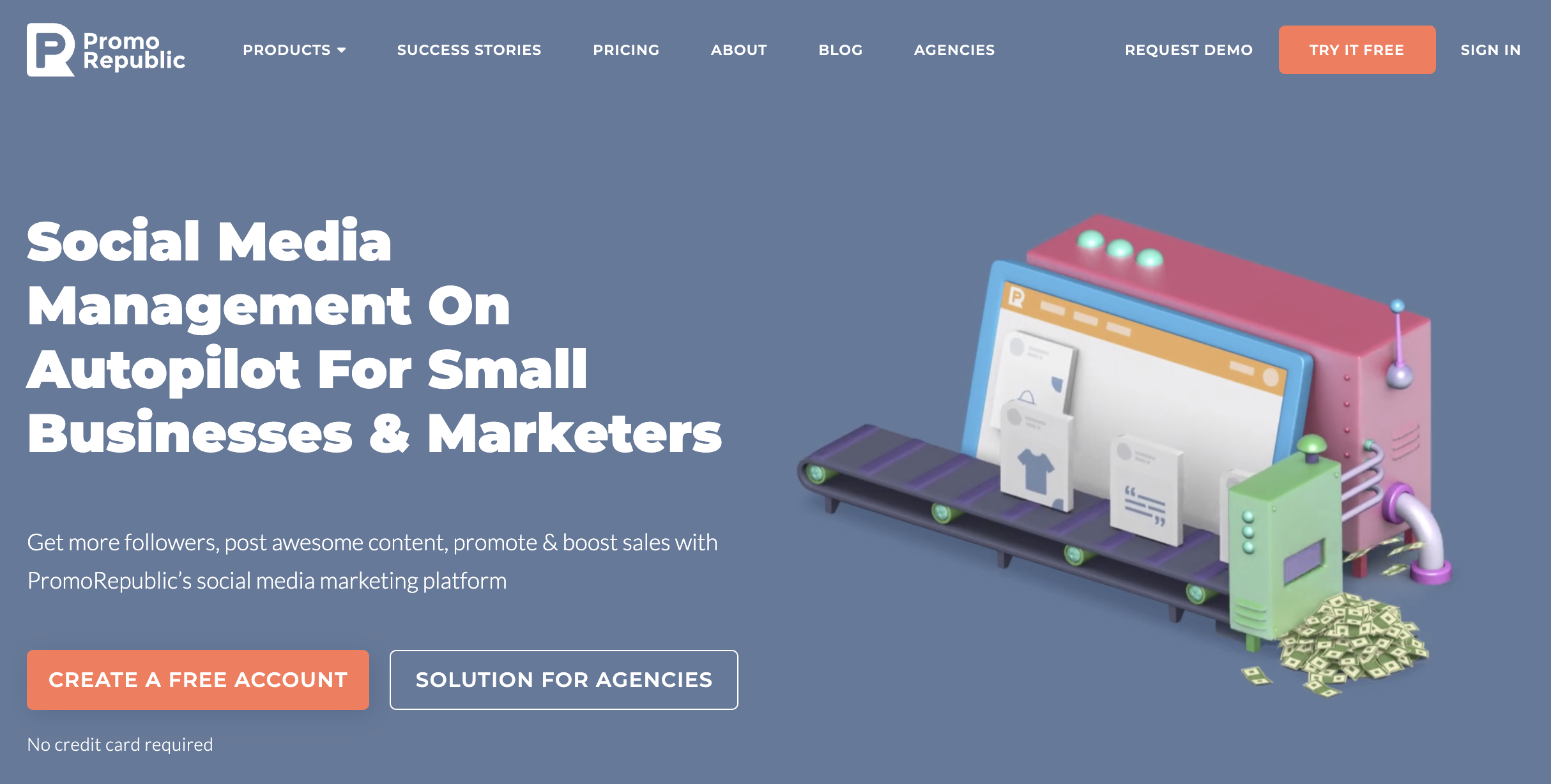 PromoRepublic also doesn't include a free plan, but it does offer you a free 14-day trial. It's cheapest plan is also a minimal $9 per month. 
The critical point of difference for PromoRepublic is its design focus. Indeed it feels like a merger of Canva with a social media management app. You can design and schedule beautiful posts without leaving the app.
You can use it to schedule and share posts with all the major social networks, including Instagram and Pinterest. PromoRepublic suggests a suitable posting schedule for each of your social networks, but you can easily modify this. You organize your posting schedules across a centralized calendar.
It comes with 100,000 post ideas, and these cover a wide range of topics. Most come pre-designed, with eye-catching graphics. You can easily modify and customize their post ideas to suit your business with PromoRepublic's full graphics editor.
PromoRepublic is currently trialing brand reputation management. You can request beta access so that you can get live updates about your brand from the web and social media.
---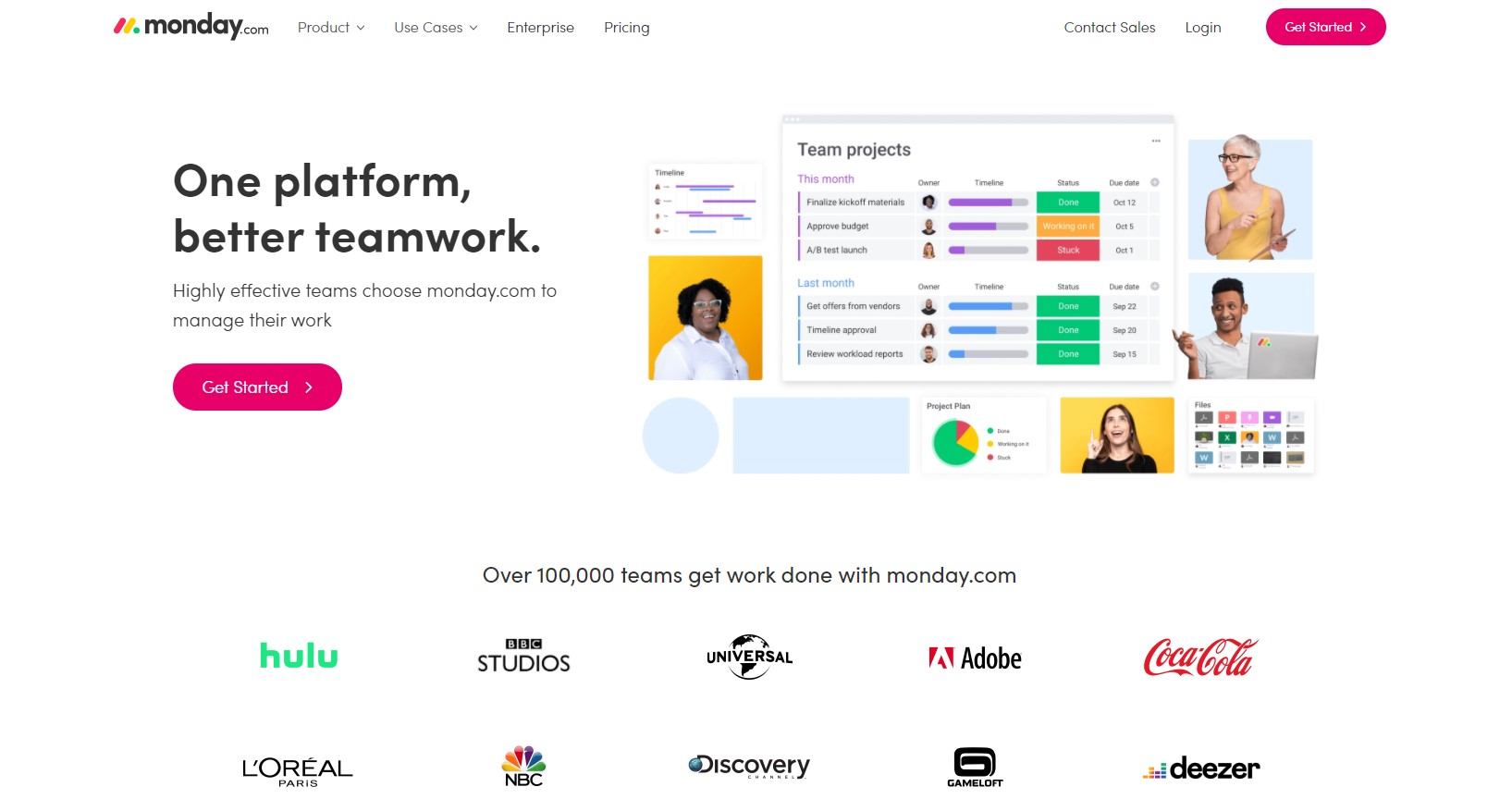 Monday.com doesn't include a free plan, but it does offer you a free 14-day trial. Its Basic plan costs $8/seat/month. That plan is for teams just getting started with managing all their work in one place.
Monday.com doesn't specifically target social media marketing. Instead, its focus is on improving the efficiency and workflow of your team. It is ideal for marketers and those wanting to create a logical workflow to manage their social media accounts.
Boards are at the heart of Monday.com. A board is a fully customizable table for managing
 your projects, workflows, and everyday work. You build boards that represent your workflow. Monday.com includes numerous templates to give you a starting point, one of which targets social media management. That template creates two boards:
Campaign ideas and requests

Campaign progress and status
Team members can make suggestions for upcoming social media posts on the Campaign Ideas and Requests board. If you decide these ideas are viable for a post, you can use the board to create an efficient and standardized workflow for a social media campaign.
The Campaign Progress and Status keeps track of your campaigns, split into Upcoming Campaigns, Live Campaigns, Completed, and Stuck.
---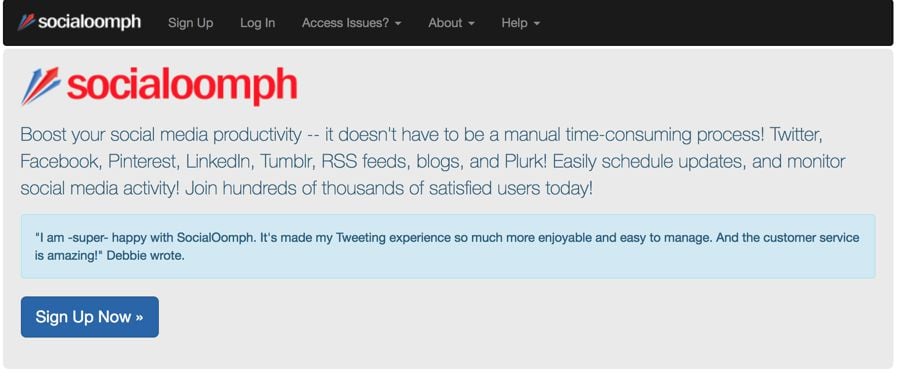 Socialoomph has provided scheduled social posting services since 2008. It offers three paid plans, as well as a free plan. The Free Plan allows a single user to schedule unlimited posts to one social profile (limited to a maximum of three posts per hour). Even the most expensive Business Suite is reasonably priced compared to competing apps.
Socialoomph has a much more spartan interface than its competitors. It does, however, provide numerous benefits, and techies will love it. Most other people will need to make use of the help files as setting up your social accounts is the most challenging part of the entire process.
A central concept in Socialoomph is that of teams. With a free account, you automatically have one team – called "My Account."
Socialoomph offers a variety of ways to create posts. You can both schedule and queue posts. You can begin posts from scratch; you can bulk import them, you can set up various queues, and collect content from RSS feeds.
You can also use Socialoomph to post to your blog. You can create content for your blog and publish it at set times using Socialoomph's queue. You can then use another queue to publicize your blog posts across your social channels.
---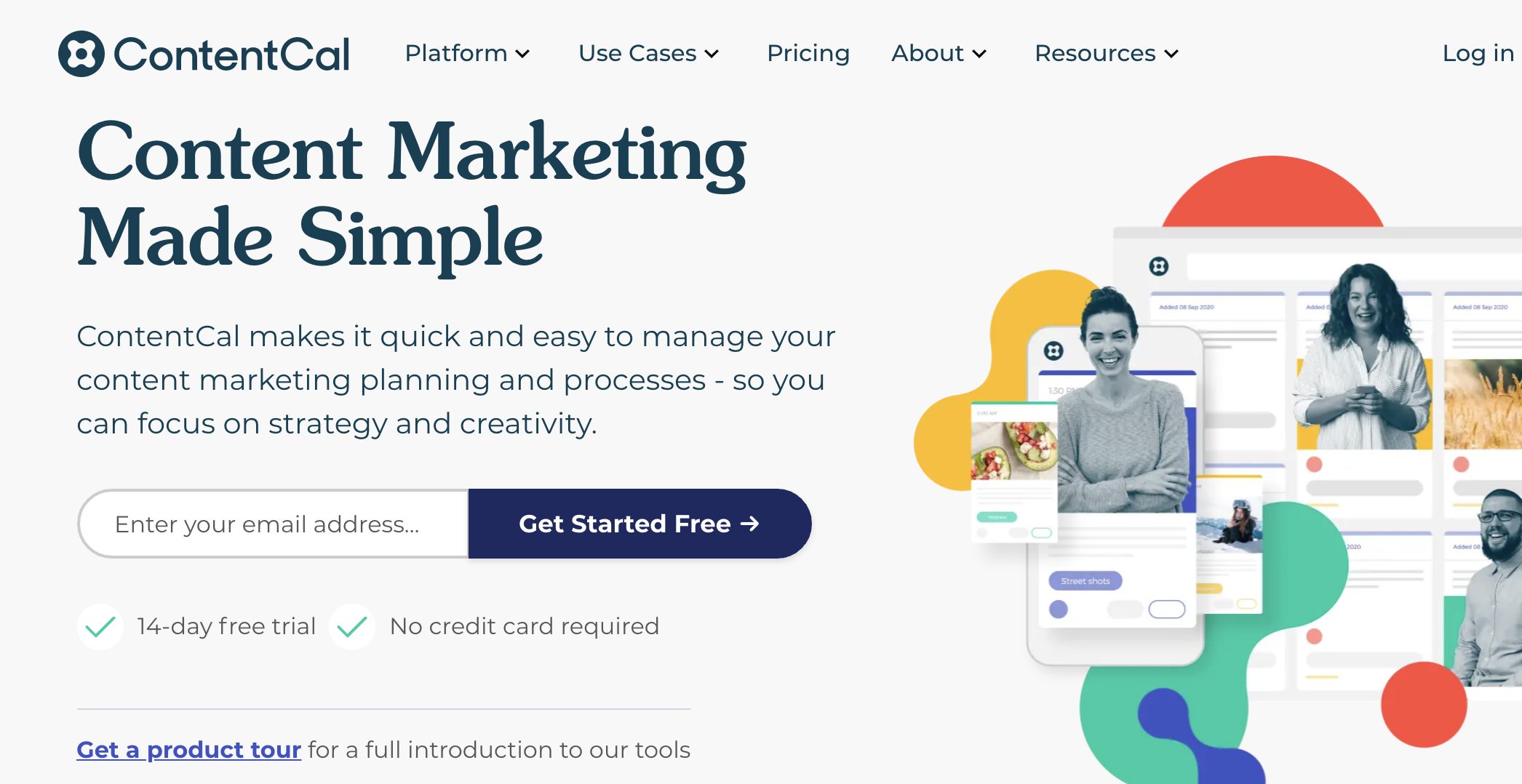 ContentCal offers a 14-day free trial. Feature-wise, it is a CoSchedule-like tool. It offers a powerful collection of features to help you manage our entire content marketing plan. It's segmented into 3 tools. Here's a look at what they do:
Publish

: This is where you'll go to collaborate with team members on content ideas, create workflows, and publish articles, emails, and press releases. ContentCal also comes with Web Clipper, a tool that captureS content you come across on the web and saves it to your content library for use later. 

Analyze

: Dig into audience engagement with content and campaigns. Track hashtags, stories, top-performing content, and competitors to see what's working and how to improve your content. Reporting is a major component of driving growth, and Analyze lets you visualize data for paid and organic analytics across platforms, and export your u findings in PDF or PPT format.

Engage

: Connect with customers through ContentCal's team inbox. Depending on the size of your organization, you can assign queries to specific teams, handling messages from all platforms. Engage also offers a notes feature for messages from customers. These can be added by team members to formulate a complete and effective response to customers. 
ContentCal's also working on a fourth feature called IQ. It's an AI-powered intelligence solution to offer deeper insights. It will help identify channel performance, assign a content quality score, benchmark competitors, attribute revenue to campaign performance, and deliver industry benchmarking.
---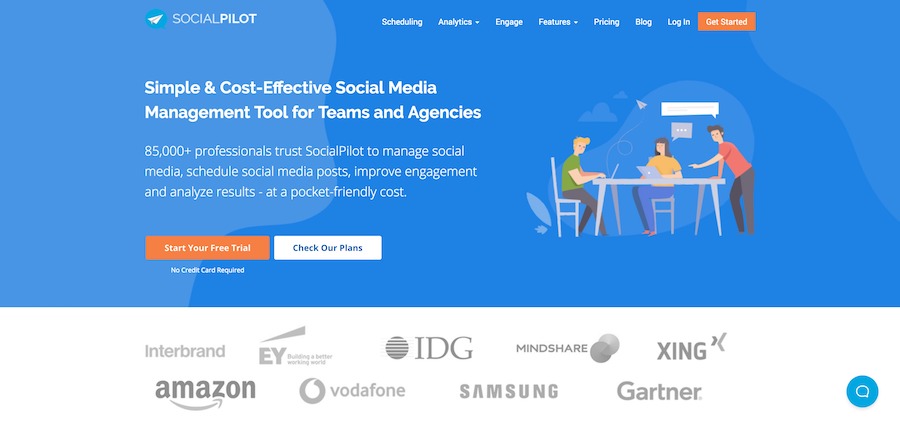 Social Pilot targets a broad audience, with pricing options aimed at everyone from small businesses to large enterprises. They don't have a free plan, the lowest being the Professional plan costing $30 per month or $25 per month if paid annually. They do, however, provide a free content curation and influencer discovery tool. All you have to do is enter a topic, and they will find relevant content for your niche. They also offer a 14-day free trial on any of their plans.
SocialPilot features a clean and organized interface. The management of accounts is efficient, as you can organize each account into relevant groups. It's easy to post the same content across multiple channels, customizing things as necessary. Social Pilot makes short work of scheduling, queuing, editing, and sharing all your content.
---
Meet Edgar offers a single $49 paid plan after a 14-day trial. That plan includes all their features, and you have the option of whether to pay monthly or annually (for a month's discount). 
Meet Edgar is excellent for businesses that want to concentrate on queuing and delivering content. It doesn't offer any social listening capabilities, nor does it have an in-app inbox.
At its core, Meet Edgar helps you schedule different categories of posts across your social networks. Categories are the heart of Meet Edgar. There are default categories; however, you can add to or adapt them to match your posting style.
You create a weekly recurring schedule for each of your social accounts, deciding on the post category for each slot. There are multiple ways you can source content to fill these slots. You can create original posts, or you can import content by connecting an RSS feed for your favorite blog or importing a CSV spreadsheet containing multiple posts.
Once you approve enough content, Edgar creates a queue for the next two weeks. It matches your queue to your schedule and categories. By default, Meet Edgar selects the newest content in each category first; however, you can click the Shuffle button on a category to reorder the posts into a new random order.
Meet Edgar doesn't have social listening, a centralized inbox, or much analytics, but it should do the job for people more interested in intelligently scheduling their posts.
---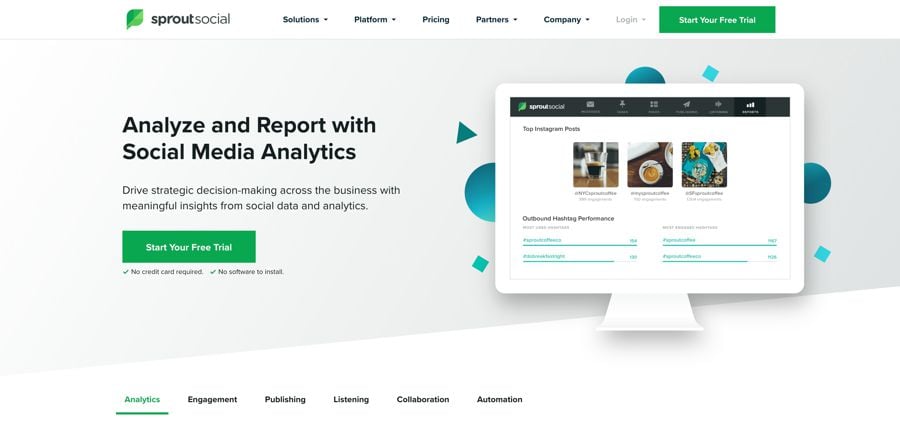 Sprout Social is one of the more professional social media management platforms, and it lacks the free or cheap plan that most of the other platform reviewed have. It does offer a 30-day trial for its free paid plans, however. The paid plans range from $99/user/mo to $249/user/mo, varying by the number of social profiles you can manage, along with additional features on the higher plans.
Sprout Social has a clear and intuitive interface and is logically laid out. It features a Smart Inbox which collects all your social messages. You can combine your social inboxes in any way you wish.
It features a Listening module that works similarly. You track mentions of your brand, your competitors, or selected keywords.
Sprout Social makes connecting your social accounts effortless, even for the usually complicated Instagram. It includes tools enabling all your team to collaborate. You can efficiently allocate tasks to each member.
Every time you enter Sprout Social, it presents you with a Dashboard offering suggestions of what you should do next. 
It has one of the most comprehensive and intuitive systems to create posts. You can customize your posts to meet the best practices of the different social networks and set your posts for multiple time frames. You can access content from many sources, which you can import and then reschedule or add to your queue.
---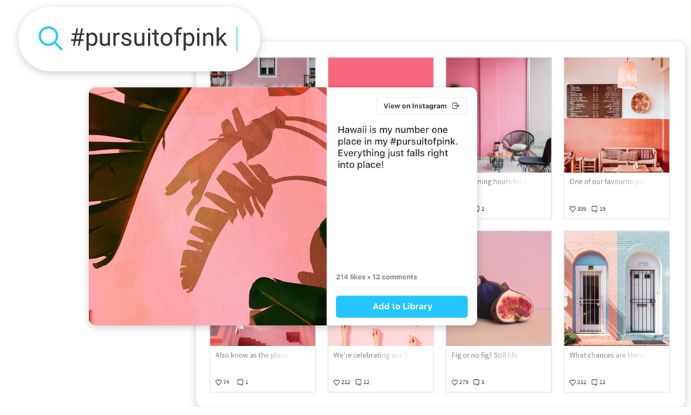 Later has a highly visual focus. Although it allows you to post to Twitter, Facebook, and Pinterest, its main emphasis is on Instagram. 
Later does offer a free plan, with one social account per platform, one user, 30 Instagram posts, 50 Twitter posts, 30 Facebook posts, and 30 Pinterest posts per month. You can schedule photos and upload unlimited images to their Media Library, see your basic Instagram analytics, can search and repost user-generated content. The four paid plans (starting at just $9 per month) add to these capabilities.
Unlike all the rest of these social media managers that start with a social message and then allow you to add an image, Later requires you to start a post by uploading a picture. You then add suitable text to the image.
The heart of Later is its Media Library. You begin every post by either uploading new media to the library or reusing media you've already uploaded. You can add notes and labels to your media items and add a Star to any image you wish to highlight. You can filter your images by Label or Star, by media usage, type of media, and by the time frame in which you uploaded your media. You can store unlimited media, even on the free plan.
The free plan limits you to scheduling static images, but the higher plans add videos, Instagram Stories, and multi-photo posts.
---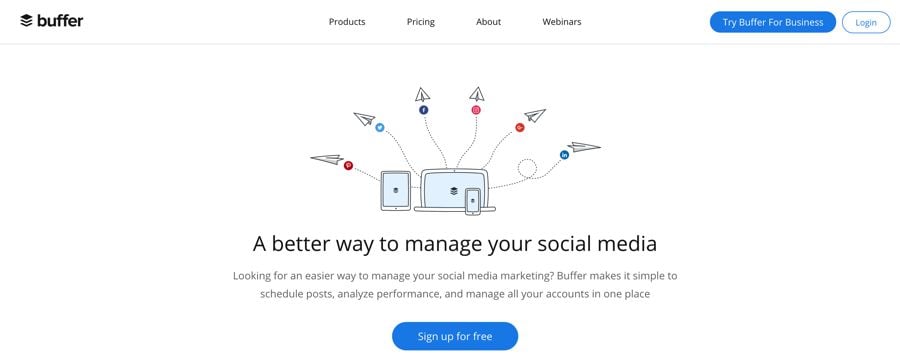 As its name suggests, the heart of Buffer is a queue of posts. You continually add posts to this buffer, and Buffer makes the posts at your designated posting times.
Buffer offers a simple Free plan, where you can schedule up to 10 posts across three social accounts. If you have higher needs, plans start at $15 per month.
Post scheduling is part of Buffer Publishing. Buffer offers two other apps (requiring separate subscriptions): 
Buffer Reply – allows you to reply to social conversations and provide support from one shared team inbox

Buffer Analyze – enables you to measure the performance of your social media content and create reports
You can now also get Buffer All-in-One, which includes all three Buffer products.
If you begin using Buffer Publishing by trialing the free plan, you will notice that the main dashboard has a decidedly spartan look, with only three menu items – Queue, Analytics, and Settings along the top, and the social accounts you have attached on the left-hand side. You can still create (and schedule) up to ten posts. Although you have an Analytics tab, all it does is list the posts you have made over the last week. The free plan does not give you a chance to see Buffer's queue at work, but it does allow you to schedule some posts.
Buffer's capabilities improve dramatically once you opt for a paid plan, however. They give you a great deal of flexibility when it comes to creating posting schedules (which are essential for the buffer to work). A combination of creating original posts, adding content with the Buffer browser add-on, and uploading posts from appropriate RSS feeds, should provide plenty of material for your social accounts.
---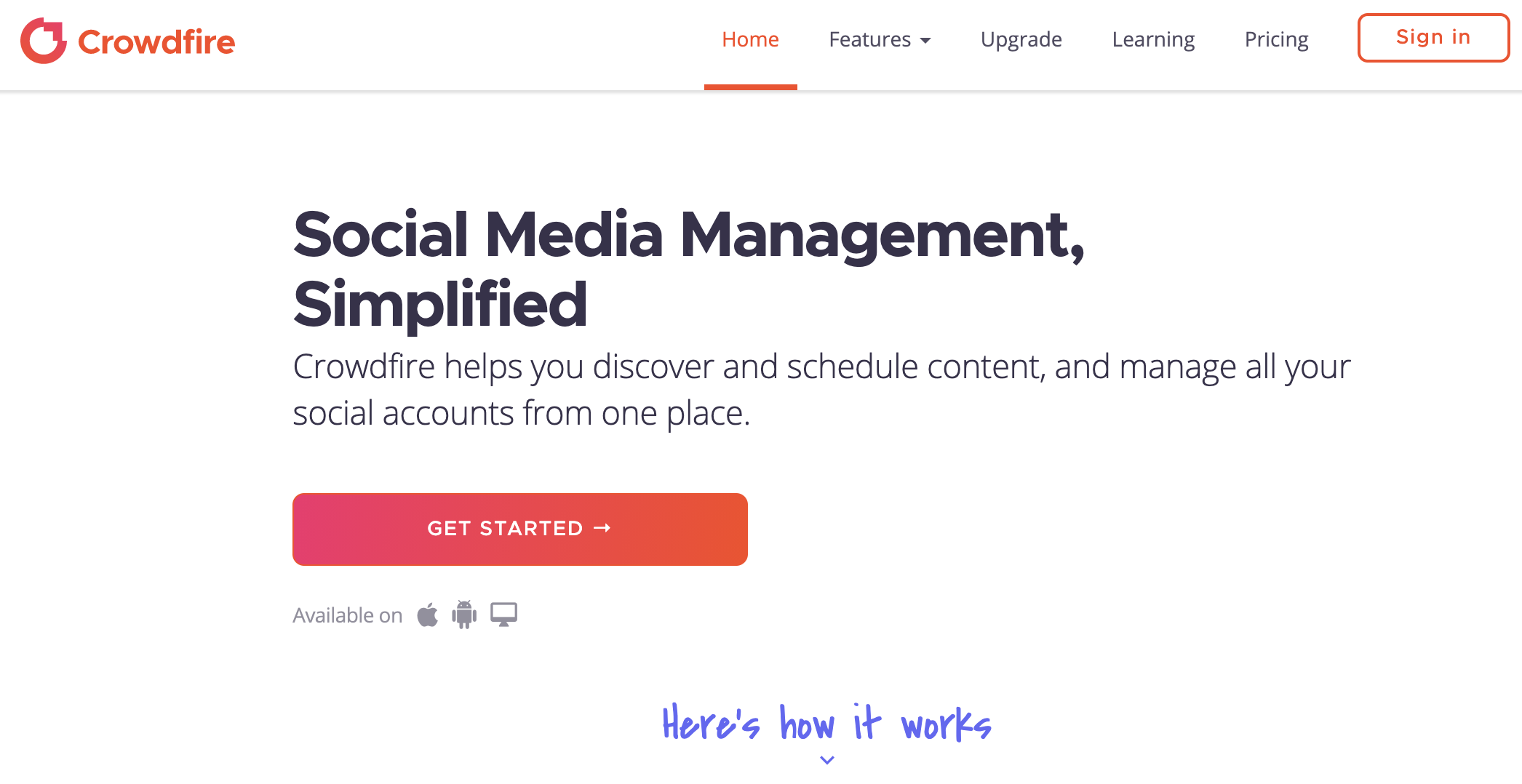 Crowdfire offers a free plan alongside its premium plans. It's also a smart blend of content discovery and social media management capabilities. To find new and engaging content for your audience, Crowdfire curates articles according to search terms you choose. Once terms are selected, you'll receive a steady flow of new content to share. And sharing's easy. Crowdfire presents a default post with copy and a link. You can publish posts in this format, but I recommend that you personalize it a little to look fresh and appealing. 
Something any busy influencer or marketer can attest to is the slog of grabbing links from websites and other, online shops, or other resources. It can be a painful process. Crowdfire will help give you back that time. By connecting your YouTube channel, WordPress site, Etsy or Shopify store, you can publish directly to your social accounts. Crowdfire pulls new content and you can easily publish content or tweak post copy before sharing. 
Crowdfire would be incomplete without post scheduling. It will help you identify the best times to share content, allowing you to prep content in advance. Need attention-grabbing images? Crowdfire's image curation feature is another time-saver. It pulls images for posts and automatically credits creators. Crowdfire also comes with the option of adding your own RSS feed and a helpful Chrome extension to quickly share articles you come across.
You'll love Crodfire's team inbox. It's where all direct messages are stored, making it easier to get to all messages without missing any. You also get a solid analytics reporting feature. Gather insights on post engagement, and customize reports with metrics that matter most. Analytics also covers competitors. You can spot which posts perform best, or get an overall view of their performance on social. 
---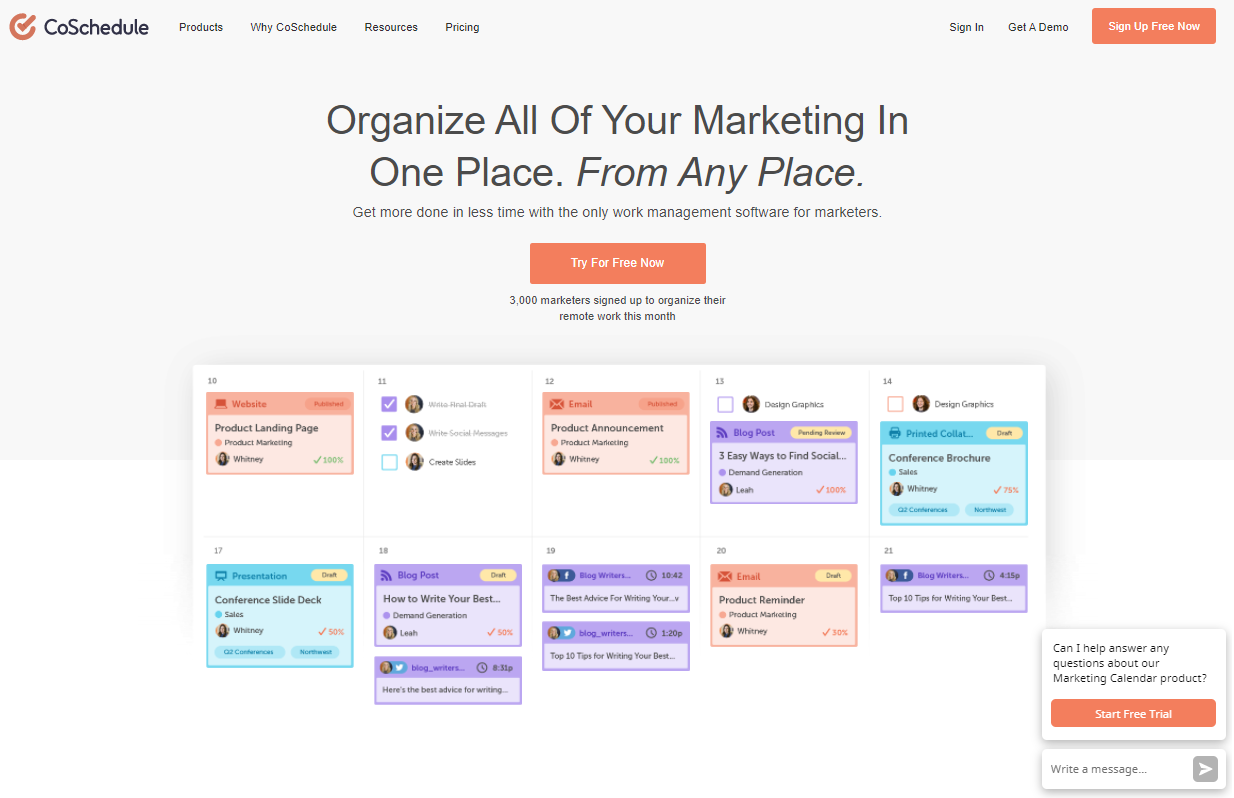 CoSchedule offers a 14-day free trial, something you should consider trying if you're shopping for a powerful tool. It's more than a social media management platform. It's a marketing solution that syncs with your website, email, and social media. At a glance, this sounds a little messy but it's really smart. CoSchedule's content calendar is where the magic happens. It's an overview of all communications with your audience. From blog posts to be published to your next Facebook post, everything is easily viewed from your calendar. 
As for features you'd expect from a social media management tool, CoSchedule packs a lot of value. You can schedule content across social media accounts, track the success of your posts and campaigns using a range of reports, and access conversations through a team inbox. Like evergreen posts? CoSchedule offers ReQueue as a way to reshare your best stuff. 
CoSchedule's true power is that it's a powerful collaboration tool. Social can be a complex beast, and more so with a team. In CoSchedule, you get project management and collaboration features that cover workflow (think drafts, edits, approvals, etc.). It also makes creating content easier with templates. Once created, producing posts and publishing content becomes streamlined. And this optimized approach carries through to campaigns. 
Tracking how well your email and website content performs alongside social posts for a campaign means pulling data from various platforms. In CoSchedule, it's all in one place. And, if you have content like images and copy stored in different places, CoSchedule integrates with tools like Google Drive and Dropbox, and comes with an asset library.
---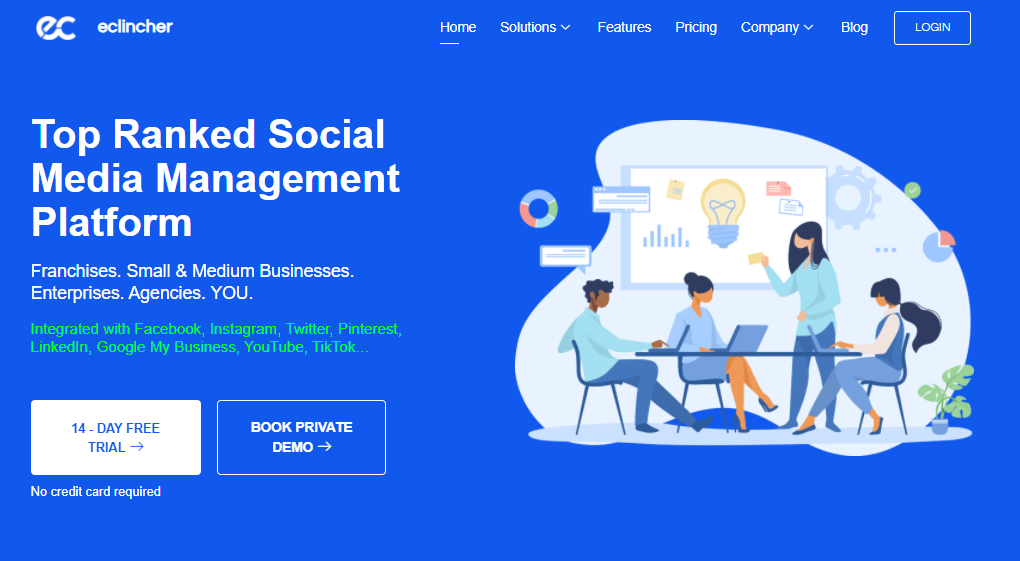 As social media platforms go, it's not uncommon to find a tool with tons of features. And while most features can sometimes feel underdeveloped, there are tools that deliver the goods. E-Clincher falls into the latter category and comes with a 14-day trial to boot. In addition to common features like post scheduling and a visual content calendar, you get powerful analytics and reporting, a media library, can publish content using Smart Queues (an auto-posting feature), and have the option to publish content from your RSS feed. 
E-Clincher also comes with a URL shortener (with tracking) and a content curation feature. These prove how versatile the platform is, but there's more that social media marketers and influencers will love about this tool. Take its reputation management and listening tool. It helps you keep tabs on conversations around your brand and content. And there's the social inbox that stores all interactions in one place. You can also track mentions through listening feeds. Work with a team? E-Clincher handles workflows, too. Create and manage all stages of your content creation and publishing processes and get stuff done like clockwork.
---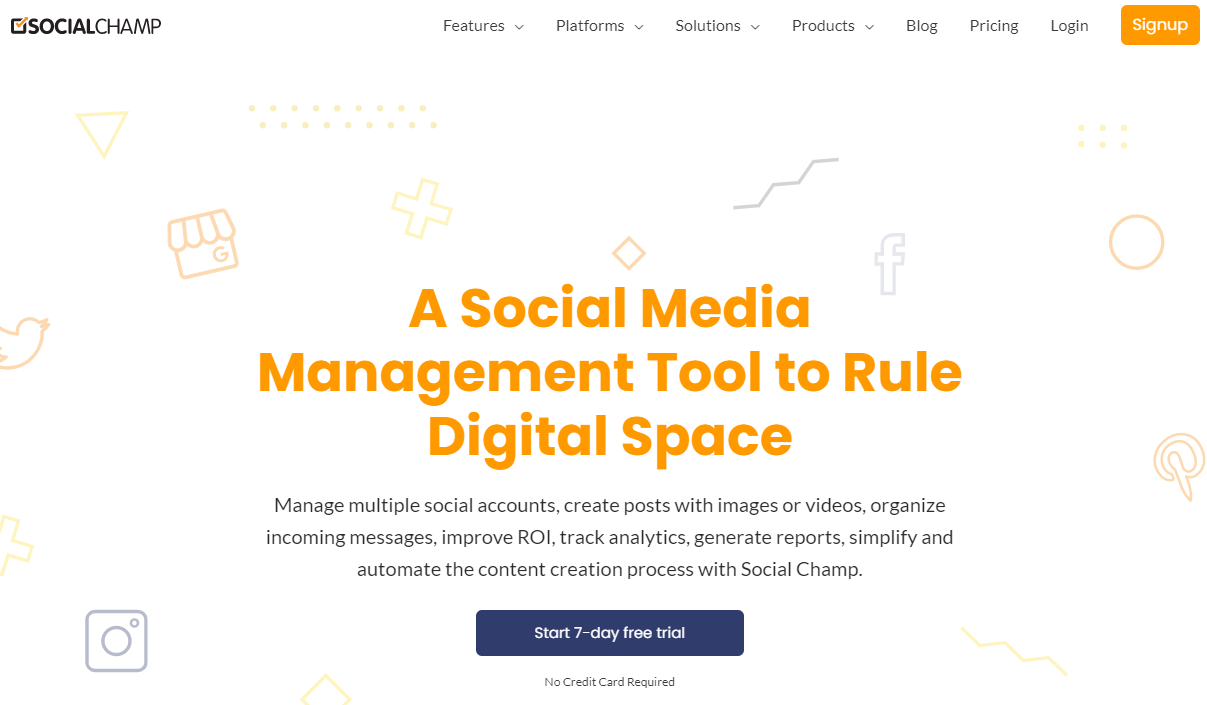 Social Champ's a well-rounded social media management platform. While you only get a 7-day fee trial window, it's enough to test the platform out. It helps teams improve their hold on social through a set of integral features. As with most platforms, you get a visual social media calendar. It's where you can view all content or use filters to see bulk, queue, scheduled, recycled, and Forever posts. It also shows sent, future and failed posts, helping you keep track of any content that somehow didn't get published so you can adjust your calendar accordingly.
Analytics will show top-performing content, and you get to see how audiences respond to content on each channel through platform-specific graphs. If you're as busy as most social media marketers, you'll appreciate Social Champ's collaboration feature. With it, you can build workflows, assign team member rights, and easily turn social content creation and publishing into a predictable and fun process that's perfected for optimal results. And for users always on the lookout for inspiration, Social Champ's Chrome extension makes it easy to share images, blog posts, and videos with a click.
---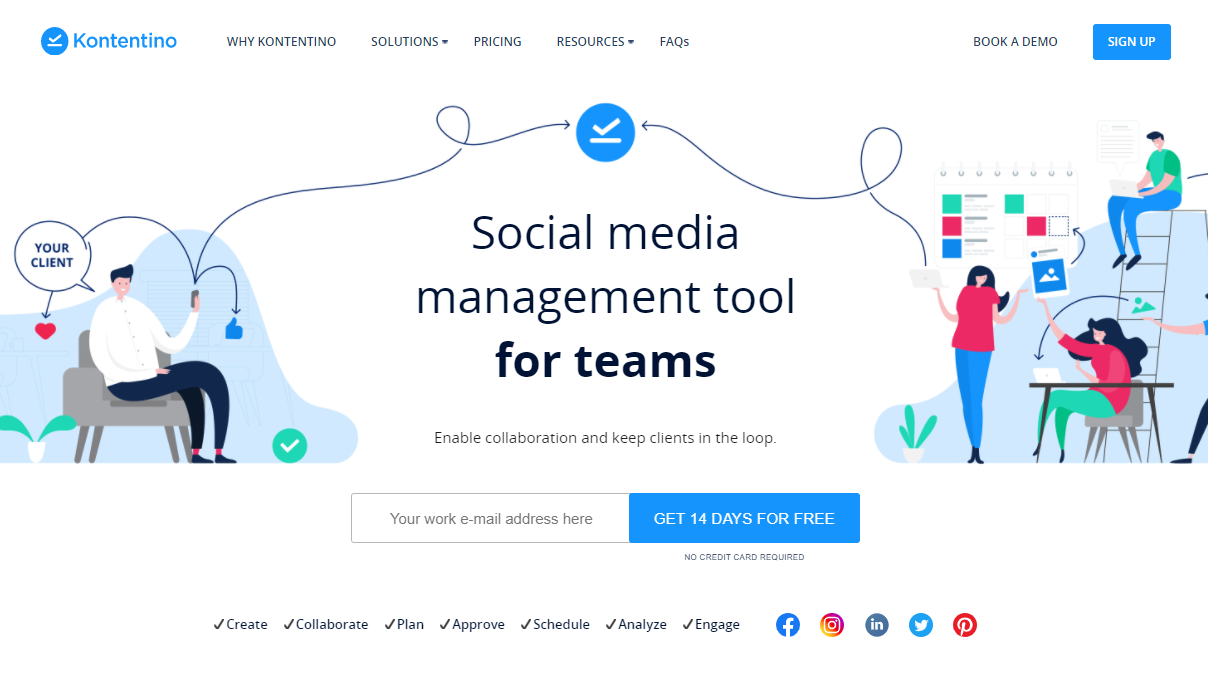 Kontentino comes with a 14-day free trial. And if you're after a team tool, it may be what you're looking for. Like others on our list, it offers a strong collaborative feature set. From creating post creation checklists and workflows to tagging team members and assigning tasks, you have all you need to ensure that content ideas never fall through the cracks. And if you're worried about how content ideas have evolved over time, you'll love Kontentino's change tracker. It tracks version control during the social media planning and approval processes. 
Kontentino also comes with a drag-and-drop social media calendar, making updates and planning easier, especially for larger teams with multiple social accounts to manage. Speaking of management, you can get better at tracking and finding posts by labeling them. You can create any label of your choice and add them to posts as a way of tracking content produced for different purposes like entertainment, education, or selling. 
Core features aside, Kontentino adds a few nice-to-haves that you'll find yourself enjoying. One is the UTM tag builder. If you've been at social for a while, you know how painful switching between tabs can be as you build UTM-rich URLs. To simplify this process, Kontentino has a UTM tag builder that easily fits into your workflow. Another is logo and branded frames. With this feature, you can easily add logos and branded frames to images without going the long route of creating a request for your designer to make the update.
---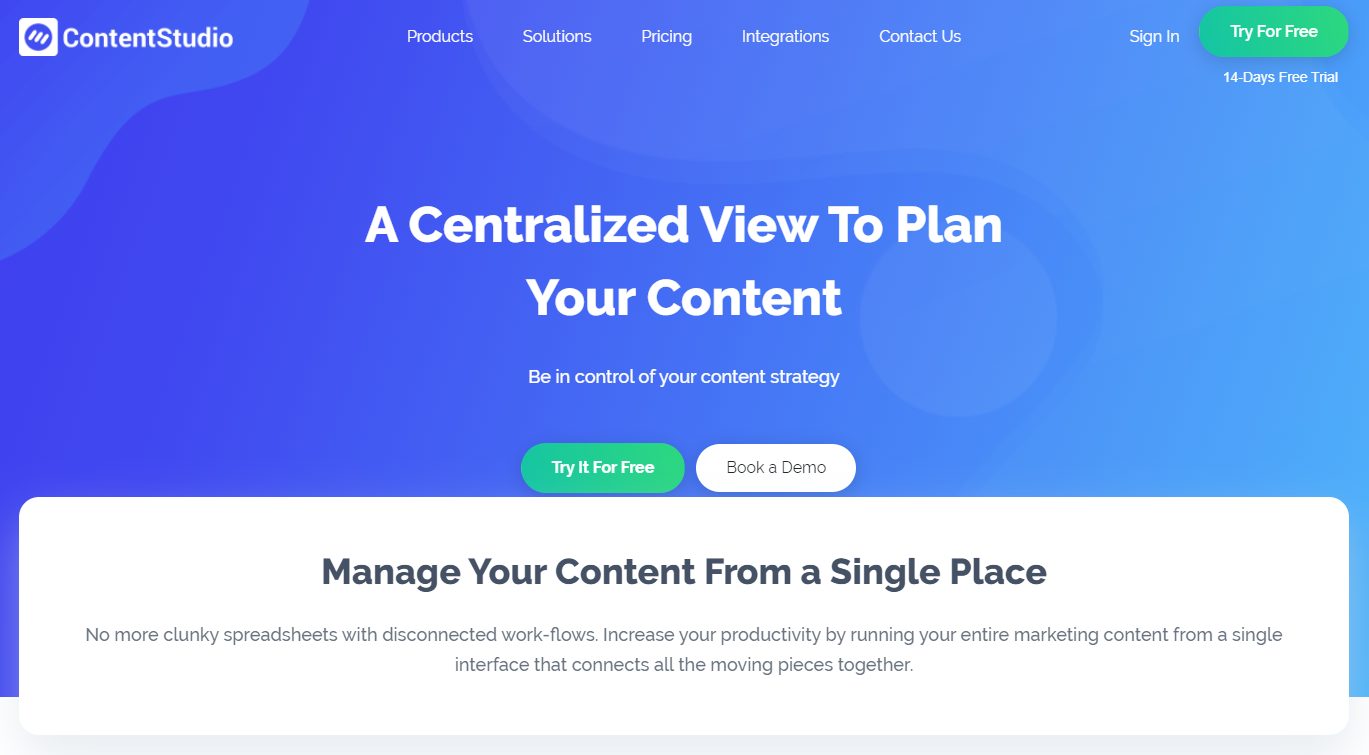 ContentStudio gives users a 14-day free trial. It also does a little more than most social media platforms. For example, influencer marketing is big business, but it often means resorting to manual web research or investing in a separate tool to find the best influencers to partner with. ContentStudio has identified this challenge and solved it with an influencer discovery feature. 
It works for Instagram, Twitter, and YouTube. Results show how many posts an influencer has published, how many followers they have, how many accounts they follow, provide an interaction value for every thousand followers, and score each influencer out of a 100%. 
Content discovery is a feature more platforms offer today, and you'll appreciate how ContentStudio's works. You can search by keyword, topic, or identify sources. And if you want to get granular, you can build queries that include identifiers like "MUST ALSO", "NOT", "EXCLUDE", and "LIMIT".
ContentStudio has also taken a stab at automating content publishing social and blogs. This feature lets you identify sources or keywords and set auto-posting to push content to channels of your choice. Content can be reviewed if you'd like to personalize or approve it before publishing. 
Unique features aside, you get all the must-haves. ContentStudio has a beautiful planner, offers post scheduling, analytics on every channel, and an RSS feed reader. A team inbox is available to handle direct messages, along with collaboration tools to create workflows, tasks, and checklists.
---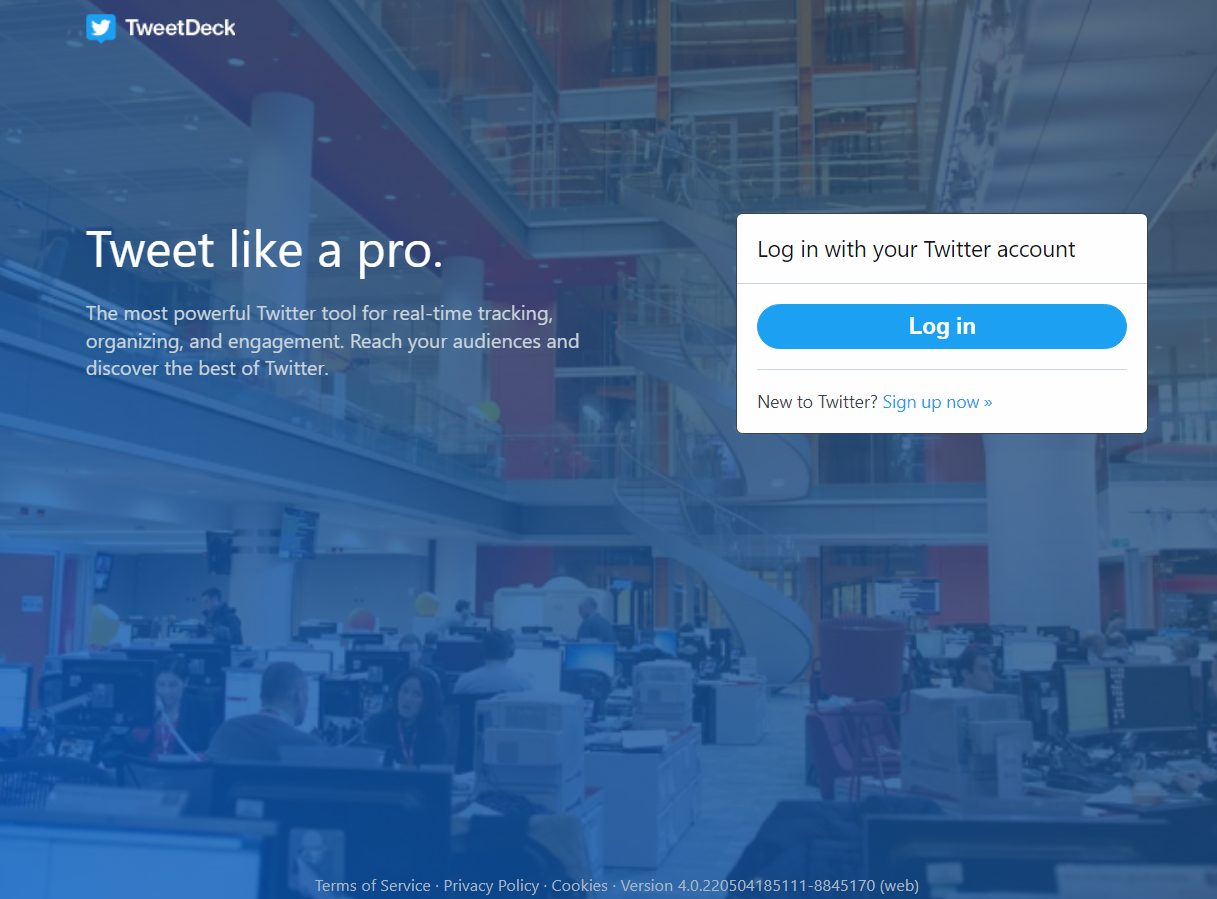 Running multiple accounts on Twitter can be tricky, but TweetDeck aims to give users with multiple accounts a more seamless way to manage them all. In one easy-to-use interface, you can view multiple timelines, activities of the accounts you're following, scheduled tweets, lists, direct messages and more in the form of columns. 
These columns are customizable so you can add, move, or delete them, depending on your needs. 
Aside from being able to manage all your Twitter accounts all in one place, TweetDeck's other advanced features also let you schedule content, build Tweet collections, and monitor the latest trends. The great thing about TweetDeck is you won't need to constantly sign in or out of your account. 
To start using TweetDeck, visit the TweetDeck site and log in using your Twitter account. Twitter recommends that you use an account that's not shared with others. Once done, you can start connecting your other accounts to your TweetDeck account. 
How to Connect Multiple Twitter Accounts
Here's how you can connect your Twitter accounts to TweetDeck:
Go to the navigation bar and click

Accounts

.

Click the

Link another account to your own

button.

A pop-up window will appear. Once you've read and understood the notice, click

Continue

.
A new window will appear, asking you to enter your login details (username or email and password) of the account you want to link. Once done, click

Authorize

. 

Your TweetDeck is good to go. 
You can also choose the account you want as your default by:
Going to your TweetDeck navigation bar and clicking

Accounts.

Clicking the down arrow to expand the account you want to set as your default.

Selecting the

Default account

option. 
Twitter is currently testing a new version of this tool. However, previews, which are currently invitation-only, are limited to selected users in the US, Canada, Australia, and New Zealand who are then required to provide feedback about their Preview experience. This new version comes with more robust features such as a full Tweet Composer, advanced search features, and new column types. 
If you're wary about having multiple columns, Twitter is introducing Decks, which allows you to group your columns into workspaces. 
Let's dive into some of TweetDeck Preview's new features:
This feature lets users create threads and add components such as scheduled Tweets, photos, videos, GIFs, and more.
This lets you view the latest or top Tweets first in your columns.
Decks allow users to organize their columns into groups for a cleaner look.
The Column Creator gives users an easier way to create columns and lets you search Twitter without having to exit a column you're in. 
This lets you customize your TweetDeck setup and integrate your columns from the standard TweetDeck version into the new TweetDeck Preview. 
The Video Docking feature lets you watch videos while still allowing you to access the content from the column you're working on. 
TweetDeck is free for anyone with an existing Twitter account. You can check it out at tweetdeck.twitter.com or at the Mac app store. Note that TweetDeck isn't available for download on mobile. 
---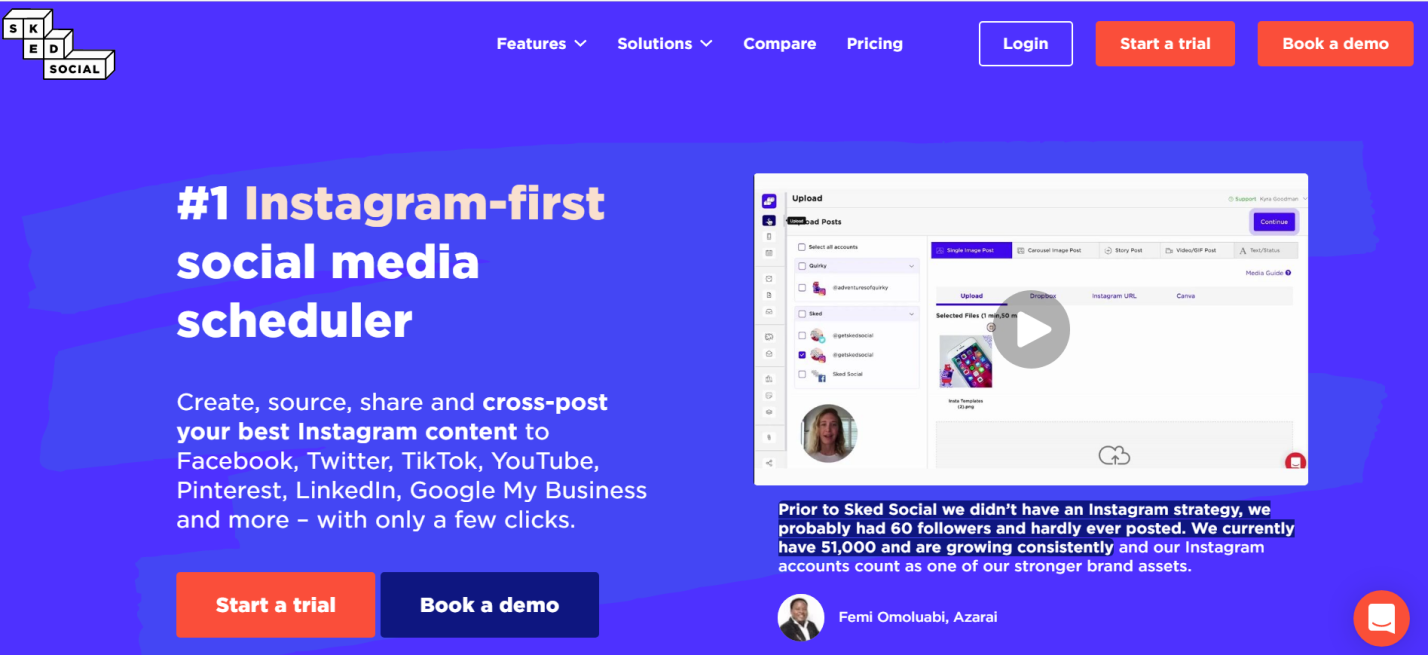 Sked Social, formerly known as Skedugram, is an Instagram-first social media management tool that offers a free seven-day trial. 
It's a versatile, powerful tool can be used by companies like marketing agencies, eCommerce brands, and media brands. With Sked Social, you can create, share, and cross-post your Instagram content to other social media platforms, and more. 
Given that its primary focus is Instagram, it lets users streamline their social media strategy for Instagram. With Sked Social, you can:
Automatically publish your posts (feed posts, stories, carousels, etc.)

Auto-post across other social media platforms like Facebook, Twitter, Google My Business, and TikTok

Optimize tags and hashtags to drive engagement and sales

Plan your feed visually and up to a few months before posting

Easily customize your feed with its intuitive drag-and-drop interface

Get a Link in Bio tool that's fully customizable

Access social media analytics

Edit your photos with its built-in editor and app integrations

Queue your content (images and videos) and schedule them for posting 

Use templates to improve your workflows
You can access Sked Social any time, anywhere. It gives you the freedom to work on creating and uploading content, whether you're using your desktop or smartphone. 
One of Sked Social's best features is it lets you collaborate with an unlimited number of users, making it easier for teams to work together. However, this feature is only available for the Essentials plan and other higher-tier plans. 
Sked Social currently offers four plans:
Fundamentals

Essentials

Professional

Enterprise
---
Other Notable Social Media Management Tools
Aside from the options we've listed above, here are three notable social media management tools that you might find useful.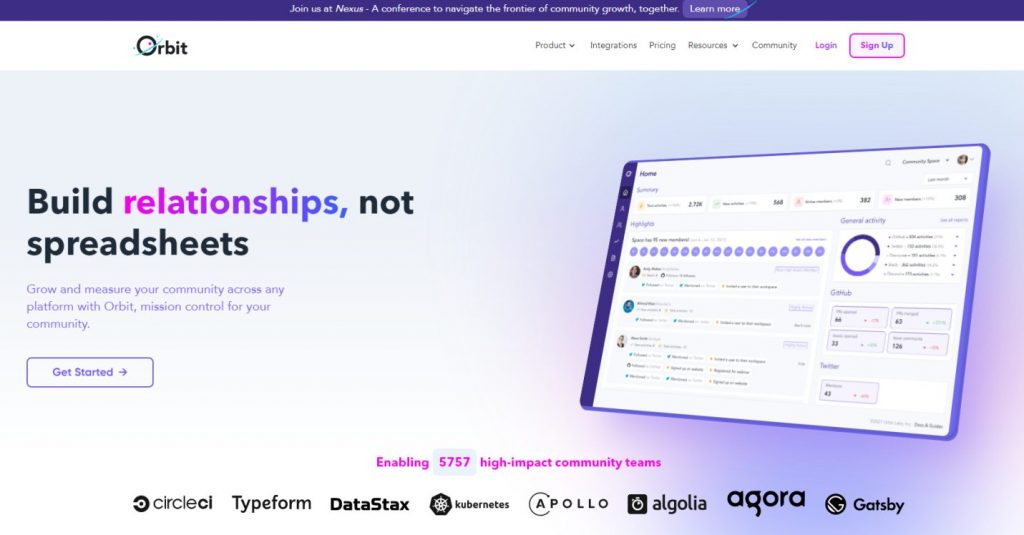 Orbit is designed to help you grow and measure your audience across various platforms. Orbit lets you integrate your social media channels, collaborate with team members to drive growth, and automate manual tasks so you can have more time to focus on more complex duties. 
With Orbit you can get access to features such as:
Workspaces 

Permission management

API and webhooks

Built-in integrations

Automatic activity tracking

Enriched member info

Member and activity filters
Furthermore, you get flexible reporting features so you can optimize how you measure your performance, see which programs are delivering results, and find out where you should ideally focus your resources. To effectively gain insight and track your performance, Orbit provides you with tools like activity and member reports, leaderboards, and a custom report builder. 
Orbit offers several integrations, which differ according to plan type. Some of its app integrations include:
Bevy

Circle 

DEV

Discord

GitHub

HubSpot CRM

LinkedIn

Notion

Orbit API

Salesforce

Slack

Stack Overflow

YouTube
Orbit's Starter Plan is ideal for individuals. It's free to use and has three seats with unlimited members. Other pricing plans include:
Growth at $200 per month

Premium at $1,000 per month

Enterprise – contact Orbit for more details
---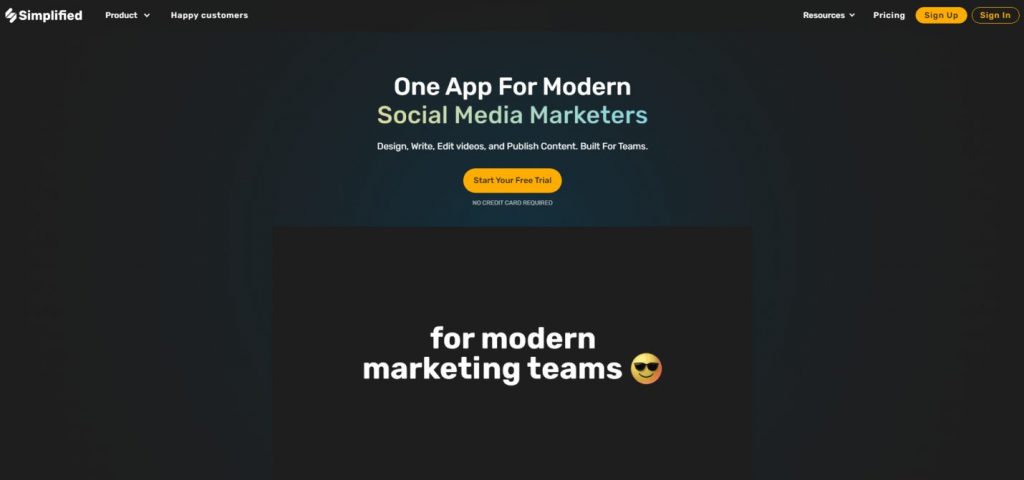 Simplified is an app designed not only for social media marketers, but also for video creators, marketing teams, graphic designers, and copywriters. 
It's an all-in-one app that lets you design, write, and edit videos, as well as plan and publish your social media content. Some of its key features include a background remover tool, content rewriter, post scheduler, ready-to-use templates, and link shortener. It also lets you collaborate on projects with features like unlimited workspaces, shared folders, and real-time comments.
Simplified offers four plans:
Free

Small Teams at $15 per month

Business at $30 per month

Growth at $120 per month 
---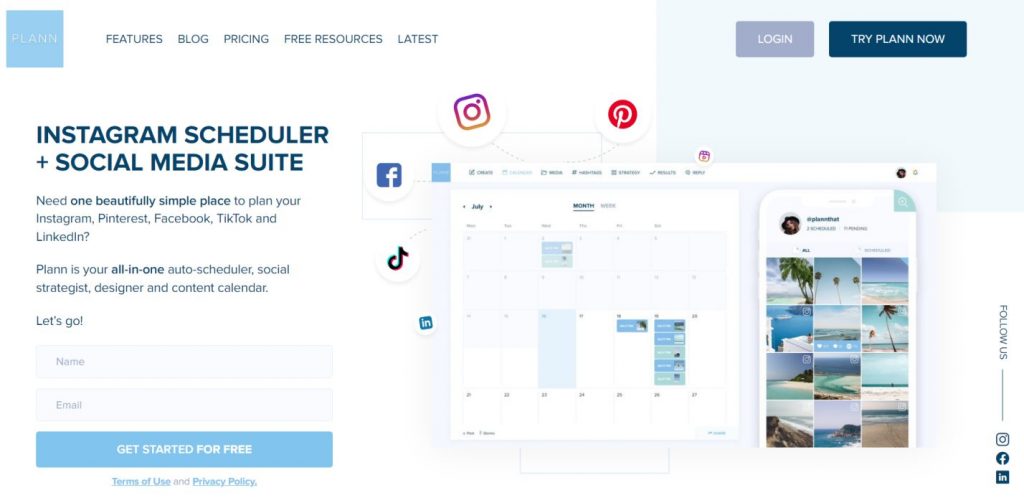 Plann is a versatile social media management tool that's ideal for everyone, from bloggers and creatives to businesses of various sizes. It's also a great tool to use if you're looking to build your own personal brand. Plann's features include:
Visual planner

Unified brand calendar

Royalty-free stock libraries

Analytics

Hashtag manager
Best of all, you can directly access and import all of your files from Dropbox and Google Drive when you're using Plann. Its Media Management feature lets you create your own media collections so you can easily stick to your social media content strategy. You can upload your own photos or videos or use any of Plann's stock imagery integrations, which include Pexels, Unsplash, and Pixabay. 
Other integrations include Canva and CloudSpot. 
It's free to use for individuals who are managing one brand. Aside from the free plan, Plann also offer four more pricing tiers. Here are their prices when billed annually:
Power User at $9 per month

Build at $19 per month

Grow at $59 per month

Play Big at $129 per month
All paid plans include robust features such as:
Unlimited auto posts and stories

Professional image editing tools

Companion app for Android and iOS devices

Drag-and-drop calendar planning

Done-for-you captions, post launch, and strategy ideas
Frequently Asked Questions
What does a social media management tool do?
Social media management tools help you to streamline the operation of your social accounts by enabling you to manage your social accounts from one location. Some of the most common features that they offer include scheduling posts, managing comments and messages, and tracking social hand @-mentions.
Is there a free tool to help you manage your social media marketing?
You can check out Buffer, Socialoomph and Later. These are three of the top social media management tools that offer a free plan. With Buffer's free plan, you can schedule a maximum of 10 posts across three social accounts. Socialoomph's free plan enables a single user to schedule unlimited posts to one social profile. Later's free plan is also restricted to one user, but you can post up to 30 posts per month to Instagram, Facebook and Pintrest, and 50 Twitter posts per month.
Can I use Monday.com for social media marketing?
While Monday.com concentrates on improving the efficiency and workflow of your team and doesn't specifically focus on social media marketing, marketers can still use it to create a logical workflow to help manage their social media accounts. They have various templates, one of which targets social media management. With this template, you can create two boards: campaign progress and status and campaign ideas and requests. This way your team members can suggest upcoming social media posts and you can keep track of your campaigns.
Which tools offer social listening?
You can check out AgoraPulse, Hootsuite and Sprout Social. While AgoraPulse and Sprout Social are extremely professional, they are expensive and their cheapest plans cost $99 per month. While Hootsuite's main app mainly concentrates on social publishing, you can buy a separate app (Hootsuite Insight) if you need social listing capabilities.
Is there a free content curation tool?
You can check out Social Pilot. Social Pilot is aimed at both small businesses and large enterprises. While they do not offer a free plan, they do offer ShareIt which is a free content curation tool. With ShareIt, you can discover, curate and share the latest content directly on your social media pages. This free tool can also help you with influencer discovery. It is a great alternative to Quuu.