Best for:
Agencies and teams
Although HeyOrca doesn't offer as many add-ons as some of the other social media management platforms we have reviewed here, it provides an easy way to design, schedule, and publish your posts. Its interface is pleasing to the eye, and thanks to its emphasis on calendars, you can easily visualize your upcoming scheduled posts. In turn, it only takes a glance to spot any gaps in your schedule where you (or someone in your team) need to create additional posts.
Although HeyOrca is usable by anyone, it targets agencies by making it simple to set up multiple social calendars, so you can easily separate your clients' social activity. You can use HeyOrca to manage multiple brands, plan social media posts, collaborate on content, request approvals from clients or management, and report your results.
HeyOrca has the vision to be the leading social media management platform for creative agencies. In fact, Chief Executive, Joe Teo, started HeyOrca in 2016 when he saw a need for a content creation and collaboration tool for social media agencies.
You manage all your posts in the HeyOrca Content Library and your media assets in the Hey Orca Media Library. This is particularly useful for agencies, as any image, video, or GIF you upload to a post will automatically appear in that client's calendar's media library. HeyOrca's philosophy is that every client is unique, so their media library should be too.
HeyOrca has also kept up with social media trends, recently expanding its services to include directly publishing Instagram Reels and (indirect) publishing to TikTok.
---
Summary: HeyOrca
---
Pricing
As a SaaS platform, access to HeyOrca is sold on a monthly basis. HeyOrca offers 3 paid plans, with subscriptions based on the number of calendars you need. All paid plans can be paid on a monthly or yearly basis. They offer a discount of approximately 15% for annual payment.
Basic, $59/mo/calendar ($35/mo/calendar for 5+ calendars)

– unlimited users, 10 social profiles/calendar, visual social media calendar, direct publishing, post collaboration & approvals, media library, best times to post, Instagram Grid, Reels and Story Support.

Standard, $99/mo/calendar ($59/mo/calendar for 5+ calendars)

– unlimited users, 10 social profiles/calendar, visual social media calendar, direct publishing, post collaboration & approvals, media library, best times to post, Instagram Grid, Reels and Story Support, Facebook post promotion, social media reports, bioLink.

Professional, $129/mo/calendar ($77/mo/calendar for 5+ calendars)

– unlimited users, 10 social profiles/calendar, visual social media calendar, direct publishing, post collaboration & approvals, media library, best times to post, Instagram Grid, Reels and Story Support, Facebook post promotion, social media reports pro, bioLink pro, notes section, custom branding.
All plans offer a 14-day free trial.
---
The Details
Although HeyOrca strongly targets agencies in its marketing, it is just as easy for brands to use in-house. Indeed, despite a strong emphasis on the various stages of approval, solopreneurs can just as easily plan and schedule their posts in HeyOrca, as long as they remember to approve their own posts.
Setting Up HeyOrca
HeyOrca makes it exceptionally easy to sign up to their platform. The main screen includes a sizeable pink Call to Action button, imploring you to Start a Free Trial. Once you click on that, you're taken to a screen where they ask you a couple of basic questions before HeyOrca opens with a sample calendar.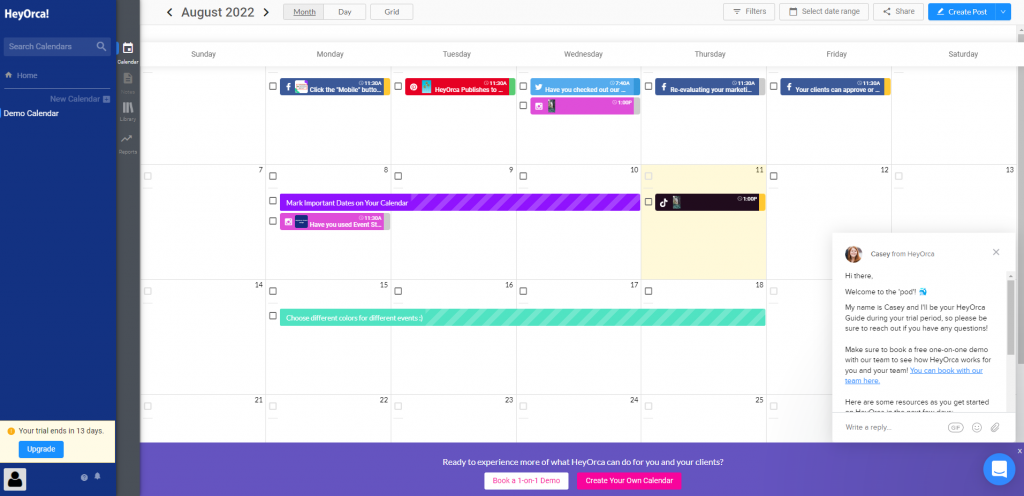 The sample calendar includes valuable hints and tips about how to get started on the platform. Importantly, there is no pressure at this stage – you don't even have to enter your credit card details until your free trial is over.
HeyOrca helps the new user, offering a wide selection of training videos and guides. These cover topics such as Getting Started, social media roundups, slide decks for your clients, planning and scheduling posts, collaborating on posts, post-approval workflows, and reporting on results.
You will need to set up a calendar before you go very far with using HeyOrca. To do this, go to your dashboard and click on the New Calendar button in the left menu. You begin by filling in details about you, your company, and your time zone, followed by the information necessary for your first calendar.
Once you've given HeyOrca basic details, you should be ready to connect your social accounts. This is a simple process where you nominate the various accounts and pages you want to connect and give the necessary permissions. If you operate multiple Twitter accounts, you must first ensure you log into the correct account on your computer or device.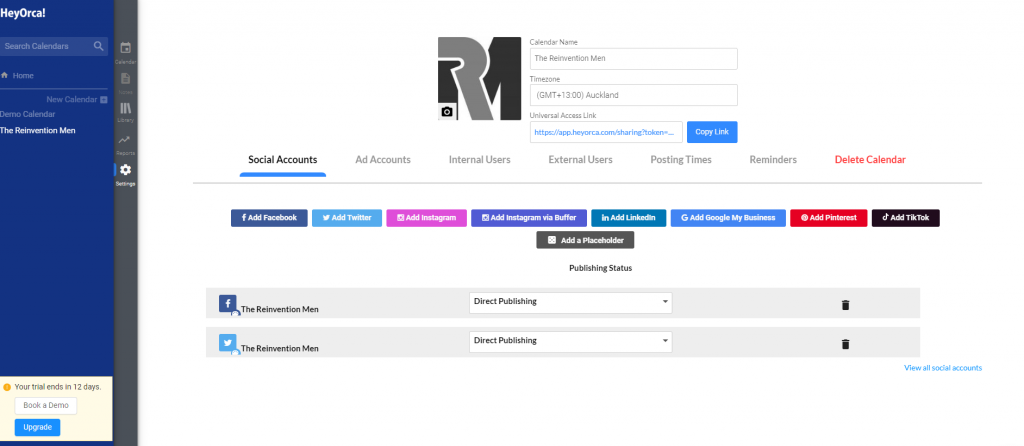 As with most social media marketing platforms, Instagram limits you to direct publishing to a business profile. You can, however, attach a personal Instagram profile to Hey Orca, and they will send you a mobile or email notification when it's time for you to publish a post manually. Unfortunately, HeyOrca has to use the same two-stage system for Stories (even for business profiles) because of limits set by the Instagram API. However, HeyOrca has recently received the right to directly publish to Instagram Reels if you opt-in and give the appropriate permission.
In addition to allowing direct publishing to Facebook, Instagram, Twitter, LinkedIn, Google My Business, and Pinterest, you can use HeyOrca to plan your publishing to TikTok, notifying you at the correct time by TikTok, mobile, or email notifications. TikTok must be a relatively recent addition to the platform as it isn't referenced in the introductory training videos.
All HeyOrca plans allow unlimited users. You can easily add users in the Settings section of a calendar—the platform distinguishes between internal and external users. The internal users are members of your organization, and you can give them one of four roles (each with differing permissions): Owners, Internal Admins, Copywriters, and Internal Stakeholders. You can add anybody else, for example, clients or external contractors, in one of three roles: External Stakeholder, External Copywriter, or External Admin.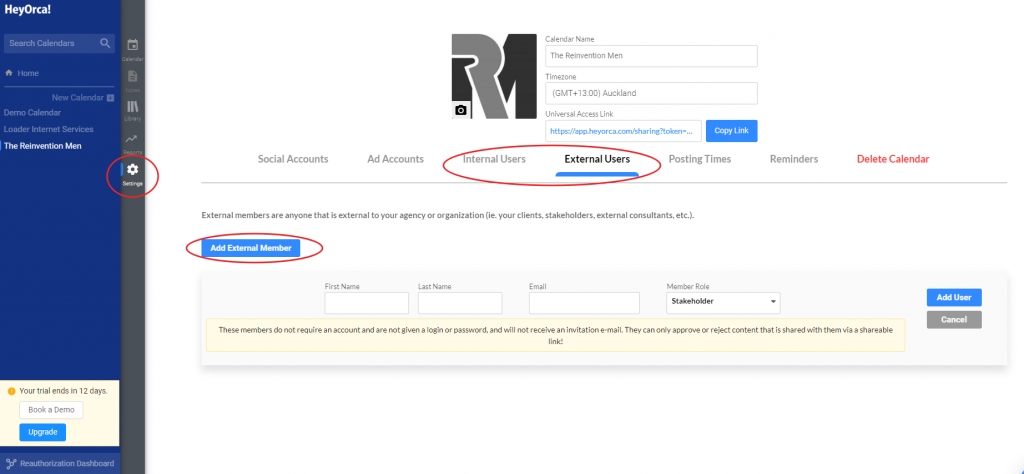 ---
Using HeyOrca
Calendars are central to HeyOrca. You use calendars to:
Plan and schedule your social posts

Manage media

Collaborate with your team members on your content

Get approval from your clients or other stakeholders on your content (HeyOrca strongly pushes its advantages for agencies)

Report on your results

Update user permissions and settings.
If you access multiple calendars, you can use HeyOrca's dashboard to access each of your calendars. For example, if you're an agency with numerous clients, HeyOrca recommends you have a separate calendar for each client.
You can see a quick overview of your calendars on your dashboard. Each calendar appears as a box containing your social logo with four colored numbers beneath. This is particularly useful for agencies and those who manage multiple calendars. You can see a summary of each of your calendars at a glance, with the numbers representing:
Gray – how many posts you have in the draft approval stage

Yellow – how many posts are awaiting approval

Green – how many posts have been approved

Red – how many posts require revisions
One helpful feature of HeyOrca is its libraries, the HeyOrca Media Library and the HeyOrca Content Library. You can access and edit your image and video assets in the HeyOrca Media Library and make adjustments with the HeyOrca photo editor. Over time you can build up a massive database of media items. So you don't get confused, HeyOrca adds a "used" tag when you add a media item to a post.
The HeyOrca Content Library provides a space to create, organize, label, and get approvals on social media posts without assigning them to a date or time to be published. You can use it to create posts for use in the future. However, you can also choose to leave posts here to reuse in the future as evergreen content.
It's effortless to create and schedule new social posts in HeyOrca. You can create posts in either the Month View or Day View of your calendar, typically following four steps:
Select the relevant social accounts for your post

Choose the time and date to schedule your post

Click the text box to add your post copy and any hashtags

Click on the photo icon at the bottom of the post editor to upload an image or video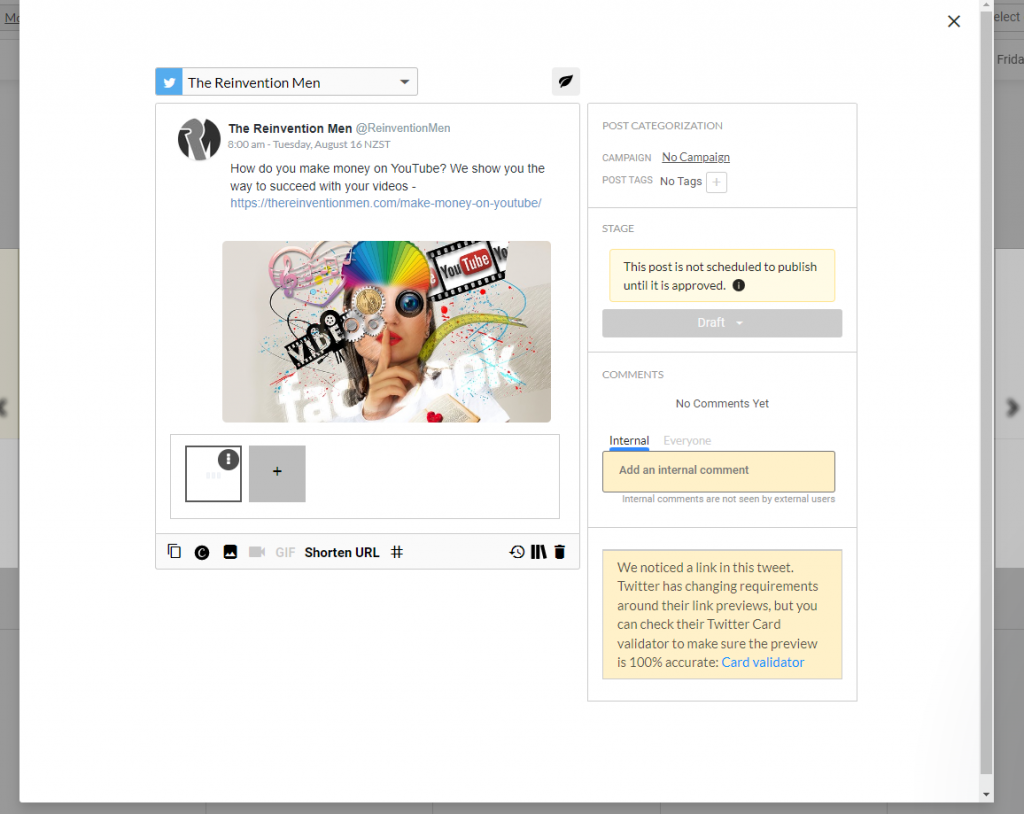 You can easily send your post through any necessary approval steps. In addition, you can share your post with colleagues or clients by selecting it on your calendar and clicking the share button, which will generate a unique shareable link. You can easily ensure you don't accidentally publish your post early, as HeyOrca will only publish posts set to "Approved" or "Schedule Now." Posts set to "Draft," "Awaiting Approval," or "Revise" will not publish.
Nowadays, virtually every post requires some form of graphic. HeyOrca has a handy integration with Canva, taking you straight to the graphics app at the touch of a button. You can design the visuals for your post there, using one of Canva's templates as a starting point. Then, once you're happy with your design, you can push a button in the top right corner to attach it to your post.
Once you've created your post and received any necessary approvals, it will appear in your calendar at the scheduled time. You can easily copy it to selected other social profiles. For example, I designed the above post for Twitter, but by pushing the copy button in the bottom left-hand corner, I can also schedule it for Facebook.
Your posts will show up in your calendar as color-coded blocks in Month view and with detail in Day view:
Month View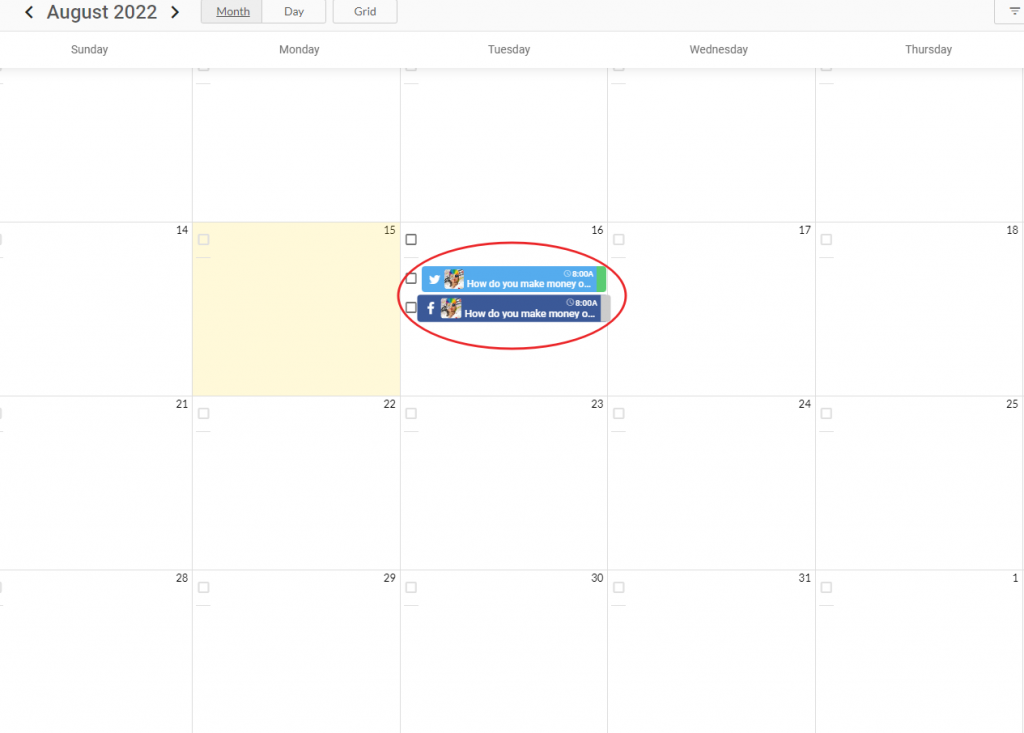 Day View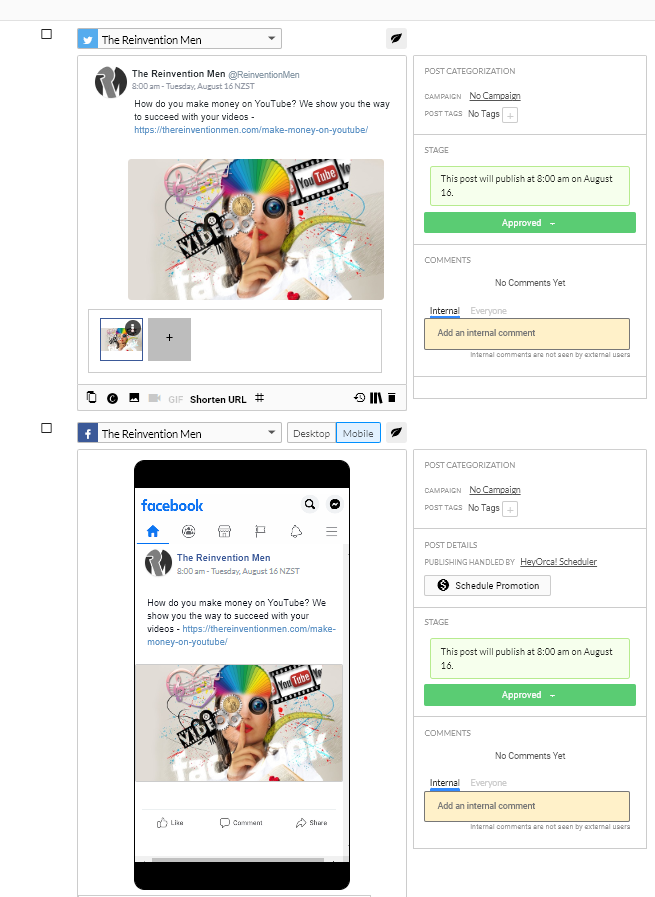 Of course, you will generally want to use your social media marketing software for more than just scheduling posts. One helpful feature of HeyOrca is the reports it generates for your Facebook pages, Instagram business profiles, LinkedIn company pages, and Twitter profiles. You can easily change the dates of your reports, so they depict the data you want. In addition, you can set up HeyOrca's report generator to report on your engagement, impressions, and page likes, as well as paid impressions and likes insights.
---
Conclusion
HeyOrca is an exceptionally user-friendly social media collaboration tool and scheduling platform, particularly for agencies and brands with multiple users. However, with its strong focus on collaboration, it is perhaps not as full featured for solopreneurs and brands with a single social media manager internally as some of the other platforms we have reviewed.
It features an intuitive interface with color-coding (by default, the social media network standard colors), making it easy to see your upcoming posts at a glance.
Attaching your social networks is a simple, straightforward process you can achieve in a few minutes. You can even use HeyOrca to post directly to Instagram Reels, although you will still have to take that last step manually for any TikTok posts you create on the platform.
While most of the ancillary features you see in some of the other social media platforms are nice-to-have bolt-ons, perhaps the feature I most miss in HeyOrca is an easy way to share other people's content. Similarly, HeyOrca would benefit from some form of bulk uploading capability.
Unsurprisingly, HeyOrca's developers have placed great emphasis on having a smooth approvals workflow. You have complete control over users' access rights, declaring what each user can and can't do on the platform. This includes clients whom you can give sufficient clearance to give any necessary approvals without viewing anything they shouldn't. Unusually, HeyOrca permits you to have unlimited users, meaning you can efficiently structure your social flows precisely how you want.
Hey Orca
Features

Ease of Use

Reporting

Best for:
Agencies and teams