Best for:
Businesses, agencies, and freelancers
Overview
The story of ContentCal is as old as time itself. Well, not time itself—but definitely as old as social media marketing platforms. Which is like a decade, a much shorter duration than time itself. No matter. The story goes like this:
When brands and marketers realized the power of marketing on social media, everybody and their uncle wanted in on it—but not a lot of people knew how to do it well. As with any valuable skill that only a small subset of people were actually interested in pursuing and perfecting, social media marketing agencies began sprouting up all over the world, creating content and managing campaigns for brands. Some agencies, like ContentCal, grew to a point that daily, mindless chores and administrivia began taking way too much of the company's time. Managing the deployment of content across multiple channels was one such administrative task that took a lot of time. The most obvious solution for something like this was to create tech-based tools to handle some of the load, and increase efficiency for anything that couldn't be automated.
ContentCal began life in 2014 when CEO and founder Alex Packham left his job to launch a social media marketing agency. The creation of the software that would eventually become ContentCal began almost immediately, and took only two years to transform from in-house toolset to standalone SaaS product.
ContentCal is a multipurpose content marketing platform that allows you to plan, create, collaborate, publish and analyse your content - all from one central location. Its in-built approval flows also help streamline the process and avoid bottlenecks.
Before I'd had the chance to see a demo and then play around with ContentCal myself, I'd thought that this review was going to be incredibly tedious to write. How am I going to write a full length review around an app that schedules and publishes content, I asked myself. It just didn't sound like a lot to go on. But then I actually saw what it does, and I'm wondering how I'm going to cram all that I'd like to tell you about the platform in such a limited amount of space. It's packed with the kinds of features and tools that you didn't know you needed until you saw they existed—and once you use them you likely won't want to live without them.
---
Summary: Quick Jump Menu
---
Pricing
Social media is often touted as an equalizer of sorts, giving equal voice to individuals and large corporations alike. But in the world of social media marketing, the best management software suites out there tend to be packed with features and priced for large and multinational brands. ContentCal bucks that trend as well, offering a SaaS platform that's affordable to nearly any size business, even at the highest tier.
Essential, from $37/mo ($30/mo when billed annually

) dependant on users + calendars — 1 or 2 users and 1 or 2 calendars, 5 connections per Calendar, Custom Planning Channels, Instagram Grid view, analytics with PDF export, approval workflows, user permissions, support via chat and email.

Advanced, $119/mo ($96/mo when billed annually)

— 3 users and 3 calendars, with 10 connections per calendar, all Essential features plus Articles, pause content publishing, dedicated account manager, advanced approvals.

Expert, custom pricing

— a custom amount of calendars and users, 15 connections per calendar, all features in the Essential and Advanced plans, Contributions, unlimited personalized training.
In addition to the above, those on the Expert plan have the option to add a number of bolt-on features to their account including Engage (our social media inbox tool). While Advanced Analytics is also available as a bolt-on for any paid plan.
---
Ease of Use
With everything it can do, ContentCal is at its heart a visual calendar. The operative word here is "visual," which means that—above all else—the software needs to look good. "Looking good" isn't just a matter of aesthetics, though. With software, looking good also means a well organised interface that requires little learning curve from the user. ContentCal hits both of these requirements fully: it definitely looks good, and using it is utterly intuitive.
ContentCal's main dashboard has an array of tutorial videos that cover just about everything the platform can do. All told, there's a total of roughly one hour worth of videos that should get any user up to speed for each module. The videos are easily accessible, should you need to go back for reference. Also, the first time you enter any of ContentCal's modules, there's an overlay offering a brief orientation to what you can do there.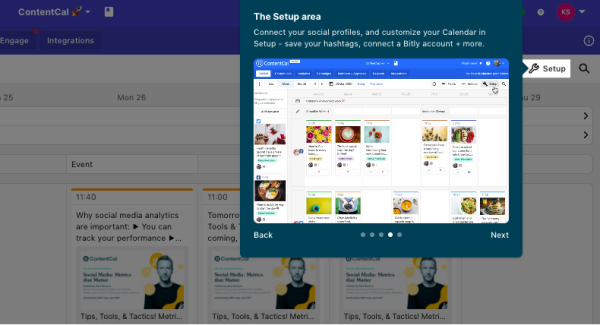 The calendar itself looks far better than any I've seen for content scheduling and management. Posts are placed within the calendar in a large format, where the image and caption are legible without having to click in further. The platform relies heavily on color coding to give users an at-a-glance understanding of where they're at with their queue: a thin line across the top of each entry in the calendar broadcasts the post's approval status: green is approved, yellow means waiting for approval, red is declined, and if the line is blue it means it still hasn't been submitted for approval.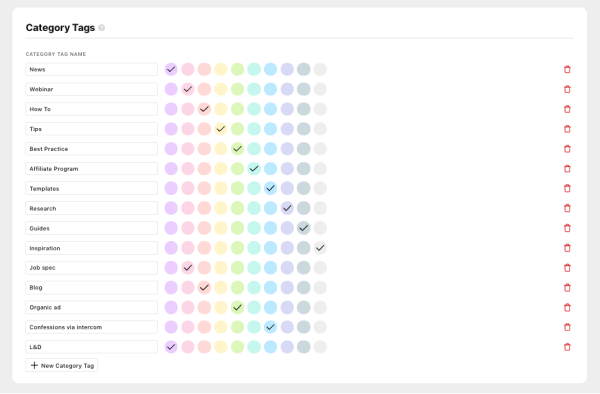 The color coding also significantly improves the categorisation of each post. By matching categories with colors, a user doesn't have to go through every calendar entry and make sure there's a good balance of content. Simply looking at the screen and seeing an array of colors for the category tags gives a quick impression of whether you're overdoing it for, say, How-To articles while you're light on News.
Many competing tools say they offer a visual calendar, and they do. But no company's quite delivered on that promise like ContentCal has—the scheduling and publishing is simply in a class by itself.
---
The Features
ContentCal offers a host of features to support its primary mission of scheduling and publishing content. The color coding for ease of use is a big one, but the organisational aspect doesn't end there.
There are two rows that run across the top of the calendar for further labeling; one for specifying the campaign that each day is covering, and one for writing notes to communicate with team members any other important information. The campaigns and notes are specific to each day, so you can get really precise.

One feature that highlights the thought that went into ContentCal's development—and is a timesaver for content creation, is the ability to create what the platform calls Snippets. There's a lot of repetitive text that goes into each piece of content: maybe you have to put some kind of disclaimer on every post, or maybe there's a long list of hashtags that needs to be appended to each one. With Snippets, you can pre-define as many different strings of text as you need to, and then at post creation time it's just a matter of selecting the appropriate Snippet from a drop down menu.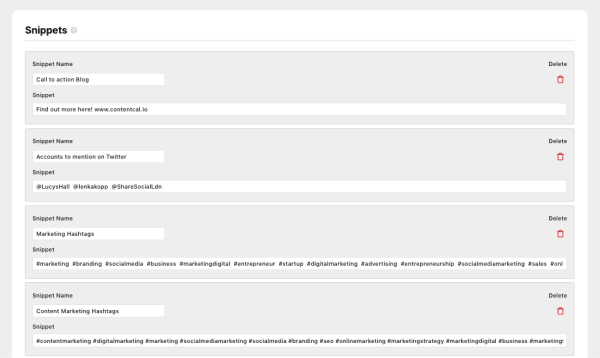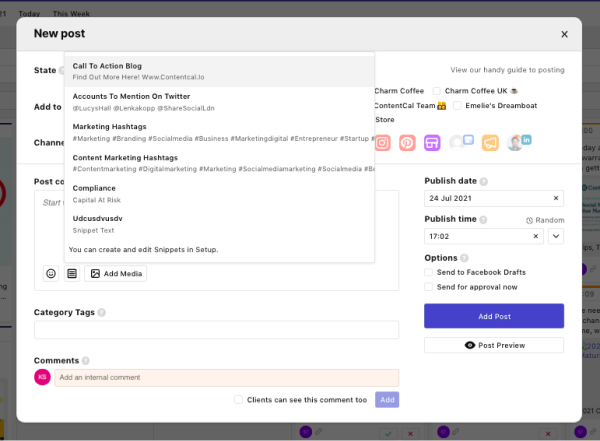 Similarly, you can also enter all your hashtags into ContentCal's setup—maybe you don't need a bunch of them tied together in one Snippet. You might just want to append one relevant hashtag to a post. By entering all your hashtags into the platform, all you need to do during post creation is type in # and a dropdown menu of all your hashtags appears for quick entry.

The analytics and reporting are also very well implemented. ContentCal's Advanced Analytics enables you to easily demonstrate your success, identify content marketing growth opportunities and analyze all of your social media data through a visual, intuitive, and easy-to-use dashboard. Access to Advanced Analytics empowers you to increase the ROI of your content marketing efforts through the real-time visibility of your performance across organic social, paid social, and your website. You're shown some basic audience information—how many followers you have, what audience growth has been like, the breakdown by channel—but the rest of the data is designed to help you improve your future effectiveness. The number of posts you're publishing, your engagement, and your best performing times all help to refine your schedule going forward. You're also shown the top performing posts, and have the option to repurpose them—schedule them right back into the calendar—if you like. If you are keen to get more sophisticated with reporting on content and social media performance, ContentCal offers an 'advanced analytics' add-on that lets you do just that. Advanced analytics gives a more granular overview of how each channel is performing, who is engaging with your posts, how well your competitors are performing and which pieces of content are driving conversions. You can also customise and download a variety of reports from this analytics feature, to share success and future planning with senior teams.
Last but not least, ContentCal's Content Hub is a breath of fresh air for tired content creators seeking inspiration, ideas, and a place to craft their content without pressure or context. Posts can be added to the Content Hub Library at any point without needing to choose a channel or a time/date for publishing. You can use this area to either begin drafting your content, drop your ideas to come back to later, or even to create template posts that can be used time and time again. If you make use of Contributions, you can also create custom-made forms to collect content ideas and suggestions from customers, clients, and your team who don't have access to your ContentCal account. All submissions via Contributions forms will automatically be added to your Content Hub Library, ready for you to develop into amazing marketing content.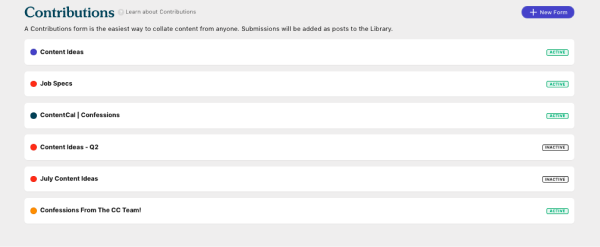 ---
Integrations
ContentCal offers some basic/predictable integrations, which isn't a bad thing despite how the beginning of this sentence sounded. They're basic and predictable because they're necessary: Google Drive, Dropbox, and Bit.ly connections are all here, and that's good news for literally any company. These are indispensable tools.
The biggest-deal integration ContentCal offers is with Zapier. If you're not familiar with it, it's kind of an integration middle man for apps that don't otherwise work together. For example, connect ContentCal with Zapier, connect Zapier to Pocket, and now you have a way of creating new posts out of content you found there. The same can be done with Pinterest, Airtable, Google Sheets, Slack, and 1000's or more apps.
---
TL;DR (aka The Conclusion)
In a market saturated with social media and content management platforms trying to be all things to all brands, ContentCal is a breath of fresh air. While the breadth of features and capability that ContentCal offers has extended from its initial focus of scheduling and publishing, to include, planning, collaboration, analysing and storing content - it has somehow managed to keep the original simplicity and ease of use (as well as the lower price points) that make the tool so attractive to users.
There's no denying that planning, scheduling, and posting content are tasks mired in tedium and repetition. ContentCal removes these barriers by automating much of what can be so mind numbing about managing your brand's social presence. This leaves you more time to focus on actually creating (or sourcing) quality content that resonates with audiences. Best of all, it's a tool that's just as useful for small businesses as it is for large ones, and it's well within the small business' budget, as well.
Frequently Asked Questions
How much does ContentCal cost?
ContentCal is affordable. ContentCal pricing for the 1-2 users starts at $30.00 per month($37/mo if billed monthly). Even smaller businesses will find their most expensive plan cost-effective. They have 3 pricing plans: Essentials, Advanced and Expert. The Advanced plan costs $119/mo ($96/mo when billed annually). The Expert pricing plan for agencies that need to manage multiple clients, ContentCal has custom packages available.
Is ContentCal easy to use?
ContentCal has a well-organized interface and easy learning curve. On its main dashboard, you will find a collection of tutorial videos (there are about 60 minutes' worth of videos) that cover all the features of the platform. If you get stuck, the videos can be accessed easily for reference. Also, there is an overlay that provides you a brief orientation about what you can do in the platform the first time that you enter any of the modules. All in all, it is really intuitive.
Is ContentCal a good choice for small businesses?
As ContentCal offers cost-effective plans, it is a good choice for smaller businesses. Even if you want to use the Premium plan, it is still not too expensive for most businesses. Planning, scheduling and posting content are very repetitive, time-consuming tasks. ContentCal automates much of this process so that small businesses have more time to focus on sourcing and creating quality content that their audiences will find relevant.
What makes ContentCal great?
ContentCal has grown inline with its customers' needs. This has allowed it to expand the initial offer of planning, scheduling, and publishing - to include collaboration, approvals, analytics, and even community management - without ever losing its original aim of being easy to use, simple, efficient, and purposeful. Its calendar is far better than other content scheduling and management tools. The posts are placed within the calendar in a big format so that you can see the image and caption clearly. It also uses color coding a lot which improves the categorization of each post
How does ContentCal work?
ContentCal offers a wide range of features that support its main mission of scheduling and publishing content. At the top of the calendar, there are two rows for further labeling. One row specifies the campaign that each day covers and one row is used for jotting down notes to communicate with team members or writing down any other key information. As the campaigns and notes are specific to each day, you can be very precise.
ContentCal
Features

Ease of Use

Support

Best for:
Businesses, agencies, and freelancers