A lot about how brands engage with consumers has changed in the past 20 years. Which makes the question "what is digital marketing?" as important today as ever. With social media, websites, landing pages, and whitepapers, it's easy to think that digital marketing ends there. But what about paid ads and webinars? What about influencer marketing, affiliate marketing, and sponsored content?
In this blog post, we'll cover it all. I'll dig into why digital marketing is essential, what a digital marketing strategy is, what the basics of digital marketing are, and much, much more. But first, let's define digital marketing.
---
What Is Digital Marketing?
---
What is Digital Marketing
Digital marketing is the use of strategy, planning, and a keen understanding of your market to create targeted digital media that drive awareness and education for your brand and product/services, and ultimately sales. Digital marketing is used by B2B businesses and B2C companies. Through websites, landing pages, social media, paid advertisements, downloadable content, and other digital tools, brands are able to engage target markets and realize digital marketing goals.
---
Why does digital marketing matter?
Today, more people are online than ever before and that number is growing. Statistics show that 4.66 billion people now surf the web. This means that just over half of the world's population is online and actively using the web.
What do people turn to the web for? Anything and everything. When the coronavirus pandemic made it hard for people to go out, they turned to the web. They used it for entertainment through streaming websites, social media, gaming, shopping, news, fitness, and more work conference calls than ever before.
And while this may sound interesting, you may wonder how this all makes digital marketing essential. Here's the thing: as more people use smartphones, tablets, and personal computers to browse the web, they are exposed to branded messaging. From social media ads to articles on topics they are interested in, all of this content is digital marketing in action.
Digital marketing works because it introduces people to content about problems they may have, and when done effectively, content can be used to nurture consumers and later turn them into paying customers.
---
Who needs digital marketing services?
In short: All brands. Digital marketing isn't a nice-to-to-have. If you're not creating attractive, engaging content, you're losing the battle to hold your audience's attention and keep your brand relevant. Yes, this makes the digital marketing world seem cut-throat, but it really isn't. What matters most is that your brand has a digital marketing strategy and presence, one that brings more people to it, and turns them into customers.
---
The Advantages of Digital Marketing
What do you stand to gain from committing to digital marketing? Plenty! Digital marketing can help position your product or service head and shoulders above the competition. More specifically, digital marketing benefits include:
Enhanced Perceived Value of Your Brand and Product
Smart marketing can enhance the perceived value of your brand and products. People lean towards great stories because brands behind them know how to engage audiences. They also know what people want out of products and services. With the right marketing content and pricing strategy, you can elevate your brand and solutions in the eyes of your target market.
More Sales Faster
Digital marketing can be used to engage ready-to-buy people. Through tactics like social media retargeting, campaigns, and more, brands can create targeted ads with attractive offers that result in immediate sales.
New Relationships
Nurture relationships with people through educational content. As much as 90% of your market isn't ready to buy just yet, and digital marketing can help your brand become a trusted source of information, keeping it top-of-mind for a day when people are ready to buy.
More ROI Than Traditional Marketing Channel
It's cheaper and easier to track. Sure, billboards get eyeballs, but it can be much harder to tie ROI to a billboard that costs hundreds of thousands of dollars to run for months. Online, you're able to get granular. Through smart campaigns, you can track who's reading your content, how long they spend on it, offer them something on the spot, or make a sale immediately. And you can attribute every dollar made to every dollar spent where that is much harder using traditional marketing channels.
Levels the Playing Field
Paid advertising makes it hard to beat brands with deeper pockets. But not all is lost. Through smart content and campaigns using SEO and social media, it is possible to reach the same audiences, and larger audiences than larger competitors can, without breaking the bank.
---
What is digital marketing strategy and planning?
Digital marketing strategy and planning is the use of research, identification of metrics, and the application of tactics to deliver digital marketing results. Digital marketing strategies can be broad or narrow but must be designed to deliver results improvement.
Depending on your goals, improvements can be anything from more website visits to more leads and sales. Improvements can also be more social media followers or a lower cost-per-click for paid ads.
---
What are the basics of Digital Marketing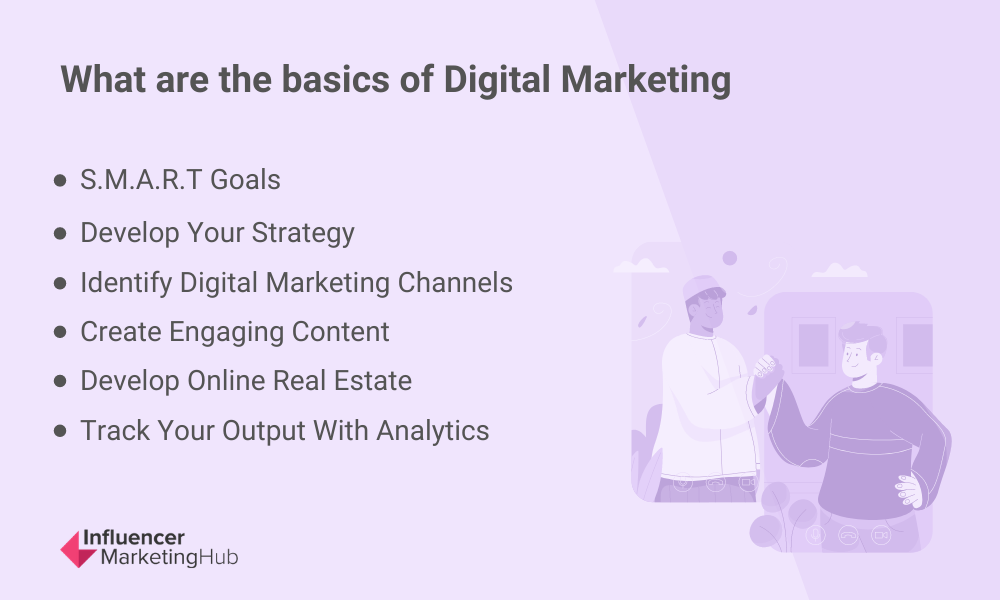 Where do you start with digital marketing? At the very beginning. With an understanding of what digital marketing is, the benefits of using digital marketing, and what a digital marketing strategy is, it's easier to understand the basics. For a brand to begin to reap the rewards of digital marketing, here are the basics that you must have.
S.M.A.R.T Goals
If you've done any reading on goal attainment, you've likely come across S.M.A.R.T goals theory. S.M.A.R.T is an acronym for "Specific", "Measurable, "Achievable", "Realistic", and "Time-bound". In digital marketing, here's an example that explains how S.M.A.R.T goals apply:
John's just been hired as the digital marketing manager of a new sports apparel company. The brand has been around for 3 years and has enjoyed some success online. John's job is to help them grow in the next 12 months. Historically, the online sales division has only grown at a rate of 7% per year. John's boss and CEO, Claire, mentions that the company must grow online sales revenue by 15% this year.
John's up for the challenge. How will John make it happen? He has a very specific goal: to grow online sales revenue by 15%. Next, John has to figure out how to measure growth. In this case, it's easy. He just needs to track online sales through the company websites.
Is John's goal achievable? John spends time doing research. He looks at who buys sports apparel. He looks at the purchase histories of customers, what the average sales value per customer is, and how large his target market is. John also looks at how the brand has marketed its products online in the past and spots a few opportunities to reach a larger audience who use other social media channels.
He knows that influencers can benefit the brand. Through creative campaigns, influencers can help John get more product into the hands of many more people. John's also found that there's a large market of sport apparel customers on YouTube, and the brand has never marketed there. Based on his research and some number-crunching, John realizes that he could reach and exceed his 15% growth goal. His goal is achievable and realistic.
John knows that he has 12 months to reach his goal. But He's not going to think about it as just a 12-month deadline. He's going to break his 15% goal into sales revenue milestones for each day, week, month, and quarter. This will help him stay focused on his goal and, where necessary, do more to quicken results.
---
Develop Your Strategy
John's done a great job by learning about how his company's grown thus far. It's time to develop a strategy to help reach his goal. During his research, John learned about the opportunity to target a larger audience on social media, YouTube, and to leverage influencer marketing.
But that's not enough. To be successful, you'll need more than one channel to grow your brand. What should a digital marketing strategy include? We've covered the importance of having S.M.A.R.T goals. To reach your goal, you'll need to:
Understand Who Your Ideal Customer Is
Like traditional marketing, you must know who your ideal customer or group of customers are. You need to develop an intimate understanding of what drives them to make a purchase for a product or service like yours. This level of insight will help you create content that speaks to them as they become aware of your brand and products, and on their path to becoming customers.
When these insights are collected, they are compiled to create a document called a persona, customer profile, or a customer avatar. What do you need to know to create an effective persona? DigitalMarketer uses customer avatars. These are created by focusing on 5 areas of interest to develop a picture of an ideal customer. These areas are:
Demographics:
Details that describe your ideal customer's socioeconomic status. Characteristics include:
Name

Age

Gender

Marital Status

Age of children

Location

Occupation

Job title

Annual income

Level of education
DigitalMarketer also recommends including a quote that sums up how your ideal customer identifies themselves. In the example below of Agency CEO and founder, Eric, his quote is: "I surround myself with people smarter than me."
Goal and Values:
These are goals and values Eric aspires to achieve in his business.
Sources of Information:
Ideal customers subscribe to various sources of information. Your goal is to identify these sources to better understand what kinds of information they consume and what value it adds to their lives.
Challenges and Pain Points:
Your product or service will need to solve a very specific set of challenges and pain points, and do so well, to be considered by your customers. You must know what these are and why they matter to your ideal customer.
Objections & Roles:
A fair amount of your target market may find your solution helpful and possibly invest in it, but many people may need more motivation to commit to what you have to offer. Knowing what objections they have to buying your product or service is essential. You also need to know what your ideal customer's role in the purchase process is. Do they make the final decision and will they use the product or service, or will it be used by someone else?
---
Your Persona and The Buyer's Journey
Having identified your ideal customer and how large your target market is can be exciting. It lends some idea to how successful your marketing effort could be. But there's more to be considered when producing content. You see, not every person in your market is ready to buy your product or service immediately. In fact, in Sticky Branding, author Jeremy Miller shares that your target market looks more like this:
3% are active buyers

; people and businesses with a need for a solution like yours. They are actively shopping for it and will buy it in the next 30 to 90 days.

7% intend to make a purchase but haven't decided when

. They've done research and understand the merits of a solution, and just need a good piece of sales or marketing content to get them over the line.

30% have a need, but it's not pressing enough

. Customers at this stage look hungry and also like they want to buy, but won't until their needs become serious enough.

30% do not have a need and aren't the right fit

for your brand and solution just yet. They may be dealing with other challenges that are more important or haven't realized that they have a problem your solution solves.

30% are not interested in your company

because they don't fit your ideal customer model. They may have come across your firm but didn't like what they saw, are happier with the competition's solutions, or have found another way to solve their problem. It happens and there's little you can do about it.
Why Does Knowing This Matter?
Being able to identify where your ideal customer is on their journey to buying your solution or becoming a customer helps you create content that they can relate to. This makes your digital marketing effort more effective.
For example, the 30% of customers who do not need your solution just yet won't benefit from a 20% discount off your solution, but the top 7% is more likely to snap up the offer. The 30% may find a useful guide on how to diagnose a certain problem they have more valuable.
Another valuable way to view this path buyers travel is to think of it as a journey. Buyers start with little knowledge or awareness of a problem (or your solution). After becoming problem-aware (through content), they become solution-aware. Solution-aware buyers then become paying customers.
The buyer's journey looks different depending on what your brand sells. In fact, the more complex your solution, the more steps may be involved for your buyer before becoming a customer. But one thing is universal: the 3 core stages covered above are involved.
---
Identify Digital Marketing Channels
Digital marketing channels are best thought of as ways to communicate with your target market. Here are 9 you can use and how they can be leveraged to grow a brand:
1. Content Marketing and SEO
Content marketing and SEO go hand-in-hand. Content marketing is strategic. It involves creating various pieces of marketing collateral and sharing it through owned online real estate like websites and landing pages, and "rented real estate" like social media. By sharing valuable and relevant content regularly, you are able to attract and engage a highly targeted audience, with the goal of later turning them into paying customers.
If you've spotted the link between digital marketing and content marketing, kudos! Content marketing fits into digital marketing. SEO or search engine optimization is the optimization of web-based content for search engines to achieve higher search results rankings for organic content.
Search Engine Optimzation is divided into three areas. These are:
On-page SEO

is about optimizing content on a page and website. This includes titles and meta descriptions used, the number of times a target keyword or group of keywords is used, the length of content, how well it accounts for search intent (what people are looking for when your content is viewed by website visitors), and the user experience.

Off-page SEO

accounts for the elements off of your website that contribute to higher search rankings. These involve the number and quality of backlinks to your content, social signals, branded searches, online reputation signals, and how trustworthy your content is.

Technical SEO

is concerned with the technical aspects of your website. These relate to site structure and how easy it is for search engines to crawl, see, and index your site. It also accounts for the quality of your content, and page load speed.
---
2. Social Media
Social media is an important part of digital marketing because it's where a large number of target customers spend their time. Brands use social media to promote their products and services using organic and paid social content.
---
3. Email Marketing
Email marketing is a powerful medium and one every brand must use to engage with their target market. Along your digital marketing journey, there's a good chance that you'll keep coming across the idea that you must build an email list. And rightly so. Email marketing is a far more cost-effective way to communicate with your target audience. When you collect email addresses, you no longer need to spend money on acquiring the same customers. Instead, you can spend money to attract more new customers over time.
---
4. Pay-Per-Click Advertising
Pay-per-click advertising is the use of paid media to promote content and/or products and services. Paid ads can be used on search engines, publication websites, social media, forums, and basically anywhere that an audience exists. Brands used paid ads to secure prime positions for customer engagement. This is why you're likely to see an ad in the first position on Google or Bing for a product or service in your industry. Paid ads are a faster way to get in front of your target market.
---
5. Native Advertising
Native advertising is content published on an online publication. It's written and designed to look at a piece of editorial content but is actually paid for by a brand. It's 100% promotional.
---
6. Affiliate Marketing
Affiliate marketing is the use of 3rd-party marketing outlets to promote your products or services in return for a percentage of sales. Affiliate marketing is big business and can be highly effective if messaging about your brand and solutions is monitored. It opens your brand up to hundreds, if not thousands of marketers who are incentivized to promote your products. This helps maximize your reach as a brand and drive more sales faster.
---
7. Sponsored Content
Sponsored content sounds like native advertising but it differs. Sponsored material is promotional and created by another brand to promote your solution.
---
8. Online PR
Online PR is similar to old-fashioned PR, it's just done online. Here are the two types of PR coverage you can get:
Paid

: you pay to have your product covered across media outlets (think sponsored content

Earned

: your product is covered at zero cost to you. This happens when news about your product goes viral and media outlets pick it up and choose to write or cover it.
---
Create Engaging Content
Engaging content is anything that appeals to your target audience along their journey to becoming a customer. The big idea with content creations is to focus on solving problems. In any market at any given time, there's a lot of information available about all sorts of products and services. For your content to stand out, it must be unique and deliver value, or as I like to say, leave your target audience feeling better for having spent time on your content.
There are different types of content, each used at different points in the buyer's journey. Here's a look at what they are:
Problem-unaware content helps buyers frame challenges and pain points. Content you can use includes:
Blog posts

Email newsletters

Whitepapers

Checklists

Infographics

Social media posts

Expert content

Educational content
Problem-aware content helps buyers who understand their challenges and pain points learn about how to solve them through a product you sell. These types of content can be used:
Reports

Ebooks

Expert content

Video

Product comparisons

Product fact sheets

Guides
Solution-aware content is used to develop trust in your product through evidence that it works. This includes:
Case studies

Testimonials

Product demos

Free product trials

Promotional offers
---
Develop Online Real Estate
It's an unwritten rule that all digital marketing must be linked back to owned online real estate. Owned online real estate is much like a building or property you'd invest in. You own it and can control what happens to it.
Owning online real estate is also a sage guard against changes that take place in the digital marketing world. For example, let's say you choose to not launch a website and opted for a Facebook page instead. And somewhere along the line, Facebook changes its algorithm for page rankings (something that can happen overnight). That leaves your posts with less punch. It could also happen that your page is somehow flagged and suspended.
In both cases, your brand is, for all intents and purposes, dead in water. Owning a website means you're not open to as much risk. Yes, SEO evolves, but your site won't get wiped off the face of the earth if it does, and you can elevate your SEO.
Other forms of online real estate you should invest in include landing pages. These are pages on your site dedicated to promoting specific content or products. They are highly targeted and when designed effectively can generate tons of leads and sales.
"Rented real estate" (social media accounts) is also a good call. But you must think of it as traffic sources. You can control it, but only as far as each social media platform allows you to. If you're getting started with your brand, start with one profile on one platform. Social media management can be a full-time job. Scale your output slowly and as you can afford to.
---
Track Your Output With Analytics
Analytics and reporting are crucial to growth. You cannot measure what you do not track. There are many ways to measure the results of your campaigns. From social media analytics to Google Analytics, whatever you choose, be sure that you have tracking on, and you know what metrics matter most to help grow your brand.
---
What does a digital marketer do?
Digital marketers are responsible for driving growth through digital marketing efforts. They are charged with researching target markets and developing and implementing strategies that increase brand awareness, leads, and ultimately sales. Digital marketers don't have to be experts in all aspects of digital marketing but must understand how all elements work together.
They also need to have a keen eye for detail, know which metrics matter metrics, and be results-driven.
---
What are some examples of digital marketing
What does digital marketing look like in action? Here are examples of content for inspiration.
Elementor's Facebook Ad
Elementor is a popular no-code WordPress theme and website builder. This Facebook ad highlights two features website designers and developers likely want.
---
Simon Sinek Uses Video
Author Simon Sinek is known for his unshakable optimism, but also for his unique approach to life and how people can create environments in companies that allow for their best life experiences. In this Linkedin video, Sinek touches on how to stand out in any industry, a topic professionals are keen to explore to experience growth.
---
No Meat Athlete's Book Banner
Plant-based diets are big and so are books on the topic. This is a banner from No Meat Athlete promoting a new book that's available for pre-order. This banner is a smart way to spread the word and can be used on social media, in sponsored posts, and paid ads.
---
DigitalMarketer's Newsletter
DigitalMarketer is an authority on digital marketing. They get that being online is about competition, and they've created a powerful offer to boot.
---
Kettle & Fire's Recipes
Kettle & Fire sells bone broth. The brand also understands that gut health and all the benefits that are derived from its product aren't enough to sell more of it. Through its blog, Kettle & Fire shares many recipes that include using its product -- a smart way to empower your customers and develop a stronger affinity for a brand.
---
Uscreen's Library of Educational Videos
Uscreen is an all-in-one video monetization platform. It goes up against many players, including YouTube. To share its unique value proposition -- that creators can make a stable and good income from videos through subscriptions and other monetization strategies -- Uscreen produces various videos. These cover all aspects of running an online video business, making it easier for people who want to get started to pull the trigger.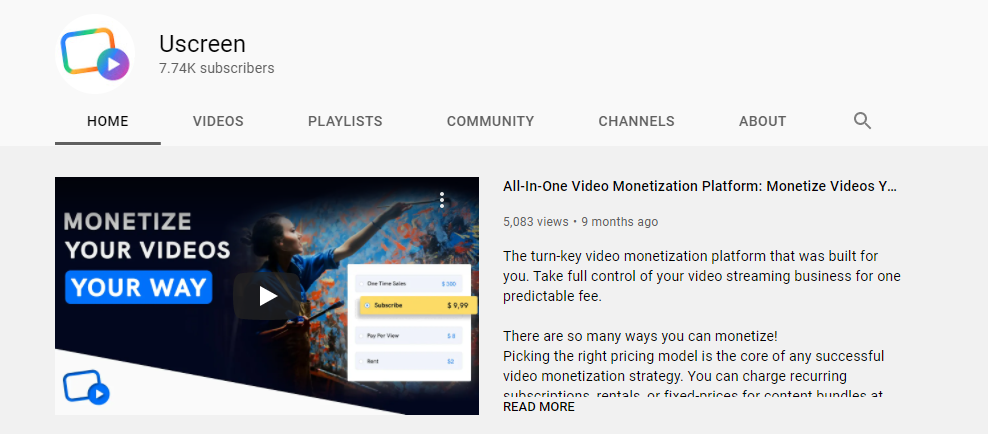 ---
What is digital marketing and its future in 2021
The digital marketing landscape is only going to get more competitive. In 2020, the world was rocked by COVID-19, and it changed the way we think about business and how we promote and deliver products and services. We learned that accessibility matters more than ever before, and that people will vote with their wallets and will search for content that speaks to them and adds value to their lives.
In 2021, focus on quality and optimization:
Create in-depth, expert content

like this blog post, and help your audience learn something that will help solve a problem they face.

Pay attention to the technical side

of marketing your brand. Know and double down on metrics and where you're getting the most engagement to channel more resources there.

Experiment

with video, voice, new platforms, and ideas to get your brand in front of a larger target market.

Repurpose

your content and ideas. Yes, everyone knows how to, but your audience needs to see your message more than once for it to sink in. Repurposing content helps reiterate your message.
---
Over to You
And there you have it, we've answered the "what is digital marketing?" question and covered the most important aspects of digital marketing. It may all seem overwhelming in one read, so take your time to absorb these concepts. Digital marketing is an ever-expanding field. As more platforms, ideas, and trends develop, it will only become more fascinating.