Best for:
Small businesses
Overview
It's a little tough to nail down the exact narrative of OptiMonk's beginnings. There's a lot of conflicting information. Current CEO Nicole Mezei"s LinkedIn profile lists her as an account executive for the company from 2014 to 2017, at which point she became the CEO and co-founder. But how do you co-found something three years after it launches? Meanwhile, Csaba Zajdó, the current CMO lists himself as the founder—without the "co-" prefix—on his LinkedIn profile. And while the OptiMonk website concurs that Mezei and Zajdó are indeed the CEO and CMO, respectively, LinkedIn has someone else entirely filling the CMO position: Judit Pál. It almost gives the impression of a business that is in constant transition, still struggling to find its way toward stability. 
But nothing could be further from the truth. OptiMonk, a company created to help e-commerce businesses grow and thrive, has been growing and thriving since its founding in 2014. And as we dug into things, a theoretical picture began to emerge. OptiMonk was founded by Mezei and Zajdó in 2014. He was the CEO, while Mezei headed sales to grow their customer base. In 2016, Zajdó founded Innonic, a startup studio which OptiMonk was among the first to join. A year later, the studio started demanding more of Zajdó's time, so Mezei ascended to CEO while he moved to the role of CMO, jibing as it did with his responsibilities as the CEO of the studio OptiMonk was a part of. By July, 2017, Pál moved into the role of CMO while Zajdó focused more of his energy on Innonic. Since then, they've all been much too busy to update their LinkedIn profiles and website.
Presumably, anyway. If anyone from OptiMonk is reading this, feel free to correct us.
In any case, all of this movement of their C-level personnel is a result of the success of Optimonk. What began as an "exit intent popup tool"—essentially, a way to get one last word with someone who is about to not buy something from your website—as grown into a full-fledged e-commerce optimization suite. Now, in addition to preventing users from navigating away, OptiMonk's newer features can stop cart abandonment, upsell, make special offers, solicit feedback, facilitate social sharing, and more. 
With more than 2100 customers, Optimonk has the leading market share among its competitors, and has won several awards for its innovation. In the summer of 2021, the company performed a brand reboot of sorts, launching a new look for its website, but also redesigning the interface of their software, updating their backend tech stack, offering more and better templates to their customers, and launching a new dashboard for faster access to key insights. These are all things the company would rather talk about and promote than their origin story—and we can't say we blame them.
---
Pricing
OptiMonk uses a freemium model, and its entry level plan does not skimp on features. A website with modest traffic could very well run off the free plan forever and never want for more features. The only thing that would prevent someone from staying on the free plan is if the software works as advertised and you grow enough to warrant upgrading to a higher plan. 
All the prices listed below are monthly fees; if you pay for a full year upfront, you'll get two months free.
Free, $0/month —

Unlimited campaigns on a single domain with a maximum of 3,000 pageviews

Essential, $29/month —

Unlimited campaigns, single domain, 25,000 pageviews, and A/B Testing

Growth, $79/month —

Everything that's in Essential for four domains, up to 100,000 pageviews, and custom variables

Premium, $199/month —

Everything that's in Growth for ten domains, up to 500,000 pageviews, plus: removal of OptiMonk branding, and priority support

Master, $Custom/month — 

Everything that's in Premium for unlimited domains and custom number of pageviews.
A note on pageviews: OptiMonk counts a pageview as any time someone lands on a page on your website, regardless of whether you've configured any pop-ups for that page. Let's say, for example, you've got your homepage configured to offer discounts for email addresses within 10 seconds of opening the page, and the visitor obliges. OptiMonk has done its job, and now you've got their address. Then, as they visit subsequent pages, OptiMonk is done doing its job but will still tally up all these pageviews against your limit, anyway. 
The reasoning given by OptiMonk is that even in not serving a pop-up, OptiMonk is still working in the background and abiding by your rules on when and when not to deliver pop-ups. This is specious logic, at best. 
In the event that you do reach your pageview limit, the software automatically turns all campaigns inactive until the beginning of your next billing cycle. If you wanted to keep it running, you'd need to upgrade your plan, rather than just pay an overage fee. 
---
The Details
OptiMonk is pretty easy to use, and for non-coders it's pretty cool to see something like pop-ups and overlays appear on your site after you've configured them. When you first login, you're given a checklist for getting started, which is only two items long and so it doesn't feel very daunting to tackle your setup. 
Item number one on the checklist is to create your first campaign. Here, campaign is a generic term for the goal of your pop-up, and you can put as many of them on your site as you like. Your homepage might have a campaign to solicit email addresses when someone arrives at your site, while product pages have campaigns offering discounts for someone who's about to leave altogether.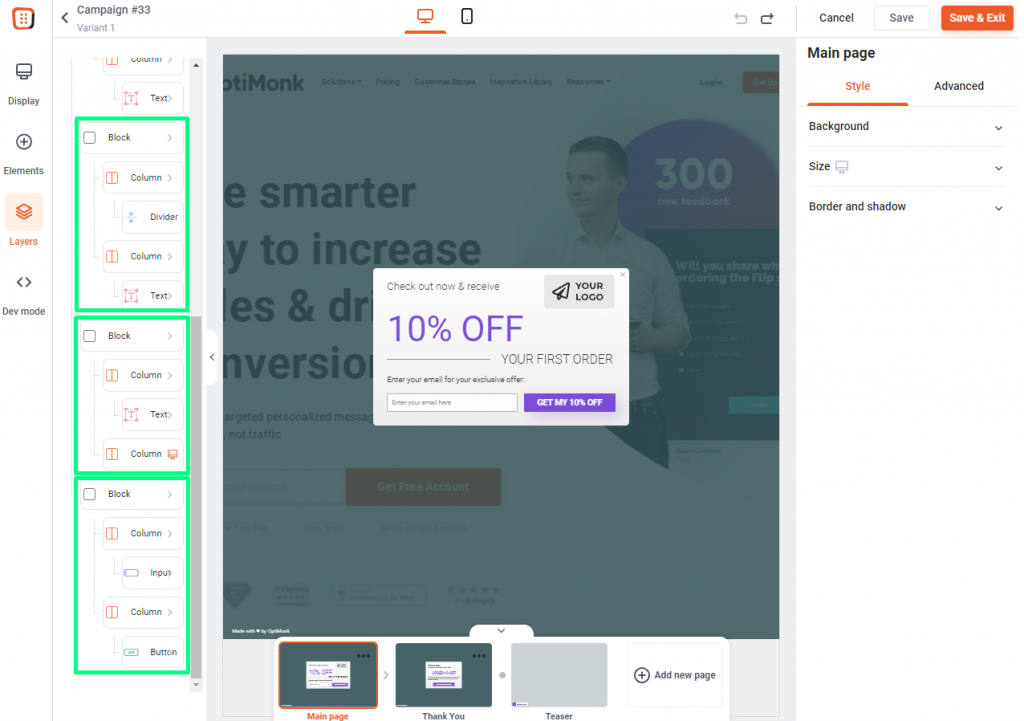 There are hundreds of different templates available to start creating your pop-ups, or you can choose to "Start from scratch" and build it out using a WYSIWYG editor. Designing these pop-ups isn't very difficult—choose some colors, add some images, text input boxes and other HTML elements—but working with the templates makes it a breeze. For any design work you do, you're able to see how it looks on mobile and desktop, and make tweaks accordingly so your campaigns look good no matter where they're seen.
Templates are broken down into a few different categories, and you can filter down to see them based on your goals for the campaign, themes (like holidays or events), or the type of message you want to present (fullscreen, embedded, sticky bar, etc.). There's even a couple dozen pop-ups in the "Gamification" category that have you offering your site visitors the chance to "win" discounts or other incentives by spinning a wheel or doing scratch-offs that reveal the rewards.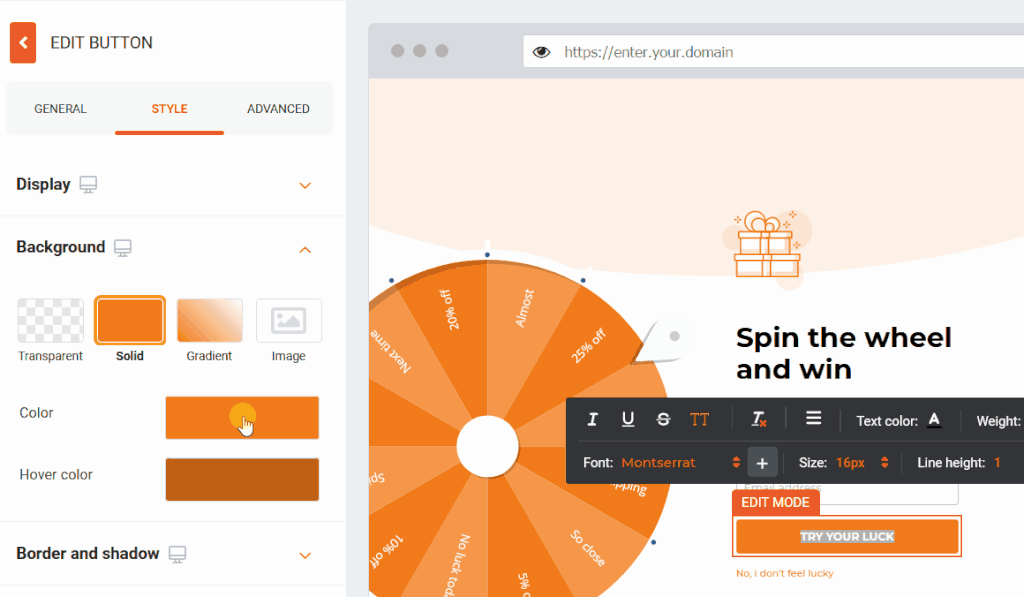 With your campaign created, item number two is to install OptiMonk on your website. For WordPress, Shopify, or Magento sites, you'll need to install a plug in on the CMS side. For all other hosting options, it's just a matter of copying and pasting some HTML code in the right spot. It's not terribly difficult, but it also might not be entirely comfortable for some people to do on their own. In that case, no worries: during this setup process you're given the option to have OptiMonk do it for you free of charge.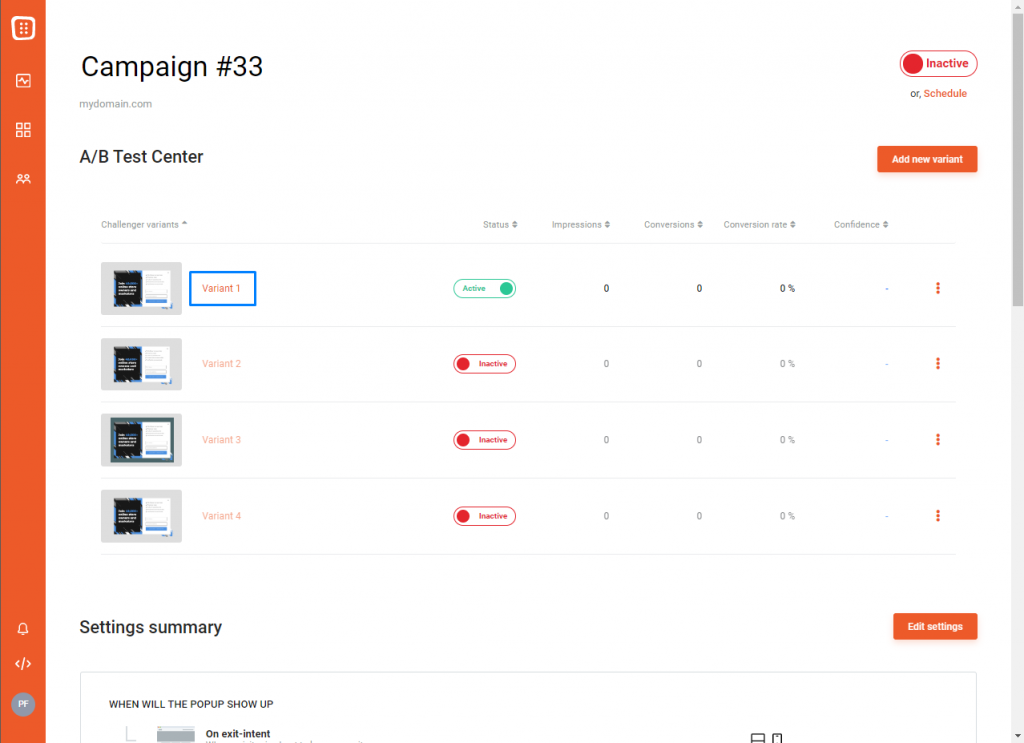 If you're on one of the plans that offers A/B testing, you'll see an option in your campaign settings to create an alternate pop-up. OptiMonk then serves each of them up in equal measures to site visitors, and gives you the breakdown of impressions (different from a pageview, this is when someone actually sees your pop-up), conversions, and the conversion rate. You'll be able to see how each one performed, and then make decisions about which one to use in the future. For any campaign, the dashboard shows you the same information about each one, and that's about the extent of the reporting included. For anything deeper, you'll need to integrate with Google Analytics and Tag Manager.
---
Integrations
There is no shortage of integrations available for OptiMonk. It plays well with an impressive number of e-commerce and web hosting platforms. Shopify, WooCommerce, BigCommerce, and 3dcart are some of the bigger names in the former category. The latter includes: WordPress, Squarespace, Drupal, Weebly, and a few others.
OptiMonk also integrates with a host of other marketing tools. Mailchimp, Klaviyo, Aweber, and ConvertKit are some of the bigger email marketing platforms you can sync with, but they aren't the only ones. You can use SMSBump if texting is more your (or your customers') speed.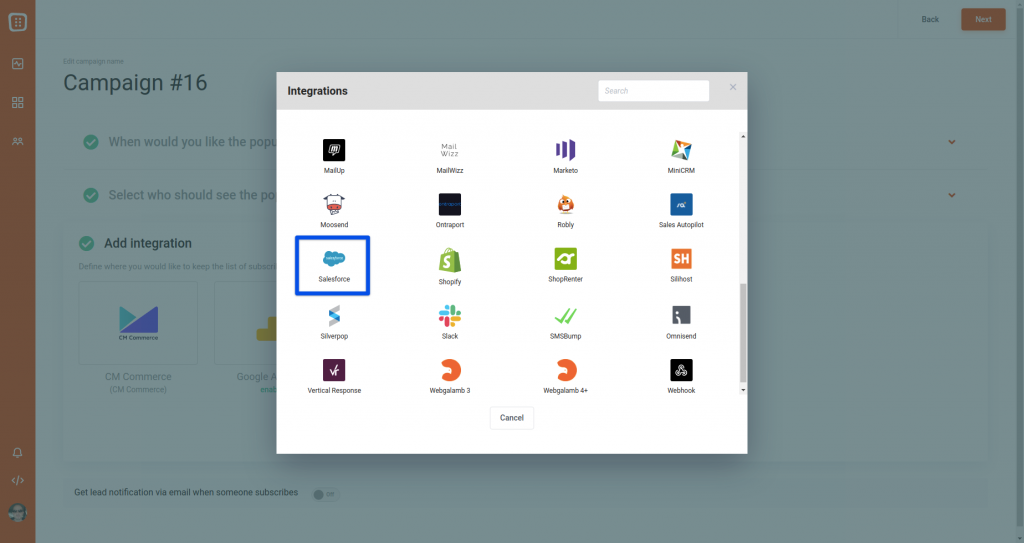 As OptiMonk starts collecting email addresses for new customers and leads, it maintains a directory of all the contacts. You'll want to sync these over to your CRM to get the most out of the information, and integrations with Salesforce and Hubspot can help you with this. 
With all those listed above, and for the dozens of others not listed, you should be covered for any integrations you might want. If you need to create anything custom, OptiMonk connects with Zapier and Webhooks.
---
Conclusion
Every website is a marketing tool—even an e-commerce site is marketing while providing the mechanism to buy. For small businesses without marketing departments or in-house developers, a tool like OptiMonk is essential to maintain competitiveness. And if you need a tool like OptiMonk, you might as well go with OptiMonk. They've been at it for years, and there's a reason they're several steps ahead of their competitors. While not overloaded with features, it has all the essentials. Especially with small businesses, automation and technology are crucial to maintaining a good customer experience while working behind the scenes to capitalize on those good experiences. OptiMonk delivers on both of these fronts.
Rating
Features

Ease of Use

Reporting

Integrations

Best for:
Small businesses