Whether you're new to marketing or already have a couple of successful campaigns under your belt, you'll need a good collection of tools that you can rely on. From the initial research phase right till it's time to start analyzing those results, there's basically an app for everything.
Some of these tools are comprehensive social media management apps, while others are much simpler. Even if it can do only one thing, like generating hashtags or titles, don't be too quick to dismiss it. After all, considering how many hashtags you'll have to create (you can do the math), you'll be only too grateful for a tool that can do that for you. Plus, all the marketing tools in our list are free. So, there's no harm in trying it, right?
---
50 of the Best Free Marketing Tools for Brands on a Budget:
---
Research
You've probably already completed a survey that was generated by SurveyMonkey. It's one of the leading survey software solutions and, according to their website, a whopping 20 million questions get answered daily. All in all, it's a great tool for conducting market research. You can, for example, use it to test ideas, monitor brand sentiment or simply check in with your target audience. It has many sample templates that you can use or, if you prefer, you can use it to create surveys from scratch.
---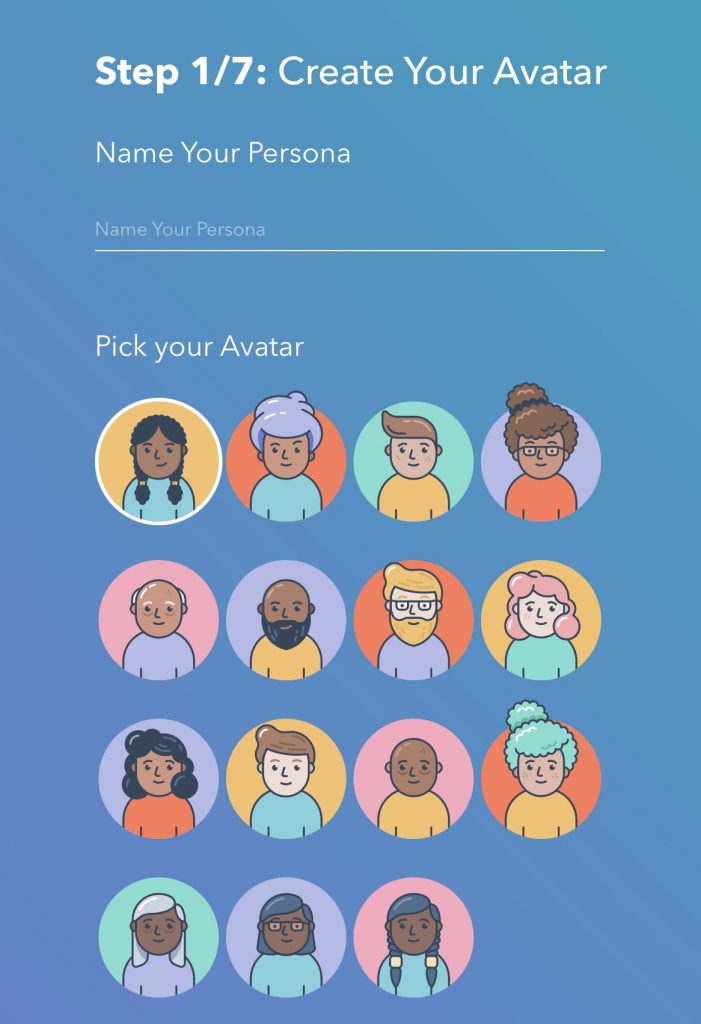 Whether you're marketing craft drinks or vacuum cleaners, one of the first steps is to create buyer personas. HubSpot has created a free tool that helps you to create personas in seven straightforward steps. It only takes a couple of minutes and the end result is a professional-looking visual overview that you can download or export. If you feel that it's not as comprehensive, you're also free to add your own sections. Alternatively, you can simply change the color scheme to match your branding before you share it with your client or team members.
---
Google Trends is such a versatile tool. Whether you need to research new product ideas or you're busy brainstorming your next blog post, Google Trends can make the job much easier. What makes it so great is that all the info it collects is grounded directly in search results. It analyzes a percentage of keyword or topic searches by factoring in the time and location to determine which topics are currently trending.
💰Paid tools for marketers with bigger budgets:
SEMrush
---
Content Marketing
If you want to be successful at content marketing, it's key that the content that you create actually appeals to your audience. To do this, you need to know which type of content performs well in your niche.
Meet BuzzSumo. You can use it to generate topic ideas for your content pieces that your target audience will find interesting. That being said, make no mistake, it's one powerful tool that can help you with a lot more than just content research. You can also use it for influencer searches, competitor intelligence, and monitoring to mention only a few use cases.
---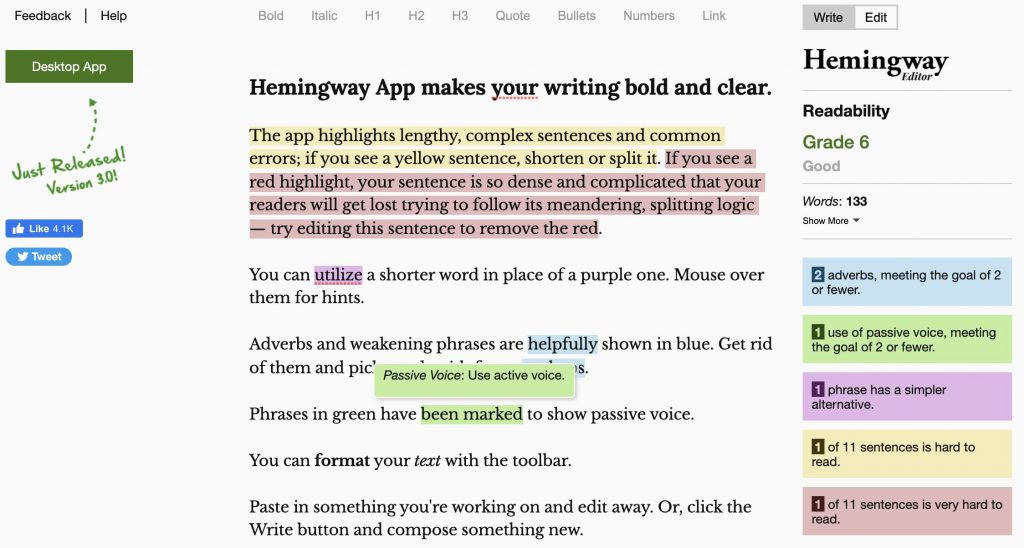 If you're looking for a tool that can help you to improve the readability of your blog posts, be sure to try out Hemingway Editor. In short, the app will highlight hard-to-read sentences and common errors. It can also help with word choice as it will make suggestions for which words to replace. As passive voice is generally discouraged when writing for the web, the app will also mark which sentences should be changed to active voice.
---
Not everyone will admit that they use Grammarly from time to time (or possibly every day). If you really haven't used it yet, here's what it does in a nutshell. From basic grammar mistakes to the occasional typo to advanced suggestions, Grammarly can help you to correct your writing mistakes and improve aspects like sentence structure and vocabulary. You can also use it to detect plagiarism which can be useful if you're creating content for brands. All in all, it's one of the most popular online language editing tools.
---
If Grammarly and Hemingway Editor are too complicated for you and you're simply searching for a tool that can help you to check spelling, grammar, and style, you can also try After the Deadline. It uses AI and natural language processing technology to identify writing mistakes and offer smart suggestions.
---
The name is pretty self-explanatory. It was created by Ed Rivis for busy marketers. If you have writer's block, you can use it and it will generate hundreds of blog post ideas that you can use for your next campaign.
---
As the name suggests, Blog Ideas Generator is very similar to Content Idea Generator. It's a great tool if you're searching for more blog ideas. All you have to do is enter up to five nouns and it will give you a number of blog ideas.
---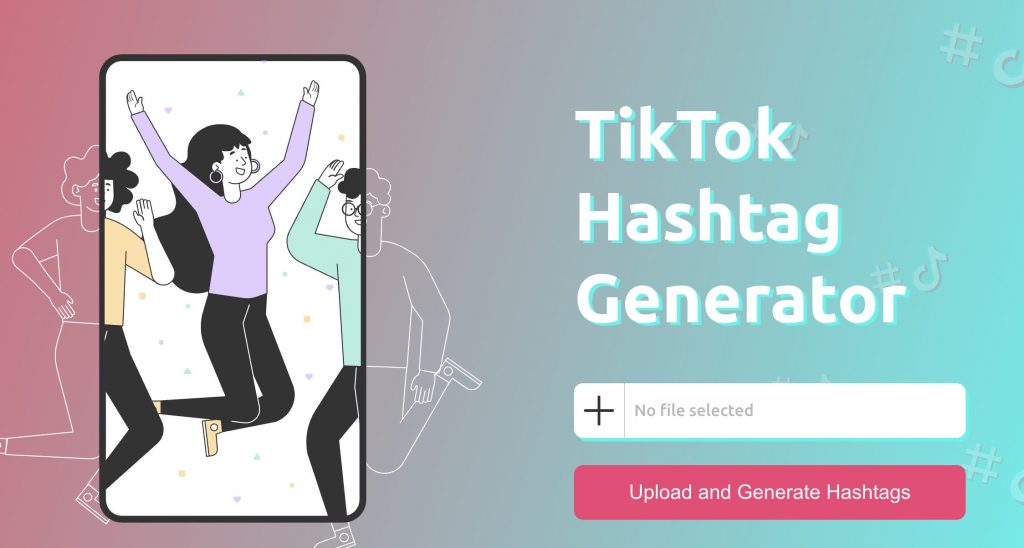 Hashtags are key for social media campaigns. While it used to be more synonymous with Twitter, nowadays it's also used on other platforms like Instagram and TikTok. With the right hashtags, you can improve the reach of your videos and boost engagement so that you can take advantage of the hype that currently surrounds TikTok. To help you generate relevant hashtags, you can use Influencer Marketing Hub's TikTok Hashtag Generator. All you need to do is upload your file and it will generate the hashtags automatically.
---
They might be short, but headlines can sometimes feel like the biggest challenge. Plus, considering how important they are and that your headlines need to catch the attention immediately, there's a lot of pressure. To help you take off some of that stress, you can check out HeadlineAnalyzer by CoSchedule. It will help you to craft more powerful headlines that are backed by data. From checking the word balance to gauging the emotions that it communicates to measuring the reading-grade level, it can help you to drive more traffic and get more shares.
💰Paid tools for marketers with bigger budgets:
frase.io
---
SEO
Internet Marketing Ninjas' on-page optimization tool analyzes the existing on-page SEO and is useful for taking a closer look at your page content, internal links, and meta information. Basically, it helps you to see the data of your website like the search engine spider views your data. It also includes a keyword density tool that you can use to find out more about on-page SEO keyword statistics for unlinked and linked content.
💰Paid tools for marketers with bigger budgets:
Ahrefs
---
Video Editing
With videos becoming more common digital marketing assets, all marketers should have a solid video editing software solution in their arsenal. You can use Biteable to create videos using photos, animation, stock footage and other elements like text. All in all, it's simple to use and offers a good collection of templates to simplify the process even further.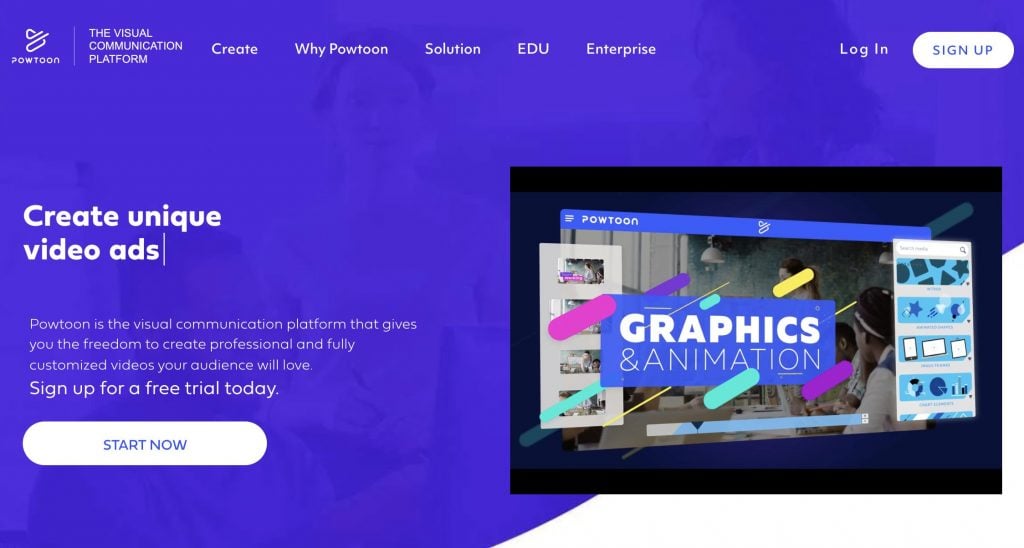 Powtoon is a visual communication platform that you can use to design fully customized videos. If you prefer creating animated videos, it's a great choice as you don't need any design skills and it offers over 15,000 animated assets. It also offers a big selection of royalty-free HD videos, GIFs, fonts, music, and backgrounds. Also, as it integrates with platforms like Facebook, Instagram, and YouTube, you can upload videos directly to your clients' social media accounts.
If you want to improve the videos that you create for social media, Wistia is a useful tool that's packed with features. It offers powerful video SEO tools, marketing automation integrations, video analytics, and heatmaps to mention only a few of its features. It also lets you customize the video player so that it matches your branding.
What's more, you can also use its features for podcasting. You can, for example, use it to create a professional series page for your entire podcast so that it matches your branding. They also make it easy to distribute your podcast to the main platforms like Apple Podcasts and Spotify. Alternatively, if you simply want to share a podcast episode on your blog, their tool makes it easy to embed an episode (or your entire podcast) on your website.
While it's not a video editing tool, every edited video needs a good title if you want it to stand out on YouTube. Influencer Marketing Hub's Free YouTube Title Generator can help you to craft great title ideas for YouTube videos. It's very straightforward to use. All you need to do is enter your video's subject and the tool will automatically generate a number of attention-grabbing titles that you can tweak further, if needed.
💰Paid tools for marketers with bigger budgets:
Lightworks
---
Design
Canva remains one of our favorite design tools. In fact, many of our visuals that you see were created with the help of Canva. It's an intuitive drag-and-drop graphic design platform that you can use to create a wide range of visuals. From infographics to Facebook posts to LinkedIn banners to YouTube channel art, it offers a huge selection of templates. One of the benefits of using a tool like Canva is that it makes it a lot easier to ensure that every asset that you create is in line with your branding.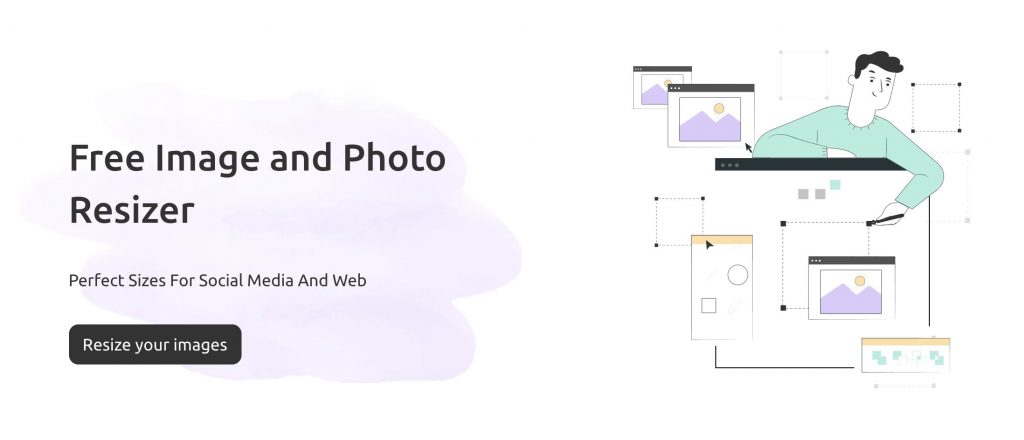 If you need to resize photos or images, be sure to check out our free resizer tool. All you have to do is upload a photo, change the width and height, select a filter, and choose a social network. As each social media network has its own ratio guidelines, using a tool that can resize photos and images to best fit the standard sizes for a specific network can really save loads of time.
---
Stock Photography
Whether you're creating a blog post or a Facebook post, virtually all types of content that you create for marketing purposes will need a visual. Pixabay offers a great collection of photos, illustrations, vectors, and videos. What's more, you can also use it to search for royalty-free music, audio tracks and sound effects.
Often these types of platforms claim they have millions of high-quality free images only to find that there are maybe a handful that you could possibly make work. This is not the case with Pixabay. Their collection of free images is pretty decent. If we aren't creating our own visuals, we regularly turn to Pixabay.
While not as good as Pixabay, you can also check out Pexels. They don't have any audio clips, but you can use it to find royalty-free videos in addition to images. We also use it from time to time, but prefer Pixabay.
Unsplash is one of the most popular platforms for finding free images and integrates with a number of third-party apps. It also has an easy-to-use search function so that you can actually find the relevant images among its millions of quality stock images.
💰Paid alternatives for marketers with bigger budgets:
Shutterstock
---
Email Marketing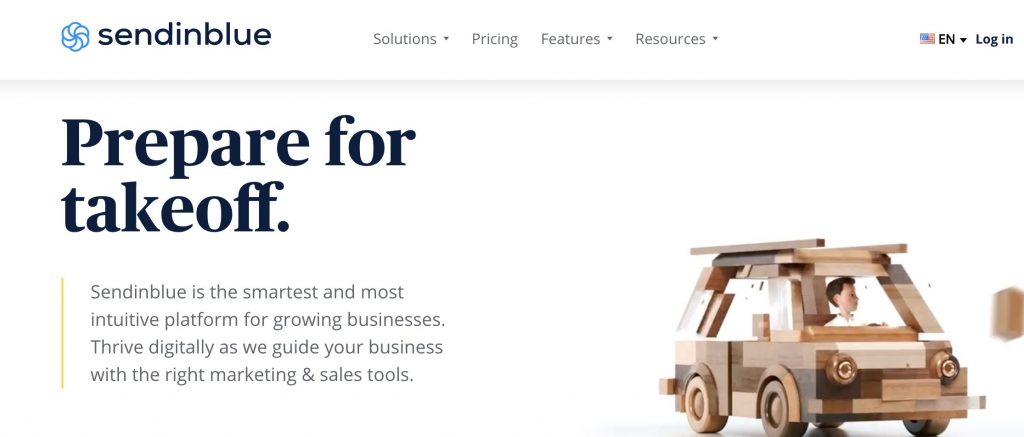 Sendinblue offers many useful features and a huge selection of fully responsive email templates. When you use Sendinblue, you need no CSS or HTML knowledge to craft professional emails. Basically, all you need to do is choose a template and customize the elements with the help of its easy-to-use drag-and-drop tool. You can also use its WYSIWYG HTML editor if you would like to make changes to any HTML email templates that you downloaded.
Not to be confused with BuzzSumo, Sumo is a free email capture tool. Collecting email addresses can be a pain, but with Sumo's list builder feature it becomes much easier to grow your subscriber list and ultimately boost your website traffic. From scroll boxes to pop-ups, it offers you various ways that you can collect email addresses. It also offers a couple of eCommerce features like discount codes and cart abandonment.
With the help of Segment, you can personalize every interaction, making it a great tool for email marketing specifically. You can use it, for example, to personalize your emails using suggestions based on user behavior. Another useful feature offered is the ability to create custom cart abandonment campaigns.
💰Paid alternatives for marketers with bigger budgets:
Sleeknote
---
Landing Pages
Hello Bar is a useful free tool for collecting leads and can help you to convert your landing page visitors into customers. It basically creates a banner that floats at the top or bottom of the browser screen that you can use to share a lead magnet, grow your email list, or offer a promo. It's similar to a pop-up, but unlike a pop-up it remains on the screen as your visitors continue to browse your landing page.
💰Paid alternatives for marketers with bigger budgets:
Optimizely
---
Twitter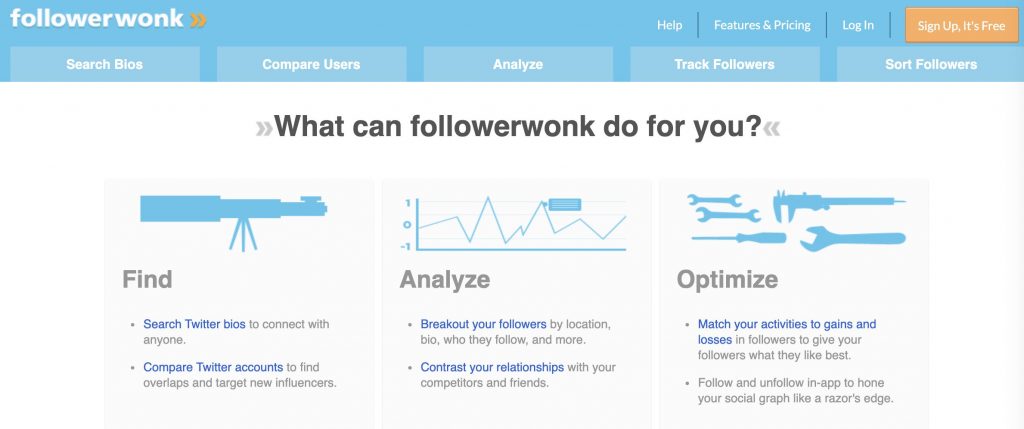 Followerwonk is one of the best tools if you need to monitor brand mentions and can also be used for auditing how you perform on Twitter. It's also useful for searching Twitter bios, connecting with influencers and ranking them by criteria like follower count, location, or authority.
Unlike Followerwonk, TweetDeck can't help you with brand monitoring. Instead, you can use it to manage your Twitter account and stay on top of mentions and hashtags. You can also use it to create Twitter lists and schedule tweets. Overall, it's one of the most popular management tools designed specifically for Twitter.
Tweriod is designed specifically for Twitter and can help you to optimize your tweets so that you reach a bigger audience. In short, it will analyze your tweets to help you identify the best times to tweet. While it sounds very basic, knowing when your target audience is typically online so that you find the best times to post can make a huge difference. What's more, if you use Buffer (which we've covered), you can sync it with your Buffer account too!
Mentionmapp Analytics is a Twitter network visualization analytics tool. You can use it to visualize interactions, grow important relationships, and learn who's the leading contributors to the conversations that matter most to your brand. It's also useful for identifying new hashtags and followers.
In short, The Latest automatically gathers the links shared by a number of the most interesting users on Twitter. They then take the links that these users tweet to create a real-time updated list of the 10 most popular links at that moment. It's a great free tool if you want to stay up to speed regarding what's currently trending.
💰Paid alternatives for marketers with bigger budgets:
SocialPilot
---
Facebook
If you look past its name, LikeAlyzer can help you to boost your performance on Facebook. There's nothing advanced about it. You simply enter your Facebook page and it will analyze your page to give you a LikeScore. It also gives you detailed info about the problems it identified and shares suggestions for what you can do to improve your page. You can also use it to keep track of and compare your Facebook marketing efforts to competitors.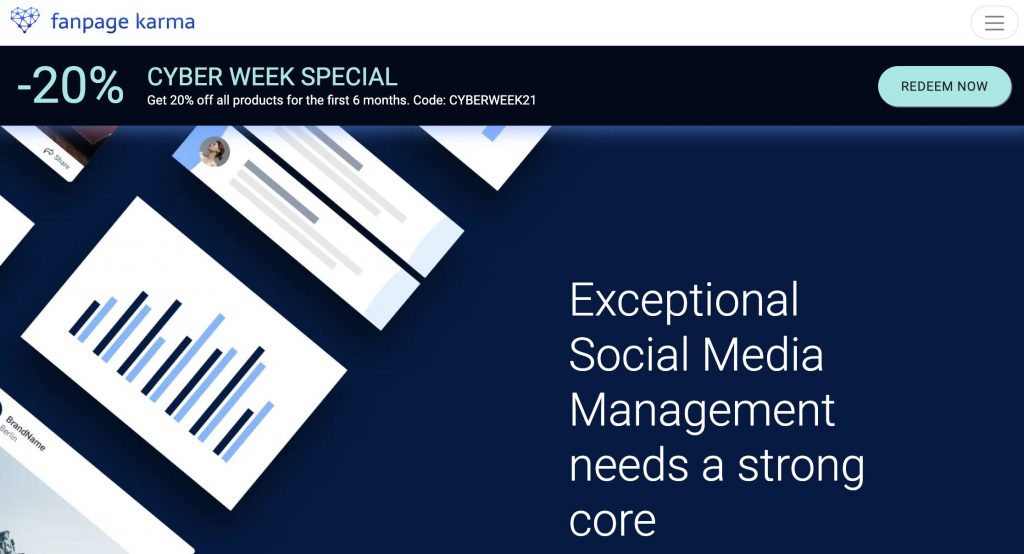 Fanpage Karma offers a free plan that you can use for Facebook analytics and reports. You'll get access to 28 days' history making it useful for monthly audits.
Facebook Page Barometer is a free tool created by Agorapulse which we cover later. You can use it to learn how your Facebook page performs compared to the average performances of over 67,000 pages that have been added to their tool.
Wolfram|Alpha is another tool that you can use to analyze the activity on your own Facebook page. You can, for example, use it to collect information about the global reach of your network, the topics that you discuss the most, the times that you're most active, and what your most popular photos are.
💰Paid tools for marketers with bigger budgets:
Sprout Social
---
LinkedIn
Socialoomph is a social media management tool that you can use for a number of tasks like content management, conversion tracking, keyword filtering, bulk import, and post scheduling. It connects to LinkedIn, which surprisingly not all the tools do. With its Free plan (the Personal Suite plan) you get access to one social profile, basic posting features, and unlimited scheduled posts (but you may not schedule more than three posts in an hour).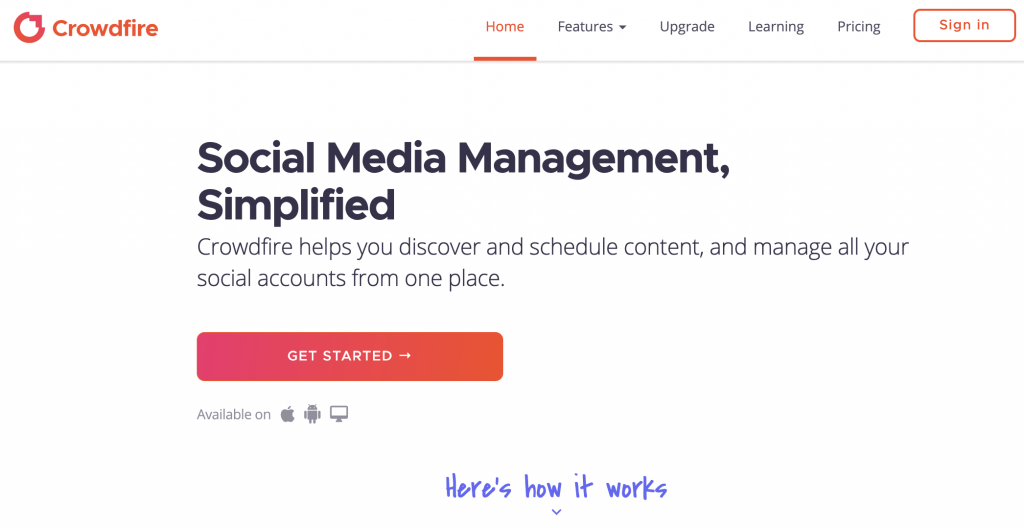 Crowdfire is one of the most powerful social media scheduling platforms. In addition to scheduling, you can also use it for content curation, analytics, and customized reporting to mention a few of its other features. Its content curation feature deserves special mention. All you need to do is to enter a topic you want to curate and it will find relevant articles and images to post. Considering that long-form content performs quite well on LinkedIn, it can be useful for improving your LinkedIn strategy. You'll also love its clean interface which makes it easy to use.
Later is a social media marketing platform that offers a range of services that include analytics, automated publishing, content management, multi-account management, post scheduling, and reporting. You can use it to post to Twitter, Facebook, Pinterest, and Instagram. As it places a strong emphasis on Instagram, it's a great tool to use if you mainly focus on Instagram marketing. Just like Instagram, you need to start with your visual first and then you can add your text.
---
Social Media Management
Buffer is an easy-to-use social media management app that connects to Facebook, Instagram, LinkedIn, Twitter, and Pinterest. You can use it for scheduling content and Buffer will then publish the content at the time that you've selected. It also offers reporting and analytics. All in all, it's a great tool if you work with a number of clients as you can group related social accounts together. You can also use it to add other team members for more effective collaboration.
Agorapulse is a full-featured social media management platform that you can use to publish content, schedule posts, and keep track of brand mentions. You can also use it to get a better idea of the influencers in your field. All in all, it's very user-friendly and easy to get started. If you do get stuck, there are tutorials that will help you to learn how to make the most of the different features.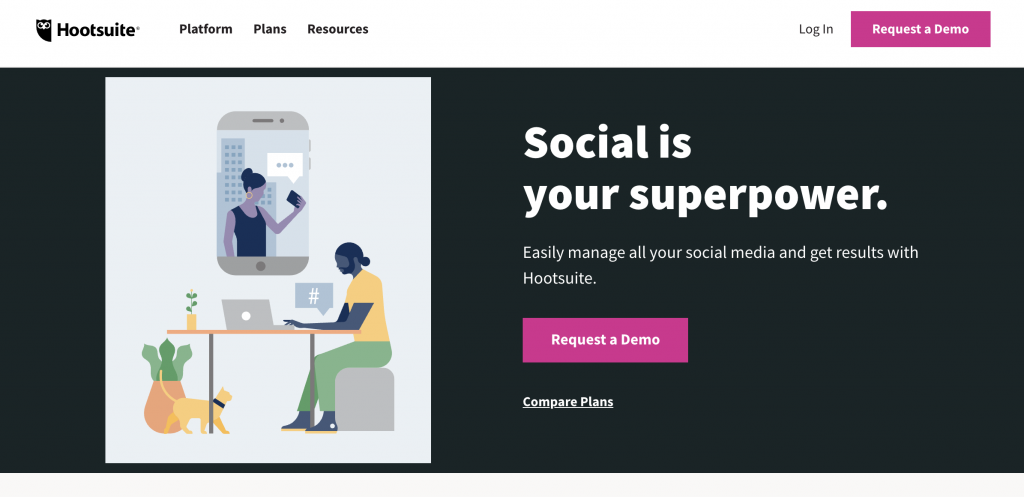 Hootsuite is one of the leading social media management apps. It can connect with Facebook, Twitter, YouTube, LinkedIn, Instagram, and Pinterest. You can use it for a wide range of services such as: analytics, automated publishing, contact management, content management, conversion tracking, customer targeting, keyword filtering, multi-account management, post scheduling, brand tracking, customer engagement, multi-user collaboration, reporting, and social media monitoring. Its Free plan is limited, but a good place to start if your needs are basic.
---
Website Analysis and Optimization
Website Grader isn't a new tool. More than 10 years ago, HubSpot created its first Website Grader. Since their first version, they've graded more than 1 million unique websites for performance, SEO, design, and security. They recently updated their system and technology to give you a more accurate score and also created a free video course consisting of five lessons that show you how you can improve the grade that you received.
SharedCount can give you holistic engagement data for your website content. You can use it to find out which content drives the best engagement and where you can focus your efforts to optimize your ROI. To help you digest the data, you can export the CSV data to Google Sheets, Excel, or another analytics platform.
If you want to gain better insight into what visitors are doing on your website, you'll need to invest in a heatmap tool. With Hotjar, you can see where users clicked, how far they scrolled, which elements caught their attention, etc. Another useful feature is that you can use it to watch full real-time recordings of website visitors. This will help you to pinpoint problems that need to be fixed if you want to deliver a better user experience. Alternatively, you can also use it to create on-site or external surveys to find out directly from visitors about their experience.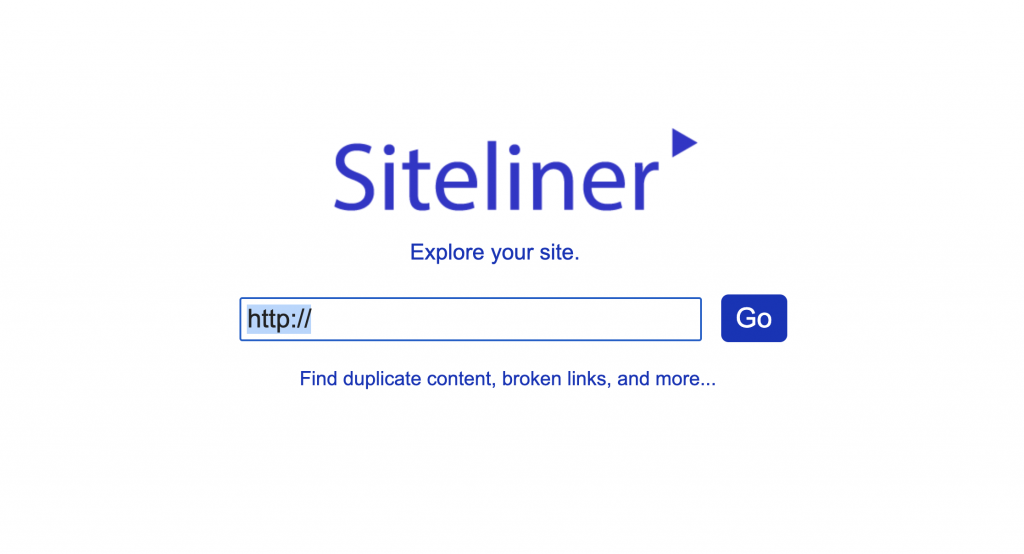 The premise behind Siteliner is simple. You enter your website URL and it will find internal duplicate content and broken links. As these issues can negatively impact the quality of your website and its search rankings, it's a task, albeit mundane, that you need to complete from time to time. If there's a broken internal link, it will highlight it for you so that you can fix it easily to improve the user experience and keep the search engines happy.
---
Brand Monitoring
Mention can be used for real-time brand monitoring, competitive analysis, custom insights, social media publishing, and automated reporting. It's a useful tool to have in your arsenal if you need to manage your brand's reputation online and engage with your audience.
All in all, its interface is very easy to use making it an ideal choice for those who are new to brand monitoring. Plus, it also offers a basic Free plan that you can use for monitoring on blogs, forums, Instagram, and Twitter.
💰Paid tools for marketers with bigger budgets:
Falcon
---
Project Management and Productivity
LinkFolio is more than just a link-in-bio tool. You can also use it to create a professional-looking portfolio for your Instagram and TikTok bio quickly. This will help you to drive traffic, keep tabs on your audience growth (a feature that many similar tools don't offer), and sell merch. All in all, it's a great toolkit that you can use to take advantage of your personal brand. As it's completely customizable, you can ensure that your branding gets reflected accurately.
Trello is a great tool if you work as part of a bigger marketing team (and one of the go-to tools of yours truly). You can use boards, lists, or cards to stay on top of projects and boost efficiency. You can also use it to add comments, attachments or due dates.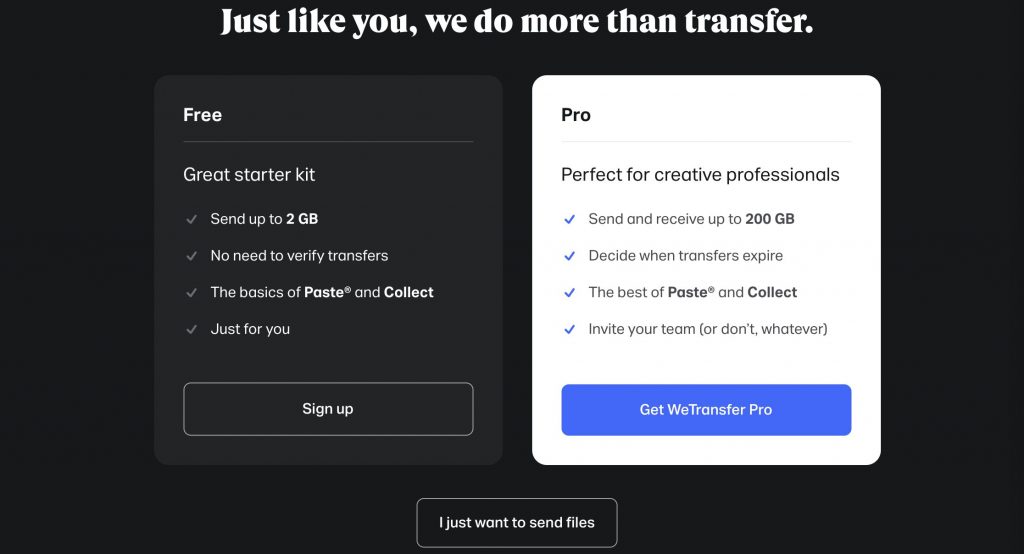 As a marketer, you'll need to send big files at some stage. With WeTransfer, you can upload files of up to 2 GB and send them via email or with a quick link.
In addition to file sharing, it also offers two other creative tools: Collect and Paste.
You can use Collect to save ideas that inspire you. If you're part of a bigger marketing team, you can then share all these sources of inspiration with team members via a single link.
If you want to create slides, you can also check out Paste. After all, who still uses PowerPoint in this day and age?
---
Miscellaneous
When it comes to URL shorteners, Bitly is one of the tools that stand out. Not only do shorter links just look better, but you can also use it to track the journey of your customer conveniently via a single dashboard.
With its Free plan, you can shorten links using the Bit.ly domain. However, if you would like to use a custom branded link instead (which we recommend), you'll need to sign up for one of its paid plans. Pricing starts at $35 per month when billed annually.
At some stage, you'll need to create a QR code. Whether it's to generate a print-quality code for a business card or share the address of a website, QR codes can come in pretty handy. QRCode Monkey offers a few benefits. The codes are high-resolution meaning that they're fit for printing, they don't have an expiration date, and you can also use it to add a logo image. If you don't want to add your logo but still want to customize it, you change the form and shape, use your own colors, and even add a gradient color. It's especially useful if you have multiple marketing campaigns running simultaneously as you can also scan statistics to see how people are using your codes.
Frequently Asked Questions
What are the best free marketing tools?
These are the most powerful free marketing tools:
Research
Content Marketing
SEO
Video Editing
Design
Stock Photography
Email Marketing
Landing Pages
Twitter
Facebook
What are free digital marketing tools?
There are dozens of free digital marketing tools. Here are some of the most powerful ones to help grow your business:
Research
Content Marketing
SEO
Video Editing
Design
Stock Photography
Email Marketing
Landing Pages
Twitter
Facebook
How can I do free marketing?
Here are ten ways to promote your business online for free:
Research
Content Marketing
SEO
Video Editing
Design
Stock Photography
Email Marketing
Landing Pages
Twitter
Facebook
What are the tools for marketing?
These are some of the most common marketing tools:
Digital marketing
Print ads
SEO
Social media marketing
Press releases
Commercial ads
Brand reputation marketing
Customer loyalty programs
Discounts
What are online marketing tools?
These online marketing tools can help boost your business:
Email marketing
Social media marketing
SEO
Display ads
Search engine marketing
Online events
A/B testing
Website optimization
Content marketing