With the help of Amazon DSP, you can purchase a wide range of display ads and video ads on a number of websites. Not only will you reach a much bigger audience, but you'll also be able to take advantage of advanced targeting options. So, it really is a win-win.
In Jungle Scout's The State of the Amazon Seller report, advertising on Amazon was listed as the fourth biggest challenge that sellers face. Truth be told, understanding how Amazon marketing works can be tricky. There are many three-letter abbreviations and a host of different types of ads that you can create – Sponsored Display, Sponsored Brand, Videos Ads, etc. You get the picture. So, it's easy to get confused.
Yet, more than 80% of Amazon sellers still advertise their products on and off Amazon, according to the same report. While it might be difficult, it's not impossible and the value of marketing their brand and its products aren't lost on sellers.
To help you ensure that your display ads stand out, in this article, we focus on the key elements for creating effective display ads and best practices. If it still sounds like too much work, continue reading because we also include Amazon marketing agencies that can help you craft a strategy and measure campaign performance.
---
Amazon Display Ads: Best Practices and Examples:
---
What Are Display Ads?
In short, display advertising makes up all the ads that are delivered online by means of apps, social media, and online stores, including Amazon. They don't have to be static and in addition to text and images, you can also include animations, audio, and video. It's often used in conjunction with other forms of marketing, like influencer marketing or social media campaigns.
Often, marketers use the term banner ads instead of display ads. While a banner ad is a type of display ad, it refers to just one size of display ad. For your marketing campaign to be successful, it's best to use a range of ads in different sizes.
With regards to Amazon display ads, it can be categorized into three types: website display ads on desktop and mobile; mobile app and banner Amazon display ads; and display interstitials. These ads are available in a wide range of formats, sizes, shapes, and types. In fact, there are 17 formats in total.
Website display ads offer the most different ad sizes (seven in total). Mobile app and banner Amazon display ads have only four formats (three of these are banner ads), while mobile interstitials can be either full-screen image or medium rectangle. As banner ads are so common, your audience might ignore them. For this reason, you might have better results using a more dynamic ad format, like a rich media ad that uses dynamic elements.
---
How Does Amazon Display Ads Work?
Amazon Sponsored Display Ads used to be called Product Display Ads. It's a unique remarketing tool offered by Amazon that you can use to display your ad to people who've viewed your product before (or a similar product using keywords relevant to your product). Instead of using keywords to get the attention, with Sponsored Display Ads, you'll use the audience demographics of Amazon. As these people have recently looked at your product or something similar or even perhaps only browsed the product category, the chance that they'll purchase from you is higher.
These types of ads can show up on product detail pages on mobile and desktop and customer review pages. What's more, they can also show up as a banner ad on websites that Amazon partners with or owns that include well-known names like IMDb, Goodreads, Twitch, and Audible. Basically, this means that your ad will follow interested customers around the web helping to ensure that your brand and its products remain top of mind.
---
How are Display Ads Measured?
Display ads are most of the time measured using cost per impression (CPM) or cost per click (CPC). Cost per impressions is how much you pay every time 1,000 people see your display ad. If you want to split-test your content, this approach is a fast and cost-effective way to do that.
With cost per click, you'll pay an amount per click that your ad gets. According to data gathered by Jungle Scout, you can pay anything from $0.05 to $10 per click.
---
What Advantages Does It Offer?
As display ads are typically measured using the CPM of CPC approach, these campaigns are highly measurable. Cost per click is also usually more cost-effective than other conventional advertising formats like search engine marketing (SEM). On the other hand, if you use CPM, it's easier to test the effect of different colors, calls to action, and visuals to identify which elements get the best results.
Not only are they measurable, but it's also easier to reach the right audience. With the help of targeting options, you can segment your audiences based on interests. This can help you to set yourself apart from competitors.
Since 2003, Amazon has refined their methods for data analysis. So, by using Amazon display ads, you'll be able to take advantage of some of the best data intelligence – data that focuses not on what people search or like, but what they actually buy. Amazon knows their audience so well that they can influence and predict shopping behavior.
---
5 Key Elements of Amazon Display Ads
Logo
The goal of advertising is bigger than merely getting more people to buy your product. It's also to boost brand awareness. For this reason, your ads should always include your brand logo. This way it will be easier for your target audience to connect your brand with specific types of products and it can also make your product appear more credible.
Headline
Most of the time, the headline is the first element that your audience will notice. In fact, sometimes they might not even read past your headline. This is why it's so important that you use a powerful headline. It's best to use simple language and start the sentence with an active verb. Depending on your product and branding, you can even try to include humor.
Images
Here, you have two main choices: lifestyle shots or product images. Product images work best if you want to encourage more people to consider your product. If your objective is to increase awareness about your product, a lifestyle image that shows how your product can be used in everyday situations is the better approach.
Copy
You'll use your copy to substantiate your headline. Most often, this part of your ad will focus on listing the unique product features. Just like your headline, it's best to keep the language straightforward.
Call to action
What do you want your customers to do next? What will happen if they click on a link? You will use your call to action (CTA) to guide them through the customer journey.
---
Tips for Creating Effective Display Ads
Stick to a simple design
Your product should be the star of the ad. It should be easy for your audience to spot your product straight away. For this reason, it's best that you keep the number of other objects to a minimum. In fact, Amazon advises that you include no more than four objects in your ad for an optimal click-through rate.
Keep your message short
Just like your ad shouldn't include too many elements, it's also better to keep the words to a minimum. In short, your goal should be to communicate your product's value proposition in as few words as possible. To help ensure that your message is as clear as possible, it's also good practice to vary the length or your sentences.
Include contrast
Firstly, there should be a strong contrast between your background color and the foreground. This will make it easier for potential customers to identify your product. Secondly, for better results, make the primary object larger than the other objects. According to Amazon, you can make the main object as much as four times larger than the second biggest object. This applies to the size of your font too. The most important sentences should be written in a bigger font.
Experiment
After you've created your Amazon ad, your work is not quite done yet. It's key that you also complete A/B testing. In a nutshell, it's when you compare two versions of the ad against each other to figure out which one gets better results. However, to get the most reliable results, you should change only one element between your two ads. In other words, all the other elements should be exactly the same. You can, for example, test different headlines, background colors and call-to-action buttons. In case of the latter, you can use it to check if different phrases, shapes, or colors get different results.
You can also use it to check if your audience resonates better with a lifestyle image or a product image. Product photos show the specific product from different angles in its best light. On the other hand, a lifestyle photo tells a story by focusing on showing how your product can be used. Generally, product-only photos are a bit boring, while lifestyle photos allow you more creative room.
---
Examples of Effective Amazon Display Ads
1. Arlo
On one of its resource pages, Amazon includes a display ad of Arlo to show how the different elements should be combined. The ad includes a logo, headline, imagery, concise copy, and a clear call-to-action button – all five elements we discussed earlier. The product image gives people a good indication of the color and size of the product, while the copy describes its benefits (it's wire-free and compatible with Alexa).
---
2. Amazon
It would be foolish if Amazon didn't follow their own advice. When Amazon came under fire for its working conditions, it ensured that its own display ad's copy focused on the positive aspects of working at Amazon. While it didn't include any images, the contrasting color makes the headline, copy, and inviting call-to-action prompt pop.
---
3. Amazon Web Services (AWS)
Sometimes the best approach is to let the statistics highlight your product's benefits. This is exactly what Amazon did when they created a display ad to market their services. Just like in the previous ad, the use of contrasting colors (white against dark blue) really helps to keep the focus on the copy.
---
4. Puracy
Similarly to what Amazon did when it advertised its web services, Puracy decided to include social proof in its headline. The review from The New York Times is placed in bold to emphasize the quality of the product. The rest of the copy also tells you more about the benefits of the product, while the logo and image of the product make it easy for the audience to identify the product. The only element that this display ad misses is a clear call to action.
---
5. Amazon Prime
For an example of how you can use A/B testing to determine which display ad will get the best results, you can follow the lead of Amazon (once again). In these different display ads, it subtly changed the color of the wording and background to see which ad gets the most clicks. As mentioned earlier, while time-consuming, A/B testing doesn't have to be rocket science.
---
6. Vitafusion
For ideas on how to use color and imagery, Vitafusion's display ad is a good example. The color of the headline matches its brand identity and stands out against the lighter background. With regards to the image, the inclusion of fruit helps to communicate to the audience that its vitamins can offer the same benefits – it's healthy and natural. While it doesn't have any supporting copy, the headline "Vitamin Better" gives a good summary of what you can expect. It's powerful and simple, just like vitamins should be.
---
Should You Use Display Ads?
We've briefly touched on the advantages that display ads can offer Amazon sellers, but are they worth it? According to Jungle Scout's 2021 Amazon Advertising report, Sponsored Display Ads generate a lower return on ad spend (RoAS) than Sponsored Brand ads and Sponsored Product ads. Their eCommerce data estimates that the 30-day RoAS for Sponsored Display is only $1.81 compared to $4.85 and $6.28 that Sponsored Products and Sponsored Brands can achieve respectively.
At the end of the day, you have the final choice, but it's always best to use more than one advertising strategy. After all, it doesn't hurt to try and see how they perform, right? That being said, the managed-service option of Amazon DSP has been designed as a larger-scale strategy that's best implemented over a longer period of time. So, considering this, it's better for bigger brands with more bucks to spend on marketing.
---
Top Amazon Marketing Agencies for Display Ads


Thrive is one of the top marketing agencies if you need help with advertising your products on Amazon. Across Google, Facebook and Clutch, they boast more than 180 five-star reviews. Their efforts have also bagged them awards and recognition from Forbes, The Manifest, Clutch, and yours truly.
With regards to Amazon Product Display Ads specifically, they can also help you with external options and get your advertising campaigns set up with the help of YouTube, Facebook, Twitter, LinkedIn or Instagram. Their team of PPC advertising experts will also help you to create a marketing budget that will use your available resources for external and internal advertising options optimally. Plus, to help you maximize your marketing budget, they'll also help you with sales impact analysis so that you can figure out where exactly your leads are coming from so that you can adapt your marketing spend accordingly.
---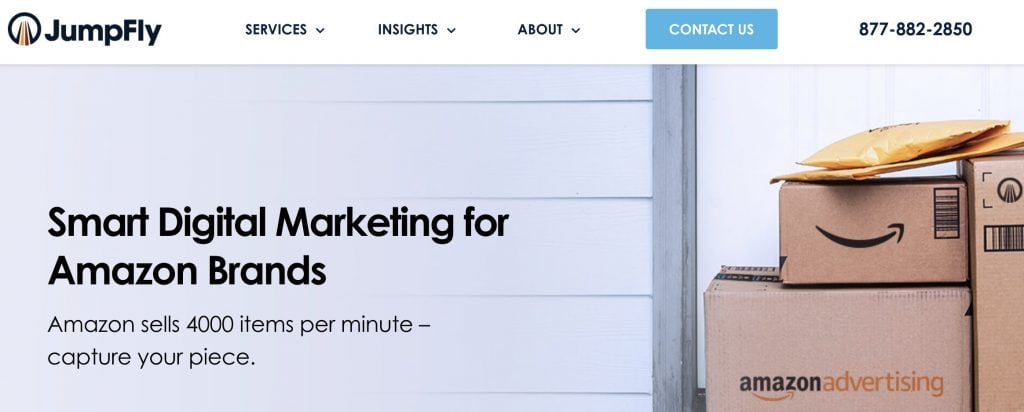 JumpFly was founded nearly 20 years ago by two childhood friends. During this time, they've helped small and enterprise clients to identify smart Amazon marketing opportunities. They use a six-step process to help their clients increase their Amazon revenue. In fact, part of their process is to challenge their clients when they see there's little or no change after a period of growth. Clearly this approach works, because in some cases they have managed to grow their clients' revenue by more than 1000%.
---


Based in Washington, Ernst Media is a boutique digital marketing agency with more than 15 years of experience behind their name. With regards to Amazon marketing specifically, their team of certified experts can help you with creating and implementing a strategy to grow your online business. They also have experience in driving results across virtually every PPC channel, including Amazon. As part of their PPC management for Amazon Ads, their services include daily bid management and monitoring, audit logs, and weekly performance reporting.
---
Wrapping Things Up
Whether it's by means of SEO or a display ad, you'll have to invest in some type of Amazon marketing. Online data shows that brands are seeing higher returns with Amazon advertising initiatives. In fact, according to Feedvisor, 51% of brands that used Amazon advertising enjoyed a return of up to seven times, while 39% of brands saw returns of between four and six times.
It works. It might take some effort and resources, but in a competitive landscape (which the marketplace definitely is), you can't rely on your product listing alone.
Frequently Asked Questions
What is Amazon DSP?
Amazon DSP is short for demand-side platform. It lets advertisers programmatically buy display, video, and audio ads both on and off Amazon. It also offers self-service and managed-service options. Though, the managed-service option is better suited for large brands with a big marketing budget. For the managed-service option, the minimum spend is $35,000. It's designed for companies wanting access to the Amazon DSP inventory and a consultative service, or for companies with limited programmatic advertising experience.
Should you start an Amazon business?
If you want to start selling products online, launching an Amazon business can be a good place to start. It works best for products that are unique, but if you're thinking about using Amazon to sell wholesale products or to drop-ship, it might not be the best platform as it can be difficult to buy someone else's brand only to resell it on Amazon. Also, to depend only on Amazon shouldn't be your long-term plan as it will become more difficult once the competition increases.
Which products are the worst to sell on Amazon?
Products that don't offer real value or aren't really different from the other products on Amazon don't sell particularly well. Generic products work great, but only if you can sell it for the right price and still make a good profit. In many instances, sellers just add another standard product item at a low price to a category that already has thousands. If you want to make a profit, these types of products have very small profit margins that really don't make it worth the effort.
What is Amazon Marketing Services?
Amazon Marketing Services (AMS) is the collective term for a number of Amazon services for sellers such as Sponsored Products, Headline Search Ads (now called Amazon Sponsored Brands), and Amazon Display Ads. As of September 2018, Amazon has rebranded many of its features (AMG, AMS, and AAP) as Amazon Advertising. Though, if you want to use these features, you'll need to have a Seller Central, Vendor Central, Advantage Central, or Kindle Direct Publishing (KDP) account, or be an agency that represents an Amazon merchant.
Can you work with an influencer to advertise your Amazon products?
Yes, it's recommended that Amazon sellers direct a portion of their marketing budget toward influencers to drive traffic. Influencers play a critical role in your overall marketing strategy, especially when it comes to introducing consumers to your brand. Amazon also offers an influencer program as part of its affiliate program. This allows influencers with a certain follower count to create their own Amazon Store and share products using custom URLs. It also launched a celebrity store that shows curated lists from top celebrities.