Advertising Disclosure
Advertising disclosure:
Our partners compensate us. This may influence which products or services we review (also where and how those products appear on the site), this in no way affects our recommendations or the advice we offer. Our reviews are based on years of experience and countless hours of research. Our partners cannot pay us to guarantee favorable reviews of their products or services.
Just because you have a specific audience in mind when you're creating your content for Facebook doesn't mean that the same audience will interact with your page the most. It could be that your target audience simply doesn't find your posts to be compelling content.
However, you'll only be able to tell that if you study your audience. Without taking the time to analyze your audience insights, you'll be blissfully unaware that middle-aged men instead of female millennials are keeping up with your page or vice versa. Meanwhile, you could be attributing your low sales to issues like a looming recession out of your control when it could be as easy as coming up with different Facebook post ideas or simply changing your cover photo.
If you don't want to use Meta Business Suite Insights (the replacement for Facebook Audience Insights) for this crucial exercise, there are a couple of alternatives to Facebook's own alternative to the original tool. That said, if you want to stick to Meta Business Suite Insights, we cover that too in this article. Plus, as you'll see some of these tools can also be used for conducting a Facebook competitor analysis or paid ads.
Facebook audience insights tools and Facebook analytics tools aren't entirely the same. With a Facebook audience insights tool, you'll get a better understanding of the users linked to your page. On the other hand, Facebook analytics tools can give you more info about the performance of paid ads and other metrics like page likes. Both are valuable and often intermingled making it difficult to track the one without the other.
---
Top Facebook Audience Insights Tools
Top
facebook audience insights tools
2024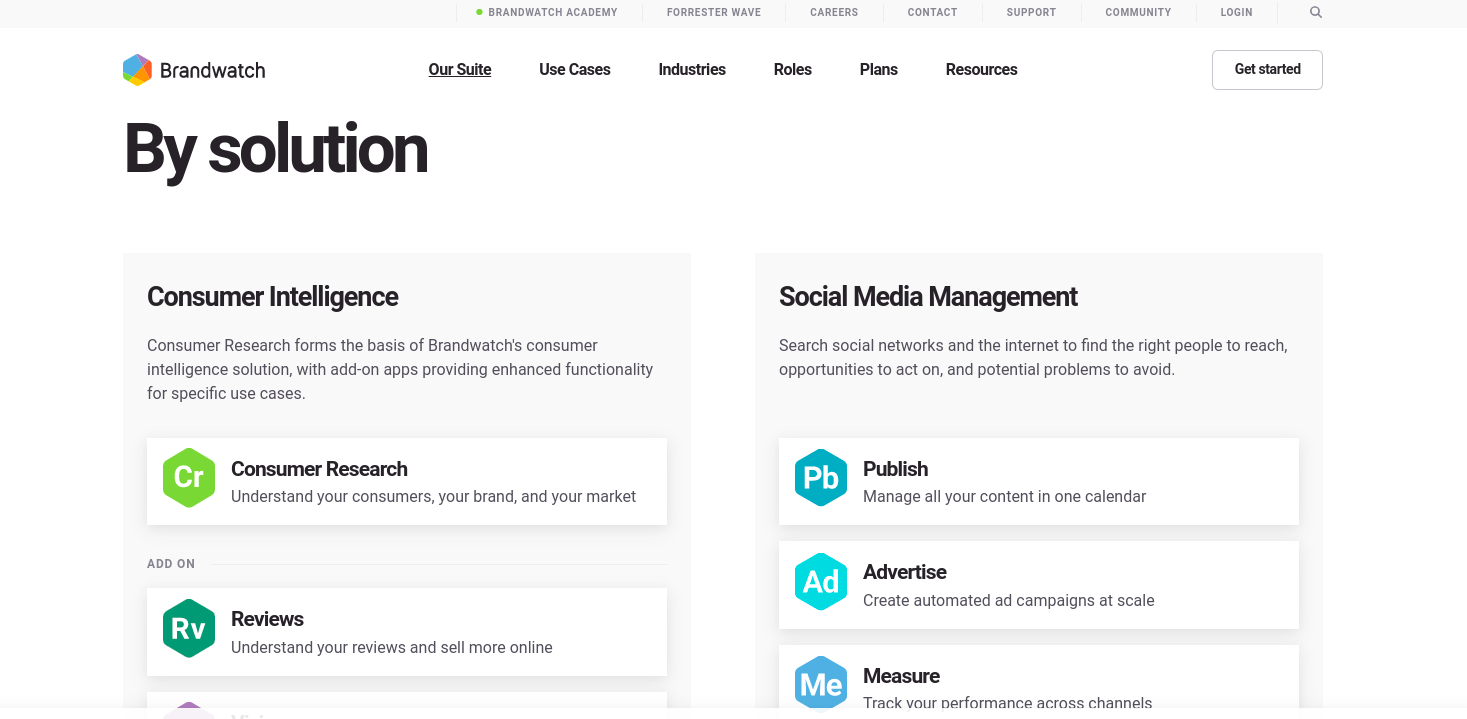 Included in Brandwatch's offering is a consumer research tool. It gives you access to detailed consumer insights from countless online sources. With it, you can monitor your Facebook page and keep tabs on what delivers results for you by accessing data on your followers, reach, and likes. Other related useful features include topic clouds and sentiment analysis. Then, with the help of rules, tags, and categories, you can segment your data further and apply automation.
In addition to its consumer research tool, Brandwatch also offers a social media management solution. Included in this suite is a Measure product that makes social media analytics more accessible. With the help of this useful product, you can monitor and display all your Facebook metrics in a customizable dashboard that you can build with one of Brandwatch's user-friendly templates. There are over 100 post-level and channel-level metrics available.
Data that it supports for Facebook include:
Fans overview
Video overview
Paid performance
Distribution overview
Engagement overview
Other key features include:
A unified calendar where you can manage all your content
Influencer discovery
A unified inbox for all your interaction
Automated ad campaigns
Audience personal profile cards
---

Brand24 emerges as a sophisticated AI-driven Audience Insights Tool for businesses of all sizes. Their tool offers a multifaceted approach, as it offers real-time monitoring that empowers brands to stay ahead of the curve by tracking users on Facebook and what they say about them. Brand24 users get access to tons of Facebook data, including the following types:
Posts published by your Facebook page
Posts published on your Facebook page by individual users
Comments on your Facebook page
Facebook page reviews
Mentions and reach
Total interactions
In addition to Facebook-specific data, Brand24 can access various audiences data such as:
Customer sentiment and feedback
Context of discussions
An overview of your brand's reputation on Facebook
The tool captures the data in real time, ensuring you're always on top of critical mentions. The obvious benefit is that Brand24 allows you to manage your online reputation proactively.
Brand24's advanced sentiment analysis enables the precise segmentation of mentions into positive, negative, or neutral categories. This in-depth analysis provides a clear understanding of how your brand is perceived on Facebook, pinpointing areas for enhancement.
---

Digimind offers a comprehensive suite of Facebook Audience Insights functionalities through its advanced platform, empowering businesses with robust tools and intelligent analytics capabilities.
Social Listening, a pivotal feature, allows users to monitor and analyze conversations happening across millions of online sources in real-time. This offers invaluable insights into brand perception and aids in refining marketing strategies. Here are some examples of the analytics you get with Digimind:
Automatic country location
Automatic sentiment
Trending topics
Mentions marked with read
Social statistics
Influencer comparison
Beyond that, users can measure Facebook content performance, analyze social accounts, and understand their online reputation. The platform's standout feature is its ability to create insightful reports effortlessly. Users can generate reports using pre-designed templates or customize their own in just a few clicks. This functionality streamlines reporting processes, enhancing efficiency and productivity for businesses.
---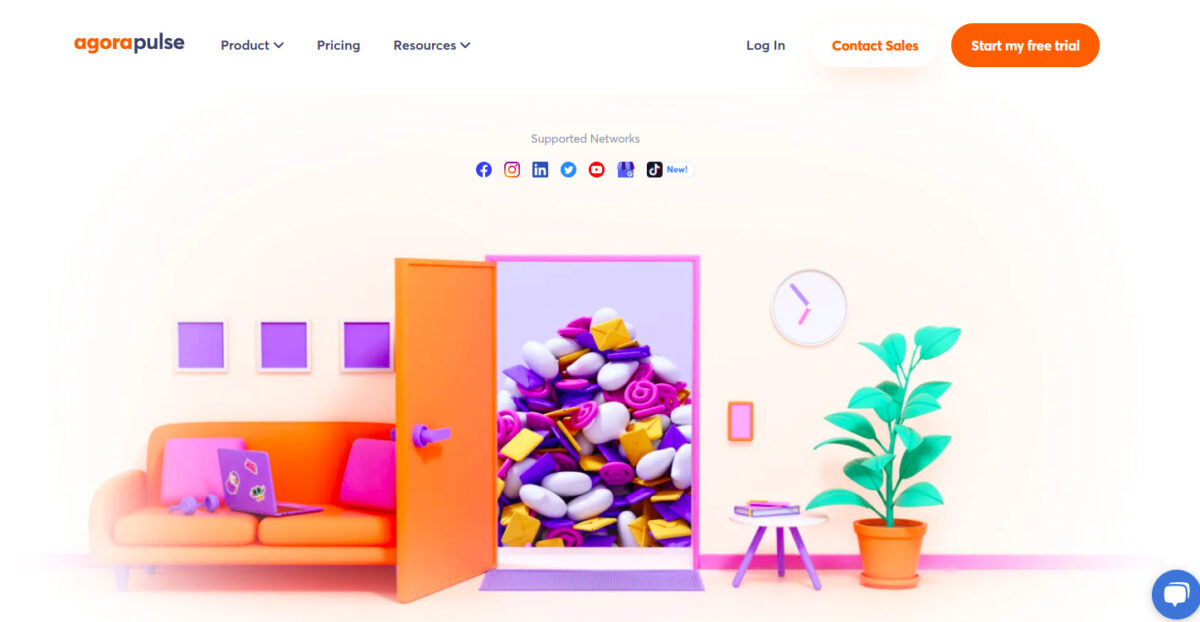 Agorapulse is one of the best social media scheduling tools aimed at mid-sized businesses. As it's a fully featured social media management tool, it offers more than just scheduling features and includes social reporting metrics among other things. With regards to Facebook metrics specifically, Agorapulse users will get access to various audience demographics such as:
The age, gender, and location of your average follower
A percentage breakdown of the age ranges of your audience
The percentage of male followers
The percentage of female followers
The number of followers from each of your top six countries/regions
The number of followers from each of your top six cities
Your page's top six languages along with how many followers list each language as their main language
In addition to this demographic data, you'll also be able to access:
Audience growth metrics
How many times your content shows up in the news feeds of Facebook users
Organic impressions vs paid views
An overview of your Facebook engagement (e.g. reactions, comments, private messages, and shares)
Armed with this type of information, you can find out more about the audience as well as uncover any significant changes. This will help you to adapt your social media content strategy so that the Facebook posts that you share will resonate with your typical follower.
Perhaps most of your followers come from regions that you don't currently serve. In this case, it could be a sign that you should change course of action (quite literally) and expand your focus to meet a more global audience.
---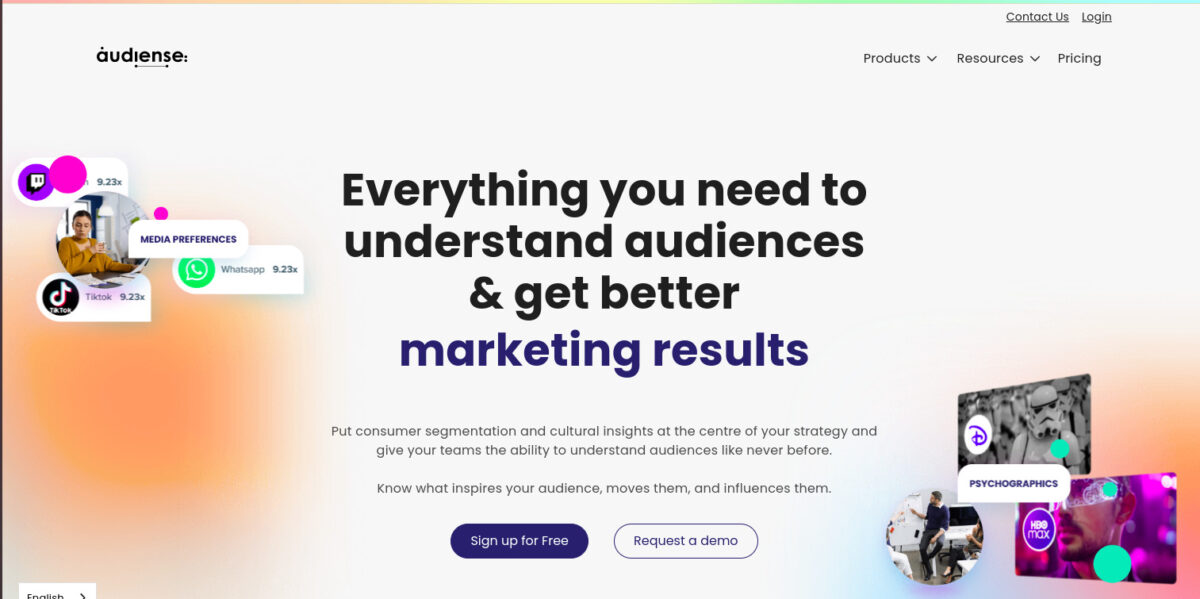 Best for larger brands with bigger budgets, Audiense is a powerful analytics tool that can help you to gain insights into any audience that has an online presence. It's also a great tool for audience segmentation. While they mainly use Twitter data, they do enrich their insights using Facebook data.
Audiense will give marketers a comprehensive picture of the audiences they're trying to reach with their marketing campaigns. With the help of machine learning, it will analyze your audience composition and give you insights by paying attention to data such as:
Their likes
Job title
Education level
Who/what they follow
Bio keywords
Relationship status
Device type used for posting

Key Features: Search/Discovery, Audience Analysis, Social Listening, Competitor Research,
Channels: Instagram, Facebook, YouTube, TikTok
---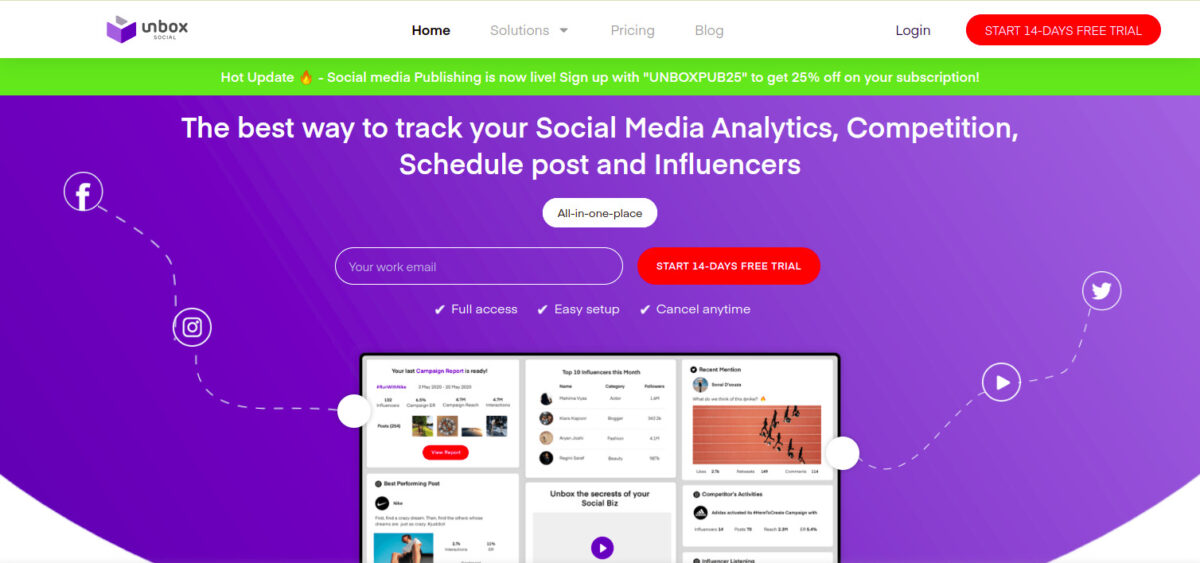 Founded in 2015, Unbox Social is one of the newer tools on this list. It's a popular tool for Facebook competitor analysis, but can also help you to make sense of your own performance and current audience. It offers advanced analytics for Facebook, Instagram, YouTube, and Twitter all conveniently in one place, helping marketers and agencies to work more efficiently.
In addition to offering audience insights, it also includes audience sentiment analysis. This way, you'll not only get a better understanding of who your audience is, but also how they view your brand.
Here are some of the analytics that you'll be able to view:
Age
Gender
Location spread
Reach
Page views
The number of reactions
Post views by clicks
As it also includes features to help with competitor research, you'll also be able to extend your scope by taking a closer look at the audiences of others in your niche. Then, to help you aggregate all this data, you can create customized reports for one or multiple profiles that you can share in PDF format with your internal team or turn into a PowerPoint presentation for when you need to brief clients.
---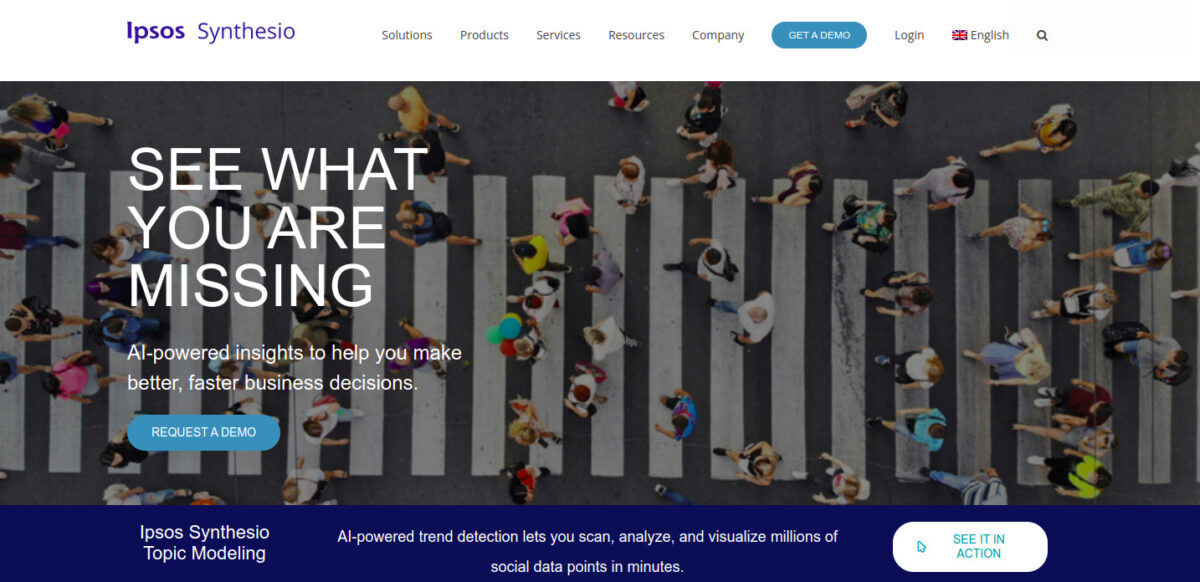 Synthesio offers a social intelligence suite that can be used for several key tasks like competitor analysis, customer sentiment, and audience analysis. For help specifically with audience analysis, you can check out Profiler, its very own audience analysis solution.
What makes this such a worthwhile tool is that it keeps interests and behavioral data in mind too, or, as they like to put it so aptly, the "digital body language" of your potential customers.
This way, you're perfectly positioned to create more meaningful content.
You'll understand which verbal messages and visuals they'll respond to better and which online media channels appeal to which audience segments more. After all, many other social media sites have joined the scene after Facebook was launched and newer sites like TikTok have become a firm favorite among younger audience segments.
For example, when a global energy drink company approached Synthesio for help understanding their target audience better, they could leverage millions of Facebook data points. This way, they could uncover unique, over-represented similarities to identify new content ideas and social media sites to explore.
---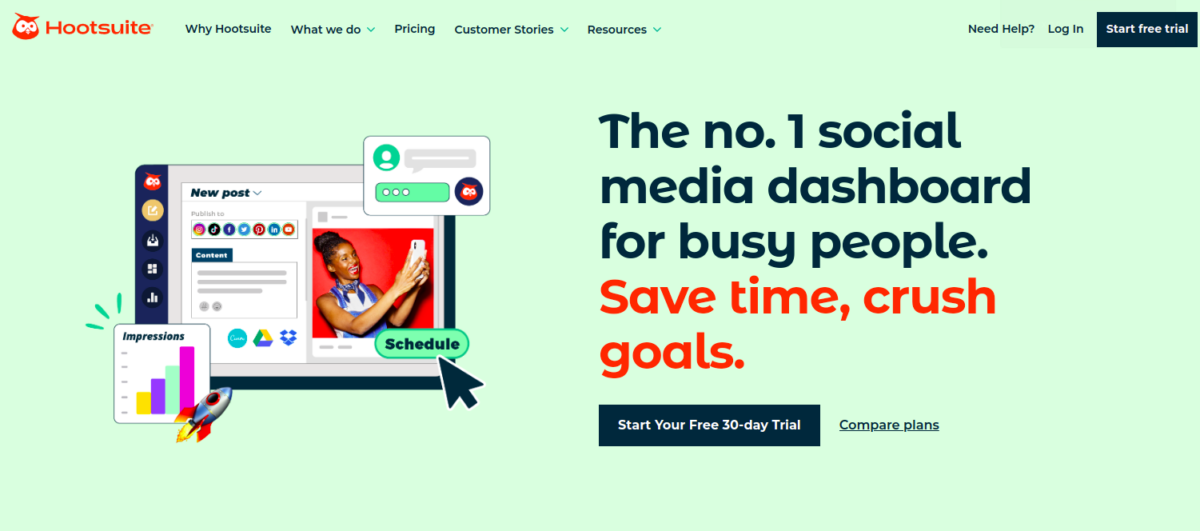 Along with Brandwatch, Hootsuite is one of the leading social media tools for agencies and includes advanced Facebook analytics in its list of features. With Hootsuite Analytics, you can track data across Facebook, Instagram, Twitter, TikTok, LinkedIn, YouTube, and Pinterest.
With regards to its Facebook analytics offering, you can view hundreds of page-level and post-level metrics. It can also help you to determine the optimal time to post on Facebook using the unique traits of your followers and the goals of your brand.
Here are some examples of the analytics that you can access with Hootsuite:
The number of times Facebook users visited your page
The number of new users who liked your page
Follower growth rate
A breakdown of the gender and age groups of your audience
Top countries and cities
Post reach and engagement
Facebook Stories with the highest reach and most replies
Facebook Ads analytics
Facebook video analytics
What makes it such a great tool to use is that you can compare your data across different social media platforms thanks to its massive list of integrations. This makes it ideal if you're implementing an omnichannel approach. For a more formal comparison, you can also create and export custom reports.
Another standout feature that deserves special mention is its Facebook Group analytics. If you have a group with at least 50 members, you'll be able to track the growth of your community and see who the top contributors are. The latter feature can come in very useful when you want to leverage Facebook influencer marketing more. Armed with this data, you'll be able to identify potential influencers on your own and reach out to them directly to discuss possible future collaborations.
---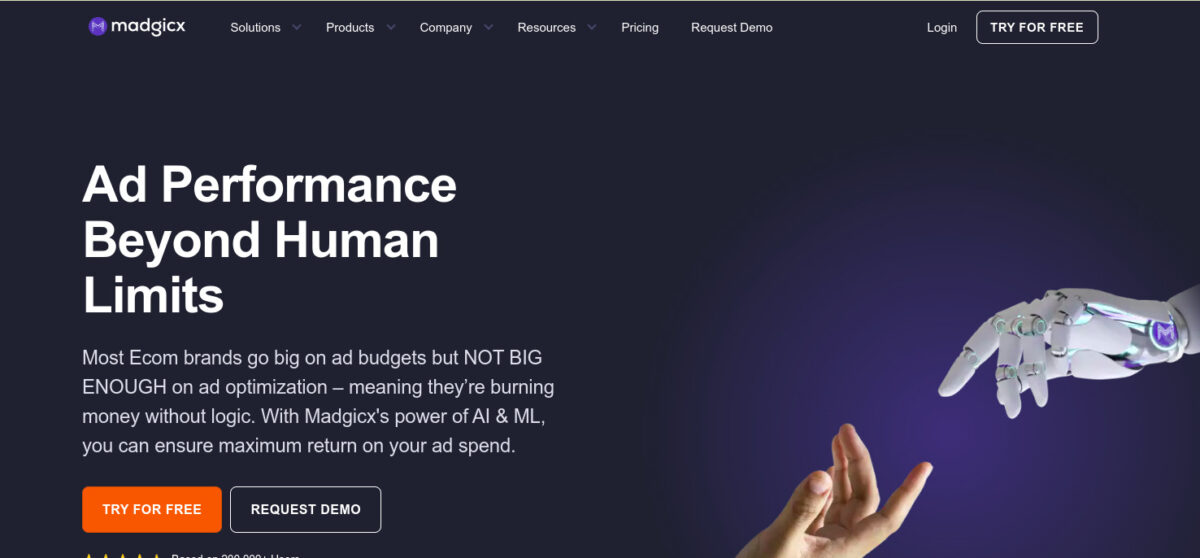 With Madgicx, you can find the most profitable audiences that you can target on Facebook, making it a great tool to add to your tech stack if you want to concentrate more on future ad campaigns. Included in its products is an Audience Studio. It's similar to Facebook Audience Insights, but has a strong focus on profitability.
It will combine the performance data of any audience, helping you to see the return on ad spend (ROAS) and identify the most profitable audiences. It will, for example, suggest new interests that could help you to deliver an even better return. In addition to ROAS, you'll also be able to see metrics like audience size, cost per purchase, and cost per 1,000 impressions.
In addition to its Audience Studio, you can also check out its Audience Launcher product. In short, it will enable you to create audiences across the full ads funnel. Using historical data, you can select your top-performing demographics, helping you to improve your Facebook advertising campaigns.
---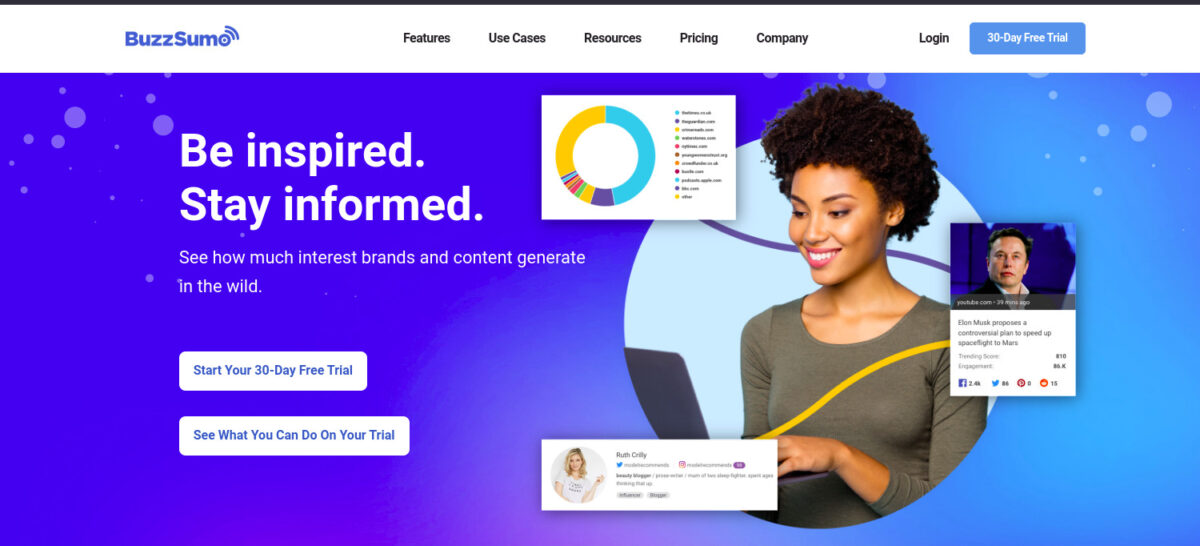 Similarly to Madgicx, BuzzSumo takes a bit of a different approach to Facebook data. Where Madgicx can come in handy for Facebook Ads, BuzzSumo can level up your competitor research.
It recently introduced two new tools: Facebook Page Analyzer and Facebook Pages. With these tools, you can get Facebook insights that can help you to improve your performance quickly. It can also be helpful for discovering new influencers.
One feature that deserves special mention is that you can use it to work out when your audience is most engaged. Its Facebook Page Analyzer tool determines this by factoring in when your competitors publish and the audience level of response.
If you want to concentrate solely on the performance of your own Facebook page, you can use the Facebook Page Analyzer tool to gather data about the number of posts and reactions. It's especially useful for getting more insight into engagement. You can use it to find out more about the averagement engagement:
According to day and time published
Per post type
Per character count
In addition to engagement, you can also use filters like country, language, and type of post to reveal where you're enjoying the most success.
---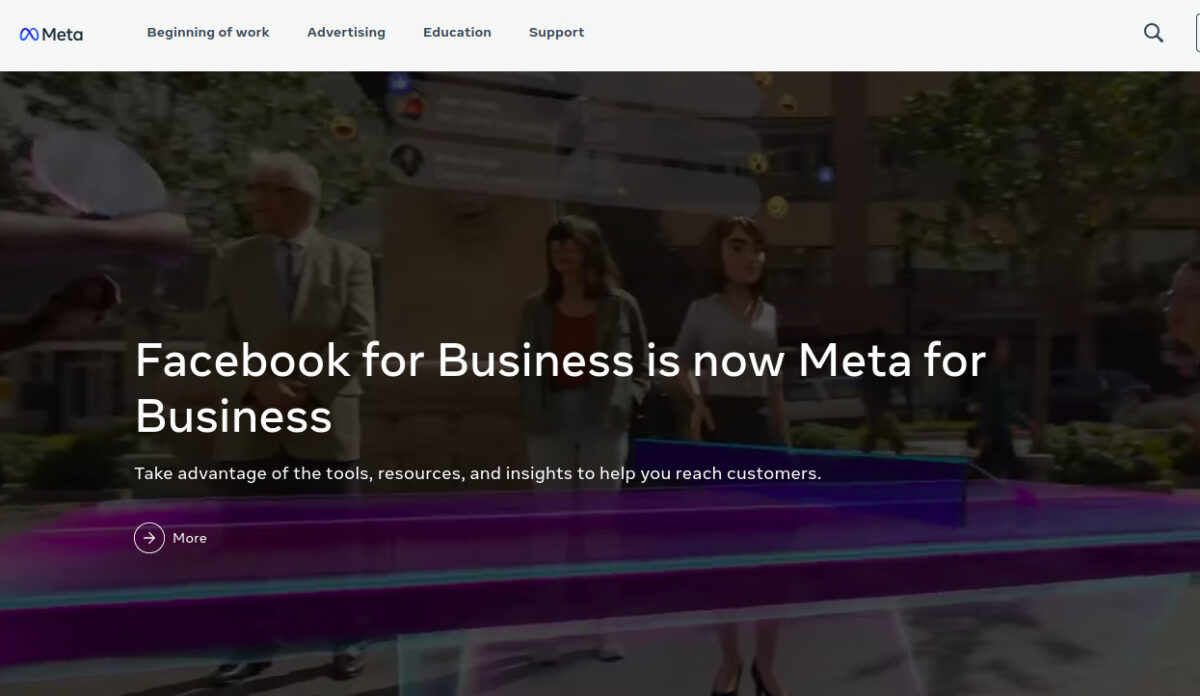 As of July 2021, Facebook Audience Insights was discontinued and replaced by Meta Business Suite Insights. Using Meta Business Suite Insights, you'll be able to access the following info:
Page likes for Facebook
Age
Gender
Top countries and cities
Interests
Trends in reach
If you want to filter and save audiences, you can do that via the Meta Ads Manager.
You'll also be able to find audience data for your Instagram Business profile here.
Armed with these insights, you'll be able to make sense of how your social media efforts (both paid and organic) are paying off. This will help you analyze which strategies deliver the best results, where improvements might move the needle in the right direction, and which ones you must rather abort.
---
Should You Still Care About Facebook?
Boasting nearly 3 billion monthly active users at the end of 2022, Facebook remains the most used social network across the globe. So, the short answer — yes.
By including Facebook in your marketing strategy, there's a massive active audience that you can reach. It's especially popular among users in their late 20s and early 30s, but you probably knew that by studying your own audience insights. As for gender, it's pretty even, with the scales tipping in favor of male audiences (but not by that much). So, if your target audience is mostly men between the ages of 25 and 34 then you should absolutely still use it.
---
Wrapping Things Up
If you want to create deeper connections with your ideal customer, you need to know who they are and what makes them tick. Whatever content you decide to share should resonate with them.
For example, mothers with newborn babies might be dreaming about an island holiday, but that's not their most pressing need. On the other hand, if you share videos about how a nappy rash cream helped you get a good night's rest but your audience is mostly made up of digital nomads, they'll definitely opt for a different escape this time and unfollow your page.
What you share needs to be insightful to those that interact with your page the most. And, to do that you need the audience insights to know who these Facebook users are. It's actually that simple.