Not sure why your competitors are doing so much better than you on Facebook? With Facebook being the largest social media platform, it's no surprise that your brand too will want to establish a presence on the platform. However, this can prove to be more challenging than expected since there are so many brands that are looking to achieve the same thing. And with organic reach dropping for brands on the platform, the challenge may end up being twice as hard.
This is exactly why it's important to keep an eye on the competition, so you know how to stay ahead and where you're falling behind. In this post, we take a closer look at how you can conduct a Facebook competitor analysis to know your standing and discover ways to set your brand apart. Let's get right into it.
---
How to Conduct a Facebook Competitor Analysis:
---
What is a Facebook Competitor Analysis?
As the name suggests, a Facebook competitor analysis is the process of looking at key competitor brands in your niche and analyzing their Facebook strategy. A Facebook competitor analysis helps you understand where your competitors are currently standing, what strategies they're using, and whether there are any areas of weaknesses.
A typical Facebook competitor analysis report will look at essential performance metrics such as following size or Page likes and engagement. It will also look deeper into the competitor's content strategy, examining the types of content they post, how often they post, and which posts are performing well. In other words, your competitor analysis will provide you with the insights you need to fine-tune your strategy and discover ways to differentiate yourself from the competition.
When creating your own Facebook competitor analysis report, it should list KPIs such as audience size, audience growth, number of interactions, and number of posts next to each competitor's name. You should also have sections for metrics such as overall engagement rate and average engagement rate per post. Additionally, you can get more granular by including the number of posts created for different post formats as well as a link to/screenshot of their top post.
---
Why You Need a Competitor Analysis on Facebook
Like we briefly summarized above, there are several key benefits to analyzing your competitors on Facebook. Below are some of the main reasons why your brand needs to perform a competitor analysis on Facebook.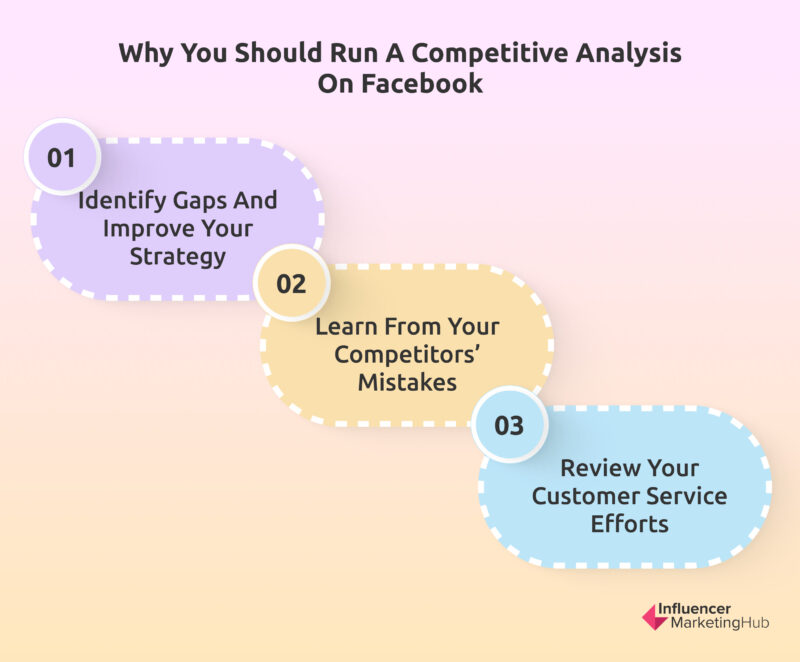 Identify Gaps and Improve Your Strategy
What are your competitors doing that you haven't thought of doing before? This is one of the key questions that a Facebook competitor analysis can help you answer. As such, the answer can reveal some prime opportunities that you need to tap into.
For example, perhaps they've been regularly hosting live video sessions with industry leaders. Or maybe they're sharing short infographics to promote links to their blog posts. Perhaps they're even incorporating month-long observances based on specific themes.
Whatever the specifics may be, you'll be able to find creative new ways to engage your audience based on what your competitors are already doing. This will then allow you to improve your overall social media strategy while also fine-tuning your content strategy for a bigger impact.
Learn from Your Competitors' Mistakes
On the flip side, analyzing your competitors' performance can also help you look for things that they're doing wrong. Perhaps they're not posting often enough or they're not posting enough of the types of content that get engagement. This is a great way to see what mistakes your competitors are making so you can learn from them.
Review Your Customer Service Efforts
Your social media presence goes beyond the content you create and extends to the kind of service you offer to your customers. As such, analyzing your competitors' Facebook strategy is crucial as it helps you understand the quality of customer service they're providing.
Looking at the comments and responses on your competitors' Facebook posts will tell you all that you need to know about what their customers are expecting and how the brand is responding. You can then use this observation to compare your existing customer service efforts and make improvements in accordance with what the audience is expecting.
---
Steps to Conduct a Facebook Competitor Analysis
Now it's time to get into the practical aspects of conducting a Facebook competitor analysis. Here are a few essential steps to help you get started.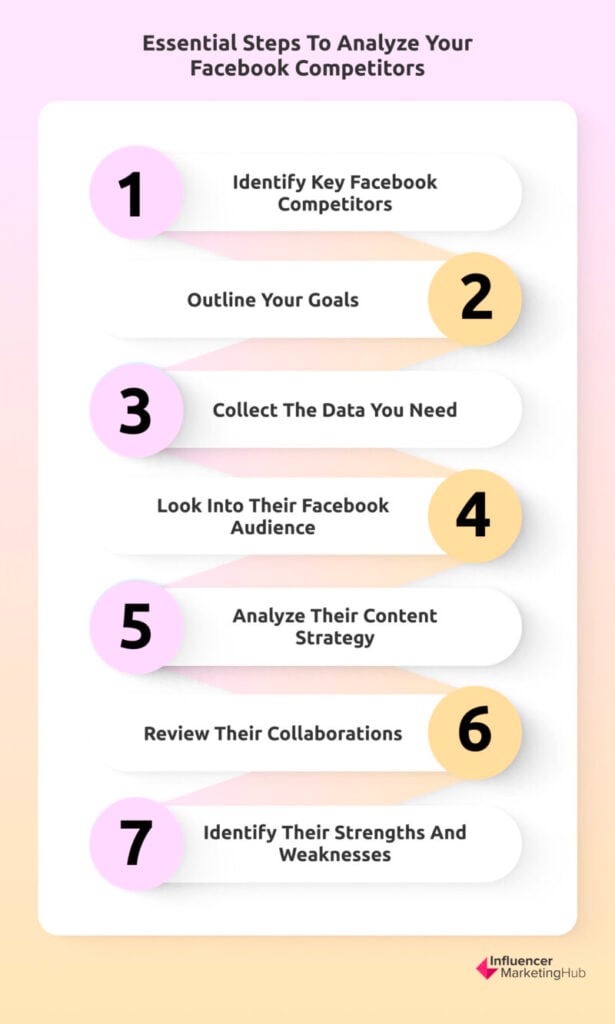 Step 1: Identify Key Facebook Competitors
Who are you competing with on Facebook? First, make a list of the competing brands you want to analyze. This may include some of the top players in your industry and other businesses selling the same products or services as you.
In most cases, your Facebook competitors will be the same as your existing brand competitors. Additionally, you can also search for industry keywords within the Facebook platform to see which brands pop up in the results.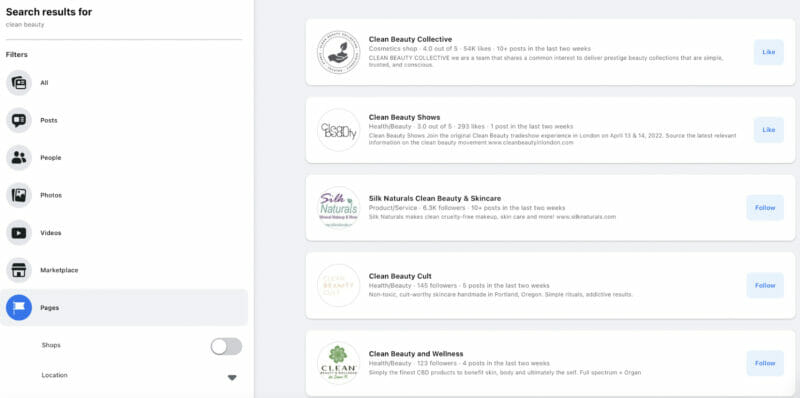 This may bring up several competing brands that you may have not been aware of before. If they show up at the top of the search results, chances are they have a pretty solid Facebook presence so they should be a part of your analysis.
You can further divide your competitors' list into direct and indirect competitors. This will help you understand which brands to prioritize in your analysis.
---
Step 2: Outline Your Goals
Next, clearly understand what you wish to accomplish with this analysis. What do you want to learn from your competitors? Which metrics do you plan to compare?
Outlining your goals at the start will give your competitor analysis a strong sense of direction. It will help you organize your efforts since you clearly know what to focus on, what to look for, and what to do with the information.
---
Step 3: Collect the data you need
Now that you have an idea of what to look for, it's time to start collecting the data you need for your analysis. In most cases, this would mean key performance metrics such as Page likes, engagement rates, and impressions. At this point, you'll need to use Facebook competitor tracking tools to get access to more robust performance data such as share of voice, sentiment, and more.
You can then maintain a spreadsheet to put together all these data points in one place. From here, you can begin to narrow down which competitors you should take a closer look at based on who's doing the best.
Ideally, you'd want to limit your analysis to 2-3 top competitors to streamline your efforts. Most competitor analysis tools will let you run an analysis of only two Pages–yours and that of your competitor. However, depending on your available resources, you may also spread your analysis wider to look at all the key competitors from your initial list.
---
Step 4: Look into their Facebook audience
As you dig deeper into your Facebook competitors, the first thing you'll want to look at is their audience. Knowing the type of audience your competitors are catering to will help you identify any missed targeting opportunities. You may be able to uncover a key audience base that you failed to tap into.
Some Facebook competitor analysis tools will provide you with an audience demographic breakdown of your competitors. These tools can perform a detailed audience analysis so you can understand details such as the top countries, the languages spoken, and the demographics distribution.
---
Step 5: Analyze their content strategy
Next, you need to go beyond what these competitor analysis tools can tell you and take a closer look at their content strategy. This will involve a little manual work as you need to look at things such as how often they post, when they post, what content types they use, and what tone they use in their messaging. As such, this step can be a bit time-consuming and challenging since you need to manually look at their existing posts to understand their content and posting strategy.
Further, you can also use a competitor analysis to identify their top posts. See what types of posts are generating the best results for your competitors. Perhaps they're posting a lot of video content. Or maybe they're regularly hosting live sessions that get a ton of engagement.
---
Step 6: Review their collaborations
Most social media marketing strategies today now include influencers in some way or the other. This makes it crucial to review your competitors' influencer collaborations when analyzing their Facebook strategy.
Look at who they're collaborating with and what types of influencers they typically work with. Additionally, find out the types of collaborations they have and how effective they are. How are people responding to the partnerships? Breaking down your competitors' influencer collaborations will not only help you with your influencer selections, but it will also inspire your next campaign.
For example, you might notice how VEJA doesn't necessarily partner with fashion and lifestyle influencers in spite of being a clothing brand. Instead, the brand has partnered with videographers and adventure influencers to highlight their line of hiking shoes. A competing brand might notice this creative partnership and use it as inspiration for their next influencer campaign.
---
Step 7: Identify their strengths and weaknesses
Based on what you've witnessed so far, it's time to make a list of the strengths and weaknesses that you noticed during your analysis. What are they particularly good at that you could replicate for your strategy? Did they make any mistakes that you could potentially leverage for your own strategy?
For example, you might have noticed that although their video posts get a ton of engagement, they're not posting enough. So you could use this opportunity to create or share more video posts that would engage your audience. Alternatively, you might notice that they're posting frequently and at specific times when people are most likely to engage. You could replicate this tactic by finding the best time to post on Facebook for your brand and scheduling your posts accordingly. `
---
4 Facebook Competitor Analysis Tools
Now that you know how to conduct a competitor analysis on Facebook, you might have noticed that tools play a crucial role in the analytics process. Here are some of the top Facebook competitor analysis tools you can use.
Sociality offers comprehensive Facebook competitor analytics so you can gain advanced insights into how your competitors are doing. It lets you compare the basics such as number of fans, fan growth, total interactions, and engagement rates. In addition, you can get more granular by comparing the number of posts against yours and seeing how often they're posting specific types of content. This allows you to compare your existing strategy against theirs and find ways to fine-tune it for a bigger impact.
---
Sprout Social's Facebook analytics platform comes with powerful competitive analytics capabilities. You can choose a competitor profile and compare their performance against yours. This will show you a detailed comparison on performance metrics such as number of fans, public engagements, and audience growth. It also lets you review post-level insights to analyze their content strategy more closely.
---
Unbox Social makes competitor analysis easier with a visual overview of their performance. This allows you to easily compare your performance against theirs in terms of number of fans, total posts, interactions, and engagement. You can also easily see their most engaging posts and compare it against yours to identify the key differences. Additionally, the platform also reports on their content and how it's resonating with their audience.
---
Social Status makes it easy to benchmark your performance against the competition as you can easily view metrics in a simple chart. You'll be able to compare metrics such as reactions, posts, comments, shares, interactions, and engagement rates. Additionally, it also analyzes their top-performing posts and gives you a breakdown of the different content formats they use. Further, you can track reaction sentiments to get a sense of how their content is resonating with the audience.
---
Get Competitive with Your Facebook Strategy
Analyzing your competitors on Facebook is an essential step to streamlining your marketing efforts and fine-tuning your existing strategy. It can help you deliver even better results and discover ways to differentiate yourself from the competition. As such, you can experience even better returns on your investment. Make the most of these steps and tools to start tracking and analyzing your competitors on Facebook.
Frequently Asked Questions
How do I do a competitor analysis on Facebook?
You can do a competitor analysis on Facebook by looking at key performance metrics such as Page likes, interactions, engagement rates, number of posts, posting frequency, and so on.
Which tool is used for competitor analysis?
Tools like Sociality, Sprout Social, Unbox Social, and Social Status can be used for competitor analysis.
Is there a free tool to compare Facebook Pages?
Vaizle and Porter are some free tools to compare Facebook Pages.
What is a Facebook Page competitor analysis?
A Facebook Page competitor analysis is the process of tracking how competitor Pages on Facebook are performing and comparing this performance against yours.
What should a competitor analysis include?
A competitor analysis should include an analysis of vital engagement and Page performance metrics. Additionally, you might also want to analyze their content strategy and influencer collaborations.