While Facebook might no longer be the go-to social media tool, it still remains one of the most popular social media platforms. Also, considering that they've added a number of new features over the past couple of years, it's still an important tool for marketing teams and brands. From 3D images to royalty-free music to Facebook Shops, there are more than enough tools that you can use to get your brand in front of its target audience.
Not convinced that Facebook Marketing is still worthwhile in 2022. Here are just a couple of Facebook stats to convince marketers of its power:
Almost 20% of US users visit Facebook to follow brands.

As of Q3 2021, Facebook had more than 2.9 billion active monthly users. This means that it's still the biggest social networking site across the globe.

There are about 8 million active advertisers on Facebook.

Facebook users share more than 100 billion messages on a daily basis.

There are more than 200 million businesses on the platform. They use the channel for marketing, to promote their products, and engage with their audience.

As of Q1 2021, there were more than 10 million groups on Facebook.
Now that we've got your attention, here are 23 of the top Facebook tools that your business can invest in to make the most of the potential of the platform. As a matter of fact, considering that there are millions of businesses using the platform to market their brand and its offerings, you'll need all the extra help that you can get to get out in front of your competitors.
---
Top 23 Facebook Tools for Businesses: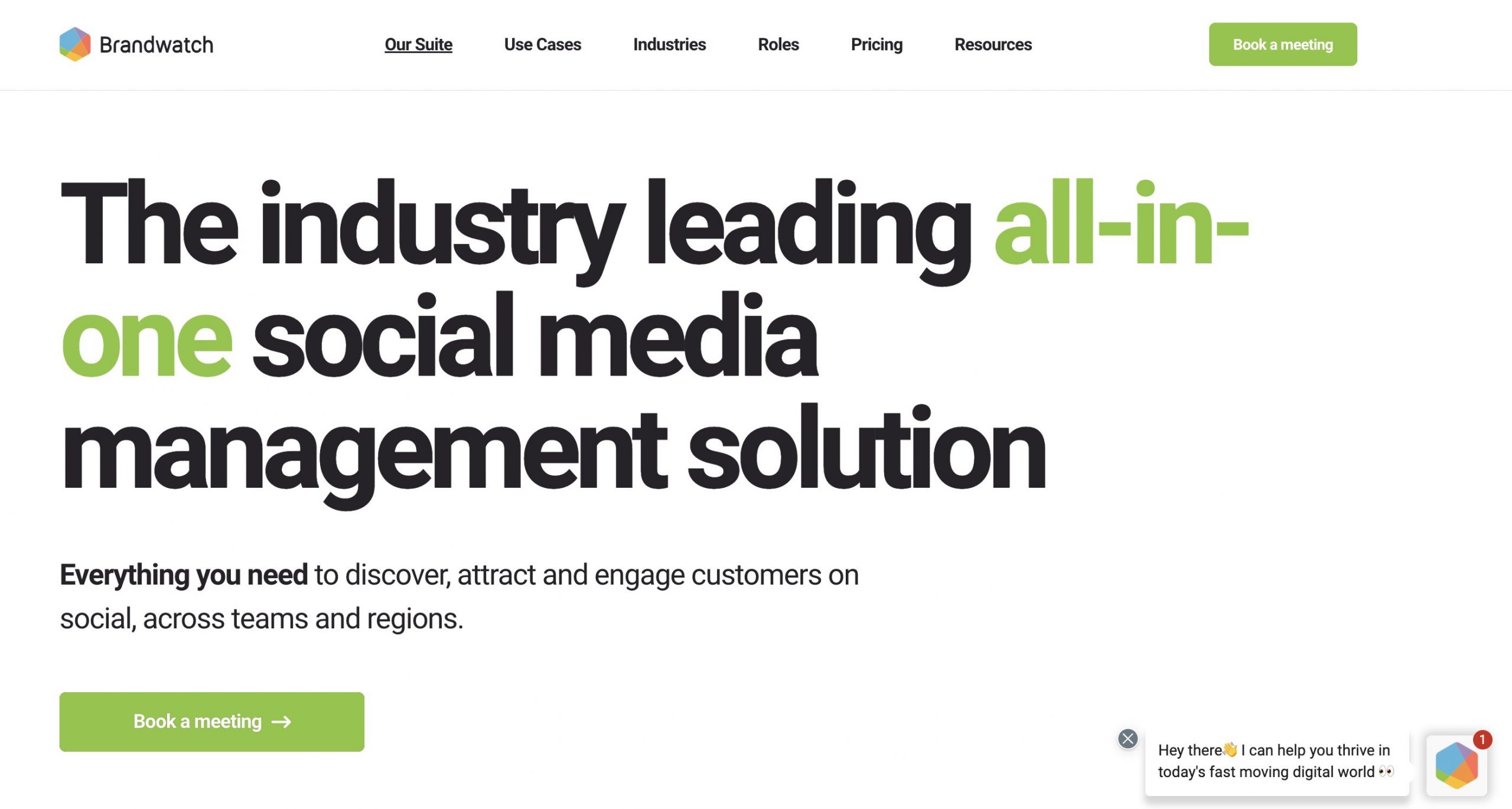 Brandwatch's features include social media listening, publishing, and measurement. It gathers valuable data that will help your brand to get a competitive edge. For example, it helped Carlsberg to consolidate over 90 Facebook pages into one global page and to create a social media dashboard that showed relevant KPIs like engagement and mentions.
In short, it's a great all-in-one tool that will help you with every aspect of marketing on Facebook (and other social media platforms). The only real con is the pricing. Pricing starts at $108 per seat per month.
Key features include:
Unified calendar

Facebook carousels

Campaign planner and editorial calendar

URL shortener
---

With its cheapest plan starting at $99 per month, Agorapulse is better for teams and agencies. That said, if you specifically want to use it for Facebook marketing, it offers two free tools – an AdsReport Ad Reporting and Facebook Page Barometer. With the AdsReport Ad Reporting, you can analyze how your Facebook ad accounts and individual ad campaigns perform. For a quick snapshot of how your followers are engaging with your Facebook page, you can use the Facebook Page Barometer.
While it might not be the most affordable social media management platform, its interface is very intuitive and getting started is more straightforward than similar tools. It also offers several video tutorials if you get stuck.
Key features include:
Automated Inbox Assistant

Rescheduling

Facebook ROI calculator

Facebook competitor analysis

Asset library

Unified calendar

Bulk scheduling
---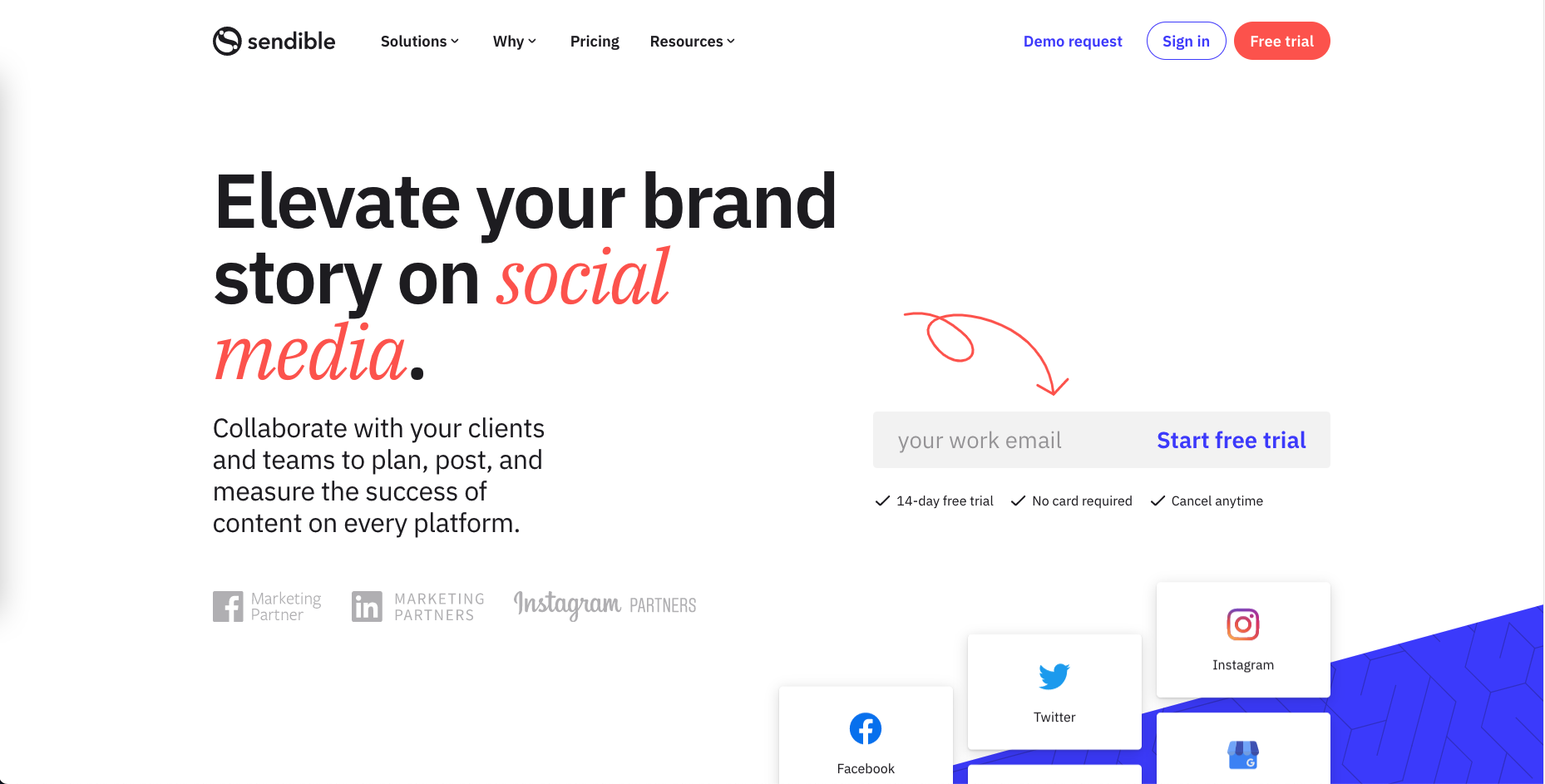 Whether you're a small business or an agency, Sendible offers solutions for both. Thanks to its robust API integration capabilities, it lets you manage your social media platforms via a unified
console. With regards to Facebook specifically, you can use it to manage Facebook pages and groups, compose posts, and access analytics. You can also use it to read and reply to incoming comments via its Priority Inbox.
The team at Sendible also recently introduced a few updates to Facebook reporting. Users will now be able to pull data to include 90 days. They also added tooltips and updated its report guide so that users have more guidance and know precisely what the different metrics mean.
Pricing starts at $29 per month when billed monthly.
Key features include:
Built-in editor for customizing posts

Approval workflows

Content suggestions

Bulk scheduling
---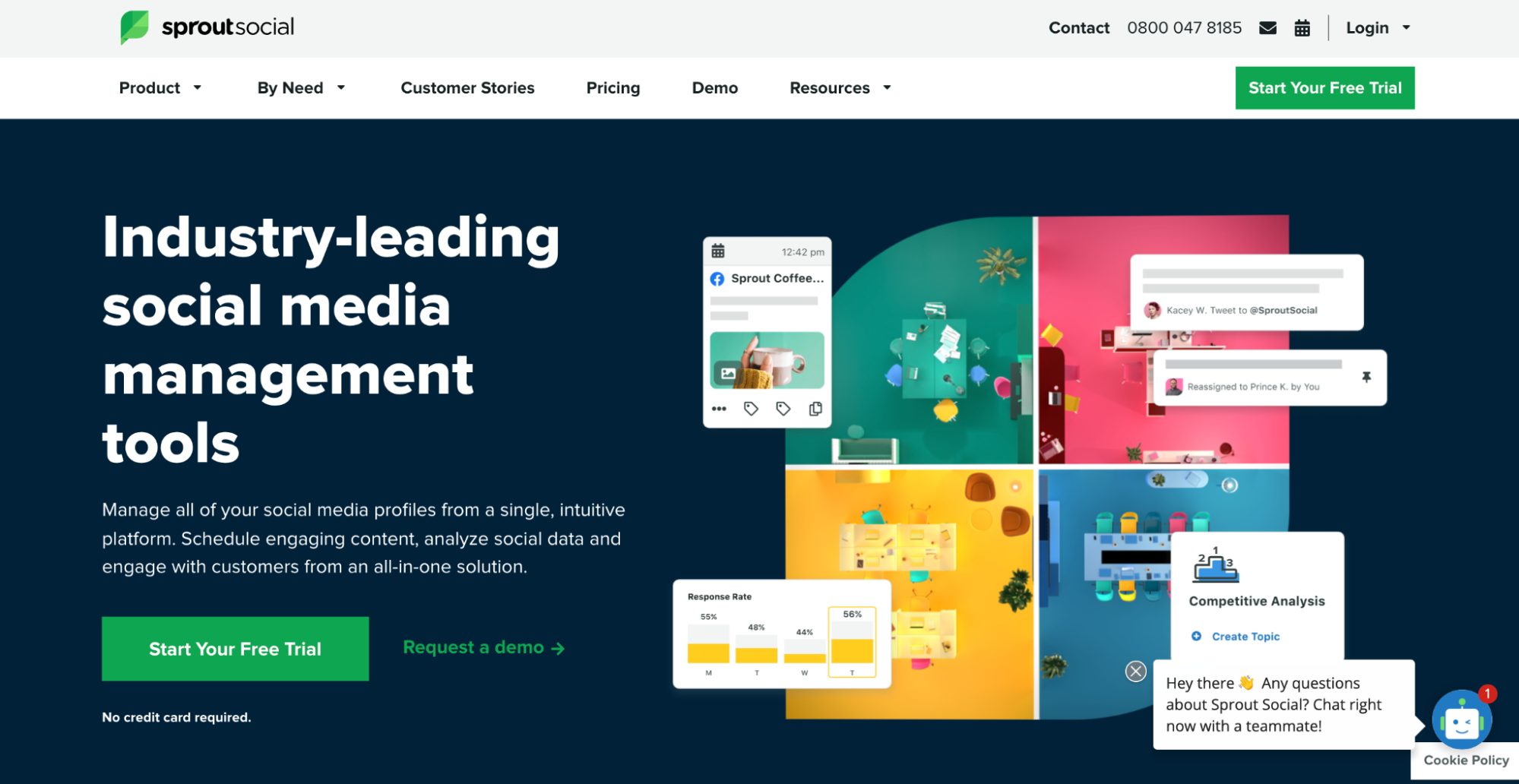 Sprout Social is a Facebook Partner and one of the most popular Facebook management tools for businesses. It offers powerful and creative tools that you can use to manage your Facebook page and Messenger conversations and create engaging content.
Pricing starts at $89 per user per month.
Key features include
Facebook analytics

Smart Inbox

Social CRM

Intuitive workflows

Asset library

Built-in approval workflow
---
If you need help with designing your Facebook ads specifically, you can check out the Facebook Ad Preview Tool created by yours truly. It's free and easy to use. It's especially useful if you want to create an event. All you need to do is complete a few fields and it will generate a mockup which you can preview and download before posting it.
---
Hootsuite is one of the leading social media management apps that connect with all the major social media platforms, including Facebook. From post scheduling to analytics, it offers a long list of features. You can, for example, use it to upload and schedule Facebook videos and other visual content, schedule Facebook messages in advance, and assign conversations to specific team members.
The thing about Hootsuite is that there's a huge jump between its different pricing plans. If your requirements are basic, its pricing is reasonable. If you want to add more than one user, get ready to pay about triple the price.
Key features include:
Visual reports and automated custom reports

Detailed audience insights

Best time to publish recommendations

Campaign planning

Ad campaign management
---
Meet Edgar is a social media management app that offers scheduling and queueing services for posts on Facebook pages and groups. It's specifically aimed at freelancers, entrepreneurs, creators, and small businesses (so if you're searching for an enterprise solution, scroll on).
One feature that deserves special mention is the suggested social posts. It will automatically create variations for every update. This way, you can create five times the social content.
All in all, it's one of the most intuitive tools and affordable solutions. As mentioned, its goal isn't to meet the needs of big companies and so you might find that it's not that full-featured.
Pricing starts at $19 per month.
Key features include:
Searchable library

Weekly automation schedule

Category-based scheduling

Link tracking

A/B testing
---

If your main need is publishing and scheduling, be sure to check out eclincher. Unlike Meet Edgar, eclincher also aims its product at enterprises and agencies and is trusted by major names like Century 21, IKEA, and Sony. It offers a Visual Calendar and easy-to-use drag-and-drop editor which make it simple to edit entries. However, its monitoring, analytics, and reporting features can do with some improvement.
All in all, it's a good alternative to Hootsuite as it basically offers the same features. Though, unlike Hootsuite, it includes 24/7 support in all its plans.
Pricing starts at $59 per month.
Key features include:
Publishing

Scheduling

Media library

Social listening
---
You can use SocialOomph for a long list of tasks that include content management, precise scheduling, bulk uploading, self-destructing posts, and loads more. While it offers great functionality, it's less intuitive than other social media management tools. Also, its website is pretty dated.
That said, it's great for teams. You can add team members to your account, assign privileges, and authorize them to work only on certain social profiles.
Also, it's one of the most affordable Facebook post scheduling tools. It offers a basic Free plan, but if you need more functionality pricing starts at only $15 per month.
Key features include:
RSS feeds

Post tags

Scheduled posts
---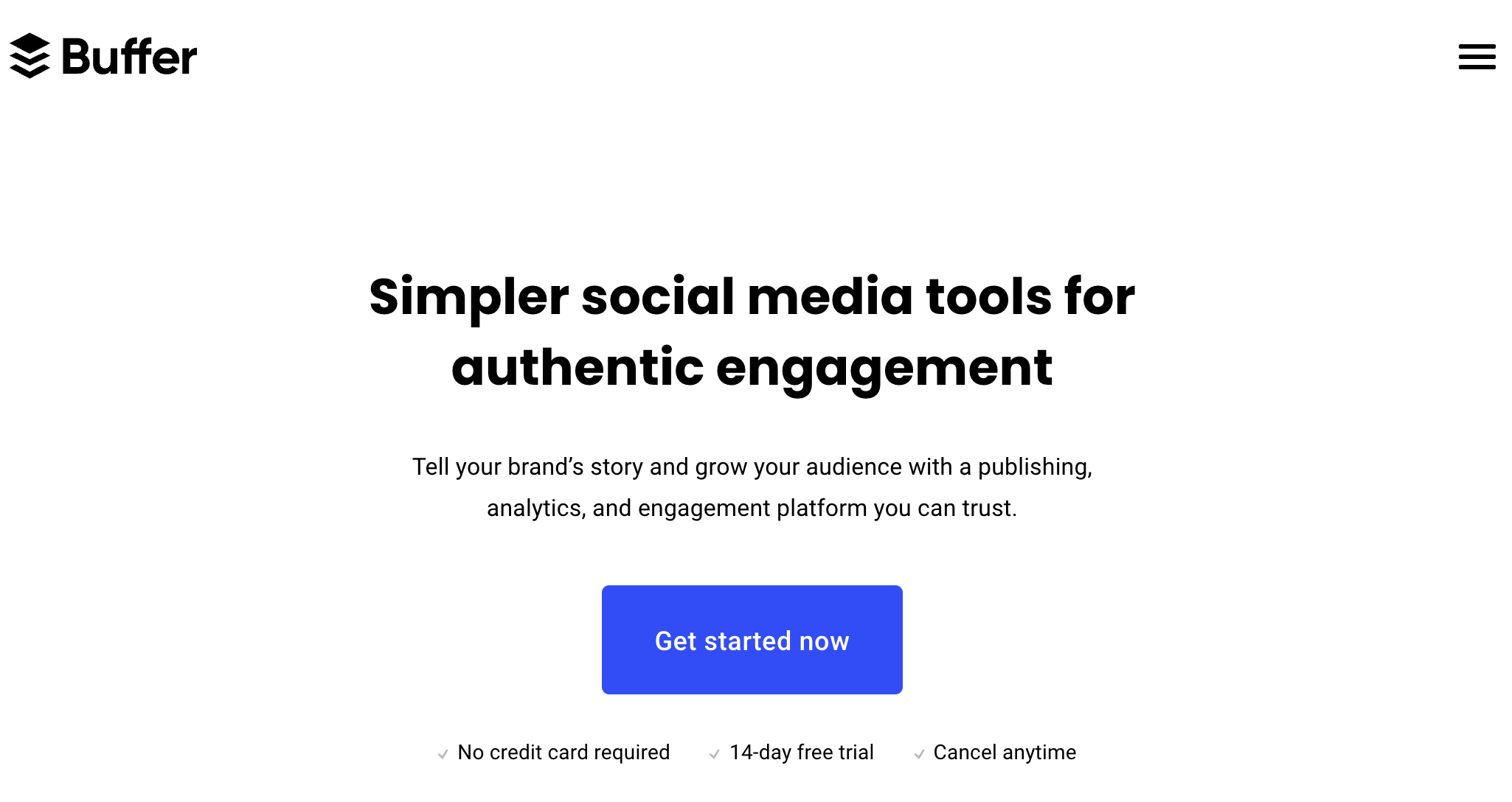 If you're getting started with social media, Buffer is a good choice. It offers a free plan that includes a landing page builder and basic publishing tools. For the ability to manage more than three Facebook pages, unlimited scheduled posts, and loads more functionality, you'll need to sign up for its paid plan. Considering that it's only $6 per month per social channel, it's still one of the most cost-effective tools that you can use for Facebook marketing.
With Buffer, you can plan, schedule, and publish your content on Facebook and all the other major social networks via one intuitive dashboard. It also offers social media analytics that you can use to evaluate what works so that you can ultimately improve your content and messaging.
Key features include:
Approval workflow tools

Important comment detection

Custom reports

Calendar view
---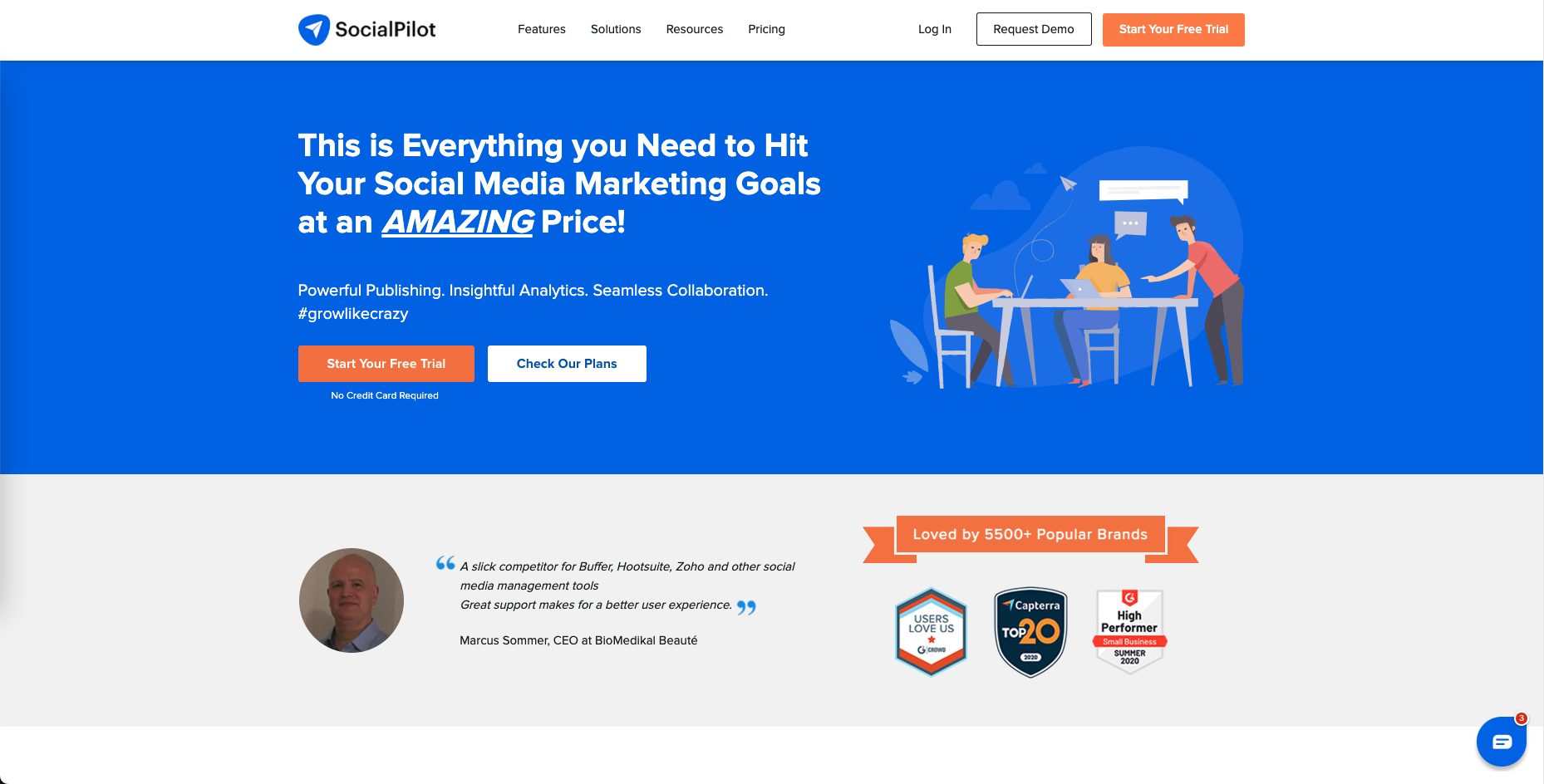 If you're specifically searching for a tool to help you with Facebook Ads management, be sure to check out SocialPilot. You can use it to publish Facebook posts and boost them via one place. To optimize your ad management, you can also schedule boost posts in advance. You can also refine your audience group with the help of precise filters so that your post will reach the right crowd.
Then, for accurate insight into how your ads performed, it offers insightful analytics. This will help you to optimize your ad budget so that you maximize conversions.
Pricing starts at $50 per month.
Key features include:
Complete control over ad parameters

Facebook lead ads

Audience targeting
---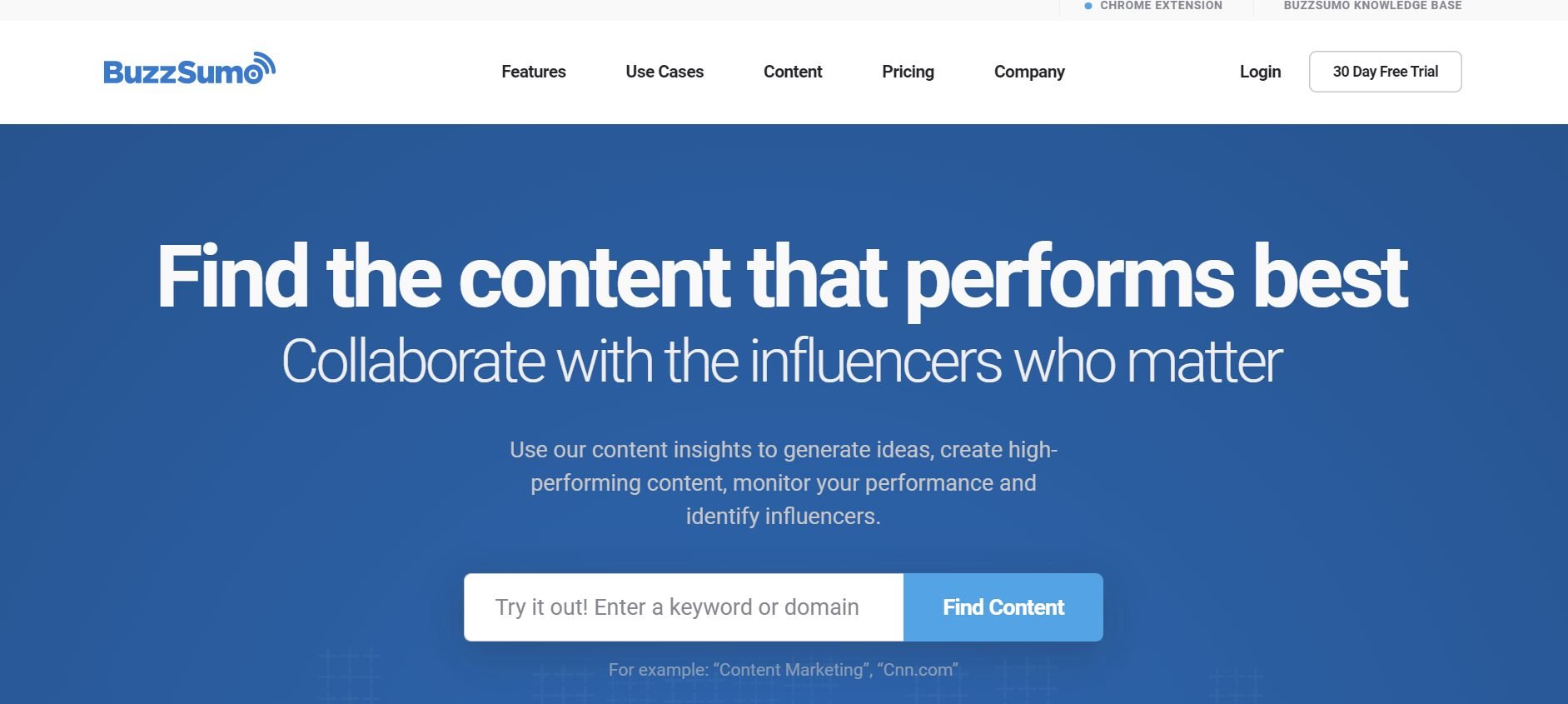 BuzzSumo is one of the best social media management tools that can help you to give your online influence a boost. It's especially useful for content marketing as it can help you to identify topic ideas for your Facebook posts. Some of its other useful features include tracking of links, monitoring of brand mentions, influencer searches, and competitor intelligence.
Pricing starts at $99 per month, but they also offer a Free plan.
---
Sweepstakes and contests remain some of the most effective ways to generate more leads, grow your email subscriber list, and boost engagement. To help you with this, you can check out Heyo. It's trusted by brands like Jeep and TripAdvisor and can be used to create sweepstakes, photo contests, video contests, quizzes, polls, and coupons.
After a free 7-day trial, pricing starts at $45 per month. However, if you opt to be billed monthly you can save almost 50%.
---
Pagemodo's goal is simple: they want to make social media simple for small businesses. While they offer cutting-edge social marketing tools, users don't need any tech skills or a huge budget, for that matter, to use it. Whether you just want to design Facebook cover photos or run a contest, it offers a wide range of services to help with Facebook marketing.
Pricing starts at only $9 per month making it a great choice for startups.
Key features include:
Facebook Ad scheduling

All-in-one dashboard

Professional templates

Actionable analytics
---

The Qwaya team is specialists in Facebook marketing. Their goal is to create an advanced tool for social media marketing that's intuitive and affordable (that said, pricing starts at $149 per month, so the jury is still out on whether they've succeeded in that department).
According to them, some of their most appreciated features are the templates, URL builder, and ad rotation. For example, with the ad rotation you can decide what ad variation should run. Other key features include split testing, a campaign organizer, Google analytics tagging, and an ad scheduler.
---
Likealyzer is one of the top free marketing tools and if you don't have anything to spend on Facebook tools, this will be a good start. It's pretty straightforward. You type in your Facebook page and it will measure the effectiveness and potential of your Facebook page and offer you relevant feedback regarding where you can make changes.
You'll also get daily updated statistics for your Facebook business page or other relevant pages. This way you can compare your page to your competitors' pages.
---
For Facebook analytics and monitoring, you can check out Fanpage Karma. It's an online tool that helps social media managers and agencies to improve their engagement with followers. Trusted by big name brands like Honda, Ogilvy, and BMW, it shares insights into the performance of your profile and posting strategies.
In addition to measuring your own performance, you can also use it to keep track of what your competitors are up to. For example, it can send you immediate alerts whenever your competitors post something.
If you're only interested in analytics, it offers a Free plan. For access to its other features, like community management and editorial planning, you'll need to sign up for one of its paid plans that starts at $69 per month when billed monthly.
Key features include:
Reporting

One inbox for comments, DMs, user posts, and mentions

Social listening

Trend explorer
---
Trusted by names like HubSpot, Teespring, and Microsoft, AdEspresso is one of the top digital marketing tools, specifically for PPC marketing. With the help of AdEspresso's split testing and optimization features, you can attract the right audience for your PPC ad campaigns. You can create all your campaigns conveniently in one place and then when the time comes to analyze the performance, actionable insights will be ready in PDF format.
If you need more hands-on help, you can sign up for its Enterprise plan (starting from $259 per month) which includes a dedicated Facebook and Google Ads marketing consultant. Otherwise, there's a pricing plan available for as little as $49 per month.
Key features include:
A/B testing

Grid composer

Automatic page post promotion

Asset manager

PDF reporting
---
If you're searching for URL shorteners, be sure to check out Rebrandly. With its link management platform, you can brand, track, and share short links. As it allows you to use a custom domain name, it's great for improving brand visibility as you can include your brand name in every link that you share. You can also create links with emojis!
Its pricing starts at $29 per month, but it also offers a Free plan for individuals who need fewer than 5,000 clicks tracked.
Key features:
Detailed click stats

QR codes

Bulk link creation
---

For Facebook templates, Canva is the only tool you'll need. There's a reason why it's such a popular tool. It offers a huge selection of free Facebook post templates that you can tweak to match your branding. It also includes Facebook cover templates that you can use to create collages, designer-made Facebook ad templates, Facebook story templates, and Facebook event covers.
There are more than 1 million images and several color schemes and font combinations, if design is not your strong suit. Plus, it also offers a very useful brand kit feature that ensures that your branding is applied consistently across all posts and platforms.
While it does have a Free plan, signing up for its Pro plan that includes the brand kit is highly recommended. For only $120 per year (or $13 per month), you'll be able to create as many as 100 brand kits and access to even more templates, stock photos, videos, and graphics.
---
When you think of Facebook marketing, a grammar checker is probably not the first tool that comes to mind. However, proper grammar and correct spelling are key to getting your message across correctly. Plus, language errors can really hurt the image of your brand.
What makes Grammarly such a useful tool is that with its writing app, you can check your language usage in real time as you type. Not only will it check grammar, punctuation, and spelling, but also your word choice and tone. Needless to say, the tone you use is critical when responding to Facebook comments. It will help to ensure that your followers react the way that you intended, while helping you to build better relationships with your audience.
It has a Free plan that offers basic writing suggestions, but this doesn't include tone suggestions which can be really useful for marketing. Considering that its Premium plan that includes this feature costs only $12 per month, it makes more sense to sign up for this plan. In fact, its Business plan is only $0.50 more expensive and includes a style guide feature which can come in handy if you're working as part of a bigger marketing team.
---
Facebook also has its own ads manager tool that you can use to create and manage your Facebook ads. Using a step-by-step process, you can create an ad, select the marketing goal, users you want to reach and the format. It also offers accurate data about your ads' performance and lets you zoom in on the metrics that are most important to you.
---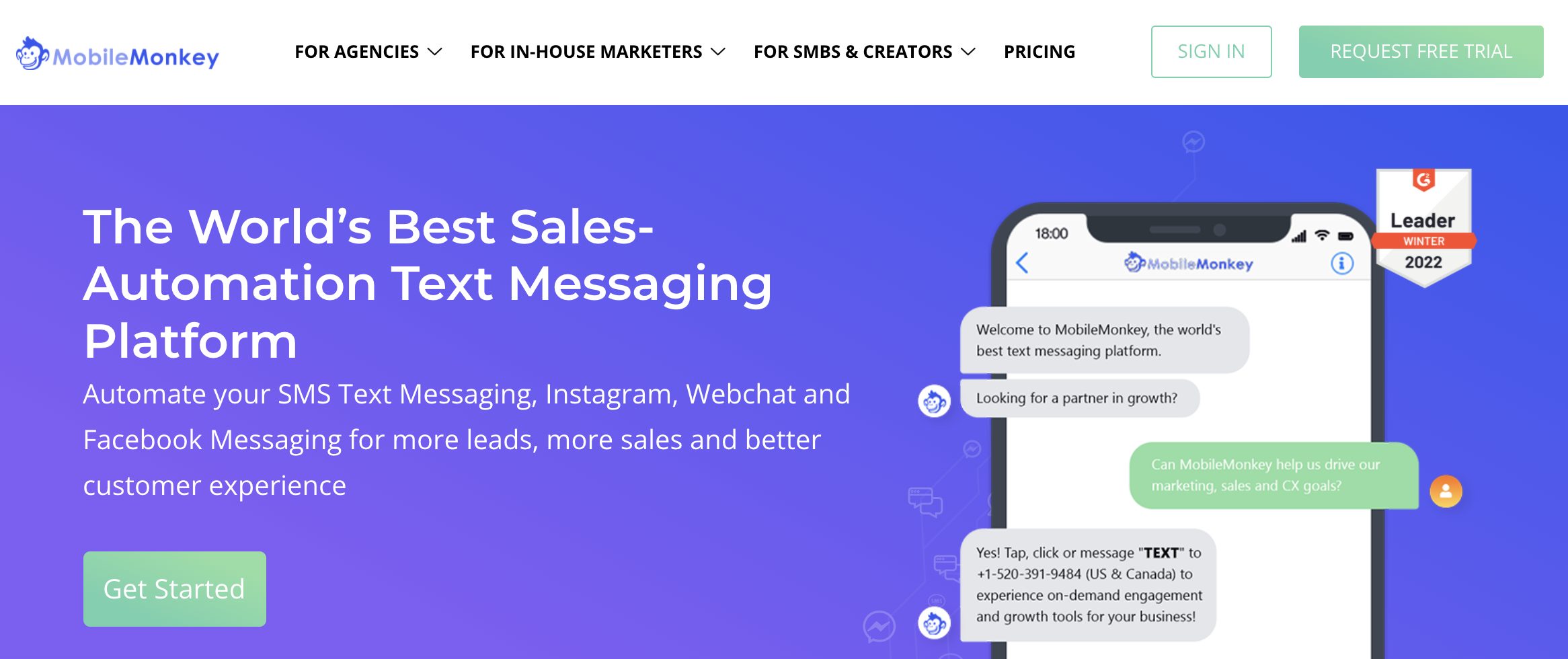 If you're searching for a tool that can help you to automate your Facebook messaging, be sure to check out MobileMonkey. You can use it to build a free chatbot in a matter of minutes. Alternatively, you can simply use one of the templates that they've created for their users. All you need to do is to drag and drop the different elements into place.
It also offers a chat blasting tool that you can use to send mass messages via Facebook Messenger to segments of your audience or even your whole contact list. You can either send these messages right away or schedule them in advance.
It offers a host of other useful features specifically for Facebook marketing. These include click-to-messenger ad integration, an emoji keyboard, post autoresponder and loads more.
If you're serious about Facebook marketing, be sure to reach out to them for pricing info about their flexible plans.
---