Advertising Disclosure
Advertising disclosure:
Our partners compensate us. This may influence which products or services we review (also where and how those products appear on the site), this in no way affects our recommendations or the advice we offer. Our reviews are based on years of experience and countless hours of research. Our partners cannot pay us to guarantee favorable reviews of their products or services.
Having a comprehensive understanding of your audience's behavior and interaction with your brand is instrumental for marketing success in the modern age. Facebook is one of the world's leading social media platforms and is a prime conduit for businesses to connect with and understand their audience. 
This is primarily thanks to Facebook Analytics Tools, which allow marketing executives to formulate effective strategies. Most prominently, these Facebook tools for business are designed to measure, interpret, and visualize a broad range of metrics to formulate an effective, data-driven approach to marketing.
Facebook Analytics Tools brings a wealth of information from views, likes, engagement rates, shares, and audience demographics to Facebook ad performance. Through these Facebook metrics, brands gain the capability to dissect their audience, understanding the nuances of their interactions and engagement with shared content. This invaluable insight allows brands to tailor content strategies, refine targeting, maximize ad effectiveness, and ultimately improve ROI.
With that said, choosing the right tool can be a challenge. So that's why we're giving you the Top 10 Facebook Analytics Tools for marketers to gain complete insight into their Facebook campaigns.
---
Top Facebook Analytics Tools
Top
facebook analytics tools
2024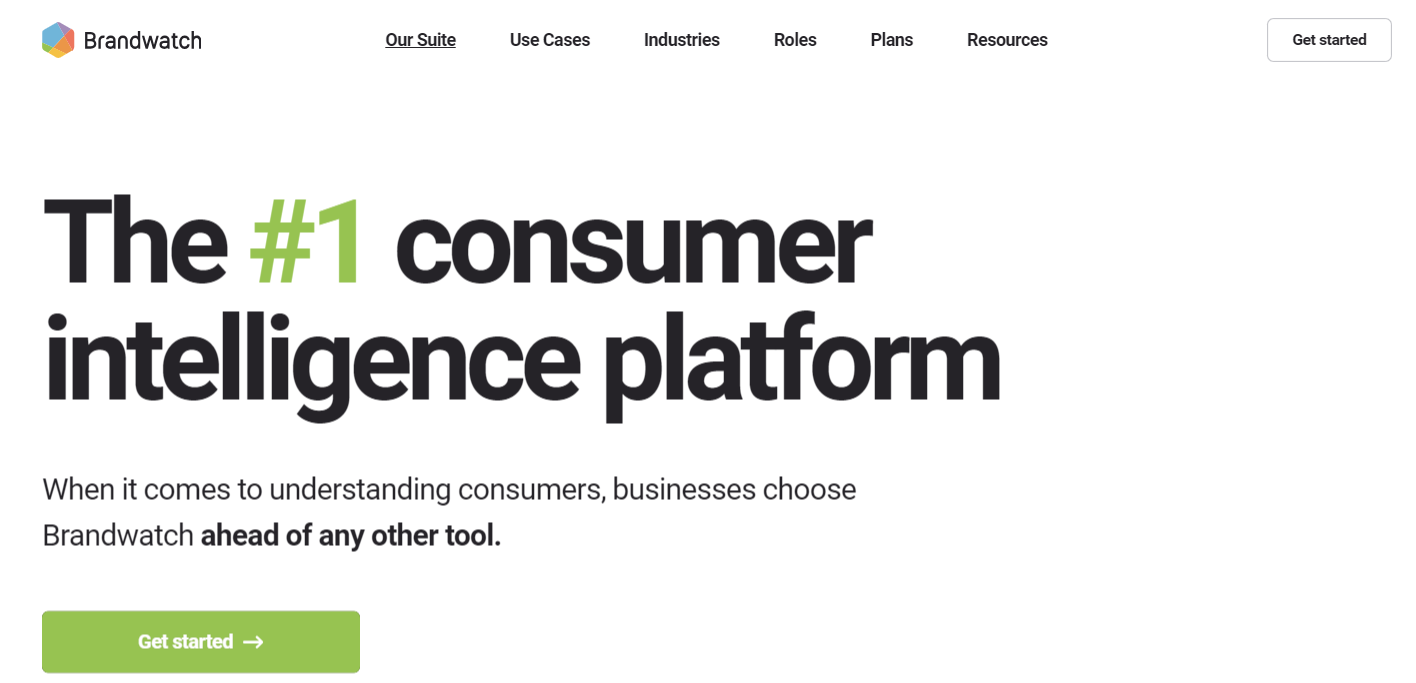 Ideal for: Insights from vast online sources and historical data
Brandwatch has etched its name as one of the key players in the digital analytics landscape with its "Consumer Research" offering. Renowned for gathering insights from a staggering 100 million online sites and an archival treasure of over 1.7 trillion historical posts, Brandwatch facilitates deep-dive monitoring of Facebook pages. This platform acts as a compass for marketing executives, guiding them through the labyrinth of online data and pointing out the posts and individuals that truly matter.
The Brandwatch platform comes with several notable inclusions. The tool offers detailed audience engagement metrics and the ability to streamline content management. With Brandwatch, brands can access real-time audience interactions on Facebook, and their Social Media Management tool provides a year's worth of historical data. Brandwatch also allows brands to optimize Facebook ad campaigns and delivers comprehensive performance metrics of Facebook content."
Key Features:
Enables users to gauge popular subjects and overall sentiment around their brand quickly.
Understand which posts and individuals drive conversations and influence their brand's perception.
With tags, categories, rules, and alerts, brands can filter through vast data, detecting crises or trends instantaneously.
An overview of performance across networks, real-time metrics, and customizable dashboards tailor-made for the marketing team's objectives.
Pricing: Specific pricing details are provided upon contacting Brandwatch directly.
---

Ideal for: Holistic social media performance monitoring and engagement analysis
Brand24 stands out as an all-in-one solution for brands aiming to have their fingers on the pulse of their social media presence. The platform's prowess isn't limited to just Facebook but encompasses a myriad of social platforms like Twitter, Instagram, and YouTube. By offering metrics like volume of mentions, sentiment analysis, and engagement statistics, Brand24 ensures businesses stay informed and ahead of conversations revolving around them.
A particularly noteworthy feature of Brand24 is its dedication to turning complex data into accessible, actionable insights. Their ability to analyze both social and non-social channels offers a robust understanding of reach and influence. Additionally, Brand24's ten-year track record in media monitoring demonstrates a commitment and expertise in the field. With options to export data in various formats and a reliable filtering system, users have all they need to hone in on the most valuable insights. 
Key Features:
A dedicated dashboard showcasing essential social media metrics, with the capability to delve deeper into each section.
Track the reach of profiles, posts, hashtags, and relevant content across platforms.
Stay informed about conversations involving brands and campaigns.
Detailed analytics showcasing likes, dislikes, comments, and shares of content.
Identify influential profiles and harness this for collaboration.
Pricing: Brand24 offers four plans and a free 14-day trial. The cheapest plan, the "Individual" plan, comes at $99/month.
---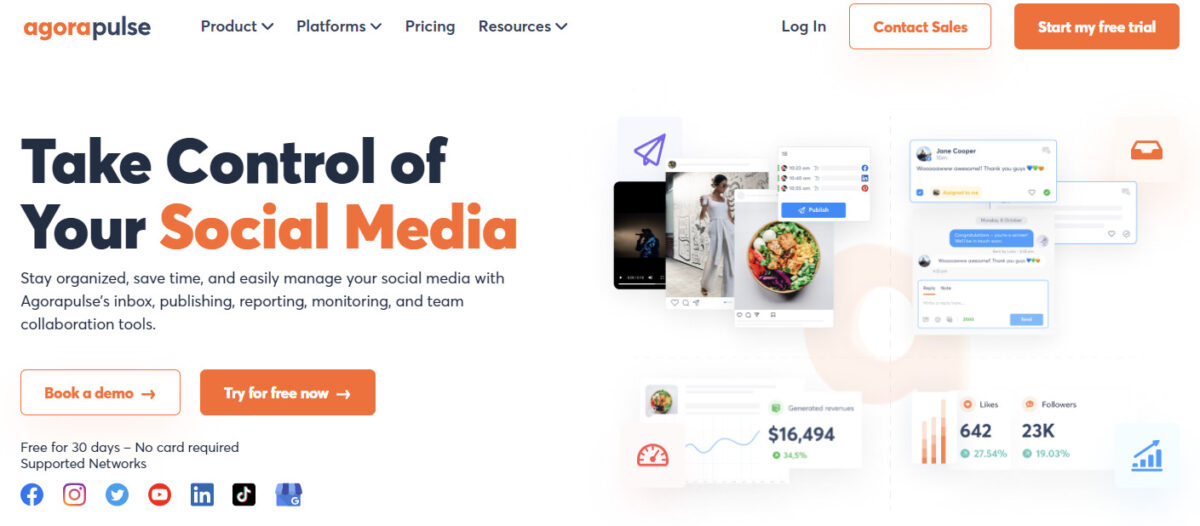 Ideal for: Proving and Showcasing Social Media ROI
Agorapulse thrives in its ability to measure the real business impact of social campaigns tangibly. This platform isn't about surface-level metrics; it's about proving ROI using stone-cold data, making it invaluable for businesses keen on correlating their social efforts with concrete results. Supported across multiple networks, including Facebook and Instagram, Agorapulse is especially appreciated for its seamless integration with Google Analytics, offering users a consolidated view of their performance.
Agorapulse gives users clear insights into their Facebook campaigns' impact. Users can refine their strategies by identifying top-performing content and trends. Moreover, the tool allows custom report creation tailored to each brand's specific needs. Lastly, Agorapulse offers a mobile app, allowing brands to access data on the go, and CSV exports enable deeper data analysis.
Key Features:
Insightful metrics showcasing sales, leads, and traffic from social campaigns.
Automated tracking.
Showcase of social media success through easy-to-read reports.
Pricing: Agorapulse offers three plans with the option to create a custom plan. Pricing begins with the "Standard" plan at $49/month.
---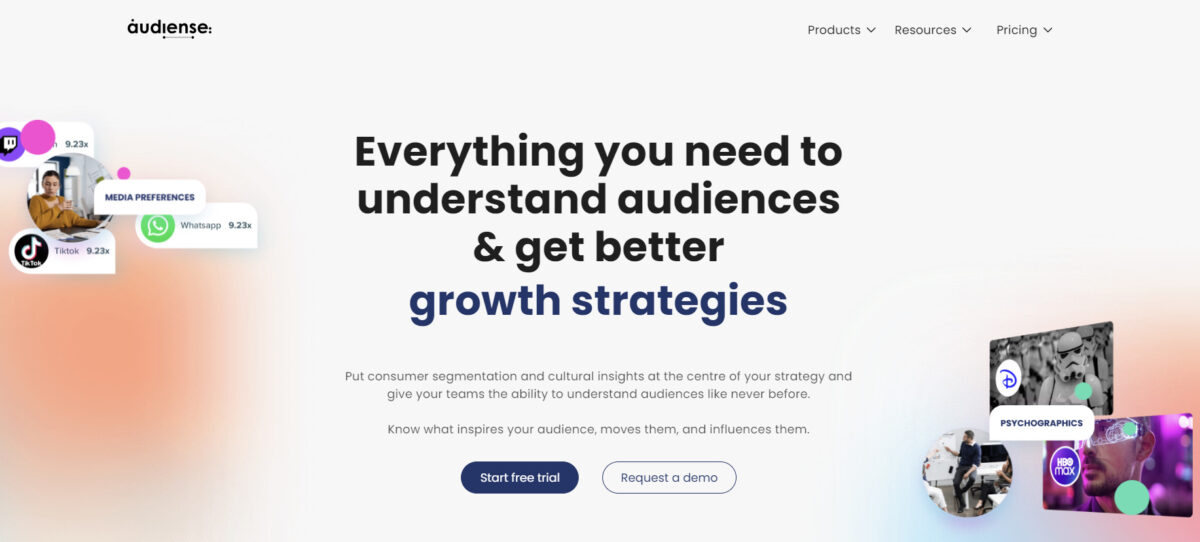 Ideal for: Harnessing Deep Audience Intelligence for Strategic Decision-Making
Audiense Insights is an advanced Facebook audience insights platform for data-driven creative decision-making. It facilitates audience segmentation based on several crucial social metrics, ensuring a departure from generic strategies. By leveraging machine learning, Audiense can instantly offer insights into who constitutes a brand's Facebook target audience. This level of granularity empowers businesses to craft strategies that genuinely resonate, ensuring communications are more personalized and impactful.
Audiense Insights also offers a sophisticated media categorization system, covering channels from Radio to Online Shows. Users can directly transition insights into actionable advertising criteria across platforms with the Targeting Pack. Additionally, seamless data export options, from PDF to XLS formats, allow easy integration with current marketing infrastructures and facilitate comprehensive stakeholder reporting.
Key Features:
Detailed insights on audience affinities, interests, and psychographics.
Identification of influential profiles aligned with the brand's target audience.
In-depth analysis of any audience segment, irrespective of its niche nature.
Pricing: The platform offers an "Audiense Insights" plan at $1199/month. Billed annually, however, saves you 50%. You will need to request a demo to learn more about their other plans.

Key Features: Search/Discovery, Audience Analysis, Social Listening, Competitor Research,
Channels: Instagram, Facebook, YouTube, TikTok
---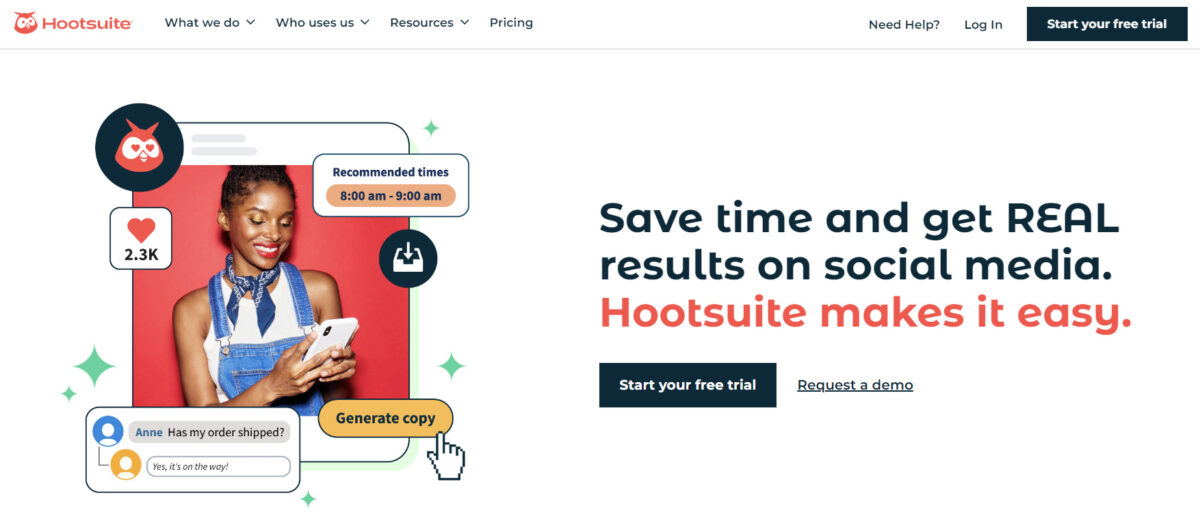 Ideal for: Comprehensive social analytics with customizable reporting
Hootsuite genuinely earns its reputation by offering a holistic view of Facebook social analytics. This tool not only lets brands monitor Facebook metrics but also ties together data from various platforms like Instagram, LinkedIn, and YouTube. The integration allows for an overarching view of social trends affecting brands. With customizable reports and an easy-to-use dashboard, brands can seamlessly share vital insights with team members.
Beyond just reporting, Hootsuite also gives personalized recommendations tailored to specific account goals, such as improving engagement or boosting brand awareness. The fan heatmap is a standout feature, providing a unique visual representation of when audiences are most active online.
Key Features:
Comprehensive tracking of Facebook metrics, including engagement rate, video views, reactions, and daily engaged users.
Personalized recommendations for optimal posting times.
Industry benchmarks to compare against competitors.
Pricing: Hootsuite offers three plans, with "Professional" at $99/month. The "Teams Plan" comes with a free 30-day trial, while you will need to request a demo for the "Enterprise Custom" plan.
---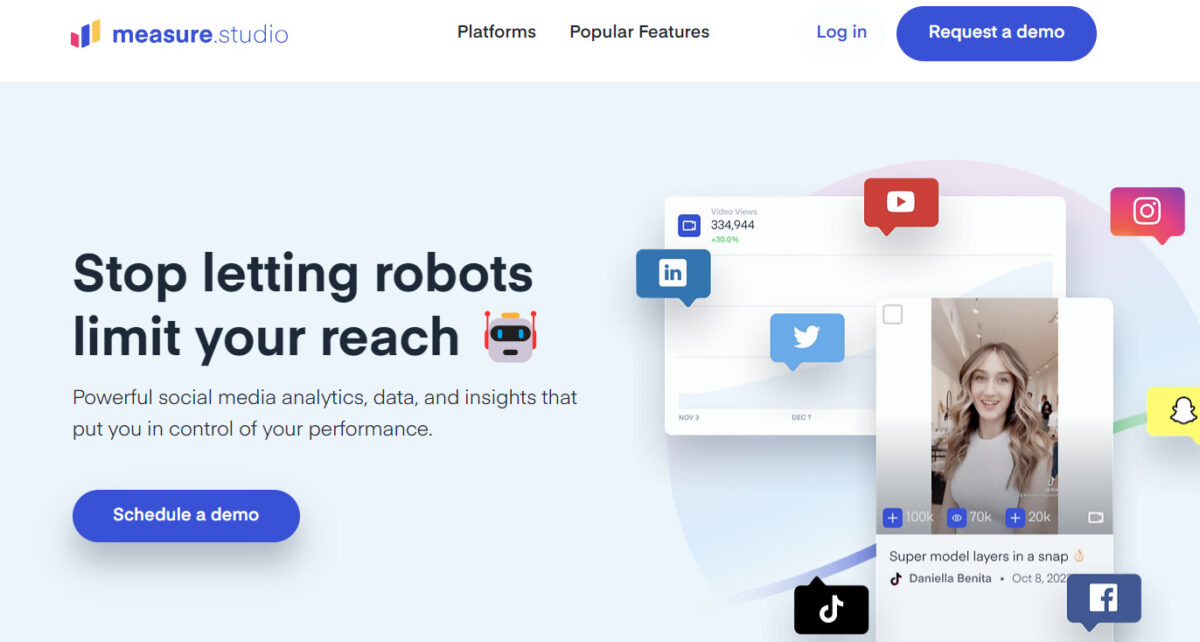 Measure Studio is a premier Facebook analytics and social monitoring platform tailored for strategic content decisions. Its Computer Vision capability delves deep into each Facebook post, deciphering popular entities, distinguishing locales, and identifying recurring motifs. Such intelligence equips businesses to refine content, ensuring relevancy and engagement.
Moreover, Measure Studio ensures streamlined data management across multiple Facebook accounts. Its integrated dashboard system amalgamates data from different accounts, presenting it in a structured format. This compact view eliminates the need to toggle between accounts, simplifying the analytics process
Highlight Features:
AI-based recognition of prevalent trends within Facebook posts.
Rapid conversion of Facebook analytics into detailed reports.
One-click transformation of Facebook data into customizable slides.
Automated benchmarks for every metric and post-type.
Pricing: Specific pricing is available upon requesting a demo.
---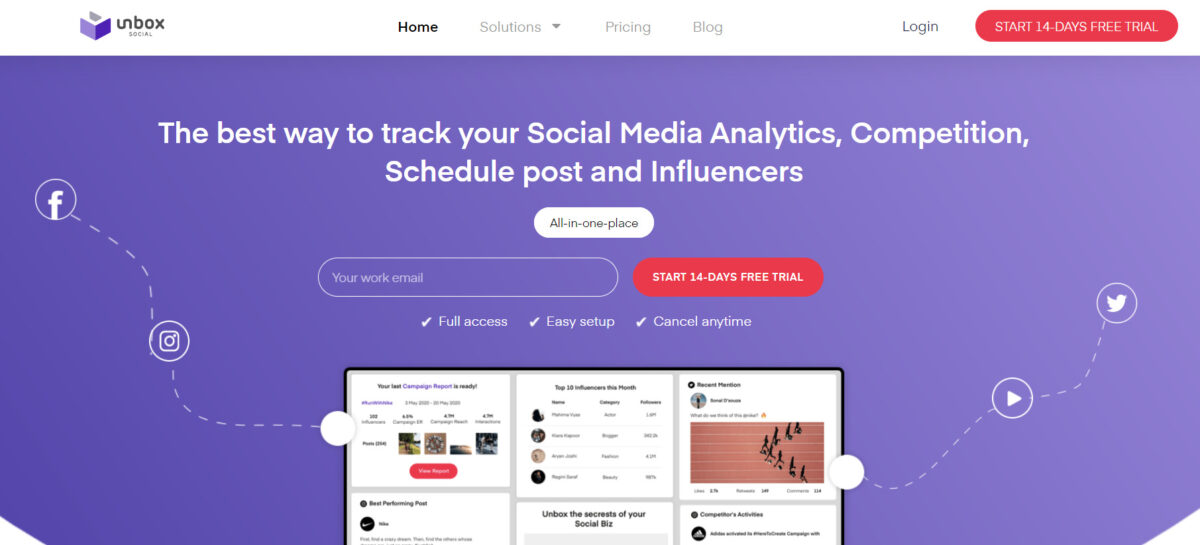 Ideal for: Harnessing detailed analytics for in-depth Facebook performance insights
Unboxsocial delves deep into the nuances of Facebook activity, turning every engagement and reaction into actionable data. With an advanced suite dedicated to Facebook analytics, it offers detailed insights into a brand's performance on various fronts, from audience behavior to competitive benchmarking.
This feature allows users to gauge their standing and derive insights from trends. Brands can also understand their industry niche and refine content strategies to align with audience preferences. This is largely thanks to Unboxsocial's "3 Cs" – Competition, Content, and Campaigns – core feature.
Key Features:
Comprehensive Post-Level Insights for evaluating engagement metrics.
Advanced audience analysis based on Fans, Reach, and Page Views.
Customizable reports, available in multiple formats such as PDF, Excel, and PPT.
Pricing: Unboxsocial offers four plans, all with the option of a free trial. The cheapest plan, "Unbox Starter," is $9/month.
---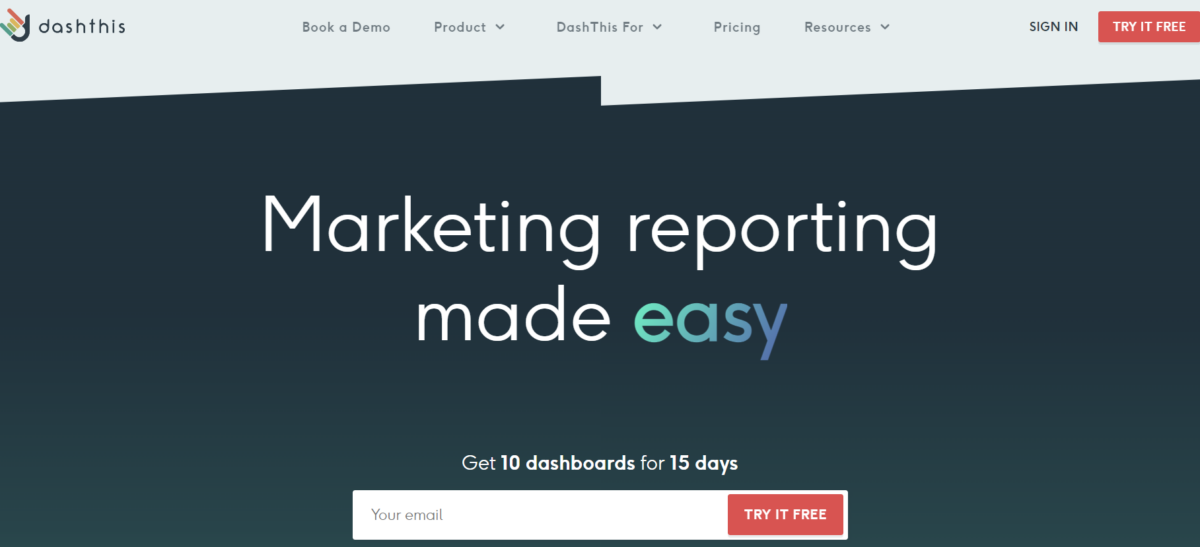 Ideal for: Automating comprehensive Facebook analytics and customizing reporting
With DashThis, the emphasis is on simplicity and automation. The platform integrates Facebook analytics data seamlessly into one cohesive report, eliminating the need for tedious manual entries and Excel spreadsheet management. Beyond mere analytics, DashThis promotes brand individuality, allowing users to personalize their dashboards to reflect their unique brand identity.
DashThis also offers insights from other digital marketing platforms, ensuring a holistic view of a brand's entire digital footprint. The convenience extends to its white-labeling feature, offering users a dashboard experience devoid of any DashThis branding, allowing for a fully immersive brand-centric reporting environment.
Key Features:
Automated data aggregation from Facebook and other marketing platforms.
Multi-platform integration, including proprietary data via CSV files.
Pre-built social media report template for streamlined setup and reporting.
 Pricing: DashThis offers four plans, billed monthly or yearly. The "Individual" plan comes at $45/month or $38/month billed annually. There's also the option to try each plan for free for 15 days.
---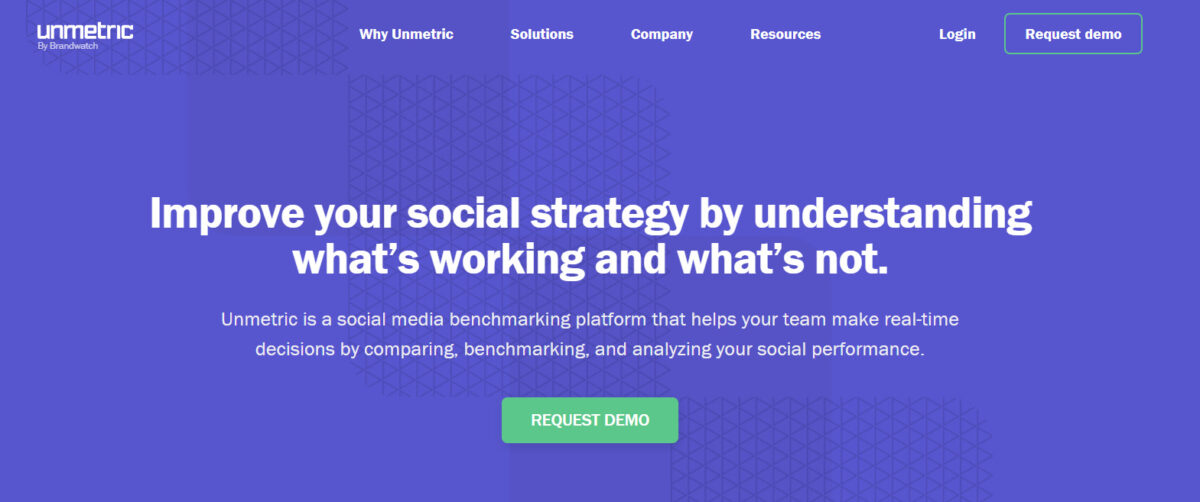 Ideal for: Gaining a competitive edge with in-depth insights on competitors' Facebook strategies
Now part of Brandwatch, Unmetric equips brands with AI-driven insights into competitors' Facebook tactics. By accessing an impressive database of 7 years of historical Facebook data from over 100,000 brands, Unmetric allows brands to refine their social media approach and provide an edge in understanding the strategies that resonate with their audience.
Streamlining social KPI reporting has never been simpler. With Unmetric, automated reports come right into an inbox, removing the usual tedious manual effort. Additionally, it offers an in-depth understanding of promoted posts and campaigns, ensuring brands remain ahead of their competitors.
Key Features:
Promoted post detection to understand competitor ad spend.
Campaign intelligence to track, measure, and compare campaign success.
Share of Voice analysis for understanding market contribution.
Discover content ideas.
Pricing: Unmetric doesn't specify its pricing. You will need to request a demo to learn more about their price.
---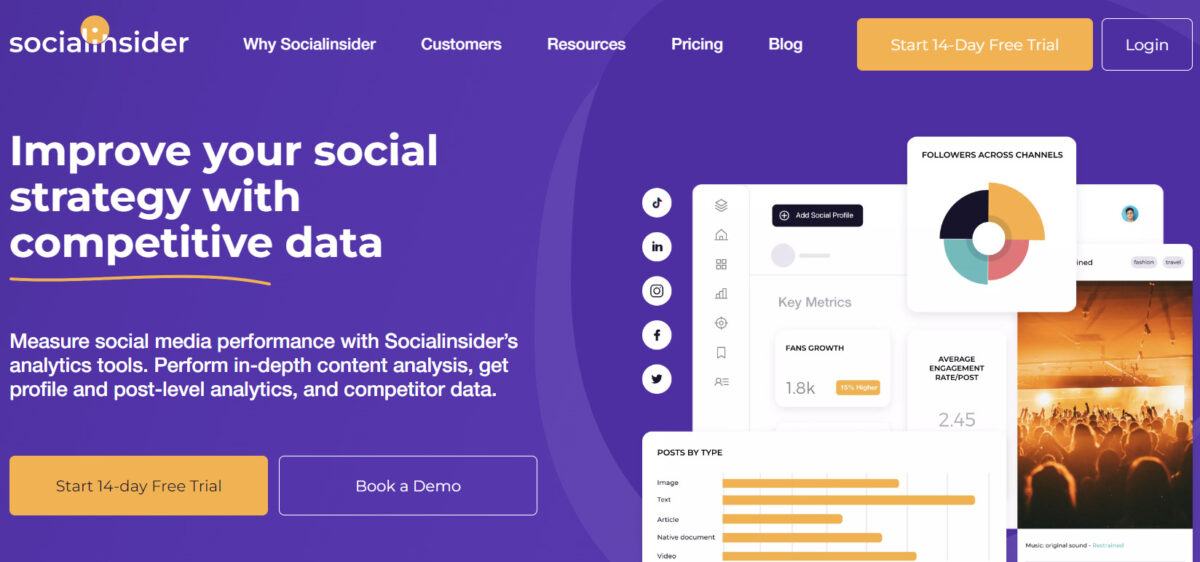 Socialinsider offers a robust suite of analytics capabilities tailored to Facebook, ensuring brands derive actionable insights from their content and campaigns. Drawing on the platform's extensive capabilities, brands can swiftly identify their top-performing posts, delve deep into metrics like reach, impressions, and video views, and, importantly, measure the return on their strategic efforts.
The platform's defining feature is its emphasis on context. Unlike mere data aggregators, Socialinsider presents data in relation to competitive benchmarks and industry trends, providing marketers with a comparative perspective essential for informed strategy formulation. Renowned brands such as Honda, Rolls-Royce, and Volvo leverage Socialinsider to craft compelling social media reports, a testament to the platform's efficacy.
Key Features:
Post-level performance analysis, compiled into easily readable reports.
Facebook ads analytics for metrics such as CPC, CPM, and CTR.
Video analytics available for Facebook Reels.
---
Factors to consider when looking for Facebook Analytics Tools
Various tools come with different features, capabilities, and levels of complexity. Choosing the right software to suit a brand's business needs requires carefully evaluating several factors.
Among the primary considerations is the feature set. The tool should offer a comprehensive suite of features that cover all data tracking and analyzing needs. It should provide easy access to key metrics such as audience engagement, demographic data, ad performance, and content effectiveness. It should also have robust reporting features, offering clear and detailed reports that provide meaningful insights at a glance.
Ease of use is another crucial factor. An intuitive user interface and straightforward controls are desirable, particularly for executives who may not have a technical background. It is also beneficial if the software integrates with other tools, allowing for seamless data transfer and synergistic analysis.
Lastly, customer support and ongoing updates are vital. A responsive customer support team can differentiate between temporary glitches and long-term problems. Regular software updates ensure brands remain abreast with Facebook's frequently changing algorithms and analytics practices.
---
Conclusion
Social Media Analytics Tools, including dedicated tools for Facebook Analytics, are an essential resource for businesses leveraging the Facebook platform. They provide a comprehensive view of user engagement, enabling businesses to effectively tailor their marketing strategies and improve ROI. By integrating data from various touchpoints, they allowed a deeper understanding of the customer journey. However, staying updated on the latest tools and functionalities provided by Facebook and other platforms is always important, as the digital marketing landscape is constantly evolving.
Frequently Asked Questions
Do these tools only analyze Facebook, or can they track other social media platforms?
While the focus here is on Facebook, many tools also provide analytics for other platforms, such as Instagram, Twitter, and LinkedIn. Having a unified dashboard for all social media metrics is beneficial.
Can I automate reporting with these tools?
Yes, many of these tools offer automated reporting features, ensuring brands receive timely updates without manual intervention making it easier to present findings to stakeholders.
How secure are these Facebook Analytics Tools?
Most reputable Facebook Analytics Tools prioritize user data security. They typically employ encryption, secure data storage, and strict privacy policies to protect data. Always check the tool's security features and reviews before committing.
How do these tools differ from Facebook's built-in analytics?
While Facebook offers its native insights tool, third-party analytics tools often provide a more comprehensive view, additional metrics, competitor analysis, and integration with other platforms, giving brands a more holistic performance overview.
How frequently do these tools update the analytics data?
Most tools provide real-time or daily updates, ensuring brands have the latest data to make informed decisions. However, the frequency can vary, so it's essential to check each tool's specifications.