Creating winning Facebook ads requires a fair amount of testing to figure out what works best with your audience. And when it comes to writing copy and incorporating the right image or video, having an idea of what your ad will look like matters. You need to ensure that your ads are as aesthetically pleasing as they are captivating and effective.
In this blog post, we're looking at six Facebook ad preview tools. We set out to see if they offer any unique benefit in comparison to Facebook's native ad preview feature. But before we get started, Facebook offers more than one type of ad. These ad types offer different forms of placement and design option. To understand how your ad type influences your choice tools, let's recap the types of ads that you can create in Facebook.
---
A Look at 7 Facebook Ad Preview Tools:
---
Facebook Ad Formats
Facebook offers 13 types of ads. These are:
Video
Video can be used to showcase products, features, and include graphics and effects to boost engagement.
Image
Image ads are a great way to catch the eye of Facebook users and send them to a landing page or app.
Collection
Collection ads are perfect for shopping ad campaigns. They include multiple products that can be customised for each user.
Carousel
Carousel ads offer advertisers the chance to showcase up to 10 images of videos. Each asset can be accompanied by a link to a landing page or app.
Slideshow
Slideshows offer a more immersive experience than static images. You can include motion, sound and text to create a story about your brand, products or cause. Given their composition, they render well for users with low internet connection speed, ensuring that your ad reaches the widest audience.
Instant Experience
Instant Experience is one of the more engaging ad options from Facebook. When clicked on, users experience a full-screen takeover. Advertisers can use Instant Experience ad formats with single image, video, carousel, slideshow and collection ad formats.
Lead generation ads
Lead ads work on Facebook and Instagram. They make it possible to help you collect contact information from prospects interested in your business, products or services. Lead ads can include an image or video.
Offers
Offers are discounts. These can be made available with Facebook audiences and can appear as an image, video or carousel.
Post Engagement
Post engagement can be driven by boosting organic posts. As a smart rule of thumb, only boost a post that has proven to create a certain amount of engagement. Organic success proves that your post has the potential to reach more people if you put money behind it.
Event responses
Event response ads are designed to create awareness for an event. They also help drive responses from people, and these often show up in the feeds of friends, helping create as much of a viral effect as possible for an event. Event response ads can include an image or video.
Page likes
Page likes ads are just that, ads designed to generate more page like for a brand. These can include a video or an image and must be masked to a ratio of 1.91:1.
Stories
Stories have likely become the most immersive form of advertising on Facebook today. Research shows that there are 150 million Facebook Stories users. On mobile, Stories take over the entire screen, making for a more focused and hard-to-miss branding and marketing opportunity. These can include images and video.
Messenger
Messenger ads have taken the ad world by storm. With over 70 million users, it's a low-hanging fruit for brands to engage prospects. Ads can be served using bots to drive sales.
---
Facebook Ad Preview Tools
Here's a rundown of six Facebook ad preview tools we found.
The Facebook Ads Mockup Generator by Influencer Marketing Hub is one of the more elegant and easy to use tools out there even if we have to say so ourselves. What's more, it's totally free to use. Give it a try!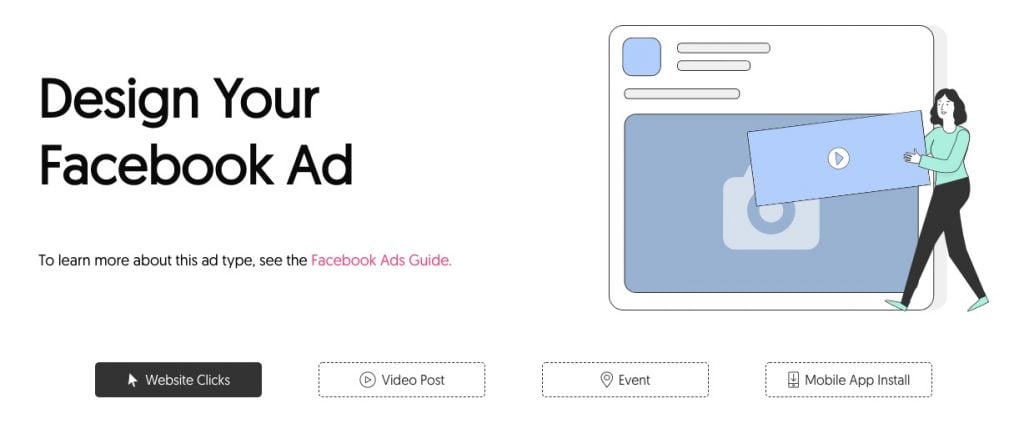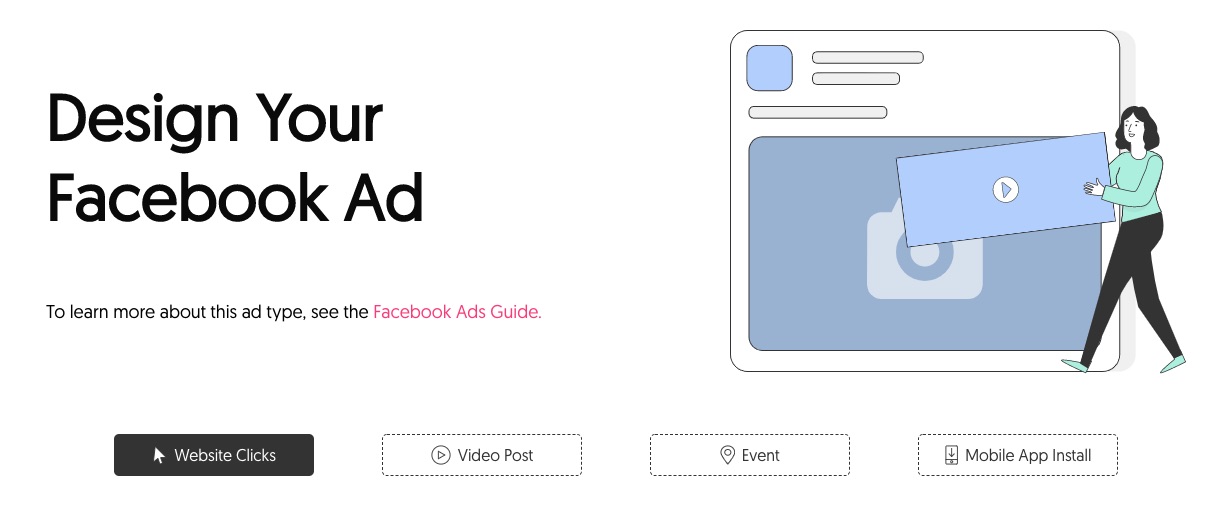 ---
2. Facebook Ad Preview
First on our list is Facebook's native ad preview tool. It's accessible through ad manager and relatively straightforward to use. While it may take longer to get to a preview, you'll be able to see exactly what your ad will look like.
Once you've selected the type of ad you'd like to create, added text, an image or video, Facebook will generate a preview in the right-hand panel of your screen. In it, you'll see copy, visuals and any call to action (button) you've selected. Facebook also offers image recommendations and a link to guidelines for the ad format of your choice.
Messenger Ads
Facebook has seven ad placement options and each will show your ad a little differently. One ad type we'd like to draw your attention to is Messenger ads. If you haven't given Facebook Messenger ads a go yet, you need to in 2020. According to Facebook, 1.3 billion people use Messenger each month. They also estimate that over 78% of smartphone users use messenger each month. Messenger ads can also appear on Facebook and Instagram feeds. That's a large captive audience you can engage.
When creating your Messenger ad, you'll also have the change to choose from Carousel, Single Image, Single Video and Slideshow options.
A note on Messenger ad types and audiences: if you select "Sponsored Message" from the ad type section while setting up your ad, it will only be available to people who have engaged your brand on Messenger. Selecting "Click to Messenger" makes your ad available to anyone and be based on behaviour, interest or even custom audience criteria. If in doubt, opt for "Click to Messenger" ad types for the greatest reach.
Like Facebook's standard ad preview feature, previewing ads also include text, your image or video of choice, a link to a destination and the option to select a button as a call to action. Where Messenger differs is with the Messenger Setup. It allows you to create conversations by adding text using standard or custom templates. Facebook also offers a preview of your conversation text as you build it out.
---


Klickwunder's Facebook ads preview tool is one of the more elegant tools to make our list. It offers users website click, mobile app install, desktop app installs, video post, status post and photo post preview options.
Other features include:
Image, video and carousel ad formats

Previews for news feeds, right-hand side and mobile placements

Advertiser information, (logo and name),

Text, images, videos

Call to action copy for buttons

Links for your headline, description and caption (with character limit count)

Reactions with a reaction count

Page shares and comments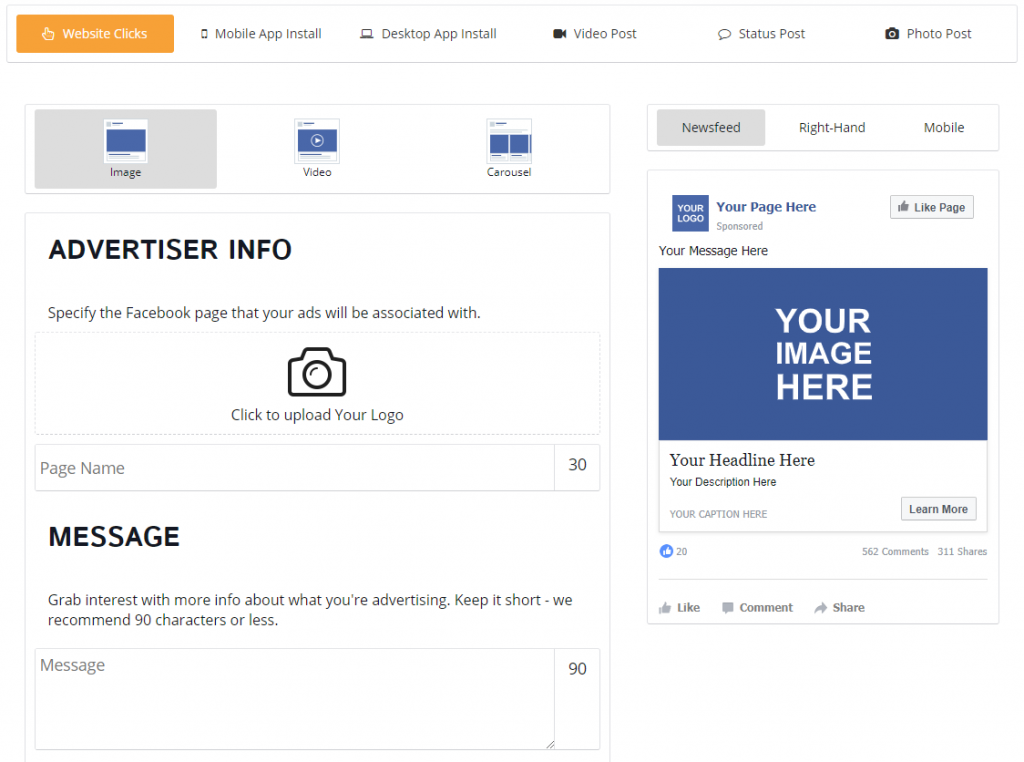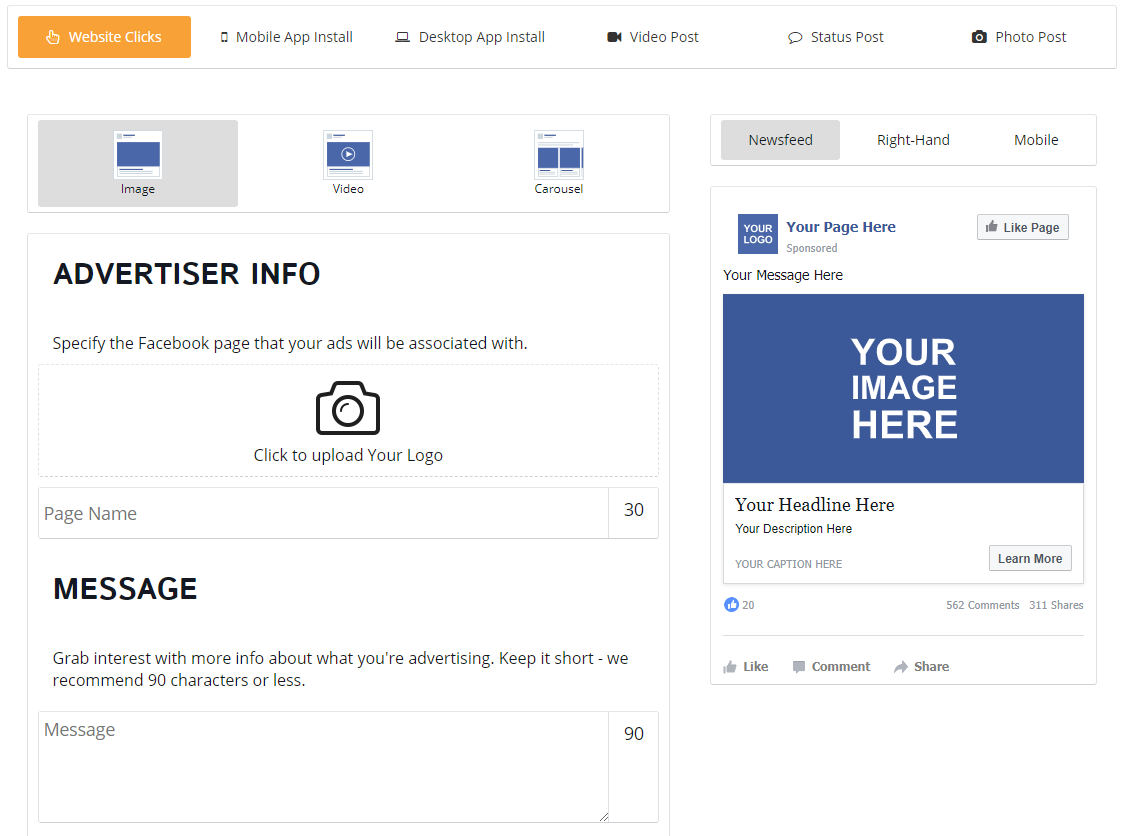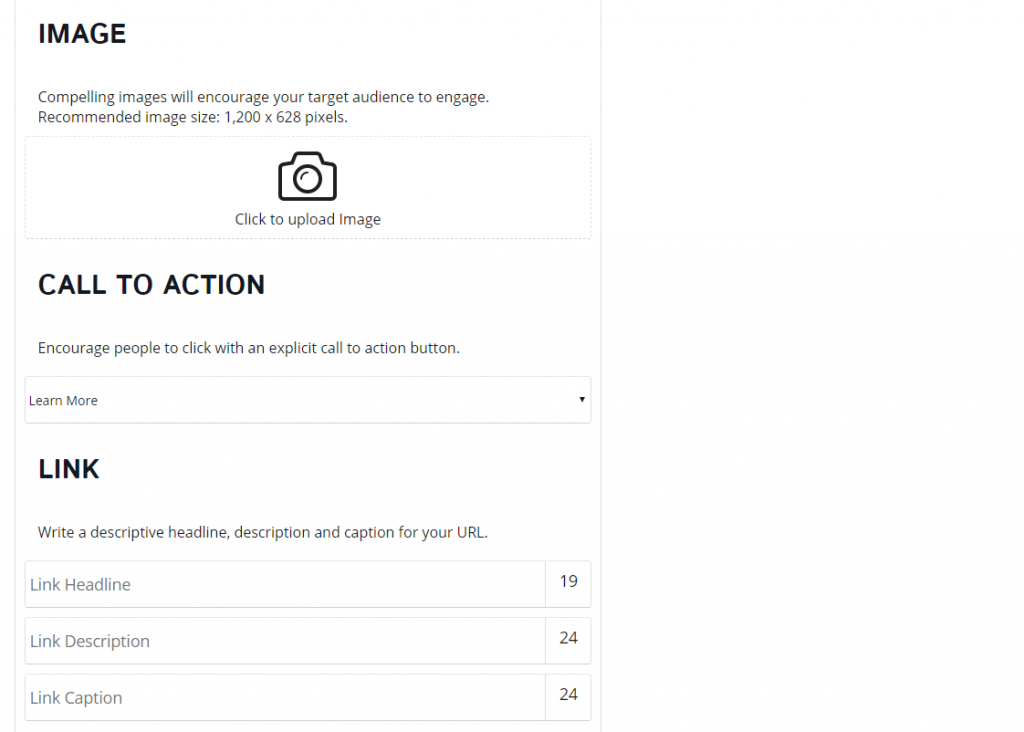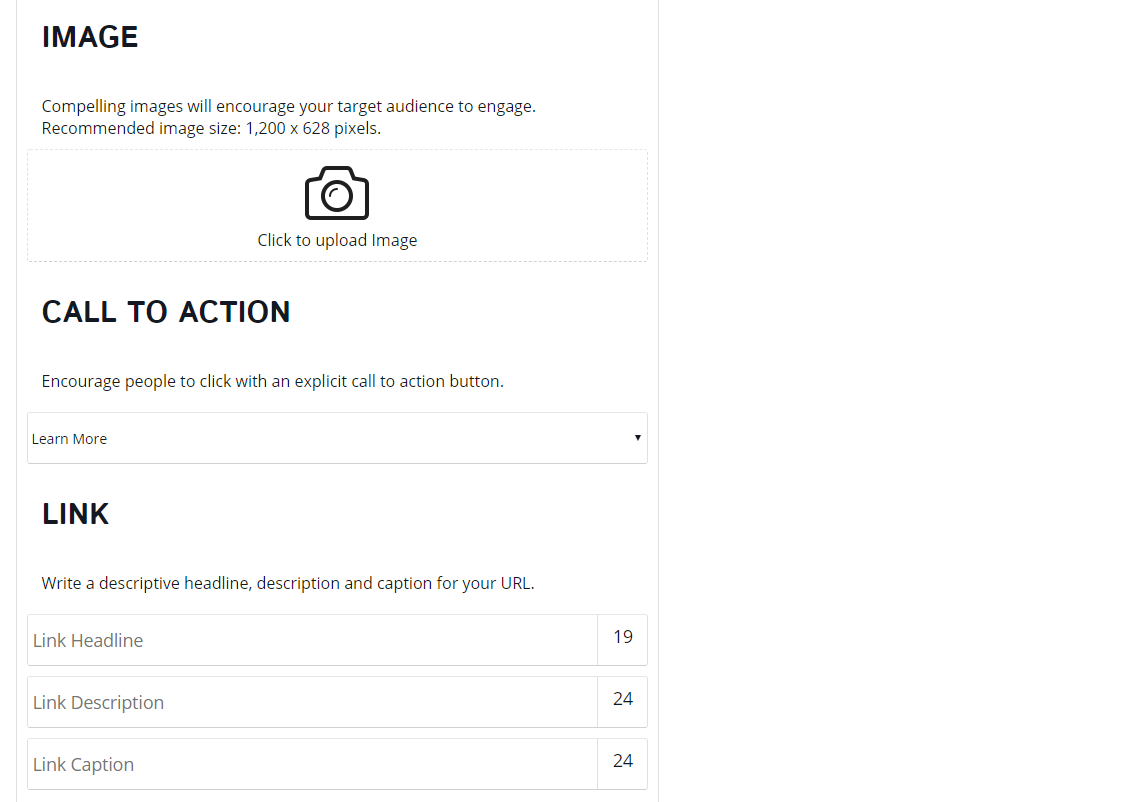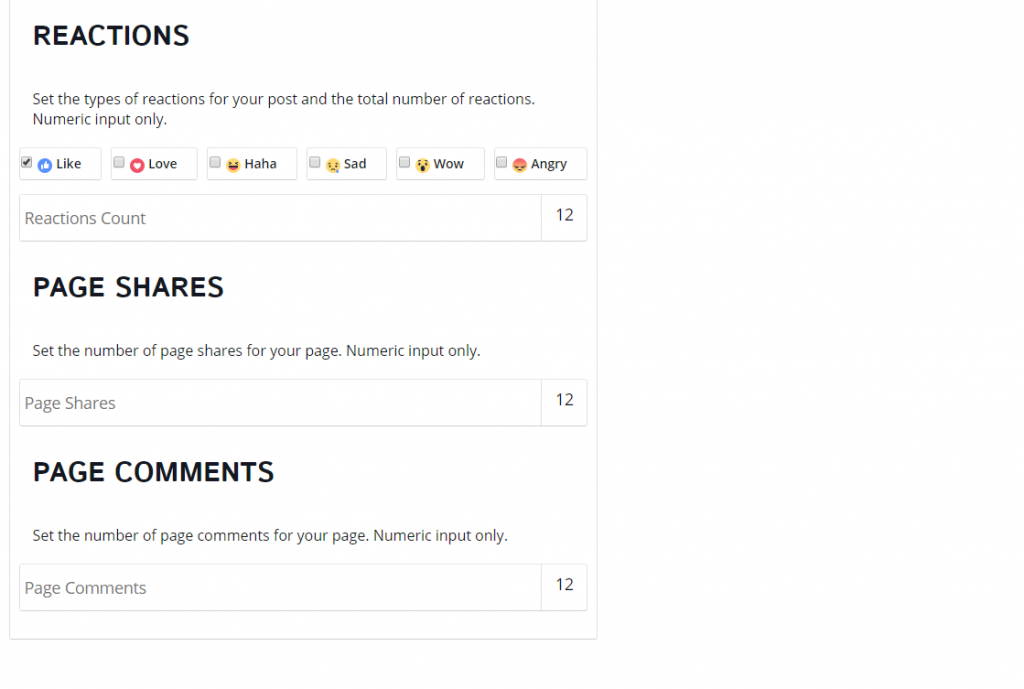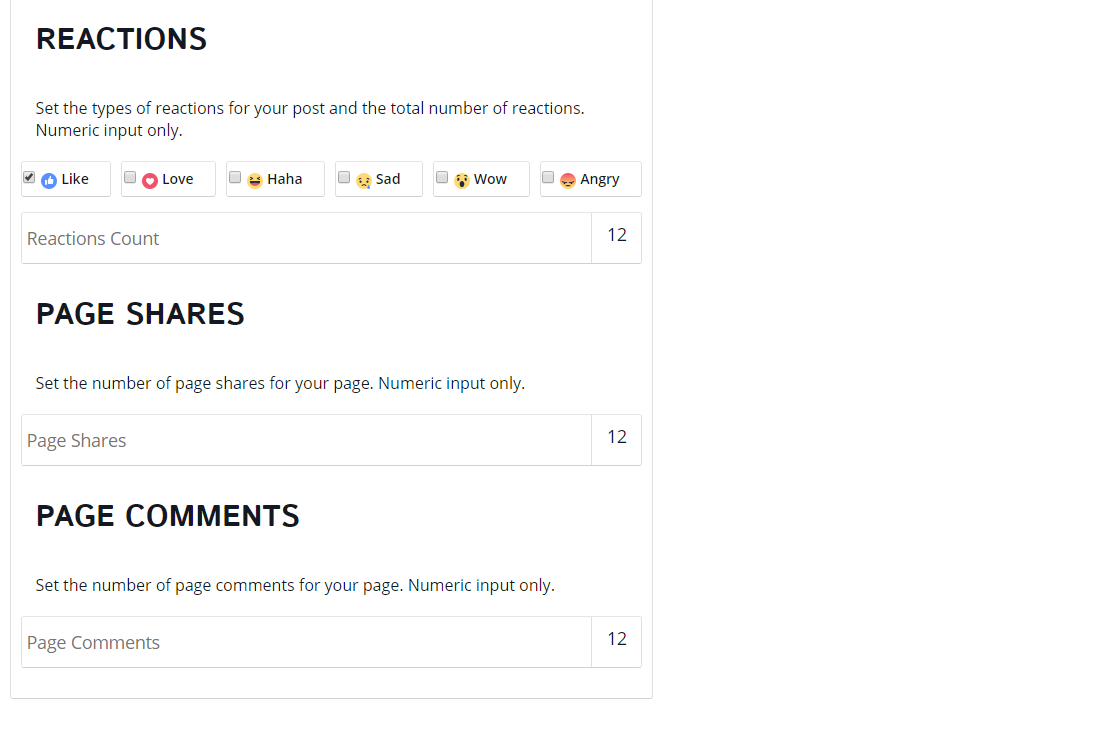 Altogether, Klickwunder offers one of the more user-friendly and visually appealing preview tools. Additions like page comments, share and reactions help advertisers get a good feel for what an ad will look like when published.
Cost: Free
---
Smart1 Ads is a marketing and advertising agency. To help clients get a sneak peek at ad design, they developed a Facebook ad preview tool. While not as sophisticated as Facebook's native application, it allows you to view ads in three different formats. These are desktop news feed, desktop right-hand side and mobile newsstand. It's easy to see that Smart1 Ads has catered to a market of users who only want to view three ad placement options without having to move through the entire ad creation process in Facebook's Ad Manager.
To get started, enter your page name, upload your page profile image, enter text and select a post image. You also have the option of including a social user's name to make the preview look a little more authentic.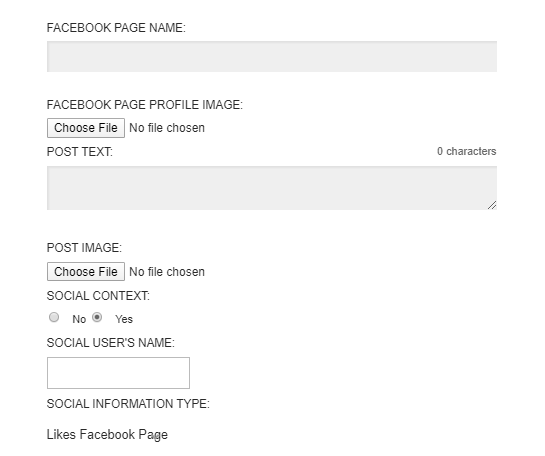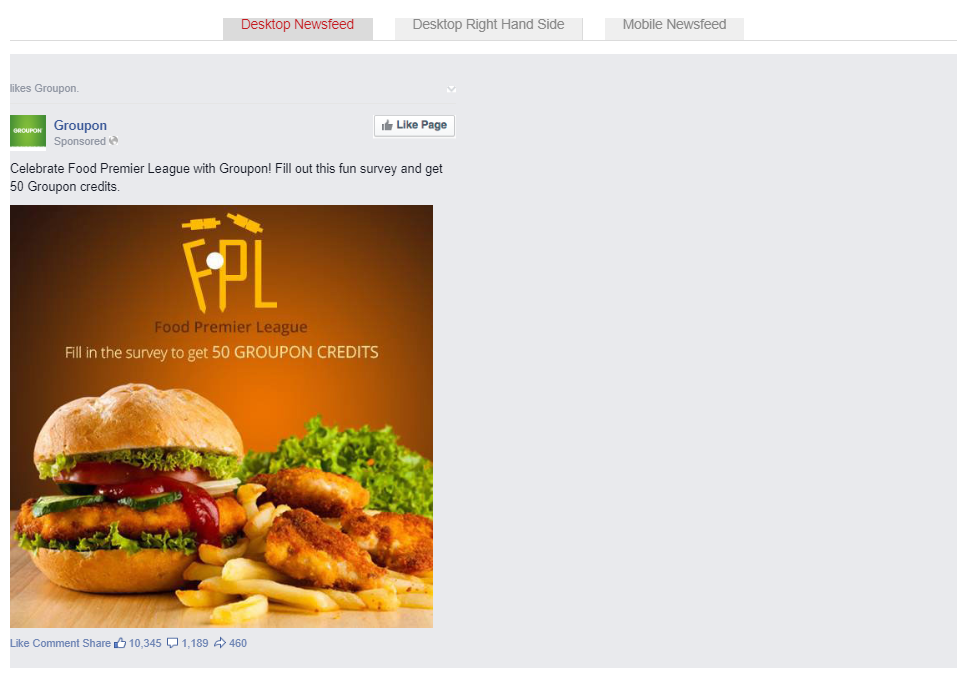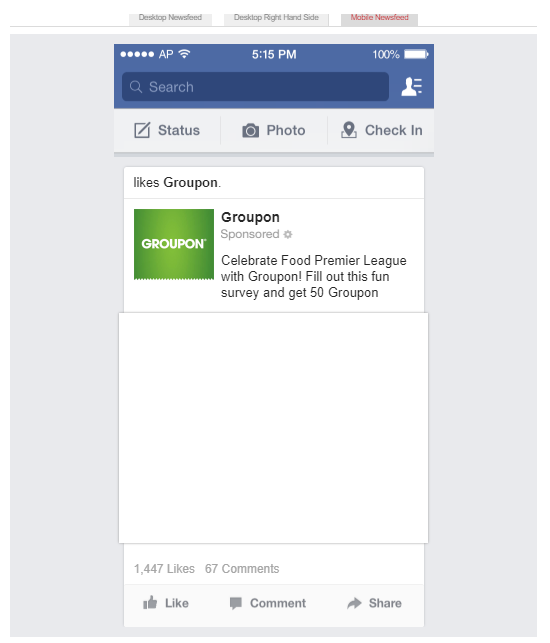 Cost: Free
---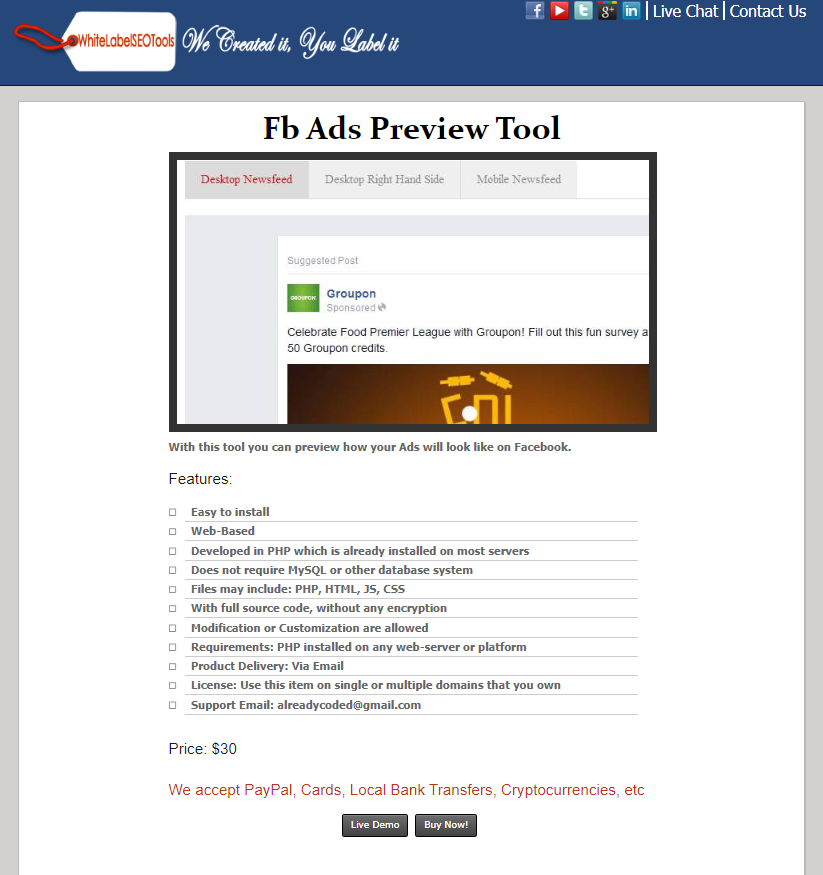 Fb Ads Preview Tools is one of the clunkier solutions available. Unlike the rest on our list, this one requires an install. Like Smart1 Ads' tool, it's also limited to three views. These are the desktop news feed, desktop right-hand side and mobile news feed.
Cost: $30
---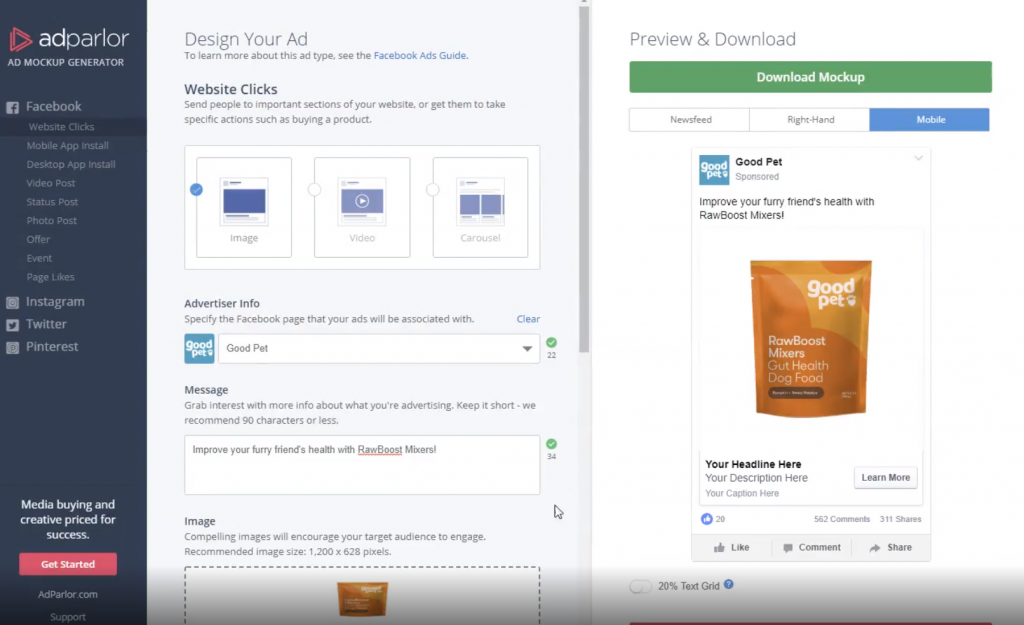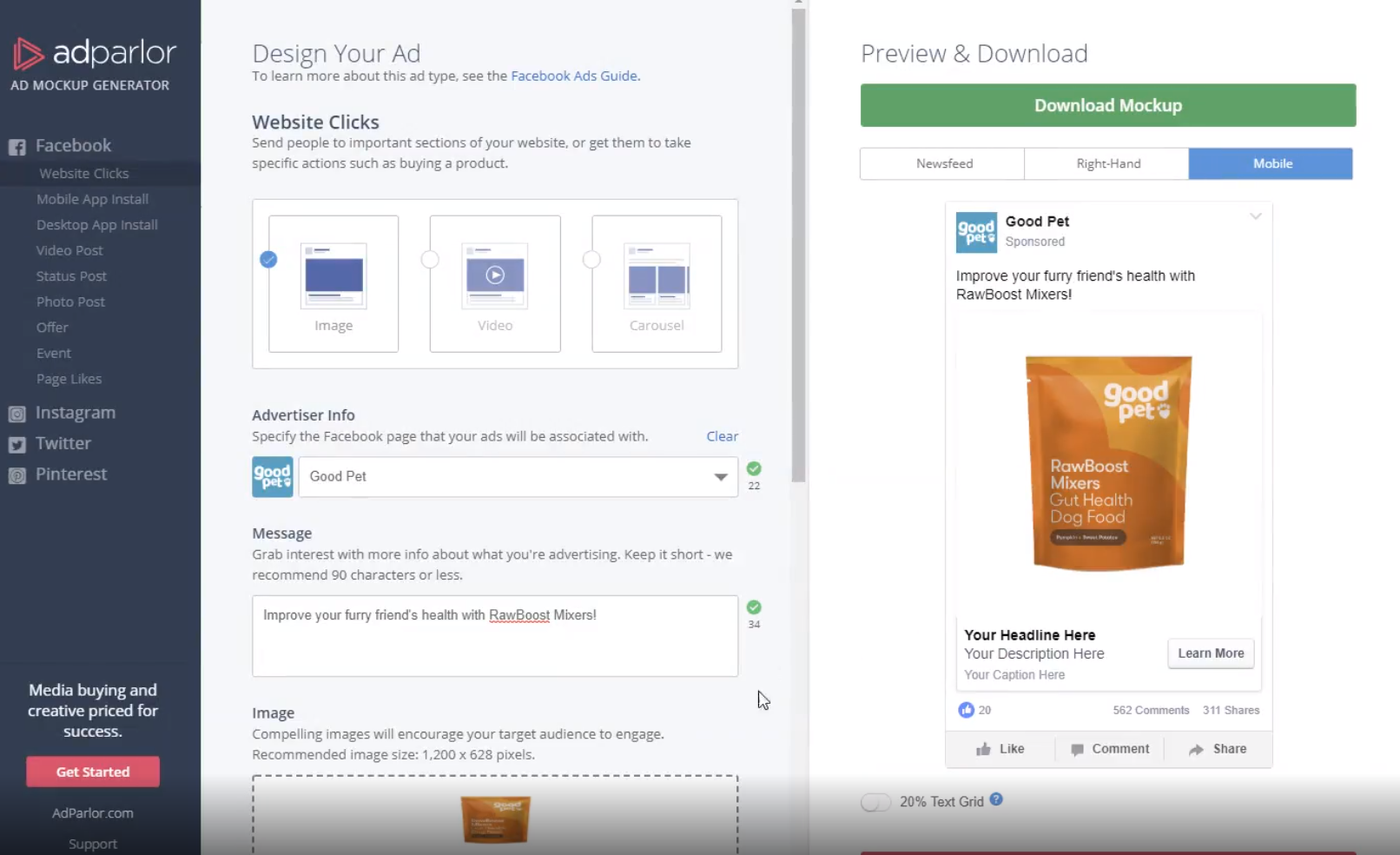 Ad Mockup Generator is a cleanest-looking Facebook ad preview tool. It also packs more functionality than the third-party tools on our list. With it, you can preview ads for website clicks, mobile app installs, desktop app installs, video posts, status posts, photo posts, offers, events and page likes. Ad Mockup Generator works for other social media platforms too. You can use it to preview Instagram, Twitter and Pinterest ads.
For Facebook ad previews, advertisers can choose from image, video and carousel ad formats. When building ads, you get to include:
Advertiser information(page name and logo)

Copy for your ad

An image or video

A call to action button

Links for your headline, description and caption (with character limit count)

Reactions with a reaction count

Page shares and comments
Adparlor also makes it possible to export mockups once designed. They can be downloaded as images and are available for each placement type.
Cost: Free
---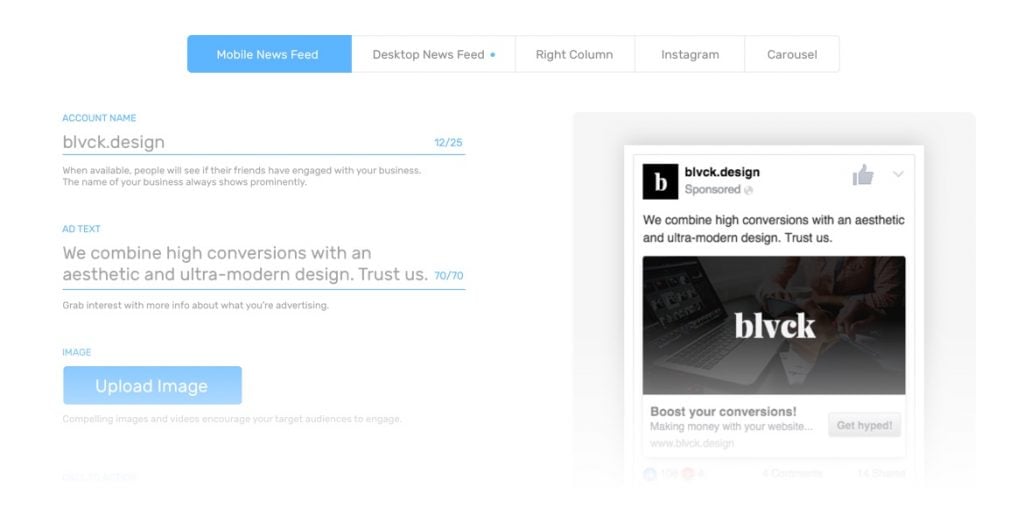 Blvck is was designed by Michael Grafenberger. While it's still in Beta, it appears to have all the features you'll need to test your Facebook ads. Here are the features we've been able to make out thus far:
Mobile news feed, desktop news feed, right column, Instagram and carousel placement previews

An account name field

An ad text field

An Image upload option

Add reactions (with counts)

Add comments and shares (with counts)
Once designed, you're able to download previews as .pdf or .png files. According to Grafenberg, when released, Blvck will also allow you to access the Facebook ad preview tool by logging into it with your Facebook user account.
Cost: Free
---
Conclusion
Ad preview tools help save time. They make it easier for advertisers to see what ads look like without completing the ad creation process through native advertising platforms. While there are a handful of Facebook ad preview tools available, opt for the that few offer the customization and aesthetic appeal. These tools will give you a better look at your ads and help you make informed decisions about what to do next to grow your brand.