Facebook Ad Library is a dream for brands using the social media giant to reach audiences. It offers helpful information on what's happening in your industry through access to competitor ads and content. But access alone doesn't mean you'll be able to quickly and easily gain the insights that make for more competitive ad campaigns. You need a process.
In this article, we'll help you peel back the layers of Facebook Ad Library. We'll explore exactly what it is, why it's necessary, and how you can use it to create competitor-crushing Facebook ads.
---
How to use Facebook Ad Library to Beat Your Competition:
---
What is Facebook Ad Library?
Facebook Ad Library was designed to give anyone and everyone accesses to advertising taking place on Facebook. This approach is to promote transparency sharing as much information as possible.
You have access to a collection of all advertisements running from across Facebook Products, including Instagram. What's more, access to Facebook Ad Library isn't restricted. You can use the platform without owning a Facebook or Instagram account.
---
Why is Facebook Ad Library Important?
Facebook Ad Library was created in the interest of transparency. Anyone paying attention to the birth and growth of social media and internet giants is aware of the fine line they walk in bringing products to market. One specific challenge they face is the use of personal data. It's a hotly contested topic and one that's often hard to find definite answers to.
In recent years, as more news surfaces around how much user data brands have access to, and how they use it becomes more evident, people and governments have taken a stand. Both have been pushing back hard to balance the scales. In light of larger news events like the Cambridge Analytica scandal, Facebook decided to do more to show they care.
Providing free access to all ads running on Facebook and Instagram gives anyone the opportunity to identify what brands are up to. Given the Cambridge Analytica scandal, access to ads isn't limited to what commercial brands are up to. You also get to see what social issue, electoral, and political ads are running.
Facebook Ad Library and Your Competition
When it comes to creating more competitive ads on Facebook, Ad Library is a treasure trove of information. Fact is, paid media is competitive and can be expensive. But it's also a must-have to reach your audiences as fast as possible to generate brand awareness, leads, sales and ultimately business growth. To deliver the most effective Facebook ads, you need insights into what your competitors are creating and running. These insights help you produce stronger and more compelling offers.
---
How does Facebook Ad Library Work?
Before Facebook Ad Library was launched, accessing ads took a different form. The feature was only open to Facebook users. To find out which ads brands were running, you had to visit their page and go to Page Transparency.
The feature presented users with a host of information. You could see a summary that showed when a page was created, whether the page name had been changed and when the change took place, and how many other pages were linked to the page you're viewing. Other information included which countries the page managers are located in.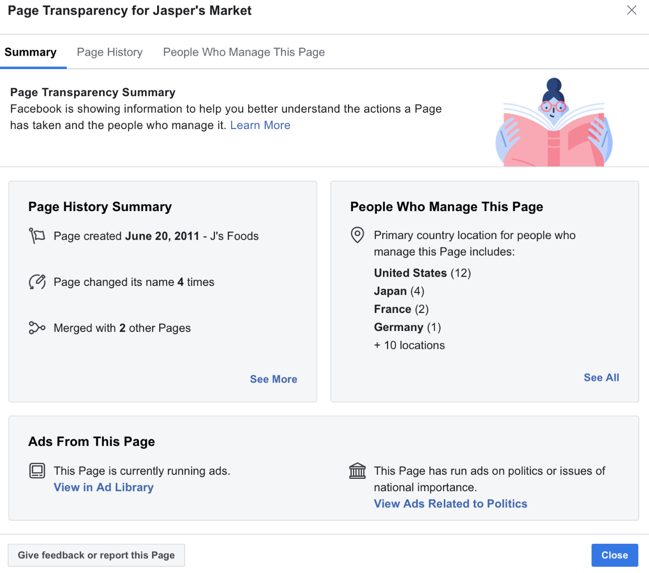 With the creation of a standalone Facebook Ad Library option, anyone can access all ads through this URL. When you visit Facebook Ad Library, access to ads is provided in the form of a search engine. You enter the name of the brand and will be presented with all pages that meet the text you've entered.
Here's a video walk-through of how to find a page using Facebook Ad Library.
---
Facebook Ad Library Features
Ad Library offers more than just a look at all ads, it also comes with helpful filters. You can view ads by country: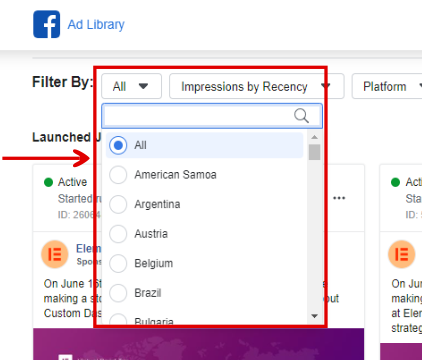 Impressions over a specific time period: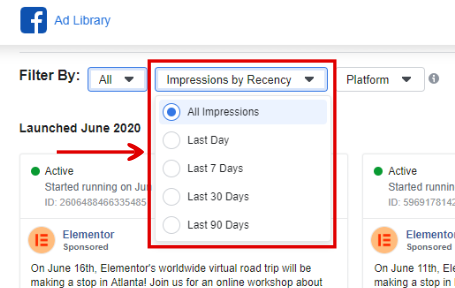 and by platform: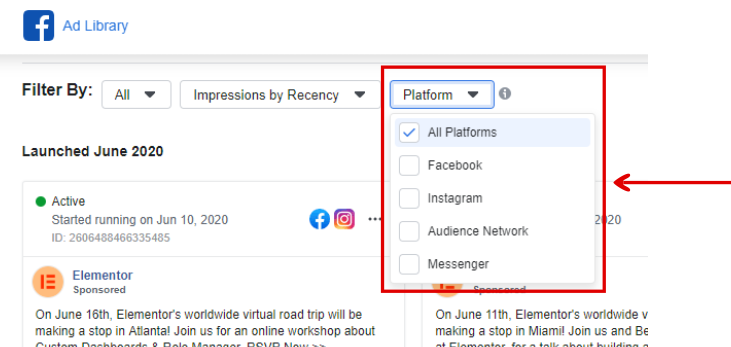 How does this information help create competitive ads? Using it, you can tell where your competition is focusing ad spend, which ads they are running, how they are engaging their audience, when they are promoting offers, and which platforms they're using. It's powerful.
Note: while Ad Library offers access to ads that appeared in the last 90 days, it will only show active ads.
---
Five Steps to Using Facebook Ad Library to Create More Competitive Ads and Campaigns
Building your next campaign with the help of Facebook Ad Library is easier than you think. Here's a five-step process you can follow to find competitor ads, learn how they are engaging their audience, and how to position your brand and offers more attractively.
---
Collect a List of Competitors
To get started, pull together a list of competitors in your space. The length of your list is entirely up to you, but we recommend keeping it to no more than 10 brands. This number will give you a good cross-section of brands and ad campaigns, helping you see what they are up to without overwhelming your senses.
---
Find Competitor Ads
Next, go to Facebook Ad Library and search for each brand. It's possible that brands may not be running ads at present, so this exercise is one you want to consider running at least once every two weeks to see what your list is up to.
---
Collect Ad Information
With access to ads, sort them using the filters in Ad Library to find information that's relevant to your market.
Remember: you can filter ads by country, impression recency, and platform, so be sure to get as specific as possible to ensure that you're creating targeted and competitive ads.
---
Deconstruct Funnels
Smart marketers know that ads are tied to funnels. Funnels usually consist of an ad that drives traffic to a specific location, which is typically a landing page. While you can tell which ads are running, determining how competitive and creative your competitors are can only be done by following their funnel.
So, click through. See where each ad takes you. Do you arrive at a website product page or a custom-designed landing page? What's on the page? Is it a video sales letter or a text-based sales letter? Do you see pricing, a special discount offer, or a free trial? Capture it all and save this intelligence for later.
---
Create Stronger Ads
Research in hand, it's time to start creating your ads. Here are three areas to pay attention to along with questions to guide your ad creation.
Scrutinize Copy
Your ad post copy is the first messaging your audience will see. And for it to be effective, it has to be appealing.
Questions to answer:
Does your ad use customer-focused copy?

Is it benefit-driven?
By reviewing your competitors' copy, you'll be able to spot their approach and which key messages they want audiences to absorb.
ClickCease states clearly that their product blocks competitors from clicking on your Google Ads. That's a strong value proposition for any brand that wants to save on ad spend.
Use Imagery and video
While ads allow you to reach your target audience faster, stopping thumbs from scrolling requires engaging content. On social media, video and images have proven to be successful. Research shows that using video ads with captions increases view time by 12%, something that helps keep users engaged for longer. This has to do with users wanting to watch ads without sound.
As you create your ads, try and use video. Ensure it leads with a strong hook to grab your audience's attention, communicates value by identifying a core pain point or need your audience has, and ends with a call to action.
If that's not possible, use captivating images that hint at a story behind the ad. The best images are relevant and aligned with copy, making them more engaging.
Questions to answer:
Does your video address a pain point your audience experiences?

Does it communicate the value of your product or service?

Does it tell viewers what to do next?
Create Strong Calls to Action
Click-throughs are captured using strong calls to action. To create your most effective calls to action, take a look at what your competitors are using and aim for something more compelling. The most effective calls to action are personalised, clear, and use action-oriented words.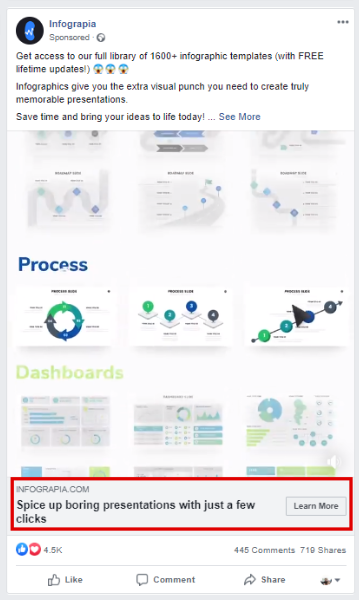 Infograpia's video ad shows how to appeal to audience pain points. Everyone who's ever tried to create a beautiful presentation knows that they require painstaking attention to detail and hours to produce. The idea of creating one in a few clicks is almost miraculous and worth exploring.
Questions to answer:
Is your call to action specific to your audience?

Does it use action-oriented language?

Does it identify a benefit your audience stands to gain?
---
Give it a go
Facebook Ad Library is a power tool. It offers brands the chance to spy on competitors to learn what they're up to. It also gives them the opportunity to go back to the drawing board and create stronger ads to achieve higher conversions.
So, take a look at what your competition is up to. Use the five-step process to identify the best copy, images and video to include in your ad. The more you expose yourself to what your competitors are up to, the greater the possibilities are for strengthening your brand's Facebook ad campaigns.