Operating a business Facebook account is usually very different from how you run your personal Facebook account. You don't regularly upload pictures of your drunken exploits for a start. Nor do you (usually) share multiple images of your baby or child doing cute things. You have a dedicated Facebook business page (and possibly a group), and you make posts that you believe will be of interest to the people who follow you. Some (but certainly not all, hopefully) of your posts may promote your brand and its product.
But unless you are paying for Facebook advertising, it can be hard work keeping your brand visible on Facebook. The organic reach of Facebook business posts is low, thanks to the current algorithm that favors posts made by friends and family. Buffer analyzed 43 million Facebook posts from the top 20,000 brands last year and discovered that Facebook's organic engagement had fallen more than 50% in 18 months. Therefore you have to do whatever it takes to make your brand visible on Facebook. One of the best strategies is to post at the best times on Facebook. There is little point posting when few of your potential customers are looking at Facebook, and by the time they do come online, your post will be old news.
We recently looked at How to Optimize Your Social Media Posting Schedule. We briefly looked at when you should make your posts on each of the leading social networks, to generate high engagement. This post looks more closely at Facebook, including some suggested posting times for brands in specific industries.
---
What are the Best Times to Post on Facebook?
---
Overall Best Times to Post on Facebook
As with most things in life, there is no easy answer as to the best times of post on Facebook. There have been numerous studies on the subject, and they all come up with different results.
Sprout Social was able to make some overall conclusions from a survey of their clients' Facebook posting. They expressed all of their times in terms of the Central Time Zone (CST). You may find similar results if you use the same timezone as the bulk of your target market.
Sprout Social's main conclusions were:
The best times to post are Wednesday at 11 am and 1 pm.

The overall best day is Wednesday

You will get the most consistent engagement on weekdays from 9 am–3 pm.

The worst day is Sunday, which sees the least amount of engagement.

You will find the lowest engagement during early mornings and evenings before 7 am and after 5 pm each day
People are more likely to take notice of your Facebook posts mid-week, from mid-morning to mid-afternoon. Many people probably check their Facebook apps during their morning tea, lunch, and afternoon tea breaks.
Perhaps surprisingly, people make less of an effort to check Facebook during the weekends, or when they are at home in the evenings.
---
Different People Use Facebook in Different Ways
CoSchedule took a slightly different approach. They collated the results from 25 studies to look for patterns for the best times to post on Facebook in various industries. We use some of that research in the section below. They found significant variations in Facebook use, depending on the industry.
They did find some general conclusions from the surveys, however, many of which confirmed SproutSocial's results.
Hootsuite suggests posting between noon and 3 pm on weekdays

In only a slight variation, Hubspot says 1 pm to 4 pm is generally best

Similarly, Falcon.io suggested that noon to 4 pm is when most engagement occurs

Unmetric brings things forward to between 9 am and 2 pm.

r, TrackMaven disagrees, suggesting that 8 pm on Thursdays is the best time
One thing comes through clearly, however. Different people use Facebook in different ways, and it is better to use more precise methods to find the optimal time for your Facebook audience.
---
Finding Your Best Time with Facebook Insights
One way you can find the best time to post on Facebook to your social audience is to use your Facebook Insights. You will need a Facebook page to have access to these. You can gain access to your insights by clicking on the appropriate link at the top of your page.
You want to see when your Facebook fans are online. You can do this by clicking on Posts in the lefthand menu. This gives you a breakdown of when your fans are online, both by day and time.
Look for any spikes in the data, indicating the times when your Facebook audience is most active.
Facebook Insights also shows you data about your most successful posts (further down the same page as your audience data). Take note of the posts that show the most engagement. You will be able to see when they were posted. You could consider posting more often at the same times.
---
Suggested Best Times by Sector
Several studies have separated their Facebook posting times by sector. They have discovered that the optimal times vary depending on the industry in which your firm operates. Both CoSchedule and Sprout Social have published reports highlighting how different types of businesses face different social peak times.
These studies do tend to focus more on times of the day, rather than days of the week.
B2C Brands
CoSchedule concluded that the best times to post on Facebook for B2C businesses is between 9–10 am, 11 am–12 noon, and 4–5 pm. These times tend to coincide with workers' breaks (or nearing the end of their workday).
Sprout Social found that the best time for B2C companies to post on Facebook was on Wednesday at 1 pm and Friday at 11 am. Other times for high engagement were Wednesday from 1–3 p.m, Friday from 10–11 am, and Thursday at 5 pm. Overall, firms selling to consumers have found they receive the most consistent engagement on weekdays from 10 am to 5 pm.
---
B2B Brands
According to CoSchedule data, B2B firms were not all that different from their consumer counterparts. The optimal times for these firms to post is around 9 am or 3–4 pm.
---
Media Brands
Media brands differed somewhat from the rest of the pack, according to CoSchedule analysis. Indeed, their most successful Facebook posts tended to coincide with tv news bulletins – 7 am, 11 am, and 6 pm.
Sprout Social's data is not all that different for media companies. They find the best posting times for media companies on Facebook are Tuesday at 5 pm and Friday from 8–9 am. Other reasonable times are Wednesday from 8–9 am, and 5 pm, and Thursday at 5 pm.
---
Healthcare Brands
Followers of healthcare brands must be early risers. CoSchedule showed that they consumed most of their posts in the morning. In particular, you should perform well if you make your healthcare posts at 6–7 am, 9 am, or 11 am-noon.
Sprout Social echoed its support for morning posting, with their best time being Wednesday 9–10 am.
---
Education Brands
Students may have a reputation for being night owls, but it doesn't appear that they spend that time on Facebook. Indeed, higher education brands seem to find their best reach comes before class, or in breaks between lessons (according to CoSchedule). The peak times for higher education are at 8 am, noon, and 3 pm.
Sprout Social looks at education as a whole. They found the best Facebook posting times to be Wednesday at 9 am and Saturday at 5 pm. The most consistent times for engagement are weekdays between 9 am and 3 pm (when people are at school). However, Saturdays between noon and 9 pm also give reasonable results.
---
Tech Brands
CoSchedule separated software businesses in their analysis. They found that these businesses posted their most successful Facebook posts at 9 am, 3 pm, or 5 pm.
Sprout Social found the best time for tech companies to be on Wednesday at 10 am; indeed, anytime from 9 am to noon on Wednesday should bring high engagement.
Perhaps surprisingly, considering the reputation of techies, evening and night posting is not recommended.
---
Non-Profits
The best time for non-profits to engage with their supporters on Facebook is Wednesday at 8–9 am, according to Sprout Social. Indeed non-profits are likely to receive consistent engagement across the (working) week between 8 am and 5 pm. They don't see much action at the weekends or nights, however, and it would probably be best to avoid those times.
---
Using Social Media Marketing Platforms to Post at the Best Time on Facebook
Many of the social media management platforms help you find the best times to make your Facebook posts. We have previously reviewed many of these platforms.
One of the most important uses of a social media marketing calendar is to schedule your posts in advance. You don't have to be online to make the post. This means that you can plan your post for any time you like.
You can easily select post times, based on the research you've read about in this article, or by using your own social analytics to determine when your followers will most likely be online. Some of these platforms will even identify the "best" time for your posts.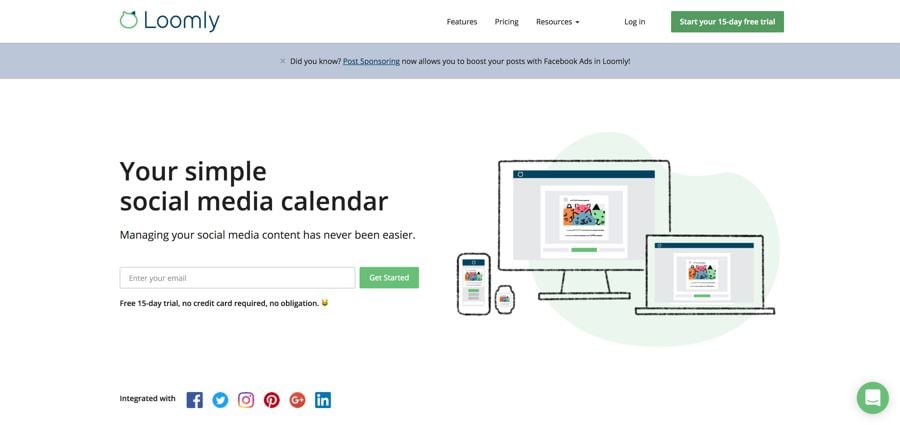 One of your first tasks when setting up Loomly is to set up a calendar, which includes your timezone and industry. Loomly gives you the option of scheduling posts directly or via Buffer. You can easily set the times fo your Facebook posts whenever you create them.
---
PromoRepublic has a strong design focus. You can set a posting schedule for different types of posts. PromoRepublic suggests a suitable posting schedule for each of your social networks, but you can easily modify this to however you want your posting to go. You can select a country and time zone for each social account.
You organize your posting schedules across a centralized calendar. If you don't want to set your own timeslots, you can rely on PromoRepublic's Autopilot. This is an AI tool that analyzes your page audience's peak engagement. It suggests the best time options and the most relevant types of content for your audience.
---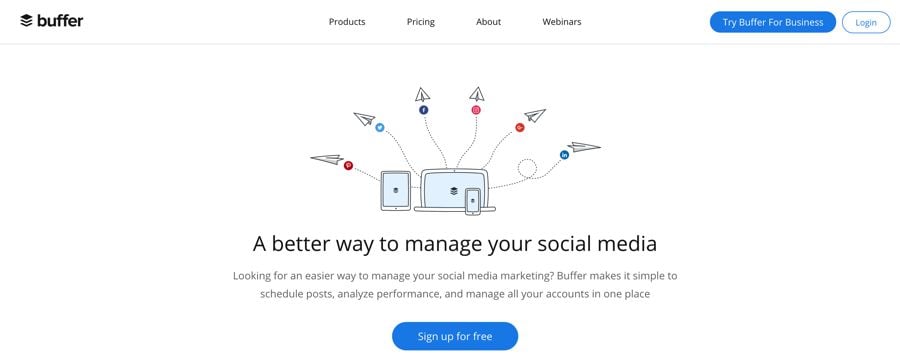 Buffer offers a straightforward service. You attach your social media accounts, then schedule content to post to each account. Whenever you find an item you want to share, you add it to your "buffer," and the software publishes it on your behalf at an agreed time.
You set up a publishing schedule for each of your social accounts. This means that you won't need to think about post dates and times when you create posts – Buffer will automatically place new posts at the right place in the queue.
If you have a paid plan, you have access to Analytics relating to your posts and social accounts. This will help you refine the best times to publish your Facebook posts.