Successful marketers don't leave things to chance. They don't operate randomly. They plan, organize, and optimize everything they do. This is as much the case with social media and influencer marketing as it is with more traditional marketing types. This means that if you run social media accounts for your business or on behalf of a client, you need to optimize your social media posting schedule to give you the best results possible. You can find a list of the leading social media scheduling and posting tools here.
There is a science to social media marketing. Some types of posts perform better than others. Different audiences prefer some social networks over others. The words and images you use in your post can lead to differing responses. Even changing the wording of a Call to Action can make a massive difference to how people react to a post.
You could manually make posts as and when you feel like doing so. But that severely limits the effectiveness of your social campaigns – not to mention your sanity. It is far better to use some form of social media management program to help you craft your posts and then schedule them on your preferred networks at the optimal times.
---
How to Optimize Your Social Posting Schedule:
---
Which Social Networks Do Your Audience Use?
Unless you are a large organization with bottomless pockets, there is little point being active on every social network. For a start, you may be shocked by how many social networks exist. Wikipedia runs a list of social sites, and there are currently 188 of them, not including dating sites. Most of these are niche, however, and will be irrelevant to your target audience.
The key to social success is to have a strong presence on the same social sites as your preferred target market. If your customers spend their time on Facebook, work on perfecting your Facebook business page. If your clients are Instagrammers, place your energies there. B2B businesses might try a two-pronged approach, focusing on LinkedIn and Twitter. If you target gamers, spend your time on YouTube and Twitch.
---
Create the Perfect Profiles
Your profile pages are the first places where your potential customers might notice you on social media. Therefore they have to hook in your target audience from their first visit. You need to complete your profile and ensure that you have cohesive branding across all your social sites.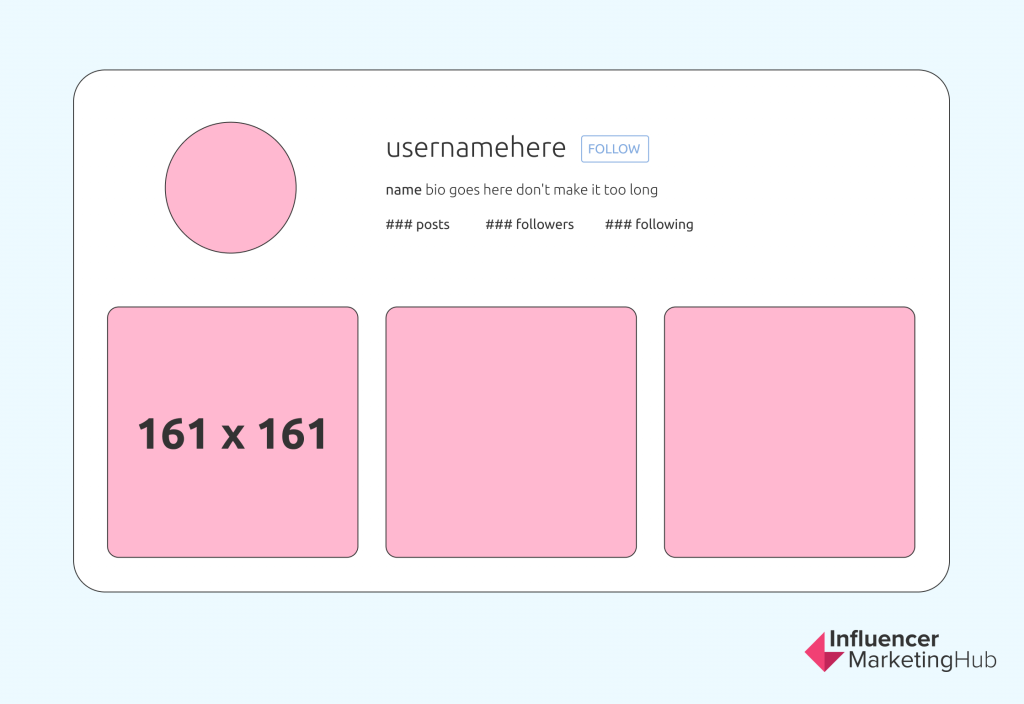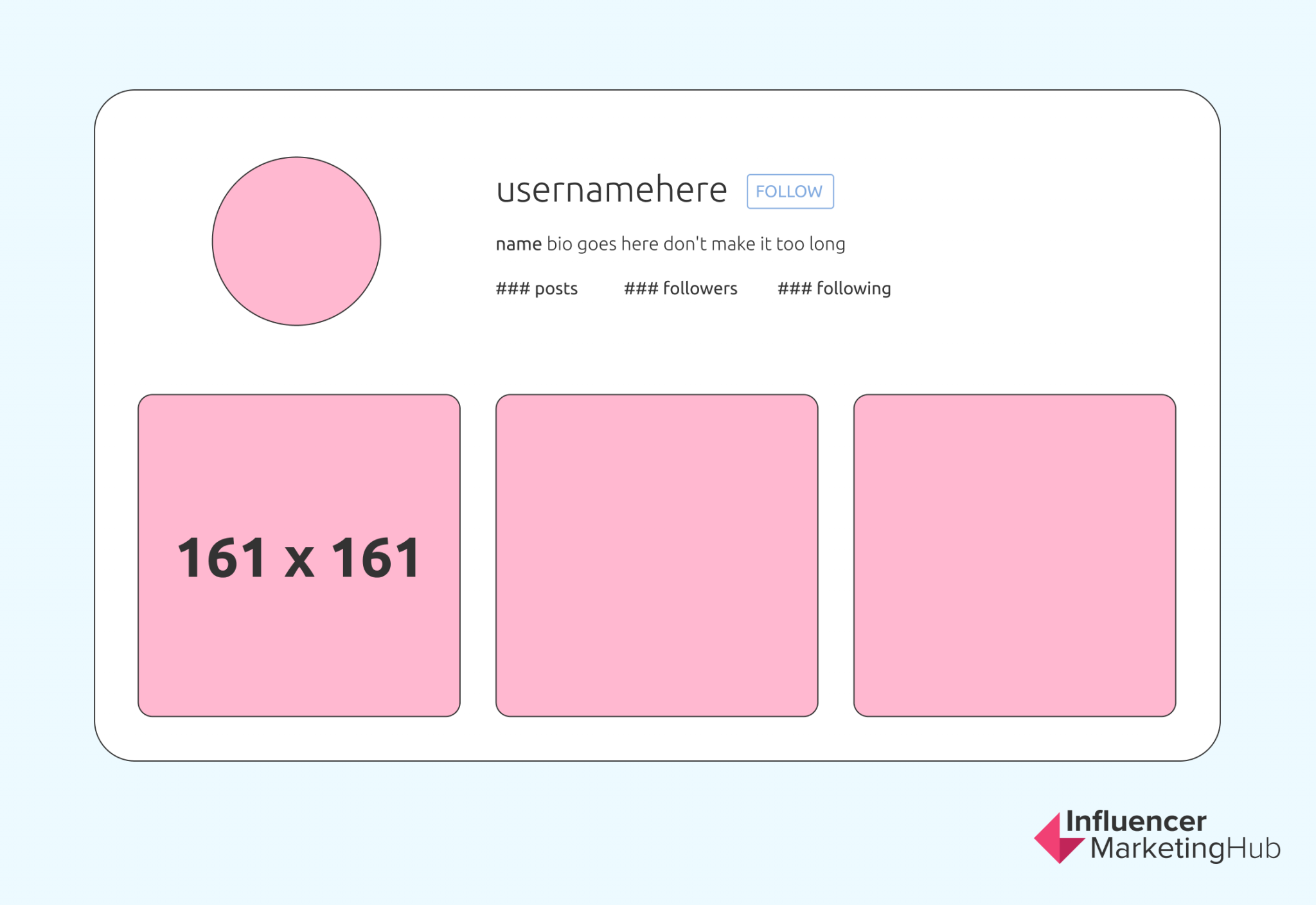 We've provided the perfect profile image sizes in our guide to best image sizes for social media. While you're at it, check out our complete guide to social media video specs, to help you perfect the videos you upload, too.
When you create your social profiles, consider the following guidelines:
Don't make them too much about you. Focus on what you've done (and how you can help your customers), rather than who you are.

Use keyword terms suitable to your intended followers.

Speak in plain English (or primary language of your intended audience). Avoid jargon and buzzwords

Always come across as personable and friendly

Tell visitors to your page what's in it for them

Revisit your site regularly. Update and refresh your page often
---
What Style of Posts Should You Make?
You need to decide on a consistent style and tone for your posts. Think carefully about who you are targeting with your posts. For example, if you are a technology company, you need to decide whether you are making posts to technically aware people, or you're trying to attract people who need help with technology, and aren't interested in technical jargon. Perhaps you are really targeting CEOs of companies, who have more interest in learning about business and financial news, rather than technological posts.
You want to speak in the same types of language that your audience does. There is little value in talking formally to a group of teenage boys. But, talking colloquially and using slang would be inappropriate for a group of senior executives.
You should ask yourself what sort of personality your brand would have if it were a person. Also, you should ask what kind of relationship you want to have with your audience. Do you want to come across as a coach, friend, or a teacher? It is probably worth examining social posts made by your competitors. How do they portray themselves?
You should also think about the balance of the posts you make. You will typically post a combination of video, link, and image posts. According to BuzzSumo analysis videos generate the most engagement on Facebook, followed by images. However, videos take more time and resources to make.
---
What Types of Content Should You Share?
You should share a variety of types of post. People will quickly tire of your posts if they are always the same. Whatever you do, don't just make promotional posts. Your audience will rapidly turn off, making your posting a waste of time and effort.
One typical posting guideline is the 5-3-2 rule. This means that for every ten posts:
Five posts/tweets will share other peoples' content

Three posts/tweets will be of your original content

Two posts will be personal (i.e., something that helps your audience to connect to you on a personal basis, e.g., a photo of your home town)
This ratio shifts the focus from you to your audience. This helps you build a reputation with your community. Do you imagine that an influencer only posts about him or herself? No. they make interesting posts that allow them to build a reputation as an expert in a niche. Businesses follow the same practice if they want to succeed online. I don't imagine that many of Red Bull's posts are about the drinks they sell, yet they are one of the most successful companies on social media.
---
How Often Should You Share?
Just how often should you schedule your social posts? In reality, this will vary from firm to firm and depends on your social audience.
The critical thing is that you post sufficiently to provide value to your audience, but not too often that you annoy them, posting poor quality material to fill up a time slot. According to Buffer, you should "Post as often as you have engaging, entertaining or useful content to share."
Buffer has carried out extensive research on how often you should post on social media. They found the ideal frequencies to be:
Pinterest –5 pins per day (or more)

Twitter – 3 tweets per day (or more, although engagement drops slightly after the third tweet). Some people, notably Jeff Bullas, believe in posting

considerably more often

. Jeff tweets every 15 minutes, 24 hours per day, seven days per week. In three months, Jeff had 27 million impressions and 280,000 engagements.

Facebook – 2 posts per day (at most)

LinkedIn – 1 post per weekday

Instagram – 1.5 posts per day (or more)

Blog posts – 2 posts per week
As you post, keep a close eye on your analytics, and adjust your posting schedule to match the behavior of your audience.
---
When Should You Make Your Posts?
If you want to gain the most extensive reach and engagement, then you need to be strategic about the times you schedule your posts. Depending on the social network, most posts don't have a long half-life. This is particularly so on Twitter. Tweets come, and then they disappear down your Twitter queue very quickly, to be replaced by newer, fresher material.
Facebook, Instagram, and LinkedIn posts all have longer visibility times, but even these can vanish into obscurity as soon as other people post more up-to-date posts. The "age" of a post is a critical factor in most of the social algorithms.
MtoM Consulting recently updated data they have collected about the lifespan of a social media post. The results are sobering, and clearly, indicate why you need to think carefully about your posting times. According to their research:
Facebook posts last 5-6 hours

Instagram posts last 48 hours. Obviously, most Instagram Stories only remain visible for 24 hours, although you can save some on your profile for longer.

The average Pin on Pinterest remains visible for three months (although some have engagement for much longer)

Tweets only have a lifespan of 15-20 minutes
While the time you schedule your posts may be of less importance if your focus is on Pinterest or Instagram, it still makes sense to post most often at the times when your audience is online.
This can be challenging if you post manually in the native apps. However, it becomes easy when you use social media marketing platforms. Some of them automatically determine when your audience are most likely to see your posts and recommend posting times accordingly.
CoSchedule has collated much data on the best times to post on social media. Indeed in their latest analysis, they have drawn on 25 studies. Obviously, the data varies across so many studies, so CoSchedule splits its results by social network and industry. Its key findings for B2C companies were:
Facebook: Thursday – Sunday 9-10am, 12-1pm, 4-5pm

Instagram: Friday 8am, 1pm, 9pm

Twitter: Saturday – Sunday 8-10am, noon, 7-9pm (notably B2B businesses have almost the opposite results to B2C on Twitter, with most engagement Monday-Friday)

LinkedIn: Wednesday noon

Pinterest: 8pm-11pm, 2am-4am (no specific day)
The other thing you need to take into consideration is the location of your main audience. You will have to adjust your posting times if you are in a different timezone to the bulk fo your followers. Things become trickier if you have fans across multiple timezones. In that case, you may have to increase the number of posts you make, so that you can hit the peak time for all of your social audience.
You could consider making your posts at :45 past the hour – particularly your tweets that have such a short half-life. Many people have meetings on the hour and are more likely to have time to do a quick check of their favorite social account just after they leave a meeting.
---
Recycle Your Best Content
A common mistake on social media is to promote a post once and then forget about it. If you think about all the time and effort that goes into writing a blog post, it seems a waste of you don't repromote it at later times.
Much blog content is evergreen – it is just as valuable months, even years after you write it. Take a look through our back archives at The Influencer Marketing Hub. Many of our oldest posts are still as valuable today as when we wrote them. In some cases, we have updated past posts, adding new sections, and correcting any out-of-date material.
It makes sense to recycle your old material over time. There will always be people who missed your posts when they were new. It gives a whole new opportunity for engagement all over again.
Many of the social media management platforms include automated systems to allow you to repromote your best evergreen content after an agreed period. You don't have to worry about manually promoting your evergreen content.
---
Don't Forget to Engage with Your Audience
A key feature of social metrics is the "social" part. It is not just a broadcast mechanism, like television or newspapers. Social media is built for two-way communication.
Therefore you must interact with your audience. You can't just automate your posting and leave things alone. People will leave comments on your posts. Make sure to reply to them all – even critical comments and complaints.
---
Take Notice of Your Analytics
Ideally, you should start any social campaigns by setting campaign goals. Once your campaign is underway, you need to measure your progress towards achieving these goals. You will probably have different KPIs for each goal. For example, if your goal is to increase online dales as a result of a series of social posts, you should be able to measure it using Google Analytics for your website. If you want to increase your social engagement, then you could measure it by whether your comments and shares rise.
Most social networks provide some form of analytics. Some, like Instagram, require you to have a Business Profile to gain access to the data. Many of the social media management tools provide additional data, particularly if you opt for one fo the higher-level pricing tiers.
Your analytics data can give you a guide to the success of your social media posting schedule. They may tell you whether you should post more or less often on a particular channel. They could also indicate whether you should change your content mix, alter the social networks you engage with, or change your social posting times.