Facebook is constantly making changes to their platform to improve their user experience. If you have a business page on Facebook, you need to keep up with these changes. After all, even a minor change can affect your overall marketing strategy.
For instance, in 2017, Facebook changed the way users saw posts on their News Feeds. In a move to weed out spam, Facebook decided that they would limit the reach of certain Facebook profiles. The profiles which were known to spread misinformation and post clickbait links were the most affected.
After that, there have been numerous updates on Facebook. Let's take a look at the latest changes on Facebook.
---
All You Need to Know About the Latest Facebook Updates:
---
Understanding Facebook's Latest Updates
More recently, in 2019, Facebook announced a series of updates and new features to enhance their platform. In this article, let's take a look at the latest Facebook updates. There are a lot of new changes, so let's check them out one by one.
New Solutions for Businesses on Facebook Messenger
The latest changes are aimed at creating more business opportunities to drive more conversions as well as to improve the user experience on the platform.
Lead Generation
First introduced at F8, Facebook's annual developer conference, this lead generation feature is designed to help businesses find leads in Messenger. With the addition of this feature, businesses are able to provide automated, chatbot-like experiences so that they can easily get qualified leads.
What's more, businesses can also continue the conversation with their prospects directly in Facebook Messenger. It also has integration options with various CRM tools so that you can track your leads seamlessly.
Since this feature was launched in its beta phase, UK-based professional services company, RIFT Tax, has leveraged it. Using Facebook's lead generation feature, they were able to increase their qualified leads by a total of 42%.
Booking Appointments
Facebook wants to make sure that conversations on Messenger don't just stay within the platform. They can translate into phone appointments, online traffic, or in-store traffic. In this way, Messenger can help businesses grow.
For this, they have opened a beta which allows real-time appointment bookings via Facebook Messenger. Using this solution, you will be able to use calendar booking software to enable bookings through Messenger. It will also send reminders to you whenever an appointment is scheduled.
Event Reporting
While Facebook has revealed that they will have a feature related to event reporting, they haven't given out any details regarding it. They have only revealed that this feature will be available to businesses later in 2019 and that it will make it easier to track and report conversions on Messenger. This will be an interesting feature to look out for.
---
New Features on Facebook
Facebook also announced changes to their policies to help improve the quality of conversations between businesses and people. They aim to drive conversations that are more personal and relevant. The updated policies are expected to come into effect in January, 2020.
Revised Standard Messaging Window
Facebook wants businesses to be responsive to their customers. So, they are revising their Standard Messaging Window. They are taking a leaf from WhatsApp's messaging window. Businesses will be able to respond to messages 24 hours after they receive a message.
After 24 hours, businesses will have to use sponsored messages and message tags to get in touch with their customers.
Message Tags and Sponsored Messages
Through Message Tags, businesses can send personal or important 1:1 updates to their users outside of Facebook Messenger's standard messaging window.
Message Tags can be used for the following use cases — account updates, event reminders, updates post a purchase, or when a human agent wants to tackle a user query.
However, they can't be used to send promotional content including offers, discounts, coupons, and more.
Facebook is also particular about the usage of Message Tags. If a Facebook Page is found to use the tags outside of the use cases that are approved, Facebook may restrict their ability to send messages to users.
On the other hand, Sponsored Messages allow a business to send highly targeted promotions to users who have already interacted with them. It can help to boost customer engagement and drive sales.
---
Collaborative Stories on Facebook for Public Figures
Ever since Facebook launched the Stories feature, it has changed the way people share their updates on Facebook. In the recently announced updates, Facebook has introduced a new feature ⁠— Collaborative Stories for public figures on Facebook.
Using this feature, many public figures will be able to contribute to a single story. This will allow public figures to expand their audiences. Furthermore, it will give fans different perspectives on a specific event.
Facebook tested this feature with Tomorrowland, the popular dance music festival in Belgium. For this, over 20 artists contributed to a single Facebook Story on Tomorrowland. Because of this, the participating artists were able to reach a wider audience.
In their tests, 92% of the views for The Chainsmokers came from people who weren't their followers on Facebook. Similarly, Martin Solveig had 97% of views while Jax Jones had 99% views from new audiences.
This feature can be a game-changer for big events and conferences, especially the ones attended by social media celebrities. It's a great way to create buzz and to create more brand awareness. The best part is that it can make the content of your Stories more varied, dynamic, and engaging.
---
Fan Reply Stickers for Facebook Stories
Another new feature for Facebook Stories is the Fan reply sticker option. Using this, brands can create a call-to-action on a Story that asks people to respond with videos or photos.
What's more, brands will be able to re-share these responses on their Stories so that everyone can see them. It's a great way to leverage user-generated content and create more engagement.
Sony Legacy and AC/DC used the Fan Reply Stickers in the testing phase. Around the 40th anniversary of the "Highway to Hell" album, they asked fans to show their own Duckwalk to honour the iconic dance moves of Angus Young. They received an overwhelming number of responses from fans and they also saw a lot of re-shares of their Story.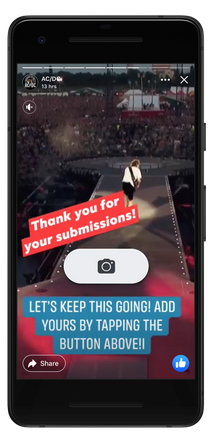 ---
Shopping Options on Facebook Stories
The overall shopping experience on Facebook is getting revamped. Facebook has added "swipe-up" links in their Stories. This will allow public figures to include links to products that they recommend or links that they want to share.
Furthermore, Facebook has also said that they are coming up with other ways to promote shopping on Facebook. They want creators to be able to tag different products on Facebook videos, photos, and Stories.
To simplify the checkout experience, Facebook is adding a new feature that allows you to tap on a tagged product in a post. With this feature, you will be able to get details about the tapped product and make a purchase directly on the social media platform.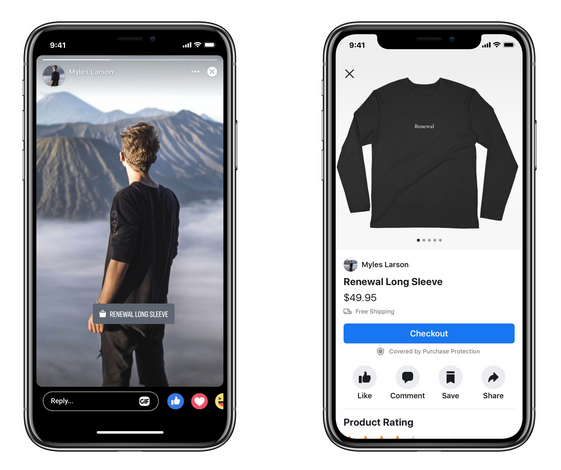 ---
Facebook Dating
Facebook is expanding their reach into the dating sphere. Through Facebook Dating, the social media platform wants to make it easier for people to find love.
With the addition of the dating feature, users who are above the age of 18 will be able to create a separate dating profile on Facebook. You will find suggestions for dates based on the activity of their profile and the groups they follow.
Unlike most of the other dating apps out there, Facebook Dating isn't about swiping on a profile that you like. If you like someone, you can directly leave a comment on their profile. Alternatively, you can also tap the Like button on their profile.
Using Facebook Dating, you can match with your friends of friends or other people who may not be in your friends' groups. To match with your friends, you will need to use the Secret Crush option. When both of you add one another to the list, you can get a match.
On Facebook Dating, you will be able to integrate your Instagram posts directly and add your Instagram followers to the "Secret Crush" list.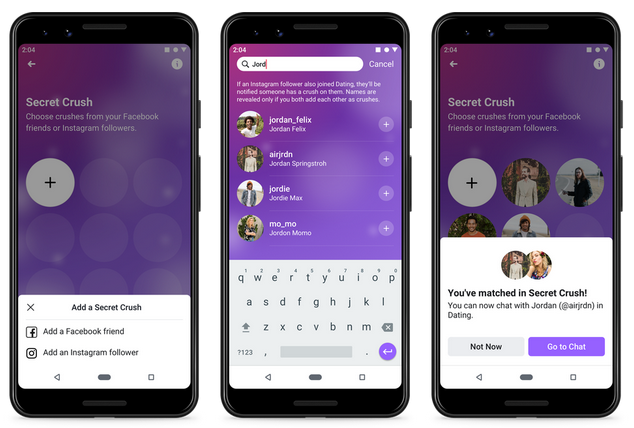 For safety, Facebook Dating allows you to share details of an upcoming date with anyone you trust. You can even send them your live location. At all times, you will be in control of who sees what information.
---
Live Rehearsals
Did you know that one in five videos on Facebook is a live broadcast? With the growing popularity of live videos, it's high time that Facebook make a few changes to ease the technicalities involved.
With Live Rehearsals, you will be able to rehearse before you go live to your audience. When you're rehearsing, only your Page Admins will be able to see your video.
Facebook is also introducing the "trimming" feature for Live videos. Before you go live, you may have a few seconds of awkward footage where you are just staring into the camera. With this new feature, you will be able to trim these awkward bits out.
What's more, Facebook is also extending the maximum live broadcasts to eight hours from four hours. With these additions, Facebook Live is expected to become more engaging.
---
Final Thoughts
If you're a Facebook content creator or marketer, there are a lot of new features for you to explore. Collaborative Stories and Fan Reply Stickers can be great ways to connect with your audience and provide them with better content.
For businesses, the new shopping options are going to come in handy to get more leads and boost sales. Overall, the latest Facebook updates have given us a lot to look forward to.