Today, practically all social networks attempt to get users to start purchasing in-app. 98% of customers plan to utilize social purchasing to make at least one purchase this year. This is up dramatically from last year when 68% of customers claimed they made at least one social media purchase. It's no surprise that social media channels are now vying for the biggest slice of the pie. And this upward trend shows no signs of slowing down.
Social shopping is a hybrid of eCommerce and social media. Adverts and sales are made through retail channels linked to social media profiles or followers' feeds. Social media platforms have included tools like shoppable posts and on-site storefronts in recent years. These features allow users to discover new products, learn about new brands, and make purchases without leaving their social feed.
While social shopping is still in its early stages, one thing is sure: it's wildly profitable. As per Statista, social commerce generated $475 billion in sales in 2020 and will generate $3.37 trillion by 2028, growing at a 28.4% annual pace.
---
The State of Social Shopping in 2024:
---
Social Shopping Is Here and Now
Social shopping refers to the entire buying process occurring on a social networking platform. It attracts shoppers' attention, delivers concise new content that converts, and turns first-time buyers into recurring customers. Social shopping has fundamentally changed how businesses and consumers connect. It's a dynamic, engaging experience that replaces tedious, time-consuming transactions.
Social purchasing is the way of the future. That's why businesses must understand how it differs from traditional eCommerce. Here's a side-by-side comparison: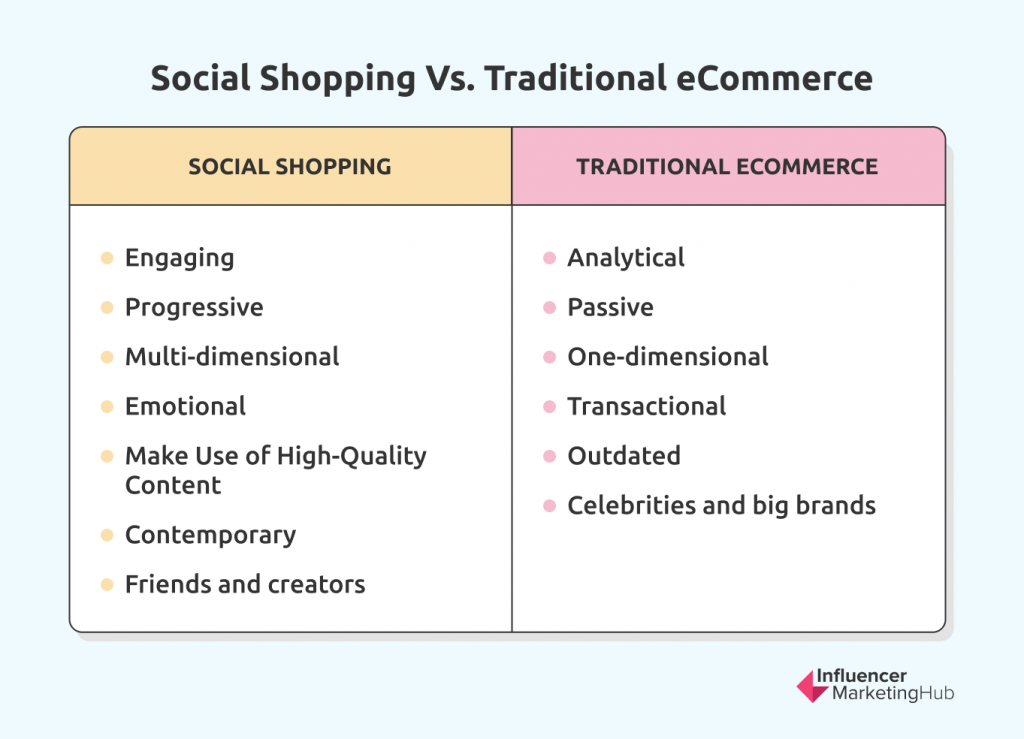 The contrasts are striking. It's no wonder that some online shoppers won't buy a product without video or user-generated content (UGC). Also, customers trust their friends and various product experts more than celebrities and big brands.
---
Shoppers and Brands: The Major Players
Social shopping is a retail journey where users browse and explore products and engage with brands. Notably, social shopping enables people to buy what they see on their feeds. It also provides user-generated social proof. This turns it from transactional eCommerce into bond-building social commerce between two primary players: shoppers and brands.
Depending on the platform, shoppers can use hashtags, shop tabs, and other tools to find brands and products. They may interact with businesses, creators, and other customers via one-on-one chats, product demos, expert-generated content, public groups, and private communities. Brands, on the other hand, curate authentic social content to engage customers and prospects. Luxury fashion and beauty brands have quickly embraced this trend.
Customers touch, smell, and sample things when shopping in person. Thanks to social shopping, brands can engage with clients online just as in person. It's more than a transaction with no personal connection. Social commerce combines static product images with scrollable videos, how-to content, consumer and brand expert insights, and other interactive elements.
Engagement features like Stories allow brands to deliver more to their customers. Through Stories, brands can emphasize their best-selling products, make longer videos, and invite product experts to speak live. Stories also make users more likely to engage with brands, making it a powerful social commerce tool.
---
Where the Shoppers Are
Shoppers use social media in the same way they would use Google. They can check for more information about a company or product on social channels like Facebook, Instagram, or Reddit as a part of their buying process. They can also check items that their current network recommends through social media. In this way, social networks play a significant role in leading shoppers to everything they need.
Social media has grown into a virtual mall where users may purchase and engage with friends, brands, and creators. And just like at a conventional store, the more time that people spend perusing items, the more likely they are to purchase said items. In general, customers make purchases on the platforms they are already familiar with and feel most comfortable using. Millennials and Generation Z usually prefer social media networks with a focus on visual content, such as Instagram, TikTok, and Snapchat. Baby Boomers, on the other hand, are expected to shop on Facebook. Women find inspiration and ideas on TikTok and Pinterest, while men seek Twitter and Twitch for the next items to buy.
There are also other social buying sites, such as Kaboodle and ShopStyle. These allow users to build personal style boards, product lists, and blogs. Similar to shopping together in a physical store, users can review products and make suggestions directly to their friends and social connections.
Today's shoppers place a high value on inclusiveness in their purchasing decisions too. Unsurprisingly, the younger generation values inclusivity the most. Inclusiveness is vital to 73% of Gen Z and 72% of Millennials when making buying decisions. Overall, 60% of customers believe they will be more inclined to buy from inclusive companies employing people of color, people with disabilities, and those of varying ethnicities, religions, and gender identities.
With practically every major social media site engaging in social commerce, retailers have plenty of options for selling online. Among these are Instagram, Facebook, Pinterest, Snapchat, TikTok, WeChat, Taggbox Commerce, and more.
---
Purchasing Trends and Outlooks
Today's customers are eager to try out new social media platform features. Customers connect in many ways, giving businesses insight into how people find their brands and buy from them. For social media targeting, livestreams are the most popular tool. 71% of live-stream viewers have purchased something via social media, and 48% want to buy more using in-platform commerce tools.
By 2023, 45% of customers will prefer to buy straight from their favorite platforms, but they also prefer a more streamlined experience. Although Gen Z is the most likely to use this function, with 52% eager to buy, everyone anticipates a faster browsing and purchasing experience.
Meanwhile, with the rise of the metaverse, consumers can expect shopping carts powered by virtual or augmented reality in the future. However, how keen customers will be to adopt this trend is determined by which generation they fall under. Older customers are less likely to follow this trend. On the other hand, early adopters are willing to pay extra for it. It's also worth noting that more than 80% of consumers who regularly use AR and VR have started social shopping.
---
Influence and Trust
When purchasing products on social media, 49% of buyers claim they do so after viewing a targeted ad. 4 out of 10 social users purchased something after seeing a brand's organic content. Some (34%) check and refer to their friends' posts before making a purchase, while others (34%) surf numerous social sites.
When customers purchase on social media, they continue to rely on these influences to help them make final decisions:
Friends

Product comments, remarks, and reviews

Brand familiarity

Recommendations by significant others
For those aged 18 to 40, friends are the most crucial deciding factor in their purchasing decisions, followed by social media influencers. Millennials, Gen Z, and Gen X had increased parasocial relationships during the COVID-19 lockdowns. As a result, users learned to trust influencers as much as their friends. Baby Boomers, who haven't been as influenced as Millennials, have the most faith in their significant others and friends.
Without trust, it will be hard to convince anyone to buy a certain product or service. As such, crowdsourced feedback or product reviews from strangers have the least influence on someone's buying choice.
---
The Tidal Wave of Change
Li Jiaqi and Viya, two of China's leading live-streamers, sold $3 billion in goods in a single day in October 2021. To put it in context, that is nearly three times the average daily sales on Amazon. That is the essence of social shopping in the digital era. And it's on track to sweep the globe, becoming a $1.2 trillion industry by 2025.
Social shopping is distinct from traditional eCommerce in that it integrates buying and selling into daily life and generates a true sense of community and connection. It aims to alter the way people shop by allowing individuals to participate in the global economy as consumers, creators, influencers, and vendors in new ways. As a result, every business, brand, and platform will be impacted by this change.
Brands that were early adopters of social commerce recognize its value. Sephora, for example, was one of the first stores to offer Instagram Shopping, which allows customers to buy right from the Instagram app. It teamed with Facebook on a weekly series of live-stream shopping sessions during the summer. Sephora US knew early on that social shopping would be massive because of their partnership with Sephora China.
Mobile-centric nations like China and Brazil have jumped ahead of Western Europe and North America in social shopping adoption. Because the draw to consumers internationally is enormous, most countries—and platforms—are now clamoring for a place in the game. Social shopping is an organic, integral aspect of the social media experience, and consumers expect their preferred platforms to offer them a streamlined shopping experience.
Moreover, it's not only celebrities who profit from their notoriety and partnerships with big brands on social media. Millions of creators, influencers, retailers, and resellers generate income using their preferred social platform. As the competition among social media sites heats up, each platform offers creators incentives to boost their user base.
Businesses, large or small, can use social commerce for advertising. Anyone may now construct their own 'brand' and sell to clients directly. Small businesses and entrepreneurs can gain immensely from this since they will be able to reach potentially enormous audiences that were previously inaccessible to them.
Glow Recipe is an excellent example of this phenomenon. In April 2021, the independent beauty firm launched a TikTok shop. Glow Recipe originally made waves when its products were shared by social media influencers with millions of followers. Sales grew by 600% as a result. For its Black Friday and Cyber Monday sales, more than 80% of its traffic consisted of first-time customers.
The tide is rapidly changing. Instead of a few large retailers and brands selling to millions of people, we now have millions of individuals and small enterprises selling to one another via a vast social commerce ecosystem. As a result, large corporations will continue to face intense competition from tens of thousands of small businesses.
---
Social Shopping Makes Sense
Because it's clever marketing, social shopping makes sense financially. Exceeding clients' expectations can lead to customer loyalty (repeat customers) and referrals (word of mouth).
Another reason why social shopping makes business sense is that it allows brands and retailers to interact with their audiences on social sites where customers spend most of their time. As a result, social shopping solutions offer a low-cost option to increase traffic and market reach. And, if used correctly, they can even increase the potential of an impulse e-purchase, a significant and primarily untapped opportunity in eCommerce.
However, the social psychology of social shopping is the most convincing reason why social commerce makes financial sense. Social media networks employ a variety of features and tools to pique people's natural urge to buy something they need and want. With the correct CTA at the right time and place, consumers can buy various products via social media without batting an eye.
---
Consumer Social Psychology
Social shopping's social psychology is pretty straightforward on one level. Social commerce capitalizes on people's natural interest in learning from the expertise and experience of the people they know and trust. A person's social intelligence includes the ability to understand and absorb information from others in social situations. Therefore, social shopping tools work by leveraging cognitive biases in how consumers are influenced by others while buying.
According to social psychology, thin-slicing, also known as heuristic thinking, is common among consumers. Thin-slicing is a mode of thinking that relies on a few essential information cues, frequently social, and a set of basic but generally clever mental rules of thumb to make intuitive decisions. Experts have identified several mental tricks that shoppers utilize to process thin-sliced data. And social shopping tools are effective because they harness these biases to increase the probability of buying behavior.
Follow the Crowd
In making a purchasing decision, shoppers frequently observe what others are buying or have bought and take their lead from them. People intuitively see anything that is exceptionally popular or dominating as social proof that it is the best, most valid option—a classic peer power in play. Among the social shopping features that employ social evidence to encourage heuristic-thinking purchasing decisions are:
Pick List: This category covers wish lists and gift lists, which give social proof about what people want and what they deem valuable.
Popularity List: This includes everything from the "most popular" to the "most remarkable" lists and everything in between and provides social proof of what the majority is buying.
Share Your Story Tool: A function that allows consumers to offer human-interest testimonials or reviews.
Follow the Leader
People's inherent tendency to trust an expert's or authority's judgments, regardless of what they say, plays a huge part in social commerce. They save time and energy for users by sharing their expert knowledge and experience. Among the social shopping features that take advantage of this are:
Expert Reviews: These are reviews from niche leaders, industry experts, and sometimes even new customers.
Referral-Generating Programs: These are referrals from people who know what they're talking about and are trusted by the community.
Follow Those You Like
People have a natural inclination to emulate and agree with people they like, admire, or find attractive. This builds social bonds and trust partly because it's part of impression management, which is managing our image and identity by association. Social shopping features that employ this include:
Influencer's List: This includes the favorite lists (brand, products, services) of influencers.
Referral Programs: These are private shopping events or live-stream portals exclusive to social members.
Group Shopping: This feature enables shoppers to co-browse online stores together and become influenced by people they like.
---
The Bottom Line
Even amid the pandemic, social shopping has risen steadily. As businesses strengthen their niche and social marketing campaigns, social shopping will become an integral part of eCommerce brands in the coming years. Customers are at ease with this buying medium because social shopping reaches critical audiences in ways other digital channels do not.
Social shopping gives businesses, brands, and platforms other revenue sources when digital advertising growth is expected to slow down. Retailers have the opportunity to offer new types of shopping experiences, connect with customers creatively, and engage influencers and creators. And while social shopping is still in its early phases, businesses of all sizes must capitalize on its opportunities right away.
Frequently Asked Questions
What is social shopping also known as?
Social commerce is a type of eCommerce which involves merchants selling their products directly through social media platforms. This changing field of online marketing lets users purchase products on social media platforms.
What is a social shopping site?
Social commerce is a type of eCommerce which involves merchants selling their products directly through social media platforms. Users can purchase products directly on social media platforms like Instagram or Facebook through specialized posts and product pages.
How does social shopping work?
Social commerce is a type of eCommerce which involves merchants selling their products directly through social media platforms. Potential customers can work with brands, browse goods and make purchases. Unlike social media marketing, social commerce lets customers checkout directly on the social platform.
Which is an example of social shopping networks?
Social commerce is all about selling your products on social networks. You can use Instagram, Facebook, Pinterest or TikTok to start your social selling journey. Each social network offers a series of options to put products in front of an audience.