There's a new buzzword in town—the metaverse. From a thing in fictional movies and virtual games, interest in the metaverse has invaded boardrooms as businesses discuss how to take advantage of it. Ever since Facebook rebranded to Meta in October 2021, the concept of the metaverse has reached mainstream attention.
The concept is not new. It's been around since the early 90's when the term was coined in the science fiction novel, Snow Crash. The metaverse—or metaverses—have already been developed and existed in various virtual games like Second Life and Fortnite. Today, millions are already spending hours in the metaverse.
---
Top 10 Metaverse Marketing Agencies
---
What is the metaverse?
There's still a lot of ambiguity over what the metaverse really means. The most common definition is that it exists as a parallel virtual world where users, represented by avatars, can shop, trade, travel, and socialize with other people.
Currently, various platforms have their own version of the metaverse. However, the real metaverse is envisioned to be an interoperable virtual place where multiple platforms can come together, and where users can move their digital assets from one platform to the next.
Just like the internet, it should be massively scalable with millions of digital avatars coexisting simultaneously. It is also envisioned to be a place accessible to everyone, providing countless virtual opportunities for creators and consumers alike.
With the advancements of blockchain, it's already possible to own unique digital assets—even virtual "real estate"—in the metaverse. In addition to this, blockchain technology enables a digital asset to be sold from one platform to another. This is perceived as the building block of a metaverse that is as ubiquitous as the internet.
---
Who uses the metaverse?
Currently, there are hundreds of millions of active users in the metaverse. One of the leading metaverse platforms, Roblox, receives 42 million visits per day. Travis Scott's metaverse concert attracted over 45.8 million viewers.
Accessing the metaverse involves using augmented and virtual reality (AR and VR) tech. With 1.7 billion mobile AR worldwide users expected by 2024, it's realistic to say that more and more people will be immersing themselves in the metaverse.
Gen Z dominates the majority of metaverse users. In fact, 67% of Roblox's 200 million active users fall below the age of 16. Gen Z consumers in the US are expected to have $143 billion spending power, a figure expected to surpass Millennials and boomers by 2030.
This is why many businesses are in a race to carve their space in the metaverse. Tech companies are developing metaverse platforms where avatars can learn about their products, while retail brands are creating applications inside the metaverse to better appeal to consumers. Facebook has rebranded itself to Meta and Microsoft has purchased Activision Blizzard—both in a bid to be trailblazers in the metaverse.
The metaverse is the future and it'll come sooner than we think. It's best to be prepared.
---
Should you advertise your brand in the metaverse?
According to research, the metaverse market size will reach $800 billion by 2024. Roblox reports that its users have spent $319 million on in-game currency only in the second quarter of 2020. Brands like Nike, Gucci, Hyundai, and Coca-Cola have either created apps, non-fungible tokens (NFTs), or metaverse experiences that promoted their brands and generated millions in revenues.
The metaverse may still be in its infancy, but it is without a doubt the next best place for brands to be seen and heard.
---
Brands Who Launched Metaverse Marketing Campaigns
Brands ranging from luxury fashion to fast food restaurants have successfully integrated themselves into the metaverse. These brands have launched successful marketing campaigns in the metaverse, including NFTs, virtual games, and viral stunts.
Wendy's
Wendy's organic metaverse marketing campaign involved a creative stunt where their avatar joined a food battle, not to destroy their opponents, but to destroy burger freezers. They announced the stunt on social media and live streamed it on Twitch, getting the attention of other players who began doing the same.
The stunt earned 1.5million minutes of watch time and produced a 119% increase in Wendy's mention across all online platforms.
Wendy's promises that their burgers always use fresh meat, not frozen. When they saw Fortnite's Food Battle game featuring burger restaurants with freezers, they grabbed the opportunity to amplify their brand promise. Their campaign is a classic example of what creative thinking can do and how brands can launch campaigns in the metaverse without additional costs.
Coca-Cola
Coca-Cola entered the metaverse by creating NFTs of their most iconic and retro brand icons. Dubbed The Friendship Box NFT, they sold a futuristic wearable jacket, a friendship card reminiscent of their vintage trading cards, a sound visualizer capturing the experience of consuming a Coca-Cola, and a vintage cooler. It was sold for 217 ETH, valued at over $575,000 at that time.
Partnered with Tafi, an avatar company, this is the brand's first foray into the metaverse. It will be the first of many metaverse marketing campaigns to come.
Coca-cola's approach to the metaverse is a common way for brands to break into this new world.
Gucci
Luxury brands, especially those in the fashion retail space, have an easy time embracing the metaverse. Gucci in particular partnered with Roblox to create Gucci Garden. It's a unique and interactive exhibit where visitors enter the garden and absorb the elements of every exhibition they visit. Visitors experience the exhibits in different orders and upon exiting the garden, each individual is a one-of-a-kind creation.
While the event has ended, it was a great way to introduce people to the Gucci brand and show how the metaverse can bring art and fashion closer to people.
Hyundai
Hyundai Motor Company also teamed up with Roblox to create the first virtual experience showcasing future mobility lifestyles in the metaverse. Dubbed Hyundai Mobility Adventure, the virtual space lets users experience Hyundai's mobility offerings by going through five themed parks. It was launched in beta mode to attract early users whose feedback can be used by Hyundai to improve the virtual experience.
With this move, Hyundai aims to build long-lasting relationships with a younger user demographic and be known as an innovative brand that's ready to embrace the future.
Nike
Nike acquired RTFKT, a studio that creates NFTs. For the brand, their digital transformation involves being at the intersection of sports, creativity, gaming and culture. RTFKT is known to create virtual sneakers in collaboration with a teenage artist who made the real counterparts. They've managed to sell 600 sneakers in 6 minutes for $3.1 million.
The acquisition shows Nike's intent to create and sell Nike-branded virtual footwear, apparel and accessories in the metaverse.
---
How to Start Advertising in the Metaverse
More and more companies are scrambling to launch their brands in the metaverse following the success of metaverse concerts such as Travis Scott's Astronomical Concert. As the number of users continues to grow, it's no surprise that the metaverse should be part of every marketer's advertising channel.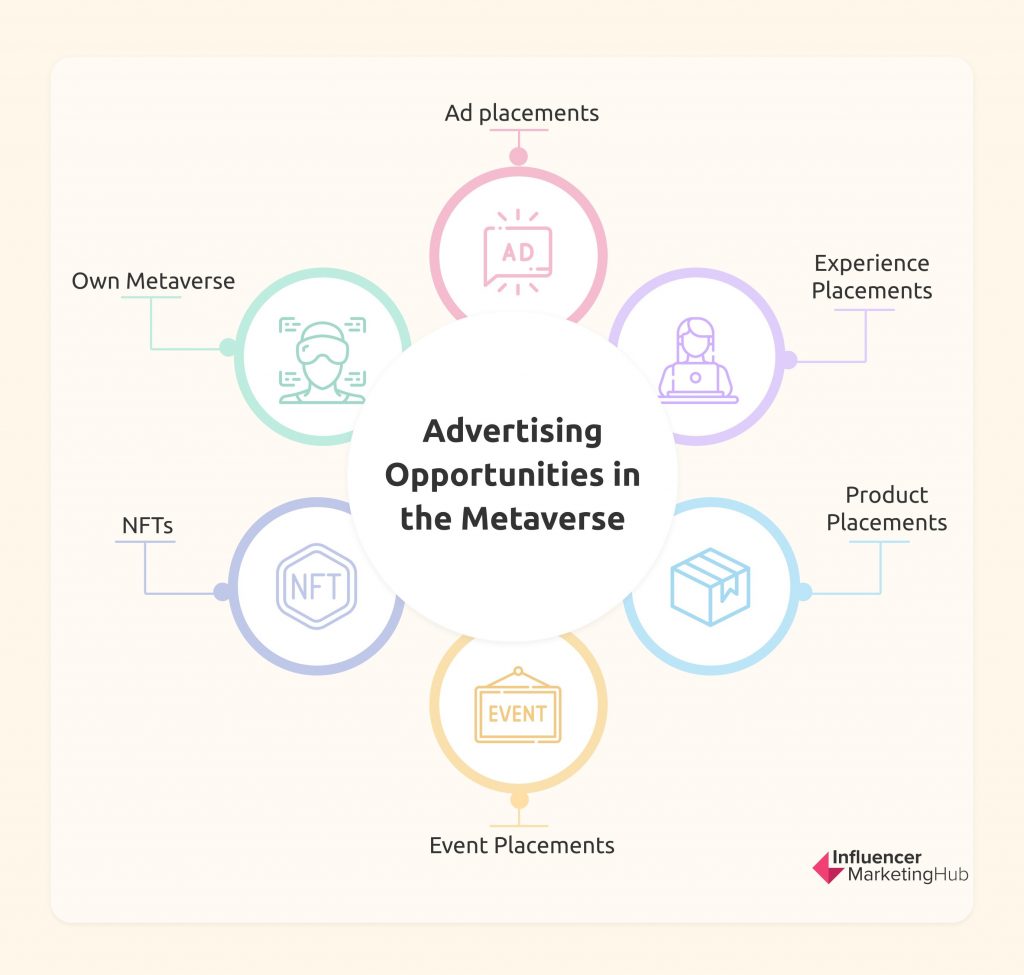 Following the lead of the brands above, here's how you can advertise in the metaverse.
Just like the real world, there are prime advertising spaces in the metaverse. Think of billboards, signages, bus posters, wall posters, and road banners. Since the metaverse is a parallel world, it would have the same real-world advertising potential – plus more.
In fact, video games like Grand Theft Auto and NBA2 have always promoted brands within the games.
Like the Gucci Garden virtual experience, companies can create virtual spaces where users can experience the brand. This allows them to know a brand up close and personal.
In the Gucci Garden virtual event, users can spend in-game money (equivalent to real world money) to buy limited edition items. One user even spent $4,115 for a virtual limited-edition Gucci handbag!
Just like in the real world, brands can also place their products in related virtual experiences for metaverse users. Hasbro achieved this by collaborating with Roblox to bring their Nerf guns to the platform.
With tons of well-attended virtual events in the metaverse, brands can host events to attract their target consumers. Events in the metaverse can accommodate millions of users – more than any real-world venue.
Like Coca-Cola and Nike, a popular way to enter the metaverse is by offering NFTs that celebrate a unique moment for your brand. NFTs can be purchased in crypto exchanges or within the metaverse itself. Users are attracted to NFTs because of their uniqueness and potential investment value.
No one owns the metaverse. You can always create your own to cater to your own audience and attract similar ones. Existing metaverses may get you in front of a limited number of people, but having your own space opens the possibilities for reaching a wider audience.
It's not too late to be part of the metaverse. In fact, now is the right time to join it. Launching early into the metaverse will allow brands to cement their presence as the concept matures.
---
How to Run Successful Metaverse Marketing Campaigns
Marketing in the metaverse allows brands to connect with audiences in new ways. The metaverse is a novel and exciting ecosystem where marketers can explore a lot of creative ideas. The sky is not even the limit in the metaverse. With so many possibilities, a campaign is only limited by your imagination.
Metaverse marketing is the future of digital marketing. If you want to start off well, you should bear in mind the following tips to ensure a successful metaverse marketing campaign.
Your mindset is important.

Believe that the metaverse is here for the long run. This enables your company to build meaningful long-term campaigns versus short-term executions.

Revisit your brand strategy.

The metaverse is a different world and how you position your brand must be parallel with what the concept stands for.

Hire the right people.

Your marketing team should include tech hunters. These are not just tech-savvy individuals. They are early adopters and trailblazers in discovering ways to incorporate new technology with what's existing.

Understand the value of NFTs.

Consumers are starting to assign a premium value to digital assets. The rise of NFT purchases means brands can create limited edition digital merchandise for consumers to collect.

Take advantage of virtual events, stores and experiences.

The metaverse allows for millions of users to come together for a single event or experience. This is a prime way to communicate your brand identity to a lot of consumers at once.
As the metaverse evolves and we shift from digital to metaverse marketing, opportunities for brand marketing will increase. It's critical that as early as now, brands understand how the metaverse works and explore the available options to form connections with metaverse users.
---
Top 10 Marketing Agencies Leading the Way to Metaverse Marketing
In recent years, the number of metaverse marketing agencies has increased. These are marketers who have specialized in creating campaigns specific to the metaverse.
Here are 10 of the leading metaverse marketing agencies worth checking out.
Publicis Poke is the leading metaverse marketing agency with a proven track record of creating campaigns for different clients with different goals. They're a group exceptionally curious about the metaverse and their team constantly explores various metaverses to understand how brand marketing fits.
EE - Unbox gaming on the go from Publicis•Poke on Vimeo.
In a recent digital in-store activation, the agency created an AR experience for users to unbox EE's new game. The activation, launched across 600 stores, succeeded in building engaging dialogue and interactions with consumers.
Publicis believes that for brands to thrive in the metaverse, they need to learn to communicate with consumers. Brands would need a gaming approach to create communities with their audiences. Publicis focuses on brand experiences, brand communication and brand commerce. By being immersed in the metaverse, they believe they can deliver on those three core promises.
---
Metavision's website says they are the studio for the metaverse. They work with entertainment brands to create metaverse experiences and have established themselves as the first specialist marketing agency for this virtual world.
They're behind the success of John Lewis' music launch and ITV's The Void game show. Metavision's core capabilities involve creating branded in-game worlds, providing creative strategy, and building engaging entertainment experiences.
The marketing agency believes that the metaverse will herald the rise of a virtual creator economy. To address this, they are committed to building a network of creators and studios across different platforms and technologies.
---
Rumfoords is a metaverse marketing agency that specializes in strategic and creative consulting. They help brands tell their story and build relationships within virtual worlds. To help brands understand more about metaverse marketing, they sell NFTs for their token-gated magazine.
The publication agency is founded by a duo who decided to quit the dying world of traditional advertising in 2020. After immersing themselves in the world of cryptocurrencies, blockchain, and the metaverse, they decided to combine their expertise of brand storytelling and help brands enter this new world.
They are behind the successful launch of Adidas Originals NFTs which overshadowed Nike's traditional entry to the metaverse.
---
Takeaway Reality is an AR, VR, and metaverse marketing agency whose projects involve creative executions that bring brands in front of their target audiences.
Their clientele includes brands in the sports, medicine, fashion, and food & beverage industries. TAR helps brands identify the XR experiences that fit their business and provides a range of options to help them take advantage of these virtual opportunities.
For brands who are just starting out in the metaverse, they can create proto-metaverse platforms. For brands who are more certain of their direction, their talented team can create 3D product models for the digital world. From beginner to more advanced strategies, Takeaway Reality can handle it for their clients.
---
Subnation Media is one of the leading metaverse marketing agencies specializing in immersive events for the gaming, shopping and entertainment industry. They claim to turn brand moments into social movements that allow brands to own entertainment assets.
They've been featured in various digital publications for their massive work in the gaming and esports media. With a clear focus on their target audience, they attract brands who want to reach these audiences in their native environment.
Subnation Media's notable works involve Atari Hotels, Justin Bieber's NYE Concert at Beverly Hilton, and an upcoming NASCAR metaverse launch.
---
Bemersive is a go-to metaverse marketing agency for big brands like L'Oreal, Twitter, Hava Group, Publicis Media, and more. They specialize in creating immersive XR environments for brand activations as well as nextgen platforms and content.
They use video games, augmented reality, virtual reality, NFTs, cloud-based solutions, and AI for their numerous clients.
---
Geeiq is a metaverse marketing agency that has their own platform to help clients make informed decisions regarding their next metaverse marketing campaign.
Using the Geeiq platform, brands can search and discover game and esports partners that meet their goals. The platform also provides competitive analysis so brands can know how their campaigns stack up against the competition.
Further, if you are unsure where to begin, Geeiq offers consulting services designed to help brands start marketing in the metaverse. They are behind the Gucci Garden campaign, the Gucci launch in The Sims, and Puma's launch in various esports and gaming groups.
---
Al Dente is a creative agency in Paris and Rome responsible for successful campaigns of numerous luxury brands. Now, they're bringing their expertise to the metaverse.
The agency has invested in metaverse real estate in The Sandbox and has begun a new line of services dubbed Metaluxury. Here, they combine their expertise in brand storytelling with NFT production and virtual experience creation.
Luxury brands are moving to the metaverse which they see as the next place to monetize their brands, and Al Dente has secured a spot to be a top metaverse luxury marketing agency.
---
Virtual Brand Group (VBG) is one of the leading metaverse marketing agencies that helps brands launch their business in the metaverse. They design, build, operate, market, and monetize business across different metaverse platforms like Roblox, Minecraft, and Fortnite.
One of their biggest clients is Forever 21, with which they helped launch a virtual store in Roblox. Avatars can purchase Forever 21 merchandise similar to what they can find in physical stores. They also created virtual fashion for the brand that can be monetized in the metaverse.
VBG believes that the metaverse will be the most powerful marketing channel for tomorrow's brands. That's why, using the power of web 3.0, they help brands create consumer experiences and powerful virtual products that connect the physical and digital realm.
---
Ocean Outdoor is a global OOH media company that has recently expanded in the metaverse by creating billboard NFTs.
Ocean Outdoor believes brands can have the same opportunities in the metaverse as they do in the physical world. They've partnered with Admix, an In-Play company to create NFT billboards that brands can rent to gain eyeballs for their company.
This digital OOH (DOOH) comes at a time when people are also purchasing real estate in various metaverse platforms like Somnium Space. This helps brands reach other metaverses apart from the popular and big ones.
---
Final Thoughts
The metaverse is an exciting new space for brands and consumers alike. There are so many possibilities available and what we're seeing is just the tip of the iceberg.
As more consumers flock into this new world, we can expect the tech to rapidly develop. And with these developments, we should anticipate that brands who are able to move into the virtual world will experience success over their competitors.
These are just some of the metaverse marketing agencies actively stewarding brands to the virtual world. Expect that more marketers will immerse themselves in this new world and more agencies will crop up in the coming months.
If you're a brand thinking of launching in the metaverse, check out these agencies and see for yourself how their work has driven success for their clients.
Frequently Asked Questions
What is the future of the metaverse?
The metaverse is developing faster than we can imagine. With the advent of new technology like Web 3.0, blockchain technology (powering NFTs and crypto) and advancements in XR (mixed reality) hardware, the concept of an alternate virtual world will happen sooner than later.
Finally, developments in the software and hardware sides are converging to bring the concept of a virtual world closer to home. It would be just a matter of time before real-world activities like hanging out and working can be comfortably done in the metaverse.
The lockdowns imposed due to the pandemic have also accelerated developments in this space as people shifted their behavior and spent more time online.
What is the target market of the metaverse?
The metaverse targets mostly younger millennials and GenZ. They are a growing market segment estimated to be worth more than $143 billion. Brands are finding success in creating new market segments with these demographics by integrating themselves in the metaverse. As this segment matures, we can expect to see more attention given to the metaverse.
How do you market in the metaverse?
Marketing in the metaverse has similarities and differences with real world marketing. It's important for brands to learn how to natively insert themselves in the metaverse. This requires knowing how the metaverse operates and how their target audiences are using the space.
Metaverse marketing agencies can help brands navigate this new and seemingly complicated world. They can create immersive virtual experiences, virtual goods for digital avatars, digital collectibles, and even establish a brand's own virtual venue.