With the ever-growing popularity of cryptocurrencies in 2022, it's no surprise that more and more people are looking to get into crypto trading. It can be difficult to determine which exchanges are the best because they are not created equally.
Whether you're looking for a beginner-friendly exchange or one with more advanced features, this list has something for everyone. Here is a list of the 25 best crypto exchanges for trading in 2022.
---
The Top 25 Crypto Exchanges:
---
What is a Cryptocurrency?
Cryptocurrencies, or crypto for short, are digital or virtual tokens that use cryptography to secure their transactions and control the creation of new units. They are decentralized, meaning they are not controlled by a central authority like banks are. This makes cryptocurrencies more secure as an alternative payment method because there's no one point of failure.
Cryptocurrencies also have low transaction fees, which makes them attractive for online payments. Plus, cryptocurrencies can be accessed anywhere in the world since they're not tied to any specific country or region.
---
Why Do Cryptocurrencies Rise in Value?
The value of cryptocurrencies is determined by supply and demand. People invest in cryptocurrencies because they believe that they will be worth more in the future or that they can make money by speculating on their price changes.
Cryptocurrencies are also deflationary, meaning that the total number of them in circulation decreases over time as fewer are mined. This deflationary nature contributes to an increase in their value over time.
---
How to Buy Cryptocurrencies?
Cryptocurrencies cannot be purchased from a regular currency exchange office. You must buy them online on a crypto exchange.
Crypto exchanges generally support the buying, selling, and trading of non-fungible tokens or NFTs. Some may also support fiat currencies such as US dollars or other cryptocurrencies like Bitcoin, Ethereum, and Litecoin.
---
Can I Purchase Crypto Through a broker?
Cryptocurrency brokers are a new and growing industry. A brokerage can make it easier to invest in cryptocurrencies with their easy-to-use interfaces that allow you to trade with ease and make sure that there is no complexity involved as they do the exchanges for you.
Some brokering services charge higher fees than other platforms, but they offer you the convenience of trading cryptocurrencies on your behalf without the hassle of having to do it yourself.
New Cryptocurrencies Listed
---
The Best 25 Cryptocurrency Exchanges of 2022
Here are the best cryptocurrency exchanges that are available in 2022:
Founded in 2012, Coinbase was the first cryptocurrency exchange to go public on Nasdaq in 2021. The company offers a simple interface and an array of educational content that are easy to understand for beginners who want to get into crypto trading.
Coinbase has over 13,000 institutions on board in more than 100 countries who trust its easy and secure way of investing and saving digital currencies. With a large database of users, Coinbase keeps crypto secure by keeping it offline or in an FDIC-insured storage solution for up to $250,000 worth of coins per customer's account.
---
For experienced crypto traders, using Coinbase Pro offers additional features for trading cryptocurrencies. As the more advanced trading version of Coinbase, the pro version allows users to execute trades in a variety of ways. The beginner-friendly and intuitive interface application offers real-time charting tools with moving averages and exponential smoothing to help traders make more accurate predictions.
---
Gemini is a top-rated cryptocurrency exchange that offers beginners and active traders an excellent platform. Their focus on security measures makes them one of the most trustworthy exchanges, with cold wallets for your funds in addition to educational resources appealing specifically to newbies, making it a great choice if you want to learn more about cryptocurrencies. Gemini is also a licensed trust company, which means they undergo more audits than most other exchanges.
---
Kraken is a well-established cryptocurrency exchange that was founded in 2013. It allows trading in 50+ cryptocurrencies, including popular options like Bitcoin, Ethereum, and Litecoin, at ultra-low fees if you are an active trader. It also has advanced features like options and futures and margins trading, as well as chain stacking, which gives holders a better chance at being rewarded bi-weekly.
---
Passive income is among the most popular ways to earn money on BlockFi. It has a rewards card that can turn any purchase into cryptocurrency earnings.
It is good to note that the flagship product of the company is the BlockFi Interest Account (BIA), which allows existing clients to earn compound interest on their cryptocurrency. BlockFi is also a lending platform that lets you borrow against your crypto assets. You get access to funds as early as one day and partially pay your loan without any outstanding penalties.
---
Bisq is an open-source, decentralized exchange that connects buyers and sellers. Launched in 2014, it was one of the first DAO or Decentralized Autonomous Organizations.
Unlike other crypto exchange platforms that are web-based and centralized, Bisq does not use any central server. This means it will take a very hard time for hackers to steal money from users since the information is only restricted to those involved in the transactions performed within your browser.
---
Known for its strong presence in the Asian market, Huobi Global has a whole ecosystem of digital assets with over 400 cryptocurrencies that encompass staking, spot trading, crypto loans, and derivatives trading, to name a few. Moreover, the platform also supports fiat currencies such as the Chinese Yuan, making it an attractive option for those looking to invest in alternative coins or altcoins.
---
Crypto.com, one of the world's largest crypto exchanges and payment services providers, is a mobile app that aims to be your one-stop shop for anything crypto. It supports a wide range of cryptocurrencies, including Bitcoin, Ethereum, ad Litecoin, including their own products such as Crypto Earn, a rewards program where users can earn points when making purchases online using CRO coins. While the platform offers more tradable assets and lower trading fees, the interface is not as easy to navigate for those new to crypto trading.
---
KuCoin is an up-and-coming cryptocurrency exchange platform that offers traders the opportunity to trade cryptocurrencies with fiat currencies like EUR, CZK, or USD. With more than eight million customers, it is one of the top 10 cryptocurrency exchange platforms by trading volume.
KuCoin offers a variety of services for API users, including quantitative trading strategies and discounts on fees to help you trade smartly. They also have a peer-to-peer loan feature that allows users to earn interest on their cryptocurrencies by loaning them out.
---
Bitstamp is a global crypto trading platform that lets you trade between cryptocurrencies and traditional currencies. It has been around since 2011 and is a very reliable platform, given its intuitive and uncomplicated interface. It offers high liquidity, quick deposits and withdrawals, and premium access for traders.
---
As the global economy grows, so too does decentralized finance (DeFi), with 1inch catching the eyes of crypto enthusiasts as one of those leading exchange aggregators available in which to trade and invest. It offers high liquidity rates with low fees for traders looking into making large trades across multiple coins or tokens on one platform, all without sacrificing their security or privacy.
With 1inch, users are allowed to swap coins on any of its pools with no transaction fee. They can also create their own order limits and earn from providing liquidity pools.
---
eToro is one of the leading social trading and multi-asset platforms that was designed with the beginner in mind who does not have any technical know-how because of its user-friendly interface and reliable resources and tools. Whether or not you are looking for a more traditional approach to trading, its innovative investment strategies are powered by AI or artificial intelligence. By leveraging both traditional algorithms as well as machine learning techniques, they get to eliminate a lot of the need for human intervention in financial transactions.
---
The Bittrex Global trading engine is an innovative and powerful system that lists various cryptocurrencies, from the popular Bitcoin and Ethereum to the altcoins Komodo and Binance Coin. Its low fees and quick trade execution make this site popular with high-volume investors looking for opportunities on the fly.
Bittrex's interface stands out as refreshing, clean, and intuitive. It seamlessly combines automated features with standard technical charting tools, making it easy for traders to execute trades quickly without any lags or hang-ups during execution time.
---
bitFlyer is a Japanese cryptocurrency exchange that was founded in 2014. It is one of the most popular exchanges and has very competitive fees. In addition, it offers a limited amount of cryptos but low trading costs, making it perfect for those who want to trade a lot of small cryptocurrencies or very few coins with low fees.
The interface is beginner-friendly, with features such as margin trading and stop-loss orders available to experienced traders as well. Fees are based on the smallest possible transaction level, which makes it economical for traders who make multiple transactions.
---
To keep up with the volatile and ever-changing cryptocurrency market, FTX offers innovative products like industry-first liquidity solutions, futures trading, and leveraged tokens. These are for traders who demand more than just low fees but also the best trading conditions available on any exchange today. First-time users and crypto novices can benefit from FTX's trading chart that provides important data, not just about your performance history but also that of the markets.
---
FTX.US is the crypto exchange platform that is specifically for US-based traders as there are restrictions imposed by their government to transact on the FTX.COM platform. Similar to the latter, it is great for experienced traders because the products offered here require an understanding of both market trends as well as technical analysis to be successful in using the platform.
---
Binance is considered a popular choice for traders to buy and sell cryptocurrencies because of its ease of use, low fees, and a large selection of currencies available on the platform. It started as an exclusively crypto-to-crypto trading platform, but it recently began offering fiat currencies such as USD and EUR via bank account deposits with limited support for credit card payments, too. This resulted in it facilitating $2 billion worth of trading activity every day.
---
Traders based in the United States can join Binance.US, the cryptocurrency trading platform created by the team behind Binance. It has the same great features but focuses on compliance with US regulations.
While the platform offers a wide variety of digital assets for trading transactions, it doesn't offer margin and futures trades as other exchanges do. Binance.US focuses only on spot transactions, unlike its global platform that offers more options for lending or margin buying.
---
Webull is an innovative company that offers free trades of stocks and crypto trading with at least 15 supported coins. You can trade any time of the day and week because there is no commission set by regulation. The company has 20 more crypto variants that are available to watch and track.
---
If you want to exchange cryptocurrencies fast and buy them with a bank card, then Changelly is your best option. Operational since 2015, the platform provides safe and reliable trading with low rates while providing safety from exposure to user identity theft during transactions.
---
With just $10, you can start trading on the tech app of SoFi, a financial services company that has developed an app for cryptocurrency investing. Within their mobile trading platform, users are allowed to trade Bitcoin, Ethereum, and many other coins 24/7 from anywhere in the world without any restrictions or commissions. Moreover, the company's platform gives investors access not only to stocks but also to fractional shares or ETFs in addition to all their existing coin options for those who use it as well.
---
The Canadian CoinSmart platform is easy for new crypto users since funding can be done by e-Transfer, Credit and Debit Card, or Bank Wire. The platform has small but powerful portfolios of different coins, including Bitcoin, Ethereum, and Litecoin. It also offers a great way for those new to the space to get involved with cryptocurrency.
---
If you are Canadian and are looking for a reliable and user-friendly platform to trade cryptocurrencies, Newton is a great option. With high-level security partnerships in place, you can rest assured that your funds are safe on the platform. Moreover, the company has partnered with security company Balance to provide its customers with the opportunity to store their digital assets in a secure and fully insured data center. So, your files are protected from hacks, theft, or any other form of malicious acts.
---
Uphold is a company founded in 2013 and offers digital and non-digital assets for purchase, such as stocks, commodities, currency, or metals, alongside cryptocurrency. It allows you to use credit cards and wire transfers as funding methods for your account, making it a very versatile exchange available.
The company created the Uphold Card that allows you to spend crypto at over 50 million merchants and all ATMs virtually worldwide. It is like having a debit card with Mastercard acceptance, but without the fees.
---
Over 12 million Indians trust the mobile crypto trading app, CoinSwitch, which allows users to trade over 80 cryptocurrencies and fiat currencies. It doesn't require registration, making it ideal for those new to the world of cryptocurrencies. In addition, CoinSwitch supports a 24/7 live chat which makes it perfect for those who get stuck or need assistance while trading on their website.
CoinSwitch has a beginner-friendly interface that benefits inexperienced users. Aside from that, you can withdraw your funds anytime, which makes the platform very convenient to use.
---
Factors to Consider When Choosing a Crypto Trading Platform
1. Security of Cryptocurrency
Cryptocurrencies are digital and not under government control, so they are less of a concern. Be careful with your cryptocurrency and use multiple exchanges to keep your funds safe. You could secure your coins by moving them into a separate "cold" wallet, which is a type of storage that is not connected to the internet. This prevents hackers from being able to steal your coins with a simple computer hack. Moreover, storing your coins in a physical device called a hardware wallet can keep your cryptocurrency keys offline. This protects them from being stolen by hackers who might gain access to your computer.
2. Privacy
When choosing an exchange, you should always consider how your personal information will be used and stored. Centralized exchanges have a lot of advantages, but they also come at the cost of privacy. They store all user information and fund keys on their servers which allows them access to your personal details like name or bank account number. The risk of privacy lies in what happens when things go wrong. Since these institutions store a lot about each individual's transactions, including date and time stamps, there is potential that hackers could use selective storage failures to track your movements and use that information for malicious purposes.
3. Number of Supported Coins and Fiats
Each exchange platform has different features and options, so it's important to determine what you need. Though more altcoins are available from these exchanges, which can be confusing for new traders, most platforms accept USD, EUR, and GBP. However, others have more options in local currencies.
4. Ease of Use
The best crypto trading platforms are those that are easy to use. They should have a user-friendly interface that is intuitive and simple to navigate. The platform should also offer customer support in case you need help with anything. Having a team that is on 24/7 operations is an advantage, especially if you are in different time zones.
5. Payment Methods
When choosing a crypto trading platform, consider one that has options like bank transfer or credit card. Platforms with more advanced payment methods are better for traders who want access to their funds when needed most.
6. Geographical Restrictions
Some exchanges only operate in certain countries and will not provide the ability to trade in other countries. This can be very frustrating if you live in a country with strict laws and regulations and want to use an exchange that is not based there. The best way to avoid this problem is to use a decentralized exchange because, even if they may not be as easy to use, they allow you the freedom of trading in any country that has internet access.
7. Customer Support
Customer support is the backbone of any trading platform, and it can be what decides between one exchange over another. If your chosen company doesn't have good customer service, you might even lose more time or money as well.
8. Language Support
It is important to consider the language support offered by the exchange. Some exchanges only offer support in English, while others are available in multiple languages. Depending on what you need, it is important to consider this factor.
9. Fees (Exchange, Trading, Service, Margin)
When you trade crypto on an exchange, you may be charged a fee. While this is typically a percentage of the amount of crypto traded, other fees may be charged to you later on with your transactions.
The good news is that fees are generally very reasonable, and you can normally find an exchange that suits your needs in terms of fee structure.
---
Do You Just Look at Crypto Exchanges Platform with Lowest to No Fees?
As mentioned, fees are generally very reasonable. However, you may find that some exchanges have lower fees than others. While this is certainly a positive aspect to look at when choosing an exchange, it is not the only thing you should consider.
For example, if you are looking to trade in large amounts of crypto, some exchanges may require a minimum deposit or have maximum withdrawal limits that are unsuitable for your needs. Other exchanges will also charge higher fees for using fiat currency to buy crypto. Similarly, if you are a beginner or intermediate trader who is looking to make smaller trades, an exchange with high fees might not be the best option for you.
Ultimately, the best exchange for you will be one that offers a wide variety of cryptocurrencies and fiat currencies, high-security standards, a good customer support team, and low transaction fees.
---
What are the Risks When Investing in Crypto Trading Platforms?
Investing in cryptocurrencies comes with risks. Below are some of the risks to consider before you start trading: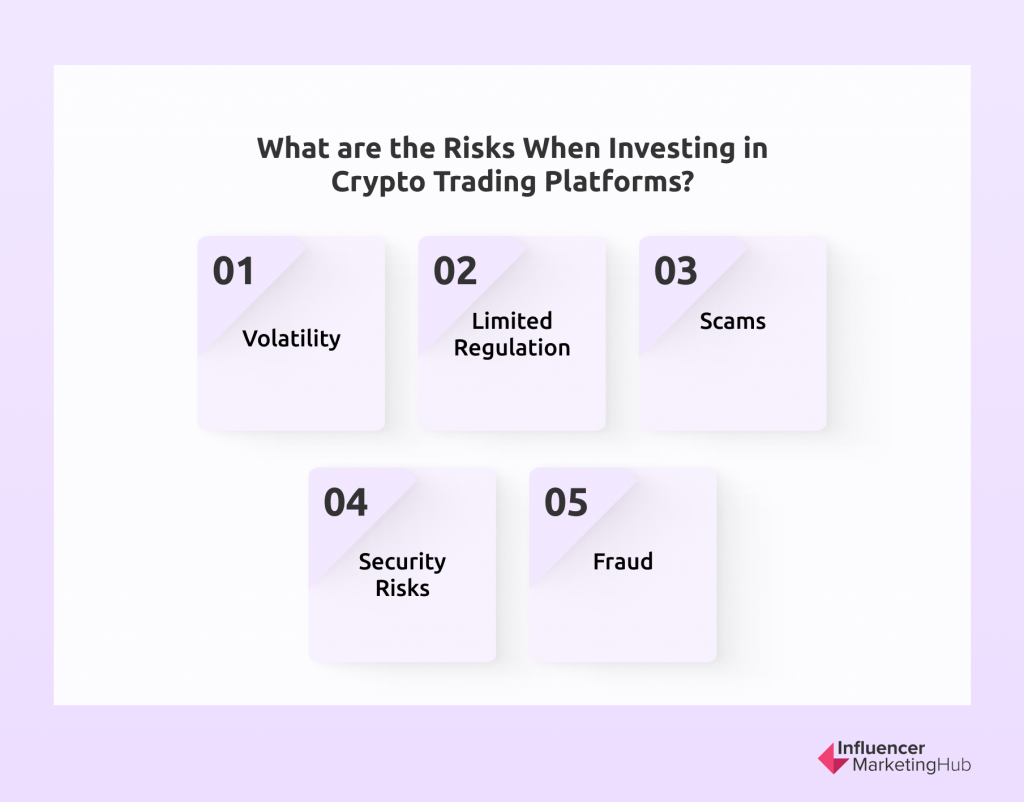 1. Volatility
Cryptocurrencies are notoriously volatile, meaning their prices can rise and fall sharply over short periods of time, causing their value to change rapidly. This volatility can be driven by several factors, including news events, rumors, and changes in market sentiment. While this volatility can be attractive to some traders, it can also put your capital at risk if you're not careful.
2. Limited Regulation
Cryptocurrencies are currently not subject to the same level of regulation as other asset classes like stocks or commodities. This lack of regulation makes them more susceptible to manipulation and fraud. Additionally, there is no guarantee that you will be able to recover your losses if something goes wrong.
3. Scams
Scams are also a problem in the cryptocurrency world. There have been many cases of people losing money to scams, so it is important to be careful when choosing an exchange.
4. Security Risks
Cryptocurrency exchanges and crypto wallets are often targets of hackers and other malicious actors. This is because they usually hold large amounts of valuable data like private keys and passwords. If these systems are compromised, it could lead to the loss of your funds.
5. Fraud
The volatility of crypto makes it an attractive target for criminals who use them for illegal activities such as money laundering and tax evasion. Given the lack of regulation, it is not uncommon for fraudulent projects to raise funds through initial coin offerings (ICOs). These scams often promise high returns or new innovative technology but end up delivering nothing. If you are thinking about investing in a project, make sure to do your research first.
---
Trading Cryptocurrency: The Bottom Line
Getting into the crypto market can be a very lucrative endeavor. While there are many scams out there, some of these projects may have the potential to generate revenue.
However, it is important to remember that the crypto market is highly volatile and can be a risky investment if you are not careful. This can be discouraging for new investors, but the more you educate yourself on how this industry works, the easier it will be to find success.
In investments, it is important to be aware of the risks involved. No one can predict with 100% certainty what will happen in the markets, so always do your research before investing. Understanding that investing in cryptocurrencies is highly speculative, never invest more than you can lose.