In a world that's made more connected by modern technology, alternative payment methods, also known as local payment methods, help make more products and services available to more people around the globe. Many businesses have also become more open to accepting non-cash or non-credit card payments.
How have APMs become immensely popular for both consumers and merchants worldwide? Why are they important, especially in ecommerce? Who benefits the most from these new ways of paying for products and services?
Let's explore alternative payment methods and find out how they're shaping industries like finance and e-commerce.
---
Everything You Need to Know About Alternative Payment Methods in 2024:
---
What are Alternative Payment Methods (APM)?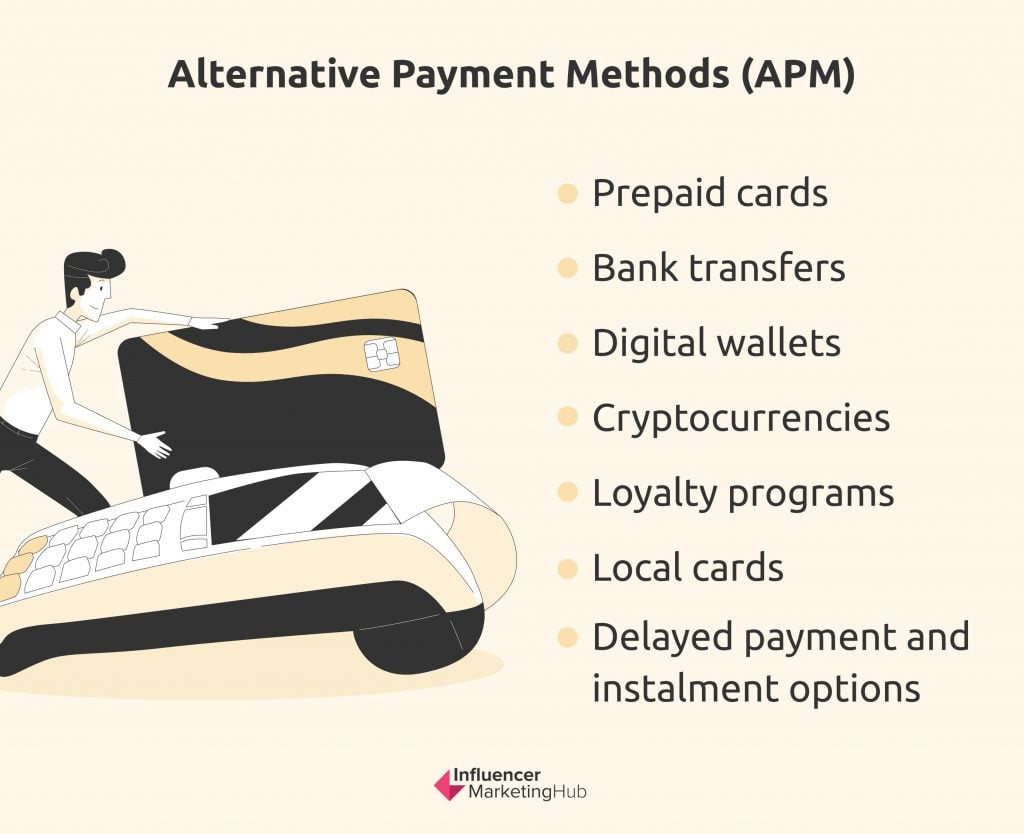 Alternative payment methods (APMs) are new means of paying for purchased goods or services. They're alternatives to more conventional payment methods, such as cash or major credit cards. Some common examples of APMs include:
Prepaid cards

Bank transfers

Digital wallets

Cryptocurrencies

Loyalty programs

Local cards

Delayed payment and installment options
The pandemic has spurred consumers' rapid adoption of alternative methods of payment. In the US, the use of cash has declined, and this trend is likely to continue, alongside the rise of contactless or digital payment options.
For example, it's expected that by 2026, the use of digital wallets will grow by 53%, jumping from a total spend of $3.4 billion using digital wallets in 2022 to more than $5.2 trillion in 2026. The popularity of digital wallets, which is any software or hardware that enables users to make electronic payments, is mainly because of the convenience and security they offer.
Alternative payment methods are also becoming more popular around the world. Take Germany, for example. 57% of German consumers prefer to use PayPal for online shopping transactions. In 2019, a Consumer Payments Survey found that Australians are continuing to embrace alternative, mainly electronic, payment methods. The use of contactless card payments grew by 50% that same year.
Furthermore, in 2019, the majority of online purchases (60%) made by Dutch consumers were settled using iDEAL, an online payment method that's local to the Netherlands. In 2021, 70% of online purchases were paid using iDEAL
While they may be dubbed as "alternative," some markets have begun to openly accept such payment methods, like digital wallets, buy-now-pay-later schemes, and direct debit payments, making APMs more mainstream. In the Asia Pacific Region, for example, digital or mobile wallet payments make up for 58.4% of payment methods, compared to payments made using credit cards, which only makes up 20.1% of payments methods.
While the adage "cash is king" still applies to some extent in this day and age, there is a need for businesses to adapt and cater to changing consumer behavior that's shaped in part by modern technology. By exploring other modes of payment for transactions, you're essentially making your business more accessible to your customers.
For merchants, not being able to accept alternative payment methods is like setting up a wall around your business. This barrier makes it harder for consumers to access your goods or services and patronize your business. This, in turn, can translate to loss.
---
Alternative Payment Method Types

There are several types of alternative payment methods that are currently in use worldwide. Some of the most popular ones include:
Digital wallets, or e-wallets, enable consumers to make contactless payments. With a digital wallet, you can store your credit and debit cards, as well as coupons, boarding passes, tickets, gift cards, and loyalty cards. With digital wallets, there's no need for you to carry an actual wallet with physical cards or cash. Examples of digital wallets include:
Cash App

Samsung Pay

Venmo

PayPal

Alipay
Note that while digital wallets are popular, not all merchants accept them as payment methods.
Mobile payments are made using your smartphone. Customers can top up their preferred mobile payment app and use it to pay for online, QR code, and even SMS transactions. Some of the commonly used mobile apps include:
Apple Pay

Google Pay

Quickbooks Go Payment

Xoom

Square Cash
Online bank transfers, or wire transfers, allow you to pay for online purchases by sending money directly from your bank account to a business's bank account.
This type of APM is usually applicable for recurring payments for subscription-based services. Customers authorize businesses to directly take a fixed amount of funds directly from their bank accounts for a set period of time.
This type of alternative payment method enables consumers to purchase services or goods online and pay for them at a later time. Often, installments can be availed through financing options.
One of the most commonly used payment installment methods is the buy-now-pay-later (BNPL) scheme. With BNPL, consumers can either pay the entire amount of their purchase at a later date or avail of monthly installments. Popular BNPL services include Klarna, Afterpay, and PayPal (available only for users with approved credit).
Local cards are debit or prepaid cards designed for local payments. This APM is popular because it allows for the localization of payments. For businesses, offering local cards can help them penetrate new global markets and meet local demands.
Cryptocurrencies, which are decentralized digital currencies, are fast becoming a popular alternative method. Yes, many cryptocurrencies are volatile. However, Bitcoin is gaining widespread attention from ecommerce merchants, particularly merchants who want access to more secure transactions. It's expected that in the coming years, cryptocurrencies and stablecoins, which are digital currencies that are linked to fiat currencies, will play a big role in finance and online payments.
---
What Roles Do APMs Play in Ecommerce?
Alternative payment methods are widely used in ecommerce. Once regarded as something that's nice to have, APMs have now become a must-have for businesses.
This is because they provide greater security and convenience for online transactions. For ecommerce merchants, APMs offer less payment friction, which is often seen as a major deterrent by consumers. Many consumers are abandoning their online purchases because of poor or complicated payment processes. APMs like Klarna enable consumers to complete a transaction with only a few clicks.
Also, one of the most common reasons shoppers abandon their cart is because of the lack of trust and limited payment options. Not all users are comfortable with paying for online purchases using their cards. Giving customers reliable alternative payment methods helps them feel safe and secure.
Furthermore, not giving consumers access to their preferred payment method often leads to cart abandonment. This, in turn, can adversely affect your conversion rates. This is why it's best to find out what the popular payment methods are among your target audience and find ways to offer such APMs.
Moreover, if you're looking to expand your ecommerce business by going global, APMs can help you offer cross-border payments to your international customers.
Today's consumers want access to services that are convenient and versatile. By offering alternative payment methods, you're giving your customers the freedom to choose how they want to pay. Not being able to keep up with their demands can drive your customers away from your business.
---
Advantages of Alternative Payment Methods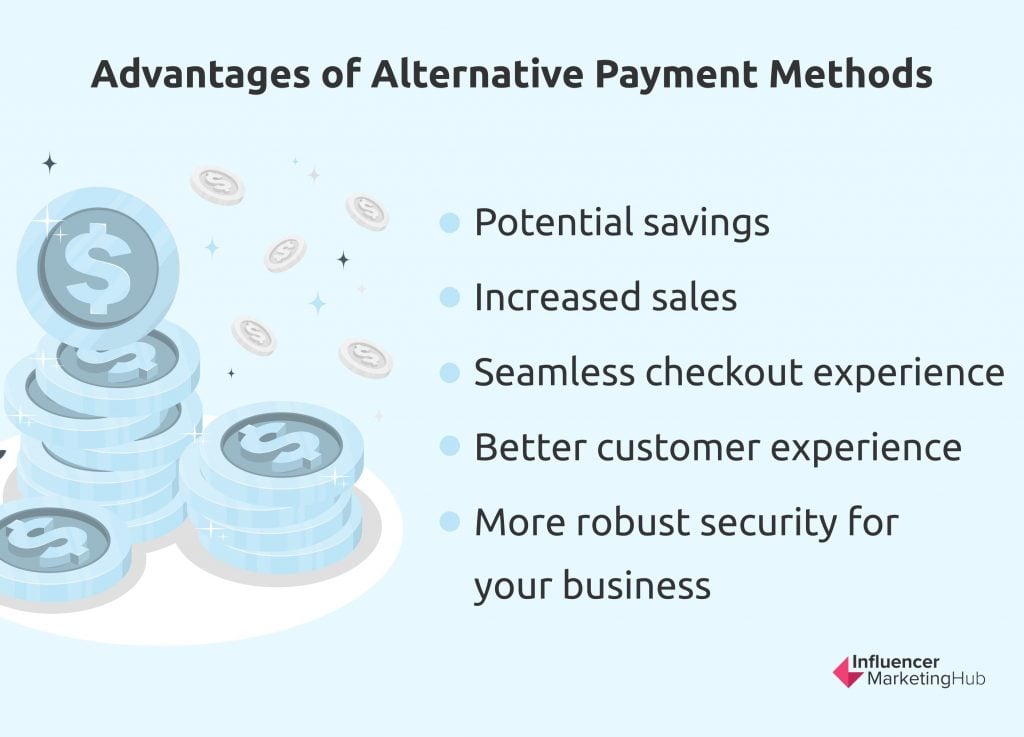 It's not just the consumers who can benefit the most from APMs. Businesses, regardless of their scale, can benefit from such payment methods:
Credit card processing fees can get very expensive and affect your profit margins. With APMs, businesses can do away or save on usage costs. Customers can also save on transaction fees that are charged every time they use their credit or debit cards.
By offering customers the option to control how they pay for their purchases, you're minimizing the risk of cart abandonment. APMs also allow you to accept payments from international customers.
Seamless checkout experience
Problems at any point of the transaction process can deter customers from completing their purchases. APMs can simplify payment processes, thereby giving consumers lesser obstacles in their transactions.
Better customer experience
Alternative payment options are giving consumers more freedom to pay for the things they want, even without using credit or debit cards for more expensive transactions. APMs like Klarna offer customers affordable financing for their purchases with only a few clicks.
More robust security for your business
Cybersecurity is a pressing issue that concerns not only consumers but also merchants. One of the reasons why shoppers abandon their cart is because of issues with payment security. Some APMs offer an additional layer of security, such as requiring customers to enter their username and password. APMs, like digital wallets, utilize face ID or fingerprint recognition, which can help reduce the risk of fraud.
---
Leveraging Alternative Payment Methods to Enhance Your Operations
With the sheer amount of alternative payment methods available, how do you go about selecting the right one for your business? When looking for APMs you can offer, consider factors like price, features, functionality, and security. You should also make sure to:
Understand who your customers are, especially if you're working in new regions.
Keep in mind that consumer preferences tend to vary between different territories, even when you're working within the same region. Use data and leverage local expertise and knowledge to uncover relevant insights for a particular region.
Stay on top of customer expectations.
Prioritize discovering what your customers expect when it comes to payment methods. Would your target market more likely prefer paying for purchases through installments or do they want access to seamless checkout processes via digital wallets?
Just because there are several APMs, doesn't necessarily mean that all of them will suit your business, industry, and needs. To find the best APMs for your business, think about your target market, the nature of your transactions, and your budget.
Some APMs can come with higher costs per transaction, which can affect your bottom line. Keep in mind that while APMs offer greater convenience and flexibility, they don't always guarantee that your business will be free of customer churn.
The great thing about APMs is you can use more than one method for your business. If you're doing business within the US, you can offer PayPal or Venmo. If you're expanding to Southeast Asia, you can use APMs like Boost, GrabPay, or OVO Wallet.
---
Final Thoughts
The payment landscape is changing. New payment methods, which are often more convenient and secure compared to traditional methods, are emerging, and they're here to stay. APMs are empowering today's merchants and consumers. For consumers, APMS give them the freedom to control how they want to pay.
If you want your business to grow, whether locally or globally, it's worth considering offering alternative payment methods. This can help boost your sales, reduce instances of fraud, make your business more trustworthy, and enable you to meet changing consumer demands and expectations.
Frequently Asked Questions
What are some of the most popular examples of alternative payment methods?
Some of the most common alternative payment methods include some brands you might already be familiar with, such as:
PayPal
Stripe
Apple Pay
Samsung Pay
Square Cash
AliPay
Klarna
Grabpay
How did APMs start?
Essentially, the term "alternative payment method" was used to describe payments that weren't made using cash or cards. The emergence of the Internet paved the way for new financial technologies and for tech companies to create platforms that provide consumers with more convenient ways to pay. PayPal, a service originally designed for online money transfers, is widely considered as the main driving force for the growth and expansion of APMs.
Can cryptocurrencies be considered as alternative payment methods?
Yes, cryptocurrencies like Bitcoin are considered as alternative payment methods. While they are volatile, some of the more stable cryptocurrencies are now being used to pay for purchases. Some merchants that accept crypto payments include:
PayPal
Overstock.com
Whole Foods
Rakuten
Home Depot
Starbucks
Etsy