For the last few decades, Black Friday has become a pivotal shopping period for both shoppers and retailers alike. Technically, Black Friday is the day after the U.S. Thanksgiving holiday, marking the beginning of the holiday shopping season. In the U.S., many shop employees have had a day off from work the previous day, before having their busiest few days of the year. Stores offer big discounts to encourage as much spending as possible.
Although Black Friday was traditionally a single day, eCommerce stores turned Black Friday sales into a long weekend, by offering major discounts on the following Monday, Cyber Monday. We have previously looked at Black Friday and Cyber Monday Consumer Trends and Insights, where we found that while Black Friday and Cyber Monday are two separate events, the lines dividing them are increasingly getting blurred.
In many countries, Black Friday and Cyber Monday are now institutions, with people camping out early on Black Friday morning to ensure they are at the front of the queue to grab the best bargains. These sales are so important to many retailers that they spend a year planning them, trying to make each Black Friday sale bigger and better than the previous one.
In 2011, Walmart announced that they would start their sales on Thanksgiving evening. This started a trend, and now Black Friday in many locations is really a Black Weekend. By 2022, Black Friday had expanded to be a five-day holiday shopping period from Thanksgiving Day through Cyber Monday, with "Black Friday" sales encompassing the whole period.
In this article, we highlight a selection of Black Friday statistics indicating how the event has grown to become the premier shopping weekend of the year. The term Black Friday was coined by Philadelphia police officers having to work 12-hour shifts when dealing with crowds of shoppers flooding the city the day after Thanksgiving in the 1950s. Before long, however, stores US-wide (and eventually globally) began to hold sales at this time. For consistency, all sales figures in this post are expressed in $US, no matter where they occurred.
Download the BF Influencer Guide
---
23 Black Friday Statistics You Need to Know:
---
1. Nearly 200 Million Americans Shopped Over the 5 Days of Black Friday in 2022
According to the (US) National Retail Federation (NRF), 196.7 million Americans shopped in stores and online during the five-day holiday shopping period from Thanksgiving Day through Cyber Monday 2022. This was up nearly 17 million from 2021 and is the highest figure since NRF first started tracking this data in 2017.
Clearly, it didn't take long for Americans to forget their reluctance to shop during the worst ravages of Covid over the previous few years.
---
2. More Than Three-Quarters of US Consumers Said They Shopped Over the Thanksgiving Holiday Weekend
The NRF's survey also found that (76%) of consumers said they shopped over the Thanksgiving holiday weekend, up from 70% in 2021. These numbers shattered NRF's initial expectations by more than 30 million.
---
3. Nearly 123 Million People Visited Bricks-and-Mortar Stores in the US Over Black Friday Weekend 2022
According to the NRF, more than 122.7 million people visited US brick-and-mortar stores over the Black Friday weekend, up 17% from 2021.
---
4. Over 130 Million People Visited US Online Stores Over Black Friday Weekend 2022
Online shopping had a sizable boost over the early COVID period, so it should be no surprise that there was less of an increase in online customers over the Black Friday sales period in 2022. However, as the NRF reported, that didn't stop 130.2 million online shoppers participating, a 2% increase over 2021.
---
5. Black Friday Online Sales Totaled a Record $9.12 Billion in 2022
Adobe Analytics estimated that US online shoppers spent $9.12 billion on Black Friday, November 25th (alone), up 2.3% from $8.92 billion in 2021. Although not a sizable increase, online sales exceeded Adobe's estimate of $9 billion.
---
6. US Residents Spent Large Online on Thanksgiving
Thanksgiving may have been a holiday to most Americans, but that didn't stop them from going on their phones and computers to shop. Although, as we saw above, many waited until Black Friday to make their purchases, there were still sufficient shoppers to spend $5.29 billion on Thanksgiving Day, up 2.9% year on year (YoY).
---
7. Cyber Monday Generated Even Higher Online Sales in 2022
Black Friday may have seen a respectable level of sales, but online shoppers had only just started. They spent $11.3 billion in online spending, breaking eCommerce records. This represented 5.8% growth year-over-year.
---
8. Cyber Week Drove $35.3 Billion Online Sales in 2022
Based on Adobe Analytics data, if you look at the entire week, "Cyber Week", there was $35.3 billion of holiday season spending online. This was up 4% on 2021's figures.
---
9. Cyber Monday Spending Driven by Toys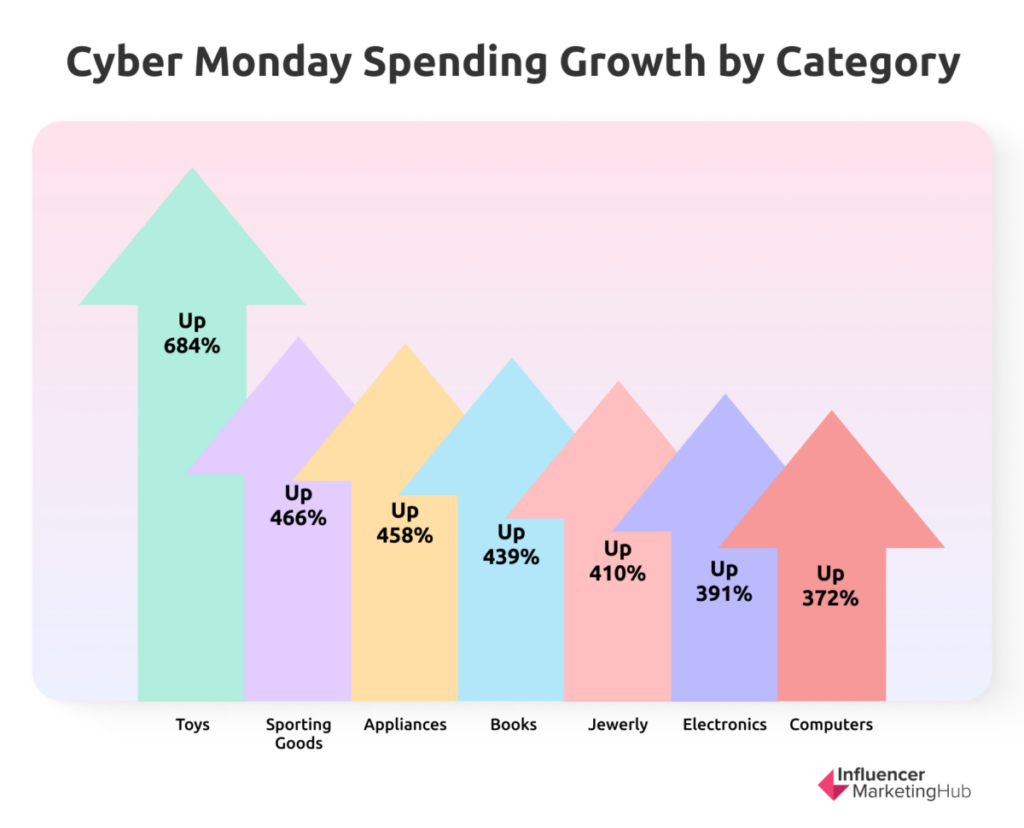 Adobe found that Cyber Monday's online spending was driven by toys, where online sales grew 684% compared to an average day in October 2022. Other categories that saw notable boosts in online spending that day were sporting goods (up 466%), appliances (up 458%), books (up 439%) jewelry (up 410%), electronics (up 391%), and computers (up 372%).
Products that sold particularly well included Pokémon cards, Legos, Hot Wheels, Disney Encanto, LOL Surprise dolls, CoComelon and Hatchimals in toys, PlayStation 5, Nintendo Switch and Xbox Series X gaming consoles, and FIFA 23, God of War Ragnarök, Madden 23, NBA 2K23 and Pokémon Scarlet & Violet games. Also popular were smart TVs, Apple AirPods, Apple MacBooks, tablets, smartwatches, Instant Pots, and air fryers.
---
10. 55% of Online Sales Came Via Smartphones on Thanksgiving Day
We mentioned above that a surprisingly high number of consumers began their online shopping the day before Black Friday, on Thanksgiving Day. More than half of them did their shopping from their smartphones (55%, up from 51% in 2021).
However, consumers didn't restrict their smartphone usage to just the public holiday, however. 51% of online shoppers made their purchases from smartphones over the entire Black Friday week (up from 46%).
---
11. Buy Now, Pay Later Popular for Black Friday Week Purchases
Adobe Analytics reported that Buy Now, Pay Later Orders rose 85% during Black Friday week 2022 compared to the previous week, and revenue rose 88%.
---
12. Paid Search Remained the Biggest Driver of Sales for Retailers Across Cyber Week 2022
Again, focusing on online sales (and the major channels only), Adobe found that paid search remained the biggest driver of sales for retailers during this week (attributed to 28% of online sales). Other channels to have a noticeable impact included direct (18%), affiliates/partners (18%), email (17%), and organic search (15%). Social media marketing had a surprisingly small share (less than 5%), but that share had grown 27% YoY.
---
13. In-store traffic on Black Friday Rose By 2.9% in 2022 Compared to 2021
Sensormatic collected data relating to in-store shopping for US brick-and-mortar retail stores and shopping centers on Thanksgiving Day and Black Friday 2022. They found that shopper visits resulted in a 2.9% increase in traffic on Black Friday, November 25, compared to 2021.
Enclosed mall traffic increased 1.2% and non-mall traffic (e.g., lifestyle centers, strip centers, and standalone stores) increased 4.7% compared to Black Friday 2021.
---
14. In-store traffic on Thanksgiving Day Rose By 19.7% in 2022 Compared to 2021
They also found a notable increase in visits to stores on Thanksgiving Day. Visits to physical stores on Thanksgiving Day, November 24, increased by 19.7% year over year.
---
15. Total US Sales Rose 10.9% Year-Over-Year Over Thanksgiving Weekend
Mastercard reported that U.S. retail sales over the Thanksgiving weekend 2022 were up by 10.9% year-over-year excluding auto from the previous year's Black Friday statistics. Mastercard SpendingPulse measures in-store and online retail sales across all forms of payment and is not adjusted for inflation. These figures covered the period Thursday, November 24 through Sunday, November 27, 2022.
Mastercard observed that restaurants (+23.3%), apparel (+14.4%), and electronics (+2.0%) were key drivers for the weekend's growth.
---
16. Shopify Merchants Broke Black Friday records with $3.36 Billion in Sales on Black Friday in 2022
Shopify announced a record-setting Black Friday 2022 with sales of $3.36 billion from the start of Black Friday in New Zealand through the end of Black Friday in California. This marks a 17% increase in sales over Black Friday in 2021.
Shopify sales peaked at $3.5 million per minute at 12:01 PM EST on Black Friday.
---
17. Shopify Merchants Made $7.5 Billion in Sales Worldwide Over the Entire Black Friday Weekend 2022
Shopify also released data relating to worldwide sales for the extended shopping weekend. 2022 saw a record-setting Black Friday Cyber Monday weekend, with sales of $7.5 billion from independent businesses worldwide, a 19% increase in sales from the $6.3 billion during Shopify's Black Friday Cyber Monday weekend in 2021.
---
18. 52 Million+ Consumers Purchased from Shopify Stores Over Black Friday Cyber Monday Weekend in 2022
More than 52 million consumers globally purchased from independent brands powered by Shopify over Black Friday weekend 2022, a 12% increase from 2021.
---
19. 76% of Shopify Customers Were Seeking Higher-Quality Products That Would Last
Shopify carried out a survey of more than 24,000 consumers around the world about their intended Black Friday weekend purchases. 76% stated they were seeking higher-quality products that would last. 84% said they planned to compare prices for the best discounts before purchasing during the weekend.
---
20. Shopify Customers Averaged $102.10 Per Order Over the Weekend
Shoppers' spending climbed across many countries, with consumers globally spending $102.10 per order on average throughout the weekend compared to the global average of $100.70 in 2021.
---
21. 56,000+ Tonnes of Carbon Removal Funded on Shopify Platforms
Shopify reported that they funded 56,000+ tonnes of carbon removal to counteract emissions from the delivery of every order placed on their platform during the Black Friday / Cyber Monday weekend. Shopify data scientists built a rigorous formula to calculate the estimated carbon emissions for each order, and then Shopify paid to remove that same amount from the atmosphere. This amount is the equivalent of taking 13,000 passenger vehicles off the road for one year.
---
22. The Peak Times for Purchasing on Black Friday in the US are Midnight and 2 PM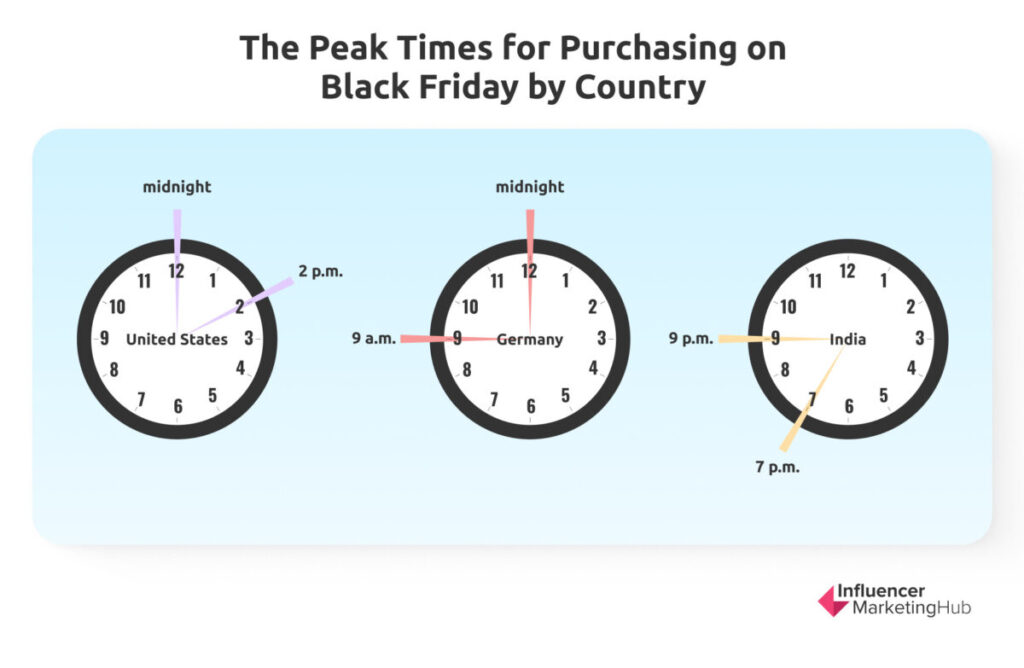 For several years, Black-Friday.Global analysts have monitored Black Friday trends in the United States and around the world. They've discovered that surprisingly the peak buying hours (each accounting for 6% of total sales) are midnight and 2 p.m. Clearly, online shoppers love their nighttime shopping, while physical shoppers prefer early afternoon.
German shoppers keep more civilized hours, however. They shop relatively consistently from 8 a.m. to 8 p.m., with the peaks being at 9 a.m. However, even in Germany, 4% of Black Friday sales occur at midnight.
In the case of India, most shopping occurred after noon (when 6% of the day's sales were made), with a real burst from 7 p.m. (7%), peaking at 9 p.m. (10%).
---
23. Black Friday Sales Were 663% Greater Than Usual on Average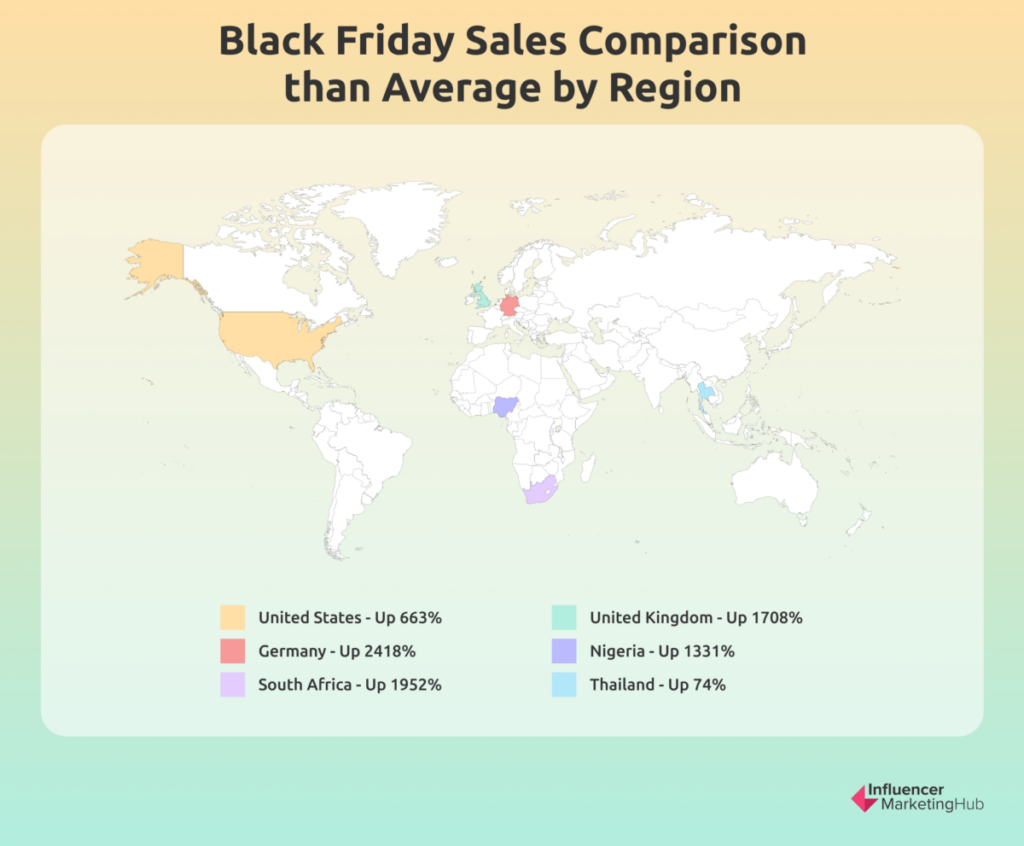 Black-Friday.Global also reported that, on average, sales increased by 663% compared to an ordinary day. However, there was quite some variation between countries. Black Friday was particularly popular in Germany in 2022, leading to a 2418% increase. Other nations with notably above-average shopping over Black Friday include South Africa (+1952%), the United Kingdom (+1708%), and Nigeria (+1331%). However, Black Friday had less of an effect in Thailand, only resulting in a 74% increase in sales compared to an average shopping day.
---
Wrapping Things Up
Black Friday and the days surrounding it are now some of the busiest shopping days of the year. And Black Friday sales have had something of a snowball effect. A few retailers in Philadelphia started the event by having a sale at that time of the year. That encouraged shoppers to spend money during that time. More retailers joined in, leading to additional shoppers taking notice. With the arrival of online shopping, Black Friday sales went global, and international consumers began to expect bargains. Retailers didn't want to miss out on sales at the expense of their competitors, so joined in. This circle continues every year, with a few more retailers, and additional shoppers across the globe.
How long can this circle of cheaper prices leading to increased demand and sales continue, only time will tell. In the meantime, it would be a brave retailer who disassociates themself from this well-established shopping trend now. Even a global pandemic failed to place a dent in this period of shopping gluttony, with shoppers transferring more of their shopping from in-store to online.