With Black Friday being one of the biggest days for consumer spending, it's only natural for businesses to step up their Black Friday marketing campaigns. While you can stick with the usual marketing methods, it helps to get a little creative if you want people to remember your brand and choose your products for their Black Friday purchases. To gain some inspiration, check out these 11 leading Black Friday campaigns over the past years.
---
The Best Black Friday Campaigns Ever:
---
1. Barnes & Noble: Signed Editions
As one of the largest bookstore chains in the world, Barnes & Noble goes big on Black Friday promotions. The company sends emails promoting the different kinds of deals available online and in stores. What stands out the most about the company's Black Friday campaign is the exclusive Signed Editions that are offered only during Black Friday. The campaign features hundreds of books signed by prominent authors that are well-loved by readers.
This campaign works because the company has a deep understanding of their target audience and what matters to them. It offers something that's only available for a limited period of time and in limited numbers and exclusively in stores. The strategic use of urgency and scarcity is a great way to get people rushing to grab this exclusive deal.
---
2. Target: Deal Days
Target Deal Days is here! Shop 3 days of early Black Friday deals on thousands of items. 🎉 Shop now: https://t.co/GQZ8k98TJM pic.twitter.com/firsyVLbF3

— Target (@Target) October 6, 2022
With every brand offering deep discounts and eye-catching deals for Black Friday, chances are consumers are too busy grabbing all those offers the day of. So they're much more likely to pass you up on your offer because they're already spending so much money or they just don't have the time. That's why Target's early access campaign is such a creative way to ensure that you get those sales before they go to your competitors.
Target came up with "Deal Days" offering three days of early access to Black Friday deals. This gave more time for their customers to shop around and grab the offer, which made them more likely to buy. It's particularly effective for retailers such as Target since they have a wealth of products on offer, which could be overwhelming to shoppers. So giving them more time to browse and explore those deals is perfect for reducing the overwhelm and driving more purchases.
---
3. Everlane: Black Friday Fund
Together, we can turn this tide. You order. We donate. This Black Friday Fund, let's raise $300,000 to support @oceana in their fight to put an end to single-use plastic. https://t.co/lbKod8waey pic.twitter.com/8reNmR2e78

— Everlane (@Everlane) November 29, 2019
As a brand that's big on ethicality and sustainability, Everlane previously used to shut their site during Black Friday in a bid to encourage more thoughtful consumption. In 2014, however, they started a new campaign by creating the Black Friday Fund. Profits from their Black Friday sales would go towards this fund, which would then be used for supporting the brand's ethicality and sustainability efforts.
The brand has used this fund to champion projects that would improve the lives of their factory workers and help to clean up the environment. In 2018, for example, Everlane's Black Friday Fund was used to clean up 20,000 pounds of plastic from beaches. The following year, all profits from Black Friday were donated to Oceana to support their campaign against single use plastic for one year. Besides this, the fund has been used to feed those in need, support organic farming, combating shade inequity, and more.
By using their Black Friday profits to do good, the brand has managed to strengthen their identity as a brand that truly cares about their environmental and social impact. This type of campaign is less about direct short-term profits and more about long-term investments to the brand's reputation.
---
4. Brooklinen: "Accidental" Early Access Email
If you thought the McDonald's "mistake" tweet for Black Friday was genius, you'd love the "accidental" early access email campaign from Brooklinen. The campaign featured an email that seemed to have been sent accidentally by someone from the brand's Digital Marketing Team. The subject line read "[NEEDS APPROVAL] Early Access" and the email asked someone to click through the link and check if everything's working on the site.
It was a forward of the intended Black Friday email providing a 20% early access discount along with a free candle worth $35. The brand later confirmed that the email was indeed intentional as they wanted to surprise their customers with a full week of access to their Black Friday sale. This type of creative campaign is a strategic move as it could get people to pay attention whereas a standard sale announcement might have been ignored.
---
5. Walmart: "Inspirational" Black Friday Quotes
Don't wait. Our in-store Black Friday Deals for Days are going fast. Doors now open. https://t.co/klqpcA1uDY pic.twitter.com/q16k5G22RP

— Walmart (@Walmart) November 26, 2021
Judging from the marketing landscape today, it's safe to say that a little humor goes a long way. Humor is a fun way to show your brand's personality and speak the language of your audience. As such, it can help to strengthen your connection with them. Knowing this, Walmart decided to leverage humor for their 2021 Black Friday campaign.
The retailer used Twitter to share a few Black Friday jokes that their customers can relate with. Formatted to look like one of those inspirational quotes that used to make the rounds on social media, these jokes helped to highlight just how popular the retailer's Black Friday sales were. One read, "A bird in the hand is worth two front row parking spots at Walmart on Black Friday." Another read, "Dance like nobody's watching you shop Black Friday deals during Thanksgiving dinner."
---
6. Madewell: Affiliate Placements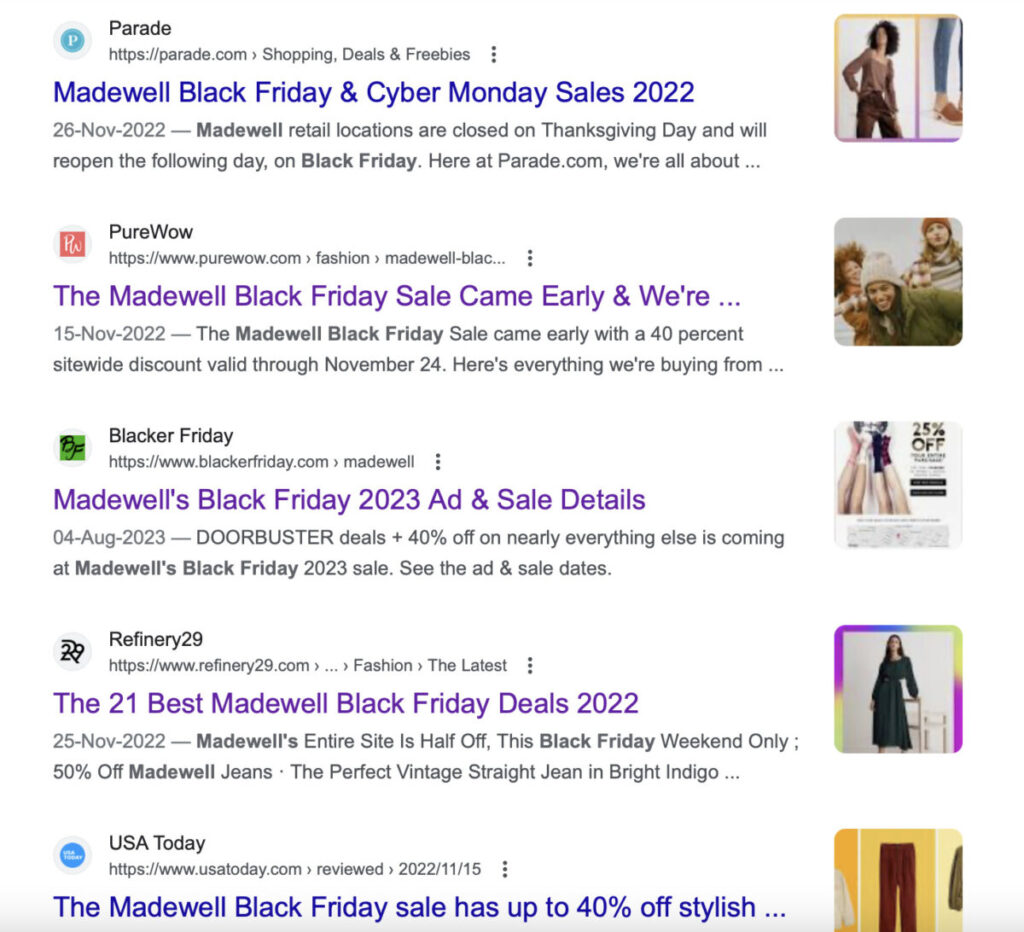 Social media and email may be effective channels for promoting your Black Friday sale, but they can only go so far in that their reach is typically limited to people who are already aware of your brand. You'd essentially be promoting your sale to existing email subscribers and social media followers. So what about the people who aren't yet aware of your brand or actively following you on social media? If you're going to maximize your Black Friday sales, you have to be able to reach them too.
Knowing this, Madewell tried to tap into the audience of leading publications to expand their reach exponentially. The brand made sure to get placements on leading online publications such as Refinery 29, Parade, USA Today, and more. These publications put together informative articles about the brand's Black Friday sale and put together purchase recommendations for their readers. If their readers decide to click on those links and grab those offers, the publications earn a commission.
This is an excellent way to ensure that more people learn about your Black Friday deal beyond your existing customer base. It allows you to spread the message far and wide and attract as many customers as possible. So your promotional efforts aren't just limited to people who are already buying from you or are interested in buying from you.
---
7. MeUndies: Facebook Live Event
With the opportunity to generate real-time engagement, live shopping events are a great way to virtually connect with your audience and drive more sales. This makes them the perfect addition to your Black Friday campaign as they allow you to reach and engage with a massive audience in real time. Besides, it offers consumers the option to grab Black Friday deals minus the crowd from the comfort of their own homes. That's exactly why the Black Friday Drawer Buster Event from MeUndies was so successful.
The event took place on Facebook and featured a dance contest complete with a DJ. They invited their 300,000+ Facebook followers to the event, who then spread the message to their own connections. As more and more people joined the event, MeUndies revealed bigger and bigger discounts, which compelled attendees to invite even more people. This resulted in more than 13,000 attendees who converted at a rate of 25%.
---
8. Cards Against Humanity: Give Us $5
While you're not shopping at REI today, give us $5. https://t.co/XmyiqDn2NG

— Cards Against Humanity (@CAH) November 27, 2015
As a brand that's known for creating indecent (and sometimes offensive) humor through their card games, Cards Against Humanity came up with a completely out-of-the-box campaign for Black Friday 2015. Instead of offering a discount to their customers, the company decided to ask them for $5. And what do they get in return? Nothing.
For this campaign, Cards Against Humanity simply asked people to "give us $5" in exchange for nothing. In one tweet, the company claimed to be the only one offering people nothing for something while others are offering something for nothing. While you might be wondering why people would pay $5 for nothing, you might be surprised to learn that the company made a total of $71,145. They also saw a healthy spike in traffic during Black Friday weekend as a result of the campaign.
This brilliant strategy worked mainly because this kind of humor appealed to the company's target audience. The same kind of people who appreciate the company's card game also appreciated the Black Friday campaign, which resulted in more than 12,000 people contributing.
---
9. ColourPop Cosmetics: Daily Events and Limited Edition Releases
ColourPop Cosmetics is known for their bright and eye-catching makeup palettes as well as their attractive deals and offers. For their Black Friday 2022 campaign, the brand came up with daily events gearing up to the actual Black Friday sale. They began launching limited edition holiday vaults on Monday and released a mystery box the following Wednesday. They also came up with one-of-a-kind deals for the remainder of the week.
By creating daily events, ColourPop Cosmetics put their customers in the buying mindset for an entire week leading up to Black Friday. This made their customers much more likely to keep buying, especially since the deals were so attractive. The limited-edition releases further helped them to drive sales by creating a sense of urgency and exclusivity. They had customers rushing to grab the offer because the product could be sold out at any moment.
---
10. Asos: Black Friday Haul Videos
Social proof is a powerful way to entice customers to buy your products. Seeing the product in a real-world setting–whether on someone or inside a room–could help paint a clearer picture of how it would look on them or inside their homes. Moreover, seeing just how much other people are loving your product could give them enough reason to buy it for themselves. As such, social proof videos could be highly effective for your Black Friday campaign.
That's exactly why Asos shared Black Friday haul videos from influencers to showcase the variety of choices available in their store. These haul videos allow people to get a glimpse of all the items they could get on sale during the brand's Black Friday sale, which is much less overwhelming than sieving through thousands of products on the website. The brand included product codes for each item featured in the videos, making it easier for others to get their own.
---
11. PlayStation: Sneak Peek
Take a sneak peek at PlayStation Store's Black Friday Sale lineup before it goes live tomorrow morning: https://t.co/0rOqRsK8rY pic.twitter.com/Ypl1jvYJSo

— PlayStation (@PlayStation) November 16, 2018
Deep discounts alone aren't enough to get people excited for your Black Friday sale. Those discounts won't matter if they only cover products that your customers aren't interested in buying. Rather, the ability to get discounts on the products they want is more appealing. That's why it helps to showcase the different items that would go on sale during Black Friday so your customers can plan their purchases.
This is an effective way to build anticipation for your upcoming event and get people to actively wait for the sale to go live. In 2018, PlayStation decided to share a short sneak peek video of their Black Friday Sale lineup. The video briefly showed some of the most popular titles that would go on sale during the event. It also highlighted how much discount they could enjoy and when the sale will go live.
Through this campaign, the brand was able to effectively build excitement for the upcoming Black Friday sale. It got people to wait eagerly for the sale to go live, which meant that they were able to quickly drive sales once the event started.
---
Get Creative for Black Friday
As you can see from the above campaigns, there are plenty of opportunities to get creative and go all out with your Black Friday marketing campaign. Just remember to align your campaign to your brand identity and ensure that it resonates with your target audience. Use the examples above for inspiration and come up with a winning campaign this Black Friday.