We have written many articles about influencer management platforms. However, the platforms do not all provide an identical service. One area that some of the platforms specialize in is offering influencer relationship management tools.
All the platforms profiled in this post include some form of tool to help their clients with their everyday influencer marketing management. If you work with a large numerb of micro-influencers, you may have experienced difficulty keeping track of everybody's progress or communication. It's not like traditional marketing where you may only have to communicate with a couple of media outlets or even just an advertising agency. Large firms could have to communicate and manage hundreds, possibly thousands of influencers.
Yet you can't just communicate with your influencers en masse. You need to personalize the way you keep in touch with each influencer.
Influencer relationship management tools can help ease this process for you. Influencer relationship management includes anything necessary to create strong and positive relationships with your social media influencers. These tools help you store essential information to ensure that everything goes smoothly in your influencer management.
---
Top 9 Influencer Relationship Management Tools:
---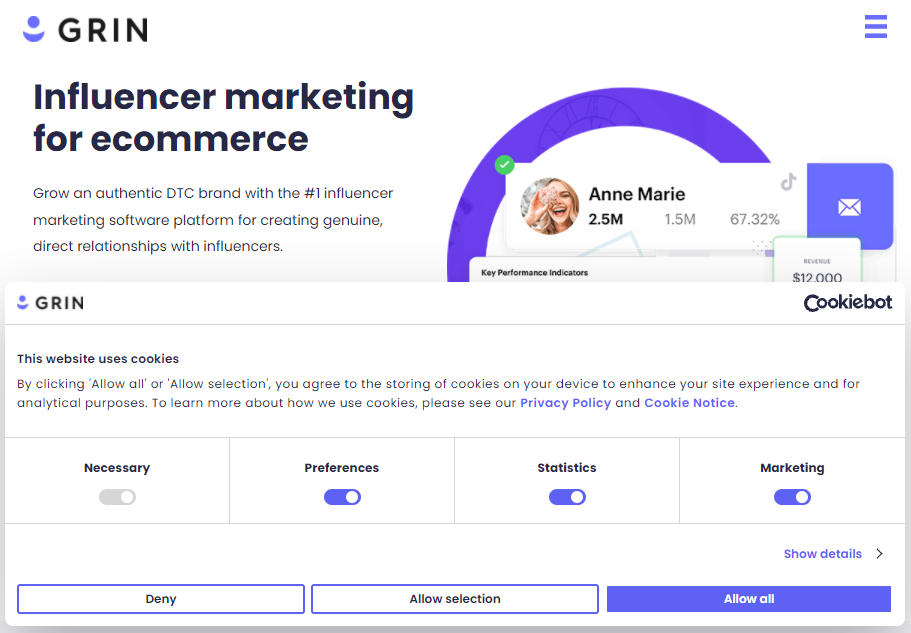 Grin follows the philosophy that influencer marketing is marketing to the influencer. They recognize that if brands build a trusting relationship with their influencers, all else falls into place. Its pricing is entirely customized.
Grin targets eCommerce businesses and includes integrations into major shopping platforms, such as Shopify, WooCommerce, and Magento. In addition, email systems like Gmail and Outlook integrate directly with Grin's messaging system, as do real-time communications like SMS and Slack. You can also import existing contacts and previous communications with them.
Grin provides all the tools you need to nurture authentic brand relationships at every stage. These include tailored email sequences and the ability to track opens, clicks, and replies.
The platform also recognizes the importance of building a long-term partnership with relevant, authentic influencers. You can create, share, and manage one-on-one promotions, complete with deliverable tracking, product management, contracts, and much more.
It doesn't matter how many influencers with whom you choose to work. You can manage multiple brands, influencer programs, and campaigns all in one place and organize relationships by stage, managers or agents, or custom properties.
If you already have brand champions, Grin helps you expand your influencer network with similar people. With its lookalike tool, you can input your current best influencers and find new creators with similar audiences, engagement, demographics, and reach. Grin also recognizes the power of your existing influential customers. Grin pulls all the registered users from your eCommerce site in, then goes out and finds their social profiles. You can use the influential customers tool to find devoted customers with highly engaged followings and recruit them as influencers for your brand.
Grin makes it easy to measure the success of your campaign. You can track all your influencer marketing campaign KPIs such as budget, spend, revenue, conversions, media value, and more to identify every campaign's true ROI. Its influencer performance breakdown allows you to track content posts, total spend, revenue, conversions, influencer media value, and ROI for each influencer.
---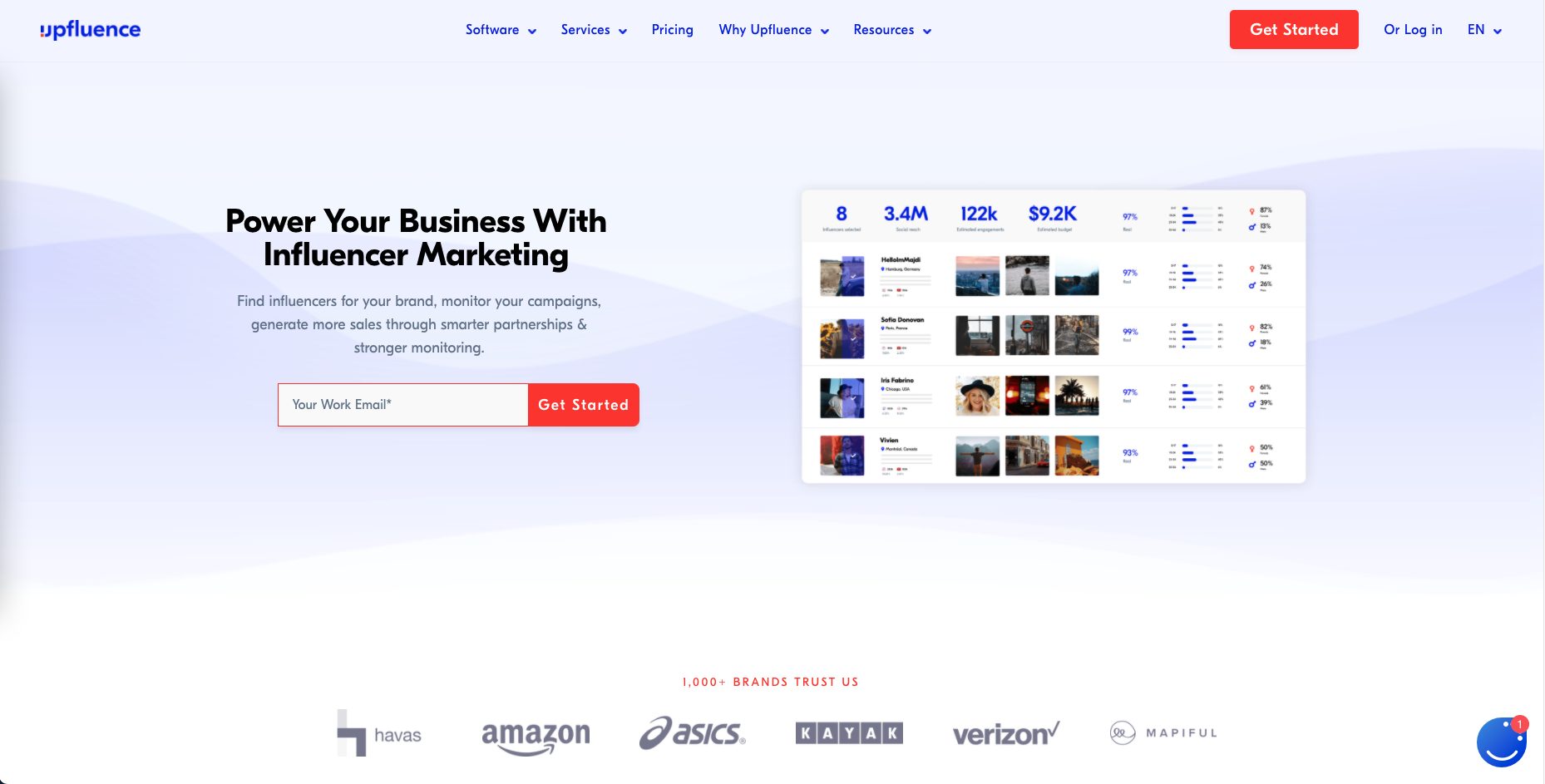 Upfluence is built on a massive database — nearly 3 million influencers with a collective reach of 82 billion followers. Brands and agencies can search through Upfluence to find influencers using as many keywords as necessary. You can place a relative weight on each keyword and end up with some very precise results.
All email correspondence is archived into Upfluence for easy reference. Team members can see any message sent to or from each influencer. A lifecycle management component shows you your progress for each influencer—who you're negotiating with, who you're waiting for to complete content, who's waiting for payment.
Upfluence includes a social listening component that's more flexible than most. You can create several streams for different purposes. You can monitor your competitors, their activities, and their mentions. You can even listen for campaign-specific hashtags used by influencers with whom you're working.
---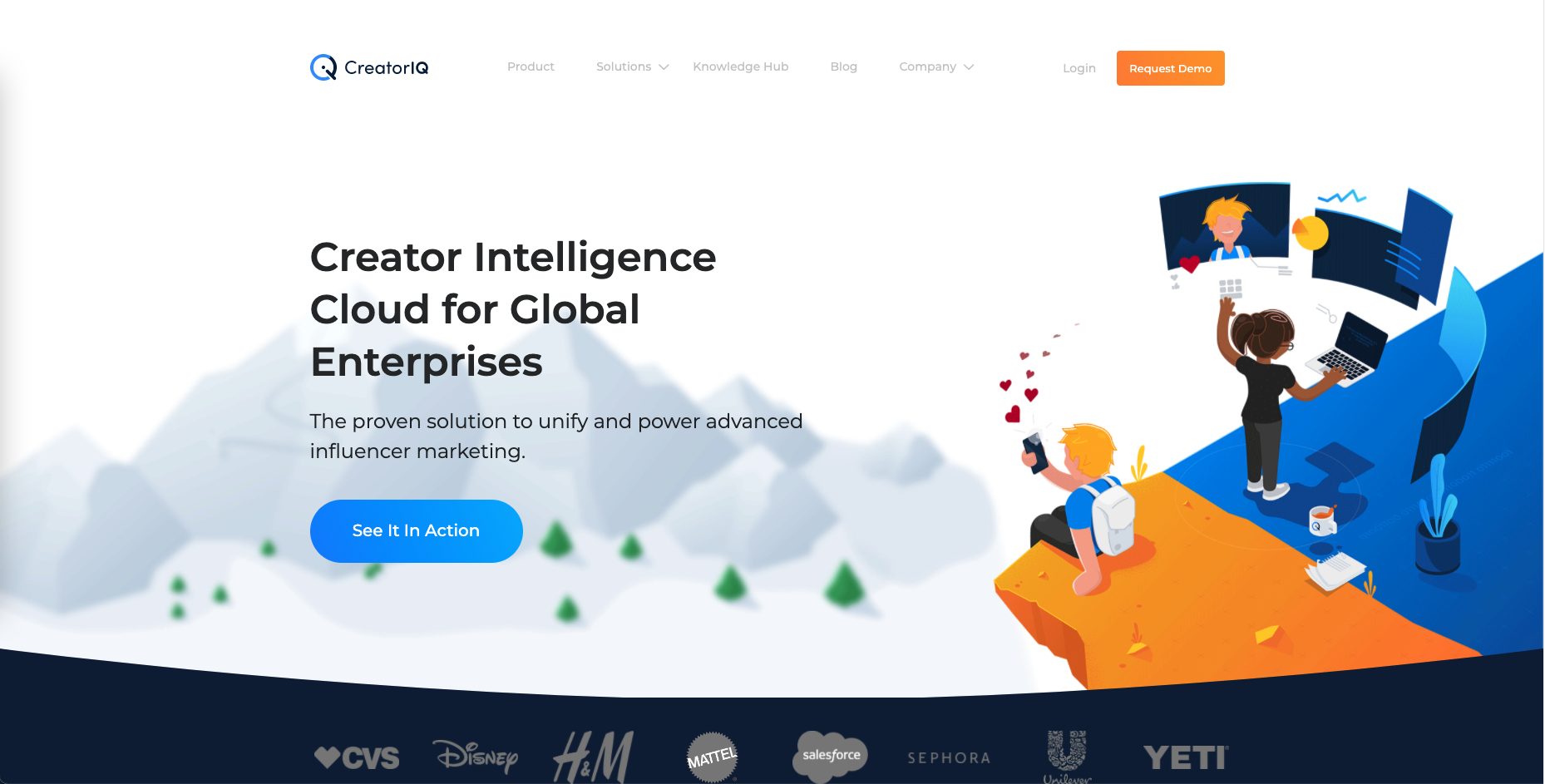 CreatorIQ doesn't make its pricing public, but it was clearly designed for companies with deep pockets. The smallest clients in their published list are earning around $100m annually.
CreatorIQ integrates directly with the social platform APIs and its AI-powered algorithm analyses over 1 billion public social accounts. There are currently more than 15 million creator accounts indexed on the system. CreatorIQ takes a "content first" approach to its discovery. The AI looks at all the discrete parts of any given piece of content—the image, the location, mentions, even emojis—and makes logical inferences. The AI assigns each influencer an "Integrity Quotient," which can help you discern just how authentic an audience is.
You can invite your selected influencers via email to join your network. They can register with you and go through an onboarding process. Influencers create an account, fill out any tax and compliance forms, self-identify their interests, and set up their payment options. They also connect their social accounts to your portal and authorize CreatorIQ to ingest all the data that the public APIs can't get you. With the one-to-one connection between account and platform, the AI can look at how many people are actually seeing content and make more accurate predictions as to what their reach will look like.
There are plenty of opportunities for active users of CreatorIQ to communicate, annotate, and otherwise share information. You can share certain aspects of a campaign using private links.
---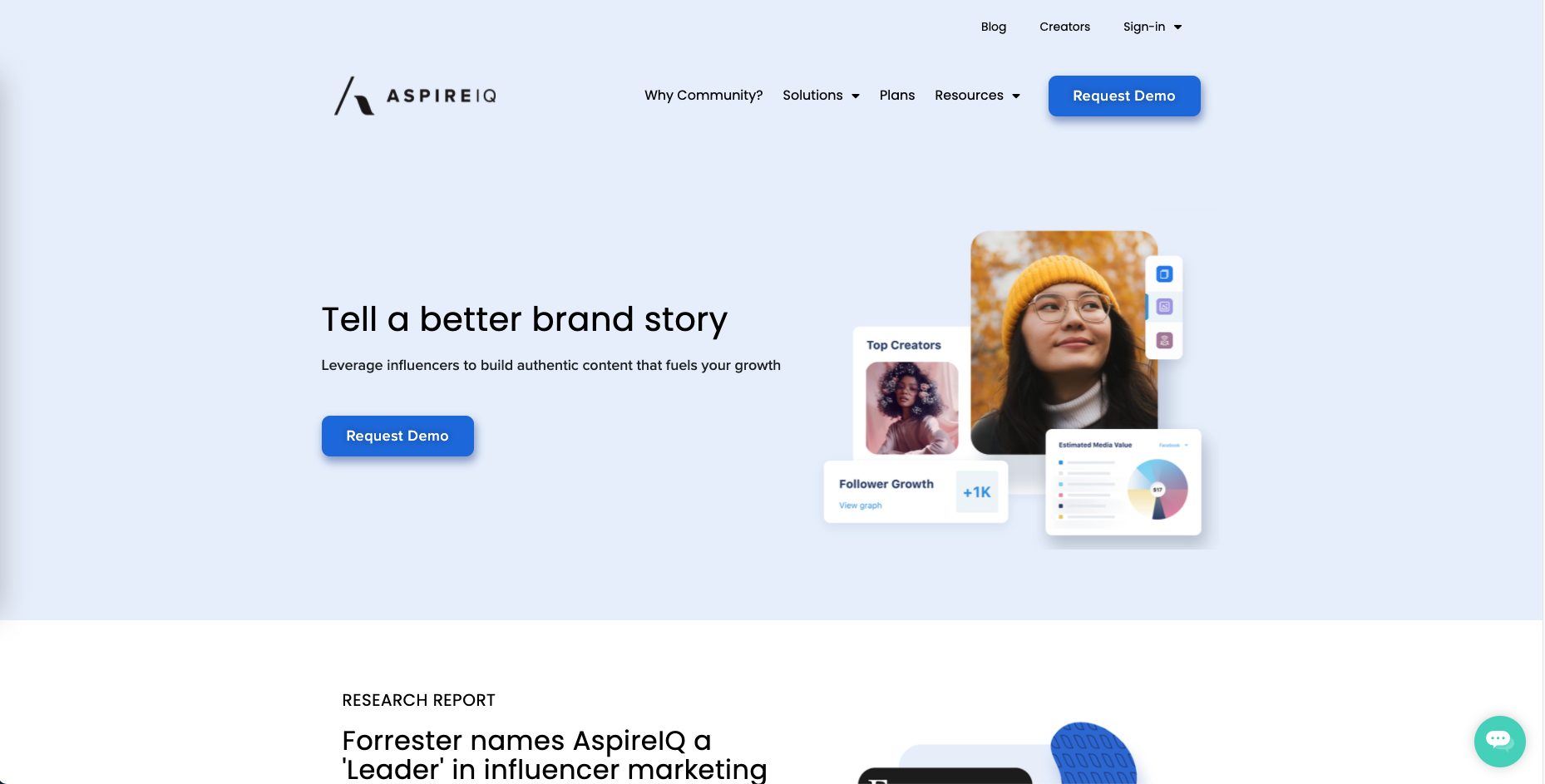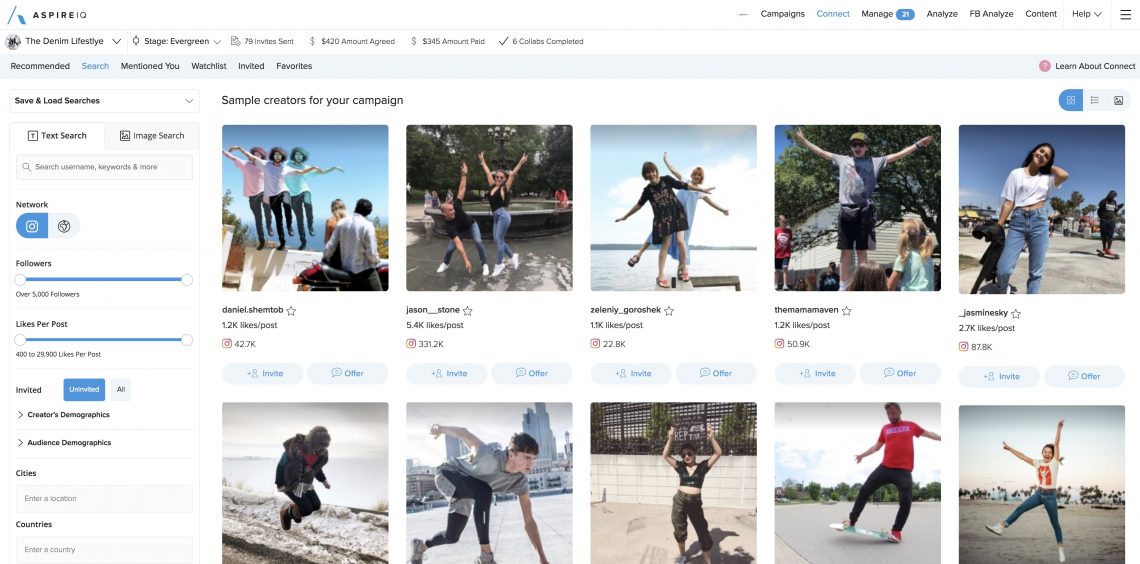 AspireIQ was formerly called Revfluence. It quickly identifies high performing influencers and provides the tools to nurture those relationships. Although we initially found Revfluence's most significant weakness to be its influencer discovery tool, the new AspireIQ version is much improved.
AspireIQ includes a robust set of management tools. These include Digital Term Sheets, which are used to spell out the terms and conditions of each deal. They act as a contract, spelling out the work to be done and the money owing. There is also Creator Management for campaigns where brands supply creators with free products. This allows brands to automate product selection, and creators can submit a proposal to select products, size, color, etc.
The Content Collaboration tool allows creators to submit content to the brands/agencies, who can then check off each requirement spelled out in the digital term sheet or request changes.
---

Mavrck flips the usual premise of influencer marketing around. Instead of trying to find influencers who can bring you more customers, Mavrck finds those existing customers who have the most influence.
Customers log into your site using their Facebook profile. Mavrck grabs all the public and opt-in data associated with the account and measures each customer's influence. It automatically activates for the customer any campaigns for which he or she qualifies.
Macrck has 20 predefined "digital activities" that your influencers can do. Your influencers earn rewards for doing the digital activities that you allocate to a campaign. You can segment your influencers based on a wide variety of criteria, and you can assign digital activities to them based on the segments to which they qualify.
All the content that influencers create on your behalf is designed to get people back to your site so they can register or buy something. At that point, they can sign into the scheme, too, and you have direct marketing access to them also.
---
Peg's sole focus is on YouTube. They sell subscriptions on either a six- or twelve-month basis, with custom pricing based on the size of a business and its needs. Individual creators can create profiles for free, and talent managers and MCNs can do the same on behalf of their clients.
Peg focuses on quality over quantity. As a way of encouraging this, the platform only adds influencers in one of two ways:
Through exclusive partnerships, Peg maintains with high-quality talent agencies

Through Peg's proprietary algorithm that scours YouTube looking for potential influencers meeting highly selective criteria
Peg works in the background parsing through each influencer's content and assigns him or her a "Safety Score." The higher the number, the more family-friendly an influencer is.
The depth and thoughtfulness of Peg's discovery engine carry over into their management tools. The message window looks like a group chat on your phone. If members of the internal team want to send private messages back and forth, it happens in the same window – you push a button to go into private mode, and the messaging area goes black to indicate that what you're about to type is for internal eyes only. Every message typed into Peg gets sent as an email to everyone in a thread.
---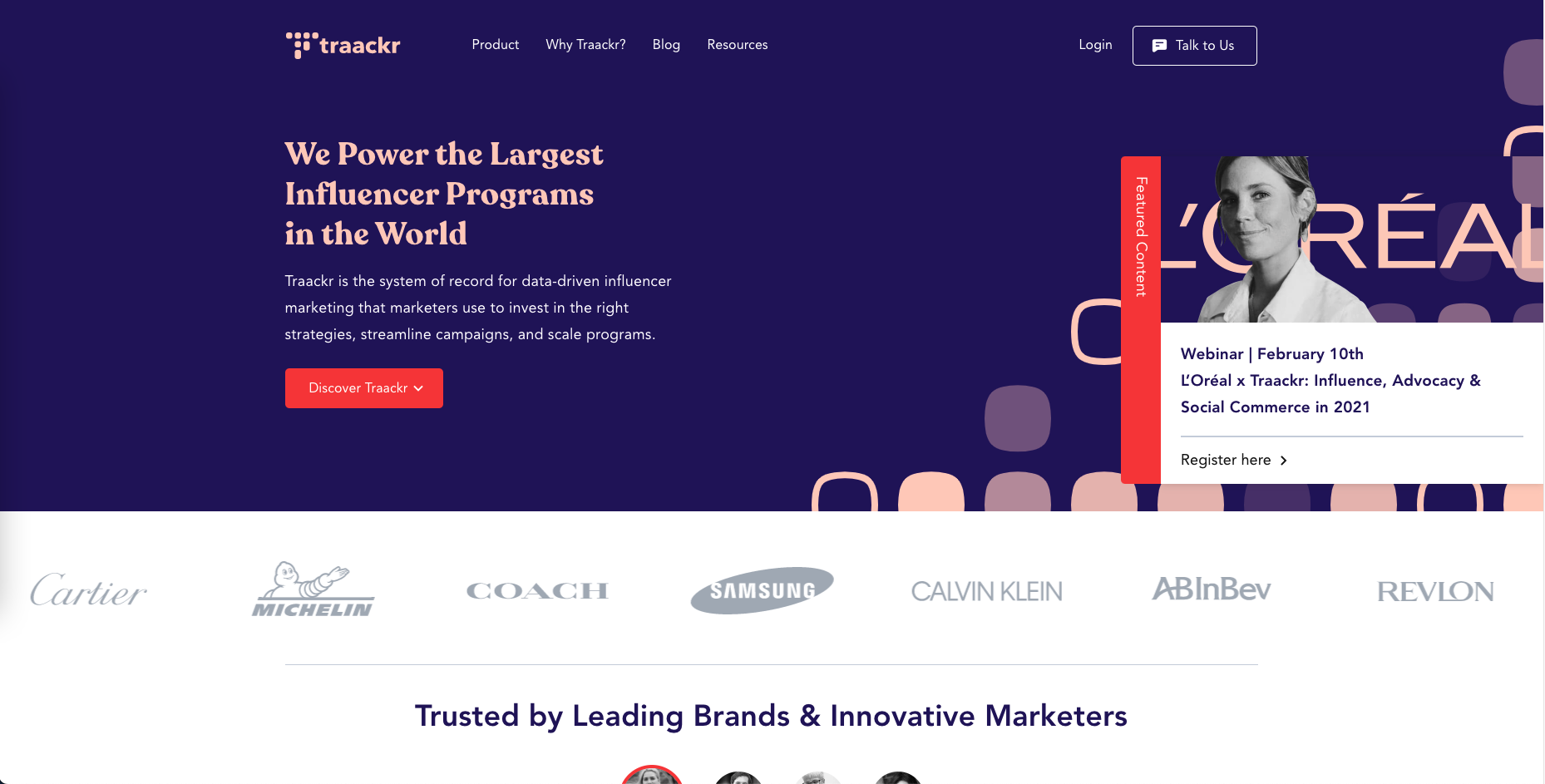 Founded in 2008, Traackr is as old as the industry itself. Currently, the company specializes in influencer relationship management. Their platform includes a wealth of campaign management tools, but the real focus in on the relationship side of things. People gain access to the platform through annual or multiyear subscriptions.
The influencer discovery function offers a dizzying number of options by which to search and filter. The influencer database isn't an opt-in network, but it's also not entirely automated, either. Humans are involved in its curation. Each person in their database gets a score on two metrics—Reach and Resonance.
Once you've added influencers to your network, Traackr gives you plenty of ways to organize them. You can group them according to topic, tier, and brand affiliations, among others. You can also group influencers by how close you are to them. This simplifies collaboration across the marketing team. Anyone in your organization can see where you're at with an influencer and adjust his/her approach accordingly.
Traackr offers plenty of space to customize the data you store about each influencer. Team members can add notes about interactions and store any other relevant information. All communications, including emails and social interactions, are stored on Traackr.
The platform includes a social listening tool that lets you track influencer content in real-time. It also features a network visualization map that shows you how influencers connect to other people both in and out of your network.
---
Sideqik is a fully fleshed out automated influencer marketing platform, aimed at growing and engaging audiences for brands in the gaming, e-Sports, sporting goods, lifestyle, and entertainment industries. It includes all the main things you would expect from a campaign management platform – influencer management, campaign creation and management, payments, automation, in-depth reporting, and the like.
It doesn't rely on an internal database of influencers who've opted-in, or whose profiles were scraped off the social web. Instead, it analyzes your existing social followers, evaluating each of them for their influence. You can use the influencer dashboard to gain deeper insights into all these people. You can also add influencers who may interest you.
You can segment these people in multiple ways: reach, topics, location—you name it. When you've identified those you'd like to activate, Sideqik sends out an email to them with an invitation to apply to participate in your social campaigns for rewards. Also, Sideqik looks for additional recruits—new followers to your social accounts or people who've engaged with one of your campaigns.
The platform provides users with "blueprints" for more than a dozen different campaign types, each with different goals and actions. If you've set everything up properly upfront, these campaigns effectively run themselves. You can find/activate/manage hundreds or even thousands of influencers simultaneously and market at scale.
---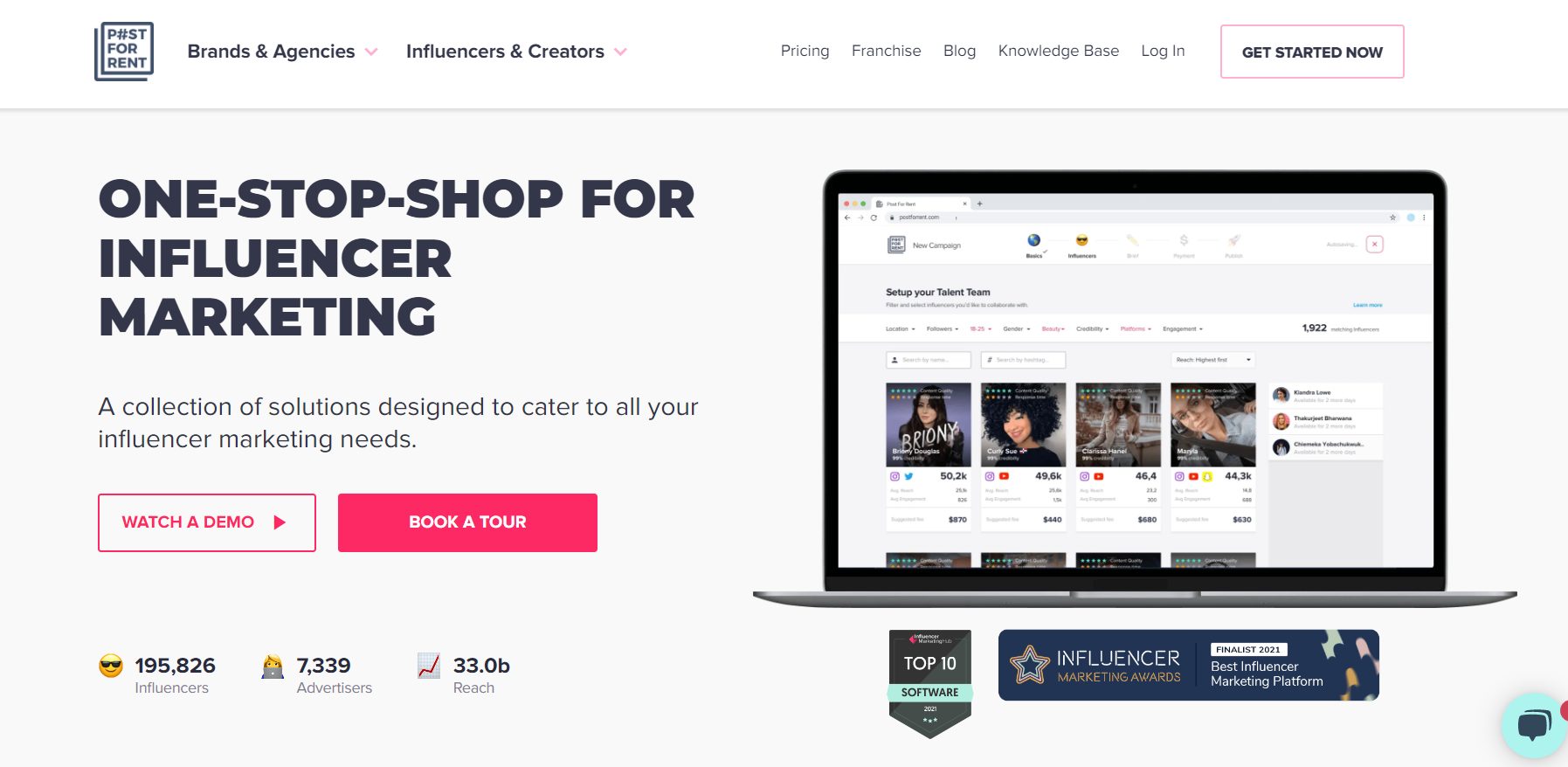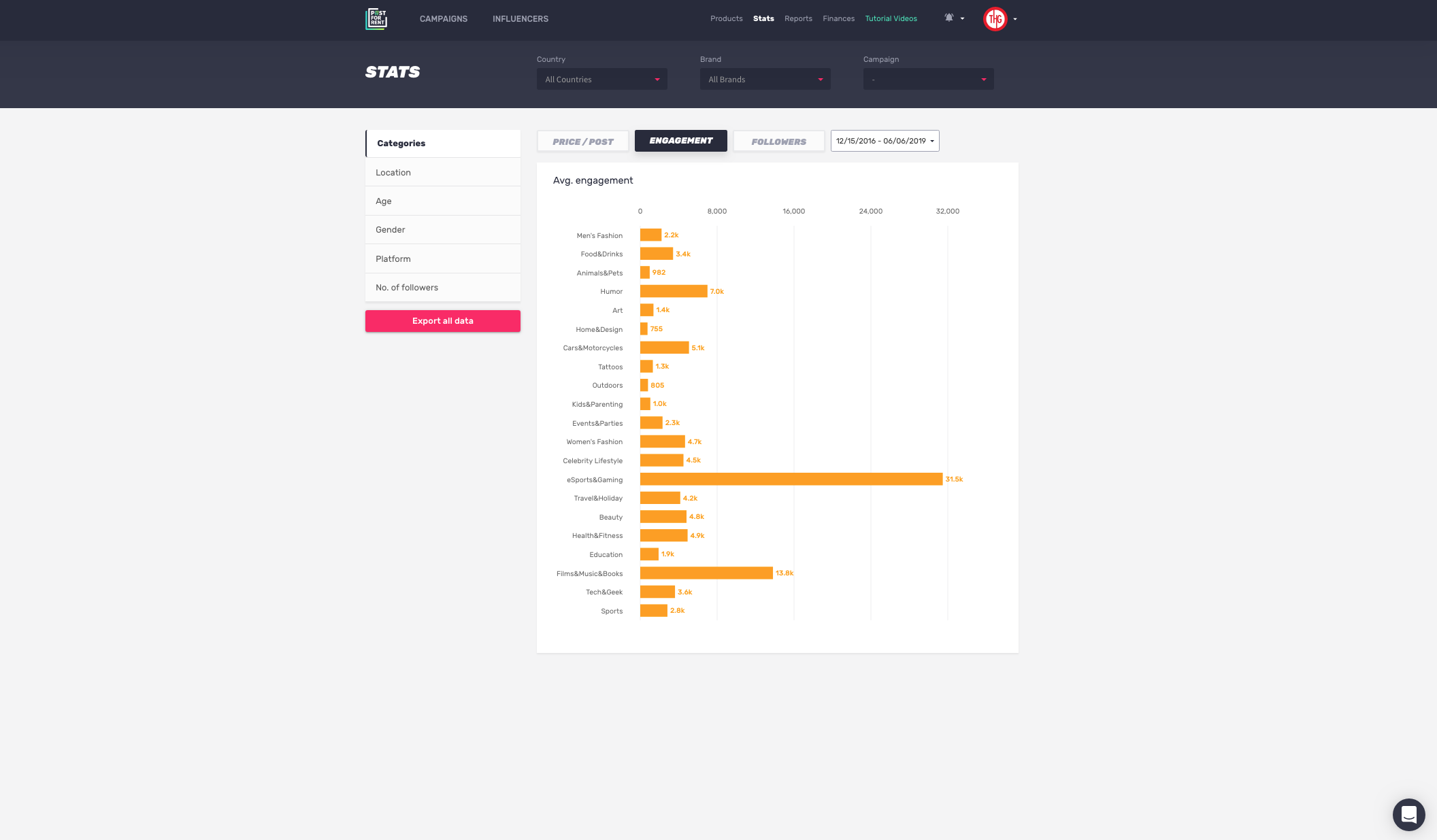 Post for Rent was built to serve all sizes of brands and is just as suitable for agencies and talent managers. At the lowest level, you're getting nearly everything the platform has to offer for $59 a month, plus service fees. More sizeable companies pay $999 per month (often discounted to $399) but pay no service fees on top.
Post for Rent features a clean interface for creating campaigns. The process is broken up into discrete steps. If you don't want to search for influencers, you can publish a Public campaign—Post for Rent notifies suitable influencers through a mobile app.
Once you've published your campaign, it will show as Active in your dashboard. You can click into each one to manage and monitor its progress. Post for Rent's influencer management relationship tool makes it easy to negotiate prices, approve or reject content, and stay on top of the pipeline of scheduled content.
Once posts start going live, you can see in-depth stats on the performance of the campaign in real-time.
---
Frequently Asked Questions
What does an influencer relationship management tool do?
An influencer relationship management tool offers anything that is needed to create strong and positive relationships with your social media influencers. From keeping track of communication to the progress of influencers, it helps you to store important information to ensure that everything goes smoothly. As you cannot communicate with your influencers as a group, an influencer relationship management tool can help you to personalize the way you stay in touch with your individual influencers.
Is Upfluence a good tool?
Most tools use a one-size-fits-all approach, but Upfluence instead uses an approach that concentrates on flexibility. While it is a bit more complex than other influencer relationship management tools, its interface is still easy to understand and use. All things considered, it is one of the best tools to use, especially if you rely on Instagram a lot. For easy reference, all email correspondence is archived into Upfluence and team members can view any messages sent to and from each influencer.
Is Traackr difficult to use?
With Traackr, it is easy to segment and manage your influencers. Traackr gives you many ways to organize the influencers that you have added to your network to make collaboration among members of your team easier. Any team member will know where things are at with a particular influencer. It also offers you space to customize the data that you save about your influencers by, for instance, adding notes about interactions. It really specializes in influencer relationship management, making it one of the best tools.
Is CreatorIQ a good choice for smaller businesses?
CreatorIQ is not a suitable influencer relationship management tool for small and medium-sized businesses. It is instead aimed at businesses with abundant financial resources. CreatorIQ does not make their pricing available to the public, but according to their published list of clients, their smallest client makes more or less $100 million per year. Taking this information into account, you will have a better understanding of the specialized segment of the market that they serve.
Which tool can I use for influencer marketing on YouTube?
You can check out Peg. It is one of the best influencer relationship management tools and focuses solely on YouTube. Peg values quality over quantity and will only add influencers via exclusive partnerships or by means of its proprietary algorithm that searches YouTube for potential influencers that meet very selective criteria. Its management tools are just as thoughtful as its discovery engine ensuring efficient communication.