Best for:
Medium and Large Brands
To make great software, you have to start with a great idea—but not always. Case in point: Sideqik. CEO and co-founder Jeremy Haile told Crains.com about the reception to the initial idea for for the platform: "We asked [marketers] things that would help us figure out if they would buy the product. What we found out was: no, they wouldn't. It was hard to generate demand or any kind of interest."
So what was the problem with that early vision for Sideqik? As Haile explained, the original idea he and co-founder Kurt Uhlir tried to build on was fairly limited. They'd dreamt up software that would help marketers build and run social media promotions, and then pretty quickly had a working version of it to show to potential customers and investors. They soon found out marketers weren't much interested in engaging with existing audiences—they wanted to grow that audience, convert new people into customers, and, by extension, the businesses they were marketing. With a newfound sense of purpose, Haile and Uhlir went back to the drawing board and re-conceived what their software should do.
Whatever the feedback they got from the marketers they surveyed, it definitely worked. Sideqik was launched, and now generates both demand and interest. That's because the software went beyond simple "social media promotions" and is now a fully fleshed out automated influencer marketing platform, aimed at growing and engaging audiences for brands in the gaming, e-sports, sporting goods, lifestyle, and entertainment industries. We've categorised Sideqik as "campaign management" software, because that's the closest category we have to what it does, but the term feels a lot like an understatement when you take into account everything it can do. The idea of running isolated influencer campaigns isn't part of the Sideqik vision. As Uhlir pointed out in an interview earlier this year:
It used to be five years ago you could think about "Hey, we're going to do a campaign for a month and that's going to be when we think about influencers." Well, that was great five years ago, but the game has changed today. So now the big brands are doing this throughout the year.
Sideqik's approach is steeped in the proverbial "long tail," a phrase that content marketers use to refer to a piece of content that continues to generate impressions and engagement long after a campaign has ended. But that's not what I mean when I talk about what you can do with the platform. Instead, it's the campaigns themselves that are perpetual, automatically engaging with new influencers—and re-engaging with audiences long after they've seen your content (more on that in The Details).
It's no wonder, then, that Sideqik is currently in a rapid growth phase. Freshly armed with $3 million in Series A funding and a client list featuring names like Harmonix, CBS Interactive, and HyperX, the company recently moved into a new 3,500 sq. ft. office with plans to quadruple their staff. Looks like they've got a long tail strategy of their own.
---
Summary:
---
Pricing
Sideqik's pricing model seems to be the one area where they didn't put too much thought into. That's not to say it's priced inappropriately—I couldn't actually tell you how much it costs as they don't publicise it on their website. But it's a weird model, which will soon become clear. They offer three levels of subscription service, and the available features increase as you make your way up the ladder. You can see the entire feature matrix, which is very extensive, here on their pricing page. One of the main differences between each plan is the number of influencers you can manage:
Basic — 25 Managed Influencers, 1 user
Professional — 100 Managed Influencers, 3 users
Enterprise — 250 Managed Influencers, 5 users
On the surface it makes sense: the more you pay the more influencers you can manage. But maxing out the top level at 250 influencers and only 5 users seems awfully limiting. To be fair, they will work with brands and marketers to customise a plan tailored to their needs, so these numbers aren't hard stops. But each of these levels of service only tell you to "Contact Sales" in the space where a price would be, which suggests there's going to be some negotiation and customisation happening regardless of the plan you choose. At that point, why even offer the plans to begin with? It combines only the appearance of an easy-to-understand SaaS pricing solution with all the hassle of having to deal with a sales person.
All that said, if Sideqik sounds like something you'd want to use for your influencer marketing (and, spoiler alert: it is), then contact sales. I'd have a hard time believing they aren't going to be competitively priced, and the platform is definitely worth looking into.
---
The Details
There are quite a few things that Sideqik does that are par for the course for campaign management. Things like influencer management, campaign creation and management, payments, automation, in-depth reporting, and the like are all here. If that's all Sideqik did I'd spend a bunch of time going over how well they've implemented it all. But the platform goes beyond all this and gets into some new territory, so it's a better use of this space to focus on those unique things.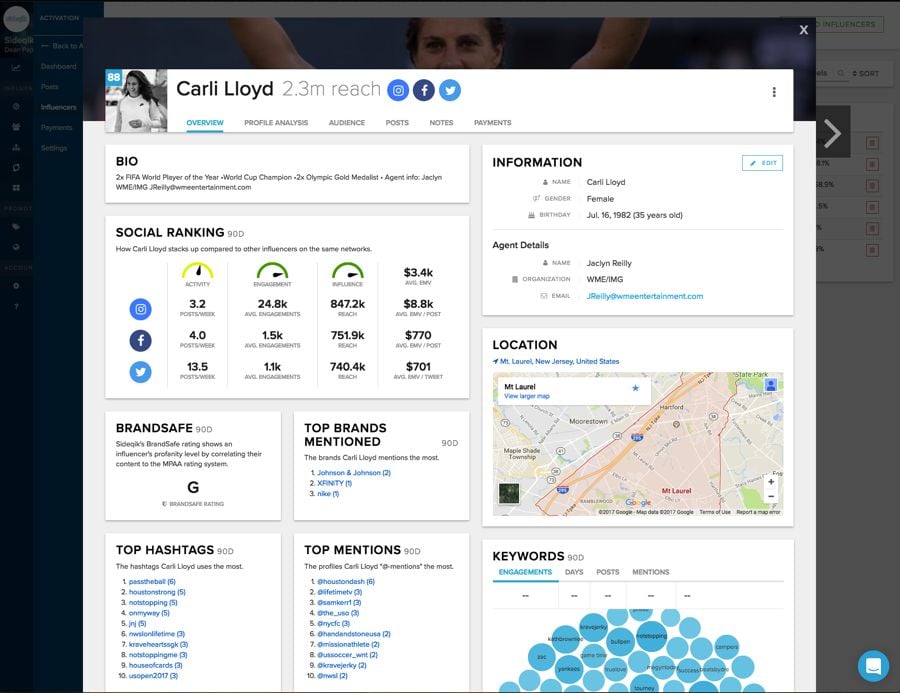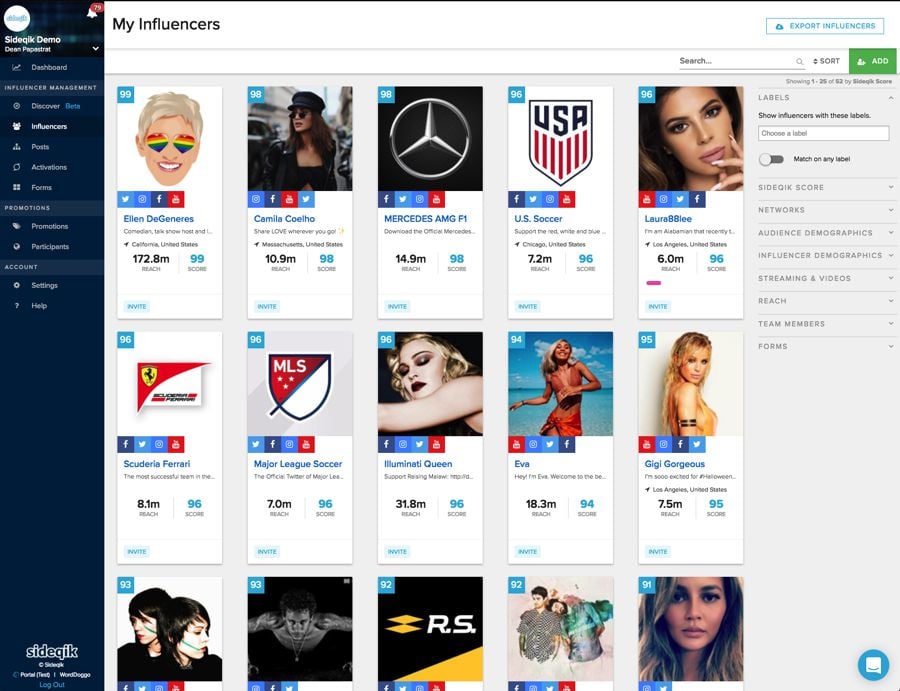 We'll start with influencer discovery: Sideqik takes a lot of the guesswork out of finding the right people. It doesn't rely on an internal database of influencers who've opted-in, or whose profiles were scraped off the social web. Instead, it begins by analysing your social followers and evaluating each of them for their influence—based not only on followers and engagement, but on topic relevance. There are plenty of normal, everyday people who happen to have large and loyal audiences, but you wouldn't know they were in your audience unless you took the time to vet each one—or have some software do it for you. If there are influencers you're already working with, or some that you've just got your eye on, you can also feed Sideqik their names and accounts one at a time or in bulk. The software then loads them all into your influencer dashboard alongside the people it found already. You can use the influencer dashboard to gain deeper insights into all these people, and Sideqik's influencer profiles offer very detailed—and useful—information. For just a quick understanding, influencers are assigned scores on a scale of 100—the higher the score the more influence they have.
You can then arrow your results down and segment along the lines of reach, topics, location—you name it—and you can quickly create an organised catalog of influencers. When you've identified those you'd like to activate, Sideqik blasts out an email to all of them with an invitation to apply to participate in your social campaigns for rewards. The application itself is a custom branded landing page hosted by Sideqik, or it can be embedded into your own website or Facebook page. You can even skip the manual analysis of each influencer and automate the application process, accepting or rejecting them based on rules you create.
Finally, as you roll out campaigns and generate interest, Sideqik is constantly analysing looking for recruits—new followers to your social accounts or people who've engaged with one of your campaigns. Marketers told Haile & co. they wanted to be able to grow their audience, and this is where you see Sideqik making good on that. Think about it a campaign can be used to identify new influencers, then those new influencers participate in future campaigns which identify even more new influencers, who then participate in campaigns...it's here where you understand the full meaning of the software's name, as it tirelessly works on your behalf identifying the kinds of people who will improve your reach and grow your audience.
But what about the campaigns themselves? Sideqik offers much more than just ways to grow your audience. Rather than just some tool that offers a form to fill out, where you define requirements and create a description for any old thing, the platform provides users with "blueprints" for more than a dozen different campaign types, each with a different goals and actions. Whether you want to get people engaged and participating on social channels, or drive traffic to your blog, or gather customer data, or get people to sign up for an email newsletter, or get feedback from your audience, the platform includes templates that make it easy to do so. Just customise each campaign and launch it. If you've segmented your influencers into lists, it's just as easy to target the campaigns to the appropriate subsets of groups. If you want influencers who are going to create great content or generate excitement over a product launch, you'd want to reserve that opportunity for your highest performing/most influential (and most creative!) segment. If you've simply got some content of your own that you want shared, you'll leave that to the people who've signed up to collect rewards for doing just that. Influencers who qualify to participate in a campaign will be invited via email, which includes a link to a dashboard of their own. From there, they can see the campaigns they're eligible to participate in, and are free to pick and choose any or all of them. For things like contests and offers, they'll get a personalised link to a landing page so you can track their performance.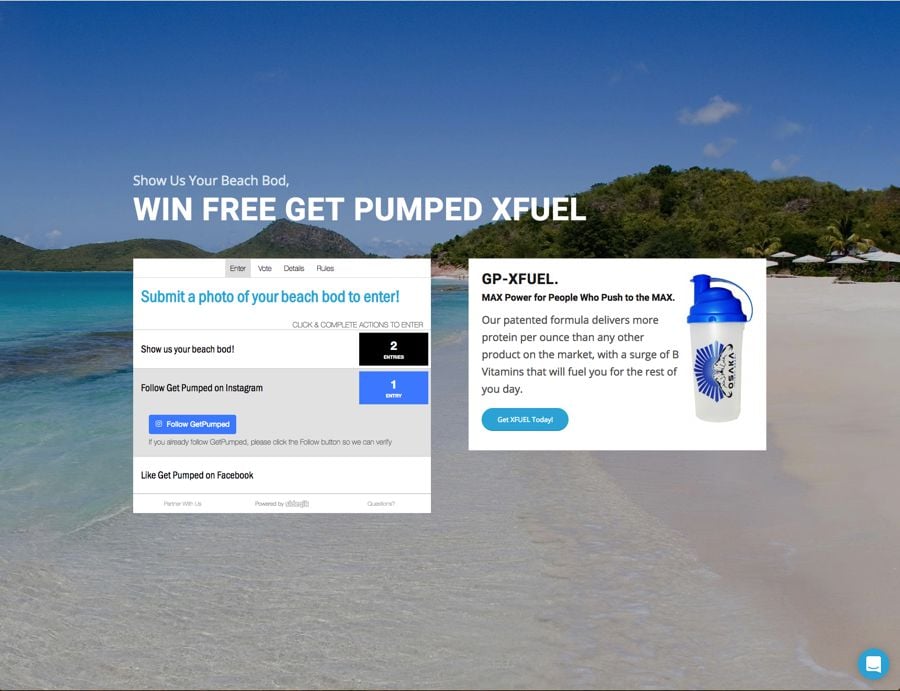 Between the number of campaign blueprints and the amount of ways you can segment your influencers, there are too many permutations to list. But if that sounds complicated, it isn't. If you've set everything up properly upfront, these campaigns effectively run themselves. And they don't ever have to end. As more people sign on, the campaigns they qualify for are presented to them automatically.
But Sideqik isn't content to leave your marketing efforts to solely to the influencers. We've all seen the numbers on influencer marketing campaigns when it comes to reach vs. engagement. While an influencer campaign is great at getting your brand or product in front of millions of sets of eyes, marketers can only really measure the success in terms of engagement. If you reach a million people, you can expect 50,000 to actually engage in some way. For the cost, that's still a result that blows away other forms of marketing, but remember the percentage of conversions from those engagements is also low. What if you could reach out later to those people who engaged but never converted? By integrating your account with Google Adwords or Analytics, or Facebook Ads, or Twitter Ads, your influencer campaigns can become gifts that keep on giving. Using tracking pixels, you can retarget ads right back to those people who have show interest but weren't quite ready to seal the deal.
With all that Sideqik does automatically, it's surprisingly easy to keep track of everything that's going on. Within the interface, campaigns are easily distinguishable from one another. Want to see how your photo contest is going? The dashboard makes it easy to see aggregate performance metrics, a feed of all the posts tied to that campaign, as well as every influencer who's participating and what their individual performance is.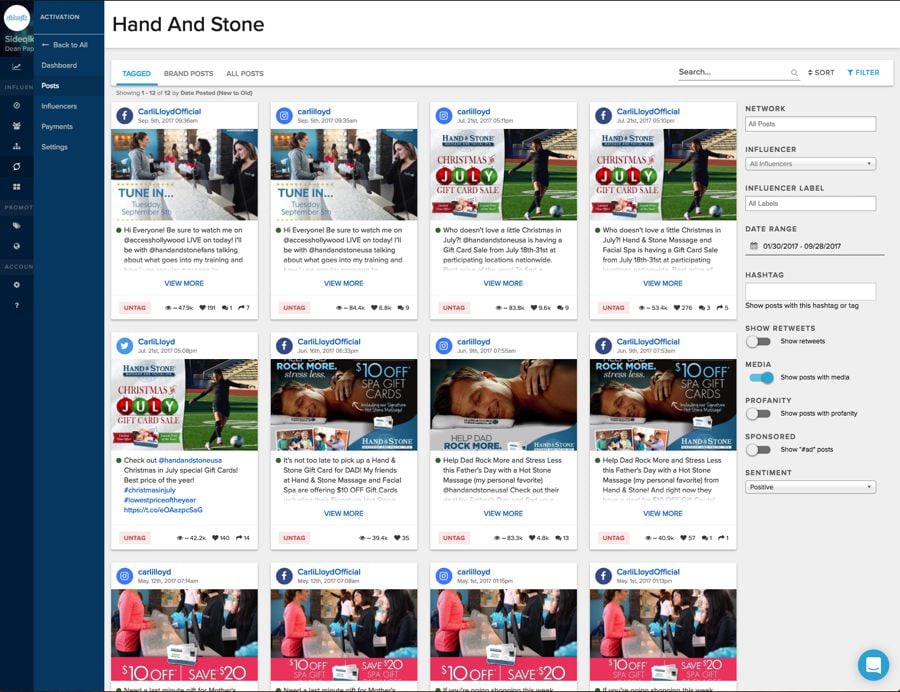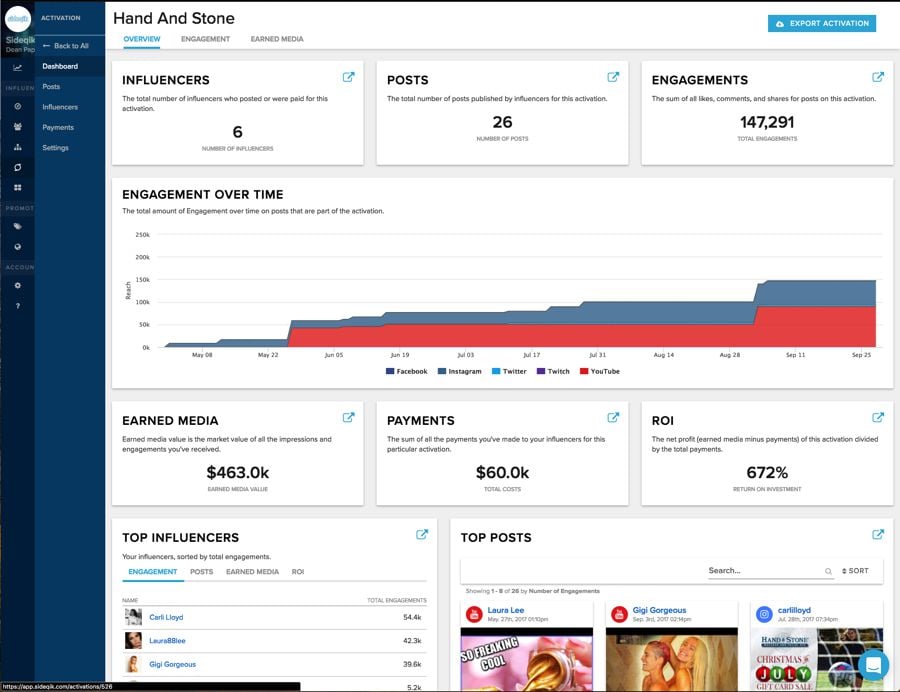 ---
Conclusion
It almost feels abrupt to stop here, as there's much more to what Sideqik can do. But as I said above, there are dozens of aspects to the platform that I just didn't want to cover in this space because they're standard. Is it easy to use and nice to look at? Yes. Do you get detailed reports with actionable insights? Yes. Can you find/activate/manage hundreds or even thousands of influencers simultaneously and market at scale? Easily. These are features that aren't uncommon; if you've been looking at reviews of competing products, saw their features and are wondering if Sideqik can do those things, the answer is in all probability, "Yes." But can those products do all these other things Sideqik does? Probably not. This is software that lives up to its name, acting as your true marketing sidekick, handling all the grunt work as you focus on the bigger picture. That puts it in a class of its own, and makes it well worth checking out.
Sideqik
Features

Ease of Use

Reporting

Best for:
Medium and Large Brands