Overview
Social media celebrity is a funny thing. Those who attain it were able to do so by being personal and real with their followers. You know, they were social. But somewhere along the line, when a creative person grows to celebrity status on social media—millions of followers, thousands of daily messages, verified accounts—that personal connection gets lost. And people lose interest. The cost of social media fame is the very thing you need to get famous: a personal touch.
While this all sounds like the premise to an episode of Black Mirror, influence marketers are seeing this exact scenario play out on a daily basis. The influencers with the biggest reach just don't have the kind of engagement they had before they were cool. As the industry has matured, campaigns are launched and everyone starts to see what works and what doesn't. Over the past year, people have started to zero in on a "sweet spot" of influence; between 10,000 and 100,000 followers seems to be where the perfect harmony of reach and engagement lies.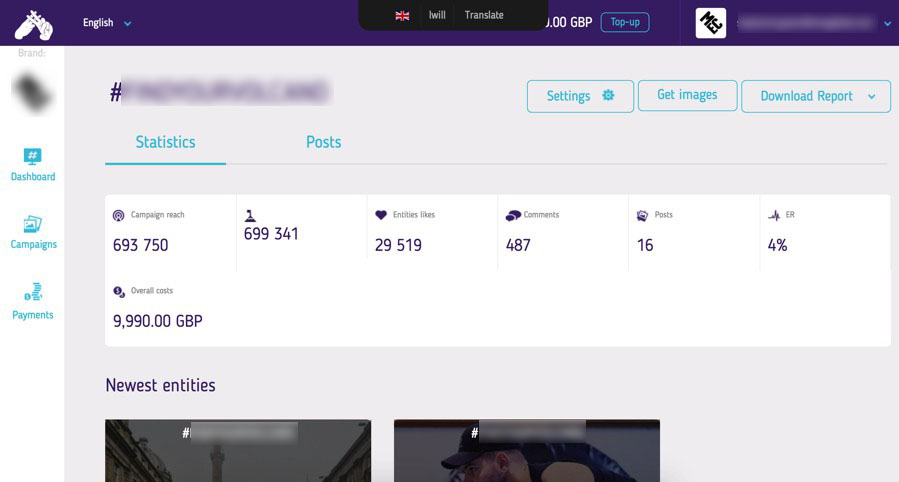 You might already know this to be true, but in late 2015 only a handful of people were looking in this direction. The rest of the industry was throwing money left and right at the Kardashians of the world and wondering why they weren't seeing results. This was something indaHash founders Barbara Sołtysińska and Włas Chorowiec learned first hand at their previous venture, LifeTube. YouTube stars, they realized, weren't delivering the results they'd hoped—and charging quite a bit for the privilege.
They started to rethink the value of reach: what good was it to have a million sets of eyes on a video if it didn't lead to anything? This question led to several answers, the final one being a very cool platform called indaHash. The idea was to focus on micro-influencers, those in the sweet spot of reach and engagement. Sołtysińska and Chorowiec launched the platform in January, 2016—to say there's been a positive response would be an understatement.
In its first year alone, indaHash ran 497 campaigns in 34 markets for an impressive roster of brands, including McDonald's, L'Oreal, New Balance, Crunchips, Adidas...the list actually continues. During that time, their opt-in influencer network grew from 10,000 to 110,000 while their employee count followed a similar trajectory: 6 to 62. That success has spilled into 2017, with nearly 900 campaigns conducted through 250,000 influencers and a push to make their mark in the U.S. Oh, and earlier this year, Accenture announced indaHash as the winner of its Consumer Tech award in the Millennial Consumer category.
Clearly, they're doing things a little differently.
---
Summary: Quick Jump Menu
---
Pricing
As is the norm with Influencer Marketplaces, the creators themselves don't pay any fees to participate. When they receive a payment, they receive the full amount. What's different here is that indaHash sets their rates (price per post) for them—there's no negotiating with brands—and this happens only after a human-run screening process. When someone applies to be an influencer, they're verified for a number of things—things like follower count (700 is the minimum), overall engagement rate, and the quality of their content and followers. The only time an algorithm comes into play is determining the rate, which is assigned to the influencer once she's accepted. That rate can change over time as an influencer's popularity and engagement rise and fall. All payments come from indaHash directly.
One thing worth noting about the influencer experience is that they access the platform through a mobile app. In 2017, that shouldn't be notable—yet this practice is still very uncommon. This is important, because the influencers targeted by brands are all primarily mobile users. It makes sense to interact with them through an app.
Brands use the platform to initiate campaigns, and they set the budget for each one. Because they're not part of the process of negotiating with influencers, the only costs to them are assessed through one of four models: by reach (CPM), video views (CPV), Snapchat views (CPSV), or engagement (CPE).
For exact pricing, you'll need to deal with indaHash directly.
---
The Details
Though I've listed indaHash in the Influencer/Content Marketplace category, that label really doesn't tell the whole story. There's a lot of talk around platforms like this centering on their ability to automate influencer marketing—and many of them do, to one degree or another. indaHash is a different story. From a brand's perspective, the process is actually automatic: they create a campaign, set their budget, and then sit back while indaHash takes care of the rest.
What does this look like in practice? I'll use an example from one of the case studies they've published:
In 2016, Danone's Fantasia was looking to promote a limited edition line of yogurt, because apparently limited edition lines of yogurt are a thing now. They created an Instagram campaign on indaHash with the specs of what they were looking for. This basically translates to an assignment: submit a photo of the yogurt, highlighting the design of the label, and encourage followers to give the yogurt a try. They then designate an account to tag, a hashtag for the post, and define the kinds of influencers they want to use with criteria like categories and follower counts. Once the brand goes live with the campaign, everything else happens behind the scenes.
"Everything else" includes the platform broadcasting the campaign to influencers who fit the client's requirements, moderating any content that's submitted to make sure it's of good quality, and then tracking the performance of the posts—keeping a count on reach or engagement. The platform also enforces certain restrictions on influencer participation: they can only participate in 2 campaigns per week, and have to wait 6 months before working with competitive brands. When the budget has been exhausted, the campaign stops. The brands then get a slick-looking report detailing the campaigns performance across a number of metrics:
Number of Influencers
Total Reach
Number of Engaged Interactions (Likes/Comments)
Engagement Rate
"Biggest Stars" (the participating influencers with the most followers)
Most Engaging (the participating influencers with highest engagement rates)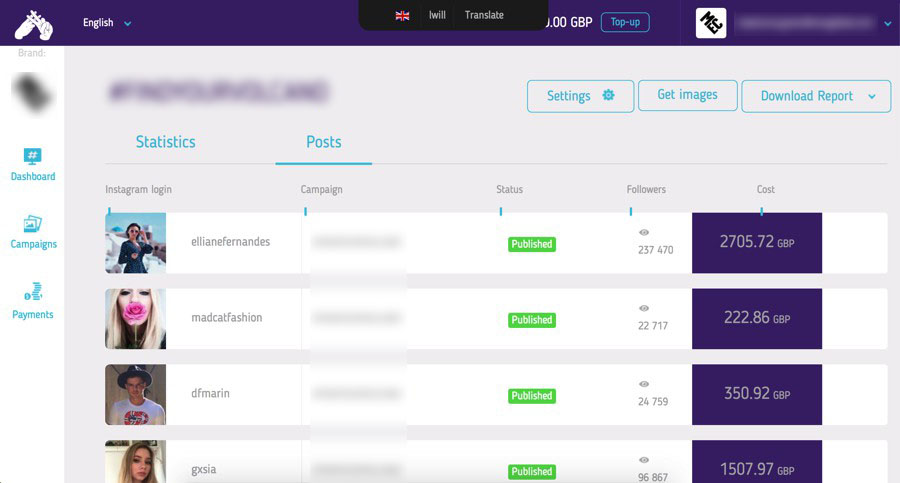 The report also contains copies of all the posts that were made for the campaign. This is for more than informational purposes: brands retain all the rights to the content created for their campaign, which they can re-use in whatever way they want. That's all there is to the reporting, though—it's the one big critique I have of the platform. It's nice to know there were X number of engaged audience members for a given campaign, but it would be even better to know something about them. There isn't even basic demographic information included, which is a shame. Knowing things like the age, gender, and location of those who responded positively would be a helpful thing to know for shaping other marketing efforts. There's a lot of information about these audiences that is knowable—why not include the capability to know it?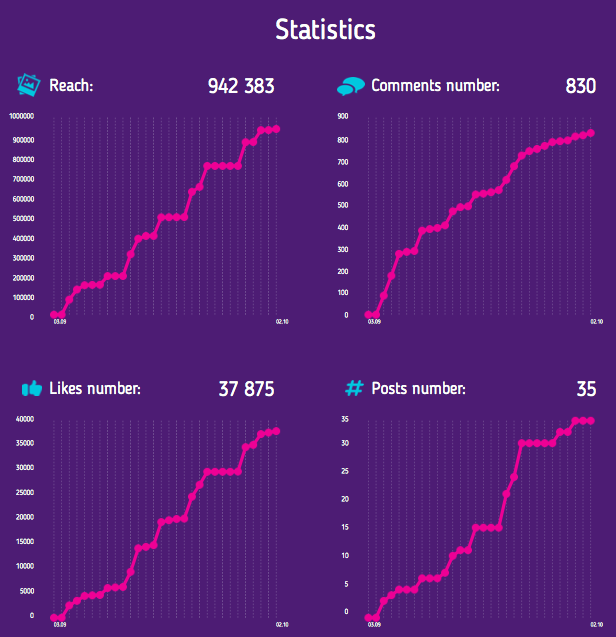 Other than that, and across the board, indaHash has created something really unique. We've got four different categories that we rate for each platform, and I had a real problem trying to fit indaHash into two of them:
Search Precision — There isn't any way to search topics or filter for criteria to find an influencer you like, but that's beside the point. The goal of the campaigns is to reach audiences, spur engagement, and raise brand/product awareness. It doesn't really matter if you like the influencer, it matters if her audience does. indaHash's focus on micro-influencers means you'll be reaching out to a smaller, but more loyal group.Looked at another way, indaHash is its own kind of search tool. At the end of each campaign, you'll see which influencers performed the best for you. Those are the people you'd want to cultivate relationships with off the platform. You could run a low budget campaign—say, the same amount you'd spend for a month's subscription to an influencer search tool—with the only goal being that you're looking for some good influencers to work with. As a bonus, you get a whole bunch of social media exposure doing it.
Management Tools — Really, what's to manage? You can create and manage your campaigns from a high level, but everything else happens without customer intervention. It hardly seems fair to criticise indaHash for its lack of search or management. You can't call a square peg deficient because it doesn't fit into a round hole.
---
Conclusion
Ultimately, indaHash needs to be judged on its concept and the execution on that concept. With that in mind, the platform is an undeniable winner. Their explosive growth in 2016 only seems to support that. They've got nearly 300 clients and run close to 900 campaigns. You don't have to be a mathematician to solve that equation: they're getting lots of repeat business. And why wouldn't they?
Using indaHash can achieve a reach that's equal to what you'd get throwing money at the most popular influencers, but with much higher engagement rates. Coming off a successful campaign is also a pretty good way to establish rapport with an influencer you'd like to work with again. And on top of that, each campaign leaves you with content you can repurpose for other marketing efforts. It removes all the guesswork of finding and negotiating with influencers, leaving brands little to do but come up with an idea for a campaign.
Using indaHash still leaves you wanting a way to manage your influencer relationships, at least. It's not a complete influencer marketing solution, by any means. But I'm willing to say no solution is complete without it.
indaHash
Features

Ease of Use

Reporting