Best for:
Small and Medium e-commerce brands
Overview
A big part of the process of bringing these reviews to you is the research done to understand the background of the company. This often begins at Crunchbase, where we find out the basics of the company and its founders, launching points for further research. Crunchbase always contains a descriptive blurb about each company, and it's always clearly written by someone who works there and is in marketing. We know this because these blurbs are often a nonsensical, yet glowing, jargon salad of meaningless phrases meant to sound like praise.
But Insense did things differently. Writing in plain english, they simply present a series of facts:
Insense is the all-in-one platform for UGC creatives sourcing, organic posting, and influencer whitelisting on Meta and TikTok Spark Ads - trusted by 1,400+ eComm brands and growth agencies. We combine an interactive creative brief, creator marketplace, integrated chat feature, automated payments and content copyrights, and more. Our global community of 20,000+ vetted creators delivers cost-effective mobile-first creatives in just 5-15 business days, whilst our managed service provides UGC Ad production at scale for high performance.
That sums it up succinctly, which is something that's easy to do when your experience is in the business. Tech startups can make great software, but when they have to explain it things get messy. Insense didn't start its life as a tech startup, though. Its initial founder, Anton Saliukov, was the head of his own boutique marketing agency. The agency relied on independent contractors for its creatives, which is how people said "They used creators for content" prior to 2016.
2016 happened to be the year that many agencies, like Saliukov's, were relying more heavily on influencer marketing. And these agencies, like Saliukov's, started doing one of two things: They either looked for software solutions to help, or they built one on their own. Saliukov decided to go the latter route—as a distinct business so he could sell to other agencies and brands. When he convinced his brother Danil to join him, Insense was born. Anton probably had a well crafted, succinct pitch that was hard to ignore.
It might not seem like a big deal, but being able to effectively communicate about the product and its value proposition helps in many ways. It could help land clients, of course, and Insense has no shortage of those—more than 1,400 to be precise. Good communication also helps to establish partnerships, like Insense was able to do with Meta and TikTok. Mostly, though, the ability to craft brief, informative messaging signifies a talent for marketing, which is the kind of skill set you want from the people who make your marketing software. But you also want good software, and Insense has delivered on that, too.
---
---
Pricing
Like its competitors, Insense is a web app that sells access through subscriptions, but there are no month-to-month plans. There is a trial plan that allows you to pay for just one month. If you don't like it, you go on your merry way, no more payments. If you do want to continue, though, you'll need to subscribe fully which involves being billed either quarterly or annually, with price breaks for annual payments.
Trial, $500 for 1 month —

1 brand can run 1 campaign, with access to all features of the platform. When the month ends, either cancel or renew with one of the following plans:

UGC, $1,200/quarter ($400/mo, or $300/mo if paid annually) —

1 brand can run unlimited campaigns, hiring an unlimited number of creators to create content for their paid social channels. A customer success manager is included in this package.

UGC + Creator Ads, $1,350/quarter ($450/mo, $350/mo if paid annually) —

Up to 3 brands get everything included in the UGC plan, plus: 10 creator whitelist "licenses" for IG and Facebook, creator collabs (organic influencer marketing), and a customer success manager.

Advanced, $3,900/quarter ($1,300/mo, $1k/mo if paid annually) —

A dedicated platform manager gives end-to-end support using the platform, hand-picking the platform's best creators, managing them, and helping guide creative strategy. Insense's team also handles any post-production of content sourced through creators (adding overlays, text, music, scene transitions, editing, etc.) for a more professional polish on your paid channels
---
The Details
Just by looking at Insense's pricing plan, you can see there's something different going on here. The lower tier plan is entirely for UGC—sourcing it for use as creative assets on paid social campaigns. There's no influence for sale on the UGC plan; it's strictly a creator marketplace. It's a cool idea—not many of Insense's competitors have positioned their marketplaces this way, though they absolutely could. This tells you something about the focus of Insense, which was built to serve an agency like the one owned by Anton Saliukov.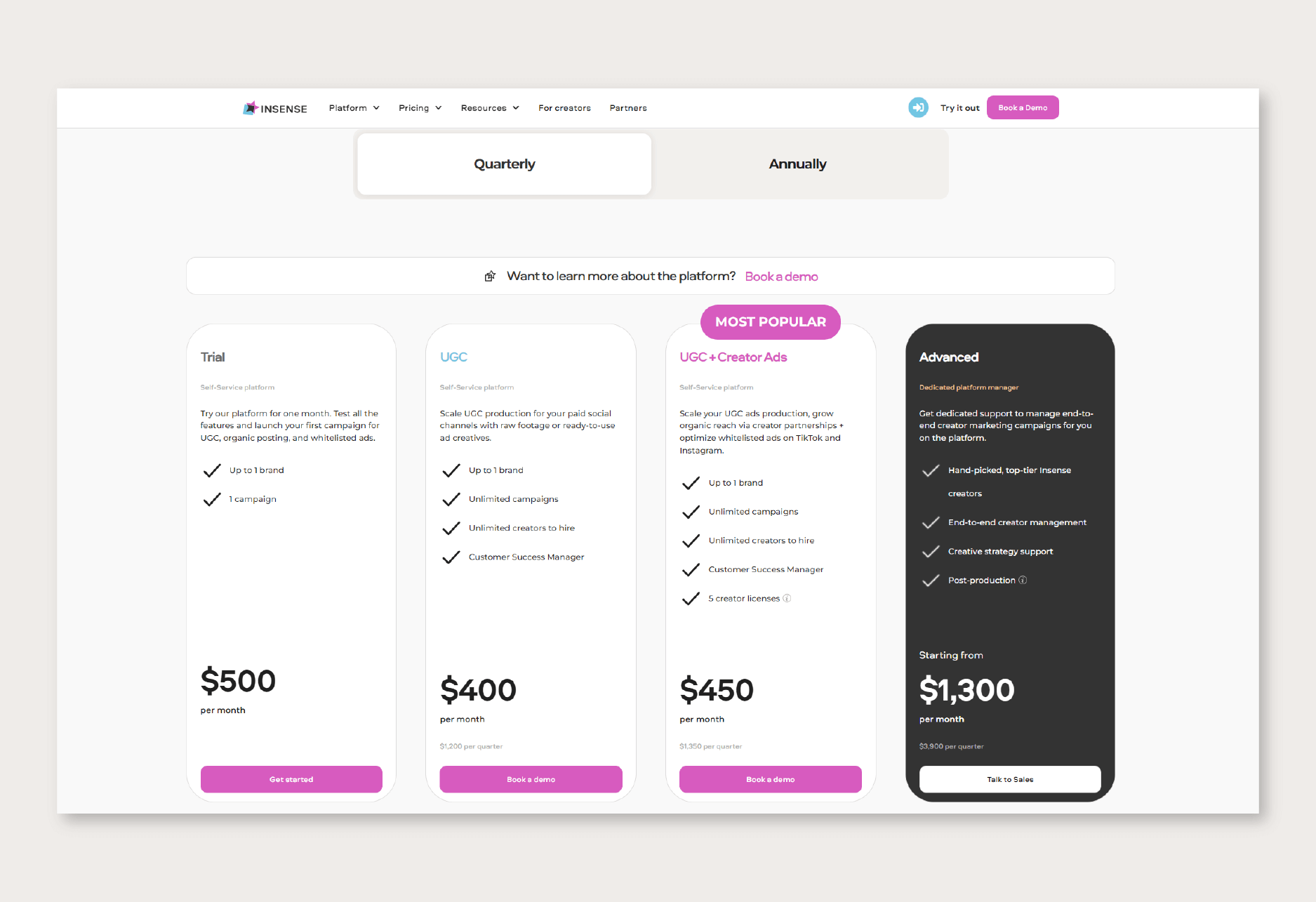 That's why, even as you go up to the next subscription tier, you'll notice they're still really pushing UGC. The plan's name, UGC + Creator Ads, leaves out the influencer marketplace feature which is very much a part of the platform (and well implemented, which we'll get to shortly). It does mention Creator Ads, which is Insense's whitelisting feature. The platform is all about content—sourcing it, managing it, posting it, and paying for it to reach targeted, relevant audiences far and wide.
This focus on content doesn't come at the expense of ensuring they have quality creators, however. Their platform has somewhere north of 20,000 active creators, and every single one of them was vetted by a human on Insense's team. They say that they're often doing outbound recruiting for more creators, usually on behalf of clients, and every creator's first gig is a make-or-break chance. If they're late, non-communicative, or just turn in poor work, the Insense team removes them from the platform. All of these human touches give the platform a kind of boutique feel. All of which is well and good, but how does the application itself work?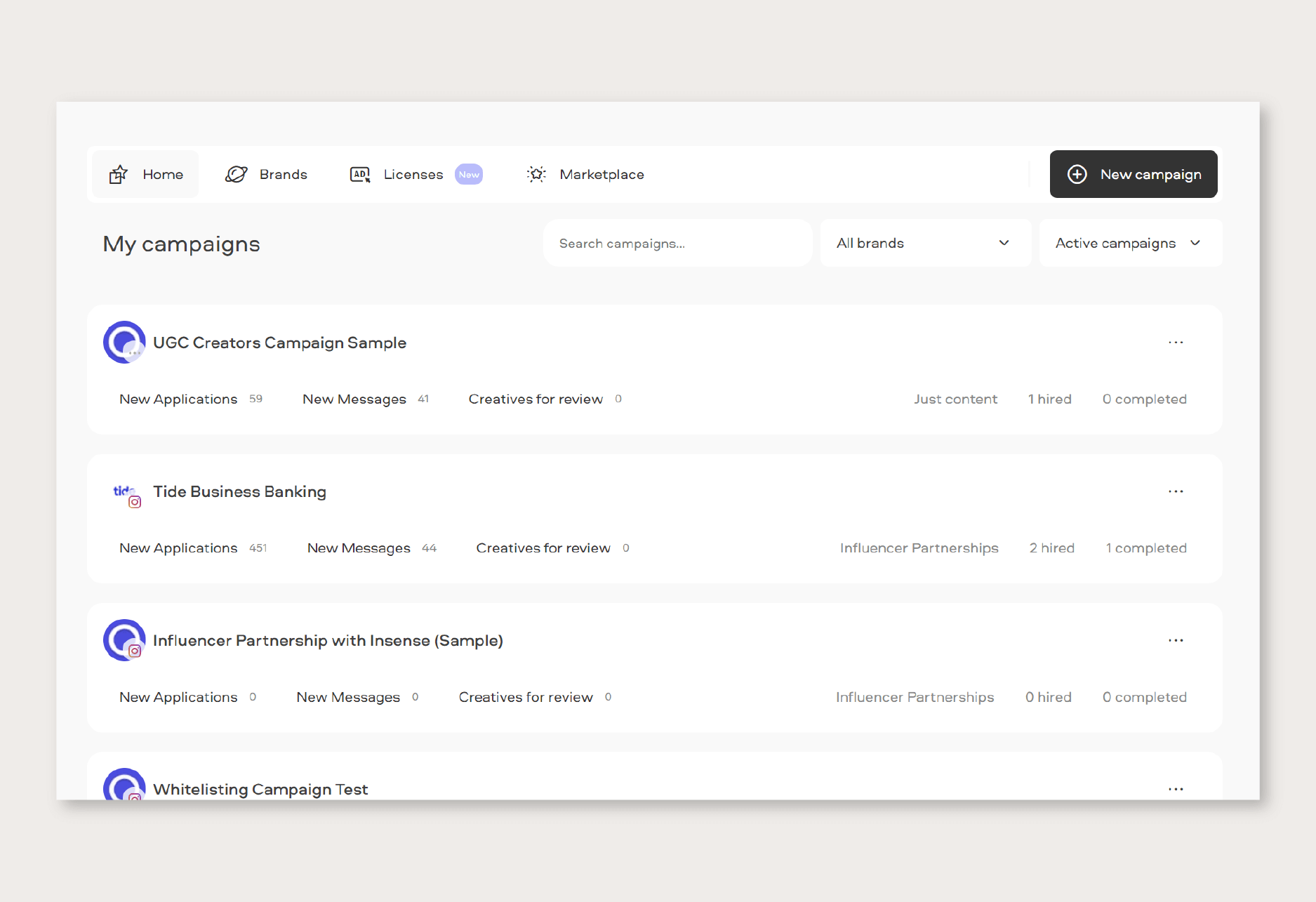 Very well, as it turns out. A marketplace will ultimately live or die by its workflow, and Insense has done a good job with theirs. In truth, it's a pretty standard workflow and they had the good sense to not try and reinvent the wheel with their platform. With elegantly simple design, users will find it intuitive to carry out all the tasks we've not come to expect from a marketplace.
You want to find creators? Click on the "Marketplace" link in the navigation menu, and you can start browsing through Insense's curated database. Or, search with keywords and use filters to refine your results. The available filters also demonstrate Insense's commitment to content, allowing customers to specify things like hair color, body type, and whether they have pets to ensure the visuals will jibe with a brand's aesthetic.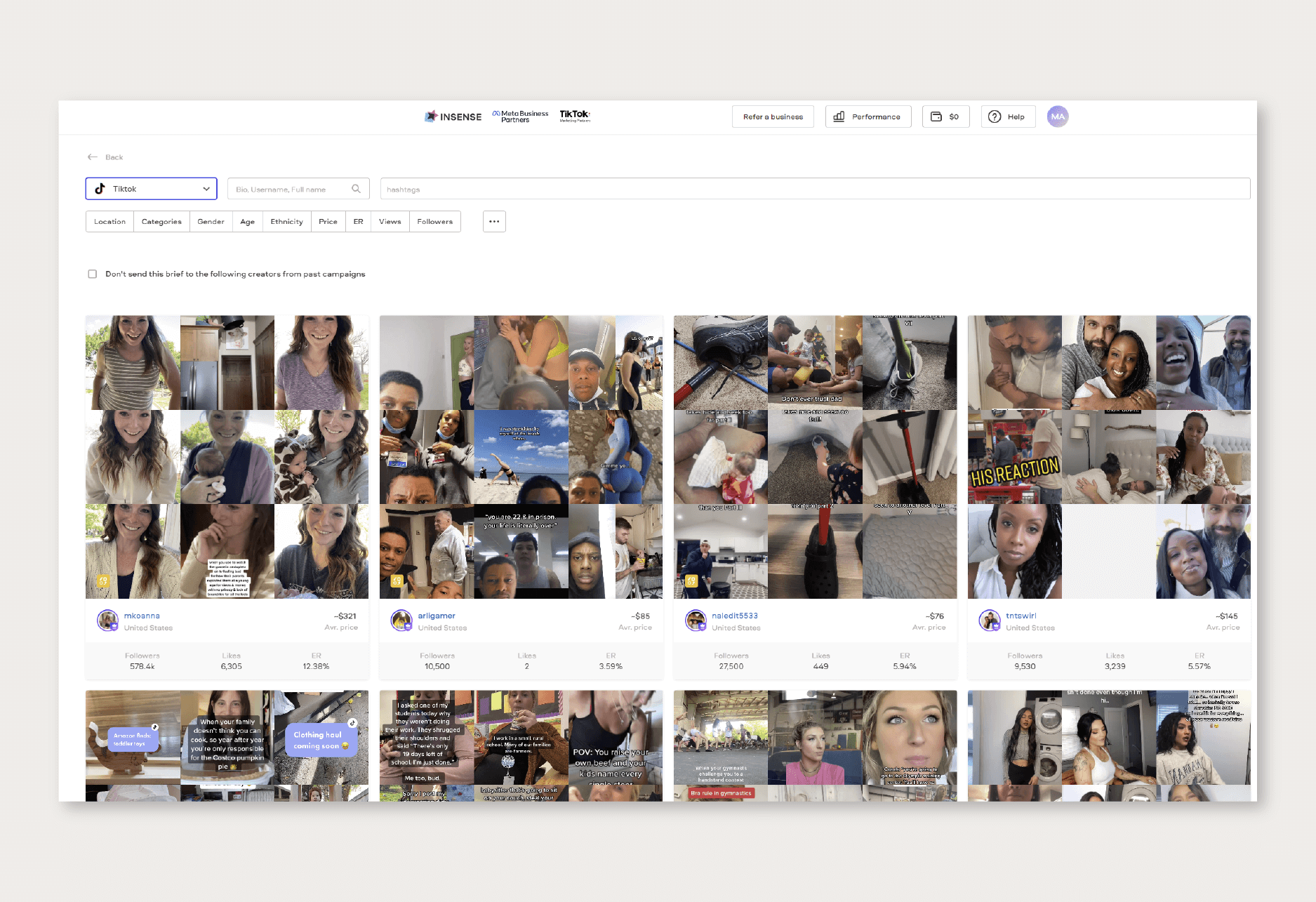 The results you get are chock full of content, as well, giving you a peek into a creator's output: Creators can put together a portfolio of their work, but customers can also just dig through all their IG and TikTok posts directly, including Reels and Stories. You'll get a lot of stats around the content, too: Engagement rate and reach are there, of course, and so are things like Cost per Engagement and a listing of frequently used hashtags and mentions. There's a fairly comprehensive look at the audience, always an important factor. Each creator is also reviewed by brands that have worked with them before, too, giving a star rating and a brief write up describing the experience. Insense also awards badges, which serve as a quick reference for brands to see a creator's achievements. These can be things like having completed a certain number of collaborations, or being recognized for a fast turnaround. In all, the creator profile does a good job of arming brands with intelligence about who they'd like to work with.
To keep things organized, you can add creators you like to a favorites list, which becomes useful later on when you're creating campaigns. There's no way to directly reach out to creators from the Marketplace—to start communicating the workflow demands that this is done entirely within a campaign. This, again, is to keep things organized—rather than have one unwieldy inbox covering all creators across all campaigns, you'll communicate with each one from within the campaign itself. The messaging component is also coupled with a project management feature, allowing you to update the statuses (Onboarding, Creating Content, Completed, etc.) right there. Got a message from your creator with her content submitted? Send her a quick note of thanks and update her status to "Review" all from the same screen. But we digress.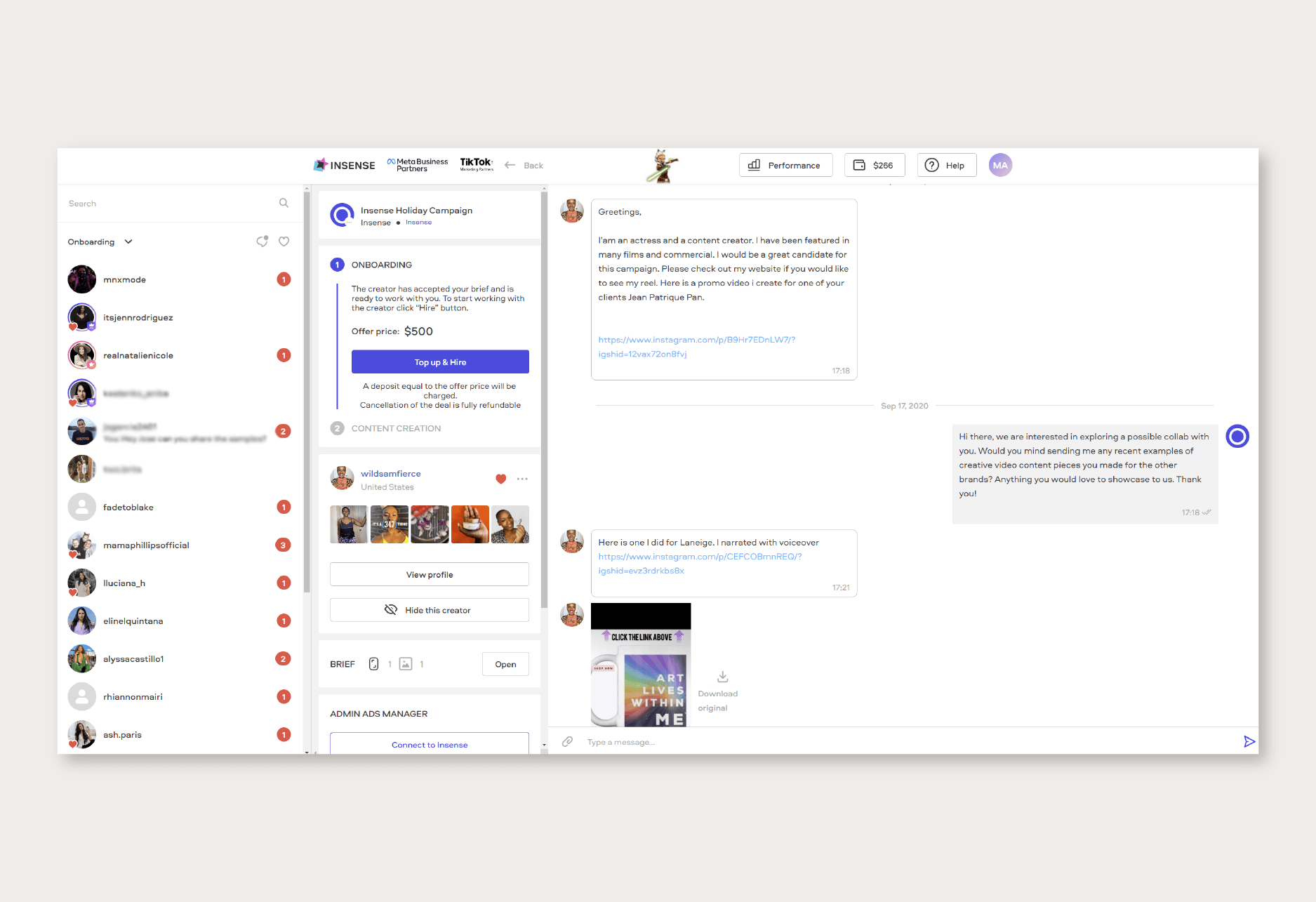 In any case, you need to create a campaign before you can start communicating with the creators you want for it. Campaign creation is straightforward, and it's during this process that you can define the kind of creator you're looking for. The same filters you use for searching through the marketplace are available here, and the platform will only broadcast your brief to those who match your criteria. You also have two other options for onboarding creators: You can directly invite someone you found in the marketplace to apply for the campaign, or you can find creators through a lookalike search. If there's a creator you found with the perfect audience, you feed that name to the platform, and it will broadcast your brief to creators whose audiences match. With these three methods available, Insense is doing some of the best matchmaking of creators and brands that we've seen.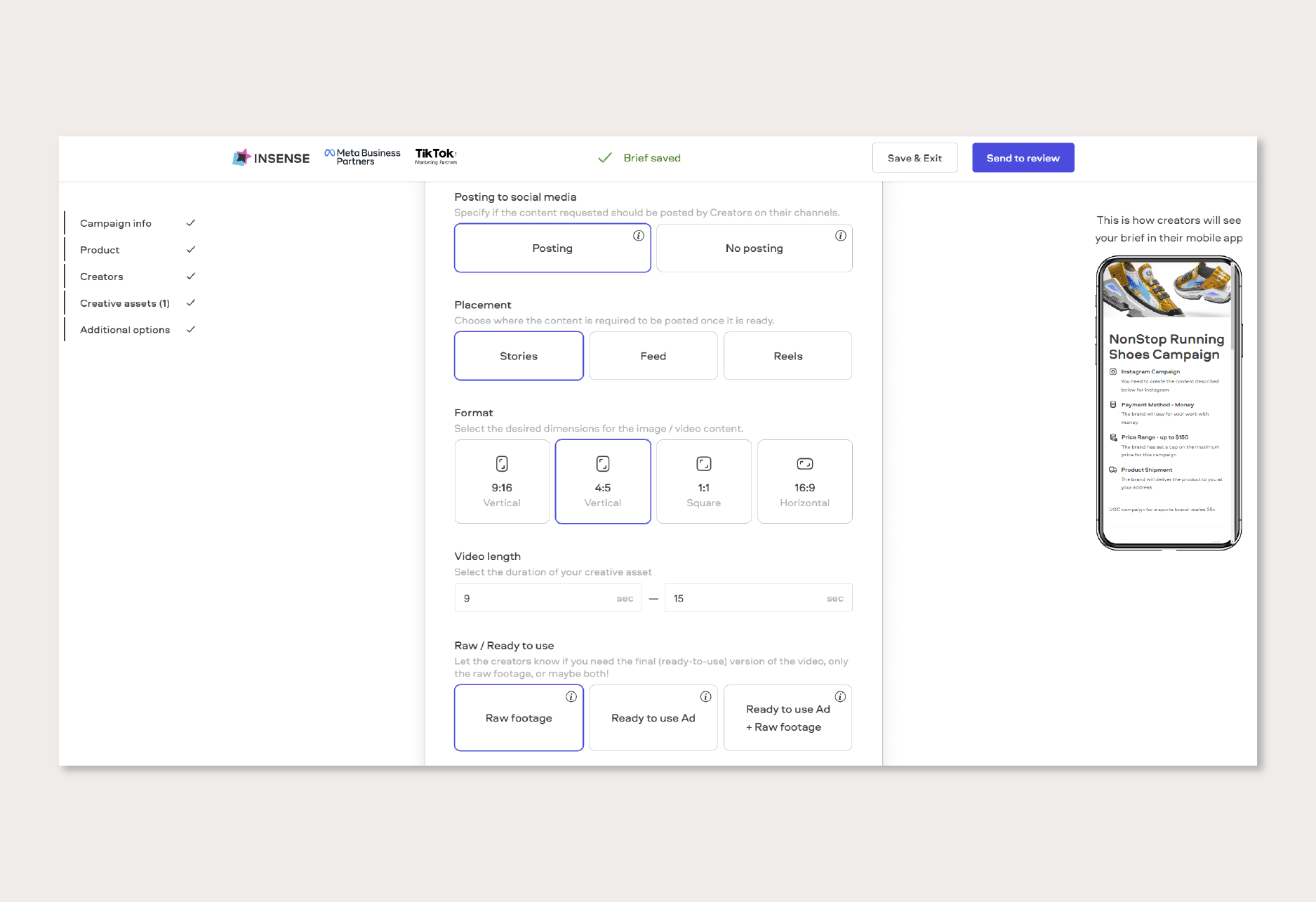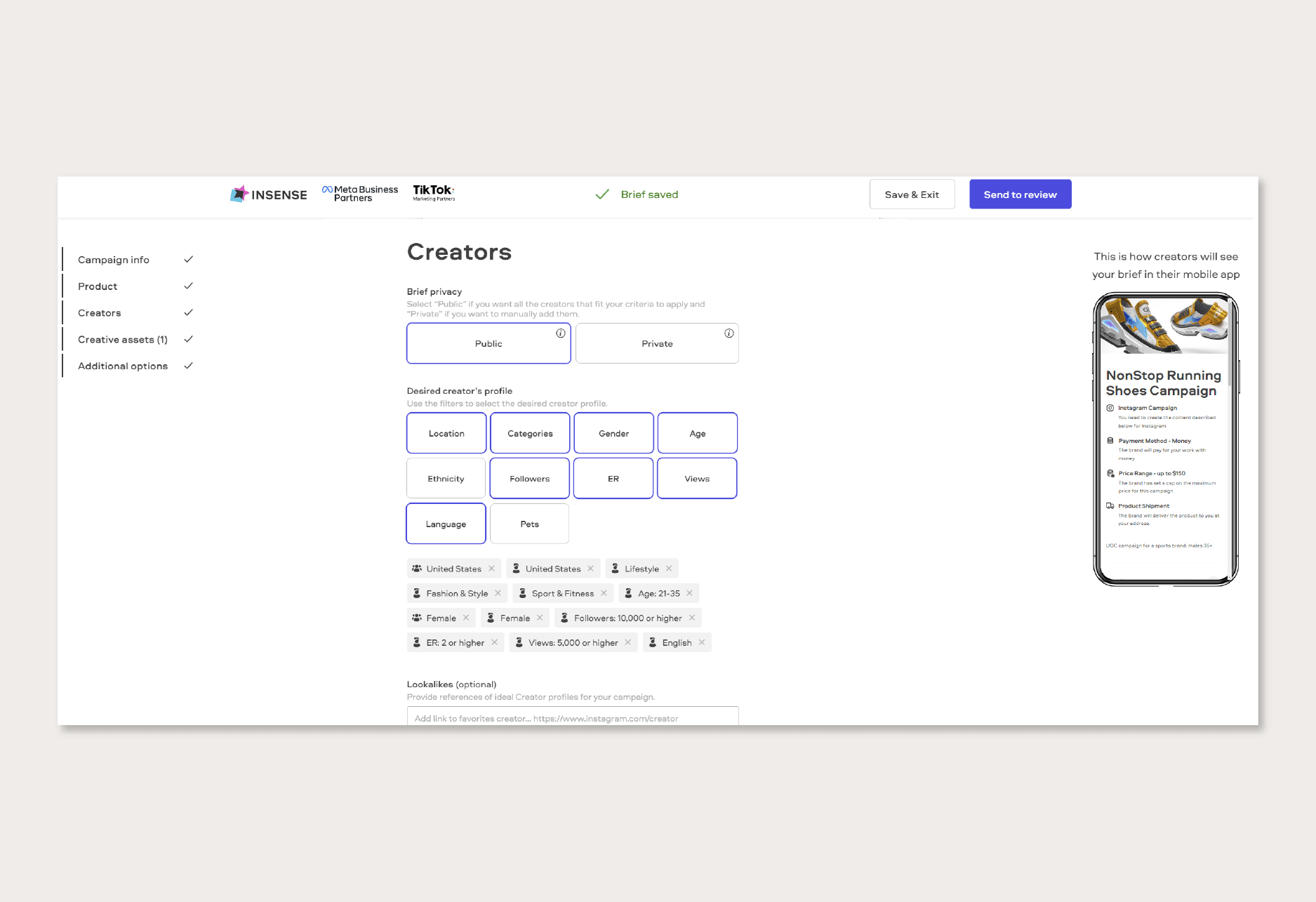 Initially, campaigns may appear to be limited to a particular channel, which could be viewed as a disadvantage. However, if the brand selects "other" in the brief, both TikTok and Instagram will be used for the campaign. However, Insense recommends that the brand chooses either TikTok or Instagram because if they want to run the same campaign on both platforms, they will need to work with different creators for each platform. TikTok creators will only have a presence on TikTok and Instagram creators will only have a presence on Instagram. To avoid confusion, the brand should write one campaign brief for Instagram and then duplicate it and make necessary changes for TikTok. By doing this, only TikTok creators will apply for the TikTok brief and only Instagram creators will apply for the Instagram brief.
Moreover, pricing varies for Instagram creators and TikTok creators. Having two distinct campaigns allows brands to establish appropriate price ranges. This simplifies the process as the brand can easily track the number of creators hired for each platform campaign. Additionally, they will receive content that is tailored to the correct platform's "safe zones," which differ between Instagram and TikTok.
We do like that there you can run similar campaigns with different goals, and it makes sense to keep a "Just Content" campaign separate from one that includes influencer posts. And we also like that the whitelisting feature can be combined with the organic posting feature: the benefit of whitelisting is to use UGC as part of your paid strategy, combining the power of your budget with the influence of the creator to attract new audiences.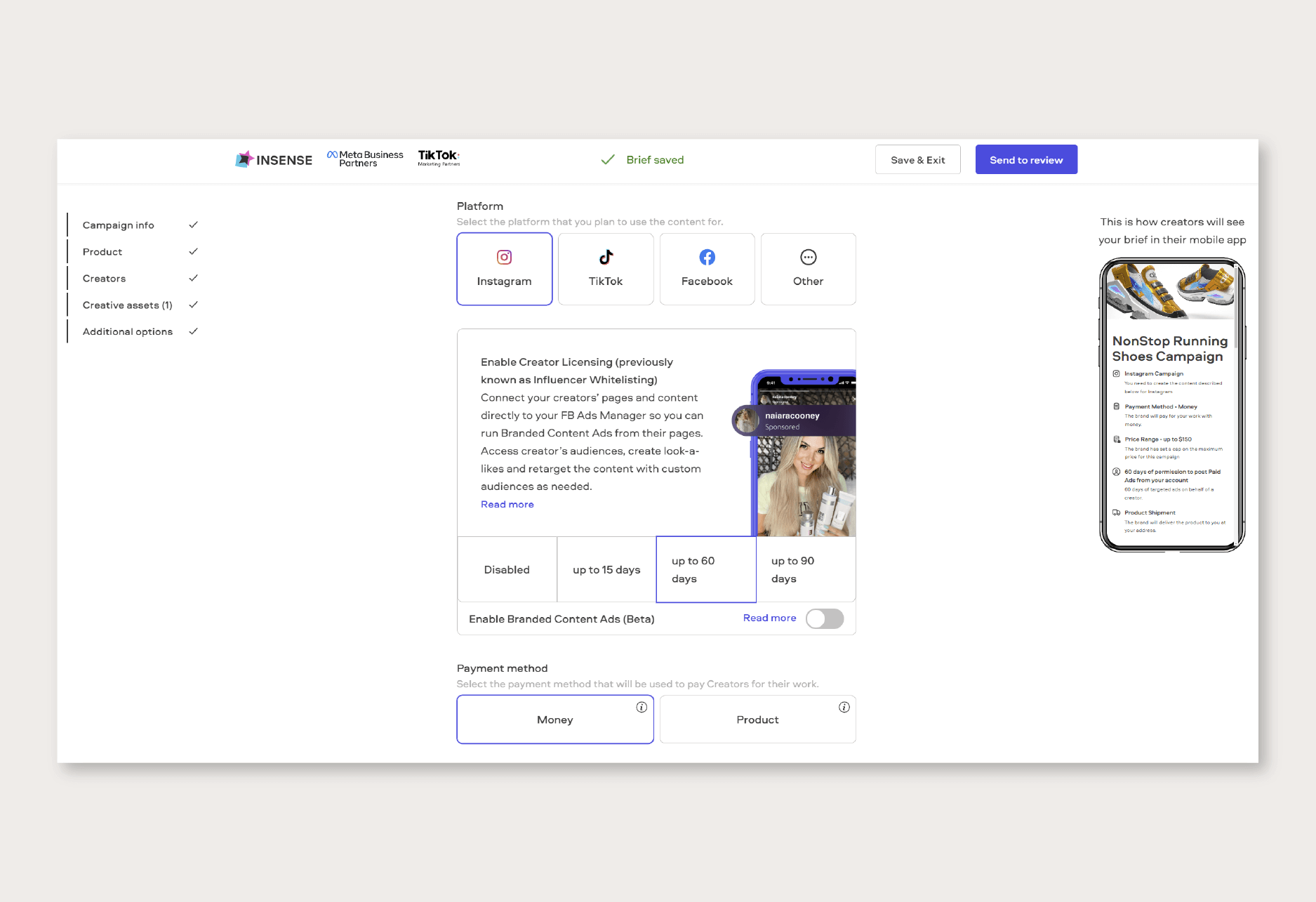 ---
Conclusion
Here's a standard disclaimer we give for the platforms we review that impress us the most: we didn't cover everything here. If you don't see a feature that you need mentioned here, it doesn't mean it's not part of the application. It's just that—when it comes to platforms that impress us—we tend to focus on the things that really elevate it above the competition. This is entirely true of this review.
For instance, we didn't mention the e-commerce tools, or the fact you can pay in products for organic campaigns. There are a few more little details that we left out, simply because they're standard/expected; you wouldn't describe your face by saying it had a nose, would you? Suffice to say, there's a lot to like about Insense, and there's a lot they do that sets them at the top of their class. For small and medium sized e-commerce brands, especially, this platform sets them up with some fairly big-business-style tools. Insense has risen above its competition precisely because it enables its customers to the same thing.
Insense
Features

Ease of Use

Reporting

Best for:
Small and Medium e-commerce brands